To celebrate #GarnachaDay we're preparing a feast inspired by the Wines of Garnacha. From appetizer to dessert, we've got your favorite wines covered and the best pairings to bring out the most flavor!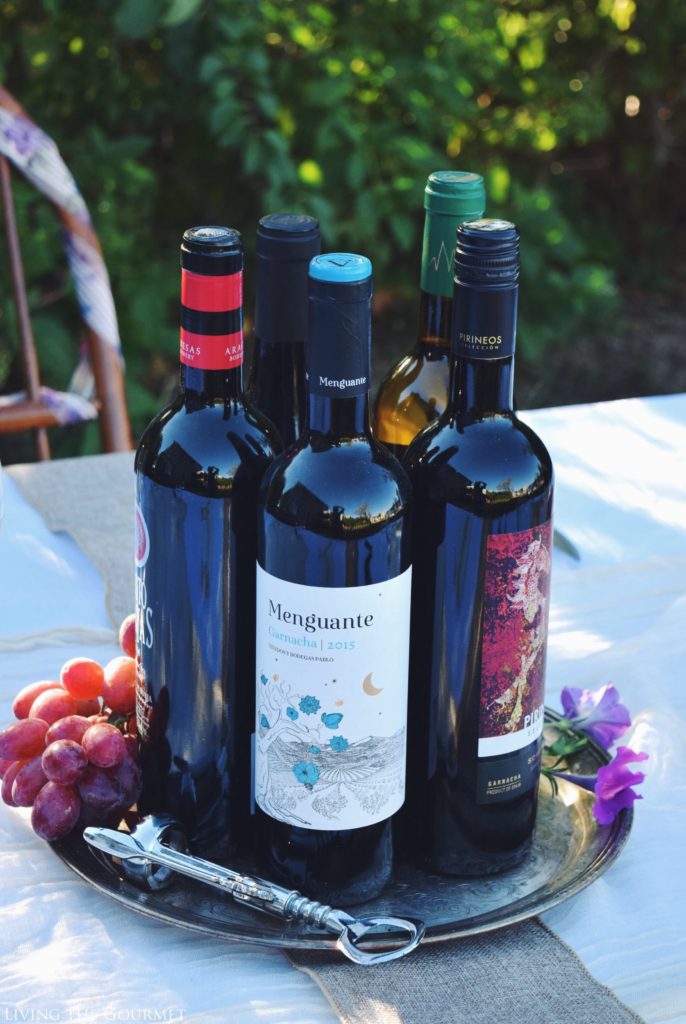 One of my favorite parts about growing the 'Living the Gourmet Cellar' is actually the learning experience that goes along with each bottle. Yes, each bottle encapsulates a memory, either an event it was selected for, or the quirky stories from the vineyard that sent it to me, or, most often, what I learned while reviewing the bottle. For example, I've found myself adding an ever increasing number of 'wine holidays.' Most recently, I wrote about Wine and Cheese Day, and my surprise at learning there was such an event – one that I had been entirely in the dark about. Similarly, earlier this month I was contacted by Wines of Garnacha, and learned of a day devoted to that particular varietal – "International Garnacha Day."
As fate would have it, the timing of this discovery was simply perfect. As it so happens, my brother is leaving for Florida, and I decided to give him a going away party. I had been trying to decide what to prepare, and this provided me just the inspiration I needed. I would put together a meal centered entirely around various incarnations of the Garnacha varietal – from appetizer to dessert.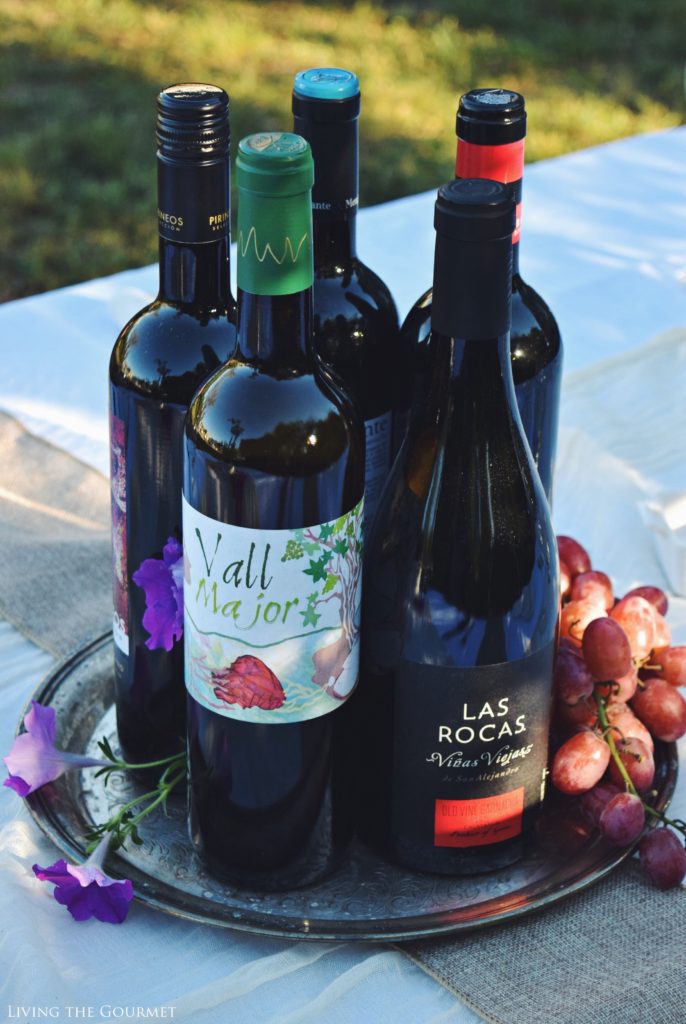 For the unfamiliar, Garnacha is one of the most widely planted grape in the world, with its origins tracing back to Aragon in North-Eastern Spain – to whose medieval kingdom the varietal owes its spread across the rest of Europe. However, despite its place of origin, French acreage has gradually come to outpace that of Spain. As a result, French 'Grenache' is the most widely recognized incarnation of the varietal internationally, being widely planted in the southern Rhone Valley throughout Languedoc-Roussillon, and is the most widely planted grape in Châteauneuf-du-Pape. In fact, it was French-grown Grenache that was introduced to California (the Rhone Rangers come to mind), where the varietal has given rise to several exalted 'cult vintages' – such as the famed, and elusive, 'Sine Qua Non' wines such as 'Red Handed,' 'Pagan Poetry Rose' and 'The Antagonists' from Santa Barba County.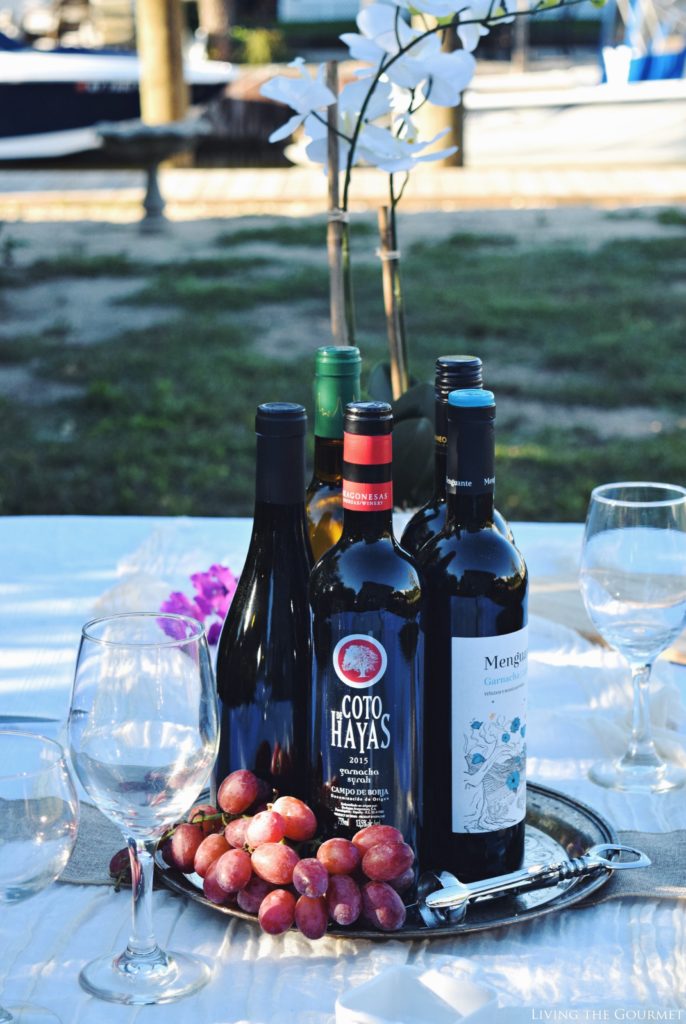 In terms of flavor and texture, Garnacha tends to feature low acidity and tannins, while providing a generally spicy profile, with flavors steeped in either ripe fruit or sliced berry. This profile, however, varies widely according to region.
Spanish Garnacha typically boasts a higher sugar level than its Californian or French counterparts, and ferments into an alcohol level above 15%, which heightens the varietal's spicy, herbal, and earthy qualities. This can be interpreted as deep cherry, licorice, or sliced berry. Note that the keys here are 'dark' or 'ripe' flavors accentuated by spice.
French Grenache tends to be much more herbaceous than its Spanish counterpart, with its characteristic fruity profile slanted heavily towards cherry or ripe red berry. Sage, oregano, tobacco leaf, and a generally more herbal aroma profile tend to give French Grenache a slightly more complex profile overall.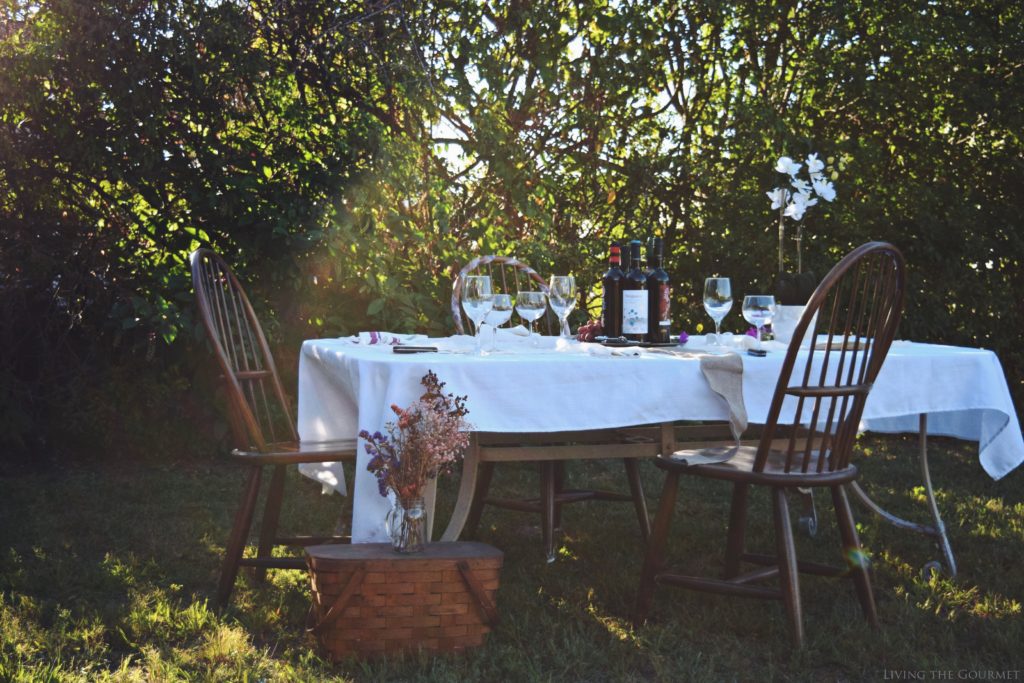 Though descended (largely) from French grapes, Californian Grenache tends to be more acidic than its forbearers, which imparts it with summer-floral aromatics, and bends the curve on its flavor profile ever so slightly away from cherry and ripe fruits towards more herbaceous qualities.
That said, all of the above creates an intensely versatile varietal, with wines capable of performing equally well in both relaxed and formal settings. It is also a varietal that, similar to Cabernet Sauvignon, is capable of producing both high-end or 'cult' vintages, as well as affordable bottles, think any simple vino de mesa.
That said, Garnacha was the perfect varietal to plan my menu around.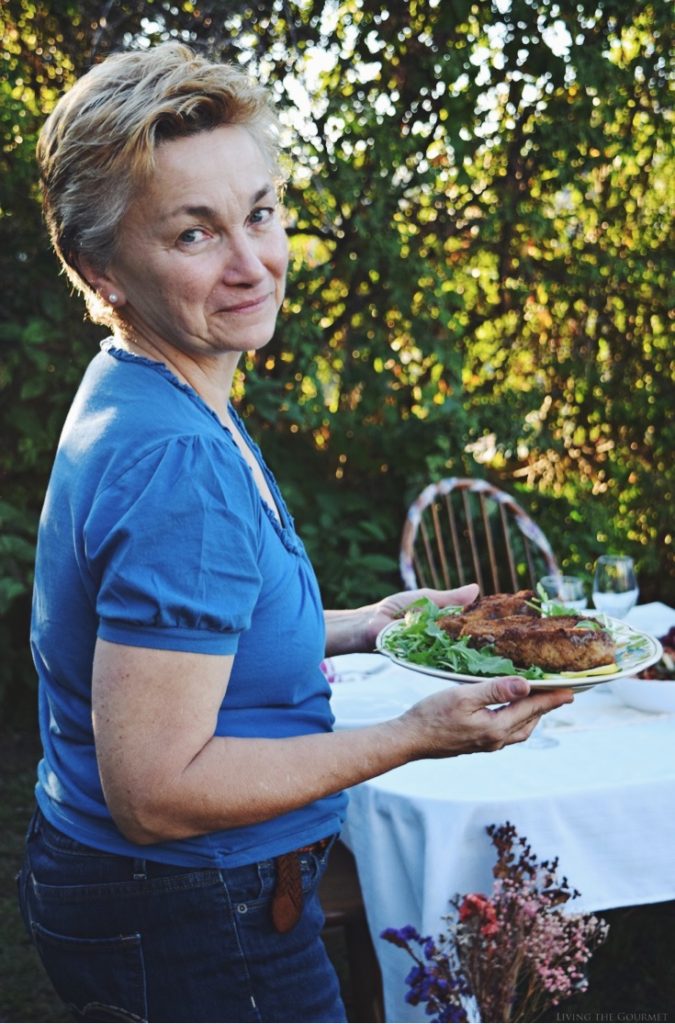 To see my brother off, I decided to start with artisan bread crostini. I would serve this with a pesto prepared with basil, green peas, lemon, and honey, which I would top with feta cheese. I paired this with a 2015 Menguante Garnacha, from the Cariñena Denominación de Origen, located in the vicinity of its namesake village of Cariñena in the province of Zaragoza in Aragon, Spain.
On pouring, the wine features an instantly fruity aroma off the top of the glass, with sliced blackberry or ripe red cherry predominating, accentuated by a prominent minerality. This intensifies into the middle and bottom of the glass, with vague earthy notes, and just a barely perceivable hint of spice. On sampling, dark berries are instant, with notes of blackberry, currants, and surprisingly strong tannins.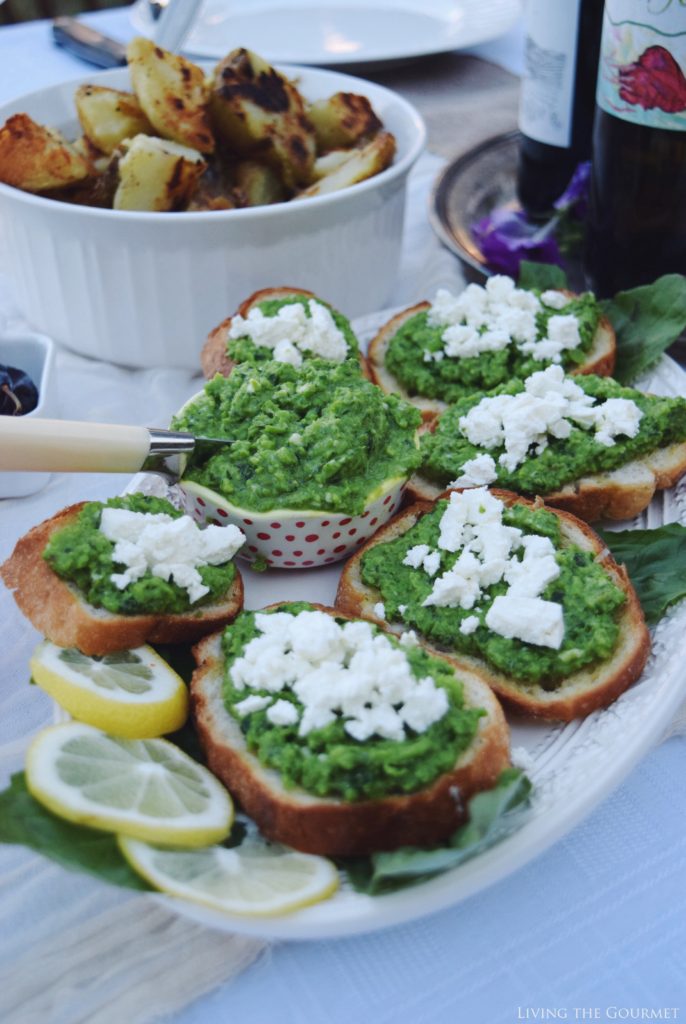 Print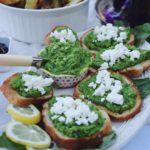 Green Pea Crostini
---
Author:

Total Time:

20 mins

Yield:

4

-6

1

x
1/2

loaf of good Italian bread - sliced to 1/4 inch thick
Olive oil
Salt & Pepper to taste
For the Green Pea Spread:
2

cups

of frozen green peas

1/4

cup

of fresh Italian parsley

4

-

5

fresh basil leaves

3

tbs. honey
Juice of

1/2

lemon

2

-

3

tbs. of grated Parmesan cheese

1/4 tsp

. salt

1/4 tsp

. black pepper
Dash of fresh grated nutmeg

2

tbs. olive oil
Crumbled feta cheese for garnish on the crostini
---
Instructions
For the bread:
Preheat Oven 350 degrees F.
Brush both sides of the bread with olive oil and season with salt, pepper. Bake until golden, about 15 minutes; turning the crostini once during the baking.
For the Green Pea Spread:
Place all of the ingredients for the spread in a food processor and process until a smooth consistency is achieved.
Refrigerate until ready to use.
Prep Time:

5 mins

Cook Time:

15 mins

Category:

Appetizer
Recipe Card powered by
For the main course, I prepared breaded lamb steaks, which I served with grilled potatoes prepared with olive oil, salt, and pepper. I paired this with spicy sausages prepared with onion, string beans, sliced tomatoes and olive oil.
For this, three bottles served as a possible pairing. The first was a Garnacha of Pirineos Selección from the Somontano Denominación de Origen, located in Somantano county in the province of Huesca, Aragon. On pouring, the wine features a very fruit-forward aroma, with sliced cherry and ripe red fruits off the top of the glass. This intensifies towards the middle and bottom of the glass, sharpened by a definitive acidity. Fresh tobacco leaf, herbal notes, and a very subtle but discernable spice form a pleasant and complex backdrop. On sampling, the fruit qualities of the aroma largely carry over, but are grounded solidly in earthy notes. Think spice, pepper, and ever so vague hints of herbs such as oregano and sage.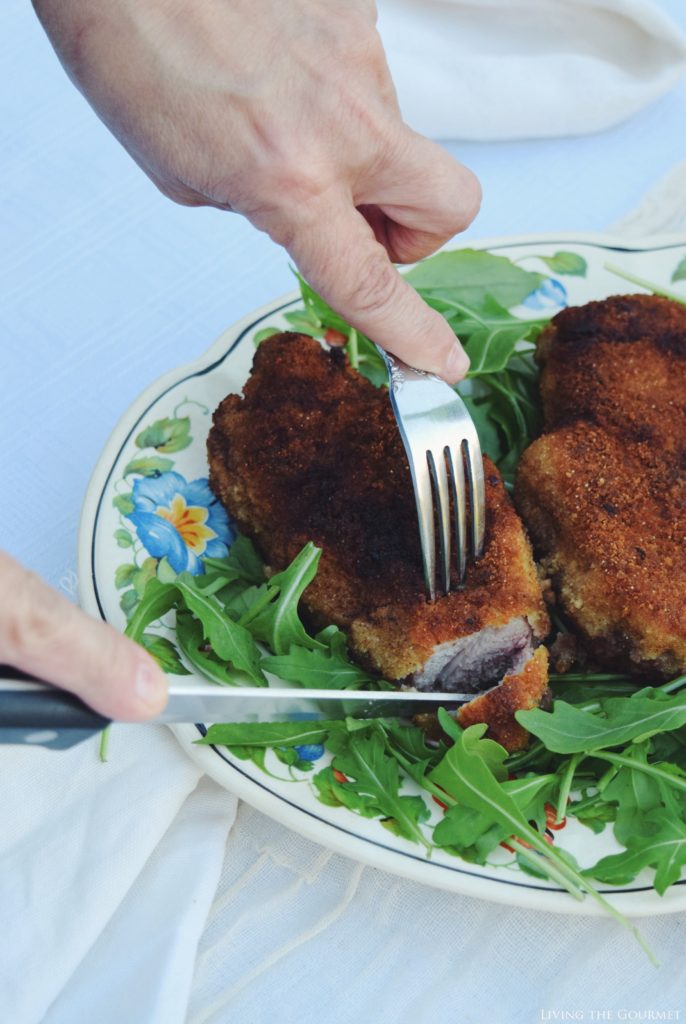 Print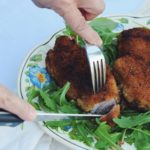 Breaded Lamb Steaks
---
Author:

Total Time:

23 mins

Yield:

4

1

x
3

-

4

boneless lamb steaks
For the Coating:
1

cup

of flour

1

egg beaten plus 1 cup of milk

1

cup

of Italian style bread crumbs
---
Instructions
Set up 3 shallow bowls. One with the flour, one with the egg wash and one with the bread crumbs.
Dredge the lamb steak first in the flour then the egg wash and finally in the bread crumbs.
Heat a large cast iron frying pan with a drizzle of olive oil. Place the breaded lamb in the hot pan; a sizzle should be heard when placed, and let it cook to desired doneness about 3 – 4 minutes per side for medium rare.
Prep Time:

8 mins

Cook Time:

15 mins

Category:

Main Dish
Recipe Card powered by
The second was a Coto De Hayas Garnacha-Syrah 2015 blend from the Campo de Borja Denominación de Origen, located in northwest Zaragoza, Aragon. Syrah grown in warmer climates, such as Spain, tend to be fuller bodied than their cold weather counterparts, and that was instantly noticeable here. Off the top of the glass dark fruit predominated, with pepper laced cloves, and just a hint of tobacco perforating through to the bottom of the glass. On sampling, the aromatics largely carry over, with ripe dark fruit accentuated by a complex aura of earthy spice notes, creating a very pleasant experience overall.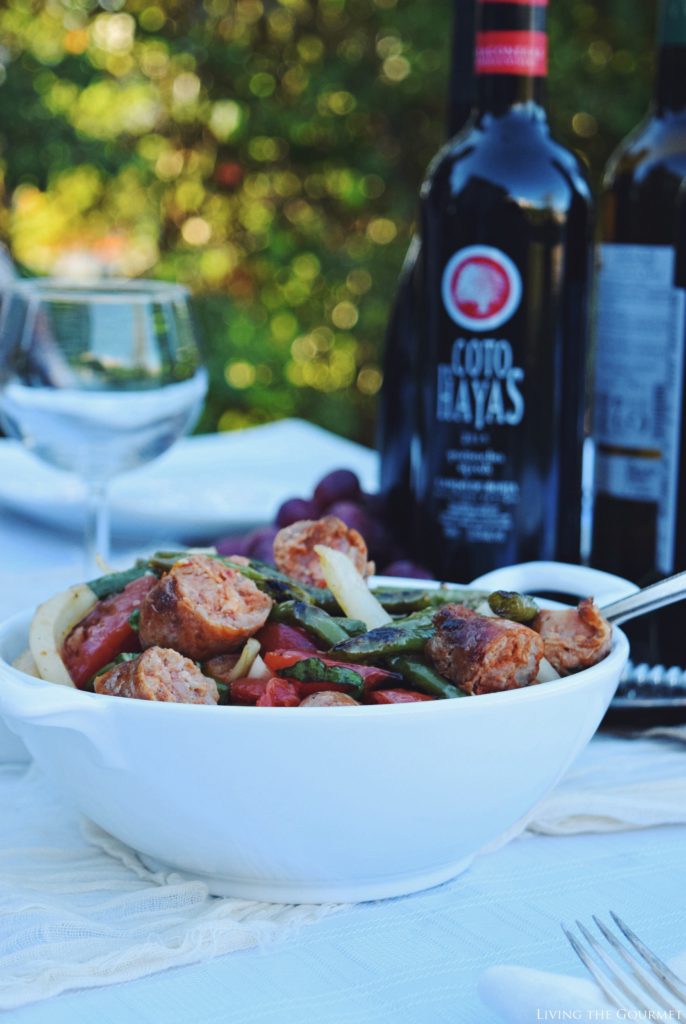 Print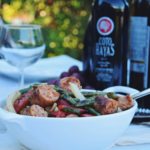 Grilled Vegetables with Hot Sausage
---
Author:

Total Time:

20 mins

Yield:

4

-6

1

x
1

lb

. fresh green beans

1

sweet onion

3

cloves garlic

4

plum tomatoes

4

links of hot sausage

1/4

cup

fresh basil

1/2 tsp

. salt

1/2 tsp

. fresh ground black pepper
---
Instructions
Grill the sausage and set aside while preparing the rest of the dish.
Place beans in a sauce pot and cover with water. Add a teaspoon of salt to the water and bring to a boil. Lower heat and simmer until the beans soften and are tender; about 5 minutes. Drain and rinse with cold water.
Heat a large cast iron frying pan and place the whole cloves of garlic in their skin, onion in its skin and whole tomatoes in the pan to char on all sides. When this is achieved remove from the pan and let cool.
Remove the onion and garlic from their skin and slice the onion and mash the garlic and place in a bowl.
Quarter the tomatoes and place in the bowl with the onions and garlic.
Heat a griddle with a drizzle of olive oil and place the green beans on the griddle to char; turning over once to char on all sides. Sprinkle salt on the beans while grilling.
Cut the sausage into thirds and add to the onions and tomatoes.
Add the beans to the onions and tomato dish along with an extra dash of salt and pepper and drizzle of olive oil.
Prep Time:

5 mins

Cook Time:

15 mins

Category:

Side Dish
Recipe Card powered by
The third possible pairing, and perhaps my personal preference, was an old vine Garnacha Vinas Viejas 2012 from La Rocas. The grapes are grown in the Calatayud Denominación de Origen, located in southwestern Zaragoza, Aragon. On pouring, the wine features an aroma that is at once both spicy and fruity. Off the top of the glass, dark berries predominate, accentuated by pleasant spice notes. This mellows, somewhat, into the middle and bottom of the glass, where vague hints of roasted oak begin to perforate through the spice elements, further mellowing the fruitiness. On sampling, blackberry, or perhaps ripe cherry, predominates, with only very fine hints of the spice or oak from the aromatics carrying over.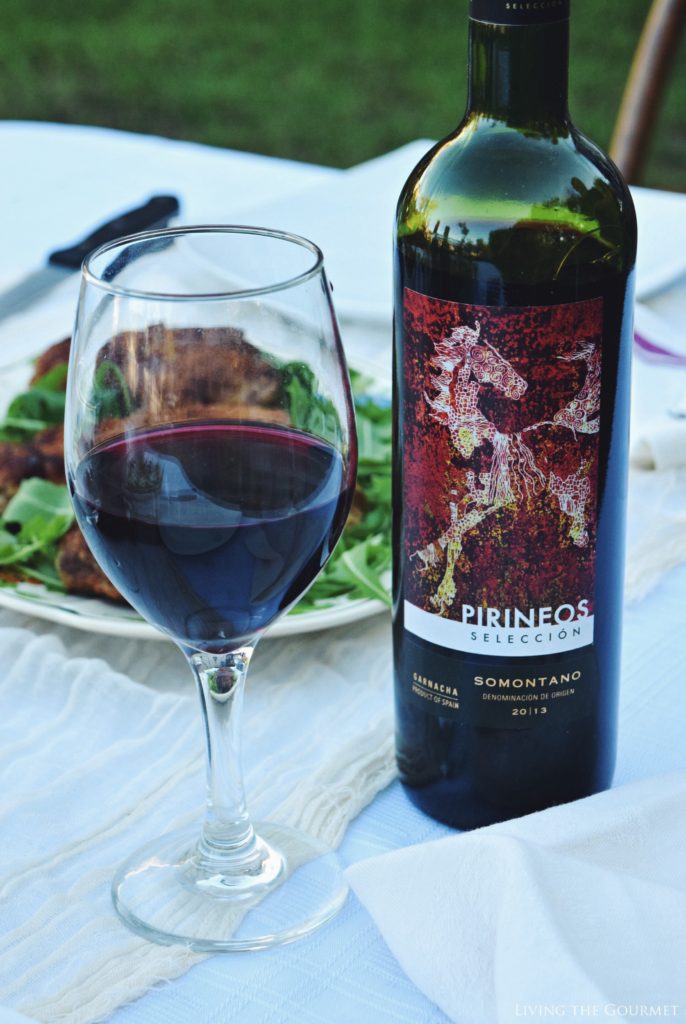 For dessert, I decided to do something I've been meaning to try for a while – something blatantly decadent, and simply 'fun.' I prepared grilled bananas with brown sugar, and laced them around a hearty scoop of vanilla ice cream.
I decided to pair a white wine with this – a Valls Major Garnatxa Blanc, from the Terra Alta Denominación de Origen, located in western Tarragona.
Typical of the varietal, green apple and herbs predominate off the top of the glass, with characteristic acidity into the middle and bottom of the glass. Assorted stonefruit aromas form a very distinct bouquet in the background. On sampling, the wine is again a very good example of the varietal, featuring a very pleasant minerality accentuates notes of green apple, herbs, and perhaps just a vague hint of white apricot. Acidity is prominent throughout, and quite pleasant.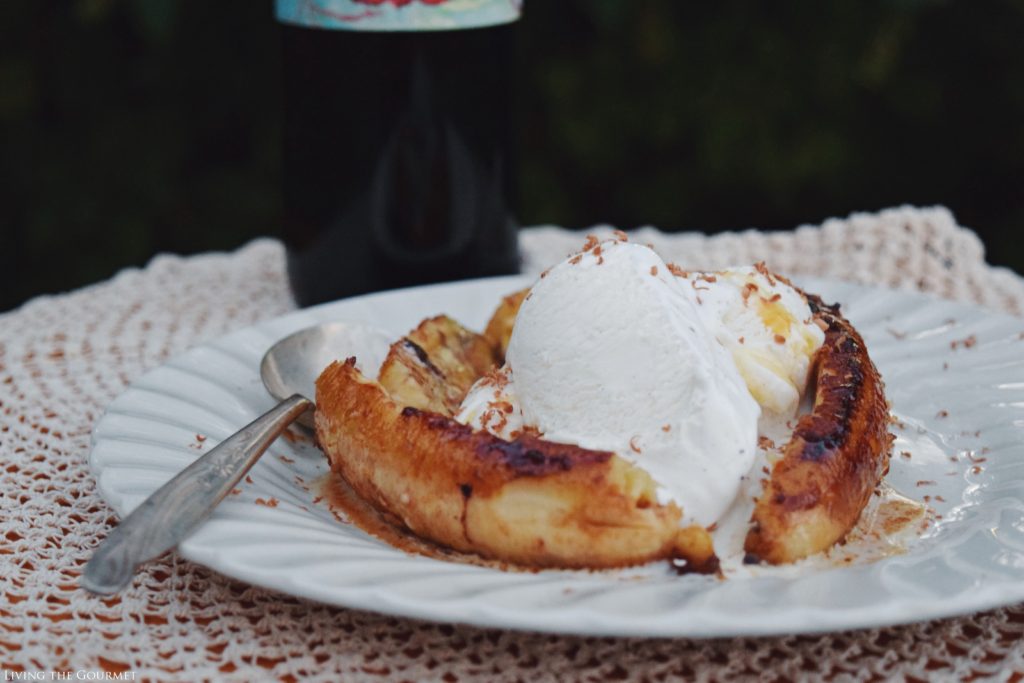 Print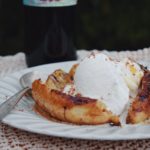 Fried Bananas and Ice Cream
---
Author:

Total Time:

10 mins

Yield:

3

1

x
3

bananas - sliced lengthwise

3

tbs. butter
Dash of salt

2

tbs. brown sugar

1 tsp

. vanilla
Dash of cinnamon
---
Instructions
Heat a large frying pan with the butter, salt, vanilla, brown sugar and cinnamon.
Stir until the butter is melted. Add the banana slices and cook until the bananas have a nice glaze.
Plate and serve with vanilla ice cream and shaved chocolate for garnish.
Prep Time:

5 mins

Cook Time:

5 mins

Category:

Dessert
Recipe Card powered by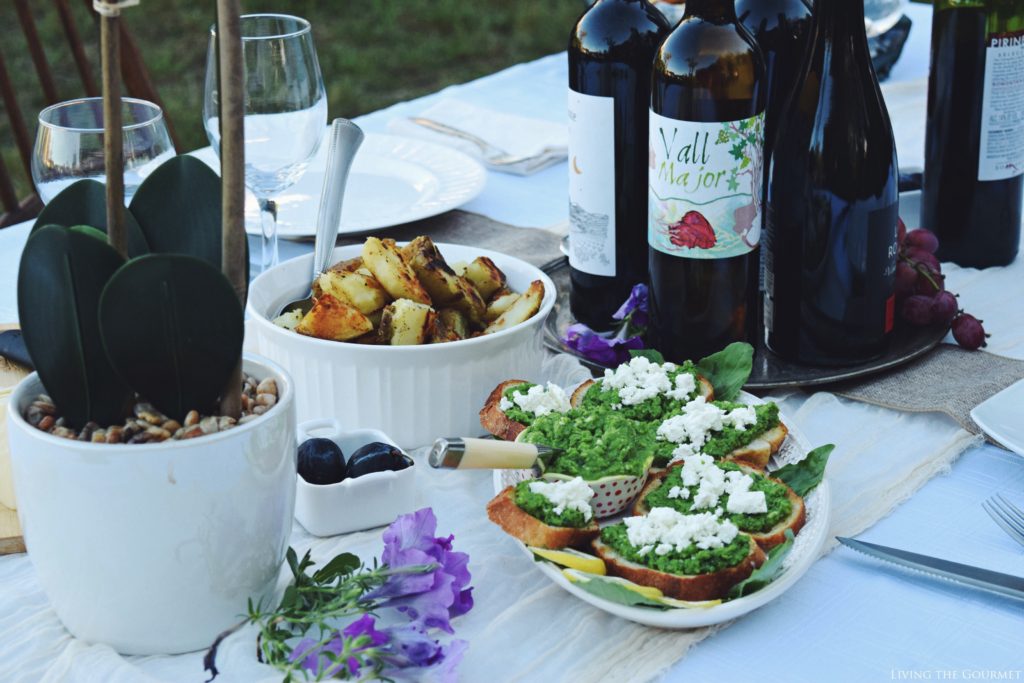 Needless to say, I couldn't have been happier with how my Garnacha-themed meal turned out. It was a nice twist on things, and provided a lighthearted way to put the evening together.
What are some of your favorite Garnacha pairings? How will you celebrate Garnacha Day and show you're #GarnachaLove?
Share your Garnacha Story on September 16th through the Wines of Garnacha Facebook page for a chance to win a $35 value swag bag including bottle coolers, Wine USBs, corkscrews and other goodies!
VISIT THE OFFICIAL WINES OF GARNACHA WEBSITE FOR DETAILS ON HOW TO ENTER!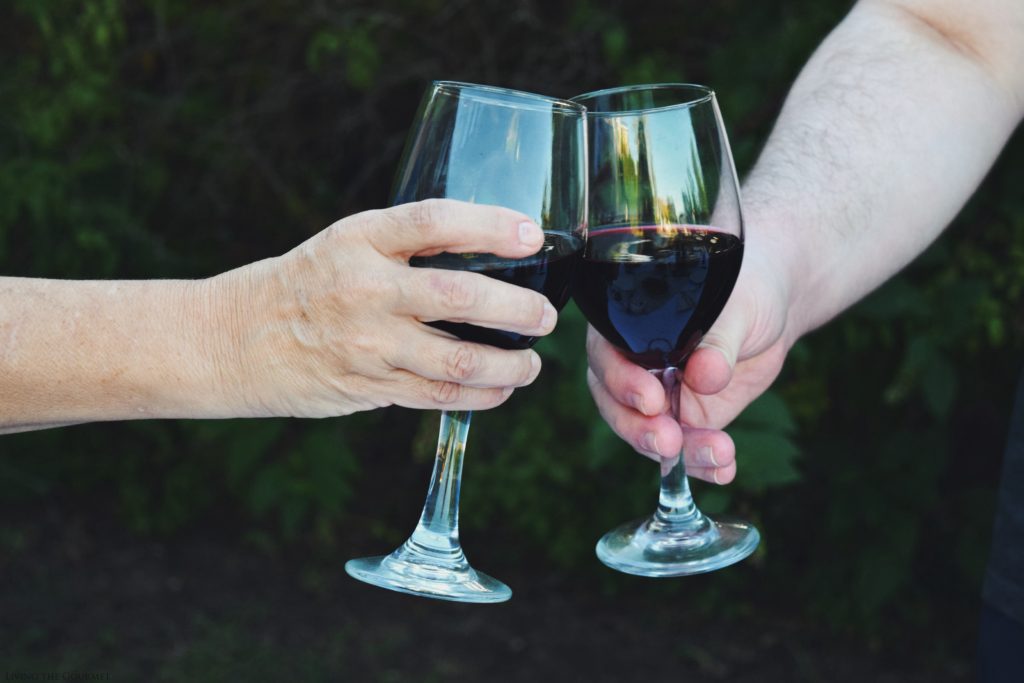 Cheers!
0