As the summer winds down, lets celebrate the last golden moments of the season in true LTG style – a laid back summer meal, a glass of wine, and good music.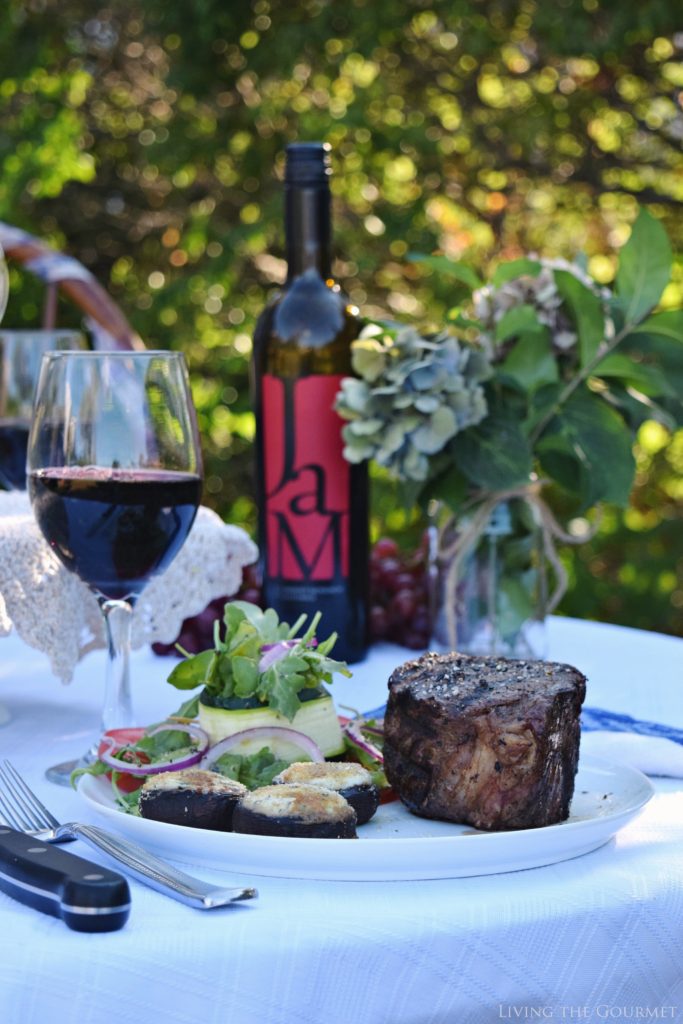 Last week, I found myself enduring the distinct displeasure of seeking a second opinion from a dentist recommended to me by a family member. I've a dreadful phobia of medical offices in general, and after I sat down in the chair, and he entered the room, my nerves got the better of me. I began chatting away nervously in a consciously-hopeless attempt to forestall the inevitable – the 'inevitable' being a mere a 'picture and poke.' Being possessed of both sterling chair-side manner, and a saint's rationing of patience, he humored me for several minutes.
Along the way, he related that he's an avid fisherman and a blues fan, and I relayed that I'm the connoisseur here at Living the Gourmet, which seemed to greatly impress him. "So you can talk 'fancy' about wine?" he asked with a laugh, to which I replied in the affirmative. "Alright, let me hear it. I love this," was his quite sincere response. I proceeded to 'talk fancy' about wine for a bit, giving him an off the cuff pairing for his next fishing trip. Out in the sea air, easy favorites like ham and Swiss on a sturdy roll are usually the order the day, or the day's catch put on the grill, and that means you want an equally 'casual' wine, a classic vino de mesa. Of course, nothing pairs better with 'casual favorites' than a solid but easy-to-drink cabernet sauvignon.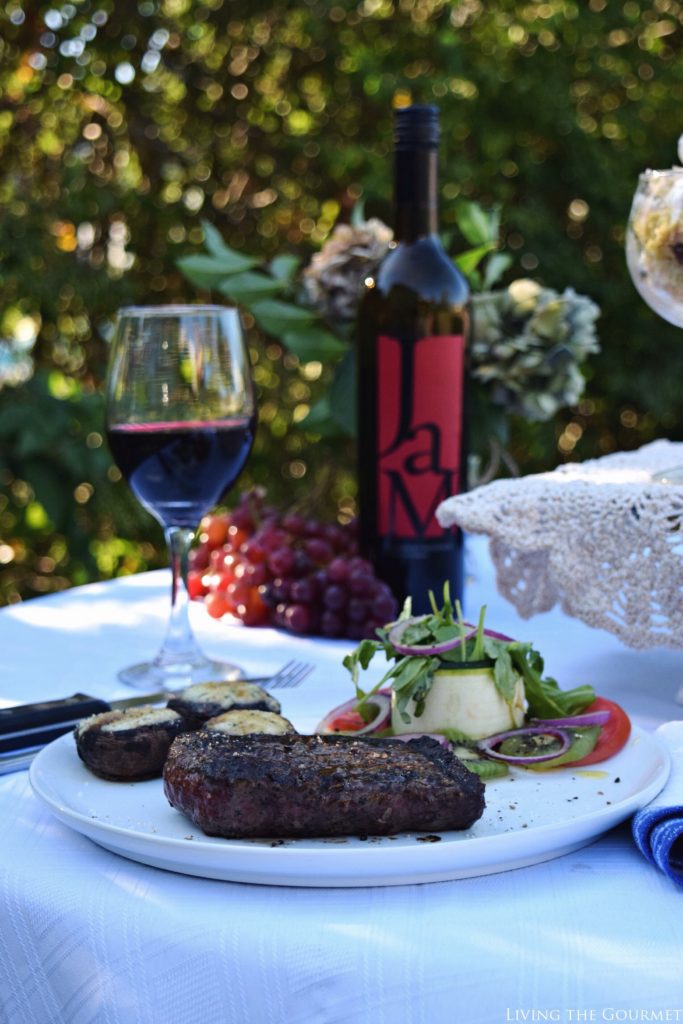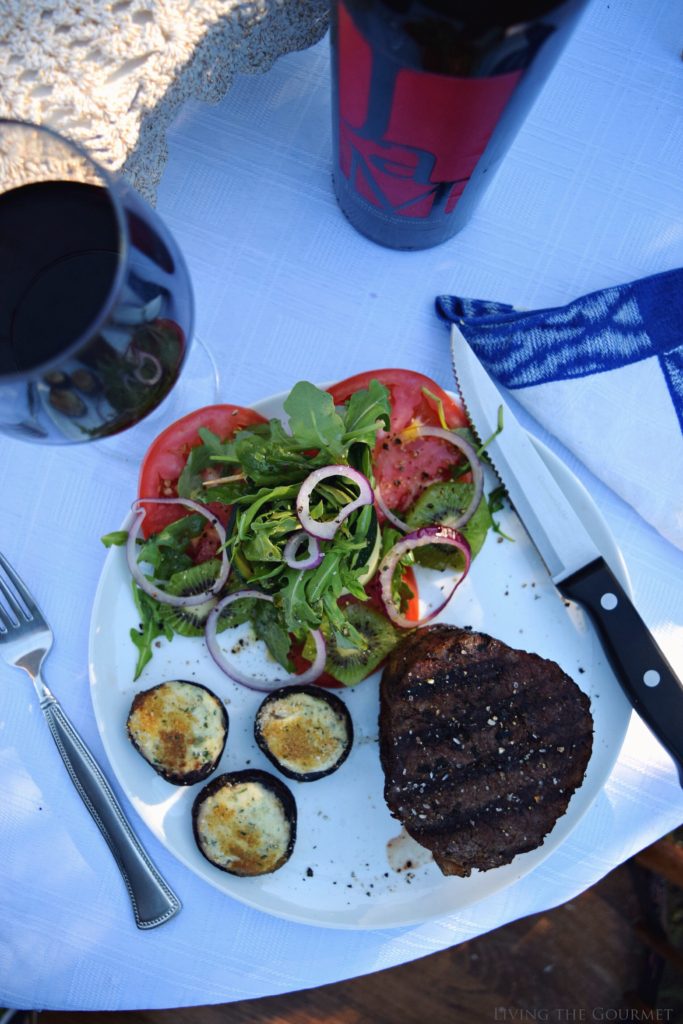 Despite my best efforts at sounding 'fancy' on such short notice, and on such an unusual wine pairing, I couldn't dissuade him from concurring that I do in fact need to lose one of my favorite teeth. Fortunately, the conversation served a sort of cathartic purpose once I was out of the chair, since instead of worrying about my tooth, I found myself thinking about our brief chat – and about the hypothetical pairing I had provided him with.
In particular, I found myself thinking about wines that are easy-to-love, the sort that don't need to be spoken about in a 'fancy' manner. For example, it's hard to sound knowledgeable or 'fancy' when talking about the latest in Cava without knowing a few key vinicultural Spanish phrases to pepper into one's description. Similarly, there are wines that are just 'easy to love,' no frills attached. The former are typically paired to gourmet menus and classical music, while the later are for more casual affairs – obviously.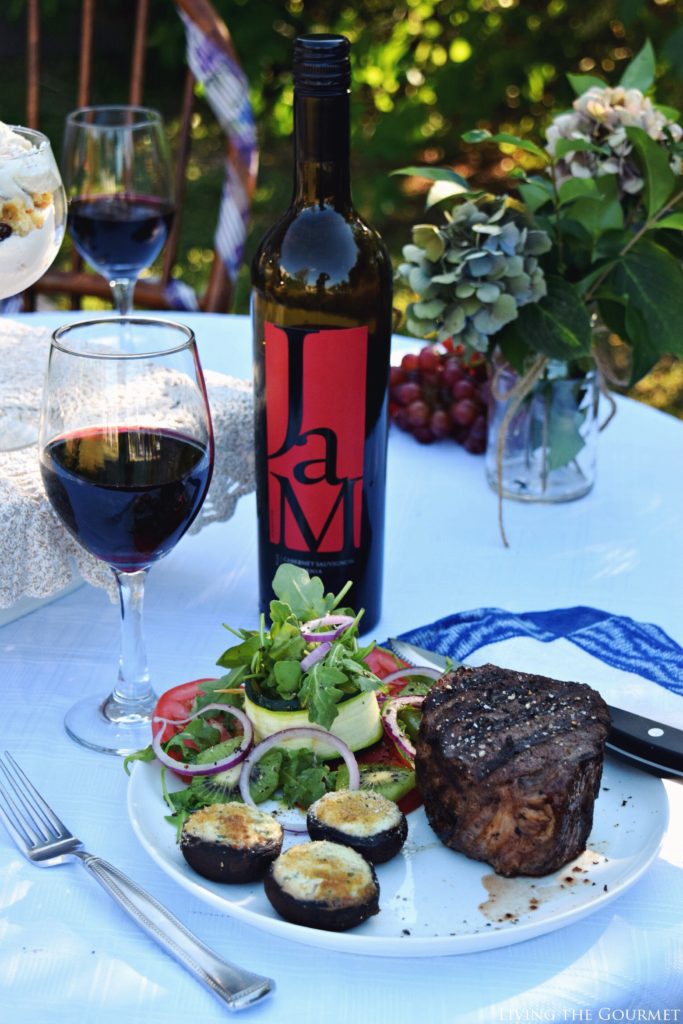 Arriving home, I took a coffee out onto my porch, and the sight of my dock and the cool breeze coming in from the bay got me to thinking…why not try the pairing I had just suggested? I had the summer breeze blowing in from the bay, all I needed was the wine, a playlist, and a menu. I decided then and there, I was going to do just that.
I didn't need an ounce of inspiration when it came to the playlist. Some of my fondest memories growing up are of dinners spent on my uncle's houseboat. To set the stage, imagine ocean salt, red sauce, and dark wine hanging thick on the air, with conversation and laughter set against a backdrop of John Lee Hooker blasting over giant 70s-era Bose speakers. The floor rolls under your feet with each wave lashed against the shore, dizzying you at first, but you ease into it. A few hours pass, and dinner is set out on a table set beside a glass wall looking out across the water, the lights of the Jones Beach Tower dotting the horizon.
Check out our Summer Blues playlist below or download the Chill with JaM playlist to keep your summer party going.
Taking a page out of my uncle's book, I decided to grill a pair of fillet mignons, and serve that with an arugula salad drizzled with a bourbon-cider vinaigrette, with mushrooms stuffed with gorgonzola on the side. For dessert, I prepared a bread pudding with white chocolate, which I layered with fresh vanilla whipped cream.
Now, for the easy-to-love wine, I selected a 100% Cabernet Sauvignon from JaM Cellars. JaM Cellars is run by second generation Napa Valley vintners John and Michele, who pride themselves on preparing wines that are meant to be enjoyed casually any day of the week with friends, following the motto "We take our wines seriously; we just don't take ourselves seriously." On pouring, the wine introduces itself with a deep red coloration, and ruby hue towards the edge of the glass. The wine greets with an intense aroma, very fruity and acidic off the top of the glass, with a bouquet of vanilla spice and vague herbal notes forming a distinct backdrop. On sampling, the nose largely carries over, featuring sharp berry notes – think ripe cherries, sliced dark berry, and hints of plum, with a smooth and lasting finish. Overall, a very pleasant wine, which served precisely the purpose I had in mind.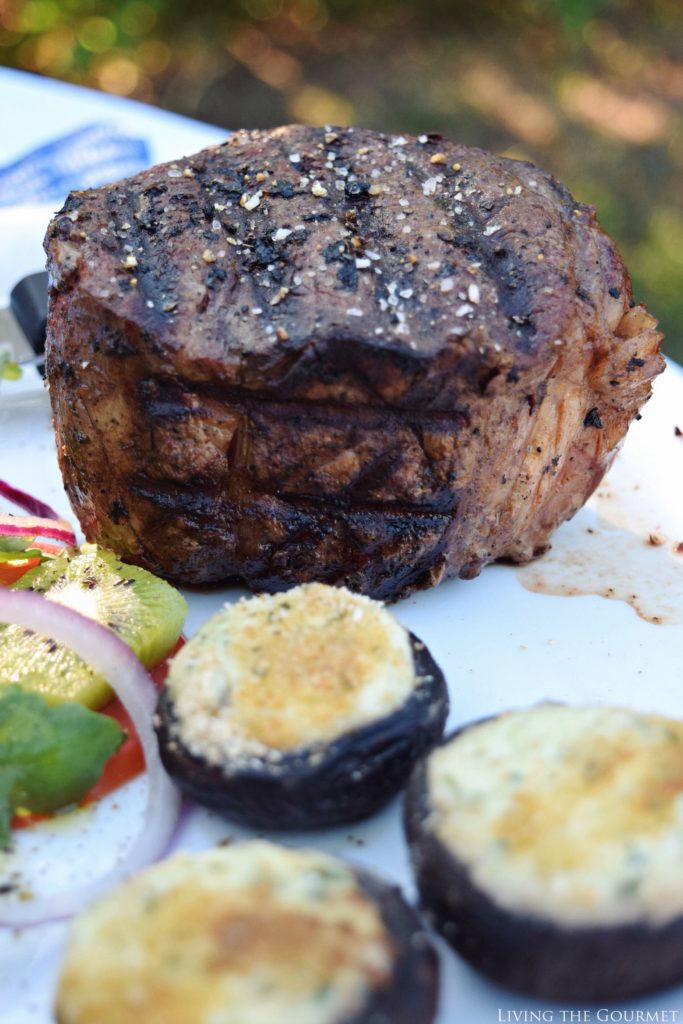 Print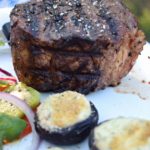 Gorgonzola and Cream Cheese Stuffed Mushrooms
---
Author:

Prep Time:

8 mins

Cook Time:

12 mins

Total Time:

20 mins

Yield:

6

1

x
2 quarts

of baby bella mushrooms

1

cloves of garlic

¼ cup

fresh Italian parsley

8 oz

. of cream cheese

4 oz

. of Gorgonzola cheese

3

tbs. milk

1

tbs. lemon juice

3

tbs. of butter
Bread crumbs for sprinkling
---
Instructions
Gently remove stems from the mushrooms.
Gently melt the butter then brush each mushroom with the butter.
Preheat Oven 350 degrees F.
Place the mushrooms cup side down on a baking sheet and bake for 8 – 10 minutes.
Remove and set aside while preparing the filling.
Place the gorgonzola cheese, cream cheese, garlic, parsley, lemon juice and the milk in a food processor and process until smooth and creamy.
Fill each mushroom with the mixture then sprinkle each mushroom with the breadcrumbs; followed by a small drizzle of olive oil.
Place the mushrooms on a baking sheet.
Bake for 12 – 15 minutes.
Recipe Card powered by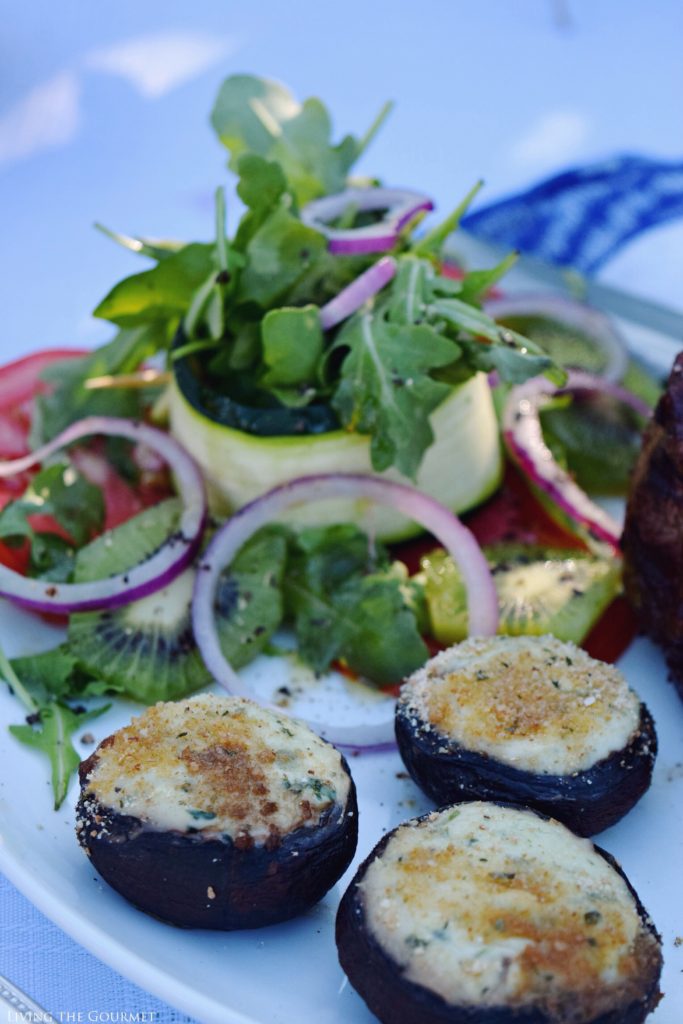 Print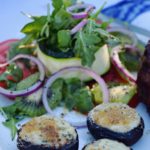 Arugula Salad with Brandy Cider Vinaigrette
---
Author:

Prep Time:

10 mins

Total Time:

10 mins

Yield:

4

-

6

1

x
For the Salad:
1

bunch of fresh arugula

1

red onion – sliced thin

2

kiwis – sliced

1

tomato – sliced thin

1

zucchini – sliced thin lengthwise
For the Vinaigrette:
3

tbs. brown sugar

2

tbs. lemon juice

2

tbs. cider vinegar

½ cup

olive oil
Dash of salt
Dash of fresh ground black pepper
---
Instructions
For the Salad:
Roll the zucchini slices and secure with a wooden toothpick.
Place the rolled zucchini on the plated tomato slices and stuff the rolled zucchini with the arugula. Garnish with the onion and kiwi slices and drizzle with the vinaigrette.
For the Vinaigrette:
Combine all of the ingredients for the vinaigrette and stir.
Recipe Card powered by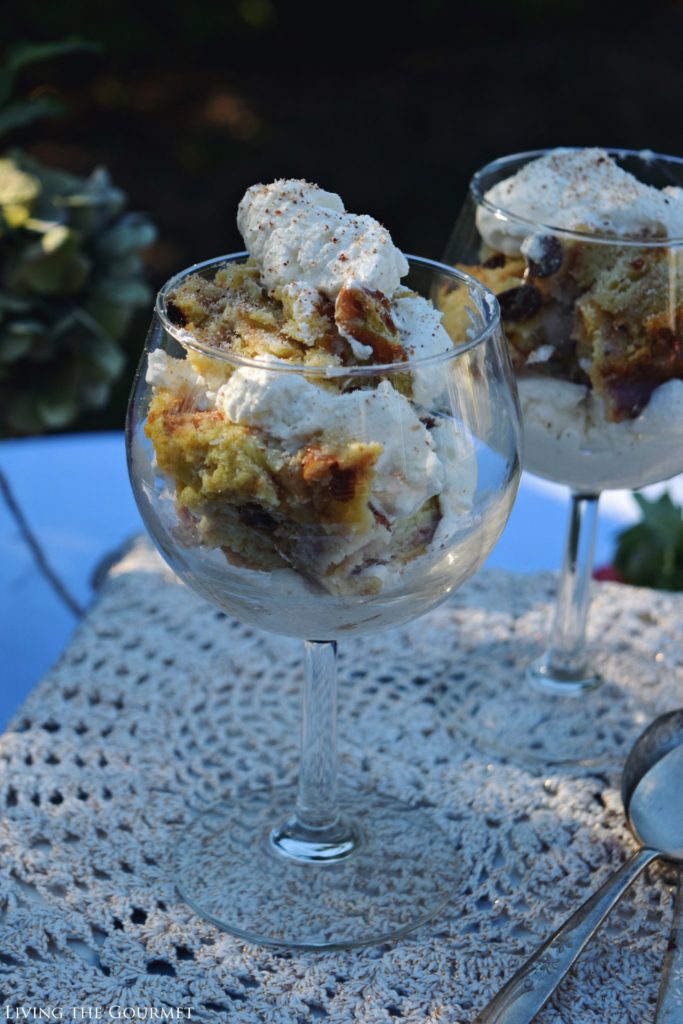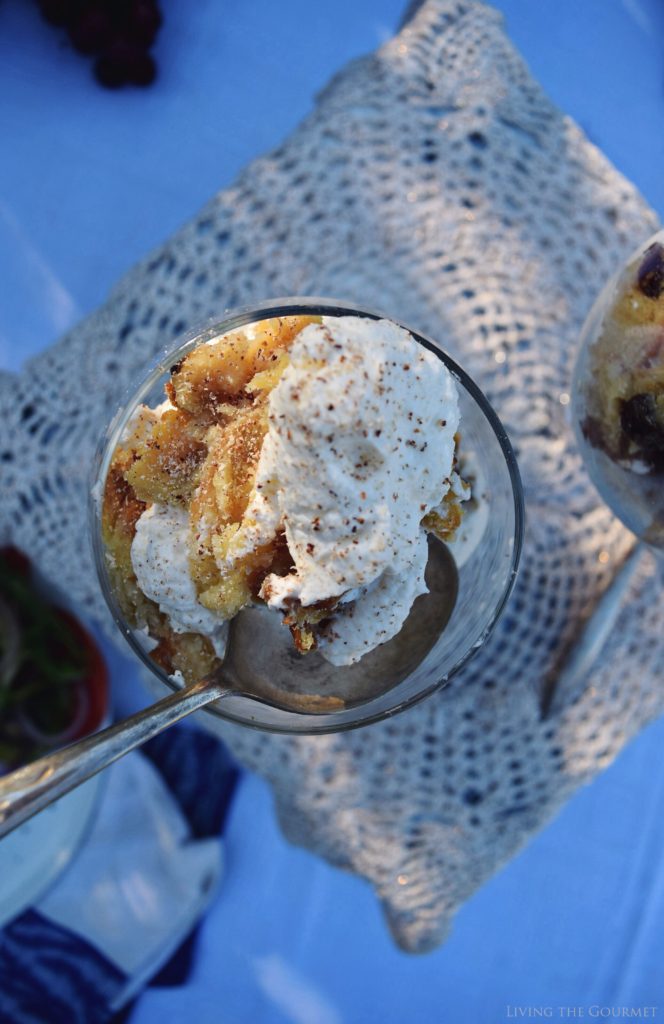 Print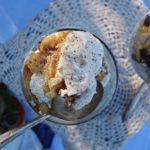 White Chocolate Bread Pudding
---
Author:

Prep Time:

10 mins

Cook Time:

45 mins

Total Time:

55 mins

Yield:

6

1

x
Description
---
16 oz

. challah bread – cubed

3 ¼ cups

milk

4

tbs. butter

3

egg yolks

½ cup

sugar

2

tbs. brandy

2

tbs. orange marmalade

½ cup

of shredded white chocolate

1 tsp

. vanilla

½ cup

raisins

¼ tsp

. nutmeg

¼ tsp

. cinnamon
---
Instructions
Preheat Oven 300 degrees F.
Gently warm the milk with the butter.
Soak the bread in the warm butter milk.
Beat together the egg yolks, sugar, vanilla, cinnamon, brandy, marmalade, shredded chocolate, raisins and nutmeg.
Pour this mixture over the bread that is soaking in the milk and gently stir.
Beat the egg whites until stiff, then fold into the bread mixture.
Generously butter a baking dish.
Place the bread mixture into the prepared baking dish.
Bake the pudding in a baking dish set in a pan of hot water about 45 minutes.
Let cool.
Serve with fresh whipped cream and fresh grated nutmeg.
Recipe Card powered by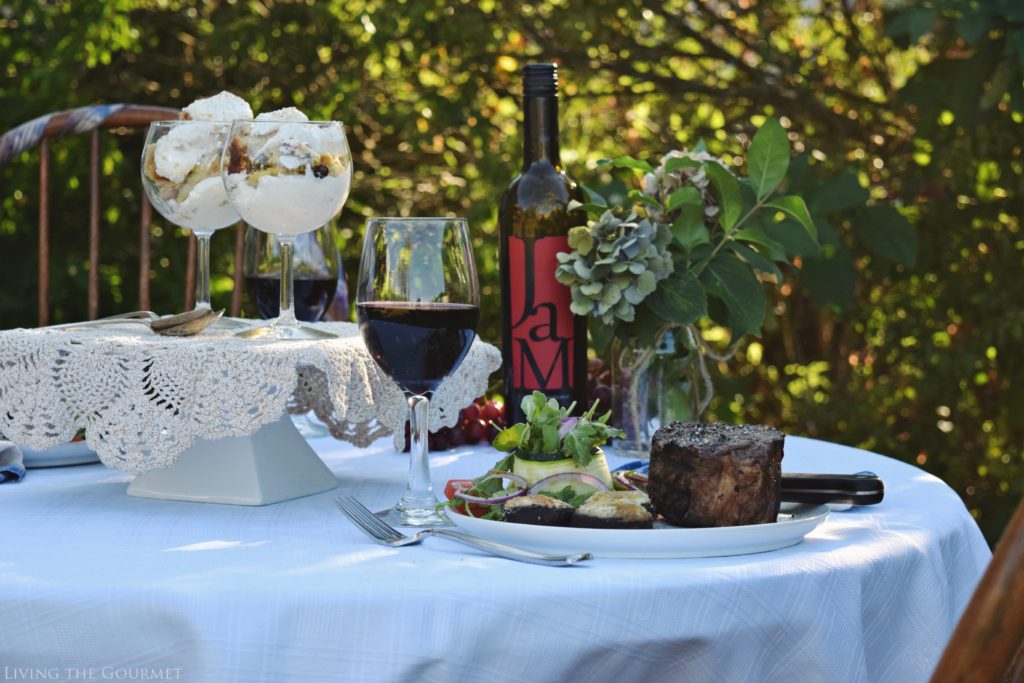 With the dinner set, the wine paired, and the playlist blasting in the background, my late summer evening was complete. Time to eat, drink, and reminisce.
Discover JaM Cellars today using JaMCellars.com/WineFinder to find a store near you. And don't forget to follow JaM Cellars on Facebook, Instagram and Twitter for daily wine-spiration #JaMCellars @JaMCellars!
I was selected for this opportunity as a member of Clever Girls and the content and opinions expressed here are all my own.
Cheers!
0