Toasted sugar lends a richer flavor to these melt-in-your-mouth cookies. Soft, chewy, with just the right amount of sweetness, they may be the best you'll ever have.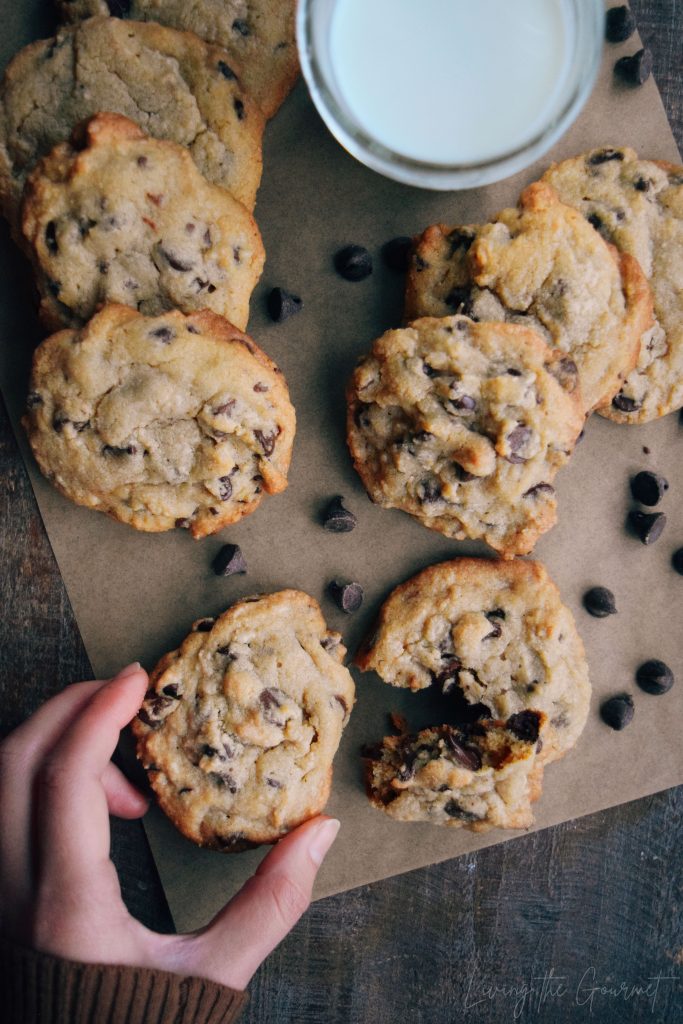 I've always tried to stray from using 'best ever' in my recipe titles. It has always felt presumptuous to me and when it comes to cooking/baking, I don't want people to feel intimidated. There is really no set way to making a certain dish. Everyone has a preference and there are delicious variations of all sorts.
It's especially audacious to use 'best ever' when it comes to chocolate chip cookies.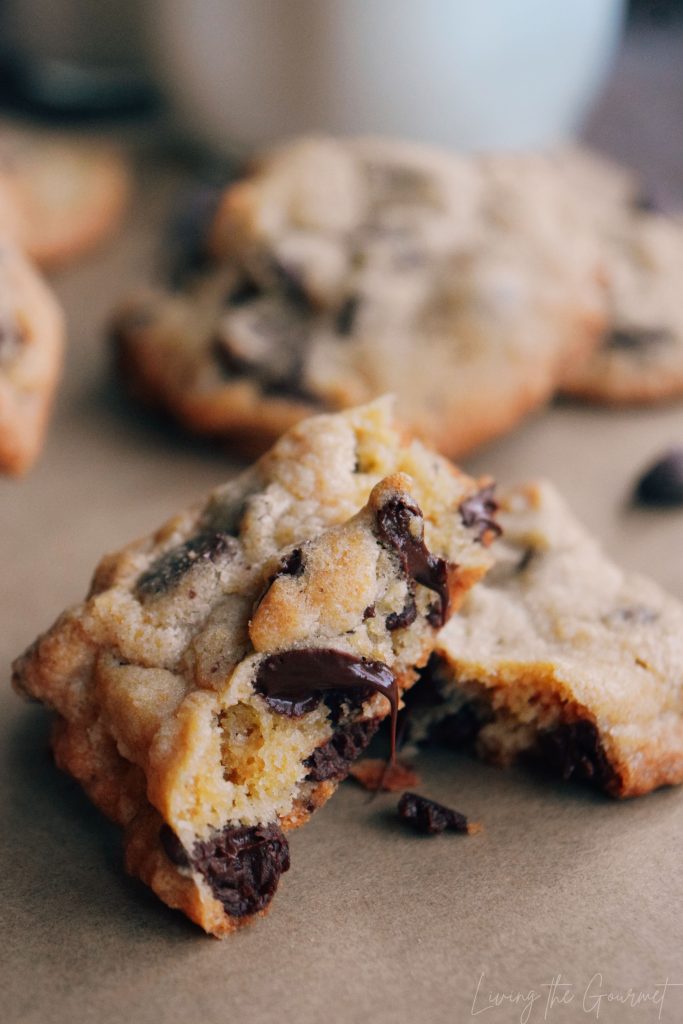 Happy Accidents
The CCC was originally created in 1938 by Ruth Wakefield, who ran the Toll House Inn in Whitman, Massachusetts. At the time, the inn was known for its home cooking offered to weary travelers. Now beyond this point there's a lot of mystery still to how the CCC actually came to be. Some believe it was a wonderful accident, while others say, it was all intentional. Whatever the truth may be behind it all, the part that fascinates me is that Ruth sold her recipe to Nestlé for $1 and a lifetime supply of chocolate.
Fast forward some 80 years and here we are, still recreating and reinventing one of the simplest recipes of all time.
There arguably are a thousand ways to make a chocolate chip cookie nowadays, but it really comes down to the consumer.
Some like them soft and doughy. Some like them thin and crisp. Some like nuts, others like chocolate chocolate. Is there a right way or a wrong way? Well, when you come right down to it, no.
Today's recipe I find is a good combination of what everyone loves. Super soft interior that melts in your mouth upon first bite, with a slight crisp to the edges. These are loaded with lots of chocolate chips and have a bit of caramel-like flavor that comes from toasting the sugar beforehand which is somewhat a modern method discovered in 2016 by baker Stella Parks.
Take note bakers and chefs- happy accidents are when some of our greatest discoveries are made.
I took a look back at the Ruth's recipe. You know, the $1 OG that started it. She made hers with butter and shortening, which I personally always preferred since the shortening produces a more tender cookie. So unlike many other CCC recipes out there, I don't believe that all butter is the key to a perfectly soft cookie.
For a long time now, I've been using a mix of flours when baking CCCs. I alternate between whole wheat or almond flour. I prefer the almond flour as it lends a slightly nutty flavor that plays into the toasted sugar really well. I have found mixing flours gives the batter a better texture and the cookies hold up better when this is done.
Now, to quickly touch back on the toasted sugar. It's a pretty big alteration for a couple of reasons. It lends an even lovelier golden color to the cookies in combination with the brown sugar and almond flour. Also, it trades some of the sweetness for a depth of flavor that's almost like caramel. The cookies are plenty sweet rest assured so you don't need to add more sugar because of this technique. This recipe is also heavy on the chocolate chips which you can always adjust to you liking.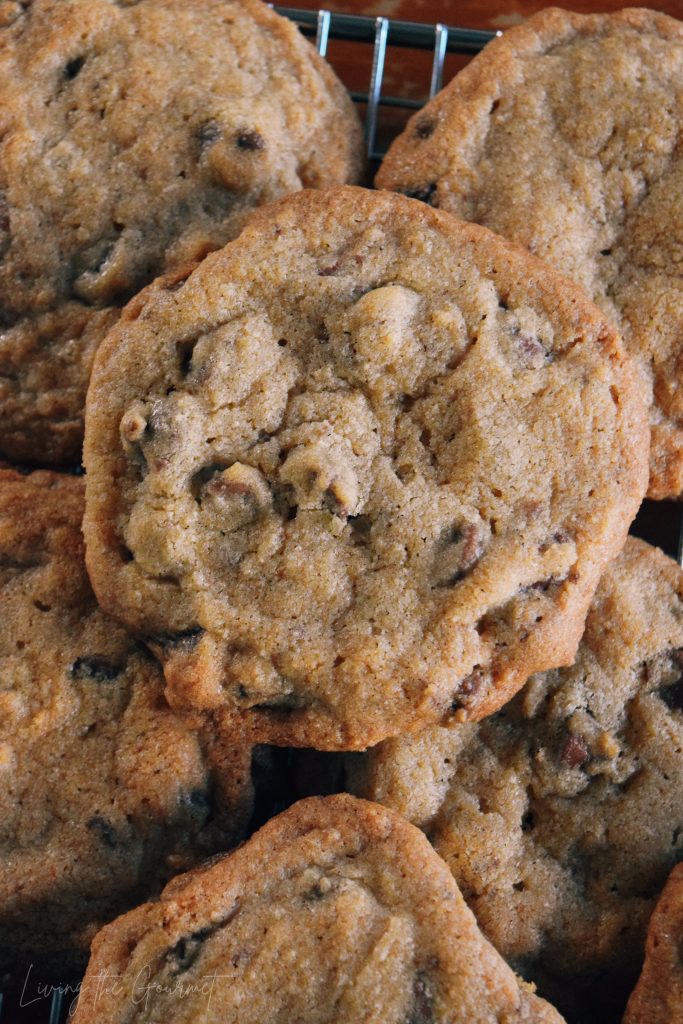 Toasting sugar is a process, but it yields a good amount so you'll have plenty leftover for other recipes. Think cakes, breads, other cookies (like gingersnaps), and even hot drinks. It's an ingredient you'll definitely want on hand this holiday season.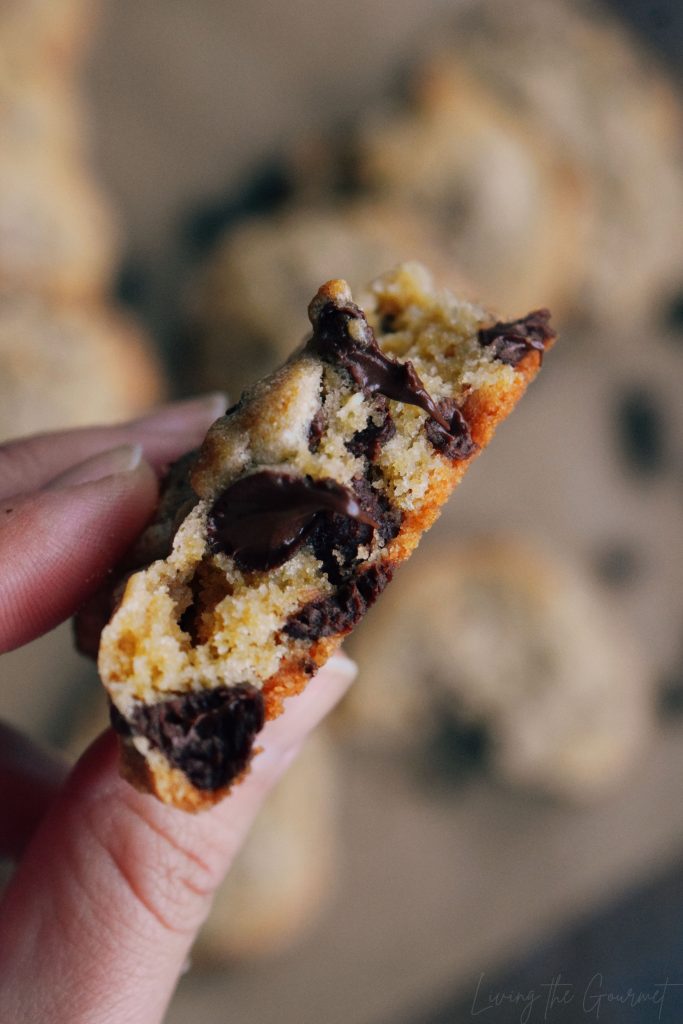 Print
Best Ever Chocolate Chip Cookies
---
Author:

Total Time:

15 minutes

Yield:

2

dozen cookies

1

x
6 tablespoons

unsalted butter, softened

2 tablespoons

shortening

1/2

cup

dark brown sugar

1/2

cup

toasted sugar

1

egg

1 tablespoon

pure vanilla
Pinch of salt

3/4

cup

AP flour

1/2

cup

almond flour

1/4 teaspoon

baking soda

1/2 teaspoons

baking powder

1

cup

chocolate chips
---
Instructions
Preheat oven to 350 degrees F.  and line two baking sheets with parchment paper.  Set aside.
In the bowl of your mix master, beat butter, shortening, sugars, egg and vanilla, until whipped.
Add salt, flours, baking soda, and baking powder.  Beat on low until a sticky dough comes together.  Add the chocolate chips and mix on low until incorporated.
Spoon heaping tablespoons worth of cooking dough on each sheet, leaving enough room for the cookies to expand.  I scooped them out in four rows of three cookies.
Bake for 10 minutes or until just slightly golden.   Remove from the oven and leave to rest on the cookie sheets for about half a minute before carefully transferring to a wire rack.  Let cool before serving.  Enjoy!
Notes
Store cookies in an airtight container lined with a paper towel to keep the cookies soft and fresh longer.  Cookies will keep for up to 5 days.
Prep Time:

5 minutes

Cook Time:

10 minutes

Category:

Dessert

Cuisine:

American
Keywords: dessert, cookies, chocolate chip cookies, toasted sugar
Recipe Card powered by
0