Do you love blueberry muffins? Do you 'also' love cake? If you're looking for a dessert that combines the best of both worlds, than look no further then this Blueberry Muffin Cake. This luscious dessert can be whipped up in no time, and is perfect for the spring and summer months.
If you love the taste of a classic blueberry muffin, you'll love the flavor of this Blueberry Muffin Cake. The best part about this Blueberry Muffin Cake is that it's the perfect dessert for any spring or summer occasion. Serve it for a special brunch, take it to a potluck, or just enjoy it as an after-dinner treat. With its light texture and fresh blueberry flavor, it's sure to be a crowd-pleaser!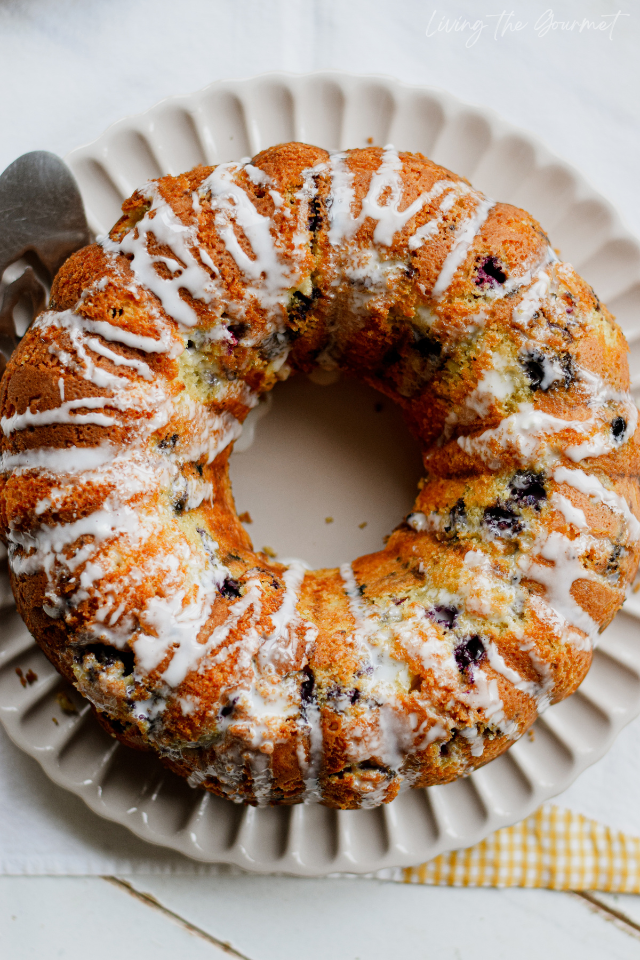 Being light and airy, and packed with fresh berries, this cake is ideal for the spring and summer months. With its bright, colorful flavors and light texture, it's the perfect complement to a warm summer evening. You can enjoy it on its own, or pair it with a scoop of ice cream or a dollop of fresh whipped cream for a truly decadent treat.
So, if you're looking for a delicious and easy-to-make cake that will have your family and friends coming back for seconds, then you've got to try our Blueberry Muffin Cake. Read on for an ingredient checklist, tips for making the most delicious cake every time.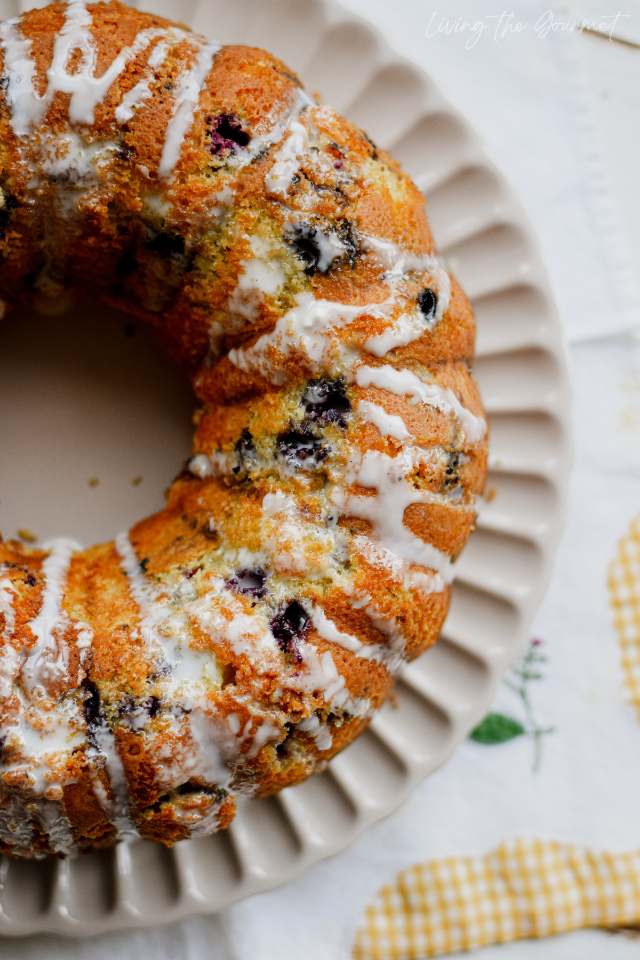 Ingredient Checklist
Yellow Cake Mix. Your preferred yellow cake mix is all you're looking for here. I'm using a super moist variety.
Cream Cheese. adds a rich, creamy flavor to the cake, while also helping to keep the cake moist and tender. Cream cheese also helps to bind the ingredients together, creating a more cohesive texture.
Vanilla. Your choice of extract, pods, or paste. All substitute at a 1-to-1 ratio by volume.
Eggs. Eggs provide structure to the cake, helping it to rise and hold its shape. They also help to bind the ingredients together, giving the cake a more cohesive texture. Finally, eggs also help to make the cake more tender and fluffy. In this Blueberry Muffin Cake, the eggs are essential for creating a light and fluffy texture.
Canola Oil. A flavor neutral oil to add far to the batter.
Fresh Blueberries (dusted with flour). Yes, we dust the blueberries with flour. When baking with fresh fruit, it is important to dust the fruit with a small amount of flour before adding it to the batter. This helps to prevent the fruit from sinking to the bottom of the cake as it bakes. By dusting the blueberries with flour before adding them to the cake batter, you can ensure that the blueberries remain evenly distributed throughout the cake.
Sour Cream. Typically, sour cream is added to cakes to help make them more moist and tender. The acidity of the sour cream also helps to bring out the flavor of the other ingredients, such as the blueberries in this Blueberry Muffin Cake. The added fat also helps to keep the cake from drying out. In this recipe, the sour cream helps to create a soft, tender texture in the cake, while also amplifying the flavor of the blueberries.
Milk. For moisture and fat. I do strongly suggest using whole fat milk.
Butter. For creasing the pan to ensure that the cake doesn't stick.
Flour. For dusting the pan to ensure that the cake doesn't stick.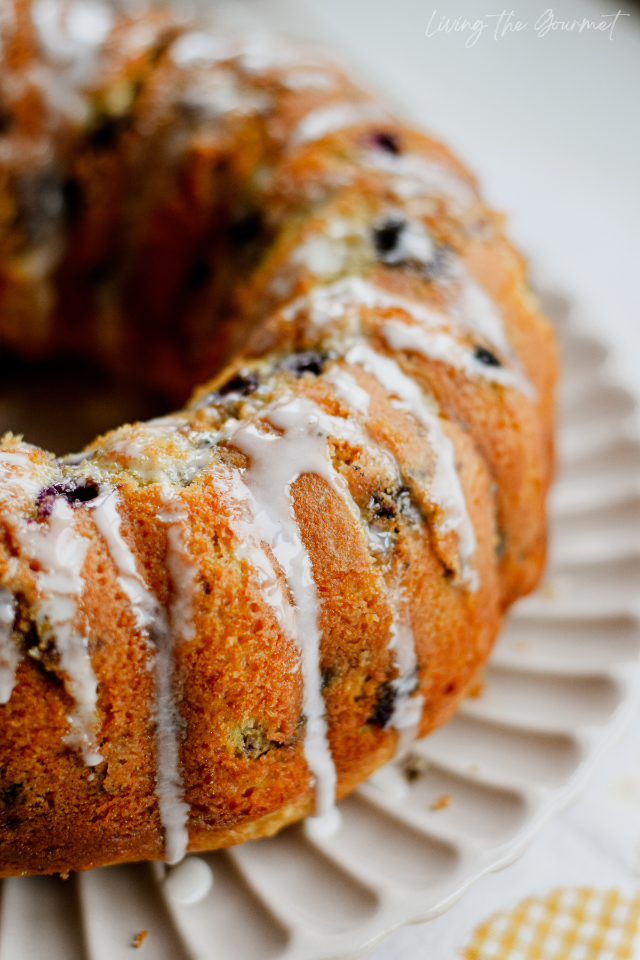 Tips for Making a Delicious Cake Every Time
Start with a good recipe, and read it! Even professional chefs do this. While there are 'no mistakes' in cooking, baking is a precision process. As such, be sure to read through your recipe a few times before starting. Then do the pre-work, and only then begin baking.
Use quality ingredients. Using quality ingredients will ensure that your cake turns out moist and flavorful. Pay attention to the type of butter, eggs, and other ingredients that you use.
Measure accurately. Be sure to measure all of your ingredients accurately. Even a small difference in measurement can affect the texture and taste of your cake.
Preheat your oven. Preheating your oven is essential for baking a cake. Make sure your oven is at the proper temperature before you begin baking.
Grease and flour your pan. Greasing and flouring your cake pan will help your cake release more easily when it's done baking.
Don't overmix the batter. Over mixing the batter can cause your cake to be dense and dry. Mix the batter until the ingredients are just combined.
Check for doneness. Insert a toothpick into the center of your cake to check for doneness. If it comes out clean, your cake is done.
Let your cake cool. Cooling your cake is important to help it hold its shape. Let your cake cool completely before you frost it or remove it from the pan.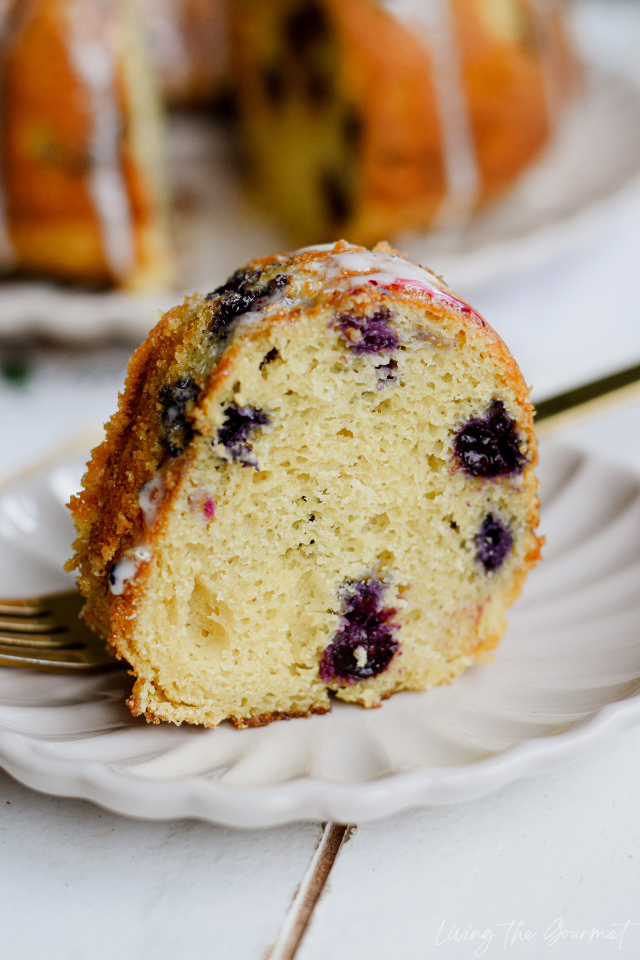 Delicious Pairings
Ice Cream. There's just no beating homemade ice cream. Smooth, rich, and creamy, our classic No Churn Vanilla Ice Cream is a seasonal must. With just a handful of ingredients, all you need to do is whisk and freeze, then sit back and indulge.
Specialty Coffee. Consider something like my Tiramisu Coffee, which features sweet and creamy custard served over hot coffee and then dusted with shavings of dark chocolate and a sprinkle of warm cinnamon. Or, my preference, a rich Turkish Coffee.
Toppings. If you really want to ratchet things up a notch, consider something like my Red Wine Syrup.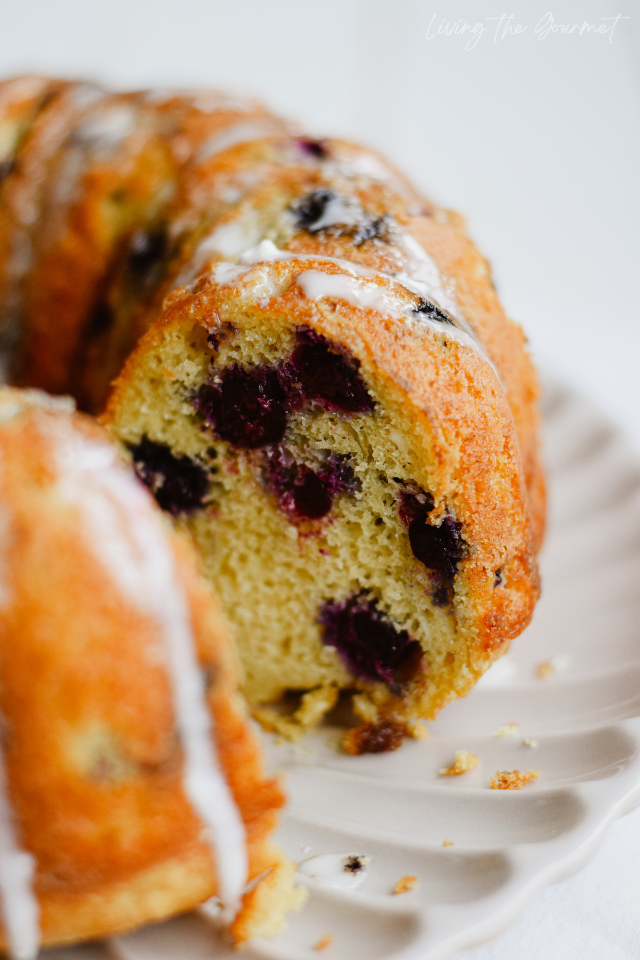 Print
Blueberry Muffin Cake
---
Author:

Total Time:

50 minutes

Yield:

1

bundt cake

1

x
1

yellow box mix

4

oz

. cream cheese

3 tsp

. vanilla

3

eggs

1/3

cup

of canola oil

1 1/2

cups

of blueberries - dusted with flour

1/3

cup

of sour cream

1/3

cup

of milk
butter and flour for preparing the bundt pan

1/2

cup

of confectioner's sugar

2

-

3

tsps. whole milk
---
Instructions
Combine the milk, cream cheese, eggs, vanilla, oil and sour cream and a mixing bowl and mix with the stand mixer or hand mixer until smooth.
Add the box mix and mix again until incorporated, add the blueberries and mix gently.
Butter the bundt pan and dust with flour.
Preheat Oven 350 degrees F.
Bake for 35 - 40 minutes or until the toothpick test comes out clean.
Let the cake cool before removing from pan and top with the simple powdered sugar drizzle.
For the Drizzle:
In a small bowl, whisk together confectioner's sugar and enough liquid to form a glaze to your desired consistency for drizzling.
Prep Time:

10 minutes

Cook Time:

40 minutes

Category:

Dessert

Method:

Bake

Cuisine:

American
Keywords: cheesecake, cake, bundt, dessert, blueberries
Recipe Card powered by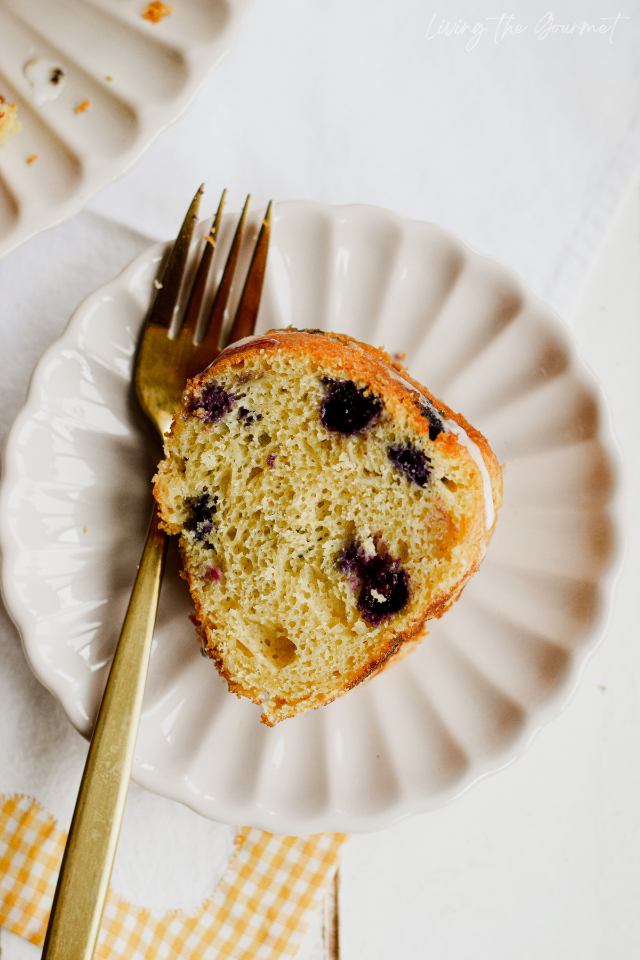 And that's my Blueberry Muffin Cake. If you enjoyed today's recipe, be sure to like, share, and subscribe! It helps more than you can know.
If you tried today's recipe, or have any questions or suggestions, let me know in the comments below. I love hearing from you. Happy Baking!
0