If you have even a passing familiarity with Turkish or Greek cuisine, you're likely familiar with the dense, often (but not always) bitingly sweet, subtly fruity or chocolatey tasting coffee that's served hidden beneath a generous layer of natural 'crema.' This coffee typically comes served alongside 'something' sweet – typically macaroon candies or Turkish delight – and a shot glass of water for cleansing the palate.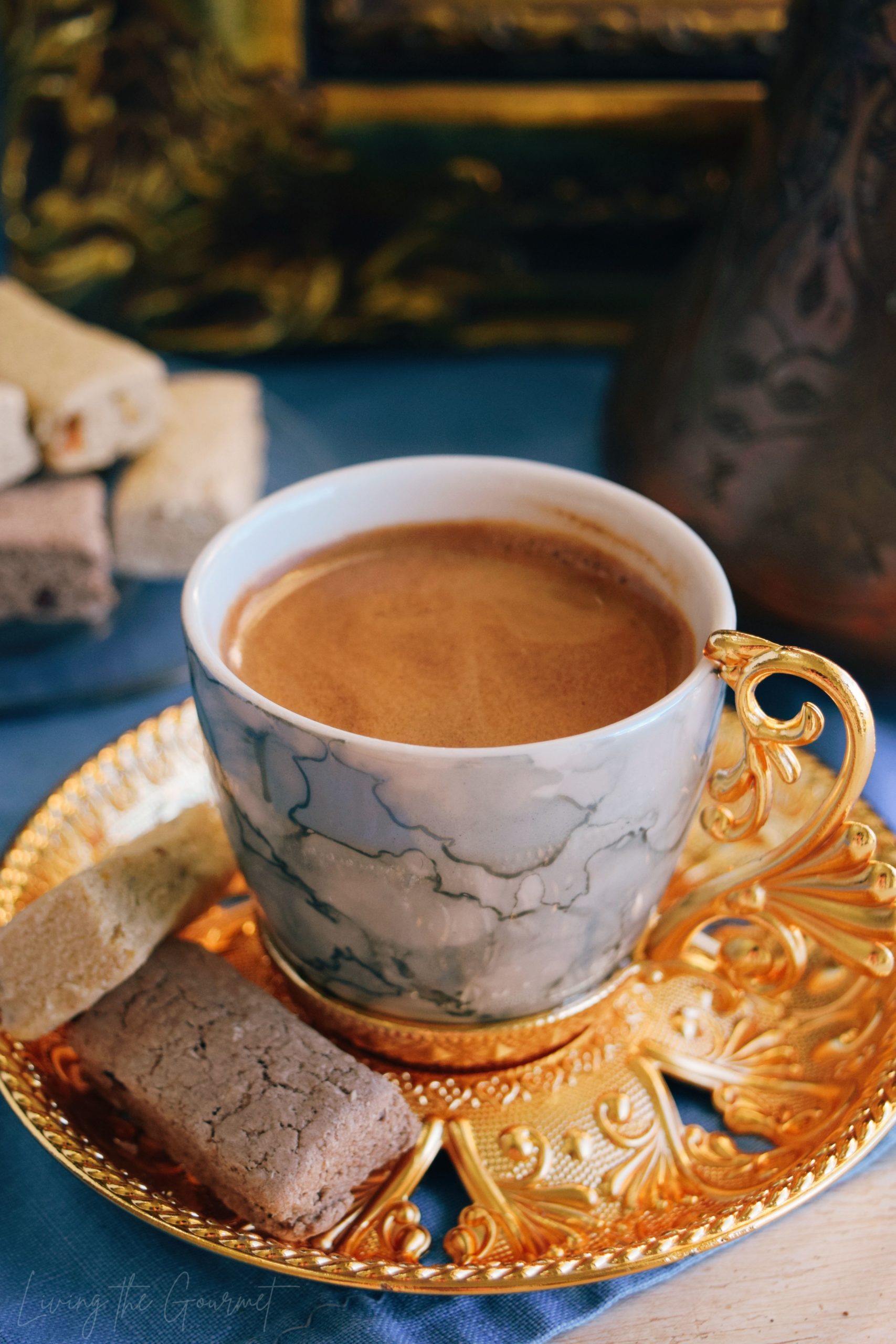 Peruse Youtube or Google for 'How to Make Turkish Coffee,' and you'll be bombarded with at least several very different methods, all of which have countless minor variations. From award winning baristas giving master-grade tutorials, to grandchildren filming their grandparents preparing coffee, to videos of street vendors preparing strangely delicious looking brews in seconds flat, you would be forgiven for assuming that no one can 'quite' agree on 'precisely' how this coffee is supposed to be made. The truth is, they're all correct, since there are several 'primary' ways to make Turkish Coffee, and each of these methods are considered 'the traditional way' or 'the way grandma taught me' or 'the way the experts do it' by someone somewhere.
Today, very plainly, we're covering what is, in my opinion, the simplest and most foolproof way to prepare a delicious cup of this coffee.
Now, before we begin, let me start by saying that while the process of preparing Turkish Coffee is quite simple – regardless of what you consider 'the right way' – mastering it 'does' take practice. However, don't let that scare you off from what is perhaps one of the most unique, delicious, and aromatic coffee experiences in existence.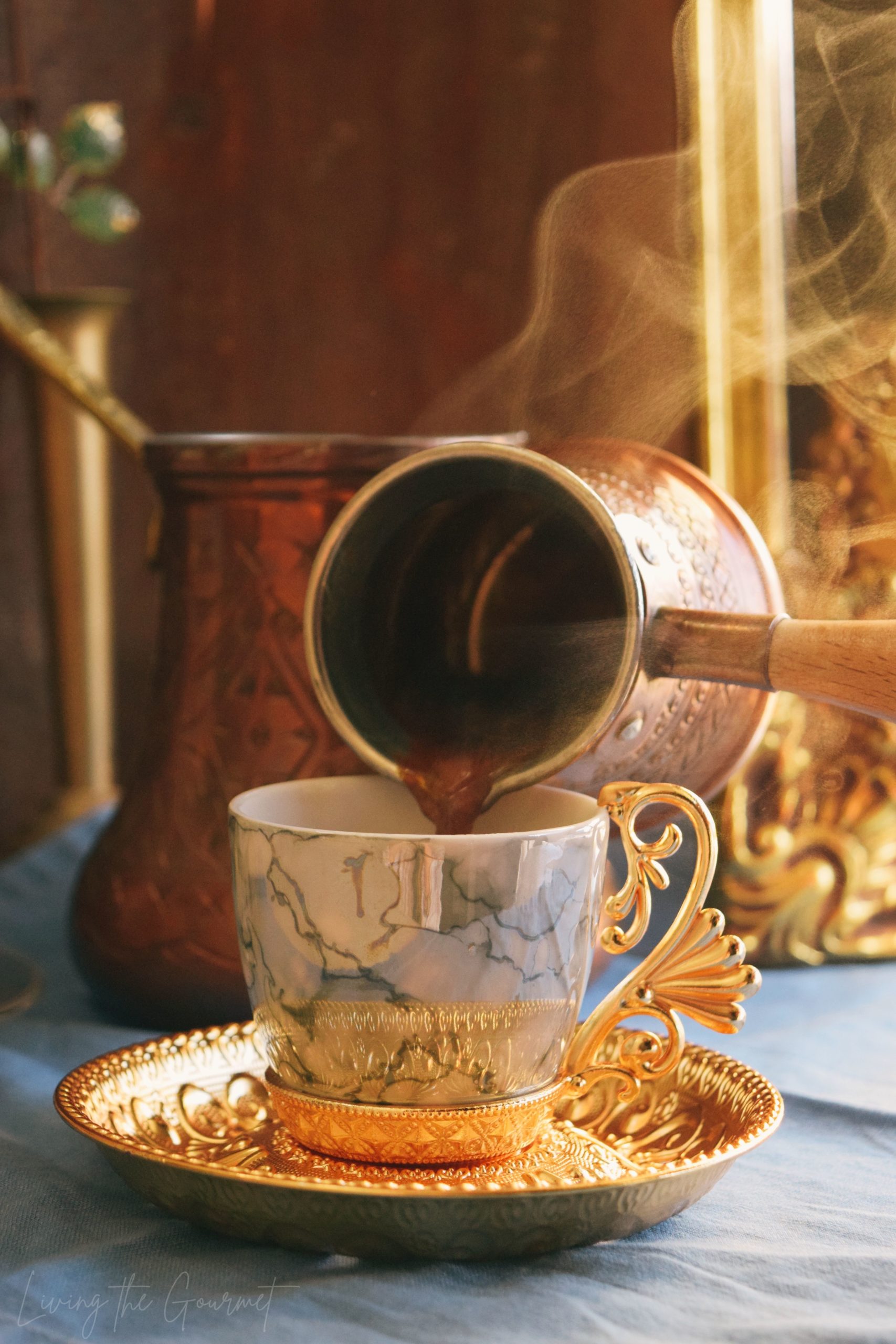 Turkish Coffee – Starting at the Beginning
At its height, the Ottoman Empire stretched from Algiers to the Persian Gulf, and from Budapest to Massawa on the Eritrean coast. Coincidentally, or not, almost everywhere the Ottoman Empire established itself for any length of time consumes the old empire's eponymous 'Turkish Coffee,' especially in Greece, Bosnia, and Armenia. In Greece, in particular, this type of coffee functions as something of a 'national beverage' alongside ouzo. However, this coffee is also enjoyed across North Africa and parts of the Arabian peninsula.
Around 1540 or so, the Ottoman governor of Yemen, Ozdemir Pasha, noted his subjects were increasingly indulging in a particularly unique drink – coffee. Whether he saw commercial potential in the drink, or simply viewed it as a cultural novelty worthy of note, he brought the drink to the attention of the Sultan himself, Suliman the Magnificent, sending bags of the stuff, along with brewing instructions, straight to the palace.
It was 'not' love at first sip.
Initially, the Sultan was entirely unimpressed with the drink, finding it to be bitter and unpleasant – an opinion shared by 'most' of his staff. However, the more culinary-minded of the Sultan's courtiers refined the drink in several ways – brewing and tasting along the way. First, they roasted the beans to what we might recognize as a 'dark roast' these days, then ground the roasted beans into a fine powder, and brewed the powdered coffee in purpose-crafted pots called 'cezve,' as well as adding copious amounts of sugar. The coffee was a hit. Importantly, it was a hit not only with the Sultan himself, but with the entirety of the palace. From there, the drink became fashionable throughout the empire, and as coffee imports increased (bringing coffee prices down), the drink rapidly found its way into the lives of the general population.
An Entire Empire Loved Turkish Coffee – And Why You Should Too
1) Truly unique taste and texture. I could sit here and describe the coffee's flavor as 'fruity' and 'nutty' without even a hint of 'coffee bitterness,' or I could try to convey its texture as 'pleasantly thick' or even 'syrup-like,' but instead I'll describe 'why' the coffee has these qualities so that it all makes a bit more sense. First and foremost, consider that Turkish Coffee typically has somewhere between a 3-to-1 and 1-to-1 coffee-to-sugar ratio, and that you are simmering your desired amount of sugar 'with' the coffee. Now, if simmering sugar in a pot with a relatively small amount of water sounds familiar, well…that's how you make syrup – yes, you are effectively preparing syrup 'in' your coffee. However, consider also that the process of preparing Turkish coffee has more in common with 'roasting' coffee than with 'brewing' coffee, which extracts a much larger amount of oils from the grinds when compared to preparing espresso or using a drip. These oils are going directly into your coffee, as opposed to being filtered through a machine or mesh filter – again, this cuts to the coffee's 'silky' or 'syrupy' texture. Tack on the coffee's natural 'crema' or 'froth,' and you can probably begin to see why this coffee is loved as much for its texture and mouthfeel as for its flavor.
2) It forces you to slow down. This is 'not' a coffee that you can rush – at any level. The preparation process simply demands that you set aside a solid ten minutes to prepare and enjoy your coffee. You cannot 'set it and forget it,' instead you need to watch the coffee like hawk, or you'll have a mess on your hands. You also cannot put it in a to go cup as that risks destroying the crema, and also risks disrupting the grinds, resulting in a thoroughly inedible coffee – not fun. Thus, fix yourself a Turkish coffee, and learn how to relax for a few minutes.
3) A Ritual In a Cup. From the specialized copper pot, to the unique preparation method, to more or less 'needing' to set aside a few minutes to savor the coffee, this particular type of brew more or less 'requires' something of a ritual. In Turkey, the coffee is often served in ornate 'coffee sets,' featuring demitasse cups and copious amounts of engraved bronzeware, and often alongside something sweet with small glasses of water for cleansing the palate. In Greece, the ritual is similar, giving rise to Greece's version of the midday 'siesta.'
What You'll Need to Prepare Turkish Coffee
1) Turkish-Grind Coffee. A 'Turkish Grind' refers to coffee that has been ground down to a fine powder, being similar in consistency and appearance to cocoa powder. This type of grind is a necessity for making Turkish Coffee. If the grind of your coffee is any larger or coarser than powder, the coffee will erupt in the pot volcano-style, making a sticky mess of your stove – I learned this the hard way early on. No, you cannot use espresso ground coffee, as even that's too large and coarse. Grinders at markets often have a "Turkish Grind" setting, and there are specialty grinders available that allow you to grind your coffee this finely at home. Conversely, you could buy this type of coffee pre-ground, with the most popular and widely available brands being from Turkey and Greece.
If you're looking for quality coffee, we recommend Volcanica Coffee, whom offer a variety of blends and roasts. You can easily use one of these premium collections to make your own Turkish Coffee by finely grinding it at home.
2) Dark, Medium, or Light Roast? Turkish coffee can be prepared with either dark or medium roast coffee, it's a matter of preference. Turkish brands tend to be dark roasted, while Greek brands tend to be somewhere within the 'medium roast' spectrum. Medium roasts will give a more 'fruity' flavor to the coffee, but at the expense of the 'warming' or 'chocolatey' notes found in darker roast coffee.
3) A 'Briki,' 'Cezve,' or 'Ibrik.' These are different names for a particular type of copper pot featuring a wide-bottom and a thin-neck. 'Briki' in Greece, 'Cezve' in Turkey, 'Ibrik' in English. This unique shape facilitates 'gathering' the foam, as the foam will 'erupt' from the bottom and 'gather' within the neck of the pot, where it becomes dense and sticky. The unique shape also facilitates the 'quick-then-slow' pour, in which you quickly pour the foam into the cup, and then reduce the speed of the pour to a trickle, so as not to disturb the crema. Conversely, some 'experts' suggest pouring as slow as possible from the get-go, which allows the crema to trickle out with the coffee. I've done it both ways, and had success with both.
Note: Aside from copper, these pots are also available in stainless steel, glass, and silver, as well as silver lined copper.
4) A Gas Burner or Cooking Sand. Street vendors and high-end Mediterranean bistros will prepare this coffee on 'cooking sand,' in which the temperature of the coffee is precisely controlled via how deep the barista presses the ibrik into the sand. Gas burners, while not as flashy, also allow similarly precise temperature control. Sorry electric stove owners, but this type of coffee more or less 'requires' the precise temperature management of a gas flame or heated sand. However, you 'can' move the ibrik on and off the heating element, and control the temperature that way.
5) Demitasse Cups. Similar to espresso, Turkish coffee is served in small three and a half ounce 'demitasse' cups, though this is more a matter of practicality and presentation than a 'requirement.' Beyond that, the very wide brim of a standard mug would have the effect of spreading the crema too thin. So, for best results, use demitasse or 'espresso cups.'
Preparing Turkish Coffee – General Pointers
1) The Crema or Foam – More Than Looks. While Turkish Coffee is perhaps best known for its characteristic 'crema,' which is the dense foam that results from the accumulative extract of the coffee grinds and dissolved sugar, this froth isn't just for looks. Instead, it's indicative that a cup has been prepared 'just right.' Did you cook the coffee too long and let it boil? No crema – you boiled it away. Did you stir the coffee too much, too hard, or after the coffee was fully prepared? No crema – you stirred it away. Did you use too little coffee? Congrats on that thin to non-existent crema. Did you use 'too much' coffee? You'll have visible grinds in the crema. Did you not allow the coffee to set at the bottom of the cup after pouring? Once again, visible grinds in the crema. Thus, a good-looking crema is simply indicative that the coffee was well prepared at each stage of the brewing process.
2) Never Boil. Ever. Here's Why. Let me be very clear on this. Boiling the coffee, even briefly, ruins it. Some guides say to spoon the foam/crema into your cup, and then to boil the remaining coffee. No. Just no. This will result in ruining the 'syrupy' texture of the coffee by destroying the consistency of the dissolved sugar in the water – imagine the watery residue left after overcooking syrup. You will also 'over extract' the grinds, resulting in a coffee whose texture is thin, and whose flavor ranges from bland to sour or bitter, depending on how long you boiled it.
3) Low and Slow. My burners have settings that range from one to five, with one being the weakest flame possible. I cook my Turkish Coffee just under the two setting, or very nearly as low as the flame goes. You want the coffee to cook slowly to aid in proper extraction, and to lengthen the 'simmering time,' while avoiding boiling altogether. If you cook the coffee to fast, you risk boiling, and limit the amount of time the coffee spends simmering. The end result will be a coffee that's overcooked – because you let it boil – or undercooked, because you had to lift it off the flame too soon to prevent boiling. Low and slow, or not at all.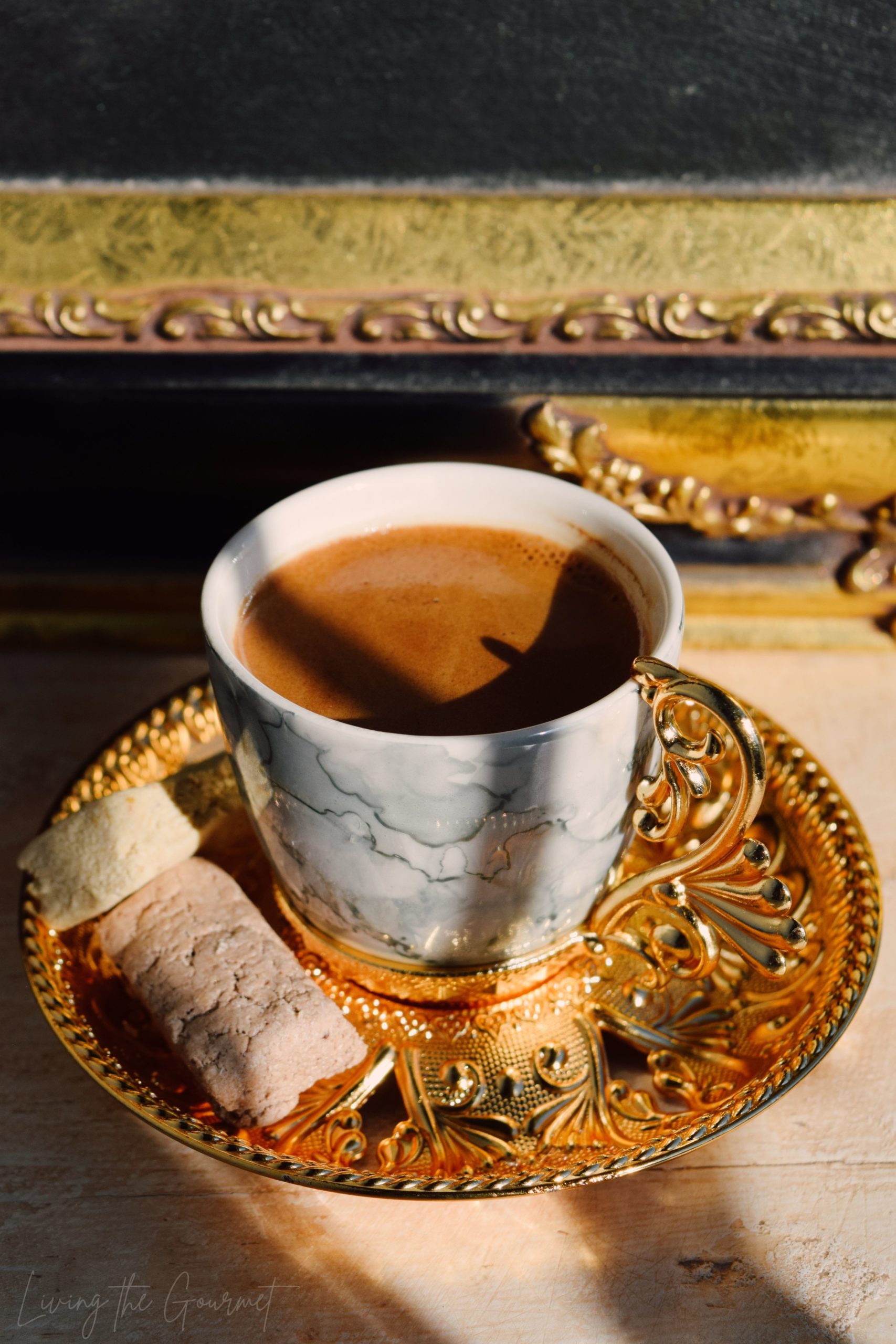 Serving Turkish Coffee
1) Something Sweet. The most common 'sweet' pairing with Turkish coffee is Turkish Delight. Shocking, I know. However, I've found that any marzipan based sweet works well, along with various artisan jellies and flaky pastries. I particularly enjoyed my Phyllo Pecan Tartlets with this coffee.
2) Chocolate Is "Iffy." I'm positive that there are going to be a lot of people disagreeing with me on this point, but I have 'not' personally enjoyed chocolate with Turkish coffee. That isn't to say that they 'ruin' one another, just that to my palate the pairing is less than 'ideal.' In my opinion, the chocolate simply gets lost in the strong flavor of the coffee, while the two tend to not really complement each other very well – since chocolate and Turkish coffee actually share a lot of the same 'warming' and 'earthy' qualities. However, tastes vary, so test and see yourself.
3) Stay Away From Anything Savory. One of the very few things that Turks and Greeks agree on is that Turkish/Greek coffee is 'not' to be served with anything savory. This is very much a beverage to be served alongside something sweet, or merely on its own. Please, trust me on this.
Print
Turkish Coffee
Author:
Prep Time:

5 minutes

Cook Time:

10 minutes

Total Time:

15 minutes
3 Teaspoons

of Turkish Grind Coffee

2.5

ounces

of water

1

–

3

Teaspoons of sugar (optional)
Pinch of Cardamon (optional)
Instructions
Place the Turkish grind coffee in the cezve (Turkish coffee pot pictured above).
Place your desired amount of sugar in the cezve.
If using cardamon, add a small pinch of the herb now.
Place the water in the cezve. Do NOT stir.
Place the cezve over 'very' low heat.
After the coffee grinds begins to sink, and the surface of the water in the pot begins to look 'mud like,' take a small spoon and very gently stir the mixture until it appears finely combined (roughly about fifteen rotations). Do NOT over stir.
Wait for small bubbles to begin forming around the perimeter of the coffee. Bubbles may not appear around the 'entirety' of the coffee, that is fine.
Once the bubbles have appeared, remove the coffee from the heat. If available, place the cezve on a cool surface – such as a granite countertop. This helps reduce the temperature more rapidly.
Let the coffee rest for at least sixty seconds.
Return the coffee to the heat, lowering the heat slightly.
Allow the coffee to form bubbles a second time. When the bubbles start appearing, raise the coffee from the heat until the bubbles calm down, then lower the coffee back onto the heat, briefly allowing the bubbles to form a final.
Pour the coffee.
How you pour the coffee is very important. Either pour the coffee rapidly at first, and then reduce to a trickle. 'Or' pour the coffee very, very slowly from start to finish. In either case, a dense, uniform 'crema' should form over the top of the coffee, such that no coffee is visible.
If the crema forms as in the pictures above, you have prepared the coffee properly.
Keywords: coffee, beverage, hot drinks, turkish coffee
Recipe Card powered by
2