If you love banana bread, but are looking for something a little more decadent, then this chocolate banana cake is the perfect dessert for you! This rich and delicious treat is surprisingly easy to make, and it's sure to be a hit with the entire family. Not only is it great for dessert, but it can also be enjoyed as an indulgent breakfast. To top it off, this chocolate banana cake is frosted with a delicious cream cheese frosting.
And let's be honest, who doesn't love a good banana bread? It's a classic breakfast table item, or an indulgent accompaniment to afternoon tea. Today's recipe takes the best qualities of a good banana bread and mixes them with an indulgent chocolate cake, topped with topped with a rich cream cheese frosting, ensures this cake will please even the toughest critics. The cake bakes up rich and moist, and the combination of banana and chocolate creates a flavor that is truly out of this world. The cream cheese frosting ratchets the decadence up, tying it all together beautifully.
Making this Chocolate Banana Cake is surprisingly easy. With just a handful of ingredients, and a few minutes of prep time, you'll be ready to treat your family to this delightful treat. Best of all, you don't need any special baking tools or techniques to make it. So why not indulge in a sweet and decadent chocolate banana cake today? Whether you're looking for a special dessert for your next family gathering, or just an indulgent breakfast treat, this Chocolate Banana Cake is sure to be a hit.
So preheat your oven and get ready to whip up a delicious, indulgent Chocolate Banana Cake. Trust me, you won't be disappointed!
Read on for an ingredient checklist, tips for making the best cakes every time, and some pairing suggestions.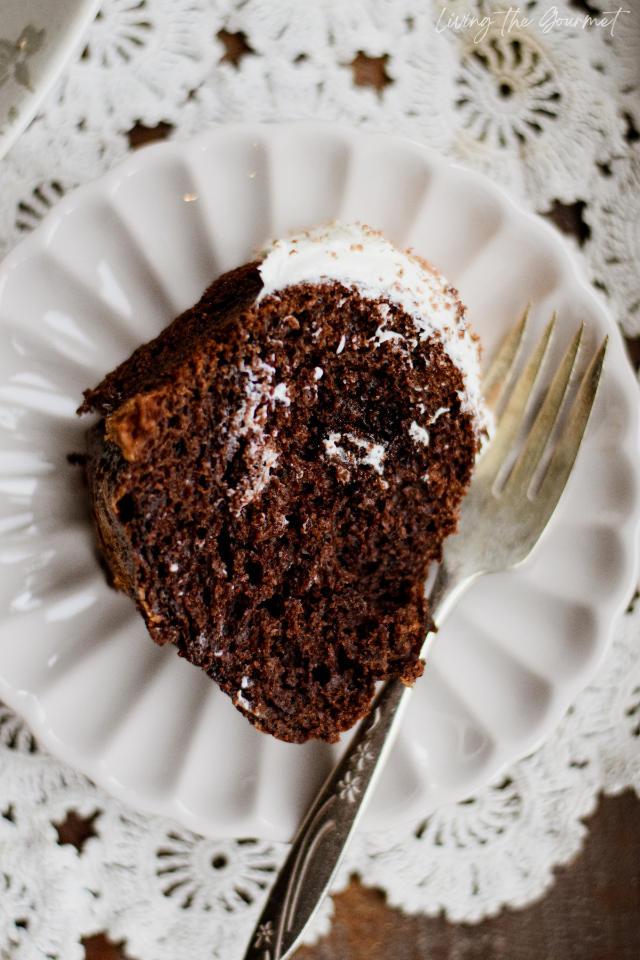 Ingredient Checklist – The Cake
Ripe Bananas. As with any good banana bread you want ripe bananas, but not 'overripe.'
Brown Sugar. For a nice dash of caramel flavor and sweetness, which plain white sugar simply won't bring.
Rum. You want to use a nice sweet rum, with a rich caramel-amber color.
Black Coffee. The combination of coffee and chocolate is a crowd pleaser for a reason. It's simply delicious.
Chocolate Chips. I'm using dark chocolate chips as a matter of preference as I think they pair better with the coffee, but milk chocolate will work fine.
Chocolate Cake Mix. I'm use an ultra-moist mix.
Cooking Oil. Plain, flavor neutral oil to add fat (and thus moisture) to the recipe. I'm using canola oil.
Eggs. Eggs bring fat and 'lift' to the cake. The recipe simply doesn't work without them.
Vanilla. The vanilla works beautifully with the rum. I'm using extract, but pods or powder will work too, at a one-to-one ratio by volume.
Butter. For greasing the pan.
Flour. For powdering the pan after greasing to ensure the cake doesn't stick.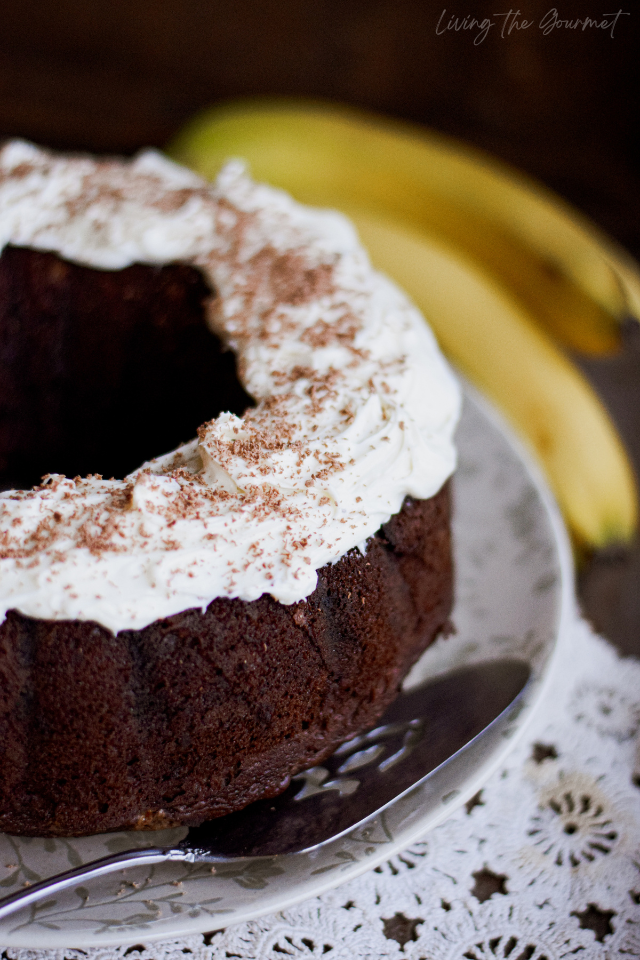 Ingredient Checklist – The Cream Cheese Frosting
Vanilla Frosting. I'll be real here, jarred vanilla frosting is all you need. There's simply no reason to go through the hassle of making it yourself.
Cream Cheese. Use block cream cheese, as whipped has too much air in it.
Vanilla. For flavor depth and complexity.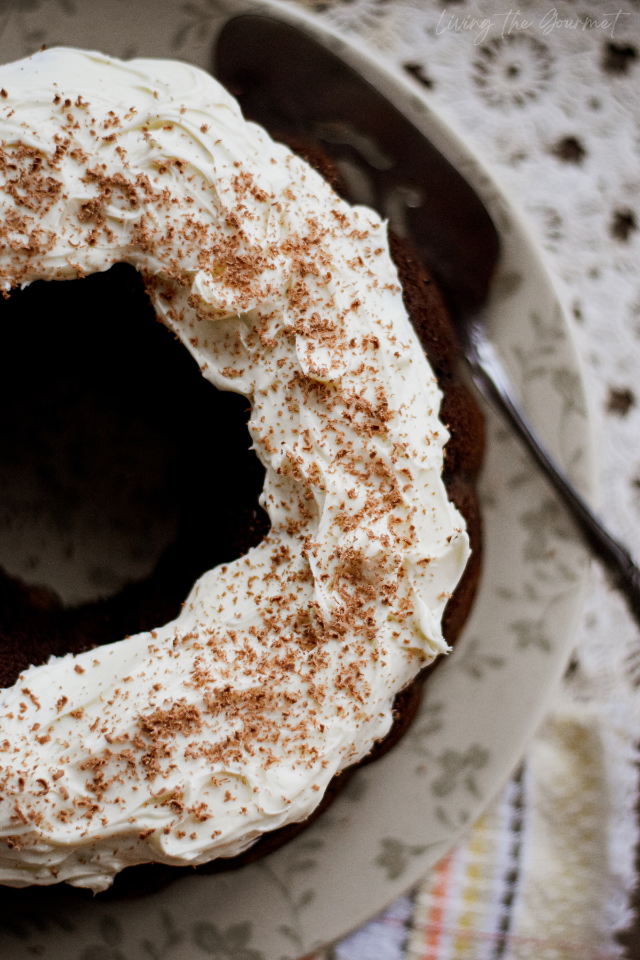 Tips for Making a Delicious Cake Every Time
Start with a good recipe, and read it! Even professional chefs do this. While there are 'no mistakes' in cooking, baking is a precision process. As such, be sure to read through your recipe a few times before starting. Then do the pre-work, and only then begin baking.
Use quality ingredients. Using quality ingredients will ensure that your cake turns out moist and flavorful. Pay attention to the type of butter, eggs, and other ingredients that you use.
Measure accurately. Be sure to measure all of your ingredients accurately. Even a small difference in measurement can affect the texture and taste of your cake.
Preheat your oven. Preheating your oven is essential for baking a cake. Make sure your oven is at the proper temperature before you begin baking.
Grease and flour your pan. Greasing and flouring your cake pan will help your cake release more easily when it's done baking.
Don't overmix the batter. Overmixing the batter can cause your cake to be dense and dry. Mix the batter until the ingredients are just combined.
Check for doneness. Insert a toothpick into the center of your cake to check for doneness. If it comes out clean, your cake is done.
Let your cake cool. Cooling your cake is important to help it hold its shape. Let your cake cool completely before you frost it or remove it from the pan.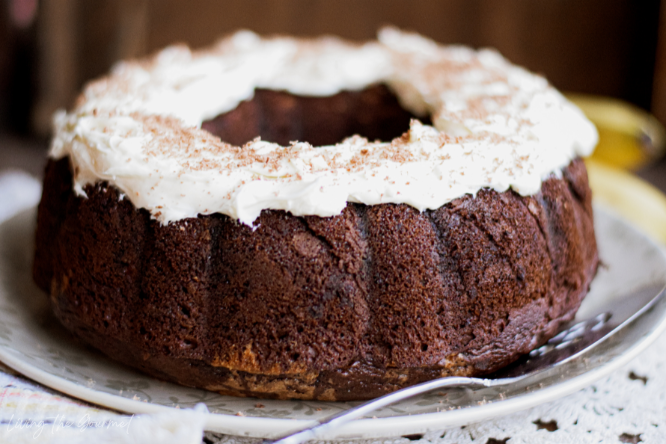 Pairing Suggestions
Specialty Coffee. If you like getting fancy with coffee, such as with Turkish or Moka Pot, today's pie pairs great with all of your favorite fancy coffees.
Wine. For chocolate cake in general, you want a sweet, full-bodied dessert wine such as a late-harvest Riesling, Moscato, or Port. All of these pair nicely with chocolate cake.
Ice Cream. You probably don't need me to tell you that plain vanilla bean ice cream pairs deliciously with chocolate cake, and the same is true of today's recipe.
Print
Chocolate Banana Cake
Author:
Prep Time:

10 minutes

Cook Time:

40 minutes

Total Time:

50 minutes

Yield:

8

slices

1

x
Category:

Dessert

Method:

Bake
3

medium ripe bananas

1/2

cup

brown sugar

2

tbs. rum

1/2

cup

black coffee - cooled

1/2

cup

chocolate chips

1

box chocolate cake mix

1/2

cup

of canola oil

3

eggs

2 tsp

. vanilla
Butter for greasing the pan
Dusting of flour for the pan
For the Frosting:
1/2

of a container of vanilla frosting

1/2

block of cream cheese

2

tsps. of vanilla
Instructions
Place the above ingredients in a bowl and using a hand beater, beat until smooth and creamy
Preheat Oven 350 degrees F.
Place the bananas in a stand mixer.
Add the brown sugar and eggs to the mixer and mix until smooth.
Add the rum, vanilla, oil and cooled coffee to the mixer and mix.
Add the chocolate cake mix and chocolate chips and mix.
Butter a bundt pan and sprinkle lightly with flour.
Pour the batter evenly into the pan.
Bake for about 40 minutes or until the toothpick test comes out clean.
Let the cake cool for a few minutes before removing from the pan.
When the cake has cooled frost with the cream cheese frosting.
Keywords: chocolate, chocolate cake, bundt cake, banana cake
Recipe Card powered by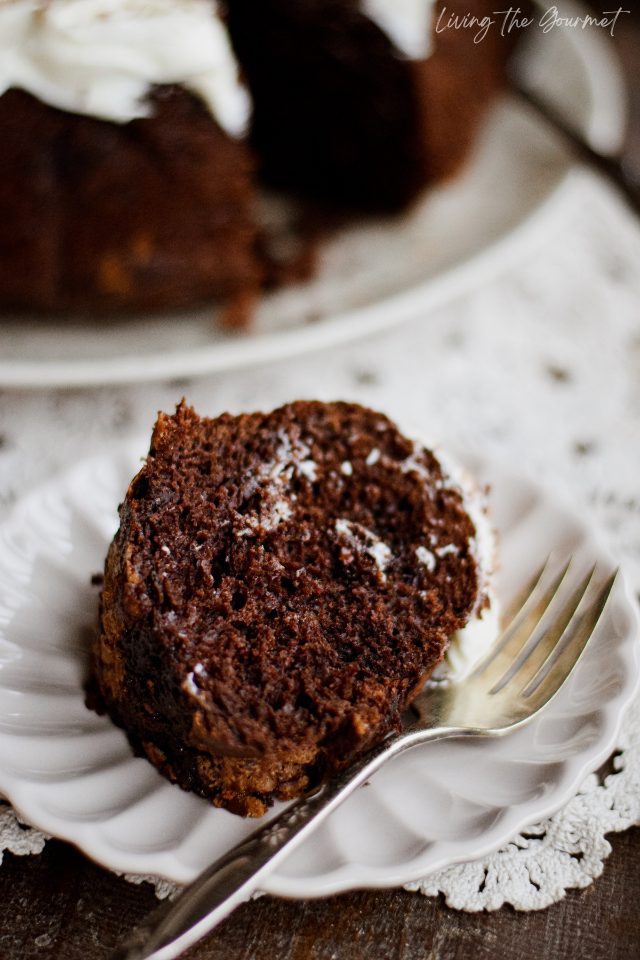 And that's my Banana Chocolate Cake. If you enjoyed today's recipe, be sure to like, share, and subscribe so that you never miss a post.
As always, if you have any questions or suggestion, be sure to let us know in the comments below. We love hearing from you! Happy Baking!
1