If you're looking for a delicious, crowd-pleasing Game Day dish, look no further than these Mediterranean Style Chicken Wings with Grilled Onion & Pepper Chutney! The combination of juicy chicken wings, smoky grilled onion and pepper chutney, and a zesty Mediterranean blend of herbs and spices, simply makes this dish irresistible.
The great thing about these chicken wings is that they are incredibly easy to make. All you need are the wings, a few spices, and a handful of fresh ingredients. The chutney can be made ahead of time, so all that's left to do on Game Day is toss the wings in the marinade, and then bake them until golden brown and crispy.
This dish is perfect for feeding a crowd, and can easily be doubled or tripled to serve more people – everything converts at a one-to-one ratio.
Pair these Mediterranean Style Chicken Wings with Grilled Onion & Pepper Chutney with a variety of sides, like roasted vegetables, a crisp green salad, or some crusty bread. For a more substantial meal, serve the wings with a side of Italian pasta salad, a winter mac and cheese, or a hearty risotto. You can also add a dollop of yogurt or sour cream on top to add a cool, creamy finish to the dish.
No matter how you serve it, these wings are sure to be a hit with your guests.
Read on for an ingredient checklist to make sure you have everything you need, along with tips and tricks for making sure your wings come out perfect every time.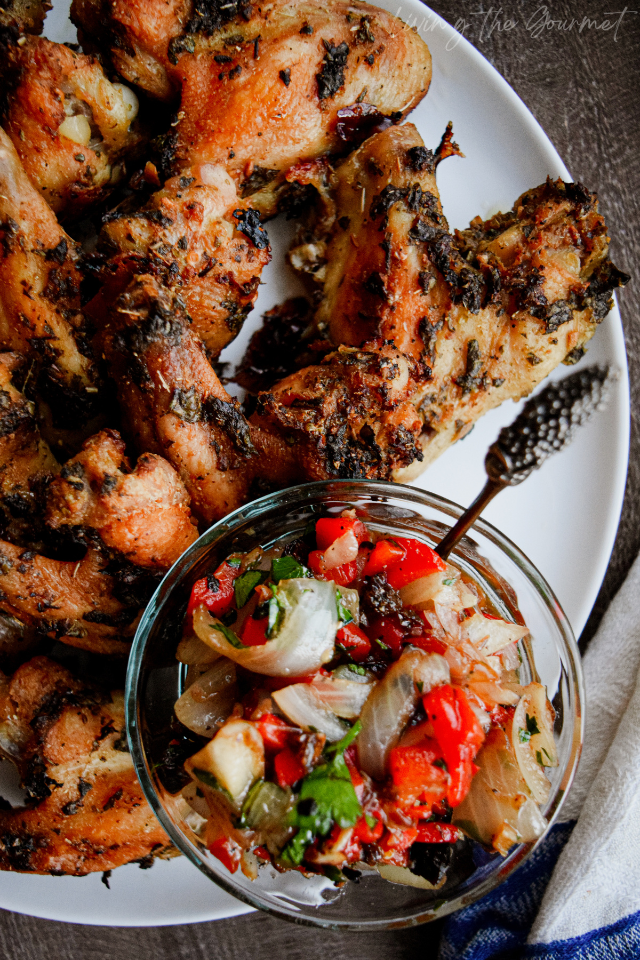 Ingredient Checklist – The Wings
Chicken Wings. The 'meat' of today's recipe. That said, today's recipe also works with legs and thighs, or with pork.
Olive Oil. For the marinade, the olive oil is seeping into the wings themselves, and becomes part of the flavor profile. As such, I suggest a decent quality extra virgin olive oil.
Lemon Juice. This recipe, to my mind, really does warrant freshly squeezed lemon juice.
Fresh Italian Parsley. Be sure to remove the stems and chop the parsley up fine.
Garlic. You're going to want to chop the garlic up fine for this particular recipe.
Salt. Plain table salt is all you need for the marinade.
Black Pepper. You can get away with pre-ground, but I do suggesting grinding your own for this recipe.
Oregano. I suggest using dried, or you 'will' risk overpowering the recipe.
Coriander. Best described as pungent and herbal, or bright and citrusy. For me, it's a keystone ingredient that I use in soups, stews, curries, sauces, salads, and even some desserts. That said, it's a key ingredient in many spice blends, such as garam masala, curry powder, and ras el hanout, especially those used to season proteins like chicken, fish, and pork.
Sugar. Plain granulated sugar.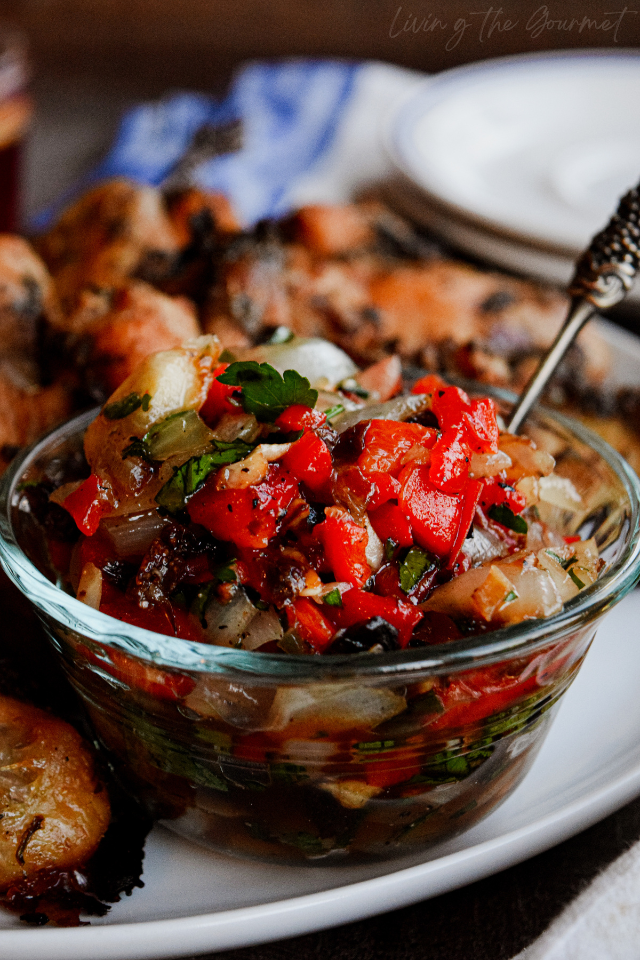 Ingredient Checklist – The Chutney
Raisins. Plain red grape raisins is what we're looking for.
Sweet Onion. We're using sweet onions as they play better with the raisins and overall flavor profile of the chutney.
Bell Pepper. For added flair and color, use a variety of peppers.
Honey. Your preferred honey is all we're looking for. Personally, I'm using a raw, unfiltered honey, as this is one recipe where the finer 'nuances' of quality honey does come through.
Lemon Juice. I do suggest using fresh lemon juice.
Garlic. Crush and then chop the garlic up fine. We don't want large chunks of garlic.
Fresh Italian Parsley. Be sure to destem them as best as you can. Then chop it finely.
Salt. Quality sea salt if you have it, otherwise plain table salt will do.
Sugar. Plain granulated sugar is all you're looking for.
Black Pepper. Use freshly ground or – for best results – grind up peppercorns in a mortar and pestle.
Cinnamon. If you have it, freshly grate cinnamon sticks. Again, every added bit of freshness will enhance the chutney.
Olive Oil. I'm going to recommend using a decent quality olive oil here, one's whose flavor you enjoy on its own, as you will be eating the chutney raw.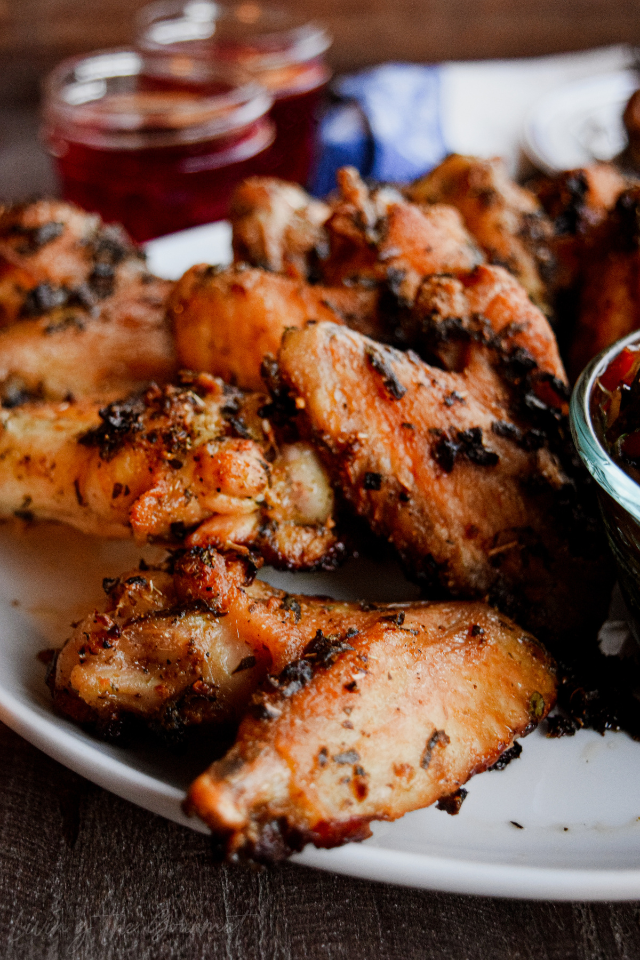 Prep Tips
Marinate Patiently. While the wings only really 'need' to marinate for about an hour, the longer they marinate the better. For best results, let them sit in the marinade overnight.
Let them rest. After they come out of the oven, let the wings rest for five to ten minutes before serving them.
Flip them. While this is optional, to achieve a more even coloration, flip the wings midway through baking. Again, this is completely optional and does 'not' effect flavor, but will achieve a more even coloration.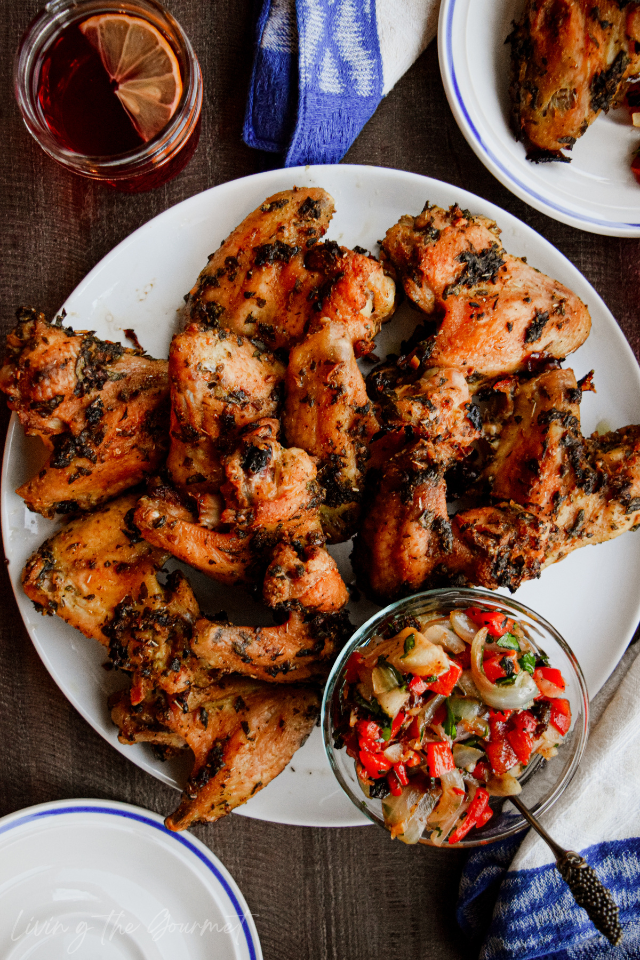 Tips for Selecting the Best Wings
Look for chicken wings that are plump and have no visible signs of spoilage.
The skin should be a light golden color and should be free of any bruises or discolorations.
The wings should be free of any unpleasant odors. 4. If possible, buy organic, free-range chicken wings.
If you're buying frozen wings, make sure that they are labeled as "previously frozen" and are not thawing.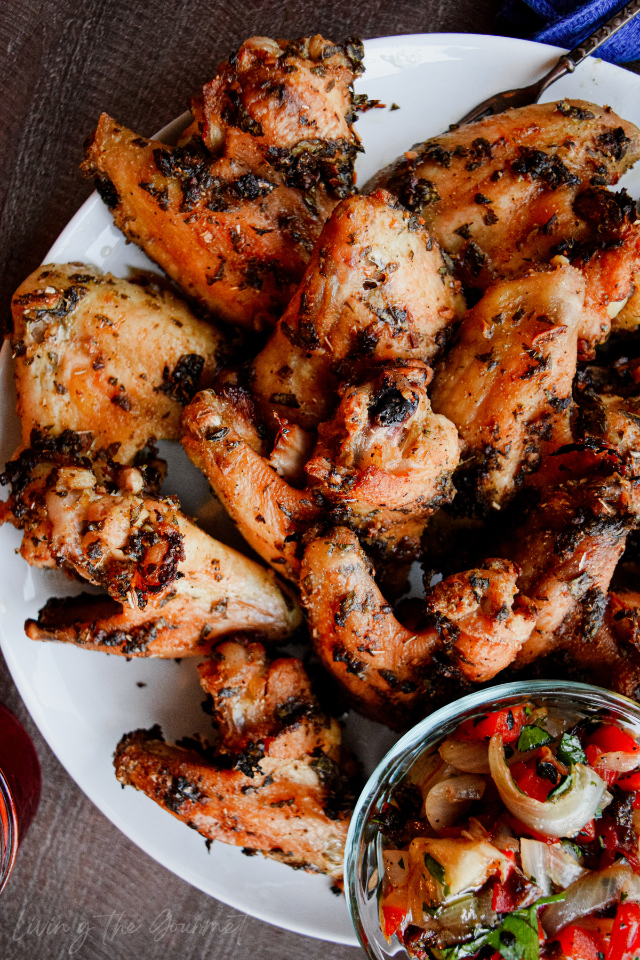 Pairing Today's Wings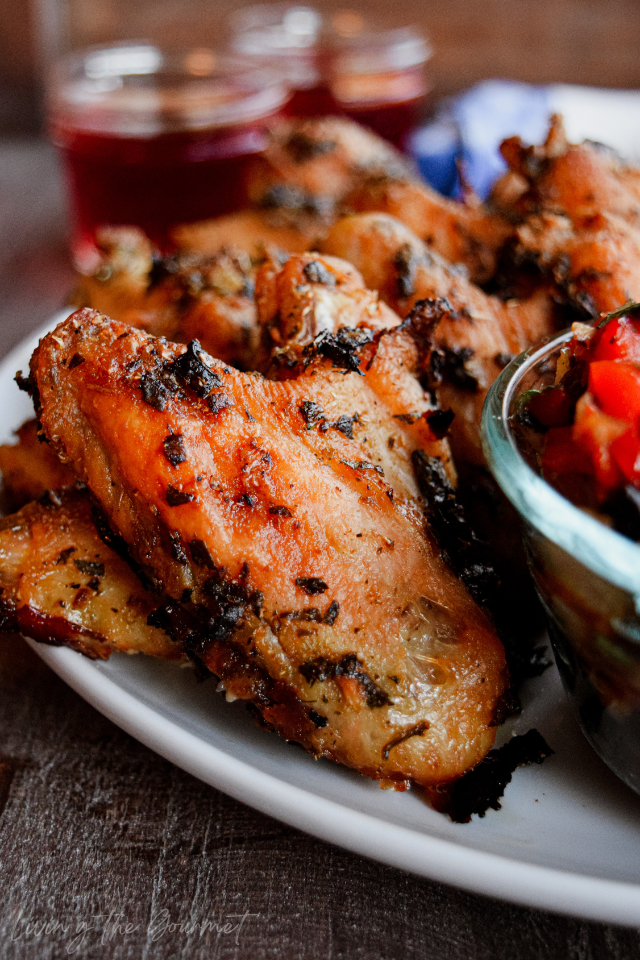 Print
Mediterranean Style Chicken Wings with Grilled Onion & Pepper Chutney
Author:
Prep Time:

10 minutes

Cook Time:

1 hour

Total Time:

1 hour 10 minutes

Yield:

12

wings

1

x
For the Chicken Wings:
12

chicken wings with tips cut off
For the Marinade:

1/4

cup

olive oil
Juice of

1

lemon

1/2

cup

of fresh Italian parsley – stems removed and chopped

5

garlic cloves – finely chopped

1 1/2 tsp

. salt

1/2 tsp

. black pepper

1 tsp

. dried oregano

1 1/2 tsp

. ground coriander

1/2 tsp

. sugar
For the Chutney:
1/2

cup

raisins – chopped

1

sweet onion – diced

1

red bell pepper – grilled

3

tbs. honey
Juice of

1/2

lemon

2

cloves garlic – chopped fine

1/4

cup

fresh Italian parsley – stems removed chopped

1 tsp

. salt

1/2 tsp

. sugar

1/2 tsp

. black pepper

1/4 tsp

. cinnamon

3

–

4

tbs. olive oil plus and extra one or

two

to grill the onion and garlic
Instructions
For the Chicken Wings:
Combine all of the ingredients for the marinade in a large bowl.
Add the chicken wings and toss. This may be used immediately or cover and place in the refrigerator for an hour or up to overnight.
Preheat Oven 350 degrees F.
Place chicken wings in a cast iron frying pan and bake for 55 – 60 minutes or until the wings become a beautiful golden color and the juices at the thickest part of the wings runs clear.
For the Chutney:
Grill the red bell pepper on the open grill or in a pan to a nice char. Let the pepper cool and then gently scrap the skin off and cut the pepper into diced pieces.
Next, heat a cast iron frying pan with 2 tbs. olive oil and place the sliced onion and chopped garlic in the pan to get to a nice golden color, tossing as you saute, so that you do not burn the garlic.
Place the diced pepper and the onion and garlic in a medium sized bowl. If you would like the chutney in smaller pieces you may use a scissor and cut through the pieces in the bowl.
Add the chopped raisins, lemon juice, honey, seasonings, olive oil and parsley and toss.
Serve with the wings. Refrigerate after using.
Recipe Card powered by
If you enjoyed today's recipe as much as we enjoyed bringing it to you, be sure to like, subscribe, and share. It helps us more than you can know.
Happy Cooking!
4