Today we're preparing a Baked Spaghetti and Zucchini Pie, which combines spaghetti, salami, mozzarella, and zucchini chunks. This is a delicious and delightful recipe that the entire family will love, and one that's blissfully simple to put together.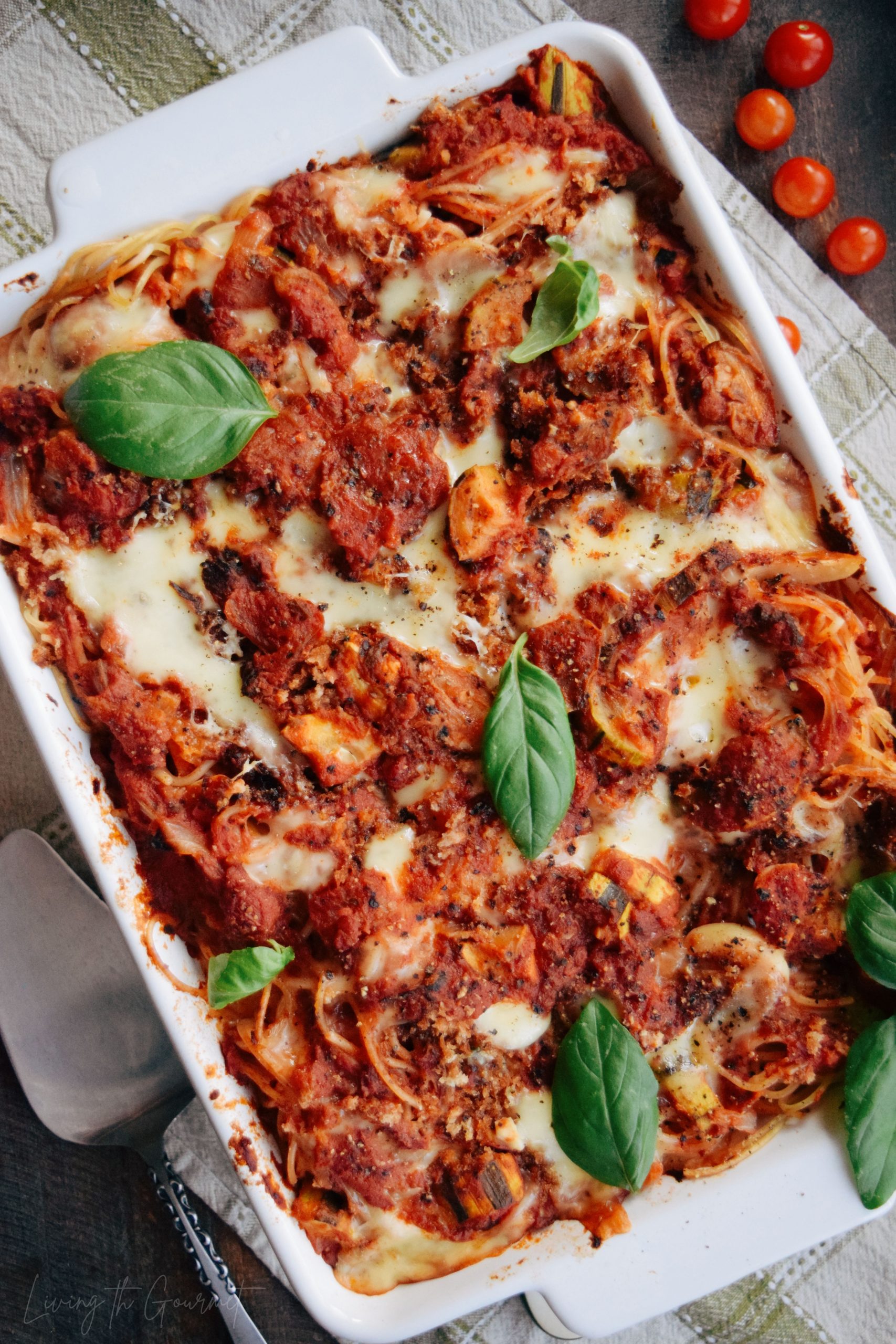 Why You'll Love Today's Baked Spaghetti
1) Room to Get Creative. Today's baked spaghetti would work beautifully with chopped up sausages mixed in, or meatballs, or even a vegetarian slant with spinach or broccoli rabe. You could also consider covering the top with something like a thick bechamel. See my recipe for a simple-yet-delicious bechamel sauce.
2) Hot or Cold. Today's baked spaghetti is delicious fresh from the fridge, making it great for a quick lunch as a leftover.
3) Make Ahead. Since today's recipe heats up beautifully, and keeps for several days in the fridge, that means you can easily make this a day or two ahead of time.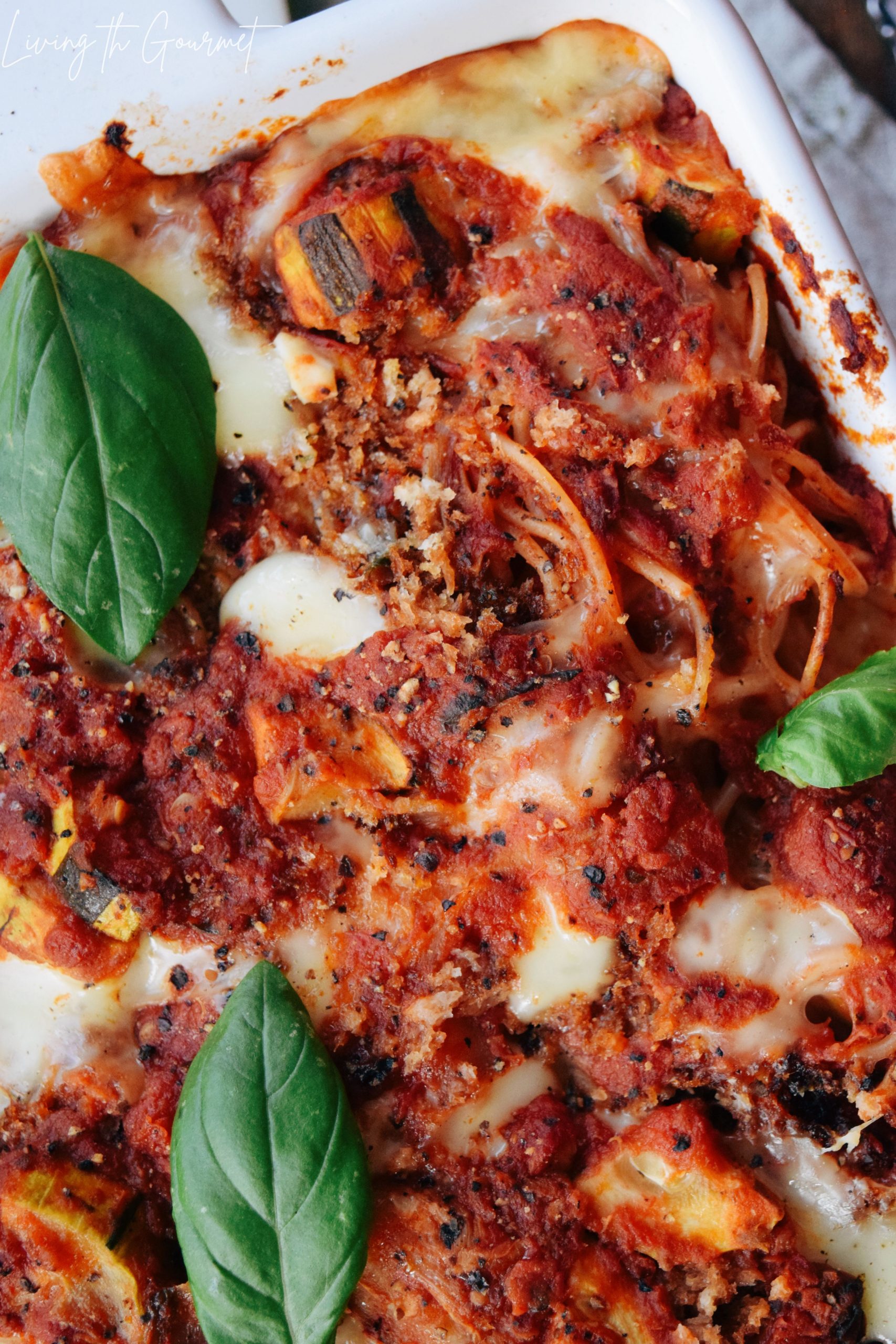 Ingredient Notes, Tips, and Substitutions
1) Red Pepper Flakes. Inside 'any' pizza parlor across the USA, as well as 'most' Italian restaurants, and 'many' Spanish restaurants, you've likely noticed that there are 'little round jars' with a shaker top containing 'red pepper flakes.' But 'what' are red pepper flakes? Are they the same as 'chili flakes? And what pepper produces these 'red flakes?' And are these 'red flakes' the seeds or the dried 'flakes' of pepper's flesh? The simple answer to that last question is 'both.' Red pepper flakes are seeds as well as the dried 'flakes' of peppers, peppers from the 'capiscum cannum' family. This particular family of peppers includes such familiar pepper varieties as jalapenos, bell, fresno, Anaheim, and cayenne. Mostly, however, and this is true across all brands of red pepper flakes, most of what's in the bottle is cayenne, with a minority being a mix of the rest – except bell, since those aren't hot. Unlike 'chili flakes,' which are made from a single variety of pepper, and used to add the flavor of that singular pepper to whatever they're being sprinkled on, 'red pepper flakes' are used solely to add heat. And that's about it. In short, red pepper flakes are primarily dried cayenne peppers, but with a mix of other hot peppers thrown in, taken generally from capsicum cannum family of peppers.
Substitution: An equal amount of your favorite chili flakes, or roughly a quarter as much cayenne powder.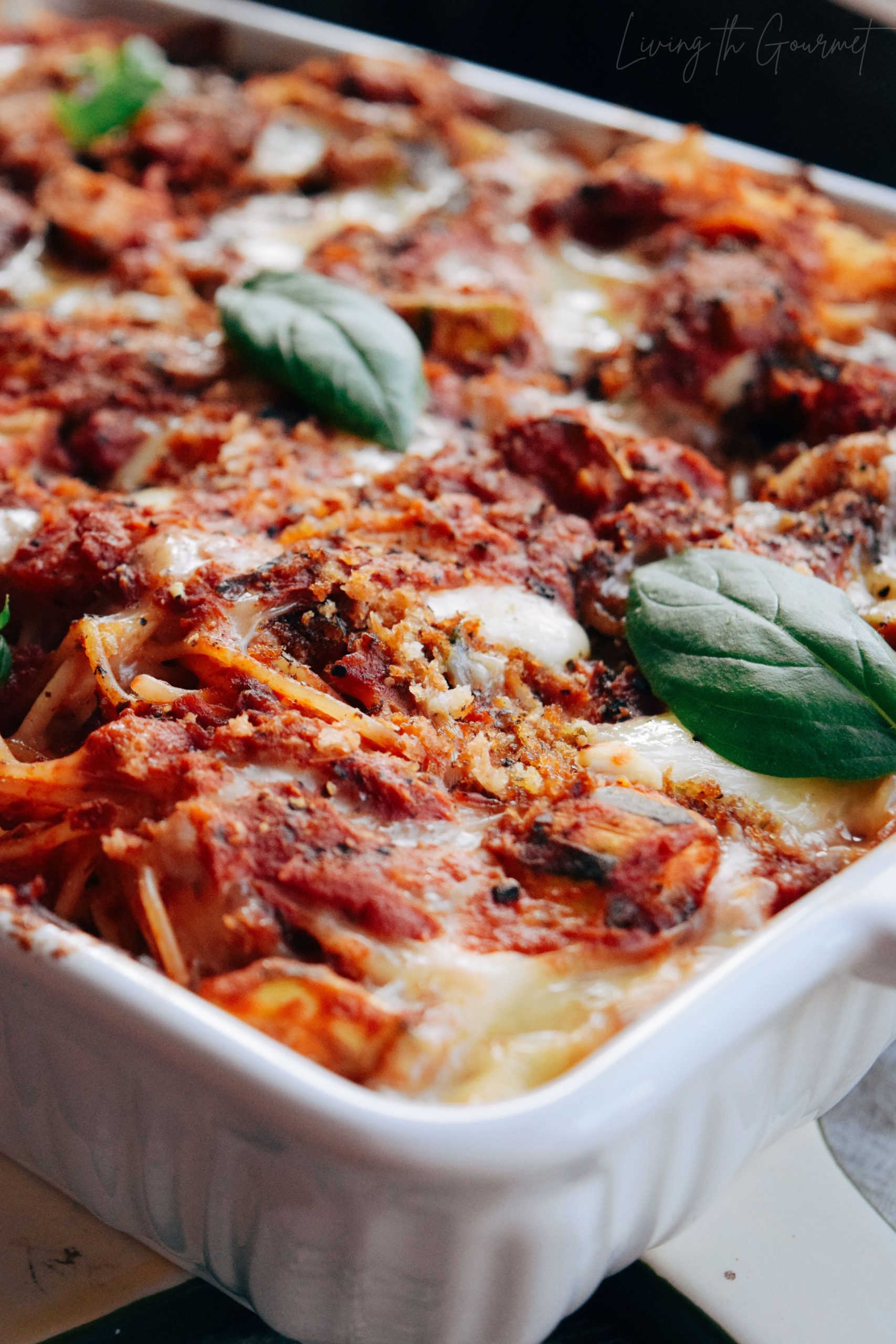 2) Pecorino Romano vs Parmesan vs Reggiano. One of the most enduring 'Food Myths' is that all grating cheese is more or less 'the same.' Starting in the USA, cheeses labeled 'Parmesan' or 'Reggiano' must be made of cow's milk, cured for ten or more months, contain no more than 32% water, and have no less than 32% milkfat in its solids. In Europe, Parmigiano Reggiano 'must' be produced in Italy due to EU and Italian trademark laws. Italian Parmigiano Reggiano is aged for no less than twelve months. Beyond these differences, the two cheeses are largely identical. Pecorino Romano, by contrast, is produced from sheep's milk, and is aged for less than a year, giving it a slightly less sharp and considerably less salty flavor. American produced 'Romano cheese' is a cow's milk imitation of Pecorino Romano, but is otherwise entirely unregulated, and as such is considerably milder and cheaper. Despite these differences, these cheeses are often used interchangeably, and once they've been melted over sauce, or baked into something like a lasagna, few if any palates are 'really' able to tell the difference, unless of course these cheeses were used in positively 'silly' amounts. Bonus Fact: Locatelli is 'not' variety of cheese, it is instead an Italian brand of Pecorino Romano.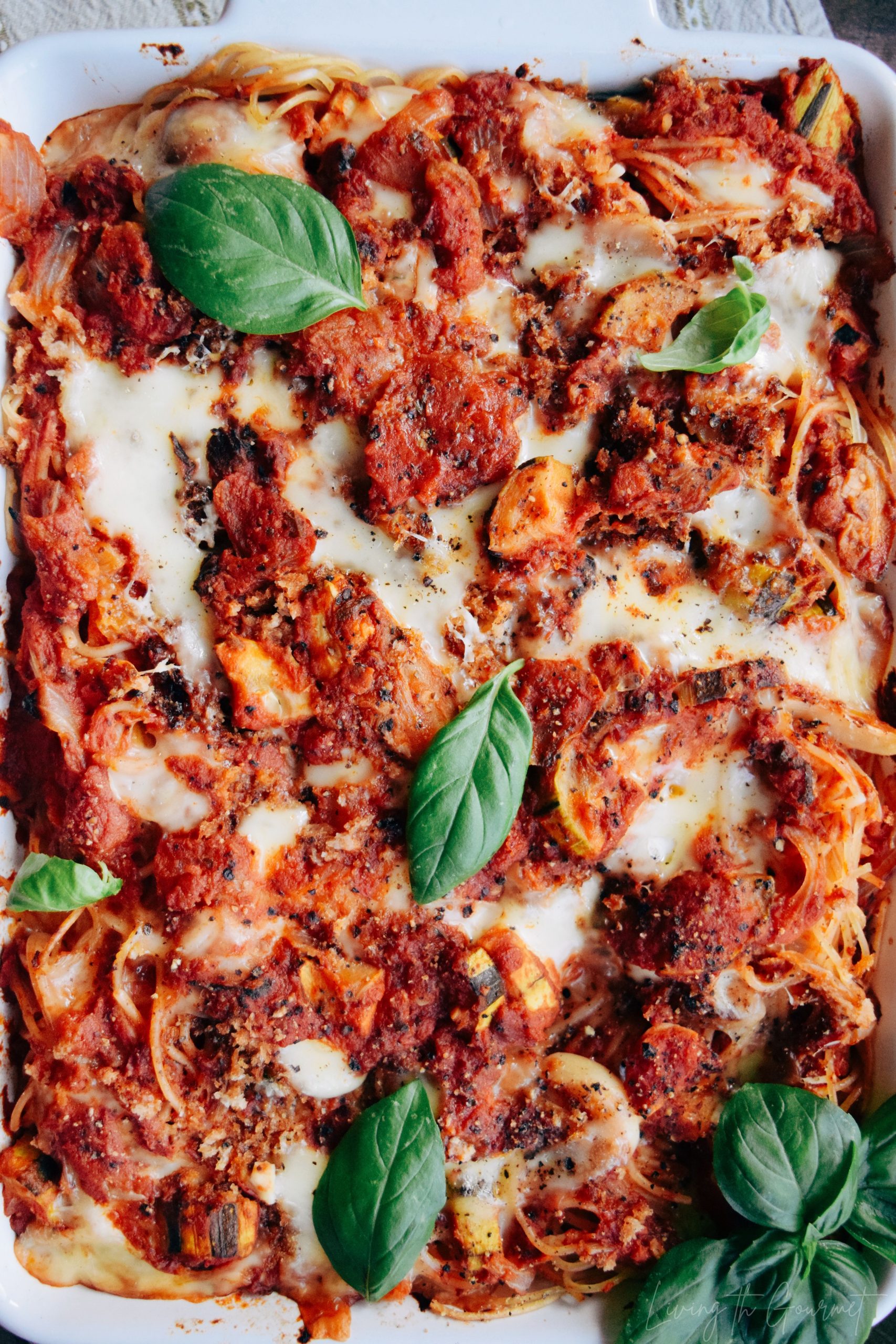 3) Mozzarella- Fresh vs Packaged. I could be a 'food snob' here and decry the 'vices' of packaged, non-fresh mozzarella, but the difference is a bit more nuanced. To start, yes, fresher is always better – and mozzarella is no different. Fresh mozzarella is undeniably moister, with a fluffy or even silky texture, with something of a milky quality to it, and above all it simply tastes 'fresher' – imagine that. Thus, opt for fresh whenever you can. However – and this is a big 'however' – fresh mozzarella is far from always being a 'must.' Recipes that call for fresh mozzarella involve those where the 'milky' taste and 'fluffy' texture won't either be overpowered by the other ingredients, or destroyed by a harsh cooking process. That said, if the mozzarella is going to be drowned out by a medley of powerful ingredients, or baked down, then you can save yourself a few dollars and buy packaged. After all, there's really no point in paying for fresh mozzarella when all of the qualities that make 'fresh' desirable are being lost. Today's recipe is one such case.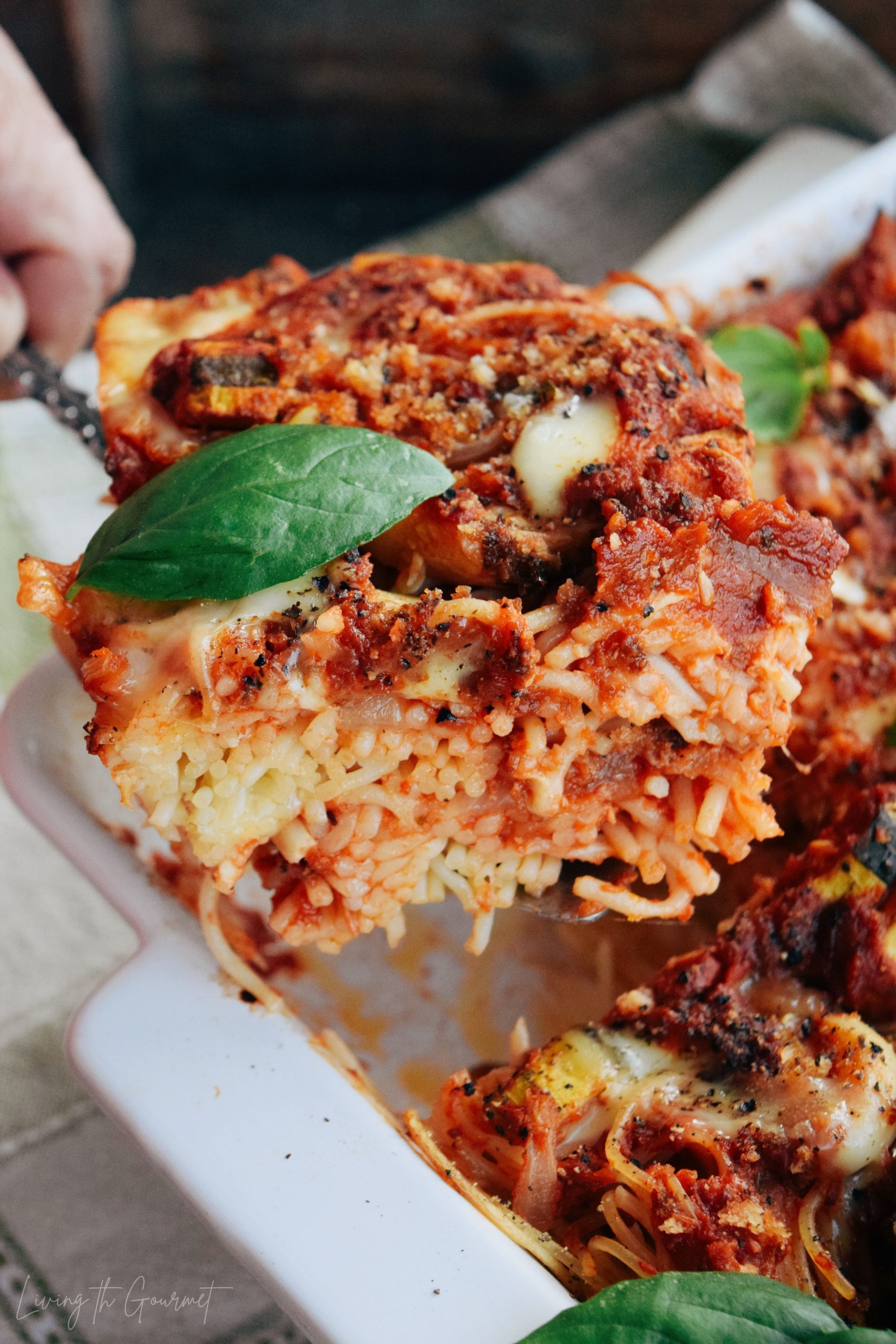 Pasta Pointers – How To Achieve a 'Perfect' Noodle
1) Undercook your pasta. A 2017 article from Bon Appetit confirms that Al Dente is 'functionally' overcooked…usually. The article makes the point that you almost always finish your pasta by tossing it in some sort of cooked sauce, be it red sauce, garlic and oil, or whatever you happening to be tossing your noodles with. Thus, if you want truly cooked-to-perfection pasta, you want prepare it "Molto Al Dente," which translates roughly as 'undercooked,' with the idea being that the pasta will continue cooking for a minute or two (or three) as you toss it in the sauce and then prepare to eat it. Of course, if you're not drenching your pasta in freshly cooked sauce, or coating it in heated oil, then feel free to fully cook it.
2) Salt the Water. I'm not going to expand too much on this point, except to say that salted water adds savory-ness to your pasta, dilutes its starchy qualities, and covers up any potential imperfections – which are present even in the highest quality brands you can buy. The end result is a better tasting, more palatable pasta.
3) Rinsing Pasta Damages It. Rinsing cooked pasta damages it – end of story. I'm not sure where, when, or how this idea came about, but it's a painfully common ritual to rinse pasta under lukewarm-to-cold water in strainers after it's been cooked. I'm honestly not sure what this is meant to achieve aside from artificially cooling it down, or trying to 'unstick' the pasta from itself. The problem is, you can let the pasta cool just by leaving it alone, and the reason the pasta is sticking together is due to 'surface starch,' the same starch that serves to help sauce 'stick' to the pasta, and that gives the pasta a slightly more 'textured' quality. In other words, when you rinse off pasta after cooking it, you're literally rinsing away added quality. Stop this, don't do it, it's silly. End of story.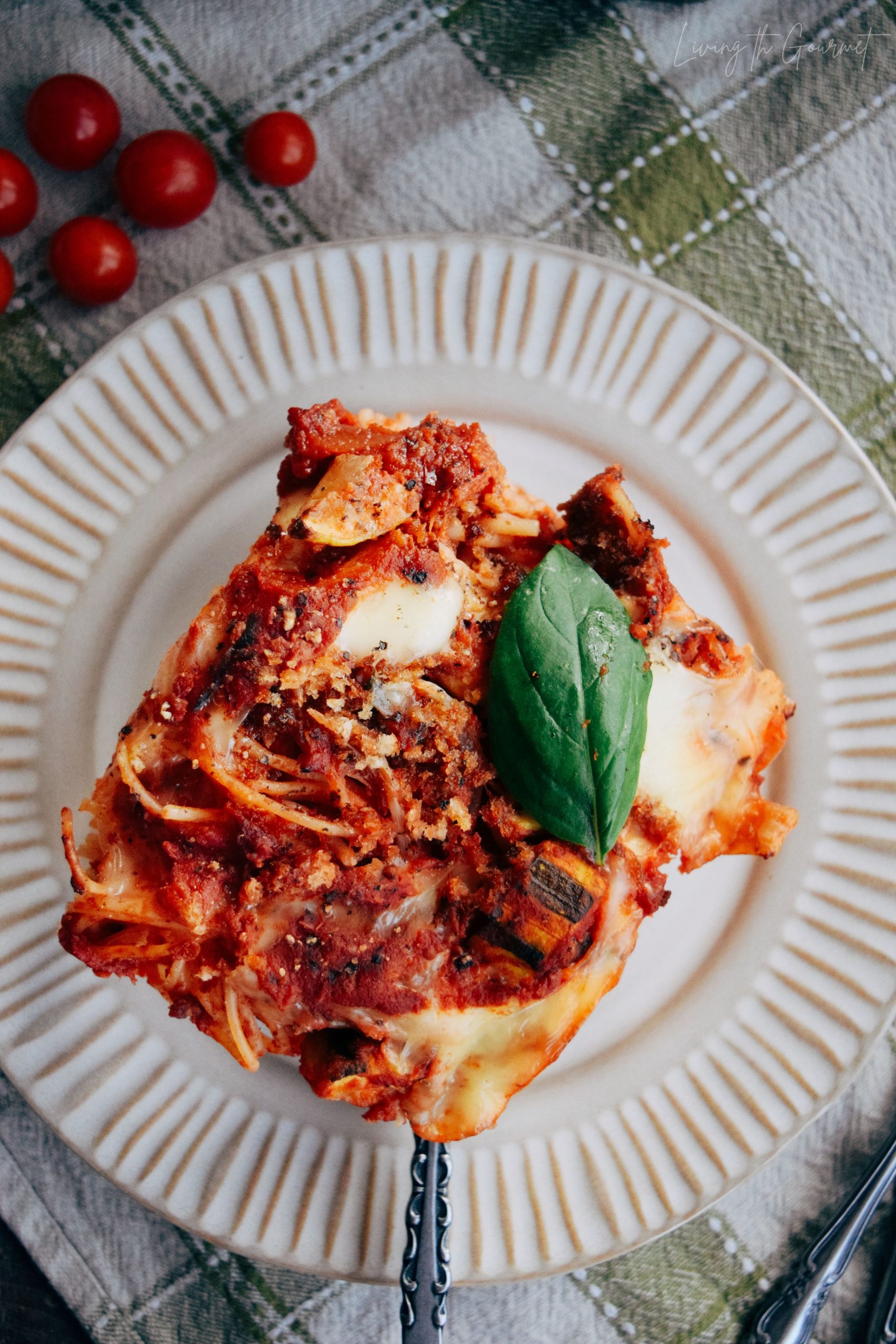 More Pasta Favorites from Living the Gourmet
1) Ravioli. My homemade ravioli are blissfully simple to prepare, but the real star of the show is their delicious mix of asiago, ricotta, mozzarella, and romano cheese, coupled with a fresh red sauce, plenty of garlic, and fresh spinach.
2) Alla Vodka. Creamy, rich, and just a hint spicy, 'alla vodka' is a crowd pleaser like few others, and best of all it takes just minutes to prepare. While I plated this alla vodka sauce over gnocchi, this works just fine over pasta.
3) Classic Pasta Bake. Combining baked pasta with layers of cheese, and a crisp crust, this is one of my favorite pasta indulgences. As a nice bonus, it can be made ahead of time, since it heats up beautifully.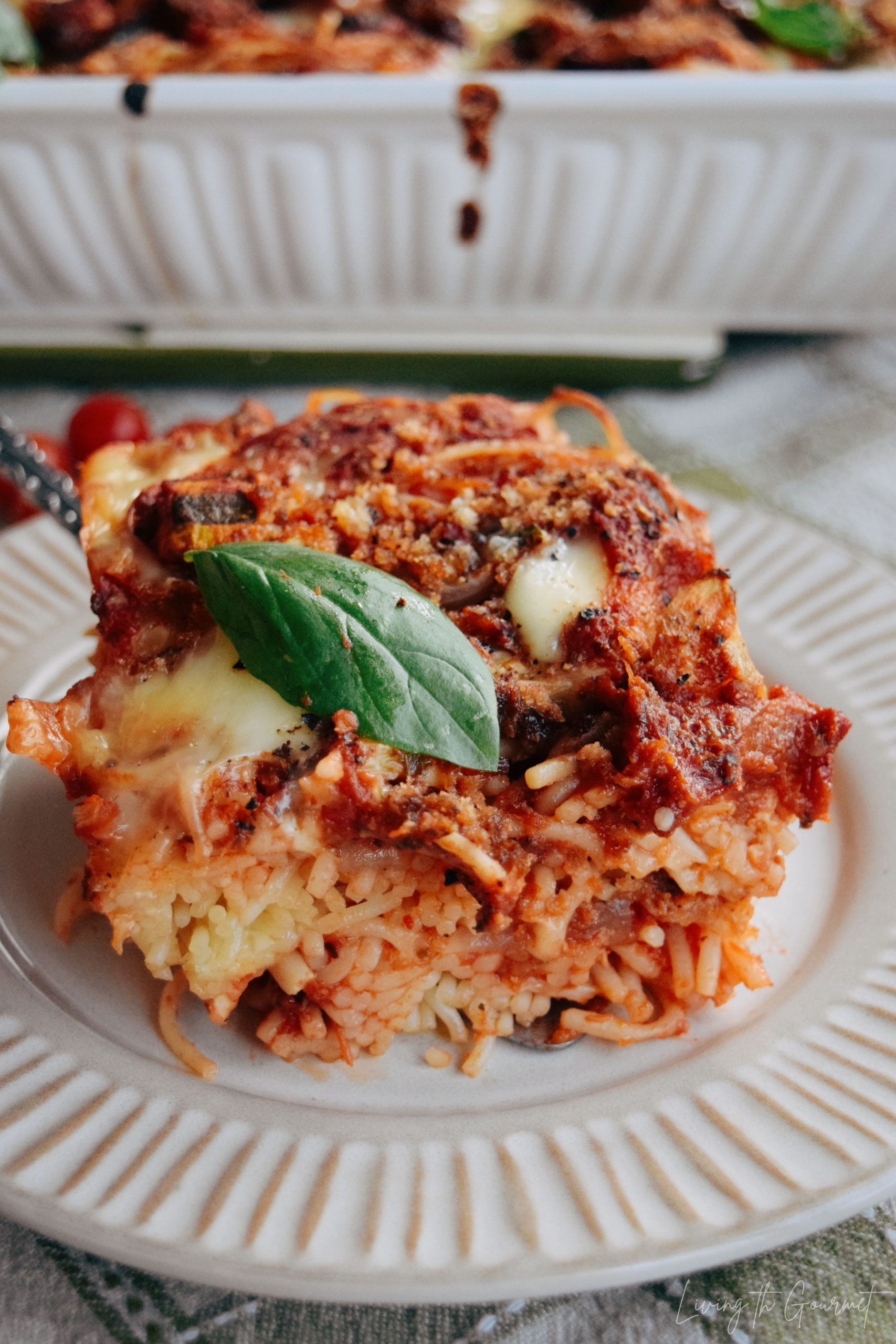 Print
Zucchini and Spaghetti Lasagna
---
Author:

Total Time:

45 minutes

Yield:

8

servings

1

x
2

zucchini, sliced

1

sweet onion, sliced

5

-

6

cloves of garlic, crushed

Handful of fresh Italian parsley, chopped

5

-

6

fresh basil leaves, chopped

2

-

3

tbs. olive oil

29 oz

. can of crushed tomatoes

3

-

4

tbs. wine

4

tbs. fresh grated Parmesan cheese or Romano cheese

1 1/2

tsps. dried oregano

2

tsps. salt

1 tsp

. black pepper

1 tsp

. red pepper flakes

1

1/2 tsp. sugar

8 oz

. mozzarella, shredded

5

-

6

slices of salami, chopped

1/2 cup

Italian style breadcrumbs

1

lb. of your favorite spaghetti, prepared as directed
---
Instructions
Place a tablespoon of olive oil in a small cast iron frying pan and heat.  Place the breadcrumbs in a frying pan and allow the breadcrumbs to get golden.  This takes only a minute so be careful not to burn the breadcrumbs.




Heat a large cast iron frying pan.

Add the onion, garlic, zucchini and parsley.  Add the olive oil and the seasonings and saute until the onion is softened and the garlic is fragrant.

Add the crushed tomatoes, wine and fresh grated cheese and simmer on a gentle heat while preparing the pasta as directed.

Preheat Oven 350 degrees F.

Spoon a tablespoon of olive oil at the bottom of a 8 x 12 baking dish.

Place half of the cooked pasta at the bottom of the baking dish.  Cover with the sauce, chopped salami, half of the shredded mozzarella, half of the breadcrumbs and then top with the other half of the pasta.

Place the rest of the sauce, breadcrumbs and mozzarella on top of the sauce and a drizzle of olive oil over the top.

Bake for 25 - 30 minutes.  Remove from the oven and l

et rest for 10 - 12 minutes before serving.
Prep Time:

15 minutes

Cook Time:

30 minutes

Category:

Main Dish

Cuisine:

Italian
Keywords: spaghetti, lasagna, zucchini, pasta, salami
Recipe Card powered by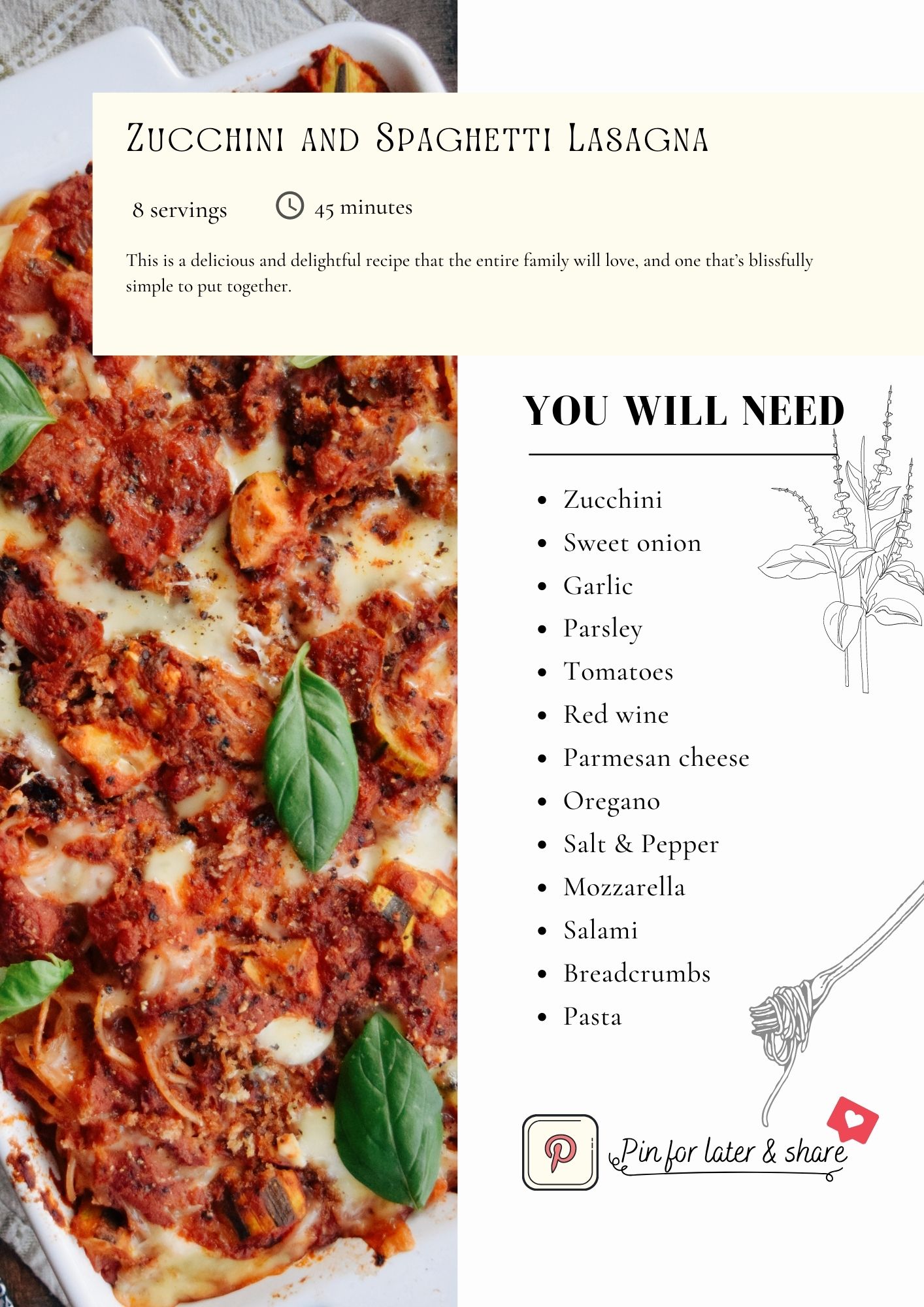 As an Amazon Associate I earn a small commission from any purchases made through the affiliate links within this post. For more information on this please see our disclosure policy. Thank you!
This post has been updated August 2022. The original recipe was published August 5, 2014.
2