Coffee and chocolate, a combination made in culinary heaven, is made even better when carried on the decadent, fudgy texture of today's brownies. Easy to make and even easier to love, these are perfect for busy weeknights or relaxed weekends.
The fudgy texture of the brownies contrasts deliciously with a super simple graham cracker topping, that we've whipped together from brown sugar, graham crackers, and crushed pretzels. The end result is a wonderful contrast of textures, a contrast of sweet and salty, set against the coffee-chocolate fudge of the brownies themselves.
Today's brownies pair deliciously with all of the usual culprits. Think luscious homemade ice cream, or topped with a red wine syrup. Naturally, a good cup of coffee would be the best, and simplest, pairing for today's brownies.
These brownies keep deliciously in the fridge for up to a week, and heat up beautifully in either the microwave or toaster oven. Served warm with the dollop of either whipped cream or ice cream, and you're good to go.
Below, we'll be covering the ingredients you'll need, some key substitutions, and a few prep tips.
Now, without further delay, let's make some brownies.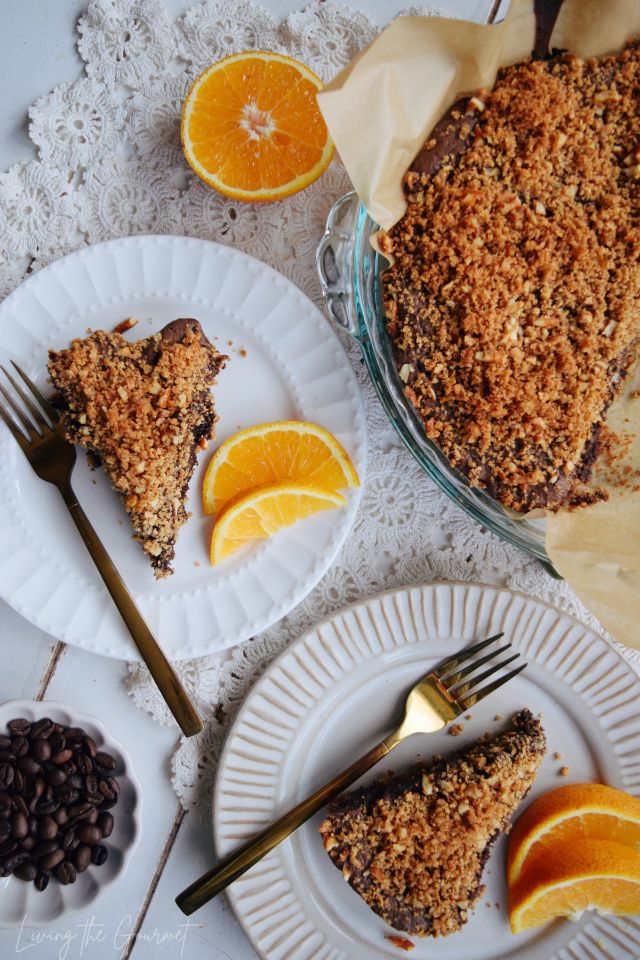 Ingredient Checklist For the Brownies
Brownie Box Mix. Use a 'super moist' or 'ultra-fudgy' mix.
Eggs. Not a whole lot to say here, other than these help bind it all together and add fat for moisture and flavor.
Butter. I highly recommend using unsalted butter for the purposes of these brownies.
Marmalade. Added sweetness and flavor to get that delicious "orange and chocolate" combination going.
Sugar. Simple, granulated sugar will work just fine.
Flour. All purpose flour is probably best for today's brownies. Bread flour would result in a 'hard' and 'dense' brownie, while baking flour would risk lightening them too much, making them cake-like.
Fine Ground Coffee. Fine grinds not only ensure that you won't 'taste' the grinds in the finished brownies, but also help extract more coffee flavor into the batter.
Vanilla. Vanilla extract, beans, or paste will all work fine. Remember that paste, beans, and extract all substitute at a one-to-one ratio.
Water. As a rule of thumb, I only cook or bake with water that I would personally drink and enjoy.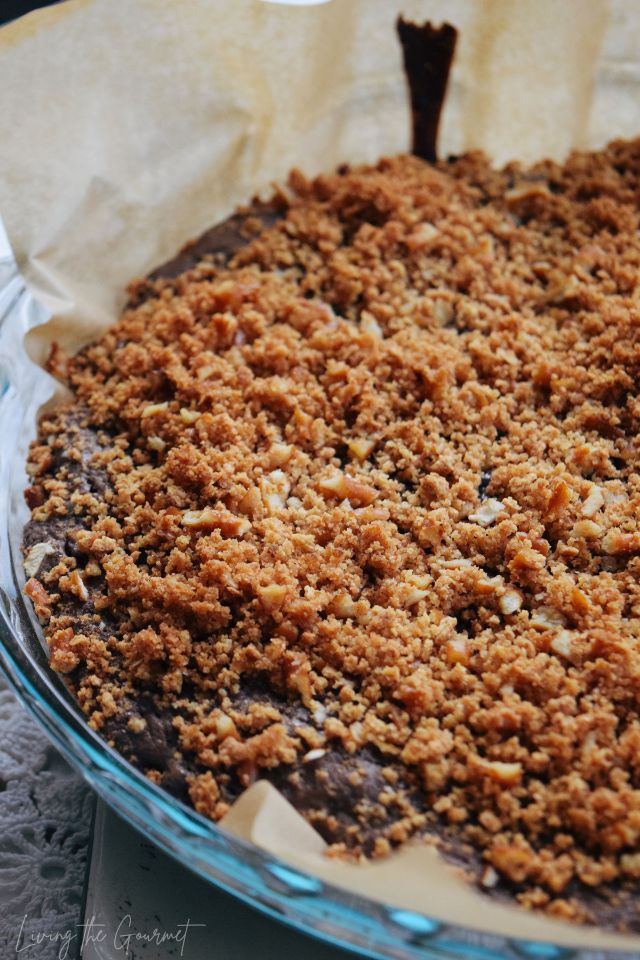 Ingredient Checklist For the Topping
Brown Sugar. I'm using dark brown sugar because it has more of that 'molasses flavor' that we're looking for.
Graham Crackers. Not a whole lot to say here, just simple graham crackers.
Salted Pretzels. I'm using standard thin pretzels for today's recipe.
Butter. Here again, I recommend using plain, unsalted butter.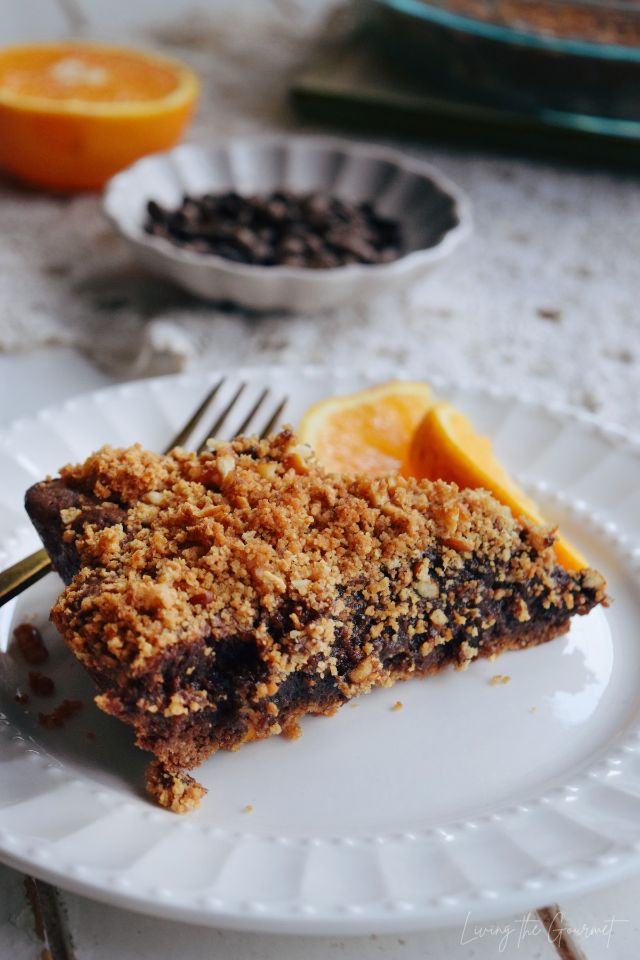 Substitutes
The Flour. Almond flour or brown rice flour can stand in for wheat flour. Brown rice flour, in particular, doesn't have a strong flavor, and has a powdery texture similar to wheat flour, making it a good choice for most baked goods.
The Marmalade. There isn't a perfect substitution for this item, however, here are a few suggestions that should work well enough. Try an equal amount of orange jelly, if you have that on hand. You could also mix a tablespoon orange juice with about a tablespoon of orange zest, and add that in place of the marmalade.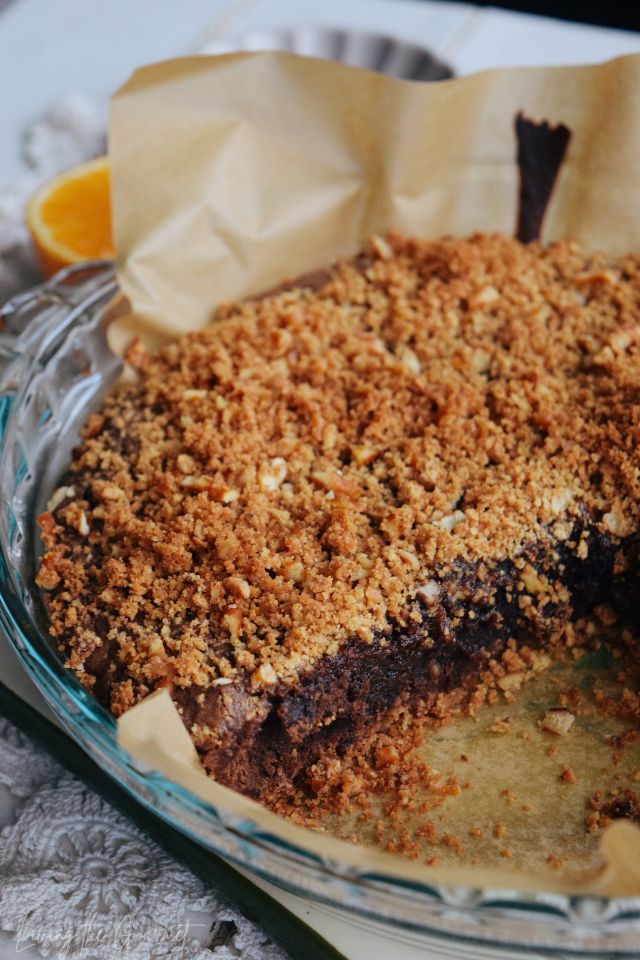 Prep Notes
The Brownies Cook Up Fudgy. These brownies are 'very' fudgy when they come out of the oven. Don't worry, they are indeed done. They do, however, need to 'set.' Which brings us to our next point.
Let Them Cool. Letting the brownies cool allows them to 'set.' Otherwise, eating them could be quite messy. I advise leaving them out at room temperature for about an hour before eating them.
Overmixing Ruins Brownies. Do you want brownies that are rubbery and firm? Or smooth and fudgy? Overmixing brownies pushes 'air' into the mixture, and that air will make the brownies cook up firm and rubbery. Not fun. As such, I advise mixing only until the batter has come together.
Parchment. Parchment is, in all honesty, the superior way to ensure that the brownies don't stick to the pan. It also makes for 'much' easier cleanup, and also makes it easier to remove the brownies from the pan.
Butter and Flour. If you don't have parchment, your next best bet is a mix of butter and flour. Simply butter the pan, thoroughly, and then dust with flour. Yes, flour substitutes work for this purpose.
Print
Brownie Espresso Pie
Author:
Prep Time:

15 minutes

Cook Time:

55 minutes

Total Time:

1 hour 10 minutes

Yield:

8

servings

1

x
Category:

Dessert

Method:

Bake

Cuisine:

American
1

brownie box mix

1/2 cup

of sugar

2

eggs

2

tbs. finely ground coffee or espresso

4

tbs. unsalted butter – softened

1/2 cup

flour

1/4 cup

water

1

tbs. marmalade

2

tsps. vanilla
1

tbs. brown sugar

6

sheets of graham crackers

3

tbs. unsalted butter – softened

Handful of pretzels – about 10 or so
Instructions
For the Topping:
Place the brown sugar, graham crackers, pretzels and butter in a food processor and give a few good chops.
For the Brownies:
 Preheat Oven 325 degrees F.
In a large bowl combine the brownie mix, ground coffee, sugar and butter.  Mix with a hand mixer until smooth and fluffy.  Add the eggs, vanilla, orange marmalade and water to the batter and mix until well combined.
Butter a 9 ½ inch pie plate or place parchment in the pie dish and place some of the topping at the bottom of the pan.  Fill with the brownie batter and place the rest of the topping on top.
Bake 45 – 50 minutes or until set.  The brownie pie will be gooey.
Keywords: brownie pie, brownies, chocolate, fudge, coffee, espresso
Recipe Card powered by
As an Amazon Associate I earn a small commission from any purchases made through the affiliate links within this post. For more information on this please see our disclosure policy. Thank you!
This post has been updated August 2022. The original recipe was published April 26, 2012.
0