Today we're preparing a fresh blueberry pie from scratch. The filling for today's piece is decadently thick, remaining firm through cutting and plating, while being deliciously moist on the palate. While the fresh blueberries are the main attraction, a combination of nutmeg, cinnamon, and fresh lemon juice add blissfully pleasant complexity to the filling, heightening and framing the flavor of the blueberries.
As a nice bonus, we'll be preparing today's pie with a homemade pastry crust.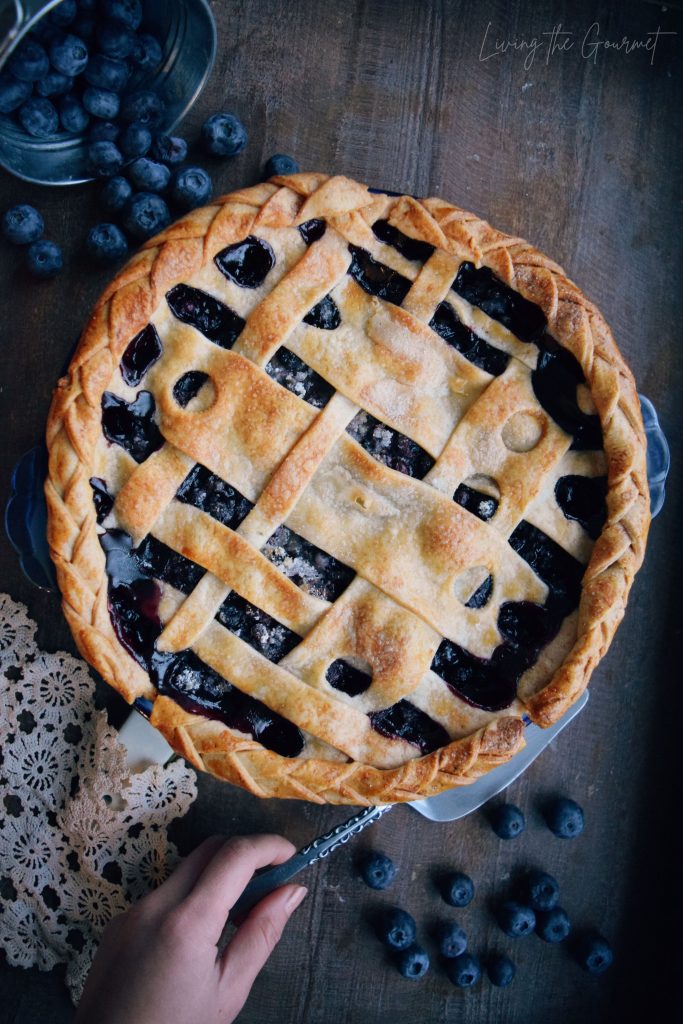 The 'Why' Behind the Pie
1) Worth the Effort. I won't try to convince you that today's pie is 'super simple' or 'effortless' to make. It isn't, but it is definitely is worth the effort. There are simply very few things more satisfying in one's culinary journey than a pie that comes out 'simply perfect.' This brings us nicely to our next point, which is the…
2) Homemade vs Store Bought Debate. This article from Greatist covers the debate between homemade and store-bought pie crusts rather nicely, and in far more detail than I have space to do here. The long and short of the article is roughly that a 'good' homemade pie crust is much more flavorful and flakier, as well as cheaper, than the store-bought equivalent – but the store-bought crust saves on time and effort. I personally believe that same logic applies to the 'entirety' of the homemade pie.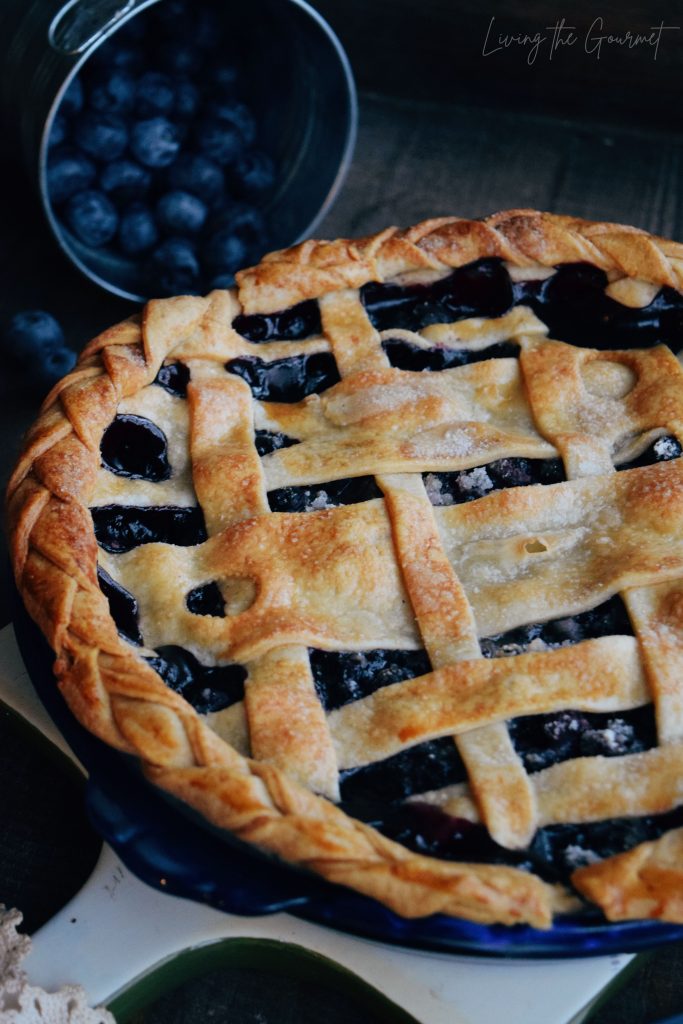 Ingredient Notes, Tips, and Substitutions
1) Cinnamon – The Most Illusive of Spices (until recently). Today, cinnamon is just about everywhere, from rolls and candies, to pastries, soups, stews, and even meat rubs. However, would you believe me if I told you that 'most' of the world either had never tasted cinnamon up until a few centuries ago, or simply didn't know of its existence at all? What if I said the stuff was once gifted to royals as a wedding gift? It's true. Unlike most other spices, whose origins and production were (mostly) well understood by those who traded them, cinnamon was a closely guarded secret by those at the 'production end' of the trade route. This secrecy was strategic, and lucrative, allowing the producers, and their favorite merchants, to monopolize the cinnamon trade. For millennia (yes, millennia, people have been engaged in long-distance cinnamon trade for 'at least' 3000 years, this 'monopoly-via-secret' worked. This secrecy not only allowed a select few producers to maintain their monopoly, but this 'elusiveness' or 'mystery' also had the added effect of turning cinnamon into something of a 'mystique,' thereby artificially bloating prices on an already scarce (and impossibly pricy) spice. Then the Portuguese set sail in search of cinnamon's origin story (spurred on not by curiosity but rather by increasing demand across the Mediterranean and Europe). They found what they were looking for, but their victory was short lived, as the Dutch promptly waged war with them (and the locals) over the stuff (yes, literally blood for cinnamon). The Dutch won, spread cinnamon production throughout Southeast Asia, and then fought and lost a war over the increased cinnamon supply with the English. By the 1800s, the stuff was everywhere, and readily available at reasonable prices, as opposed to being a prize worthy of a royal wedding gift.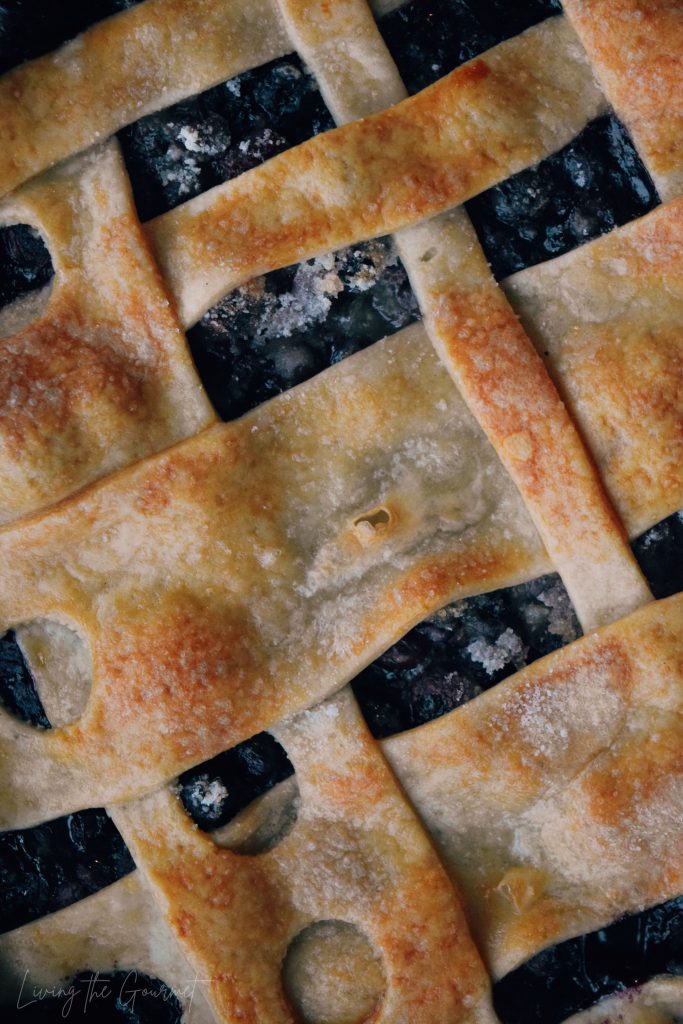 2) Nutmeg. The spice that 'tastes like Christmas,' nutmeg is beloved for its 'warming' and ever-so-slightly 'sweet' taste. However, in larger quantities nutmeg rapidly becomes sour or even astringent tasting, and since it's quite strong this is one spice where 'a little goes a long way.' Useful in everything from baked goods to roasted potatoes, nutmeg also features prominently in various beef and pork spice mixes (in both dry rubs and marinades), as well as in stewed, grilled, and roasted vegetables, as well as in a variety of beverages both warm and cold, alcoholic and non-alcoholic alike, it's safe to say that nutmeg is a blissfully versatile spice that's worth learning to how to use.
3) The Blueberries. I ran a little long here, and so decided to make this point its own section.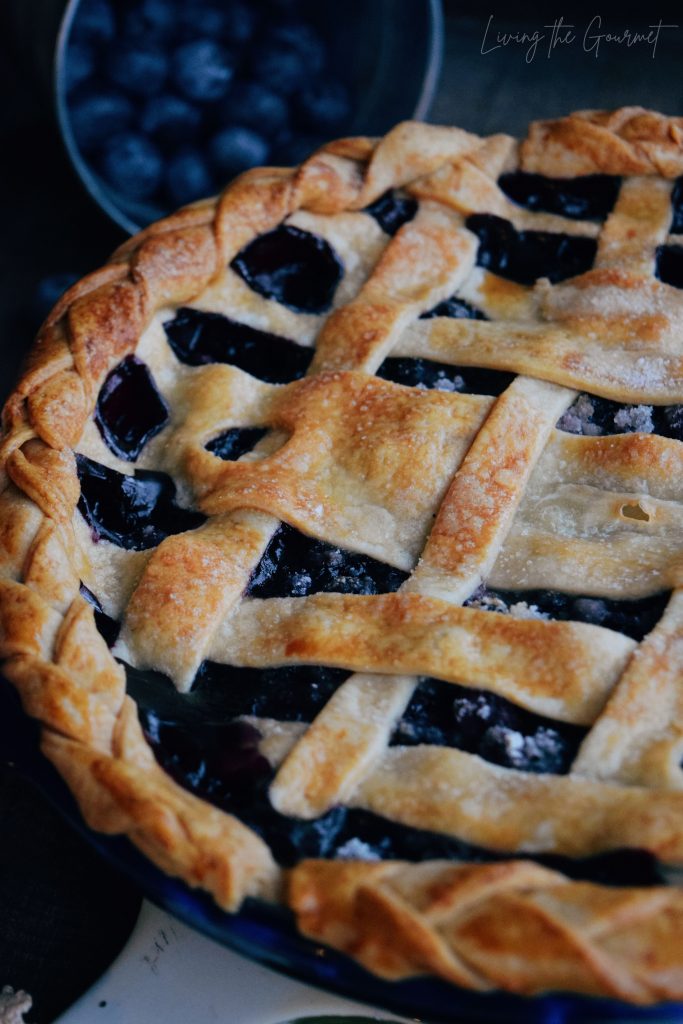 Blueberries – How To Select and Store Blueberries
1) The Feel. Blueberries that are firm to the touch are not yet ripe. However, blueberries should 'not' feel like they are about to burst or crumble to nothing in your hands either – those berries are overripe. The skin should be smooth, free of smudges and fuzz. Those blueberries are well past their due date.
2) The Color. Blueberries that have a reddish tinge to them are underripe. Deep blue or blue-black berries are the way to go.
3) The Grey 'Dust.' On the topic color, contrary to popular belief, fresh, well kept blueberries will have a slight dusting of 'grey' in their blue color. This is perfectly fine.
4) Storing your Blueberries. Keep them in a cool, sun-free area. Exposure to heat or direct sunlight will rapidly spoil your berries. Also, it is best to keep them in a perforated plastic container or basket. Bags will result in crushed and overripe berries.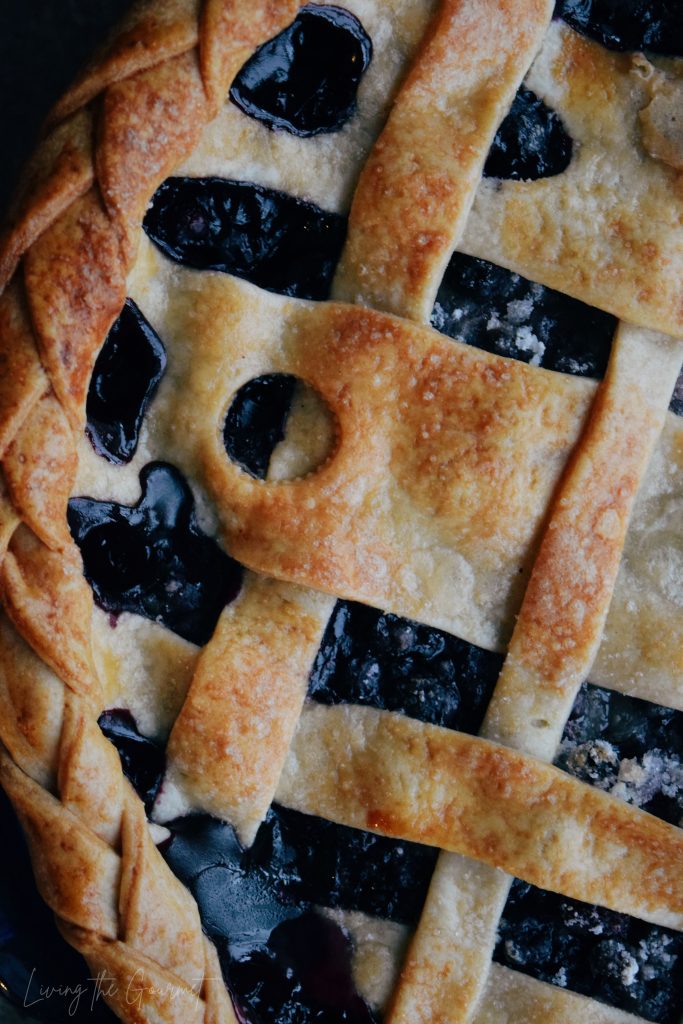 More Great Pies from Living the Gourmet
1) Apple Pie. Talking about pies, how could I possibly leave this recipe out? This is my take on the 'classic' apple pie formula everyone knows and loves.
2) Rum Raisin & Chocolate Apple Pie. The above apple pie recipe, but with the addition of rum soaked raisins and copious amounts of chocolate. Basically, a much more decadent 'classic' apple pie.
3) Summer Peach Crumble. Take a pie, and remove the crust. Now dust a thick layer of brown sugar 'crumble' over the fruit, and you've got a 'fruit crisp.' Seriously though, this one of my favorite and easiest ways to use up fruit.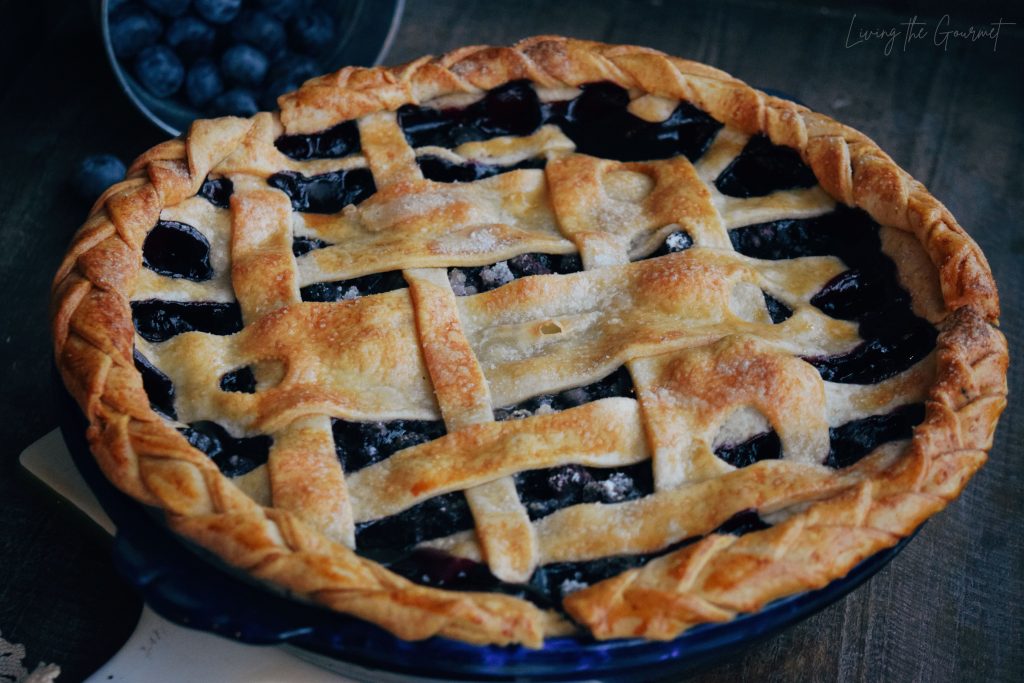 Print
Fresh Blueberry Pie
---
Author:

Total Time:

1 hour 15 minutes

Yield:

8

slices

1

x
4 1/2 cups

of fresh blueberries

1 1/4 cups

of sugar

1/2 cup

flour

3

tbs. butter

1/4 tsp

. cinnamon

Dashes of fresh nutmeg - grated

Dash of ground cloves

1

egg beaten with a splash of water - used for an egg-wash for brushing the crust
---
Instructions
Preheat Oven 350 degrees F.
Gently wash the berries. Thoroughly drain the berries and pat the berries dry with a paper towel.
Divide pastry dough for the crust in half.
Using half the dough, Lightly flour a clean surface and roll out half of the pastry into a circle to fit a 9 inch pie plate.
Make the circle about 2 inches bigger than the pie plate. Refrigerate the other half of dough until ready to use.
Place the dough in the pie plate and using a fork poke a few fork holes at the bottom of the pie plate.
Bake for about 10 – 12 minutes. Remove from oven.
Place the berries in a large bowl.
Add the sugar, flour, cinnamon, nutmeg, cloves, butter and lemon juice to the bowl and toss.
Place the berry mixture into the pre-baked pie plate.
Roll out the remaining pastry into 1-inch-wide strips. Place the strips on top of the pie in a lattice pattern.
Brush the top of the pie crust with the egg wash then sprinkle the crust with sugar.
Bake until the filling is bubbly and the pie crust is a beautiful golden color, about 60 – 70 minutes or longer until the pie filling is thickened and bubbly.
Allow the pie to cool for one and a half to two hours before serving so that the berries set.
Prep Time:

15 minutes

Cook Time:

1 hour

Category:

Dessert
Keywords: pie, blueberry pie, dessert
Recipe Card powered by
9