Today we're preparing a batch of Turin-style pepper and olive oil breadsticks. Crunchy, savory, and just a tad spicy, these are the perfect accompaniment to things like charcuterie boards, red wine, or a homemade bread basket.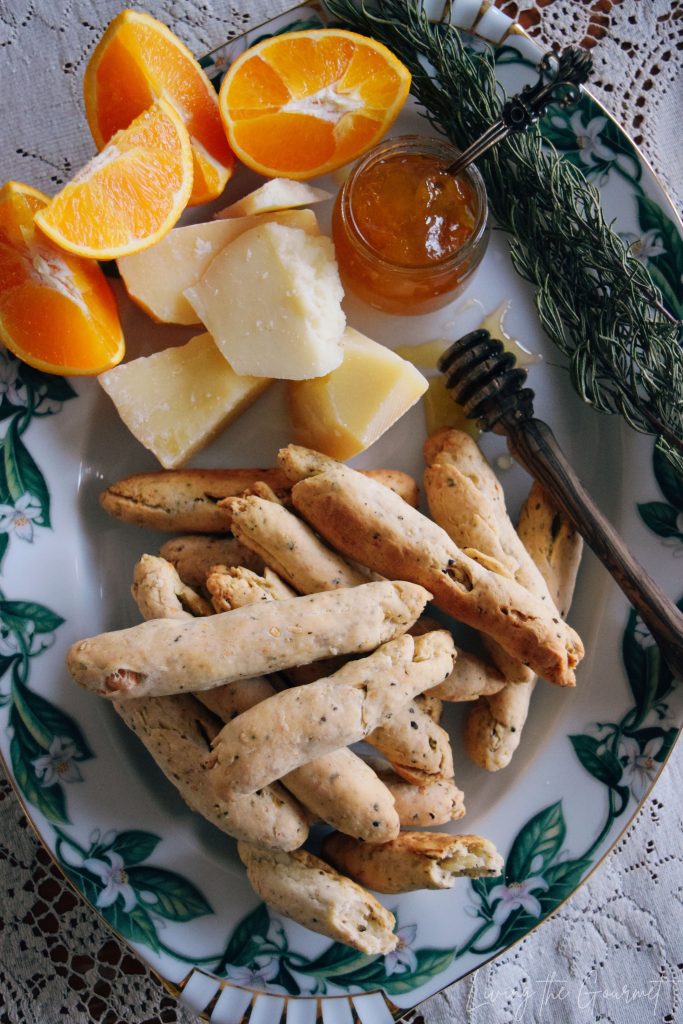 What To Do With Today's Recipe
1) Appetizers. As with traditional breadsticks, these are great addition to an antipasto board. They are simply delicious wrapped in prosciutto or salami. They also pair deliciously with herbed olive oil, particularly when the olive has plenty of roasted garlic in it. They also contrast nicely with fresh fruit, and are great with goat chaos.
2) Red Wine. If you're one for sipping red wine on its own, the peppery quality in today's breadsticks is a delicious accompaniment to a good merlot, pinot noir, Sangiovese, or a chianti.
3) Homemade Bread Basket. Traditional, pencil thin, crisp Italian breadsticks are often simply tucked into the table's bread basket. Today's breadsticks would quite nicely in this capacity.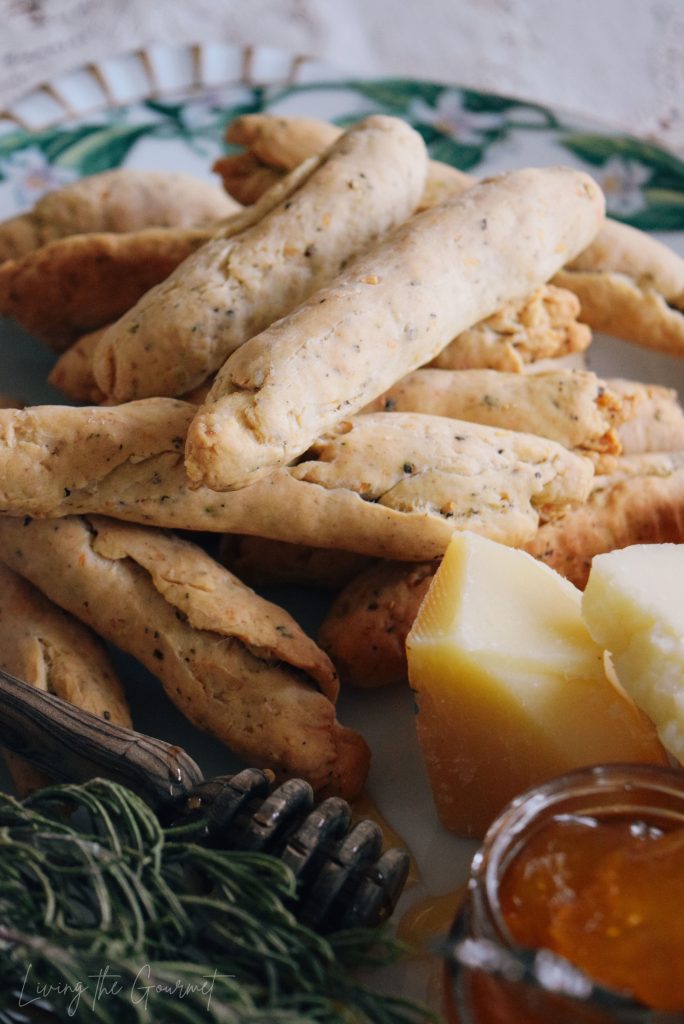 The Breadstick Conundrum: When does a breadstick become an individual baguette?
In the late 1600s, Duke Amedeo of Savoy wrote of his love for 'bone thin loaves.' This is among earliest references to recognizably modern 'breadsticks.' However, Duke Amedeo was talking about the slender loaves popularized in the then-small town of Turin. Even today, the city is noteworthy for its yard-long, pencil-thin breadsticks, which are placed on prominent display in the windows of its heritage-protected bakeries.
However, from the southernmost tip of Mexico to the northernmost reaches of Canada, North American restaurant culture has a 'very' different idea of what a 'breadstick' is supposed to be. This is especially true in the USA, and especially in chain eateries.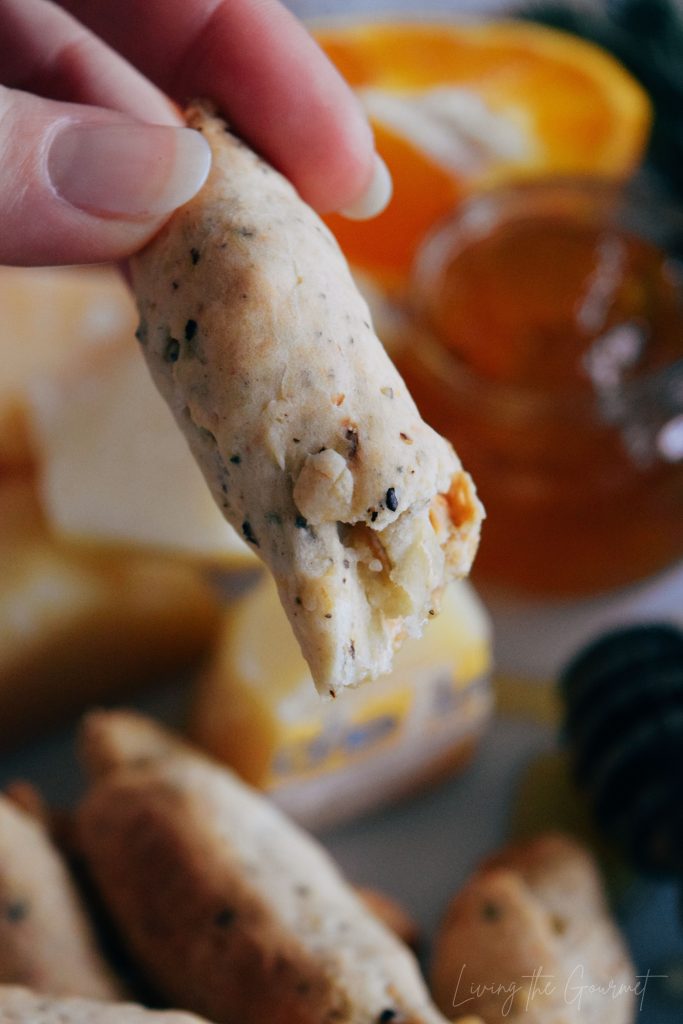 Naturally, I'm referring to what has been dubbed the 'American Breadstick.'
Perhaps fittingly, 'American Breadsticks' are described as being "plumper, greasier, and typically more seasoned than their traditional Italian counterparts," which "tend towards slenderer, plainer 'sticks' as opposed to miniature 'loaves.'" Thus are drawn the battlelines between those who contend that "American Breadsticks" are not authentic breadsticks and more or less everyone else.
However, in the words of Ryan Joseph writing for Thrillist [LINK: https://www.thrillist.com/eat/nation/olive-garden-breadsticks-history ] "But does authenticity really matter when you're staring down a basket of steaming hot breadsticks? … Those things are like glorified hot dog buns smothered in garlic and parmesan cheese. Who doesn't love garlic and butter on bread?"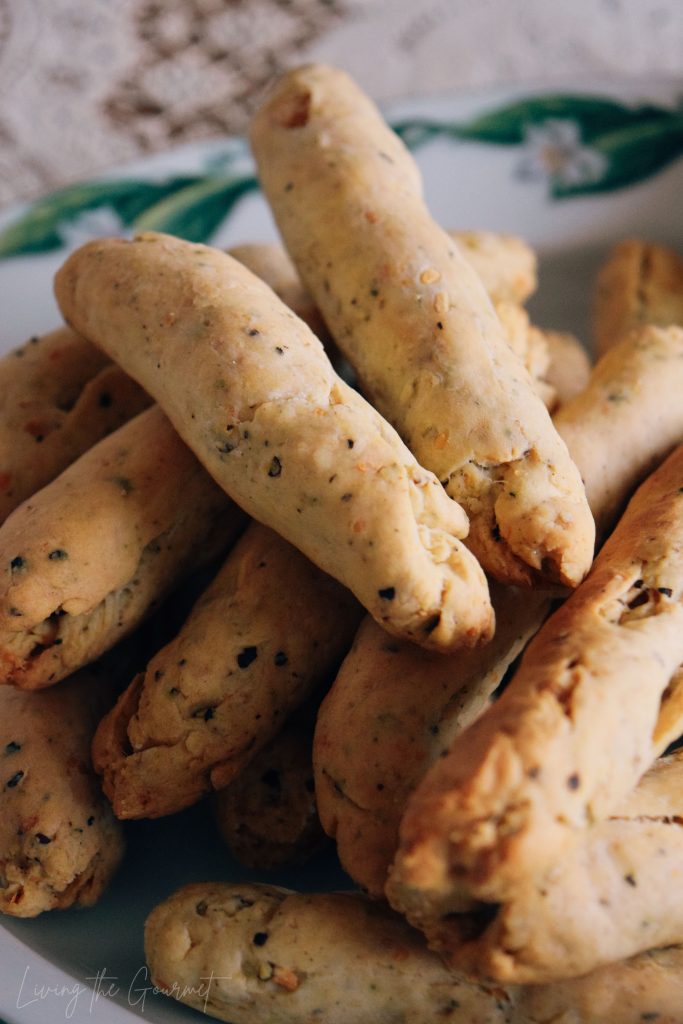 Ingredient Notes and Tips
1) The Flour – Use All-Purpose. The difference between flours comes down to protein, with all-purpose being the midpoint between baking/pastry flour and bread flour. The less 'protein' flour contains the 'lighter' and less dense the resulting baked good is. By contrast, the more protein flour has, the more 'chew' and 'body' a baked good will have. Not only that, but flour requires protein to produce gluten, and gluten is what gives bread dough its 'stringy bits,' which make the dough elastic enough to knead. Thus, for a light and airy pastry, cake flour is the order of the day. For an excellently textured pizza dough, or dense, crusty loaves, bread flour will give the best results. For pretty much every application (including today's breadsticks), all-purpose flour is the way to go.
2) The Olive Oil. While I typically advise 'against' using quality olive oil in recipes that are cooked at high-ish temperatures (at or above 350 degrees), today's breadsticks are a big exception. The olive oil is forming a foundational portion of the flavor profile, and so you want a decent extra virgin olive oil. You are going to be tasting the oil in these, and that means you want to use a quality olive oil.
More Bready Goodness from Living the Gourmet
1) Best Ever Buttery Flaky Biscuits. Whether its biscuits and gravy, biscuits with fried chicken, or the perfect biscuits for breakfast sandwiches, our Buttery Flaky Biscuits should be your go-to recipe. This is classic comfort food.
2) Flatbreads aka Wheat Tortillas. These are staple in my home. They pair deliciously with almost anything, from the 'wrap' in egg wraps, to the bread for antipastos, to simply dipping in oil, or simply as dinner bread, these are definitely worth learning to make.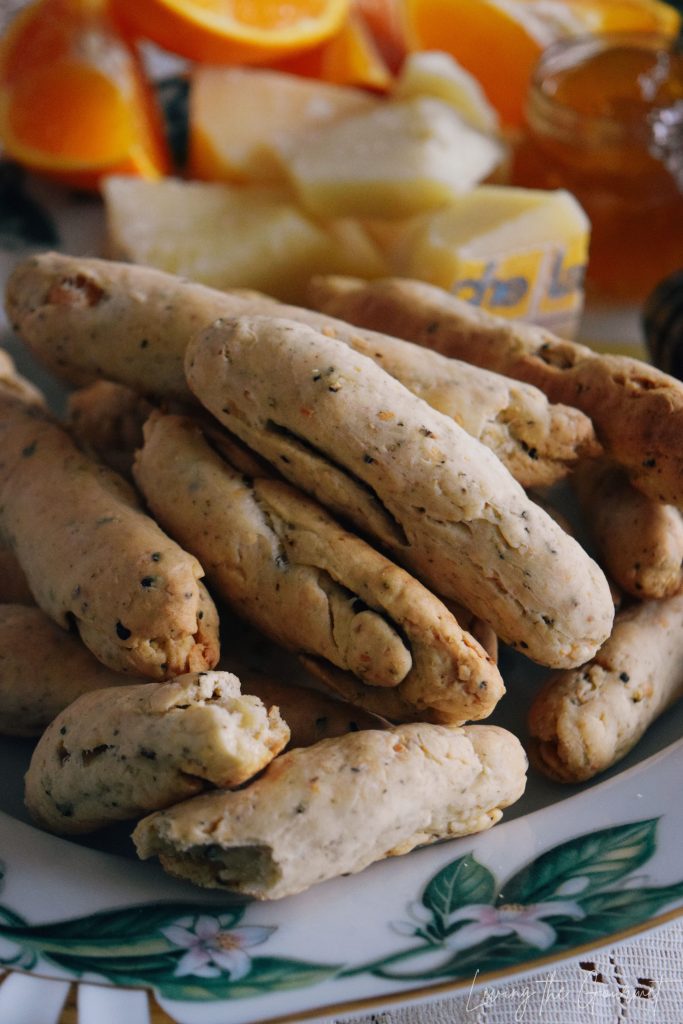 Print
Homemade Friselle
Author:
Prep Time:

10 minutes

Cook Time:

25 minutes

Total Time:

35 minutes

Yield:

2

dozen friselle

1

x
Category:

Appetizer

Cuisine:

Italian
3 1/2 cups

flour

2 tsp

. baking powder

3

-

4

tsps. fresh ground black pepper - you may add more if you like. I like a lot of pepper

4

tbs. olive oil

1 tsp

. salt

3

-

4

tbs. fresh grated Parmesan or Romano cheese

1 cup

cool water - plus a bit more to bring the dough together - a tablespoon at a time
Instructions
Preheat Oven 425 degrees F.
In a stand mixer, using the dough hook, combine all of the ingredients for the dough.
If the dough is not coming together, add a tablespoon of water at a time to the mixer bringing the dough together.  Be sparingly with adding the extra water.  The dough should be nice and soft and bouncy.
Place on a clean, lightly floured, surface and break tablespoon size piece of the dough at a time and roll into a log.
Place on a baking sheet lined with parchment paper.
Bake 20 – 25 minutes or until light golden.
Keywords: friselle, italian cookies, biscuits, appetizers,
Recipe Card powered by
4