Today we're preparing a super simple batch of bake-to-basics Blueberry Muffins. Great with coffee and a topping of fresh whipped cream, I can't help but feel that today's muffins are a delicious portal back to a simpler time.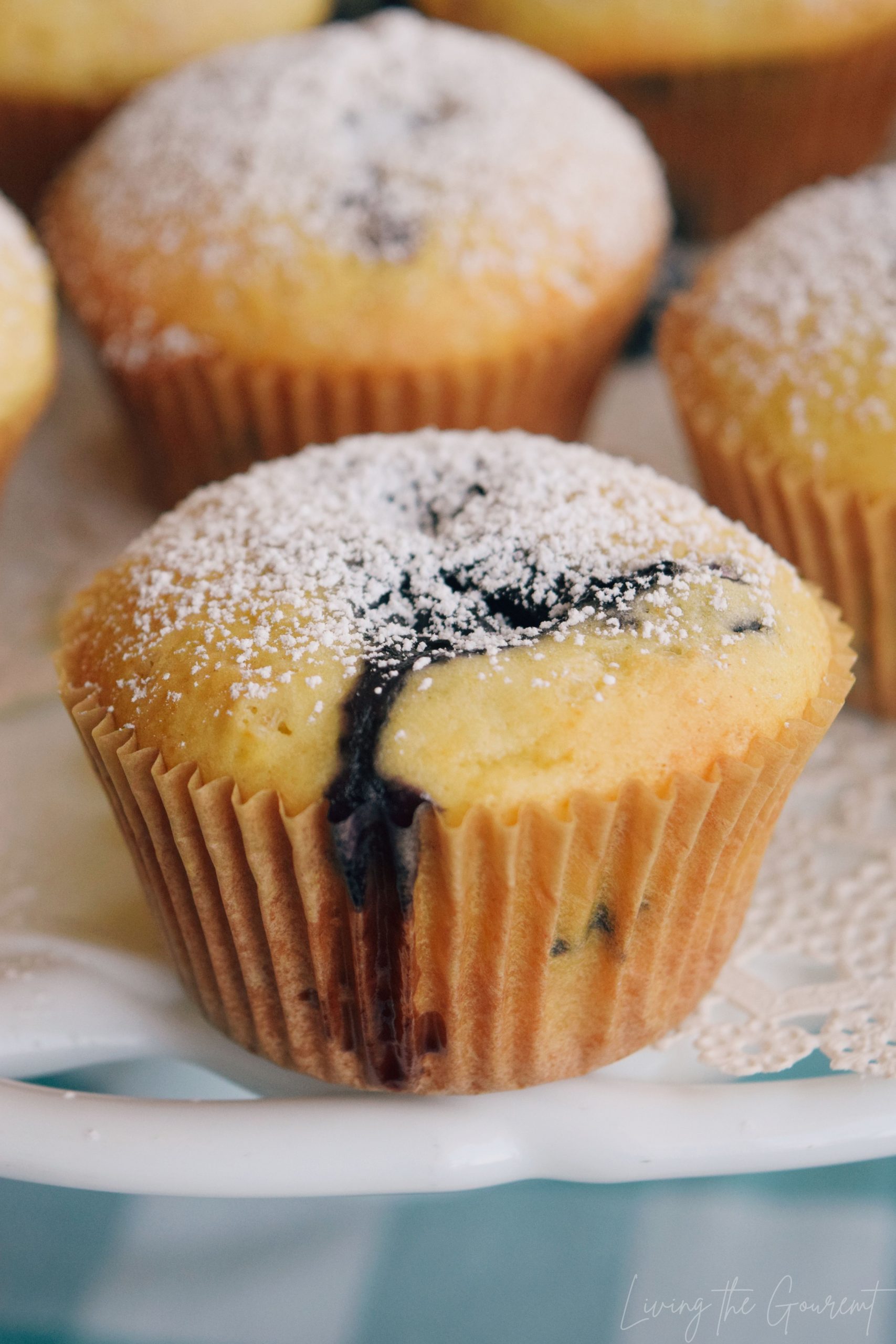 Ingredient Notes and Tips
1) Why All Purpose and not Baking Flour? For 'delicate' baked goods, use baking flour, for hardier baked goods use all purpose. Since muffins in general stray well away from the 'delicate' category, we're using all purpose flour. Why so? Because the more protein flour has, the more 'chew' or 'texture' the resulting baked good will have, while the less protein the flour has the airier or 'lighter' it will be. For reference, all purpose flour is standardized at 9-10% protein by content. By contrast, baking flour features less than 8%. These few percentage points may not seem like much on paper, but they make for a significant difference in the texture and weight of the resulting baked good.
2) Sifting Your Flour…why though? At the risk of stating the obvious – it gets rid of lumps. Less lumps means it's both easier to measure and significantly easier to mix, as well as ensuring that the flour becomes thoroughly combined with other dry ingredients. That's really all there is too it.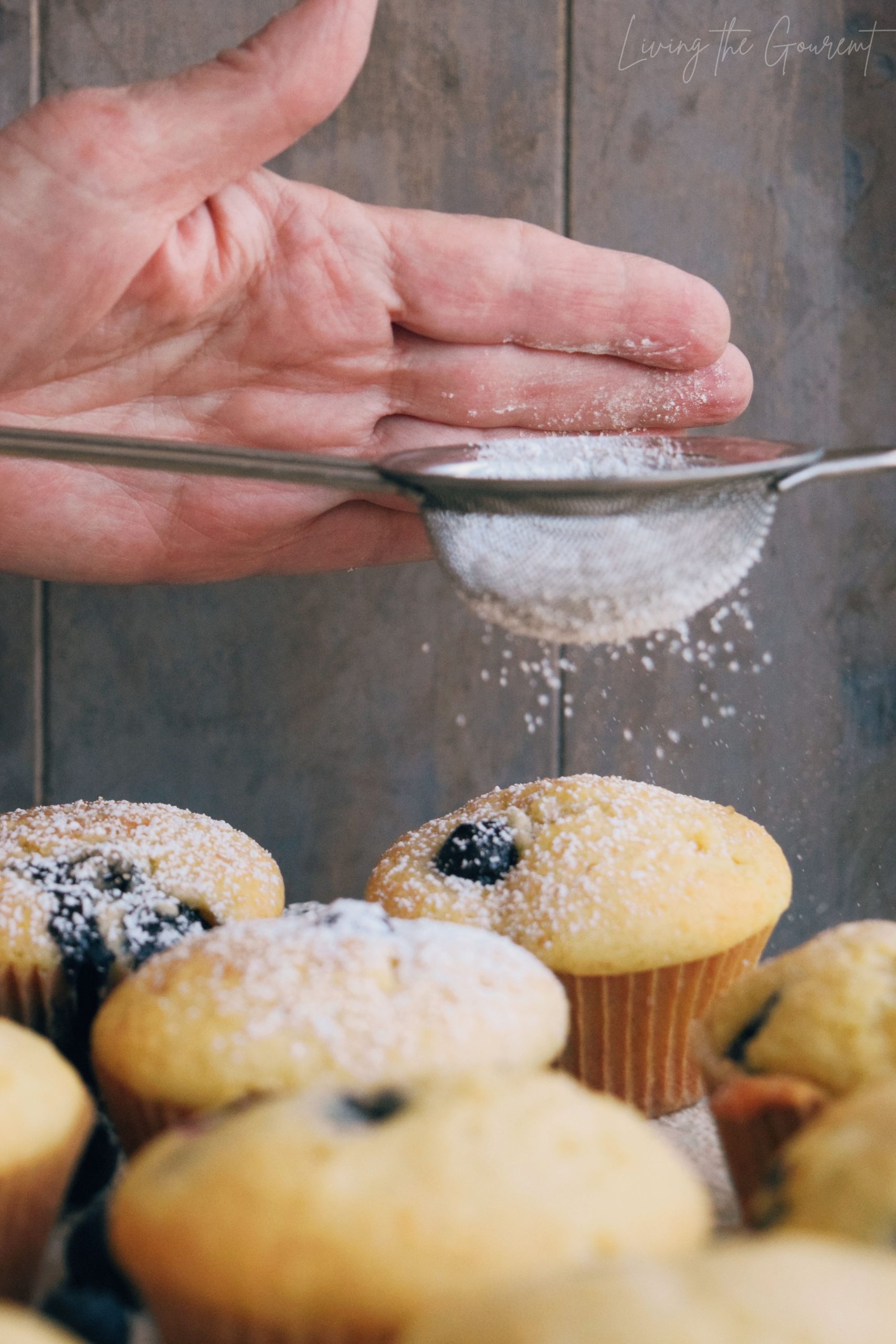 3) Unsalted vs Salted Butter. I like to think of salted butter as 'table butter' and unsalted butter as 'kitchen butter.' In other words, if your spreading your butter on toast or dinner rolls, salted probably is the way to go, whereas if you're cooking with the butter the added salt serves no purpose other than to make your recipe a tad bit saltier. That said, the 'only' difference between salted and unsalted butter is a small amount of added salt. That's it. Many years ago, it was believed that salt in butter was meant to mask imperfections, and regardless of whether or not that was 'ever' true, it certainly isn't true today (bonus points if you remember the early 2000s celebrity chef who thrust this age old kitchen myth into the international limelight). The truth is, salted and unsalted butter are drawn from the very same industrial churns, except that salted butter is given a small dash salt on its merry way to the store shelf. About ninety milligrams per serving worth of salt, to be precise.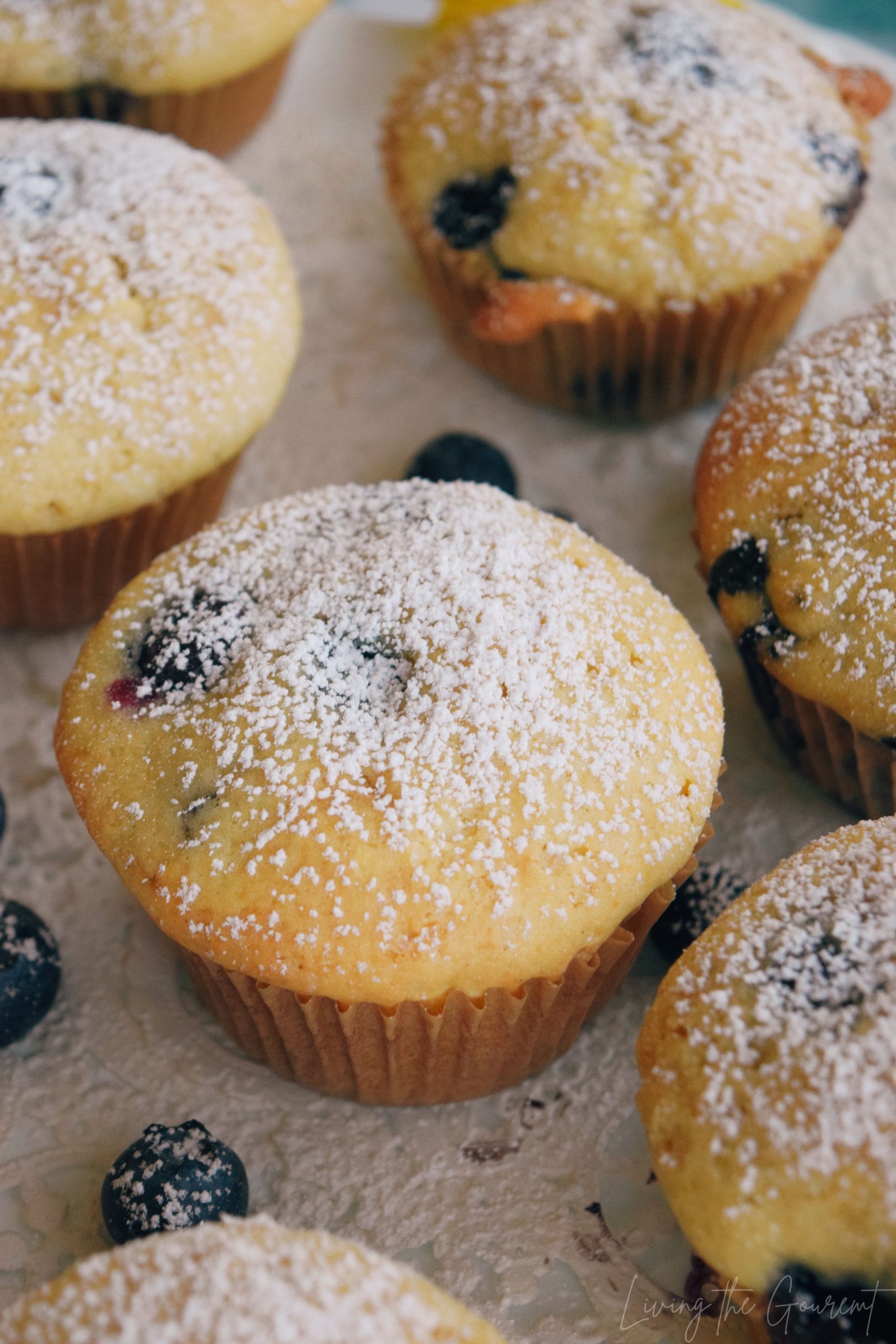 Blueberries – How To Pick and Store Blueberries
1) The Feel. Blueberries that are firm to the touch are not yet ripe. However, blueberries should 'not' feel like they are about to burst or crumble to nothing in your hands either – those berries are overripe. The skin should be smooth, free of smudges and fuzz. Those blueberries are well past their due date.
2) The Color. Blueberries that have a reddish tinge to them are underripe. Deep blue or blue-black berries are the way to go.
3) The Grey 'Dust.' On the topic color, contrary to popular belief, fresh, well kept blueberries will have a slight dusting of 'grey' in their blue color. This is perfectly fine.
4) Storing your Blueberries. Keep them in a cool, sun-free area. Exposure to heat or direct sunlight will rapidly spoil your berries. Also, it is best to keep them in a perforated plastic container or basket. Bags will result in crushed and overripe berries.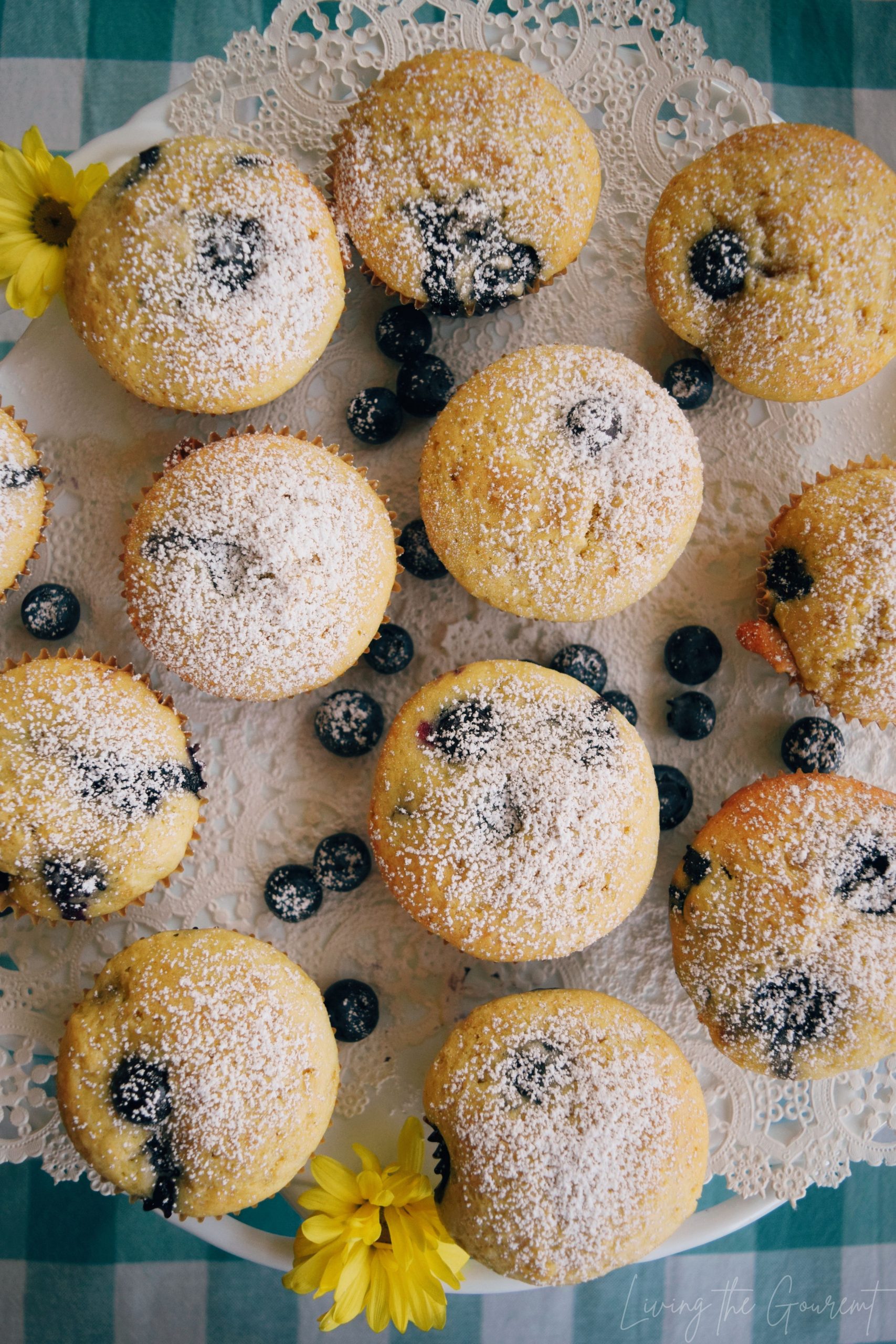 More Baked Delights from Living the Gourmet
1) Cool Lime Pie. A no-bake Key Lime Pie featuring just eight simple ingredients – yes, eight in total. Decadent, delicious, perfect for the warmer weather, and super simple to make, this is one warm weather treat that's definitely worth adding to your repertoire.
2) No Bake Tiramisu. Yes, no-bake tiramisu is definitely a thing, and it's absolutely delicious.
3) Blueberry Shortbreads. Crazing more blueberry goodness? These shortbreads are an elegant yet simple 'sweet bite' that, at least for me, is a year round delight.
4) No Bake Whipped Cream Cheesecake. If you love cheesecake, but hate turning the oven on during the warmer weather, this recipe is for you.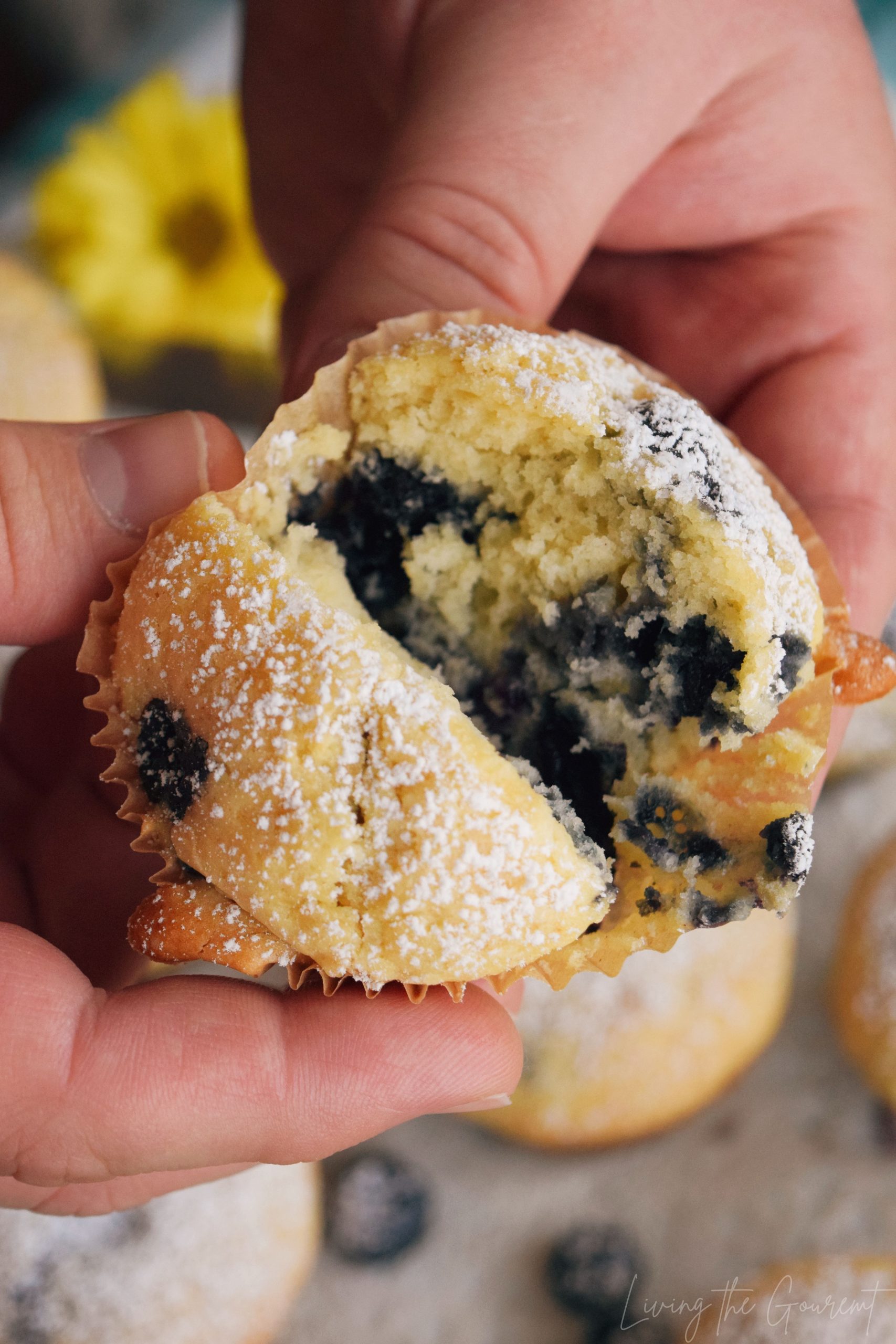 Print
Simple Blueberry Muffins
Author:
Prep Time:

10 minutes

Cook Time:

20 minutes

Total Time:

30 minutes

Yield:

1

dozen muffins

1

x
Category:

breakfast
2 1/4

cups

flour – sifted

2/3

cup

milk

2

eggs

2

tsps. vanilla

1

cup

sugar

1/4

cup

unsalted butter – melted

2 1/2

tsps. baking powder

1/4 tsp

. salt

1

cup

fresh blueberries
Course sugar
Instructions
Preheat Oven 350 degrees F.
Sift the flour, baking powder, salt and sugar into a mix-master bowl.
Combine the eggs, vanilla, milk and melted butter and add to the mix-master bowl while it is on slow and mix.
Fold in the blueberries.
Spoon into paper lined muffin tins; Leaving about ¼ inch from the top.
Top each muffin with the course sugar.
Bake 20 to 25 minutes or until the toothpick test comes out clean.
Dust with powdered sugar.
Keywords: blueberries, blueberry muffins, breakfast muffins, cupcakes
Recipe Card powered by
1