Freshly whipped cream is the secret to this heavenly, no-bake cheesecake. Perfect for summer or any occasion, wow your guests with this sublime treat!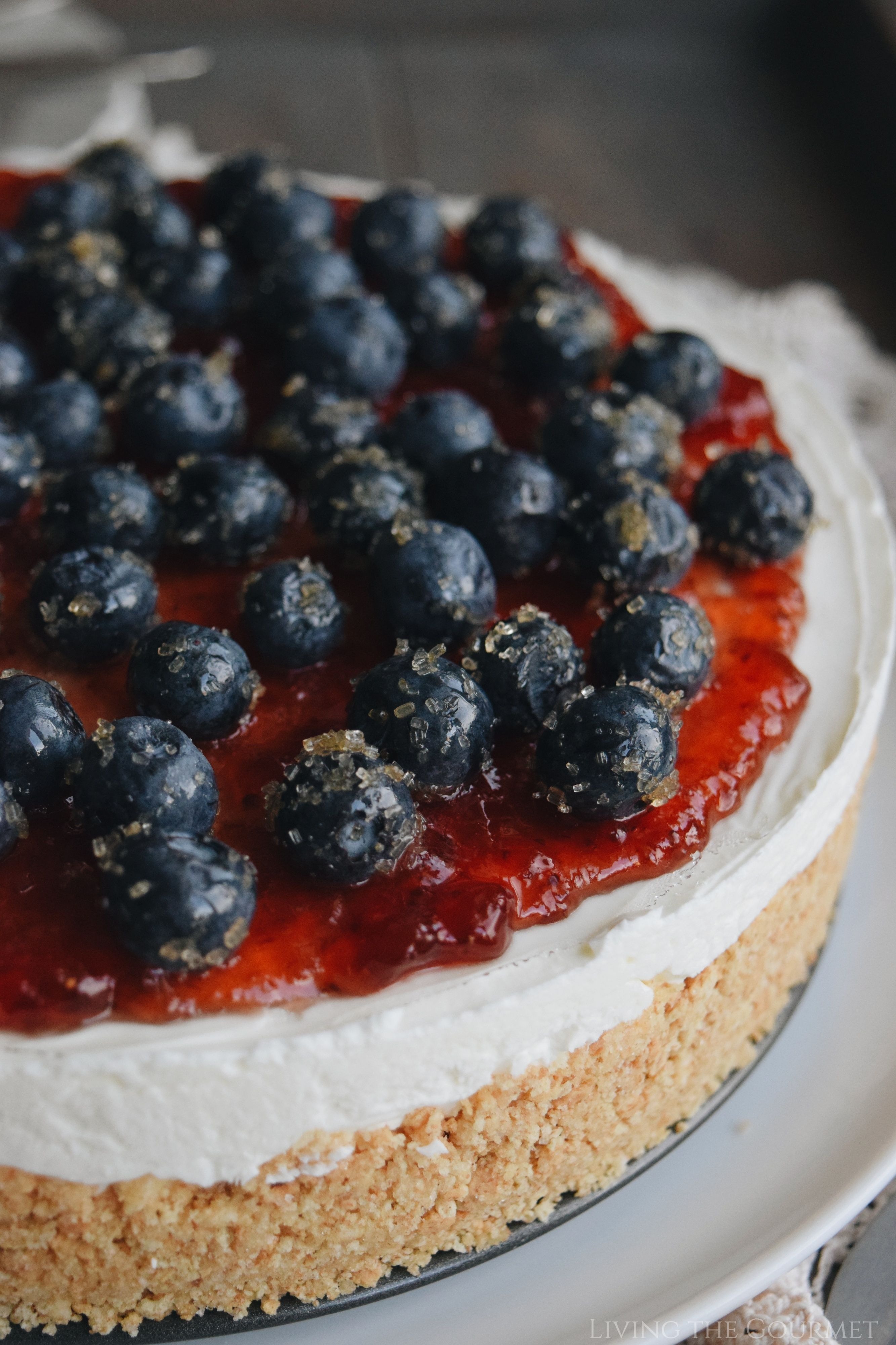 From being a running punchline in a beloved 80s sitcom, to defining the desert culture of the Empire State for more than a generation courtesy of such establishments as "Junior's" and "Eileen's," cheesecake is a perennial favorite, and a crowd pleaser like few others.
But why?
In a food and entertainment culture so thoroughly dominated by a constant drive for 'innovation' and 'exoticism,' the cheesecake risks being 'old fashioned' or possibly 'boring.' Or is it? Is blissful predictability necessarily 'boring?' Conversely, is always being surprised or challenged or forced to 'ponder your palate,' actually a good thing? Sometimes, sure. But sometimes we need to bring it all back home.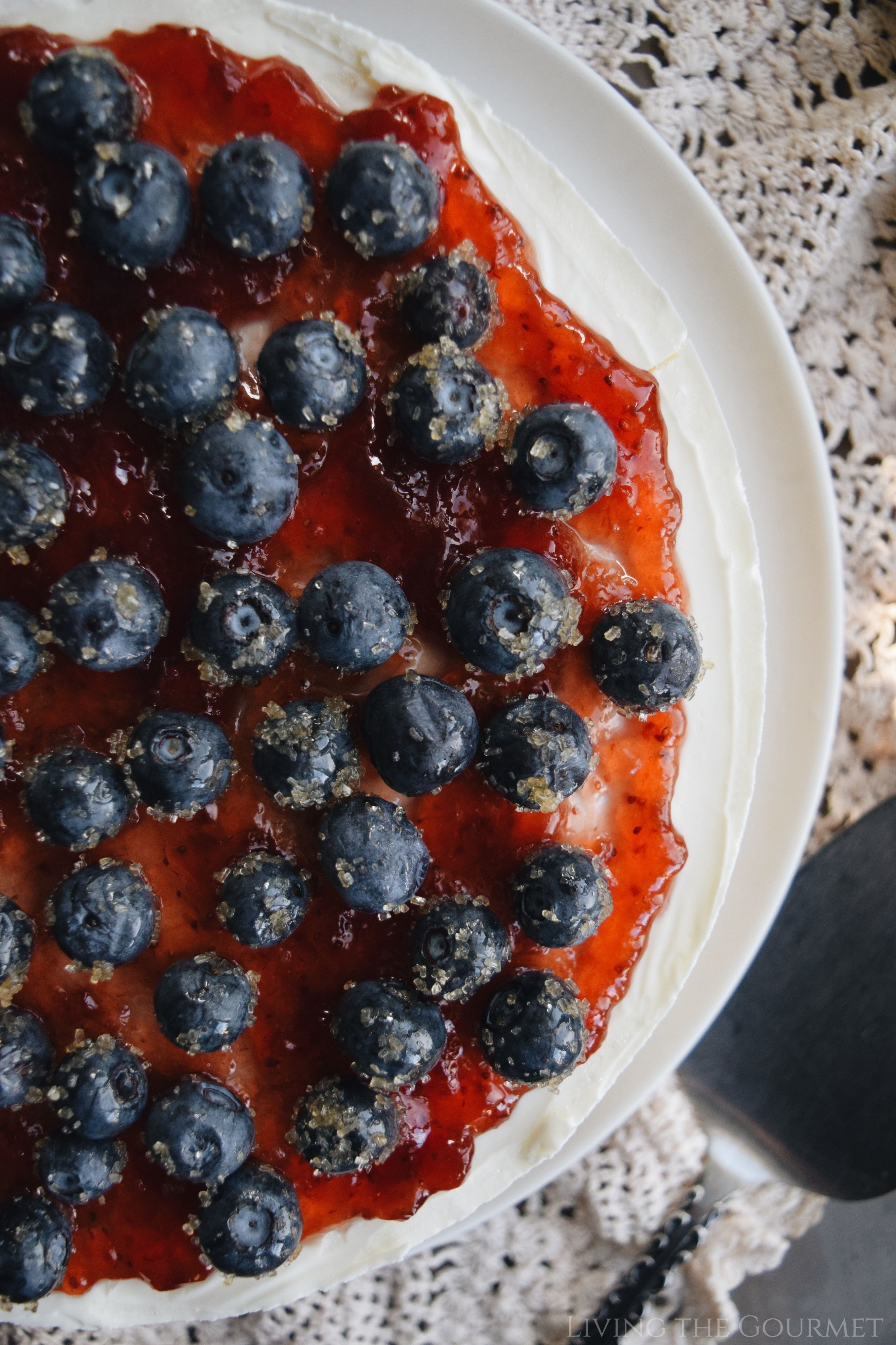 Regardless of its incarnation, cheesecake is predictable, and the standard recipes, or at least the rough outlines thereof, are rarely altered beyond the realm of familiarity – and for good reason. Everyone already loves it, and everyone already has a very particular 'something' in mind when they order or bake their own.
However, there's no escaping that the cheesecake is heavy, dense, and almost always requires at least two rounds of baking – one for the crust, and one for the filling, and possibly some stovetop action for the topping if you're using melted chocolate or a fruit reduction. That's a lot of heat, and during the summer months that might make baking your own something less than inviting.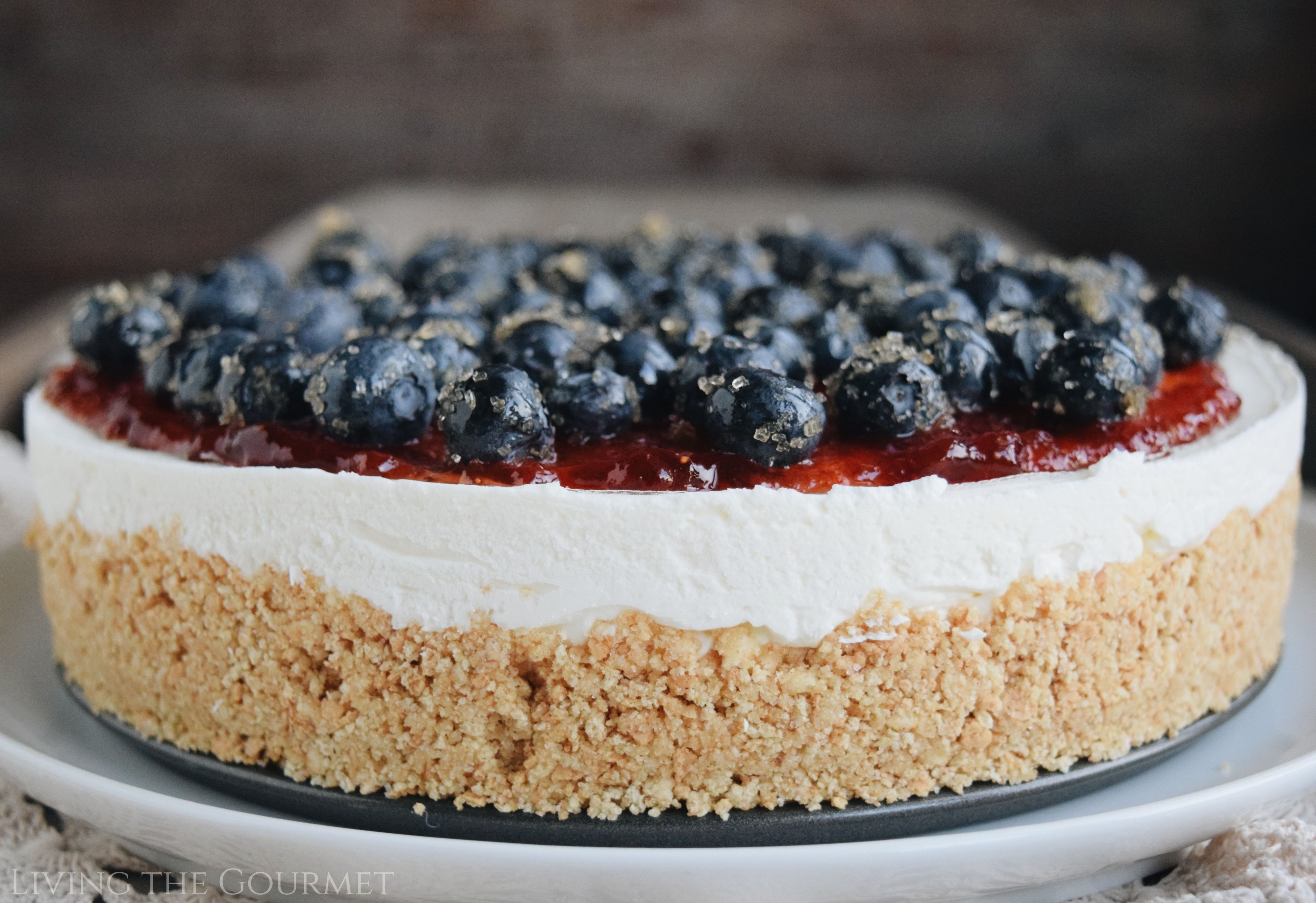 To that point, today's cheesecake isn't attempting to reinvent the wheel, or 'challenge' your palate. Instead, we're bringing the classic cheesecake in line with the summer season.
Today's No Bake Freezer Cheesecake is perfect hot summer days when turning on the oven would be akin to self-immolation, or for when you really want something sweet and cold after dinner, but are craving something a tad bit more 'substantial' or 'mature' than ice cream or sorbet.
Now, with the formalities out of the way – No-Bake Whipped Cream Cheesecake.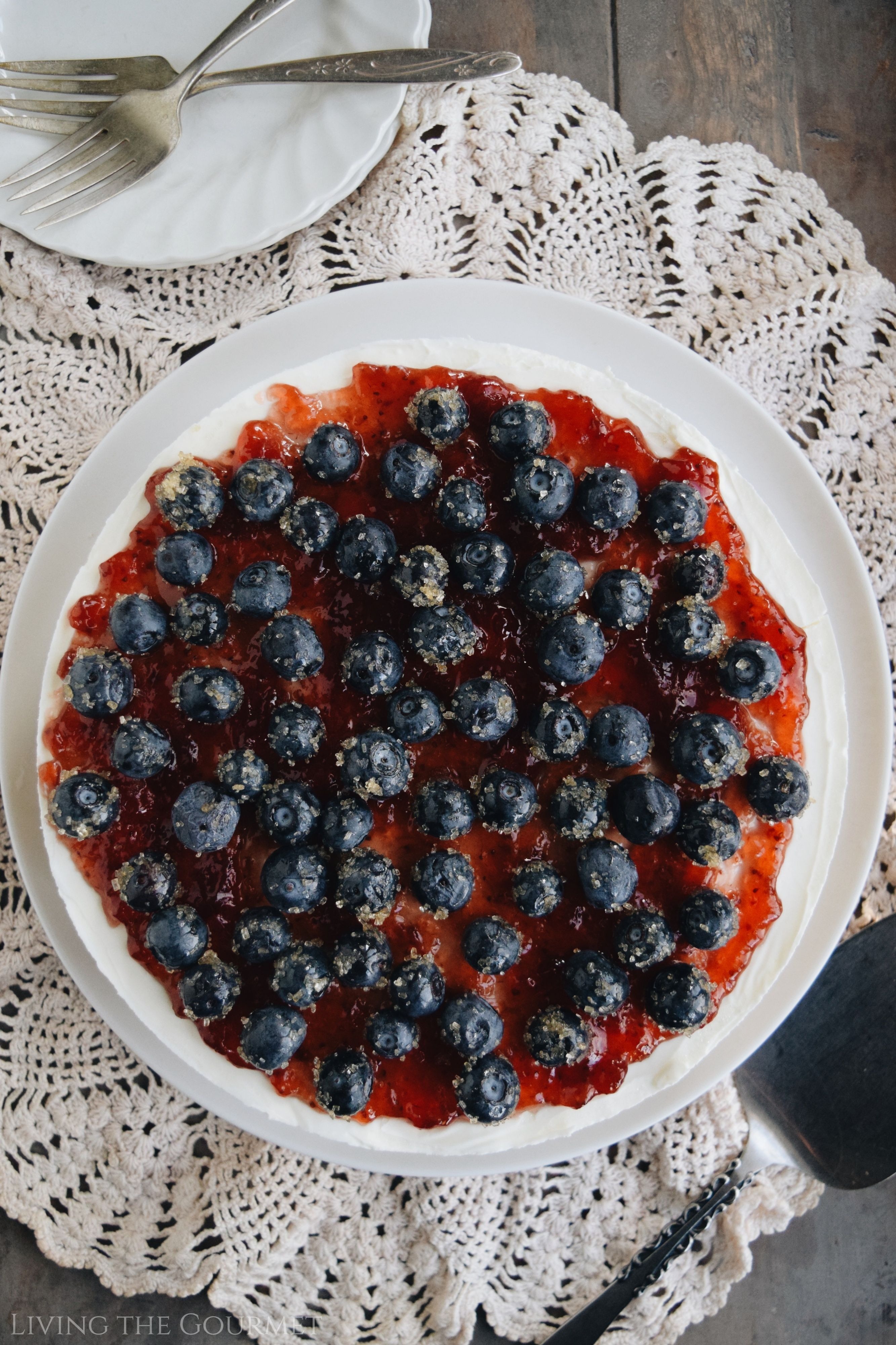 To begin, we start by combining butter, graham crackers, and sugar in a food processor, and then processing until the resulting mixture is workable. You want it 'crumbly' but you don't want it falling to pieces – you want to be able to mold it. Now, press this 'dough' into a spring form pan as pictured bellow. You want the crust to be thoroughly compacted and formed to the bottom of the pan, but be careful not to crack the dough.
Next, whip heavy cream and powdered sugar until light and fluffy. You want the cream to form peaks, but you don't want it dense or firm, and you'll see why in a second. Once that's done, beat cream cheese and sugar together until you have a smooth, creamy mixture, free of clumps or 'pockets' of un-whipped cheese. After that, whisk the whipped cream into the cream cheese mixture a few spoonfuls at a time, mixing as you go. You want the mixture thoroughly combined, but again, be careful not to overbeat it.
Print
No-Bake Whipped Cream Cheesecake
Author:
Prep Time:

15 minutes

Total Time:

15 minutes

Yield:

1

cheesecake

1

x
For the Crust:
9

graham crackers

6

tbs. butter – softened

1/4

cup

of sugar
For the Filling:
2

packages (8oz. each) of cream cheese – softened

1/2

cup

sugar

8

oz

. of heavy cream

2

tbs. powdered sugar

1

pint

of fresh blueberries

3

–

4

tbs. of raw sugar

1/2

cup

strawberry jam

9

-inch springform pan
Cling film
Instructions
Combine the graham crackers, ¼ cup of sugar and 6 tbs. of butter in a food processor and process until crumbly and workable.
Press these crumbs into the spring form pan.
Whip the 8 oz. of heavy cream with the 2 tbs. of powdered sugar until light and fluffy whipped cream is achieved.
Beat cream cheese and sugar together until smooth and creamy.
Whisk the whipped cream into the smooth and creamy cream cheese mixture.
Spoon this mixture into the pan prepared with the graham cracker crust.
Gently press the cling film to the surface of the cake.
Place in the freezer.
Mix the blueberries with the raw sugar.
Take out of the freezer and place in the refrigerator about an hour before you would like to serve the cake, remove the cling film and spread the strawberry jam over the top and place the prepared blueberries on top.
You may place any leftover cake back in the freezer or in the refrigerator, whichever you prefer.
Notes
*Prep Time does NOT include Inactive Prep Time
Nutrition
Serving Size:

8 pieces of cake
Recipe Card powered by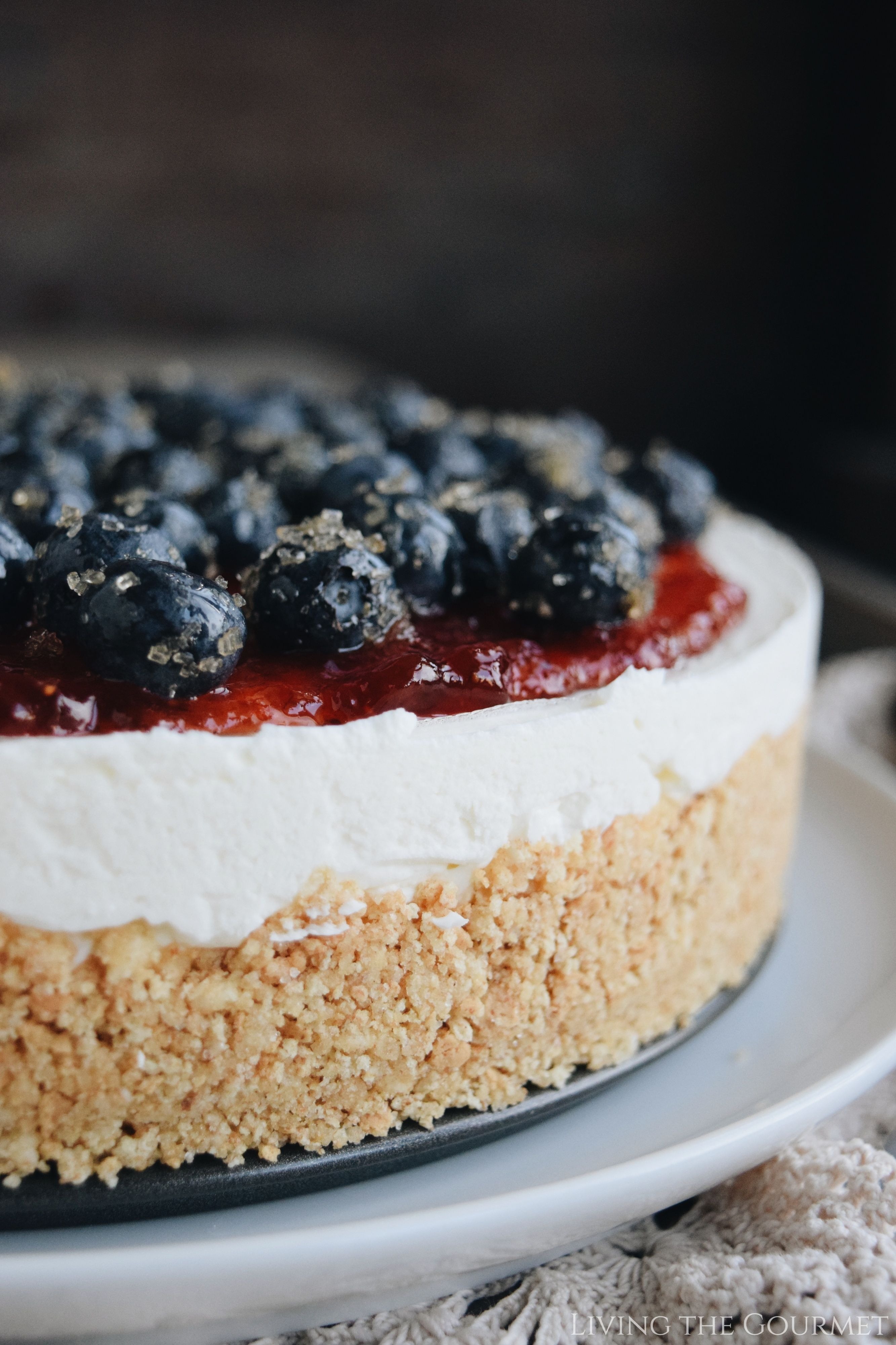 Finally, pour the mixture into the springform pan, carefully top with cling wrap, and then freeze it for about two and half to three hours.
While the cake freezes, mix together blueberries and raw sugar. Once the cake is done freezing, top it with some strawberry jam, and then sprinkle the top with the blueberries.
Allow the cake to sit for about an hour or two before serving, and you're done, a summer friendly desert, that's super simple, and heat-free to prepare.
Enjoy with Love!
6