I've loved bean burgers from before they were vogue.
However, there is one caveat. I don't like bean burgers that are designed to have the taste or texture of meat. Would we expect a grilled steak to taste like grilled eggplant? No. Because why would we?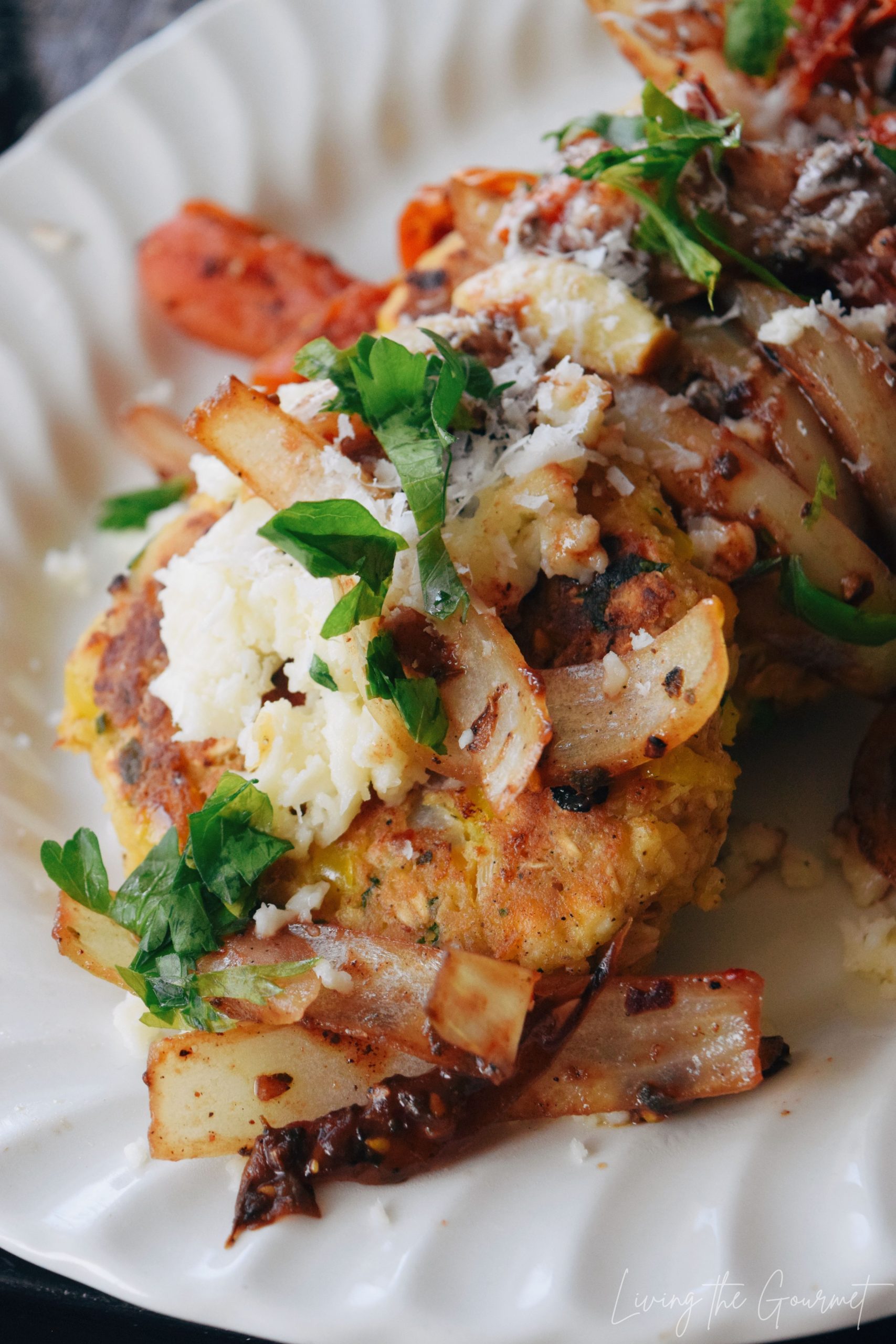 In my opinion, this all flies in the face of what makes 'bean burgers' unique and delicious. You can play with the flavors of a hardy bean burger in ways that simply wouldn't work with chop meat. To my mind, bean burgers can embrace the beautiful mosaic of herb and veggie flavors in ways that would simply 'dilute' or 'mask' chop meat burgers, or turn those same chop meat burgers into mini-meatloaves.
Instead of oozing fake blood, I want my bean burgers to be packed to overflowing with things like fresh garlic, grilled onions, and feta cheese, or to feature a rainbow of multicolored peppers, and bursting with a collage of herbal seasonings that run the gamut from spicy to earthy and back again. That's a bean burger.
And that's precisely what we're doing with today's chickpea burgers.
Ingredients Notes and Tips
1) The Feta. We're using feta in the patties for two big reasons – flavor and firmness. In terms of flavor, feta adds a delicious 'brine' note to the patties, which will meld nicely with the largely 'Mediterranean' flavor profile of the ingredient list. Now, in terms of texture, while feta isn't generally considered to be a 'hard' cheese, it does remain relatively 'firm' during melting in that it won't turn to 'stringy goo' during the frying process. Instead, the feta simply become 'soft,' and that's what we want.
2) The Mozzarella. Fresh or Packaged? For today's recipe, packaged will do just fine, but fresh will add undeniably to both the taste and texture. Fresh mozzarella is quite a bit moister than packaged, and this gives the cheese a fluffier or even 'silky' texture – and this is what most people love about fresh mozzarella. This moisture also gives fresh mozzarella its signature 'milky' taste. Now, adding these two qualities into today's recipe will simply heighten the experience on the palate. With that said, don't fret if you don't have fresh on hand or if you don't feel like spending the extra money, since packaged will do just fine for today's recipe.
If Using Fresh Mozzarella: Do 'not' grate it. Simply slice a portion of mozzarella roughly large enough to cover the top of the patty. Grating fresh mozzarella depletes its moisture, negating one of the reasons to use fresh in the first the place.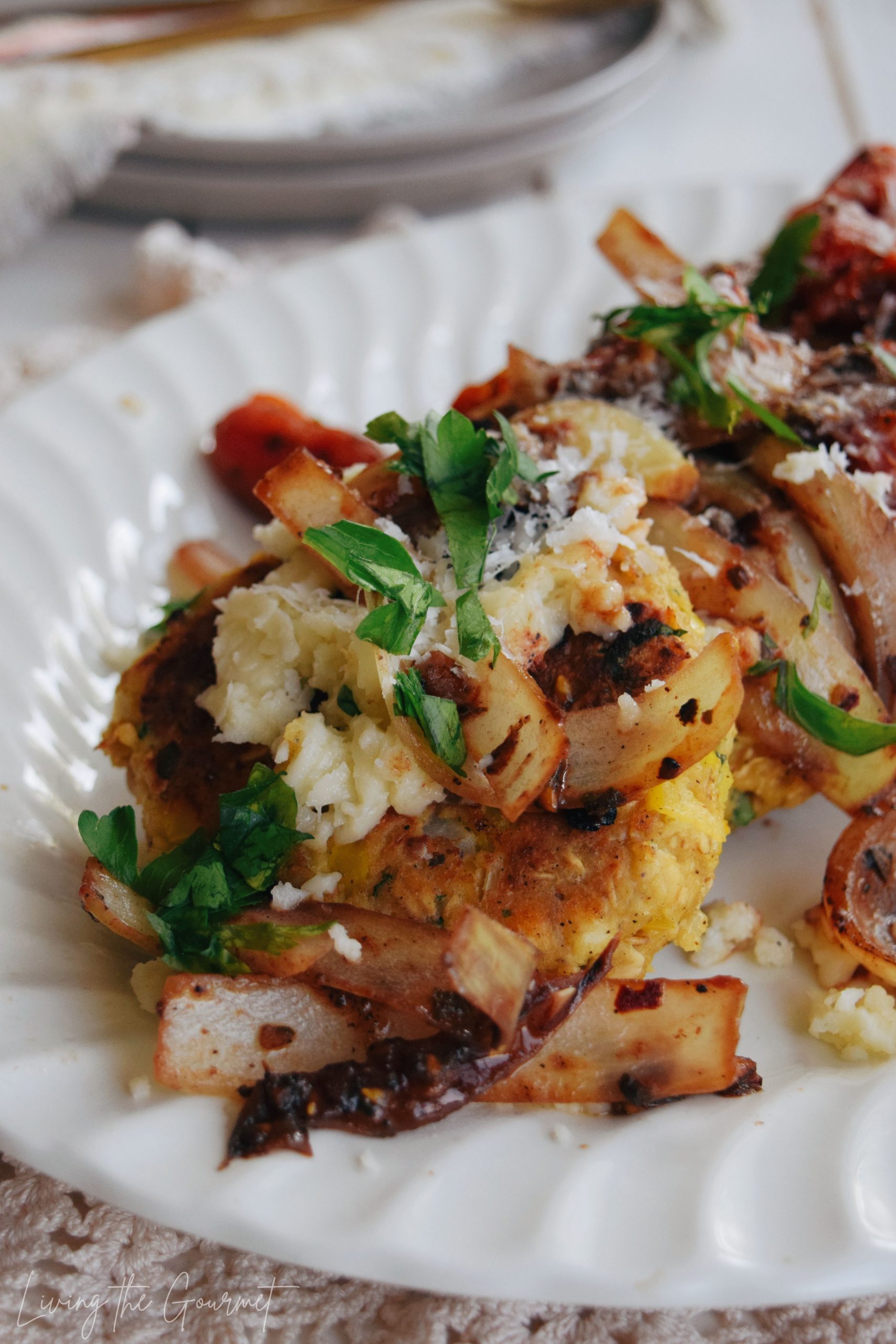 Bean Burgers: Tips and Tricks
1) Mix Them Well. You want the chickpea mixture to be thoroughly, completely, and uniformly combined. This is in contrast to mixing chop meat, where you want to work the meat 'only' until your ingredients are incorporated, lest you end up with a rubbery burger, meatball, or meatloaf. That won't happen here. Just the contrary. If your ingredients are 'not' thoroughly and uniformly blended, you will end up with burgers that won't hold together through cooking.
2) No Animal Fat Means No Shrinkage. If you've ever prepared chop meat burgers or meatballs or meatloaf, you're well aware that those items 'shrink' during cooking – and this is especially true when using thoroughly marbled meat. Leaner meat shrinks less, or barely at all if you're using painfully lean meat. That doesn't happen with veggie or bean burgers, since there simply isn't any animal fat to dissolve or 'melt away' during cooking. Instead, the burgers will remain roughly the same size throughout the cooking process, so form them to precisely the shape and size you want beforehand.
3) Only Olive Oil. Yes, vegetable oil is 'usually' better for frying, but in today's recipe stick with olive oil throughout the recipe – including the frying, since we want the added 'olive oil flavor' at every possible juncture.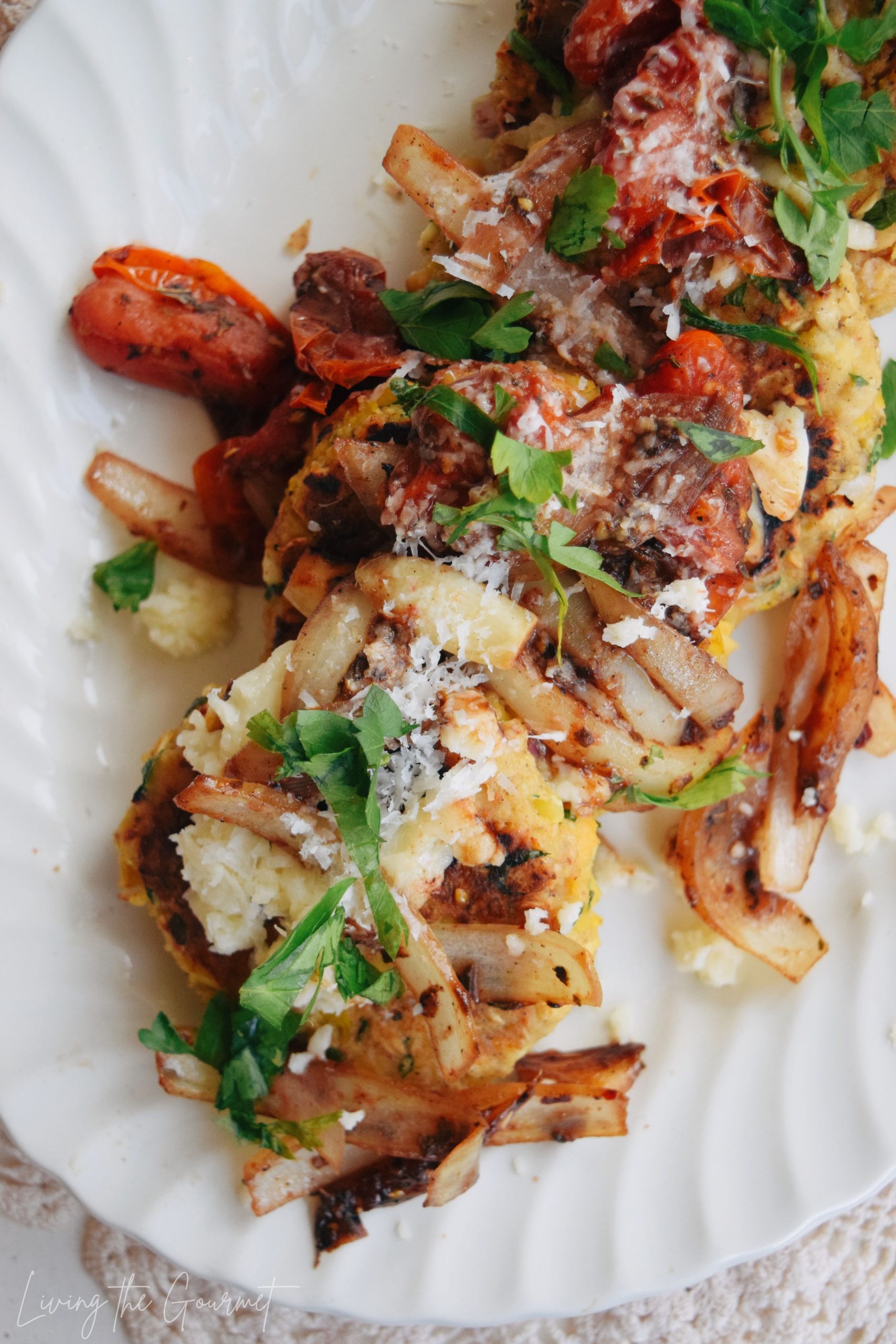 More Veggie Goodness
1) Sundried Tomato Falafel. A traditional falafel recipe blended together with sundried tomatoes, curry, and cumin. Paired with homemade flatbreads, these are great either as a light lunch or as a starters to a Mediterranean themed meal.
2) Crispy Fried Cauliflower Balls. One of my absolute favorite uses for cauliflower. Crisp, crunchy, flavorful, and moist, these are a real treat. If you've got some cauliflower that you aren't sure what to do with, or are simply looking for a new use for cauliflower, these have got you covered.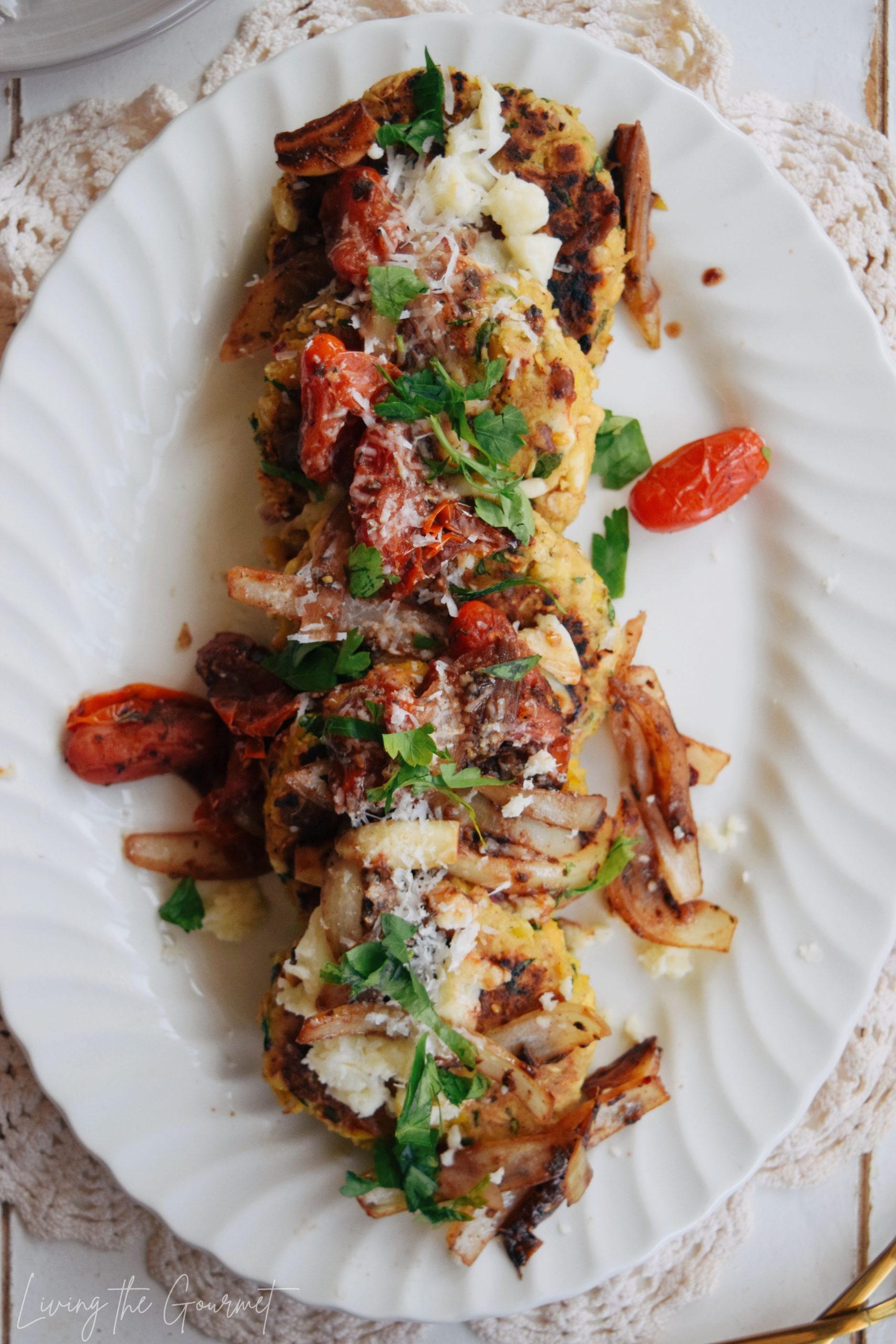 Pairs Great With
1) A Cold Drink. While today's chickpea burgers and a simple glass of red wine are a match made in heaven, if you want to kick things up a bit and play 'bartender' to yourself or your guests, our friends over at DrinkWorks have got you covered. Think of it as the "Keurig of Home Bars," simply pop a pod into the machine, and out comes a delicious, chilled 'adult beverage' (no ice required) that tastes like it was mixed by a master mixologist. With dozens upon dozens of drink pod flavors to choose from, including Margarita, Cosmopolitan, Mojito, Moscow Mule, Whiskey Sour, White Russian, and Old Fashioned, among many others, there's something for everyone.
2) Pickled Sweet Potato Salad. My absolute favorite way to eat sweet potatoes, this salad is sweet, crunchy, just tad acidic, and refreshing. As a plus, letting it sit a night or two in the fridge only enhances the flavors, meaning its perfect for making ahead.
3) Coleslaw. My preferred recipe for coleslaw combines the obligatory mayo-coating with a citrusy dressing. For a nice kick, I slice in jalapenos with the cabbage to create a sweet-and-spicy salad, with just a hint of crisp citrus.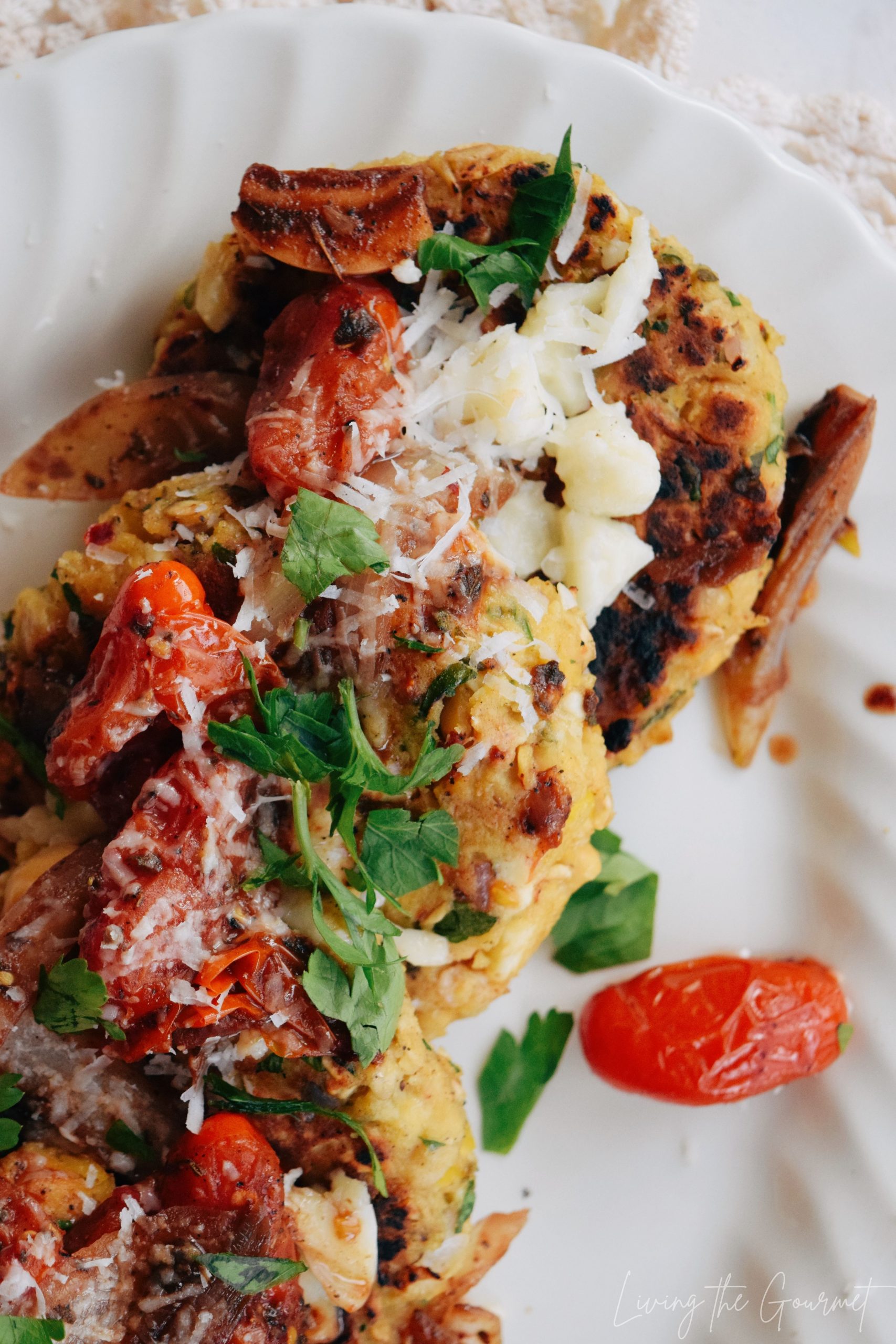 Print
Chickpea Burgers
---
Author:

Prep Time:

10 minutes

Cook Time:

15 minutes

Total Time:

25 minutes

Yield:

4

burgers

1

x
For the Burgers:
2

–

15.5

oz. can of chickpeas – drained

½

bell pepper – any color – diced

½

red onion – diced

¼ cup

Italian parsley – stems removed and chopped

4 oz

. feta cheese – crumbled

½ cup

plain bread crumbs

1 cup

oats

¼ cup

grated Parmesan cheese or Romano cheese

3

eggs

2 tsp

. dried oregano

1 tsp

. salt

1 tsp

. black pepper

1 tsp

. red pepper flakes

1

tbs. olive oil – for mixture

1

tbs. olive oil – for frying

Grate mozzarella – for serving
For the Sauce:
10 oz

. grape tomatoes

1

large sweet onion – sliced

1

head of garlic – roughly chopped

¼ cup

grated Parmesan or Romano cheese

¼ cup

wine – any color

1 tsp

. salt

2 tsp

. sugar

1 tsp

. dried oregano

½ tsp

. red pepper flakes

Drizzle of olive oil
---
Instructions
For the Burgers:
Place all of the ingredients for the patties in a large bowl.




Using a dough cutter, mash everything together.  Do not over-mash; just enough to incorporate everything together to form a pattie.




Let this mixture sit for 10 – 12 minutes before forming into desired sized patties.




Form into desired size patties, using your thumb to form the patties.




Heat a large cast iron frying pan and carefully place the patties in the pan; do not overcrowd the pan.




Let one side cook for 3- 4 minutes before carefully turning over.  There should be a nice golden color on the pattie.  Finish cooking on the other side to achieve a nice golden color.




Place on a platter while cooking the other patties.
For the Sauce:
Heat a large cast iron frying.




Add the sliced onion.  Allow the onion to soften slightly.




Add the garlic and toss.  Allow the onion and garlic to caramelize.




Add the tomatoes.  Allow the tomatoes to soften and get a bit of a char. 




Add the sugar and seasonings.




Gently, press the softened tomatoes. Be careful they will squirt out at you!!




Add the wine and the grated cheese and cook down.




Everything should be a beautiful color as it cooks down.
Plating:
T

op the patties with grated mozzarella, Parmesan (or Romano cheese), and the sauce.

Garnish with fresh chopped Italian parsley and a small drizzle of olive oil.
Recipe Card powered by
0