Today we're making an Easter log with a cream cheese frosting prepared with fresh orange zest and toasted coconut. Our Carrot Roll Cake is light and moist, with bright spring flavors, making it a perfect centerpiece for spring and Easter dessert spreads.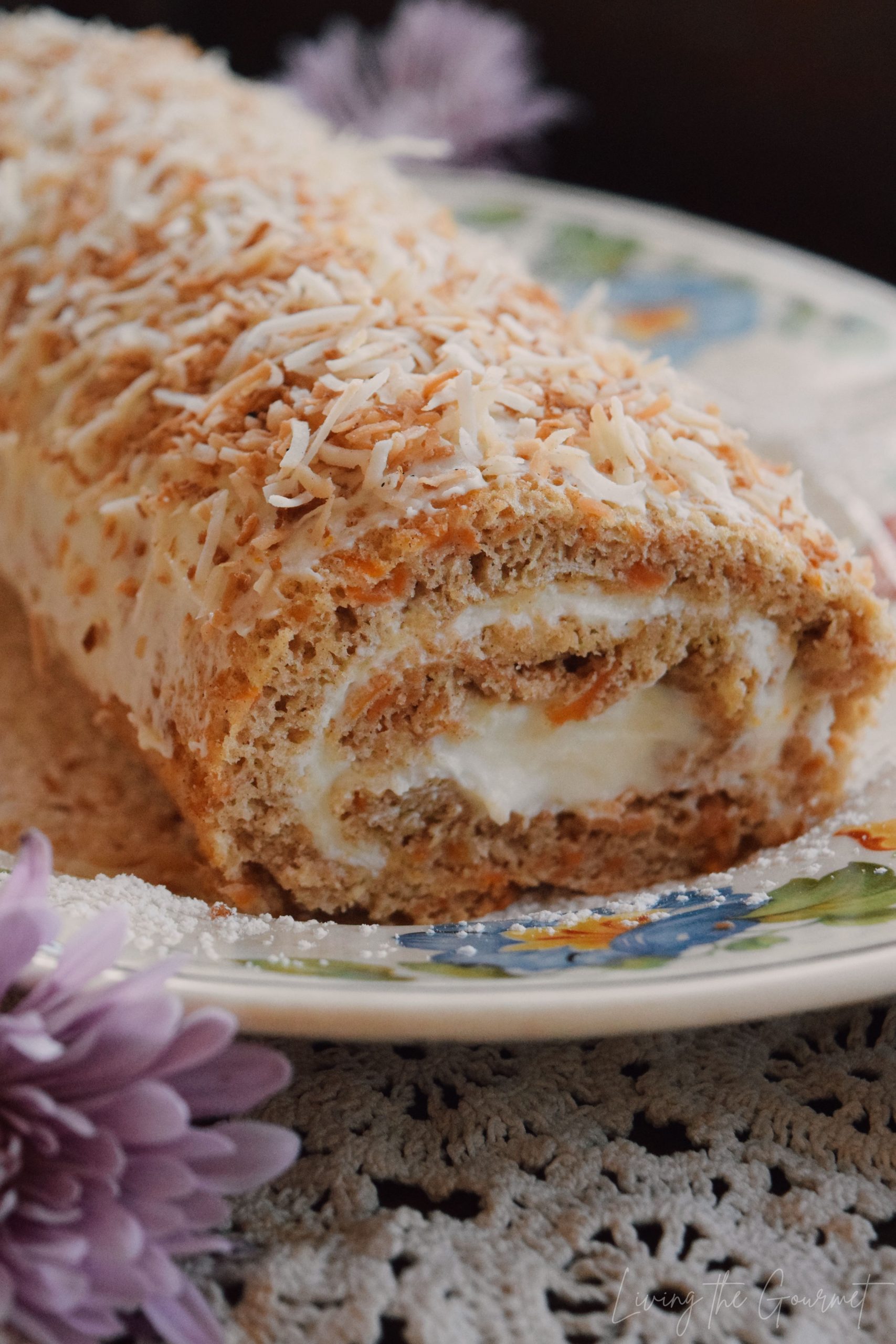 Why You'll Love Today's Easter Log
1) Spring Seasonal. Few cakes are more 'spring seasonal' than carrot cake, and today's carrot log is no different. That, combined with fresh orange zest and light cream cheese frosting make this ideal for the spring season.
2) Festive. Being 'light and bright' on the palate, while sporting bright spring colors, today's cake is a festive centerpiece for any spring or Easter dessert spread.
3) Makes you look like a pro. Preparing today's log cake is guaranteed to make you look like a pro to your guests. I promise you'll be peppered with compliments and questions regarding how you managed to 'roll up' the cake. After all, it's fun to show off from time to time.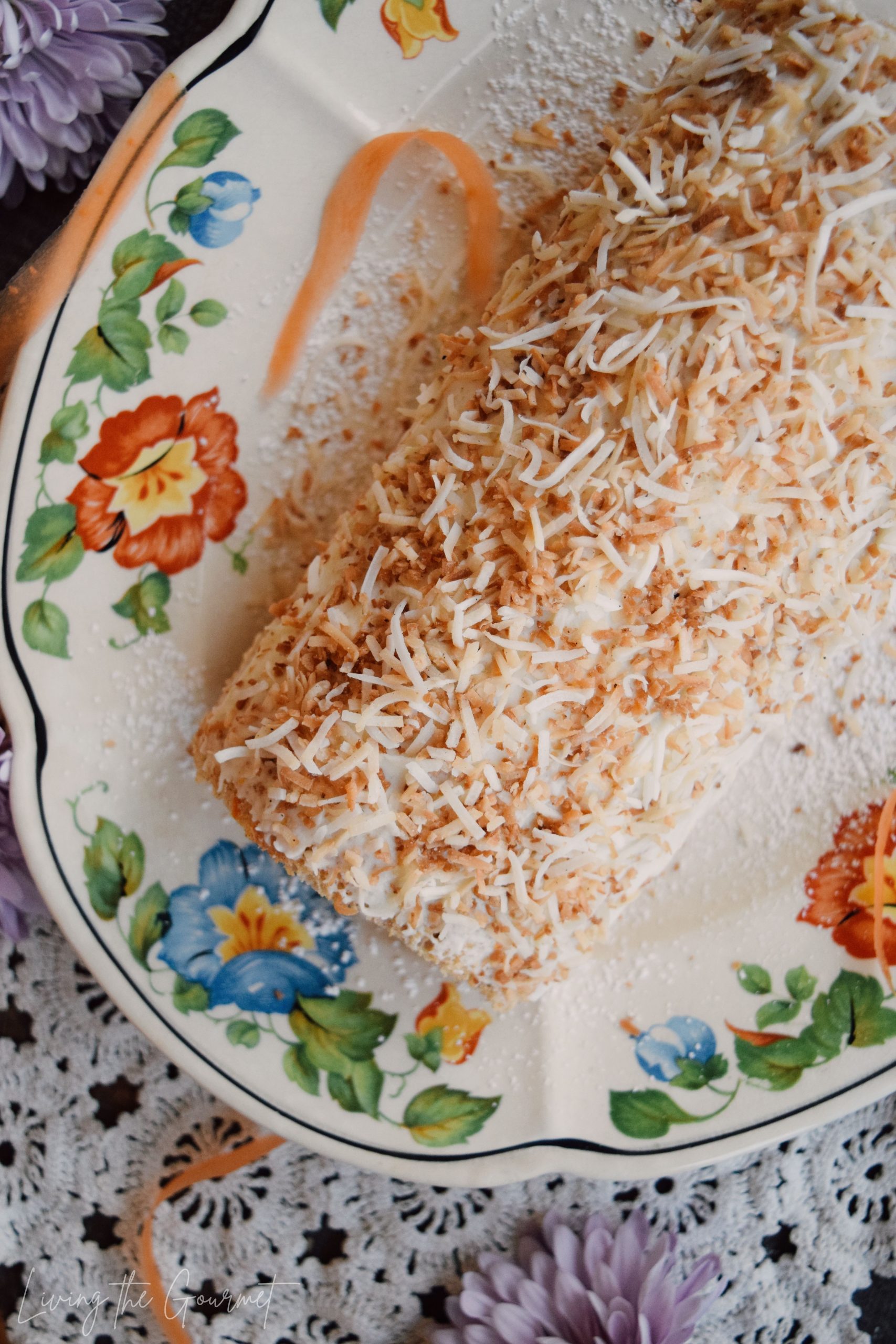 Ingredient Notes and Tips
1) The Flour – All-Purpose vs Cake Flour vs Bread Flour; What's the Difference? In a word – protein. To understand this, let's begin with all-purpose flour and work our way down…and up…from there, since all-purpose flour is a midpoint between the three. All-purpose flour has been processed and ground down until only the starchy endosperm of the original wheat grain remains. This has the effect of 'standardizing' all-purpose flour to around 9-10% protein content. By contrast cake flour contains no more than 8% protein, while bread flour sits at a comparatively hefty 11-13%. This might not seem like a big difference, but consider that the less 'protein' flour contains the 'lighter' and less dense the resulting baked good is. By contrast, the more protein flour has, the more 'chew' and 'body' a baked good will have. Not only that, but flour requires protein to produce gluten, and gluten is what gives bread dough its 'stringy bits' that make the dough elastic enough to knead. Thus, for a light and airy cake, cake or pastry flour is the order of the day. For an excellently textured pizza dough, bread flour will give the best results. By contrast, you could just use all-purpose flour for either one, and get a fine result all the same.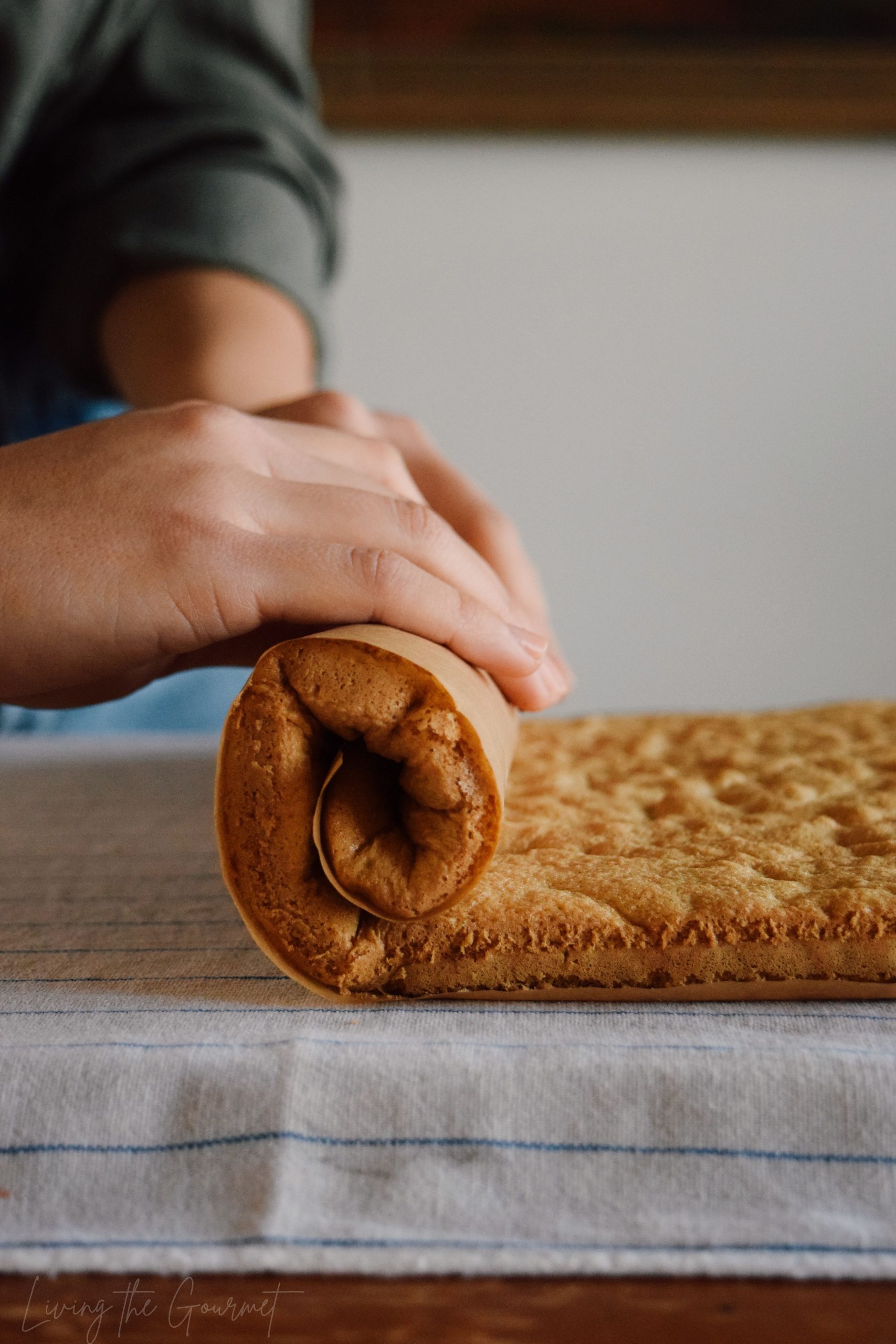 2) Fresh Orange Zest. The difference between a 'hint' of orange essence and 'full' orange flavor is the difference between using orange zest and orange extract or orange juice. Furthermore, orange zest carries 'much' less acidity than its juicy or 'extract' counterparts. Thus, in recipes where you want only a hint of orange, or where you want orange flavor sans orange's natural acidity, you opt for orange zest. Also, it looks pretty.
3) Nutmeg. Officially, this is "The spice that 'tastes like Christmas.'" Nutmeg is beloved for its 'warming' and ever-so-slightly 'sweet' taste. However, in larger quantities nutmeg rapidly becomes sour or even astringent tasting. Since it's quite strong, this is one spice where 'a little goes a long way.' Nutmeg is used in a wide variety of recipes, from baked goods to roasted potatoes, nutmeg also features prominently in various beef and pork spice mixes (in both dry rubs and marinades), as well as in stewed, grilled, and roasted vegetables, as well as in a variety of beverages both warm and cold, alcoholic and non-alcoholic alike. As such, it's safe to say that nutmeg is a blissfully versatile spice that's worth learning how to use.
More Seasonal Delight from Living the Gourmet
1) Coconut Almond Macaroons. Honestly, I love these all year round. Sweet, light, and just a hint 'chewy,' these coconut almond macaroons will disappear faster than you can prepare them. As a nice bonus, they are blissfully simple to prepare.
2) Espresso Chocolate Roll. This is the coffee and chocolate version of today's recipe. Okay, maybe not exactly 'seasonal,' but is there ever a time chocolate and coffee doesn't go together? If you liked today's recipe, and you love chocolate and coffee as much as I do, you'll absolutely adore this recipe.
3) No Bake Whipped Cream Cheesecake. If you love cheesecake, but hate turning the oven on during the warmer weather, this recipe is for you.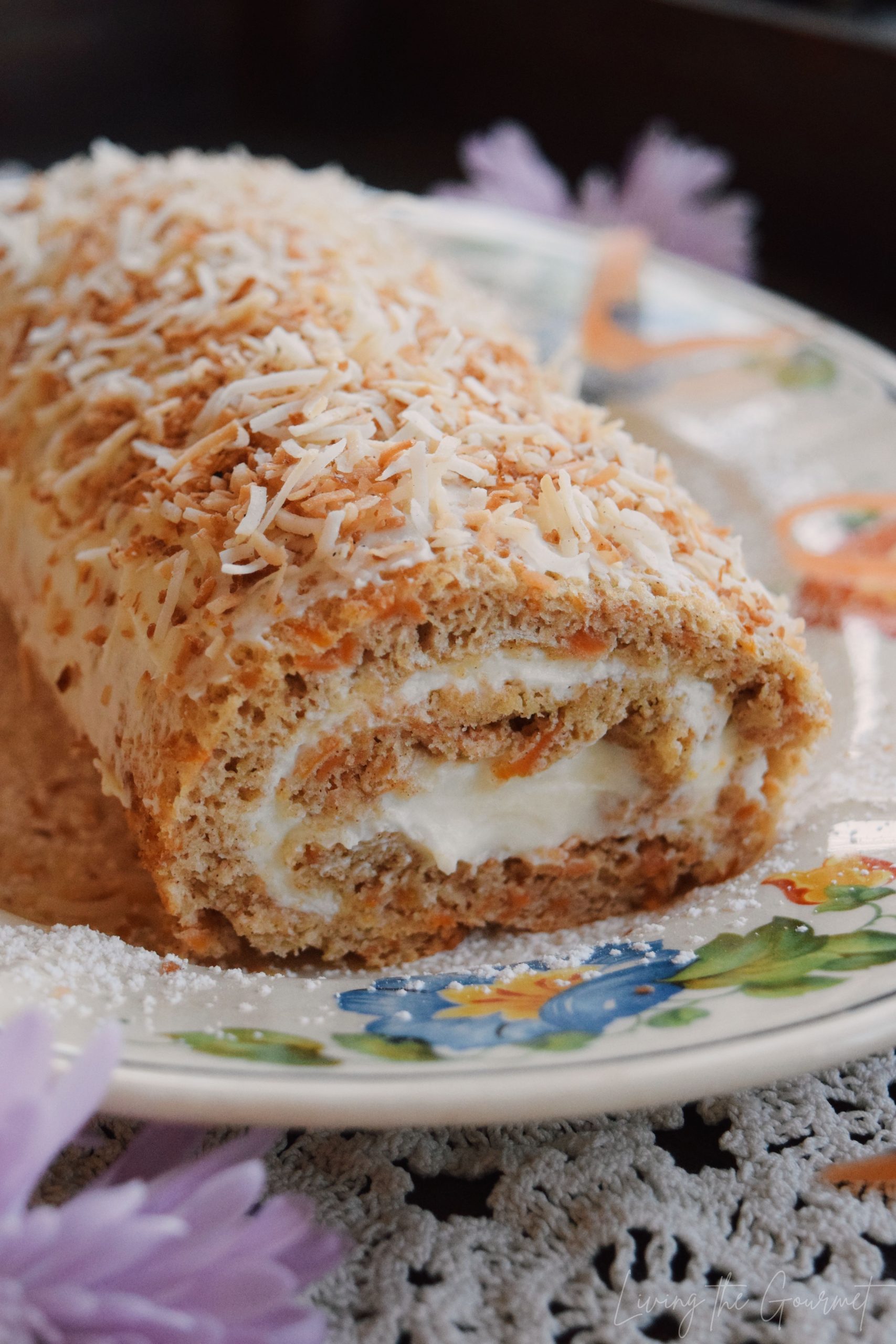 Print
Carrot Roll Cake
Author:
Prep Time:

10 minutes

Cook Time:

10 minutes

Total Time:

20 minutes

Yield:

10

slices of cake

1

x
1 cup AP flour, sifted

1 teaspoon baking powder

Pinch of salt

1 teaspoon

cinnamon

1/2 teaspoon

fresh nutmeg

1

egg

1 cup

sugar

1/3 cup

water

1 teaspoon

vanilla

3

egg whites

3/4 cup

shredded carrots
1 cup

(8 ounces) cream cheese

6 tablespoons

unsalted butter, softened

1

1/2-2 cups confectioner's sugar
Zest of

1

small orange

1 teaspoons

vanilla

3/4

cup

toasted sweetened coconut, for topping
Instructions
Preheat oven to 350 degrees F.  Line a 18″ x 13″ baking sheet with parchment paper and set aside.
In a large bowl, sift together flour, baking powder, salt, cinnamon, and nutmeg.  Set aside.
In a medium bowl, beat whole egg and sugar together until whipped and pale yellow.  Add water and vanilla, whip again until incorporated.  Set aside.
In a separate large bowl, beat egg whites until stiff peaks form.
Add the whipped whole egg mixture to the dry ingredients, folding gently until smooth.
Fold in the beaten egg whites until incorporated.
Pour the batter onto the prepared baking sheet.  Bake for about 10 minutes until the cake springs back when gently touched and slightly golden.
Let cool for 1 minute.  Dust the cake with powdered sugar then gently roll it as pictured above.  Wrap the cake in a slightly damp cloth and set aside while preparing the coconut topping and frosting.
In a medium pan, lightly toast the sweetened coconut until golden, tossing regularly so it doesn't burn.  Remove from heat immediately and transfer to a glass bowl.  Set aside.
In a medium bowl, whip cream cheese and butter.  Add sugar, orange zest, and vanilla.   Beat until a thick and smooth frosting comes together.  It's it's still too soft, add more confectioner's sugar, ¼ cup at a time.
In a pan over medium heat, gently toast the sweetened coconut, tossing regularly until the flakes are golden.  Remove from heat and set aside for topping the cake.
Once the cake is completely cooled, carefully unroll it.  Spread the cream cheese frosting evenly over the entire cake.  Then gently re-roll the cake, peeling back the parchment paper as pictured above.
Spread the remaining frosting over the roll cake and sprinkle generously with the toasted coconut.  Chill in the refrigerator to set, but remove it about 15-20 minutes before serving.  Enjoy!
Recipe Card powered by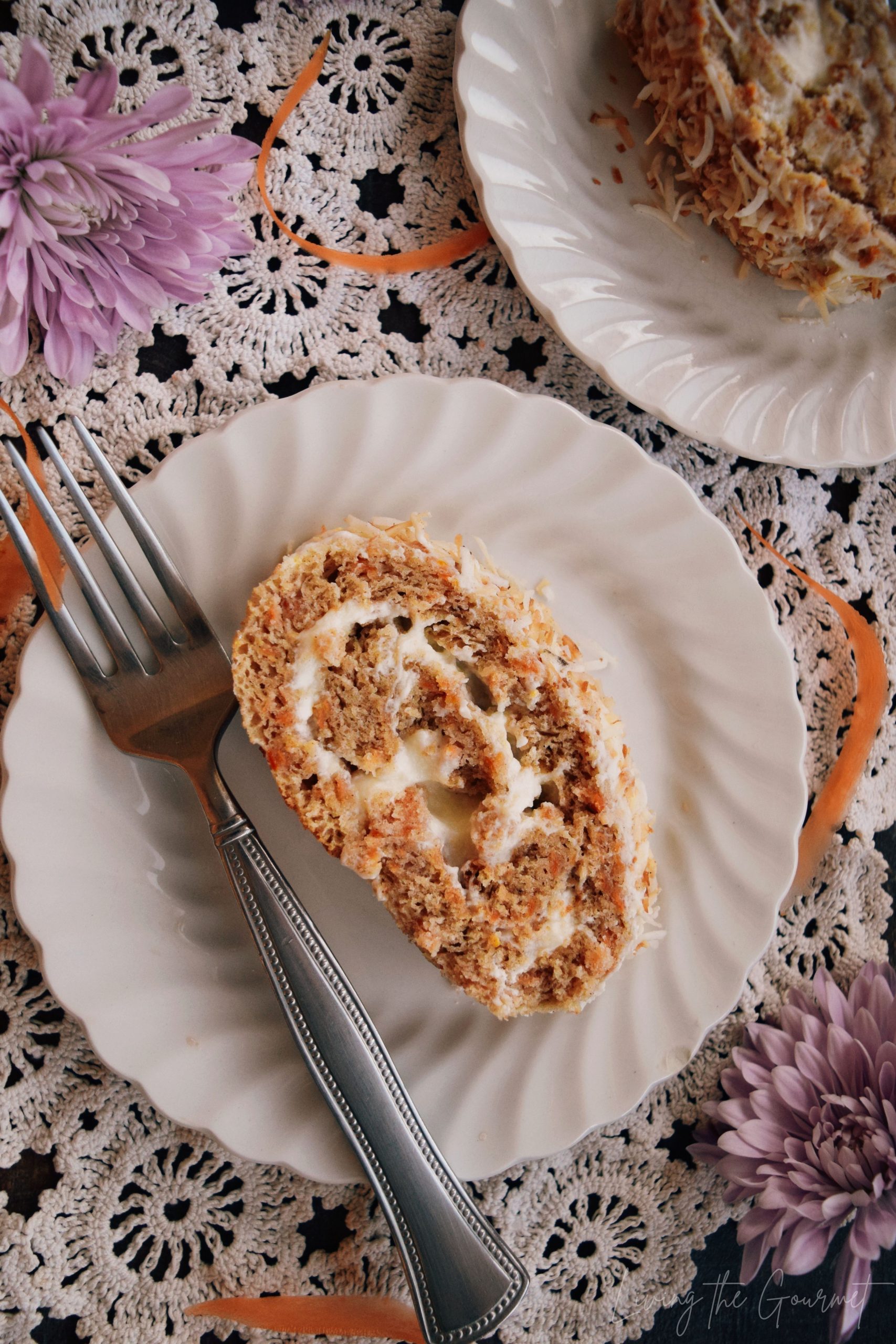 1