Macaroons are a blissful holiday treat, a delicious combination of rich almond flavor and sweet coconut, brought together by a dark chocolate coating. These macaroons feature a moist interior bursting with nutty goodness, and a crisp exterior speckled with sweet coconut. Whether enjoyed on their own or as part of a dessert platter, these macaroons are perfect for any holiday get together.
The cookie itself is prepared with crushed almonds, creating a soft and nutty interior. The base of the cookie is then coated in a layer of rich dark chocolate chocolate. Bursting with almond flavor, each bite is a heavenly combination of sweet and crunchy, complimented by a mix of chocolate and coconut.
For pairing, I suggest you keep it seasonal. As an example, consider our homemade hot chocolate. This particular hot chocolate recipe cooks up thick and rich, and lusciously sweet. And yes, it really only takes three ingredients.
We'll start things off by answering the age-old question "Macaroons or Macarons?" From there, I'll give you a quick list of everything you'll need to prepare this recipe, as well as seven tips for making the best macaroons possible.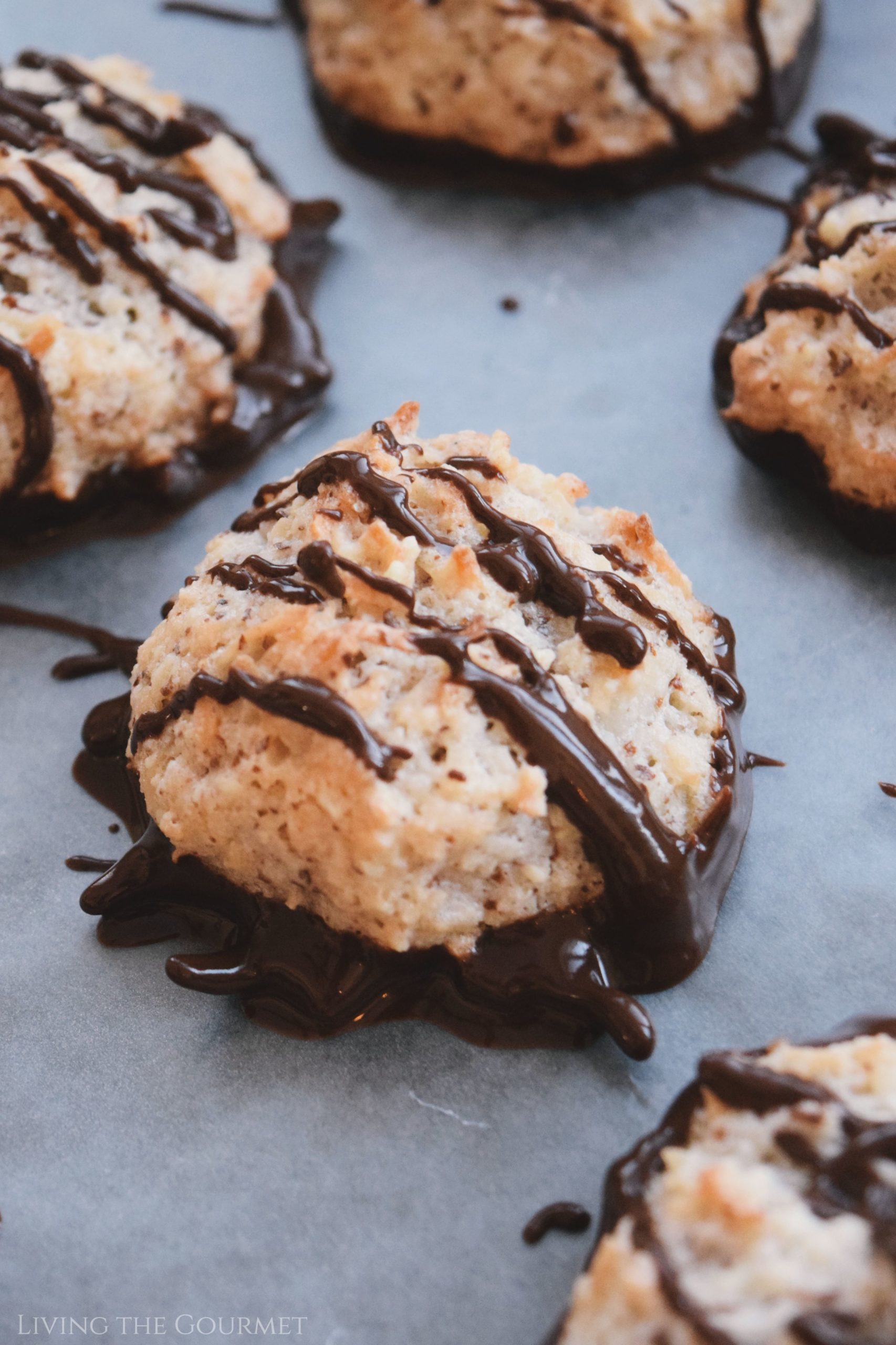 To Start: Macaroons or Macarons?
The extra "O" makes a fairly big difference – and not just grammatically.
Macarons and Macaroons are both confectionery treats made with almond flour. This much is true. However, they are completely different in terms of taste, texture, and ingredients.
Macarons are meringue-based and sandwich-like in structure, made with a pair thin, crisp shells of almond meringue held together by a sweet, creamy filling. The shells are generally brightly colored, and flavored with a variety of extracts and fruit preserves.
Macaroons, on the other hand, are made with ground almonds, sugar, and egg whites. They are also much denser and chewier than macarons. They're usually shaped like small, round mounds and are usually flavored with a combination of vanilla and coconut.
As I said, that's the difference one "O" makes. The more you know, I suppose.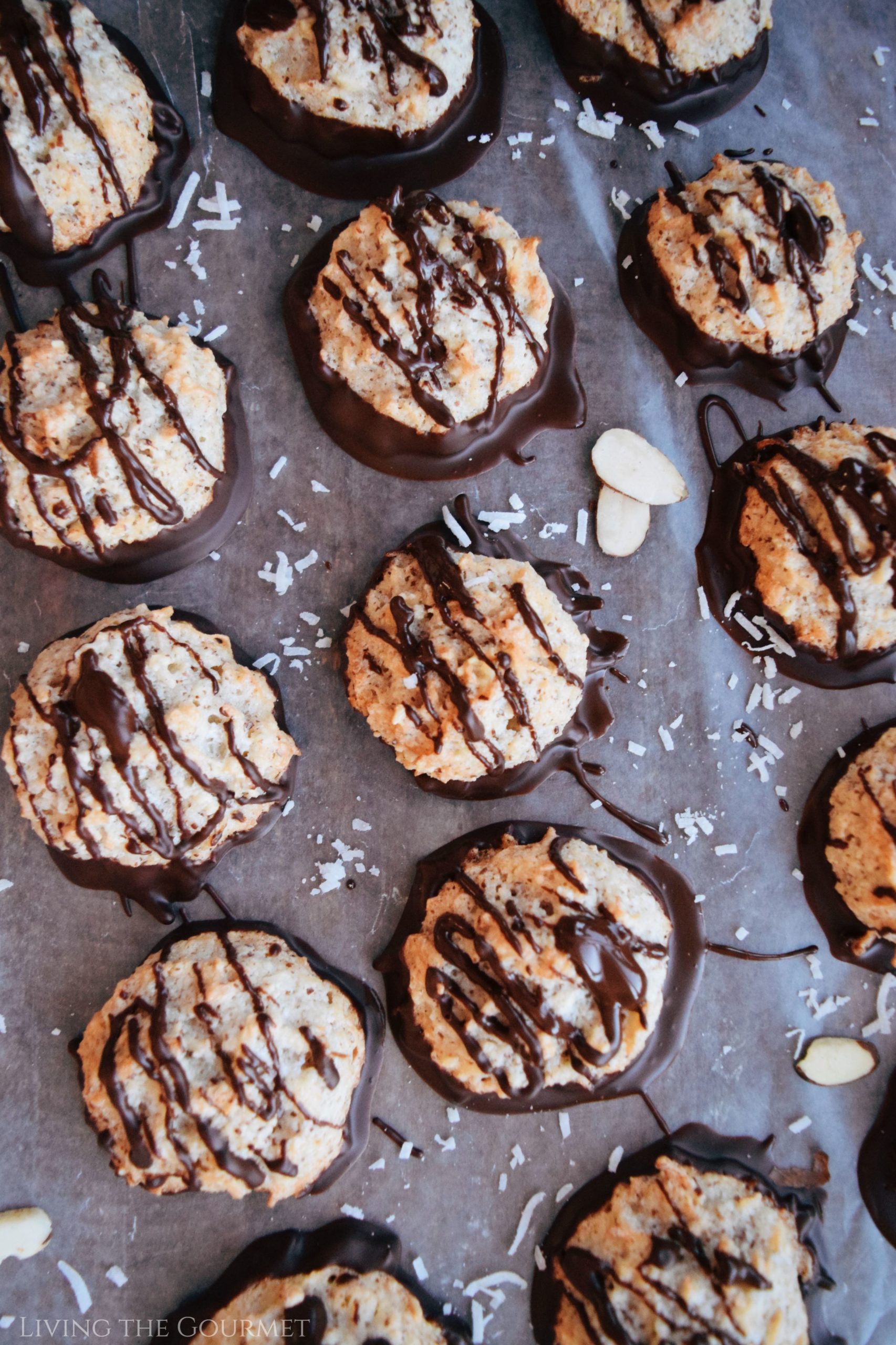 Ingredient Checklist – What You'll Need
Egg Whites. Why just the egg whites? Egg whites are used to achieve a light, fluffy texture, especially in things like meringues, custards, and mousses. In things like cakes, cookies, and muffins whipped egg whites add structure, lift, and moisture.
Egg Whites Pro-Tip: When whipping egg whites, they should be room temperature. For best results, add a pinch of cream of tartar to help stabilize them and make them whip up fluffier. The fluffier the egg whites, the more structure and texture the bring to the recipe.
Egg Whites: Caution: When separating the yolk from the white, be sure to 'not' get any yolk in the whites as this can prevent them from whipping up properly.
Almonds. Used slivered or shredded almonds, and then grind these up. You don't need to grind them to a fine powder, as we want some nice almond chunks speckled throughout the cookies.
Almond Extract. For added almond flavor that's spread evenly throughout the macaroons.
Vanilla Extract. Plain vanilla extract is all you're looking for here.
Shredded Coconut. I do suggest using sweetened shredded coconut.
Chocolate. I'm using semi-sweet baker's bar chocolate. However, feel free to use something like dark chocolate chips. If you prefer a (much) sweeter macaroon, milk chocolate chips will also work fine.
Coconut Oil. For stabilizing the chocolate coating.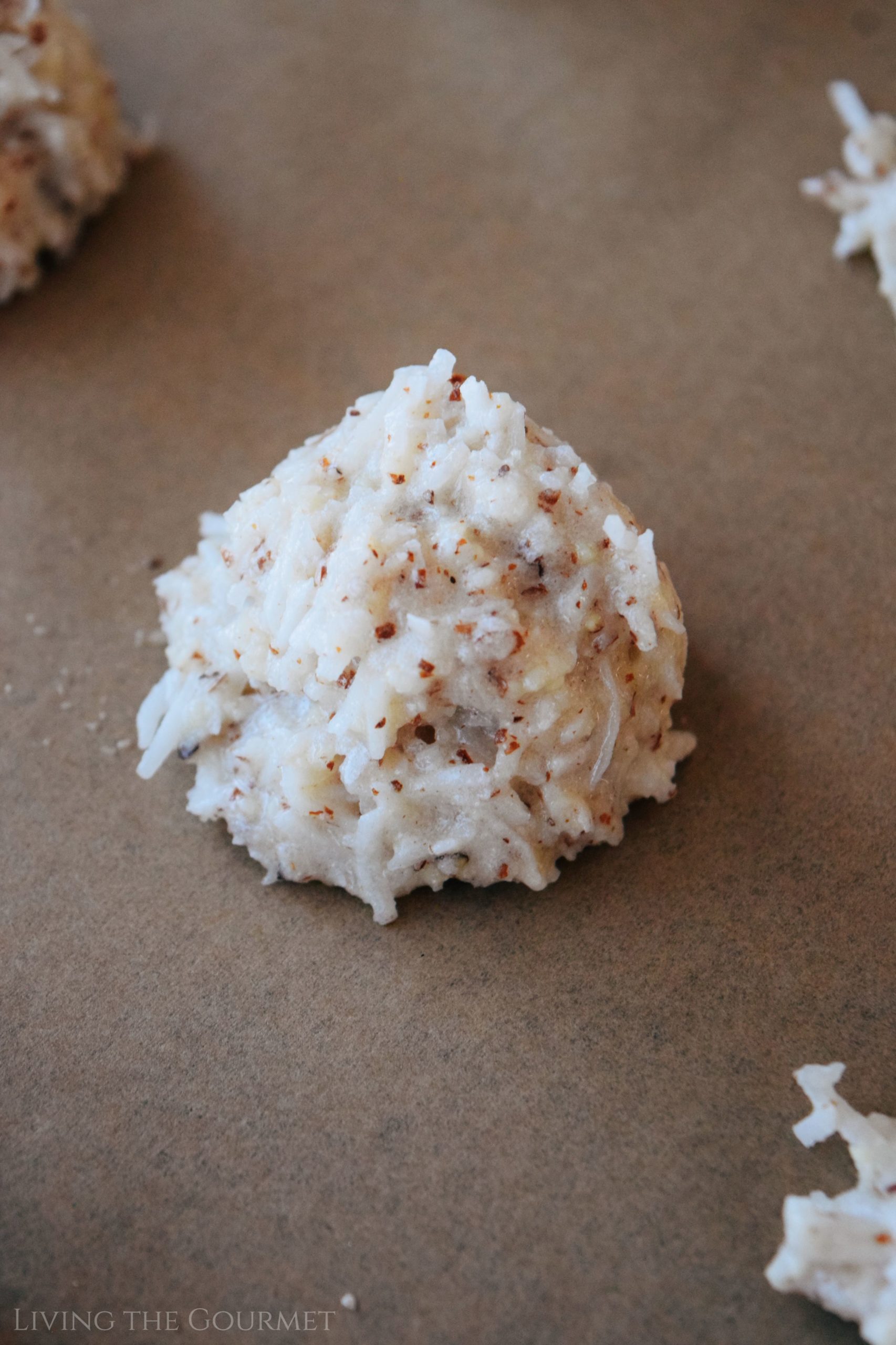 Tips for Making Macaroons
Use aged egg whites: Egg whites that have been aged for up to a week will create a more stable meringue, which will give your macaroons a better texture. Aging eggs whites simply means allowing them (the egg whites) to sit in the fridge for a couple of days in a container.
Don't skip the almonds: Yes, there are recipes that exclude almonds and/or almond flour. Don't use those recipes. Ground almonds not only gives the macaroons a great flavor, but also their signature texture.
Sift the dry ingredients: Sifting the dry ingredients will help ensure that the macaroon batter is smooth and free of lumps. Lumps lead to uneven baking, and uneven baking leads to poor texture.
Use a pastry bag: A pastry bag helps make the macaroon shape more uniform and ensures that the batter is evenly distributed.
Bake at a low temperature: Baking macaroons at a low temperature helps prevent them from overbrowning and ensures that the meringue stays light and fluffy.
Let the macaroons sit: Letting macaroons sit for a few hours or overnight (after cooling) helps to give them a much better texture, while also allowing the chocolate coating to fully set.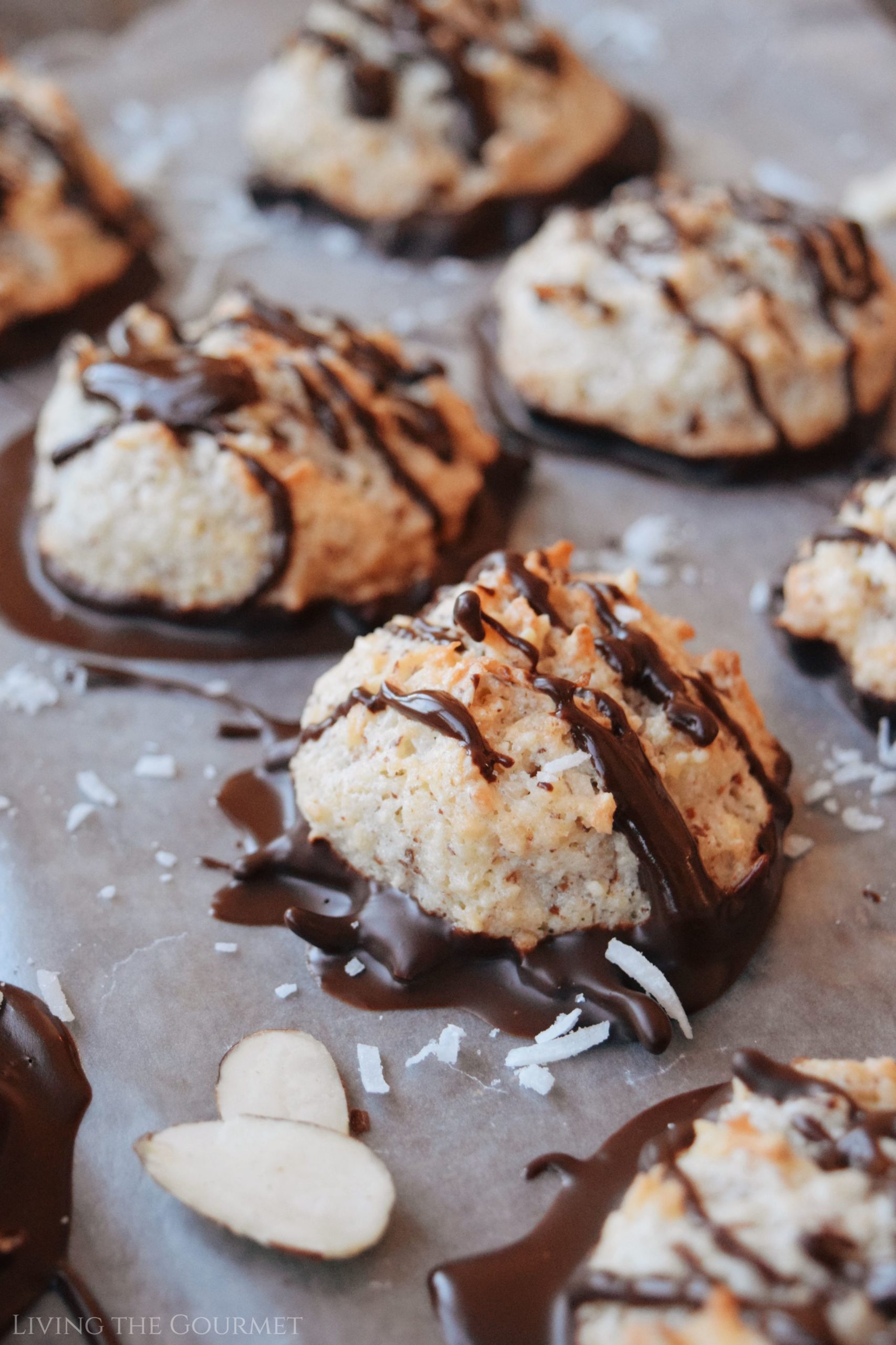 Print
Coconut Almond Macaroons
Author:
Prep Time:

10 minutes

Cook Time:

20 minutes

Total Time:

30 minutes

Yield:

2

dozen macaroons

1

x
For the macaroons:
2

egg whites

1

cup

almonds slices – ground

1

cup

confectioners' sugar – sifted

1 tsp

. almond extract

1/2 tsp

. vanilla extract

1

cup

sweetened shredded coconut
For the melted chocolate:
1

cup

semi-sweet chocolate, chopped

2 teaspoons

coconut oil
Instructions
For the macaroons:
Preheat Oven 325 degrees F.
Sift the powdered sugar into a medium sized bowl.
Grind the almonds in a food processor.
Add the ground almonds and shredded coconut to the sifted sugar and toss.
Beat the egg whites until stiff peaks are formed.
Fold the egg whites into the almond mixture along with the extracts.
Prepare a baking sheet with parchment paper.
Place slightly rounded teaspoonfuls, about 2 inches apart, onto the prepared baking sheets.
Bake 20 – 25 minutes, until slightly golden in color. Transfer to a cooling rack.
For the melted chocolate:
In a double-boiler set over medium heat, melt down the chocolate and oil until smooth.
Line a baking sheet with wax paper and set aside.
Dip the macaroons in the melted chocolate and set on the prepared baking sheet. Then with the remaining chocolate, drizzle each.
Refrigerate the macaroons for about 5 minutes to allow the chocolate to set.
Serve and enjoy!
Recipe Card powered by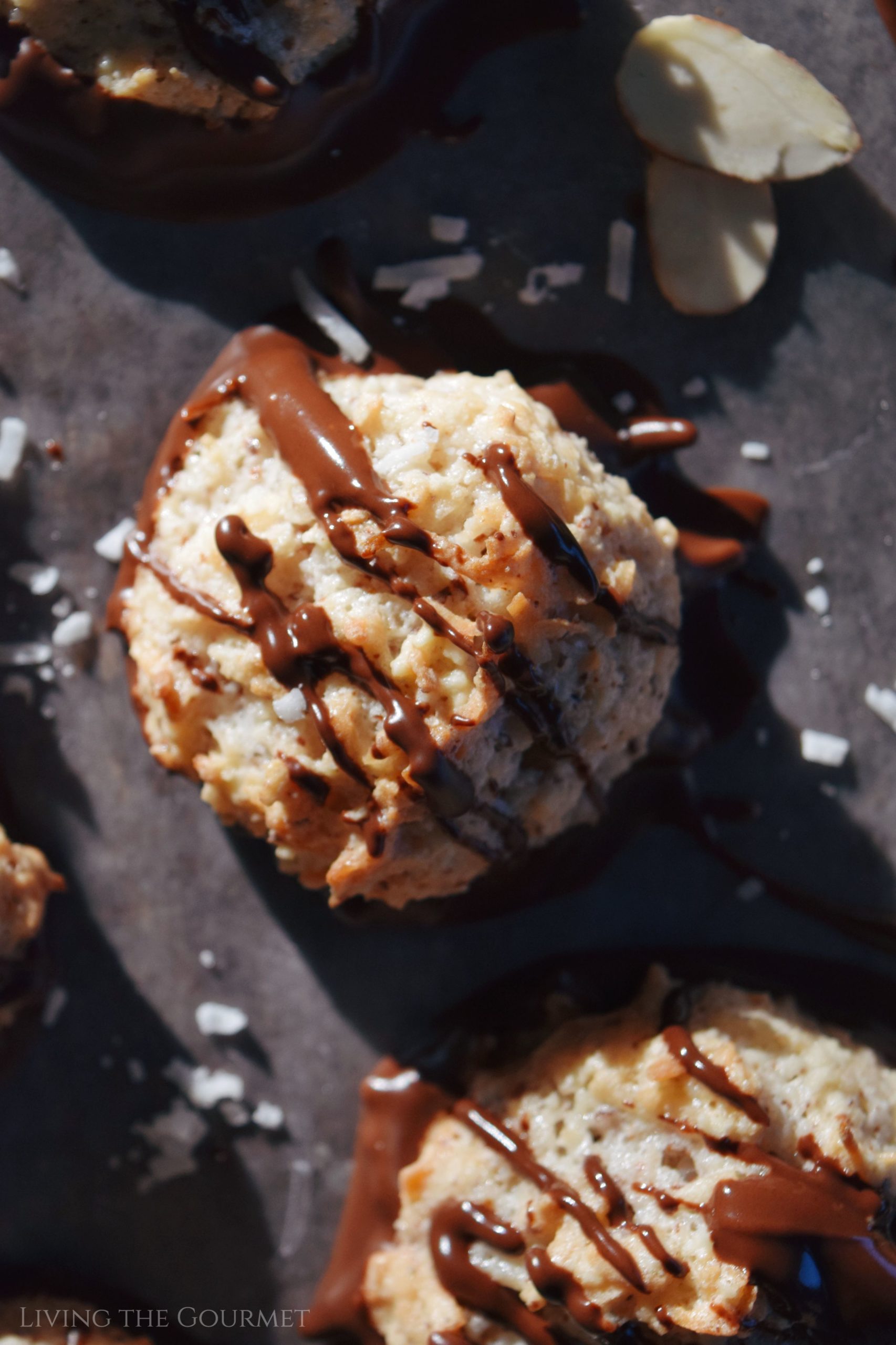 As an Amazon Associate I earn a small commission from any purchases made through the affiliate links within this post. For more information on this please see our disclosure policy. Thank you!
5