Today we're preparing a pan roasted pork loin with a sweet and spicy strawberry-ginger glaze. Easy to prepare, and requiring no exotic ingredients or complicated preparation methods, today's pork is perfect as a weeknight dinner, but can also stand in as a weekend treat – courtesy of the glaze.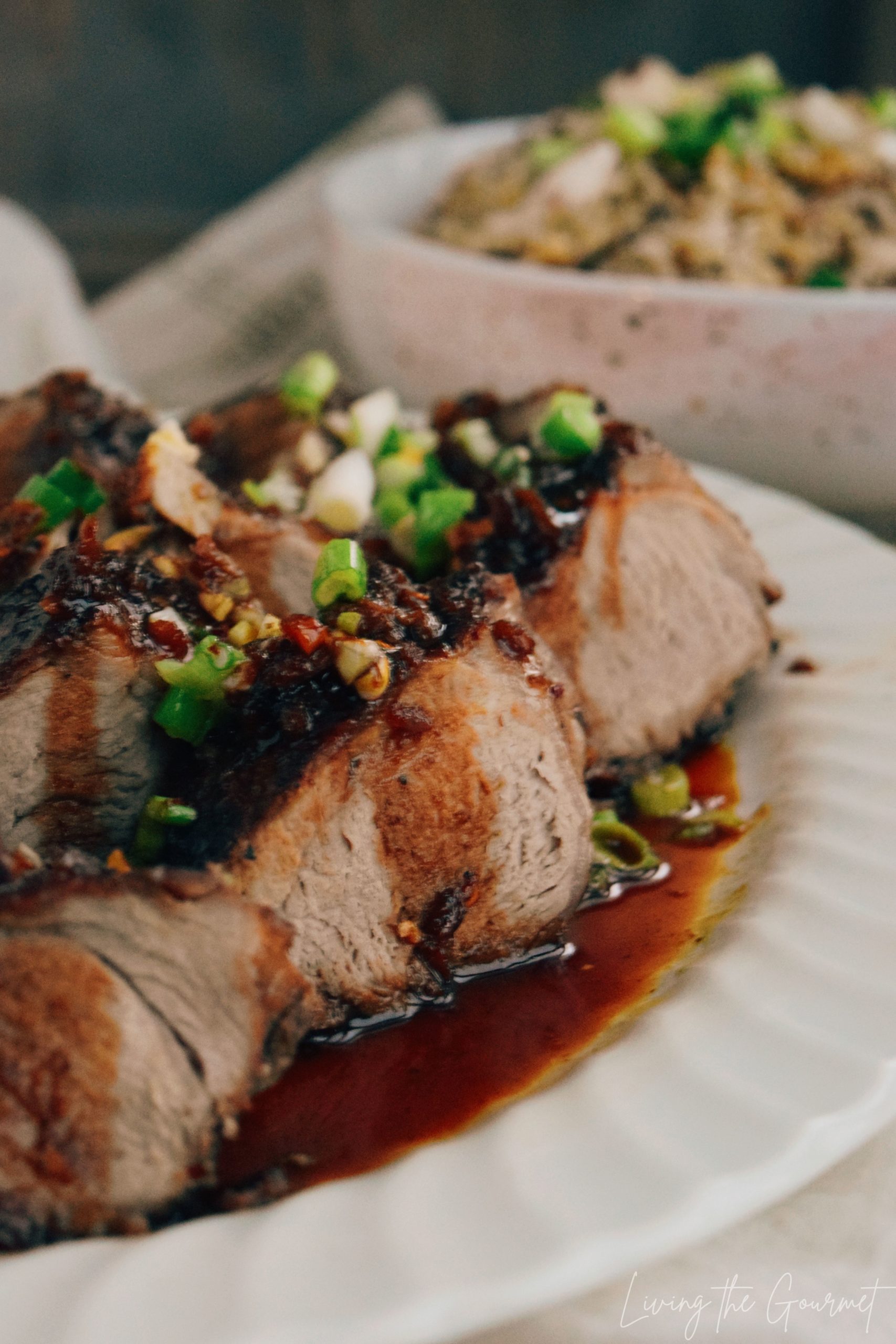 Ingredient Notes, Tips, and Substitutions
1) Ginger – Fresh is a Must. This is textbook instance where powdered ginger simply cannot stand in for fresh. We want the full 'bite' of fresh ginger, as opposed to the 'warmth' brought by powdered. Without fresh ginger, almost all of the spice in the glaze disappears.
2) Strawberry Preserves. These form the base of the glaze. While you could probably make your own via a strawberry reduction, we're really only looking for body, natural strawberry flavor, and sweetness. Thus, spare yourself the effort and simply use your favorite brand of preserves.
3) The Vinegar– Don't overdo it…but don't under do it either. Too much vinegar and the 'glaze' becomes a watery sauce. Too little and the glaze becomes too sweet. As a result, if you plan on increasing or decreasing the amount of glaze in today's recipe, you need to be careful when adjusting the amount of vinegar.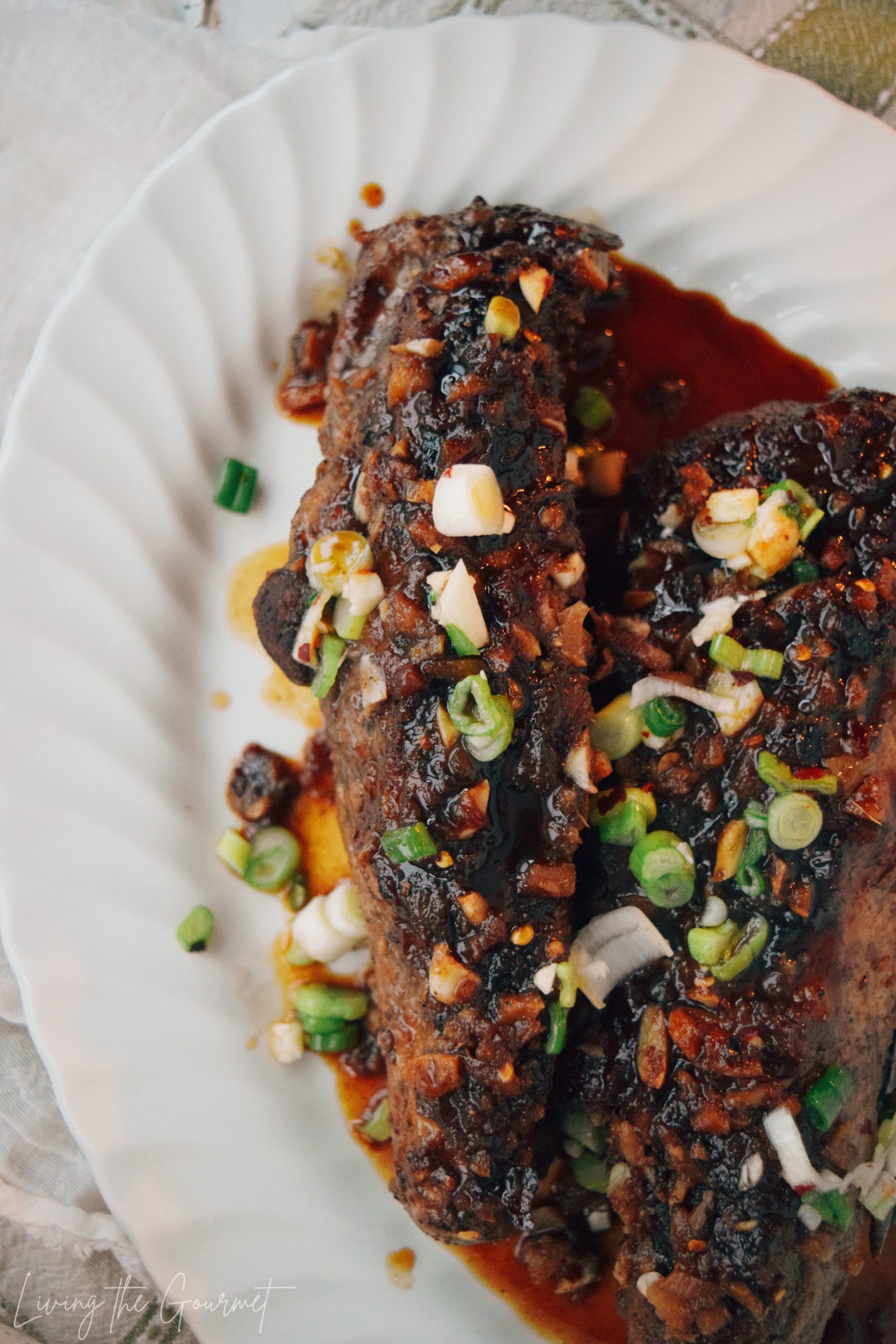 Prep Tips
1) Basting. This step is key. The pork needs to be constantly with the glaze throughout most of the pan roasting process. During this process, the glaze will begin to bubble and thicken as it pools around the pork loin, and it is that thickening portion of the glaze that you want to be basting and spreading over the pork. You need to do this until the sauce has thickened substantially into a glaze, such that it is actively sticking to the pork. Yes, this is tedious, but it is a necessary step. Then, for the final three to five minutes of cooking, you want to cover the pork with a second pan.
2) Finely Chopped Garlic and Ginger. The garlic and ginger need to be very finely chopped, enough that they can be spread over the pork with the glaze. This not only makes 'glazing' the pork easier, but also helps to more evenly spread the garlic and ginger flavor throughout the glaze. Also, no one wants to be biting down on chunks of garlic or ginger – not fun.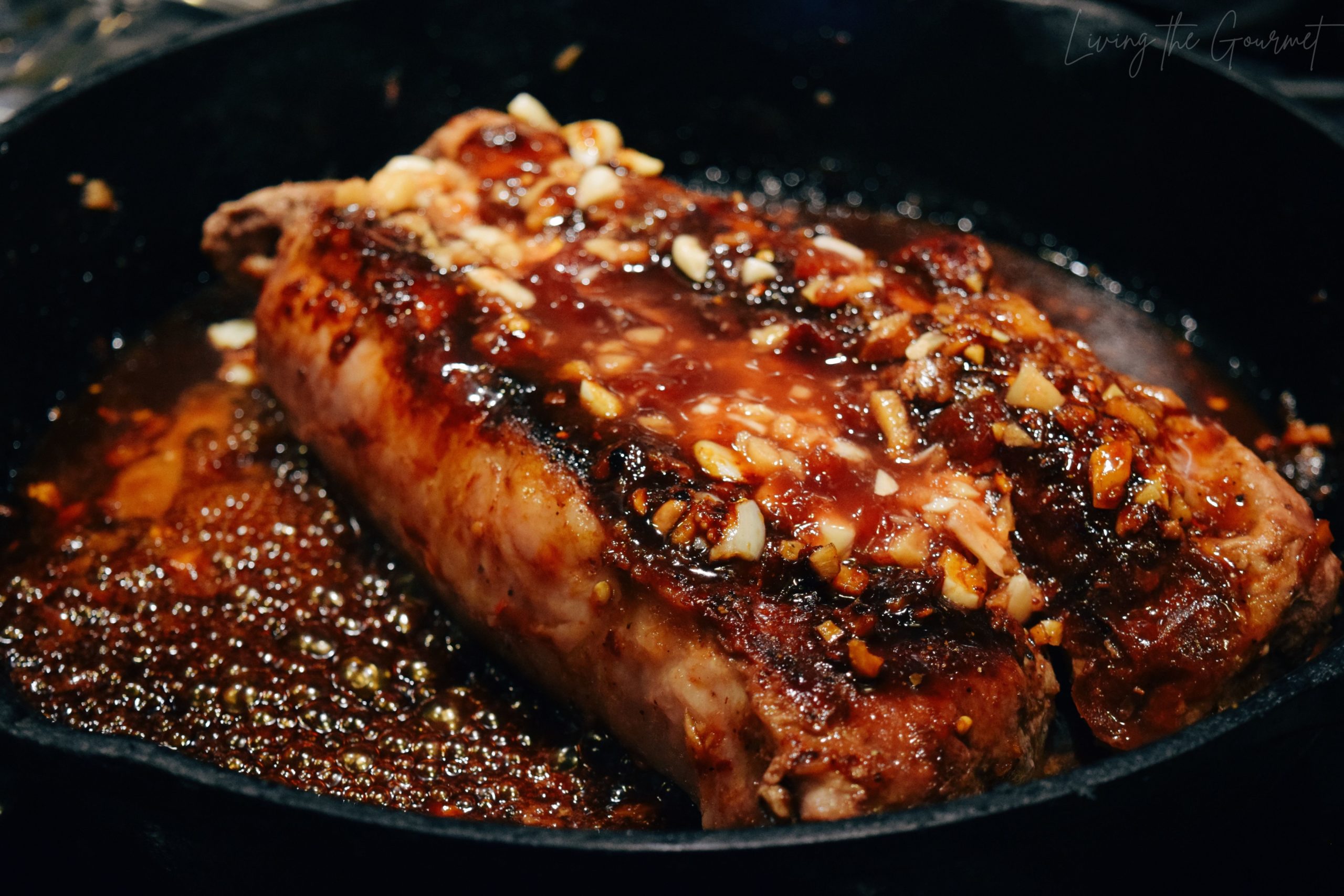 Pairing Today's Pork
1) A Cold Drink. The classic combo of pork and a tall beer works just fine here. However, if you want to flavor things up a bit and play 'bartender' to yourself or your guests, our friends over at DrinkWorks have got you covered. Think of it as the "Keurig of Home Bars," simply pop a pod into the machine, and out comes a delicious, chilled 'adult beverage' (no ice required) that tastes like it was mixed by a master mixologist. With dozens upon dozens of drink pod flavors to choose from, including Margarita, Cosmopolitan, Mojito, Moscow Mule, Whiskey Sour, White Russian, and Old Fashioned, among many others, there's something for everyone.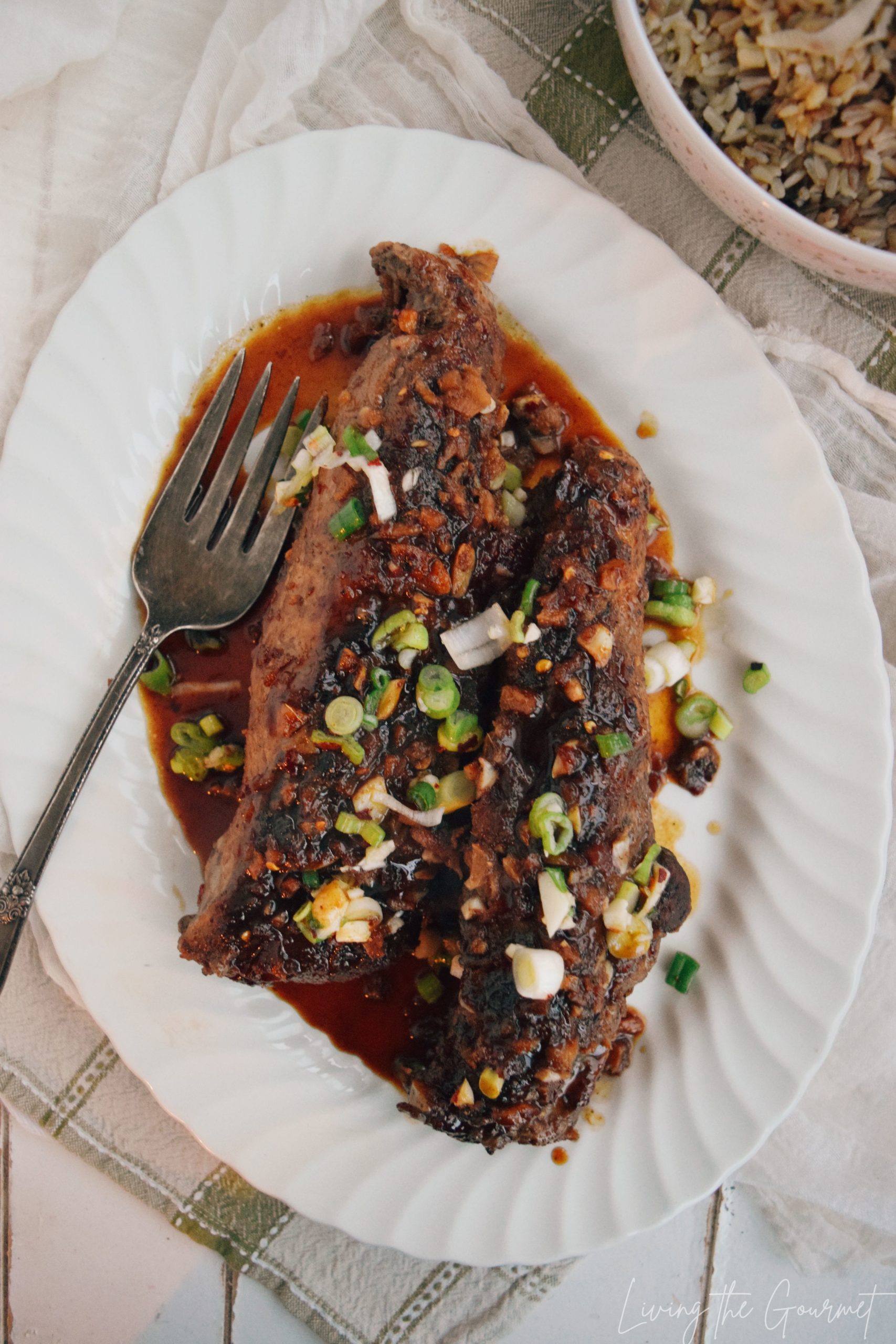 2) Pickled Sweet Potato Salad. My absolute favorite way to eat sweet potatoes, this salad is sweet, crunchy, just tad acidic, and refreshing. As a plus, letting it sit a night or two in the fridge only enhances the flavors, meaning its perfect for making ahead.
3) Spicy Jalapeno and Orange Salad. A simple fruit salad prepared with oranges, mint, jalapeno, fresh basil, and nutmeg. This salad packs a nice kick, while remaining crisp and refreshing, while being blissfully simple to put together. This is a summer salad that you should definitely have in your seasonal repertoire.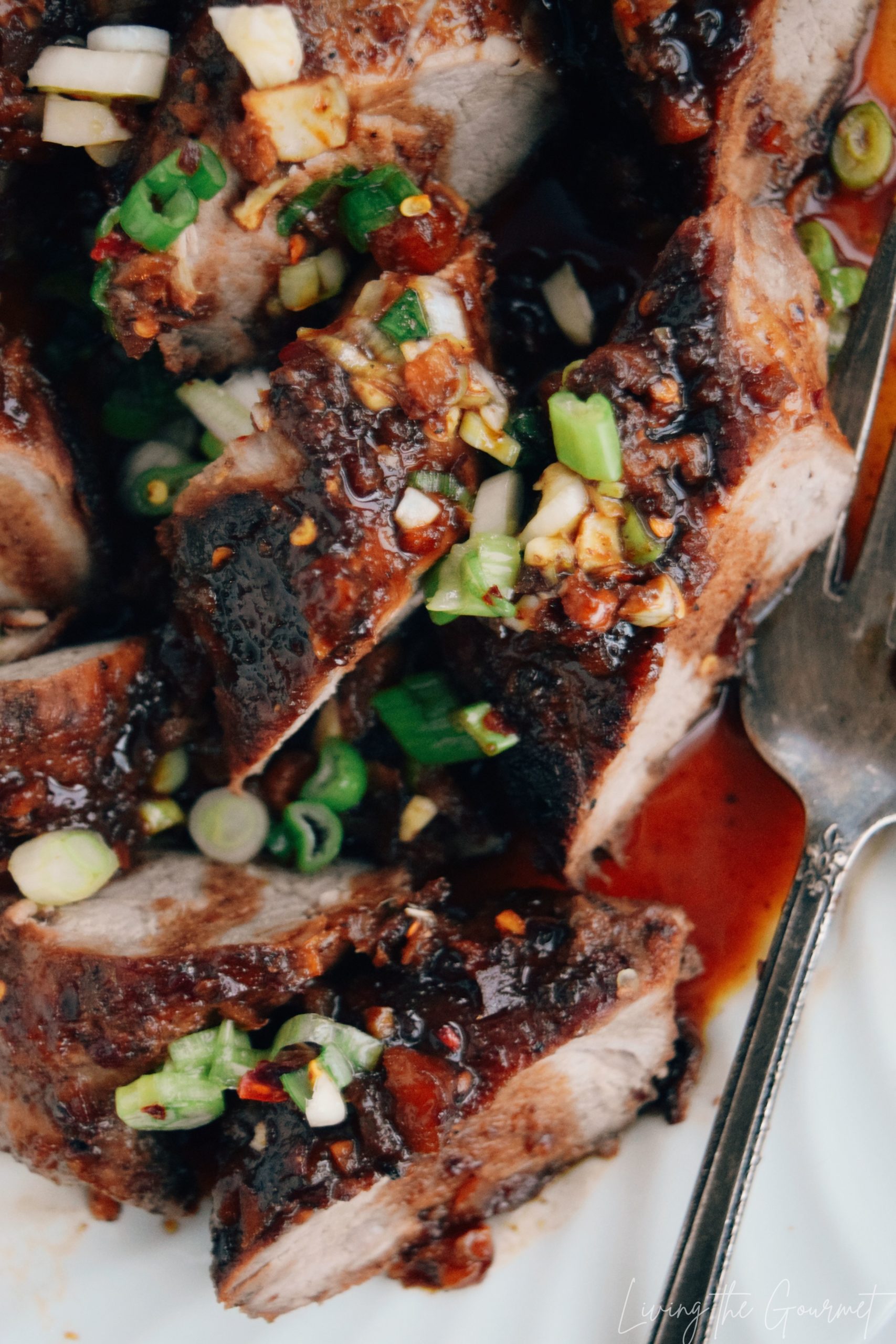 Print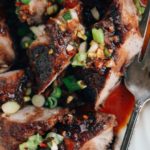 Strawberry Glazed Pork Tenderloin
---
Author:

Total Time:

40 minutes

Yield:

4

1

x
3

lb. Boneless Pork Tenderloin
Rub for the Pork:
1 tsp

. salt

1 tsp

. black pepper

1 tsp

. red pepper flakes

1 tsp

. garlic powder

2 tsp

. sesame oil
For the Scallions:
1

bunch of scallions – chopped

2

tbs. honey

2

tbs. cider vinegar

¼ tsp

. salt
For the Strawberry Sauce:
3

–

4

-inch piece of fresh ginger – chopped finely

2

tbs. apple cider vinegar

¾ cup

strawberry preserves

4

cloves of garlic – chopped finely

¼ tsp

. salt
---
Instructions
For the Pork:
Combine the scallions with the salt, vinegar and honey and toss.
Combine the ingredients for the rub and massage it into all the crevices of the pork and all around the pork.
Heat a large cast iron frying pan and place the pork in the pan. Allow the pork to get a nice char on all sides.
For the Strawberry Sauce:
Combine all of the ingredients for the sauce and stir.
Spoon this over the pork after the pork has charred on all sides.
Keep basting the pork with the glaze as the pork is cooking in the pan..
Cook 18-20 minutes or until a thermometer reads an internal temperature of 145° F. for medium doneness or for a more well-done tenderloin up to 160 ° F.
Loosely cover the pan the last 3 – 4 minutes of cooking, then take the cover off.
Let the pork rest for a 4 – 5 minutes before slicing.
Slice the pork on a diagonal.
Drizzle strawberry glaze over the pork and a bit of the scallion mixture over the pork.
Any remaining scallion mixture may be tossed with either wild or white rice.
Prep Time:

10 minutes

Cook Time:

30 minutes
Recipe Card powered by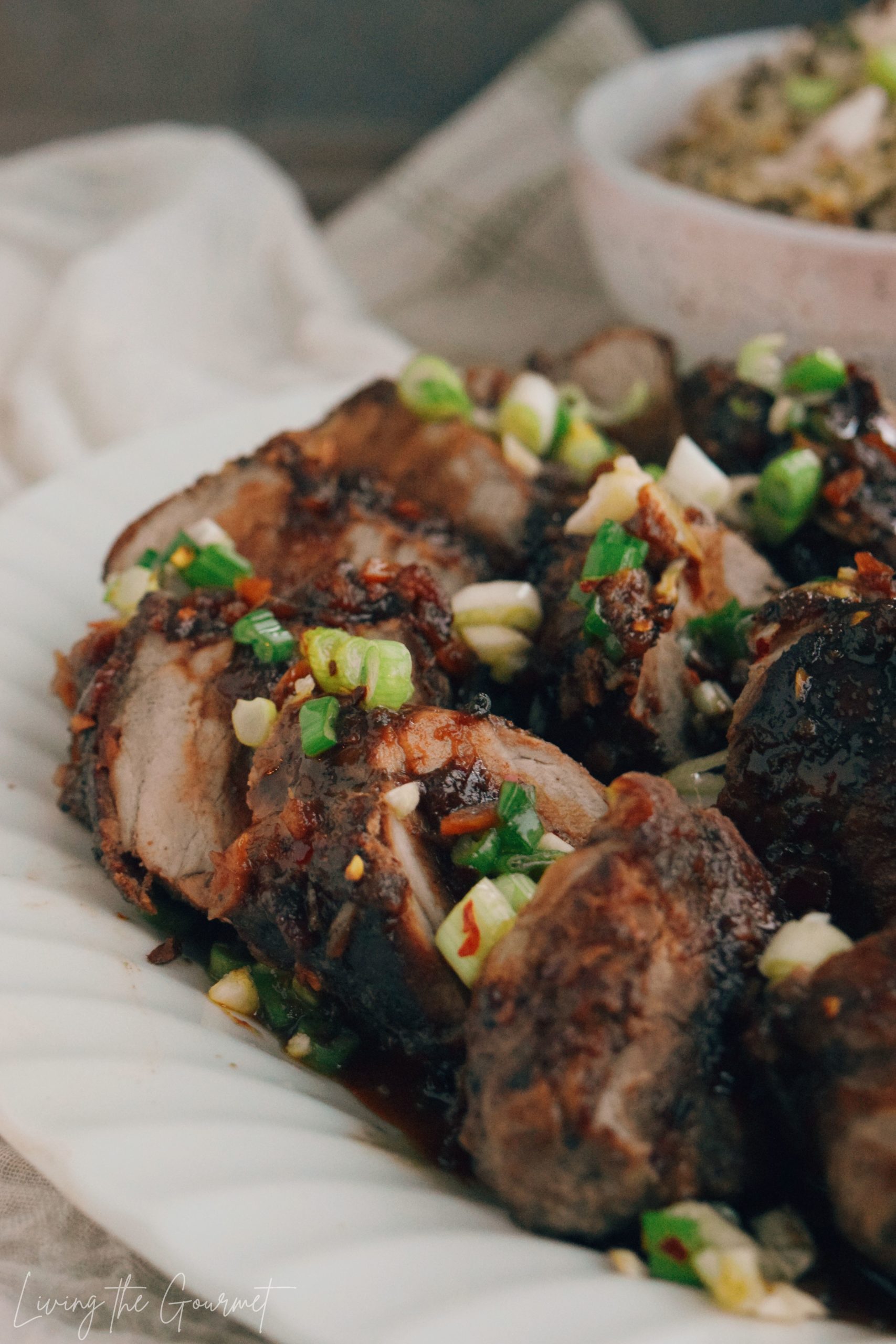 0