The phrase "Mind blown" gets thrown around a lot. "Oh wow, space is a big place? Mind blown!" "French was Napoleon's second language? My mind is blown!" "Water 'is' wet? Be still my blowing mind." I was never quite sure what 'feeling' this phrase was supposed to signify, aside from surprise at either very obvious or very obscure bits of data. That changed a few days ago when I mentioned guacamole in a conversation I was having with a friend of mine from the UK, and he replied that he did 'not' know what guacamole was – at all. He did not know what it was…at all.
My mind was thoroughly blown.
Now, if he had said he didn't know what a mole de panza is, fine, I can understand. Aguachile? Permissible. Chilaquiles? I'll give that a pass too. But guacamole? It's everywhere.
Then, in the course of the ensuing back and forth, another friend of mine chimed in that he wasn't missing much, since guacamole is 'very overrated.' Cue my mind being blown a second time.
However, while I can't help those who (somehow) haven't heard of guacamole, I 'can' attempt to help those who think it's overrated, since – in my opinion – if you happen believe it's overrated, either you don't particularly care for avocados (perfectly alright), or you've simply been eating subpar guacamole (not alright).
Why to Try This Guacamole Dip
1) More than the green. A lot of 'standard' or 'overrated' guacamole dips are little more than crushed avocados seasoned salt, pepper, and lemon or lime juice. While I'm not averse to this 'puritan' method of producing guacamole – especially if you've got quality avocados, I 'do' think it's nice to really dress up this greenest of dips once in a while, if only for a change of pace.
2) Super Simple. Guacamole should 'not' be a chore to prepare. The hardest part of the process should be peeling and crushing the avocadoes, and today's guacamole is no exception to that rule.
3) Pairs Excellently. Another quality of a decent guacamole is that it should be a breeze to pair, from homemade flatbreads to tortilla chips to putting it on pizza. Again, today's guacamole is no exception to this rule.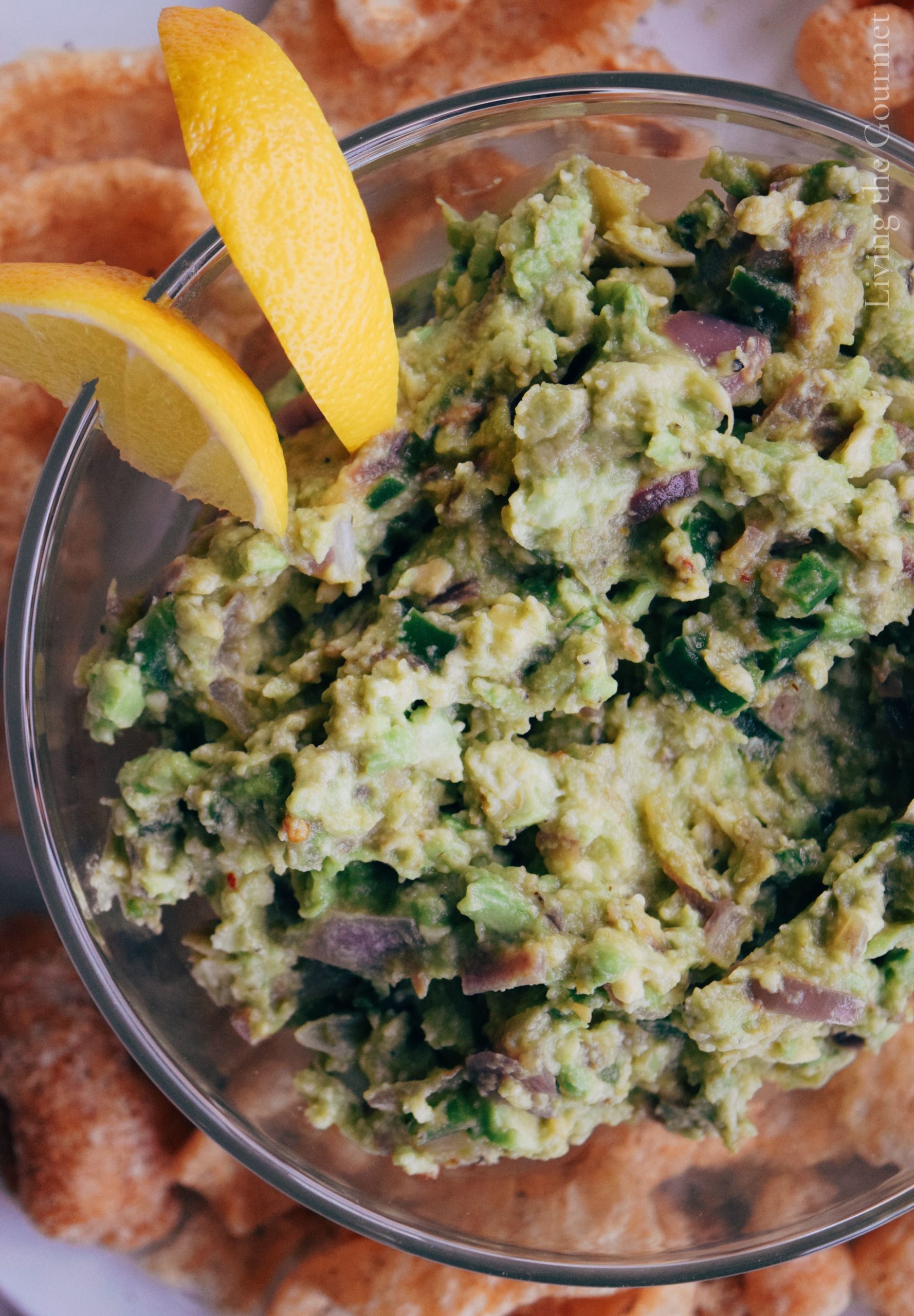 Ingredient Notes and Tips
1) Lemon (or Lime) – Fresh is a Must. All of the ingredients in today's guacamole are fresh. While bottled lemon juice might work well in cooked recipes, or in a pinch, it simply isn't as flavorful as fresh, lacking the full 'zest' or 'brightness' of fresh lemon juice, since the juice begins breaking down chemically almost as soon as it leaves the lemon. Beyond that, the juice's flavor is often times further diluted with preservatives. As a result, if you want the full flavor and balance intended in today's guacamole, use fresh lemon (or lime) juice.
2) Cumin – Don't leave it out. Cumin pairs well with 'fat,' and avocados have a high fat content. Thus, a little cumin goes a long way in guacamole. That being said, unlike other spices like cayenne, turmeric, black or red pepper, or really any 'common' spice out there, cumin is rarely (if ever) used on its own or as the 'primary' flavor in a recipe – and this is because cumin isn't immediately inviting or even terribly 'palatable' by itself. However, cumin simply transforms in the presence of fat. Being somewhat bitter, earthy, and nutty all at once, cumin is a great 'grounding' flavor or 'background' for spice blends and marinades. In particular, cumin pairs particularly well with meaty dishes, shining in things like curry, chili, and dry rubs for steaks, chops, and roasts.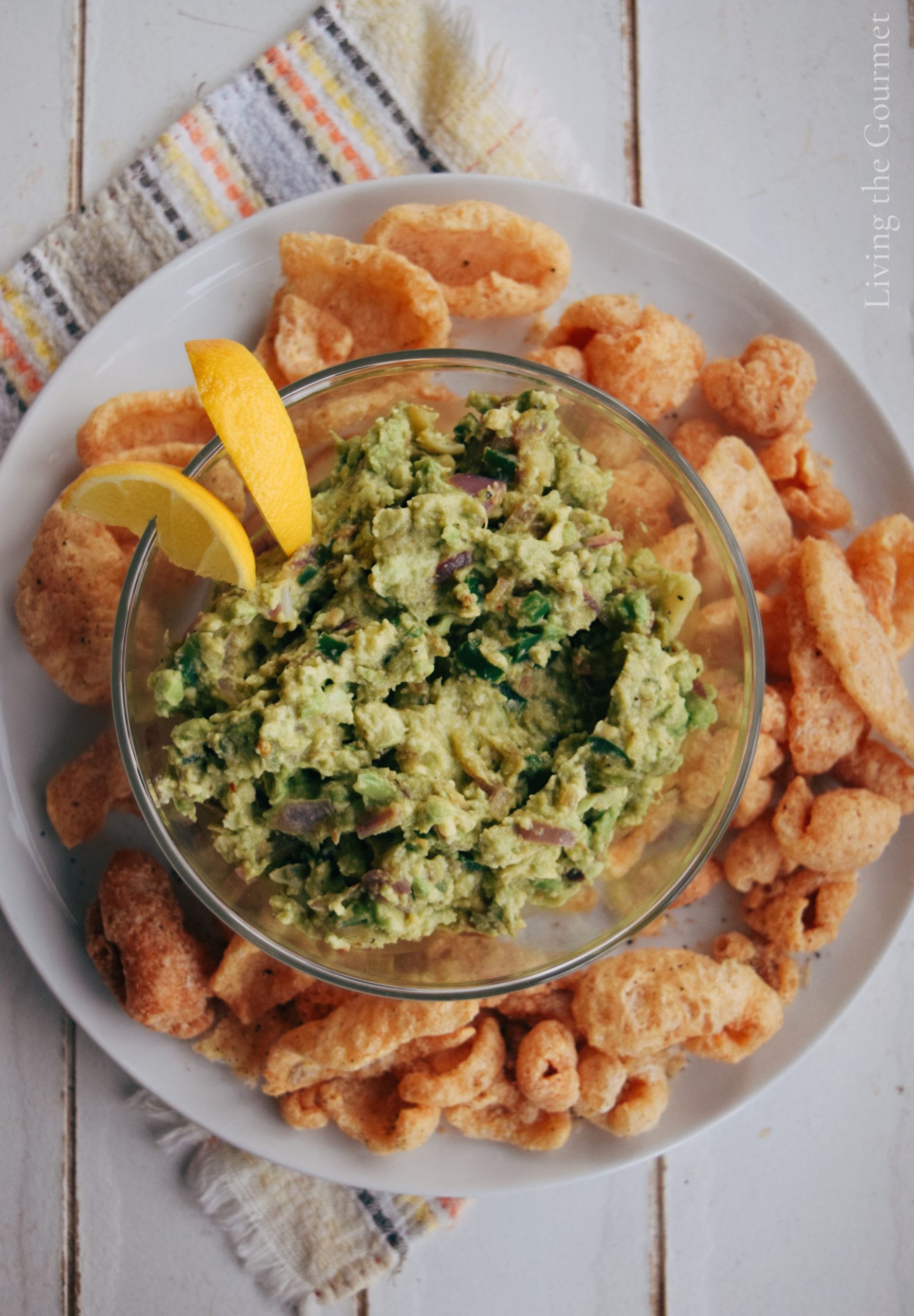 Avocados – How To Pick, Ripen, and Slice an Avocado
Thankfully, we've left behind the peek of the avocado craze from a few years ago, but these things remain popular – and for good reason. Spreadable, moist, and just a tad oily with a 'neutral vegetal umami flavor,' these things have a multitude of uses that go well beyond salads and guacamole.
However, how do you pick the right ones? And once you've got them, how do you know when their ready eat? Here are a few tips for doing just that.
1) Color First. While color varies slightly between varietals of avocado, in general if you plan on eating them within a day or two, you'll want to start by selecting avocados that are roughly lighter than 'forest green,' but darker than 'kelly green.' Hess avocados, by contrast, start off quite dark and turn almost black as they ripen. Brown, drab dark green, or splotchy black is overripe – avoid those.
2) The Squeeze. Despite outlets ranging from ABC News to agricultural insiders pleading with consumers to stop squeezing avocados, we haven't and there's a reason we haven't – it works, kind of. Albeit, it leaves behind a lot of bruised fruit, and people often aren't quite sure 'what' they're squeezing for other than that 'kind of soft means edible.' With that in mind, pressing ever so gently at the top of an avocado will tell you if it's ripe or not – no need to go giving these little green guys the stress ball treatment. If the top yields ever so slightly to gentle pressure, it's ready to eat.
3) The When. The question now is 'when' are you planning on eating them? If you don't plan on using your avocadoes 'right away,' there's no harm in stocking on light green, rock hard avocadoes, since they'll ripen just fine at home if kept at room temperature. Remember, 'ripe' isn't synonymous with 'quality' or 'good taste,' it just means ready to eat. On that note…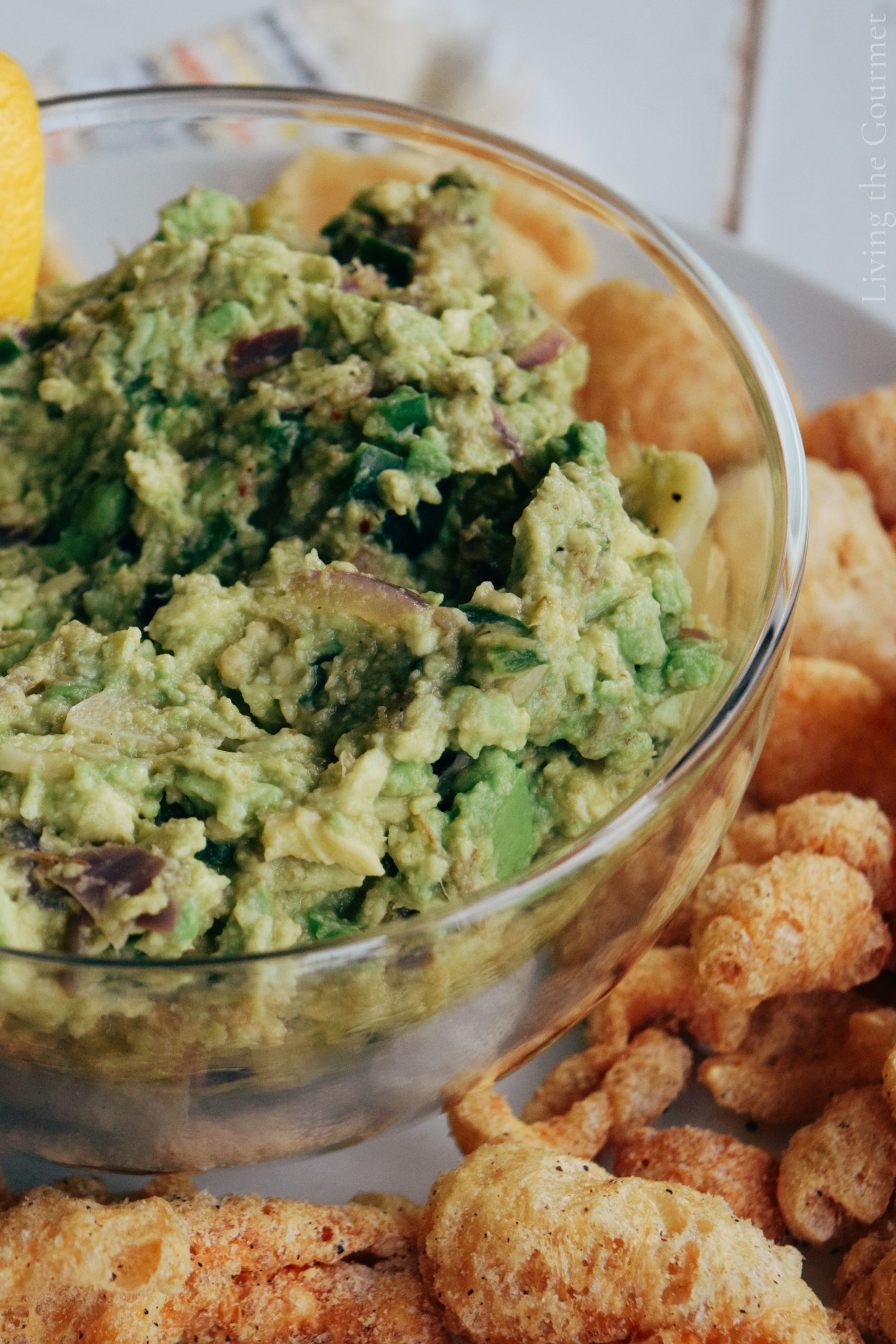 Ripening an Avocado
In truth, I don't do this. I leave my fruit either in the fridge or at room temperature to ripen, and I shop for fruit with a rough timeframe in mind, well aware of 'when' the fruit or vegetables I'm selecting will be at optimal level of ripeness. However, here are a few tips for hastening the ripening process.
1) The Paper Bag Trick. A trick that's well older than the recent avocado craze, is to simply pack your avocados (preferably with ample space among them), in a sealed paper bag, and to then store that bag at about seventy-degrees Fahrenheit – or roughly room temperature. This ensures even ripening, while speeding up the process by a day or two.
2) Apples and/or Kiwis. Paper bags aside, do you know what 'really' speeds up the ripening process? Ethylene gas. Now, you probably don't have any tanks of the stuff lying around…why would you? However, what I do have on hand are a few apples and kiwis, and aside from nice quantities of vitamin C, these things are positively radiating trace quantities of ethylene gas. So, you guessed it, pack an apple or kiwi or both into the paper bag along with the avocado, and you'll further hasten the ripening process.
3) Don't Microwave Them. Along with rinsing cooked pasta, this is one of those 'home tricks to nowhere' that likely got started as a practical joke and somehow ended up sticking. Not only does this damage the taste and texture of the avocado, but it zaps away its nutrients – and this is according to the California Avocado Commission itself. So, no, don't do this, and don't rinse your cooked pasta either.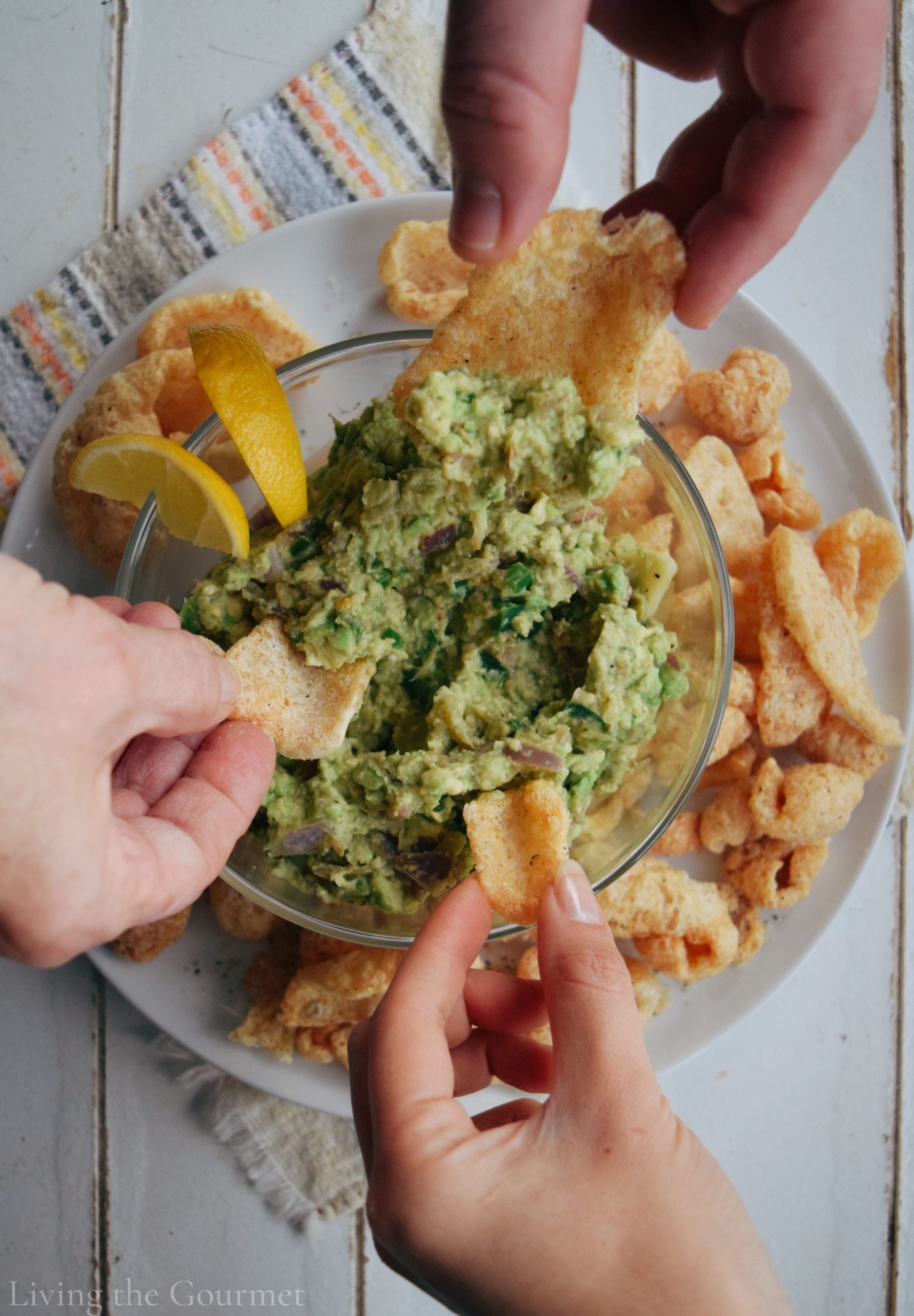 Slicing an Avocado
While this might sound like I'm bragging, I must admit that I never gave the process of slicing an avocado any thought, nor did I think this was a process people struggled with. But, lo and behold, 'avocado hand' is now a recognized 'condition.'
It seems that the slightly 'chubby pear shape,' and the almost perfectly circular oversized pit confounds some to the point of grievous injury.
So, here a few tips for slicing an avocado while keeping your hands nicely intact.
Follow these steps in order:
1) Slice it Lengthwise. Starting at the top of the thinner portion of the avocado, slice the avocado lengthwise, going deep enough until your knife hits the pit. Do this gently so as not to either dull your knife or injure yourself.
2) Continue the Slice. Steadying the knife perpendicular to the pit, continue cutting around the circumference of the pit in confident, gentle motions, until you have fully cut the avocado in half upon the axis of its circular pit.
3) Separate the Halves. It is now time to 'detach' the sliced avocado, such that you have roughly equal sized halves. Scoop out the pit.
4) The Rest Is Up To You. This part should be roughly self-explanatory, but you now have a properly pitted and halved avocado, that you can either slice onto salads, spread on bread, or – as we're doing today – make guacamole with.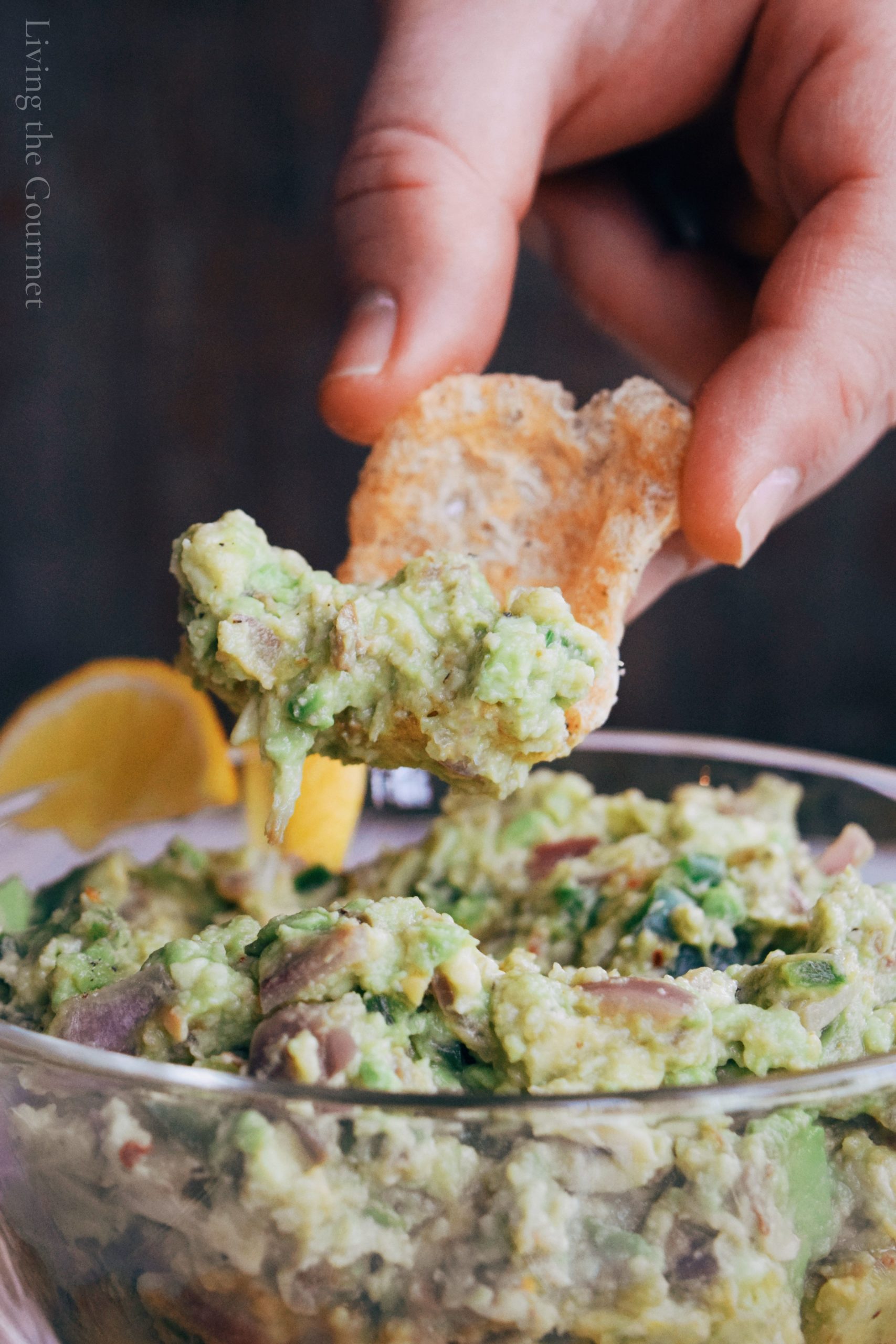 More Gameday Favorites from Living the Gourmet
1) Onion Rings. A big tray of these not only pairs great with today's guacamole, but they are also a gameday favorite like few others. Crispy and hardy, I prepare mine with just a hint of spice, and a thick, dense batter that crisps up beautifully during frying. You can grab my recipe here.
2) A Cold Drink. The classic combo of guacamole, tortilla chips, and a tall beer works just fine here. However, if you want to flavor things up a bit and play 'bartender,' our friends over at DrinkWorks have got you covered. Think of it as the "Keurig of Home Bars," simply pop a pod into the machine, and out comes a delicious, chilled 'adult beverage' (no ice required) that tastes like it was mixed by a master mixologist. With dozens upon dozens of drink pod flavors to choose from, including Margarita, Cosmopolitan, Mojito, Moscow Mule, Whiskey Sour, White Russian, and Old Fashioned, among many others, there's something for everyone.
3) Coleslaw. A burger (or patty melt), paired with a crisp, flavorful coleslaw is one of my favorite things in the world. My preferred recipe for coleslaw combines the obligatory mayo-coating with a citrusy dressing, and I slice in jalapenos with the cabbage to create a sweet-and-spicy salad, with just a hint of crisp citrus.
4) Spicy Fried Chicken. My favorite take on a perennial classic. We use corn starch to give the chicken coating a nice crisp, and add in cayenne and hot sauce to the batter to give the ultra-crispy coating a nice kick.
Print
Grilled Jalapeno Guacamole
Author:
Prep Time:

10 minutes

Total Time:

10 minutes

Yield:

4

1

x
3

avocados – roughly mashed

2

large cloves of garlic – grilled and crushed

1/2

medium size red onion – grilled and chopped

1

large jalapeno – grilled and chopped with seeds

1 tsp

. salt

1 tsp

. ground cumin

1/4 tsp

. red pepper flakes

3/4 tsp

. fresh ground black pepper
Juice of

1/2

lemon
Drizzle of olive oil for the grilling
Instructions
Grill the garlic, onions and jalapeno in a small frying pan with a tsp. of olive oil and the seasonings until the garlic is fragrant and the onions are softened. Allow this mixture to cool before adding it to the avacados.
Add grilled garlic, onion and jalapenos to the avocados and gently mash with a potato masher.
Do not over mash. Serve with Southern Recipe Small Batch Pork Rinds!
Recipe Card powered by
0