Few things are better than a moist carrot cake swathed in a decadent, lusciously sweet cream cheese and butter frosting. This is one of my absolute favorite autumn seasonal desserts. Whether it's the combination of carrots and nutmeg, or the warming combination of chocolate and cinnamon laced in vanilla, few desserts manage to 'taste like the season' quite like carrot cake.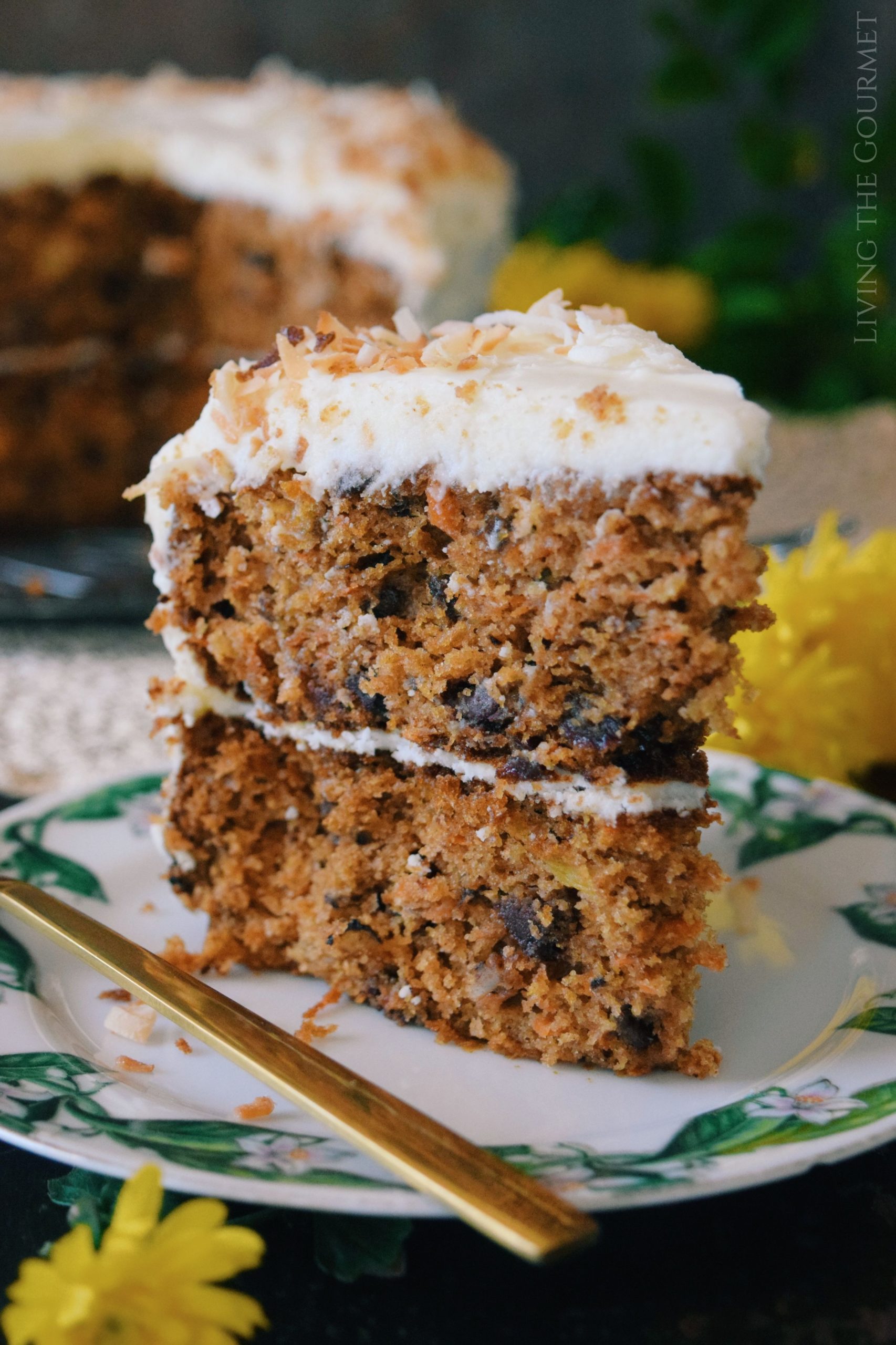 Why You'll Love Today's Carrot Cake
1) Unrepentant Decadence. Today's carrot cake cuts no corners, and makes no apologies for being a truly 'decadent' dessert, from the luscious frosting down to the moist interior. Today's carrot cake will sate your sweet tooth and leave you feeling satisfied.
2) It keeps beautifully. If you make this on the weekend, you can enjoy it throughout the week. It keeps beautifully, remaining moist and delicious for days.
3) Only Basic Ingredients. Today we're using no exotic or hard to find ingredients to bring today's carrot cake together. Everything going into today's recipe is 'pantry friendly' and available at your local grocery store.
4) The Ultimate Seasonal Dessert. As I mentioned above, few desserts taste quite like the autumn season like carrot cake, and few manage to do so with such levels of decadence.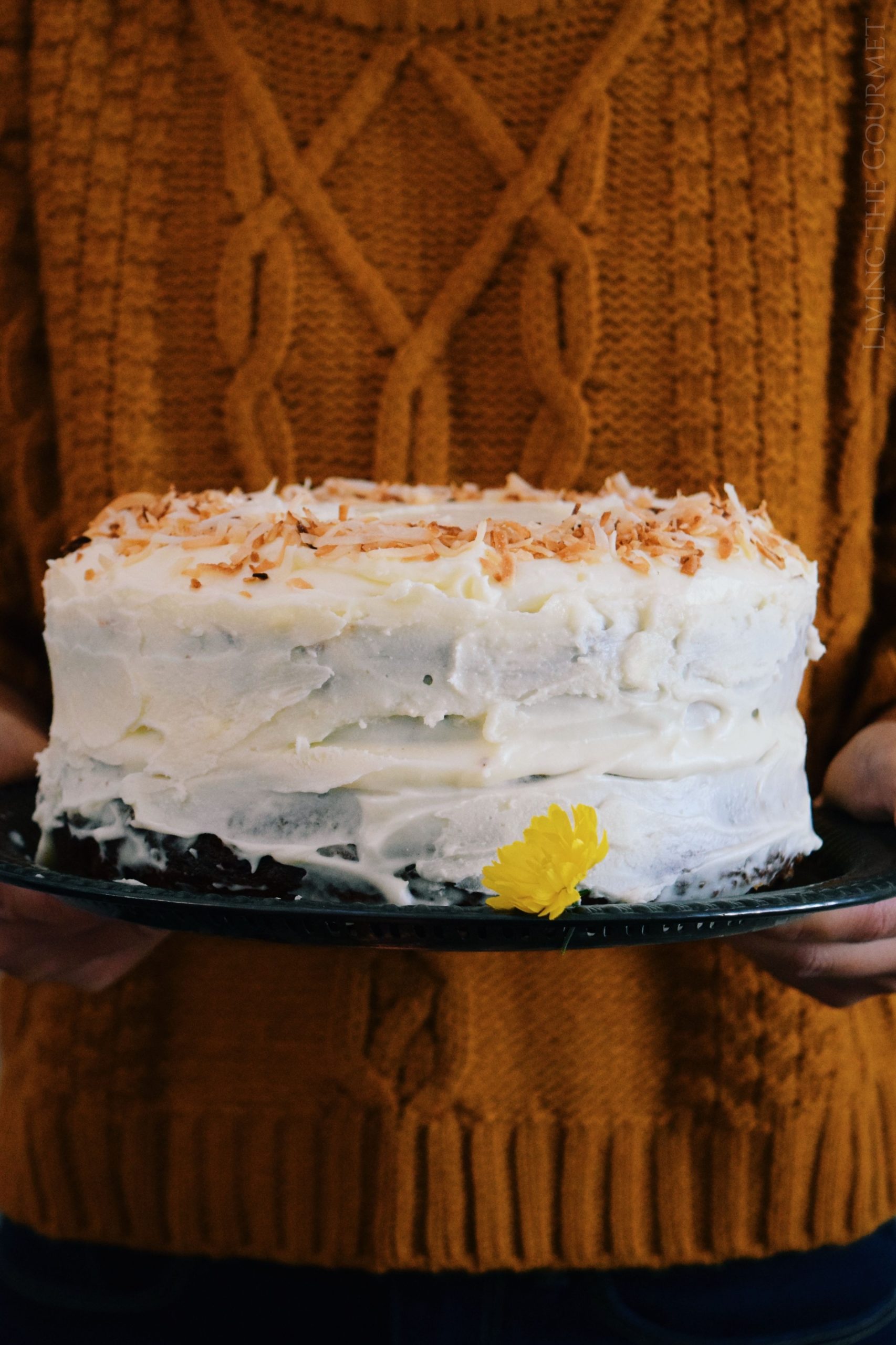 Ingredient Notes and Tips
1) Ground Ginger as Opposed to Fresh. Fresher is better in most cases, but not all – and when it comes to baked goods, ground ginger is generally the way to go, and this is for two big reasons. First and foremost, fresh ginger is notoriously fibrous, and simply does 'not' break down under any amount of cooking. Thus, if you use fresh ginger in today's recipe, you 'will' get stuck with 'strands' or 'chunks' of ginger speckled throughout the cake, and that's really not at all palatable. Second off, taste. I love fresh ginger, but fresh ginger is quite 'spicy' whereas ground ginger is 'warming' and 'pungent' as opposed to spicy and sharp. This warmness melds beautifully with the overall flavor profile of the cake.
2) Nutmeg. The spice that 'tastes like Christmas,' nutmeg is beloved for its 'warming' and ever-so-slightly 'sweet' taste. However, in larger quantities nutmeg rapidly becomes sour or even astringent tasting, and since it's quite strong this is one spice where 'a little goes a long way.' Useful in everything from baked goods to roasted potatoes, nutmeg also features prominently in various beef and pork spice mixes (in both dry rubs and marinades), as well as in stewed, grilled, and roasted vegetables, as well as in a variety of beverages both warm and cold, alcoholic and non-alcoholic alike, it's safe to say that nutmeg is a blissfully versatile spice that's worth learning how to use.
3) Olive Oil or Vegetable Oil? I've baked with both, but for around a year now I've been leaning towards cooking oil or vegetable oil for 'most' of my baking, as well as almost all of my frying. The rule of thumb is this – olive oil gives superior flavor and health benefits, but 'only' when cooking at lower temperatures of no more than around 350 degrees Fahrenheit, or when barbecuing over 'gentle' flames. Use vegetable oil for pretty much everything else. The reason is that most olive oils have a relatively low 'smoke point,' which is the temperature at which the olive oil begins to burn away, giving your food a rancid taste and sapping the oil's nutrients. Curiously, the lower the quality your olive oil, the 'higher' its smoke point. In fact, 'Light' olive oil actually has a higher smoke point than vegetable oil, while Extra Virgin Cold Pressed olive oil will start to burn away at merely a 'low simmer.'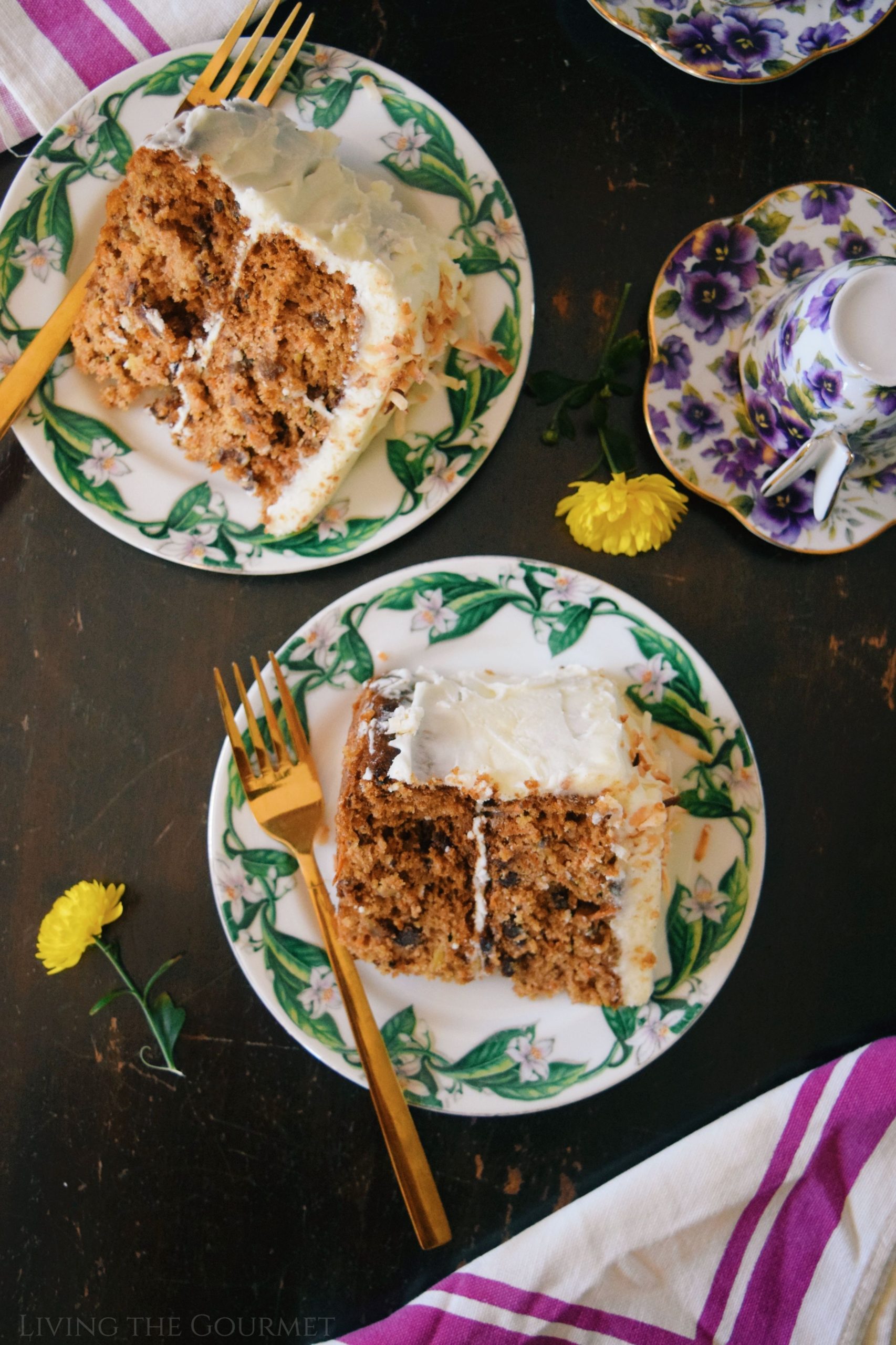 Craving More Decadent Desserts?
1) Pecan Tartlets. More or less mini pecan pies, these tartlets are a crowd pleaser like few others, and pairing perfectly at virtually any occasion, formal or casual.
2) Candied Pecan and Dark Chocolate Cinnamon Rolls. Need a sweet bite for breakfast? These dark chocolate cinnamon rolls have got you covered. Dark chocolate, cinnamon, and flaky dough, what's not to love?
3) Apple Crisp. A classic apple crisp recipe, this is a dessert that ever at home chef should have in their repertoire.
Print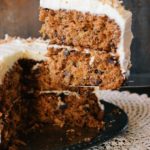 Classic Carrot Cake
---
Author:

Prep Time:

15 minutes

Cook Time:

45 minutes

Total Time:

1 hour

Yield:

1

layer cake

1

x
3 cups

flour

½ tsp

. salt

2 tsp

. baking soda

2 tsp

. baking powder

½ cup

sugar

3

eggs

¾ cup

cooking oil

3 cups

shredded carrots – (about

3

–

5

medium sized carrots)

1 cup

brown sugar

1 tsp

. cinnamon

½ tsp

. ground ginger

½ tsp

. nutmeg

1 tsp

. vanilla

½ cup

chopped walnuts

1

– (8 oz.) can of crushed pineapple – drained

1 cup

raisins – chopped

½ cup

of chocolate chips
For the Cream Cheese Frosting:
8 oz

. block of cream cheese

½ cup

unsalted butter

1

tbs. heavy cream

1 tsp

. vanilla

3 ½ cups

confectioner's sugar
---
Instructions
For the Carrot Cake:
Preheat Oven 350 degrees F.
In a large bowl sift together the flour, salt, sugar, cinnamon, nutmeg, ground ginger, baking powder and baking soda and mix.
In a separate bowl combine the shredded carrots, crushed pineapple, vanilla, eggs, cooking oil, chopped raisins, chopped walnuts, chocolate chips and brown sugar. Mix this mixture together with a fork until well combined.
Combine the wet ingredients with the dry ingredients and mix together until well incorporated.
Prepare two 8 ½ inch round pans and pour half of the batter into each pan.
Bake for 40 – 45 minutes or until the toothpick test comes out clean.
Let the cakes cool a bit before removing from the pans.
Let the cakes cool completely before frosting.
For the Cream Cheese Frosting:
In a bowl of the mix-master with whisk attachment or with a hand-held beater, whip cream cheese and butter until smooth. Add vanilla and heavy cream, whip again until combined.
Add the confectioner's sugar and mix on low speed until the sugar is incorporated, gradually increasing the speed until the frosting is whipped and airy.
When the cake is completely cooled frost.
To store the cake, keep refrigerated.
Nutrition
Serving Size:

8 slices of cake
Recipe Card powered by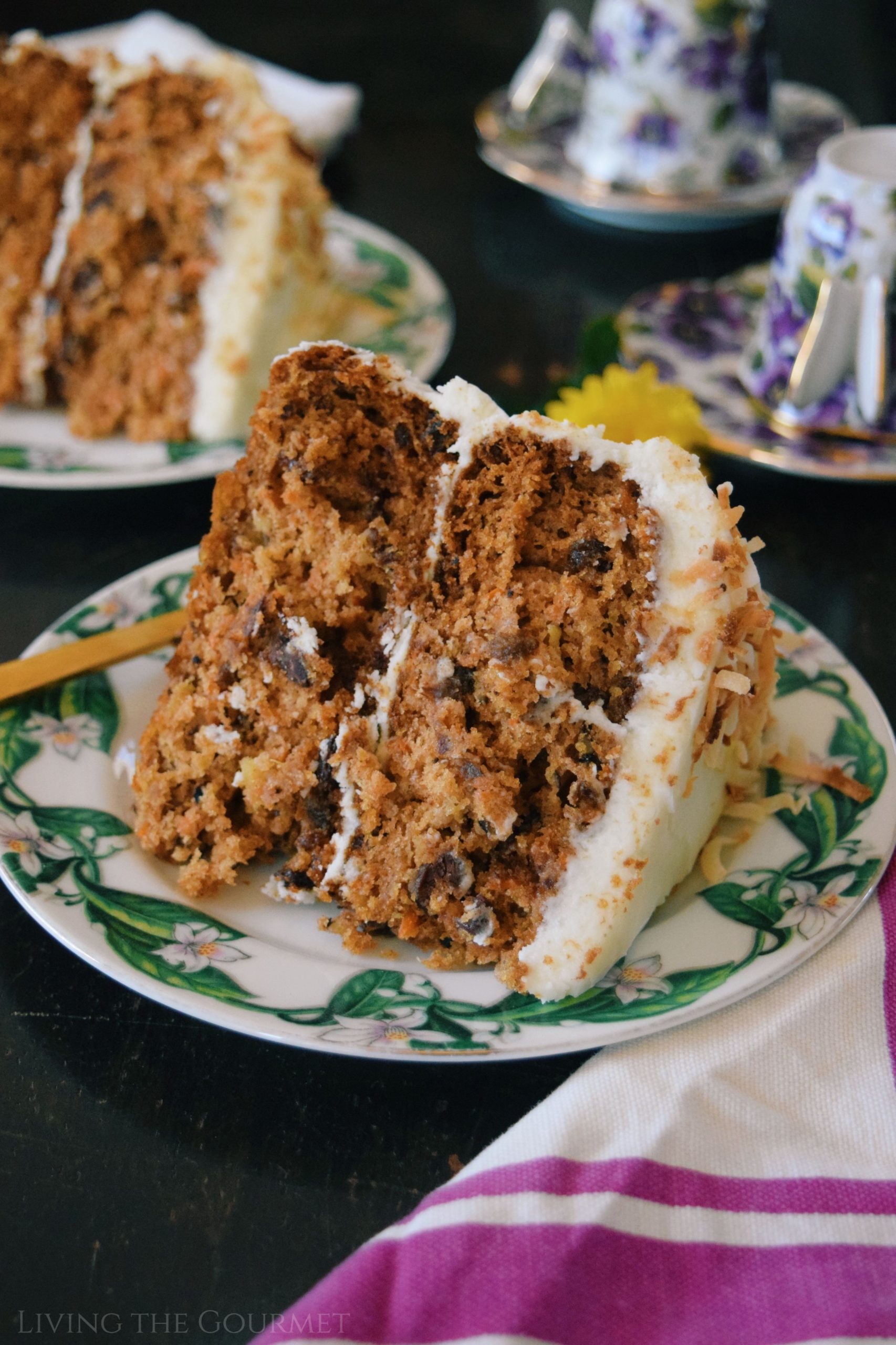 If You Enjoyed Today's Recipe…
Be sure to follow us on Instagram to stay up to date with all things Living the Gourmet, and for more great recipes, tips and tricks.
Did you make this recipe?
If so, let me know in the comments down below, or post a picture to Instagram, or to Pinterest, and I'll give you a shoutout on Instagram, or post your pin to one of my Pinterest boards!
1