Today's recipe features a rich, moist pecan filling swathed in layers of crisped buttery phyllo dough, which combine to create a warming winter dessert. These delightful little tartlets are great for company, well able to serve either as a dessert centerpiece unto themselves, or as an accompaniment to a larger spread.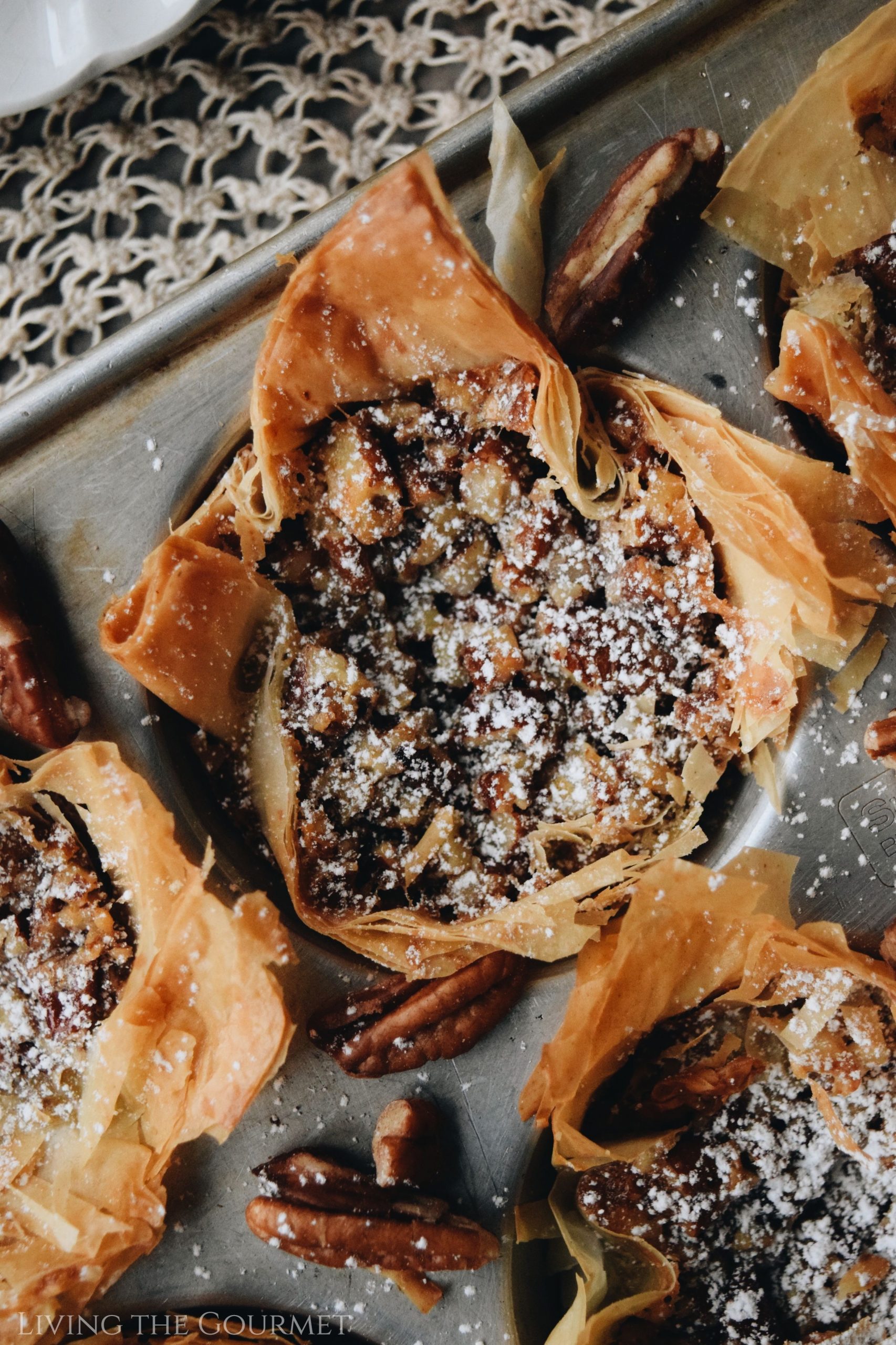 Why You'll Love Today's Tartlets
1) Mini Pecan Pie – Sort Of. The filling of these tartlets has a taste and texture that's blissfully similar to what you find in an old fashioned pecan pie. It's moist, soft, almost 'custard like,' and decadently sweet without being 'overly' sweet, making these a quintessential cold weather dessert. However, we're swapping a crust for crisped phyllo, which brings us elegantly to our next point…
2) Simpler Than You Think. I'm not going to try to pull a fast one and call these 'easy' or 'simple' to prepare, but by using phyllo rather than prepping a dough, these actually are a fair bit less labor intensive than trying to make mini pies, which does in fact make them a 'simpler' alternative.
3) They Keep Beautifully. These keep perfectly for about a week in the refrigerator without deteriorating in flavor or texture. However, if you don't keep the tartlets in a sealed container, you risk the phyllo becoming soggy due to moisture. For added crispness preservation, be sure not to skip brushing the phyllo with melted butter before baking.
4) Make Ahead Friendly. Since these keep so beautifully, you can make them a day or two ahead of time. That means you can prep these on the weekend and have them throughout the week, or save yourself time in preparing dessert for guests.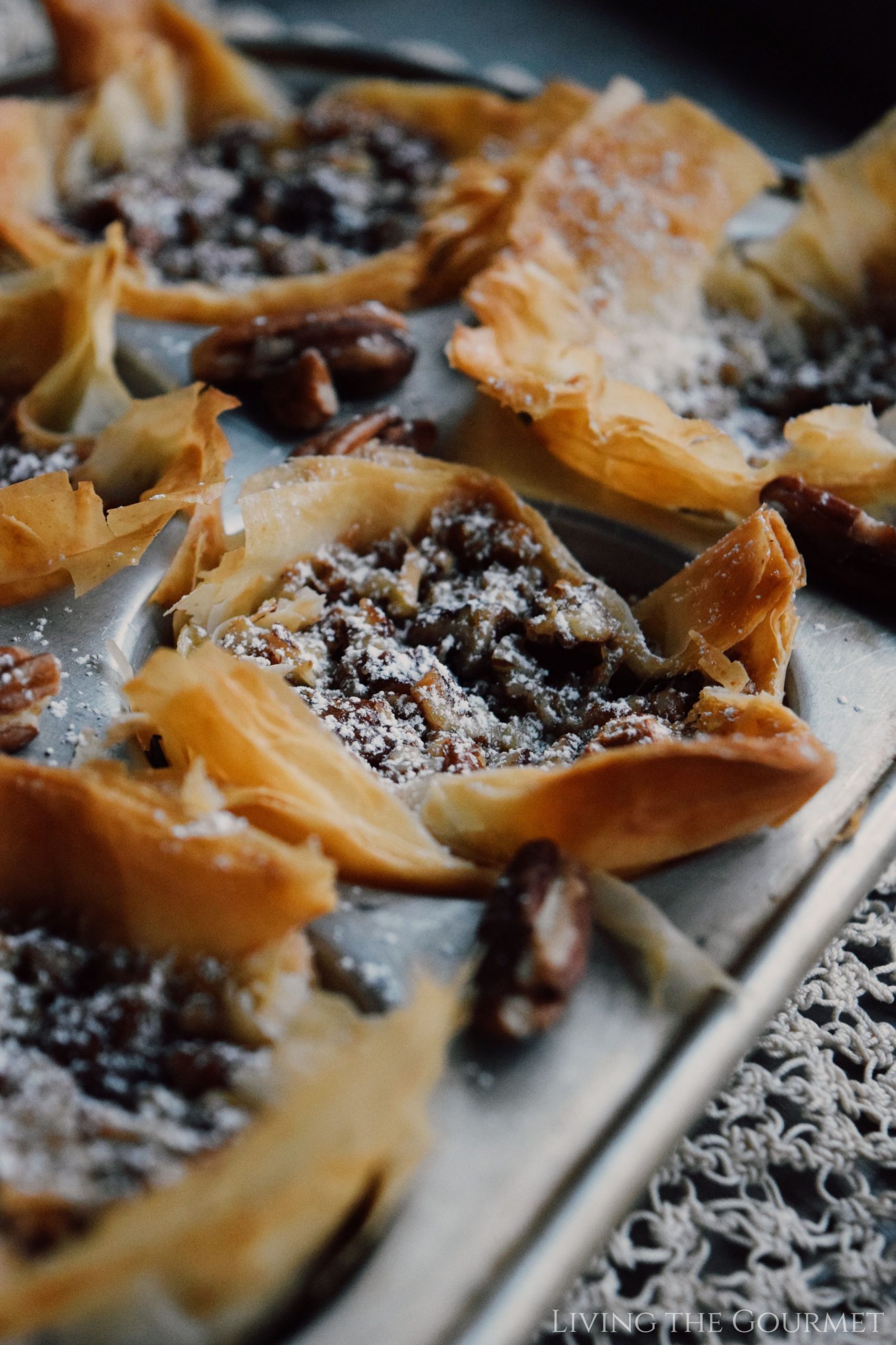 Working With Phyllo – A Guide
It is not uncommon for some home chefs to simply give up on trying to work phyllo. It doesn't keep well in the fridge uncooked, it's intensely fragile when handling, and there's a very tiny window of cooking time between 'burnt phyllo' and 'chewy undercooked phyllo.' In fact, phyllo is so fussy that it won an article from Bon Apetit entitled "How to Handle Phyllo Dough Without Losing Your Mind." [LINK: https://www.bonappetit.com/story/phyllo-dough-cooking-tips ]
Yet, phyllo is the key ingredient in a host of crowd favorites like spinach pie and baklava. Moving beyond familiar favorites, phyllo is intensely versatile, and can be used in a range of both sweet and savory recipes. You can stuff phyllo cups with any combination of savory ingredients be it meat, vegetables, cheese, or even sauces. Then there are savory pastries, sweet pastries, herbed phyllo crackers, cheese tarts, and layered skillet pies, and…well, you get the idea.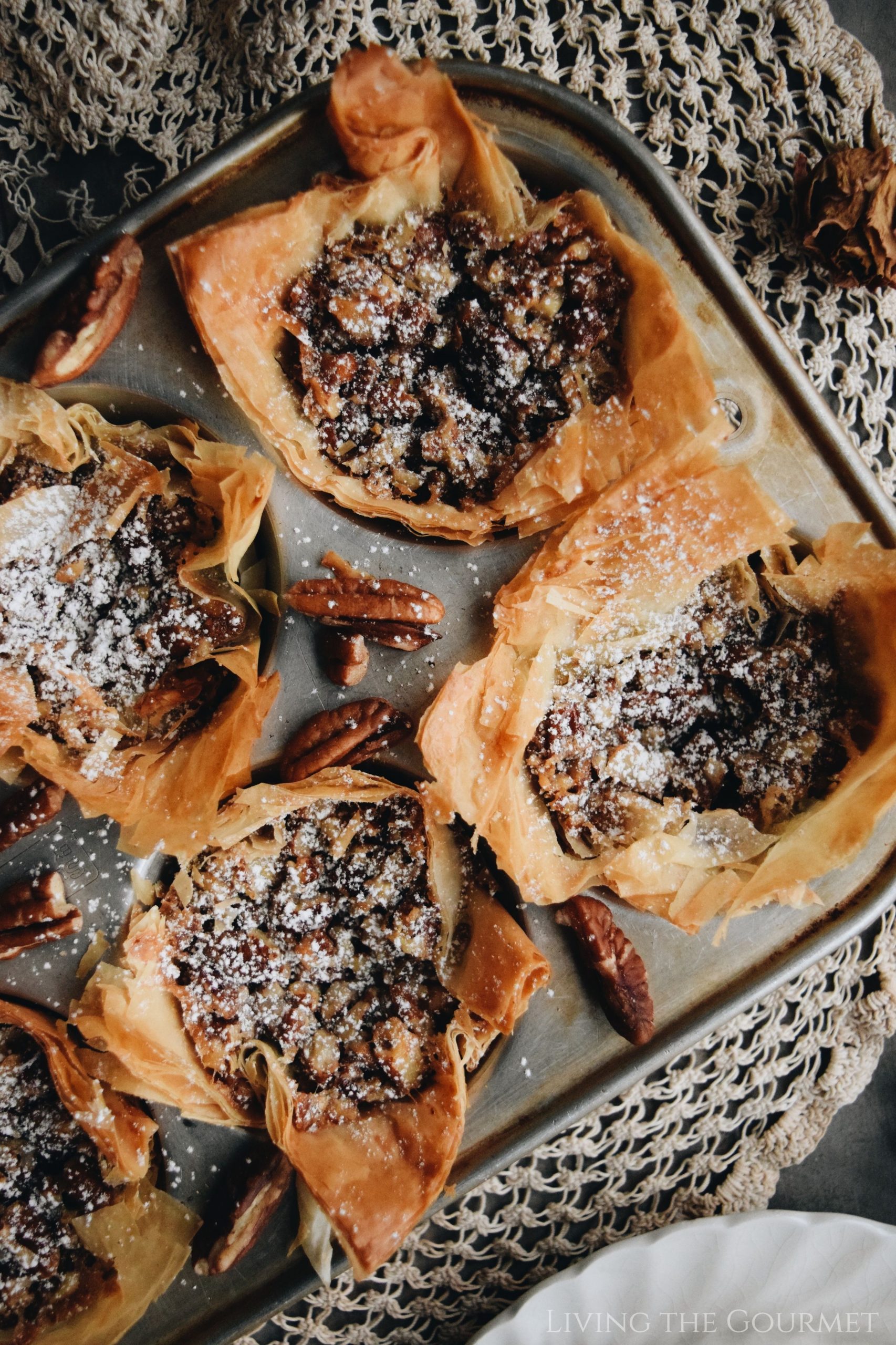 However, the truth is that mastering this ingredient really does come down to practice, but there are a few key tips that will help you along your journey to Phyllo Mastery:
1) Accept That Raw Phyllo Doesn't Keep. There are a host of tips out there for storing phyllo, but the reality is that even perfectly stored phyllo is never quite the same after its been defrosted and then opened. However, if you 'must' store your phyllo after it's been defrosted and opened, my best advice is to simply re-wrap it and leave it in the fridge – bearing in mind that it will unavoidably take on a slightly 'damp' or even 'rubbery' texture if stored for more than a day or two, and that it will never become quite as 'crisp' after this point upon cooking.
2) Defrost Slowly. When it comes to defrosting phyllo dough, don't try to rush this process. No warm ovens, no warm water baths in the sealed packaging, no attempting to work with still cold phyllo. I know there are tips online that give advice on how to speed along the defrosting process, but please trust me when I say all of this positively ruins the dough. Instead, leave the dough to defrost in the fridge overnight for best results. Some things just can't be rushed.
3) Work At Room Temperature. After properly defrosting, let the dough sit unfolded on a dry flat surface, and let it continue 'resting' like that until the dough achieves room temperature. At this point, the dough is at its most 'cooperative,' which means the dough will be at its easiest to handle without risk of creasing, tearing, or sticking.
4) Keep It Frozen. Do 'not' store unopened phyllo in the fridge unless you are letting it defrost overnight. Phyllo dough deteriorates in quality very rapidly when it's not either frozen or cooked. There is simply no getting around this if you're using a quality, natural phyllo dough that doesn't feature a world of preservatives or other artificial 'fortifiers.'
5) Equipment. For today's recipe, the only special equipment you'll need is a basic muffin tin such as this Norpro 12 Cup Standard Muffin Tin. Another reason why this recipe is so easy and versatile. Simple fit each muffin tin with the prepared phyllo sheets to create your own little tartlet cup for the pecan filling.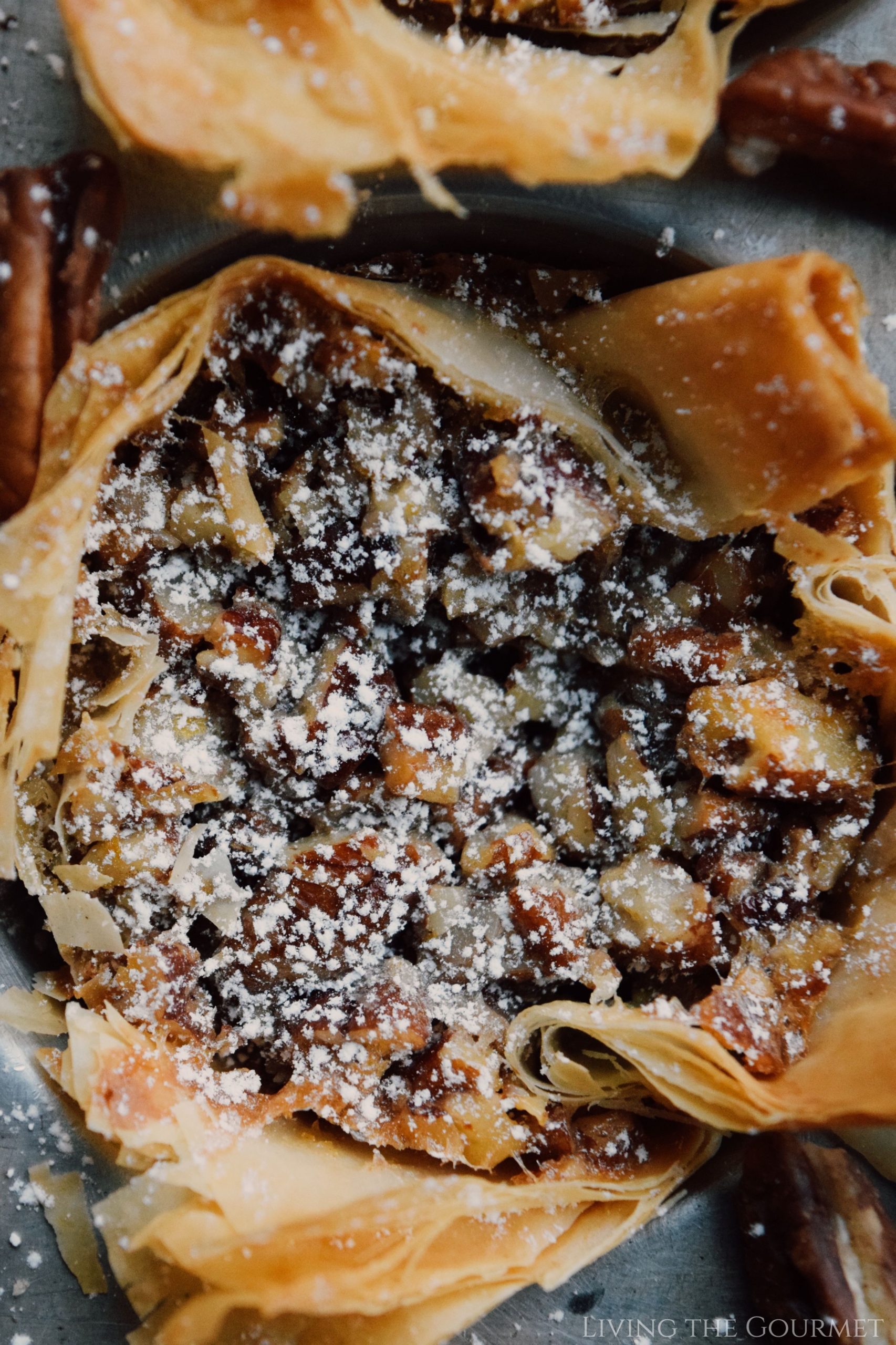 Some of My Favorite Tarts on LTG
1) Mincemeat Tartlets. Growing up, my mother used to prepare the absolute best mincemeat pie. Back then, mincemeat was a staple of the winter season, these days it's much rarer, but nevertheless these tartlets will be sure to impress.
2) French Lemon Tart. Believe it or not, this is the single most popular post I have ever produced, a simple French lemon tart with back to basics crust. Try it for yourself, and see why it was such a hit. You won't be disappointed, I promise.
3) Honey Nut Tart. Honey and nuts go together like butter and popcorn, or coffee and cake, and this tart is evidence of why that part is so very delicious.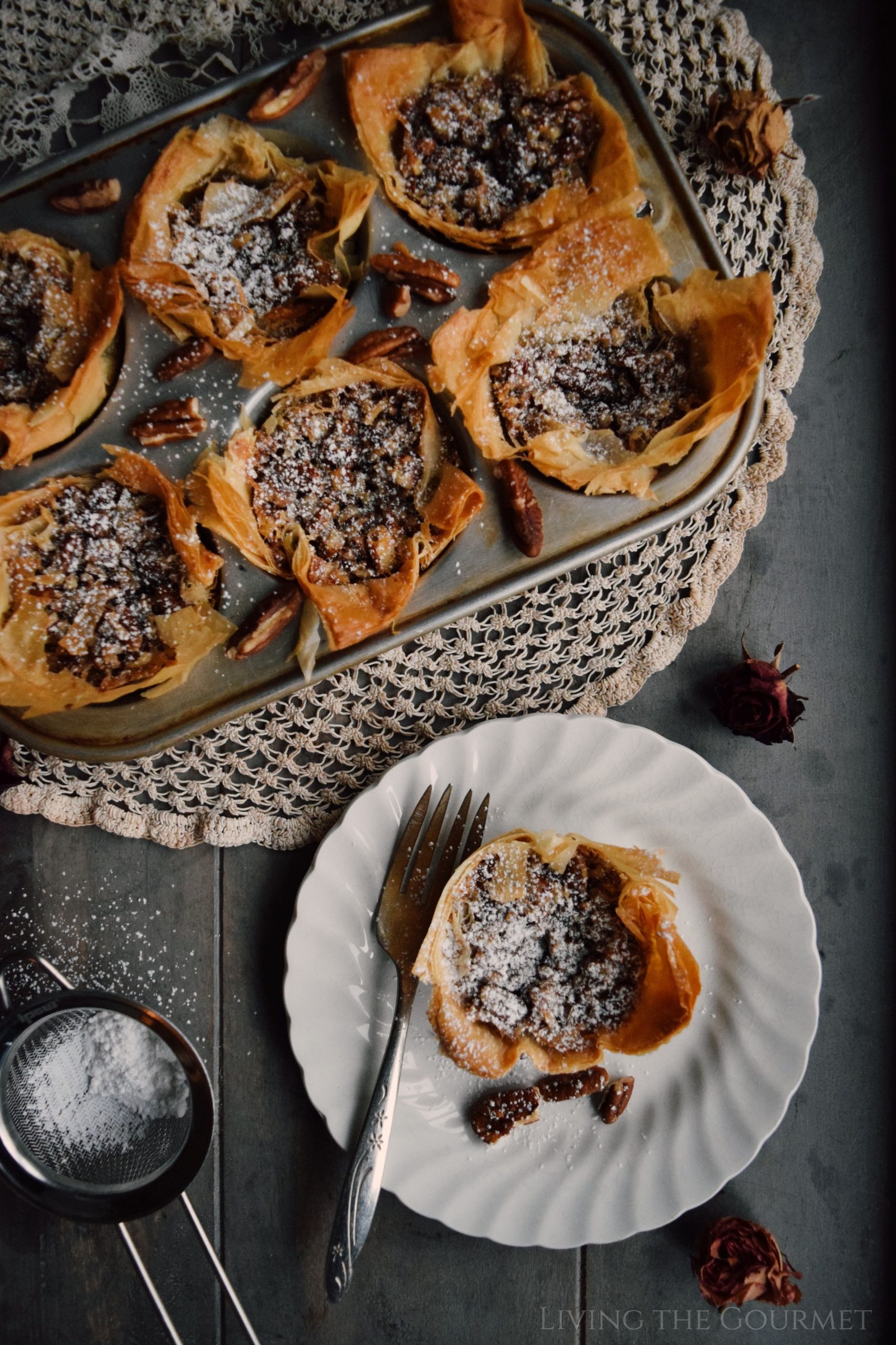 Living the Gourmet
Yields 12 tartlets
Pecan Tartlets
10 minPrep Time
12 minCook Time
22 minTotal Time
5 based on 15 review(s)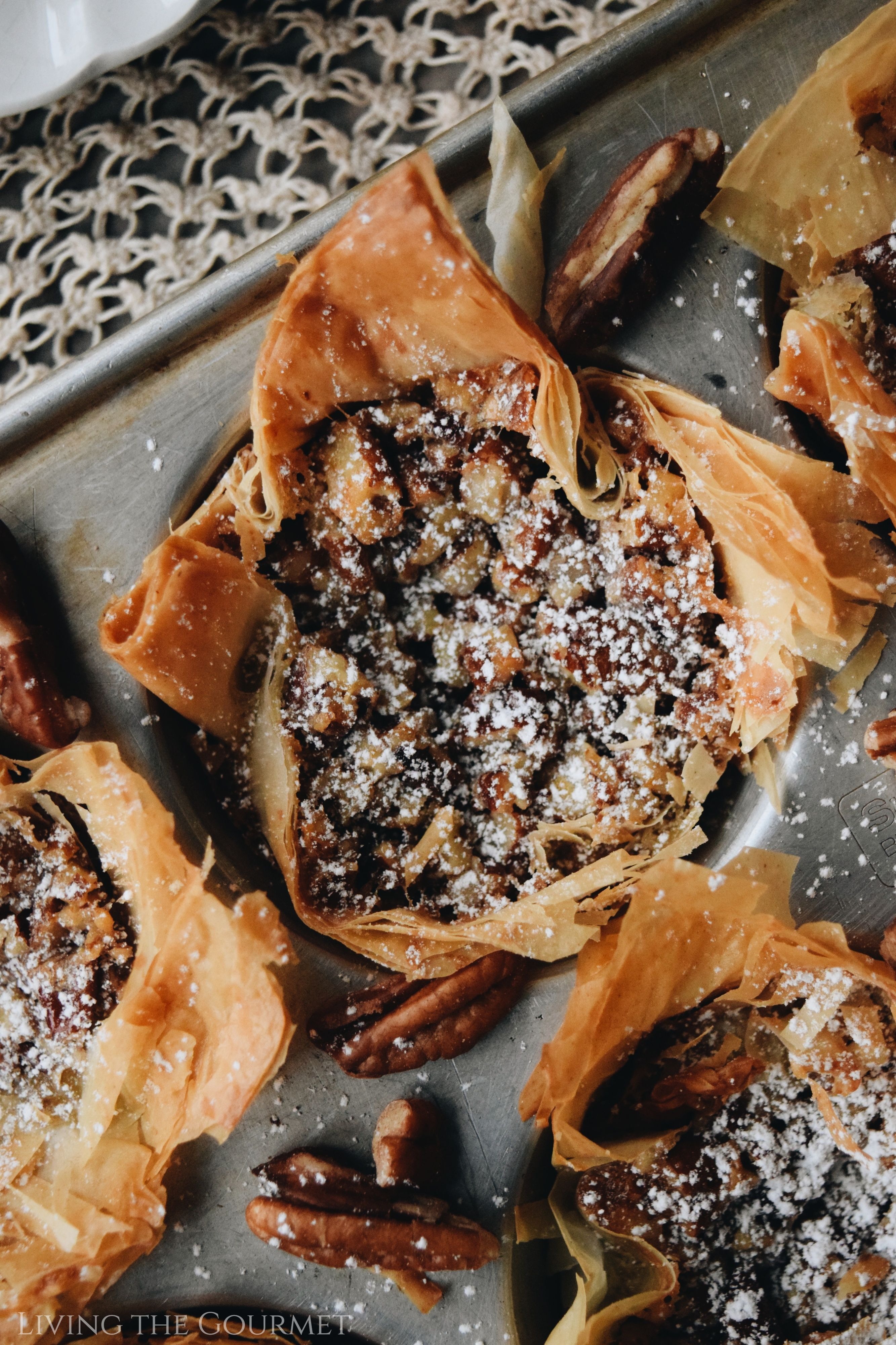 Ingredients
8 sheets phyllo dough
4 tablespoons butter, melted

For the filling:

2 eggs
1/2 cup sugar
1/4 teaspoon salt
5 tablespoons butter, melted
1 teaspoon vanilla
2/3 cup dark corn syrup
2/3 cup pecan halves or pieces
Instructions
In a medium bowl, whisk together all the ingredients for the filling. Set aside.
Preheat oven to 375 degrees F.
On a flat surface, brush one sheet of phyllo dough with melted butter and top with another sheet of phyllo, repeating this process until you have 4 sheets total. Do the same for the reserved 4 sheets of phyllo.
Using a pizza wheel or sharp knife, cut the dough into 6 squares and fit the squares into a muffin tin. You should have 12 phyllo cups.
Fill each cup with the pecan filling.
Bake for about 12 minutes or until the phyllo dough is golden and the center is bubbly.
Remove and let cool slightly before carefully removing each tartlet from the tin. Serve and enjoy!
7.8.1.2
1392
https://livingthegourmet.com/2019/12/pecan-tartlets.html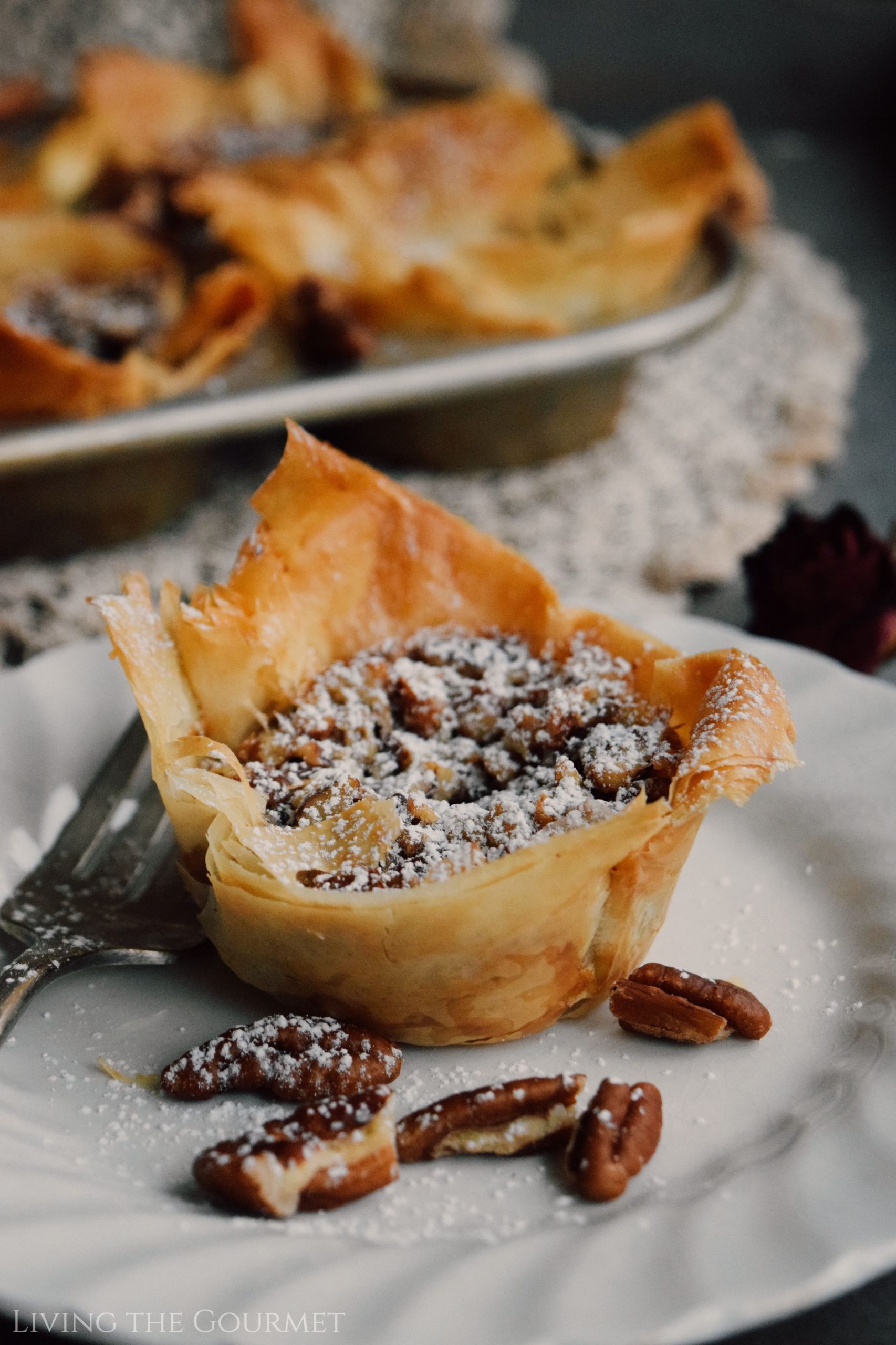 If You Enjoyed Today's Recipe…
Be sure to follow us on Instagram to stay up to date with all things Living the Gourmet, and for more great recipes, tips and tricks.
Did you make this recipe?
If so, let me know in the comments down below, or post a picture to Instagram, or to Pinterest, and I'll give you a shoutout on Instagram, or post your pin to one of my Pinterest boards!
0