Pesto is, in my opinion, one of the recipes with the highest 'satisfaction to simplicity' ratios – at least to my palate. Delicious, supremely versatile, and with endless room for experiment to get creative, while still being super-simple to prepare, in my mind having a good 'basic' pesto recipe in one's repertoire is a must.
And that's exactly what we're preparing today – a 'base' or 'starting' recipe for pesto. With this recipe, you'll have all you need to start experimenting on your own to find the 'perfect pesto' for your palate.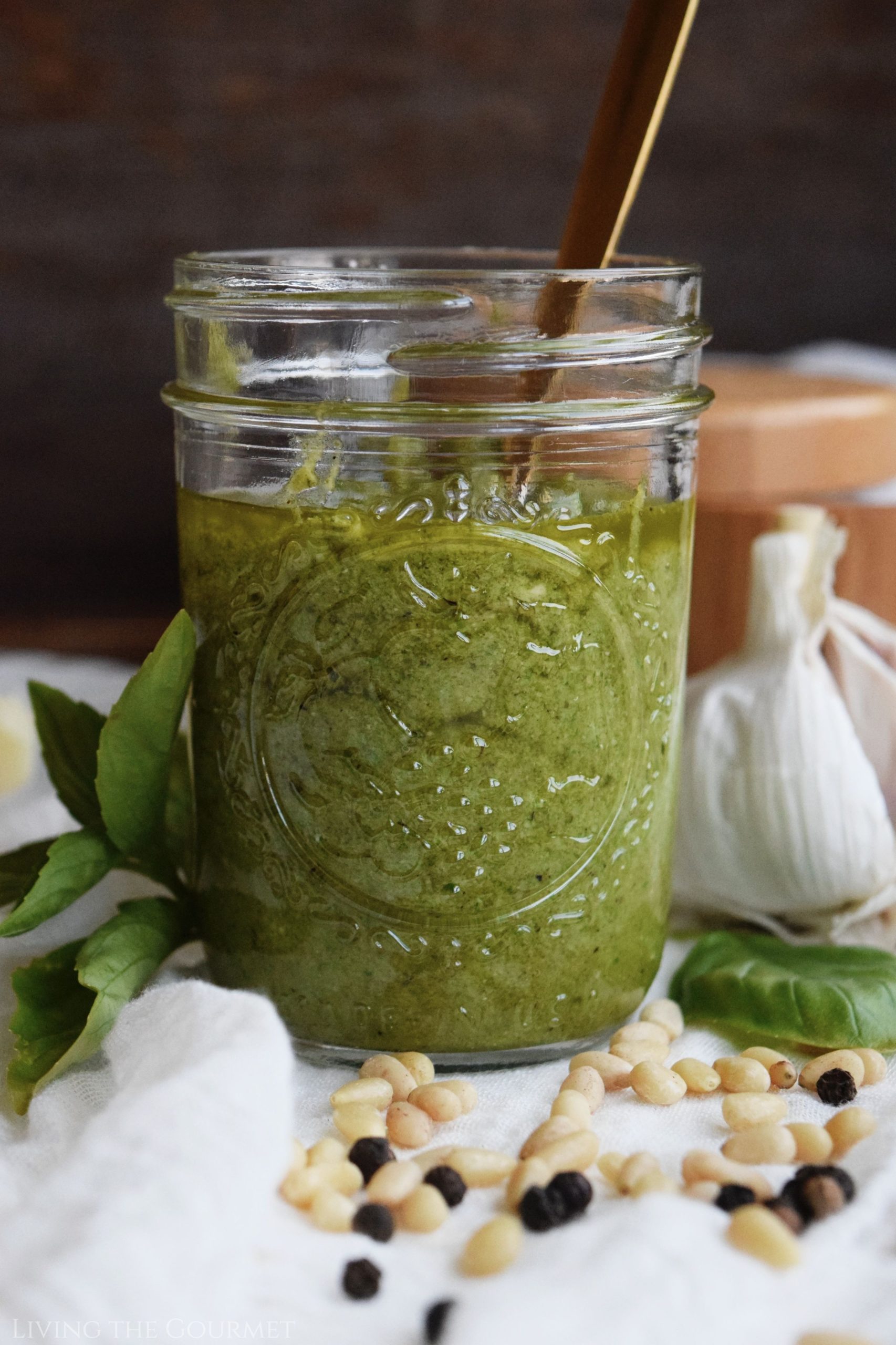 Ingredient Notes and Substitutions
1) Pignoli Nuts aka Pine Nuts: Pinoli, Pignolias, or piñón, are simply pine nuts. They are valued for their small size, tender or even 'buttery' texture when cooked, and the large amount of oil that they contain – relative to their small size, which seeps out into the food they are being cooked in, thereby spreading their flavor more intensely and evenly than other nuts.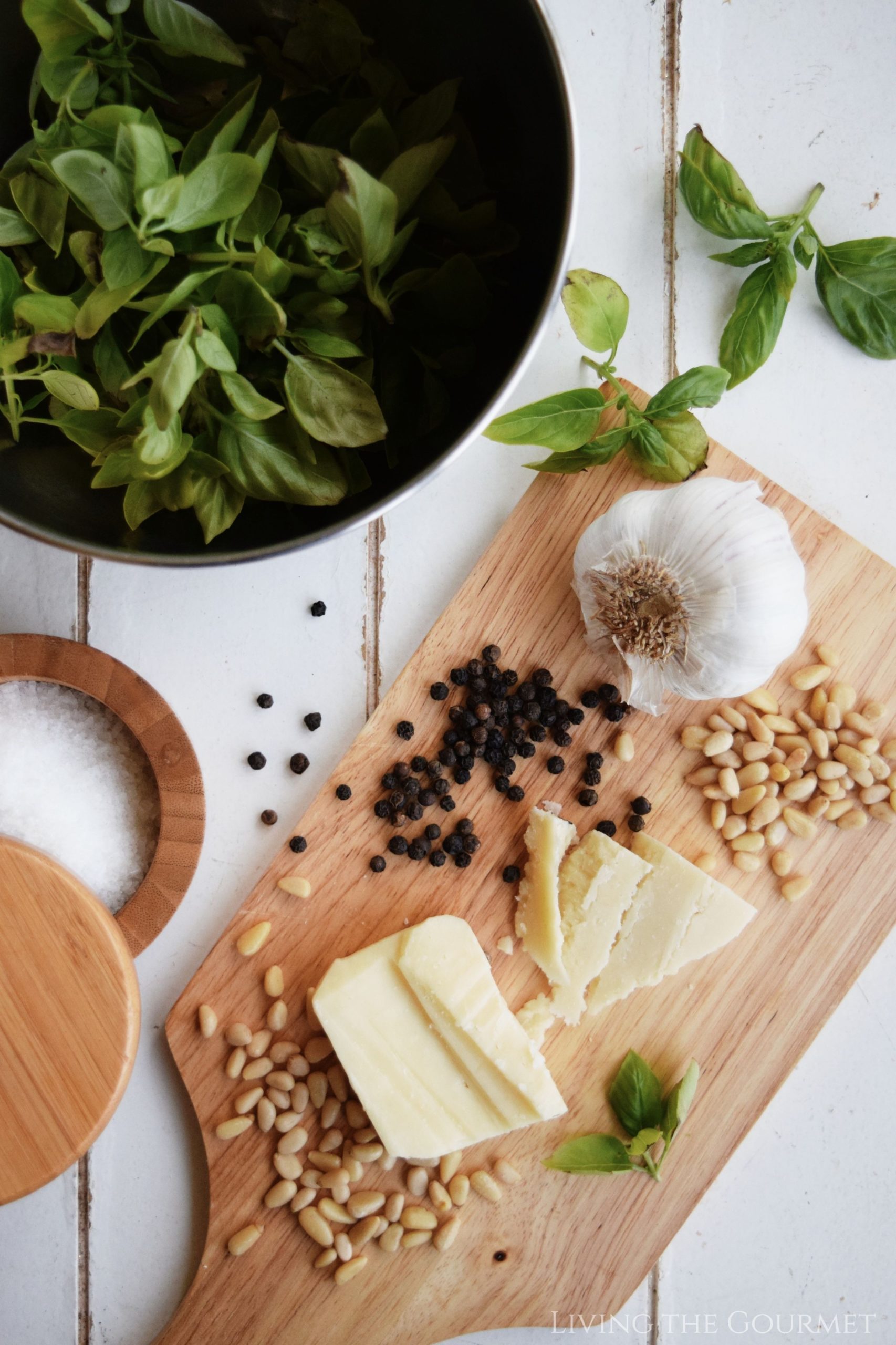 Substitution: Since it's hardly an exaggeration to say these little gems are 'worth their weight in gold' given their sky-high price (over $20 per pound on Amazon as of this post), you'll likely want a good replacement lined up, especially in a recipe like today's that otherwise isn't very expensive to prepare. The best replacement for pignoli nuts in today's recipe are walnuts. Walnuts will achieve much of the same flavor and texture, but will bring less oil to the recipe, and just a tad less 'buttery-ness.' Chopped almonds are a good replacement in 'most' recipes that call for pingoli nuts, but in something like today's pesto I think that almonds would simply be too coarse and 'crunchy,' changing the texture of the pesto.
2) Basil – Fresh is a must. As with most herbs, fresh basil and its dried counterpart are 'usually' but not always safe substitutions for one another. In pesto, you may as well forget about the dried alternative, because we want the 'anise-like' flavor of the basil, and that flavor is contained almost entirely in the basil's 'juices.'
Make Today's Pesto Your Own
There is no one way to make a pesto, and variations on this age-old recipe abound. With that in mind, here are a few of my favorite ways to dress up pesto, using today's recipe as a base or starting point.
1) Spice It Up. The easiest way to do this is to simply add in red pepper, usually about a quarter of a teaspoon at a time until you reach the desired heat level. Alternatively, you could simply add in a habanero or serrano pepper before blending the mixture together – leaving in the seeds for added heat, or not.
2) Sweeten It Up. Conversely, for a sweeter or more 'home and hearth' flavored pesto, you might consider adding in a dash of nutmeg. This goes particularly well with golden raisins to complement the sweetness. Here again, add these items in before processing. How much is up to you, taste as you go.
3) Sundried Tomatoes. I've written at some length about sundried tomatoes in previous posts, and I'll admit I absolutely love these things. If you want to add a nice bit of rustic undertones to your pesto, add in a few sundried tomatoes to the mix.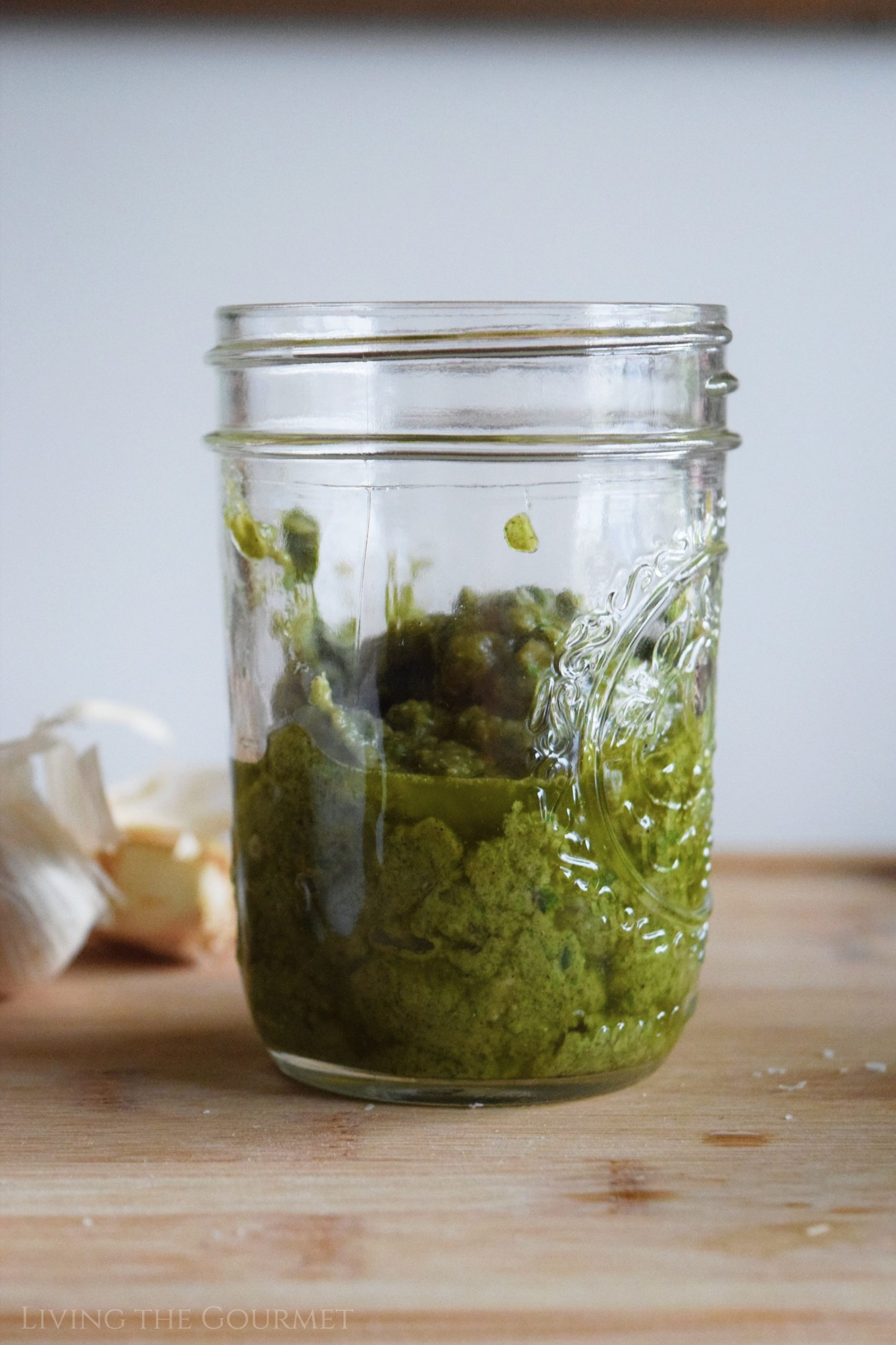 4) Sicilian-Style. Add in Kalamata olives, capers, and anchovy fillets for a pesto with a bit of Southern Italian flare, reminiscent of a sunset dinner on the Mediterranean. This goes particularly well on pasta and flatbreads, adding a bit of complexity and textured flavor to the pesto, in my opinion.
5) Artichoke Hearts. Using marinated artichoke hearts, add in a few sliced artichoke hearts, with a tablespoon or two of the juice into the food processor with the rest of the ingredients, and blend that in with a little extra grating cheese and just a dash more olive oil.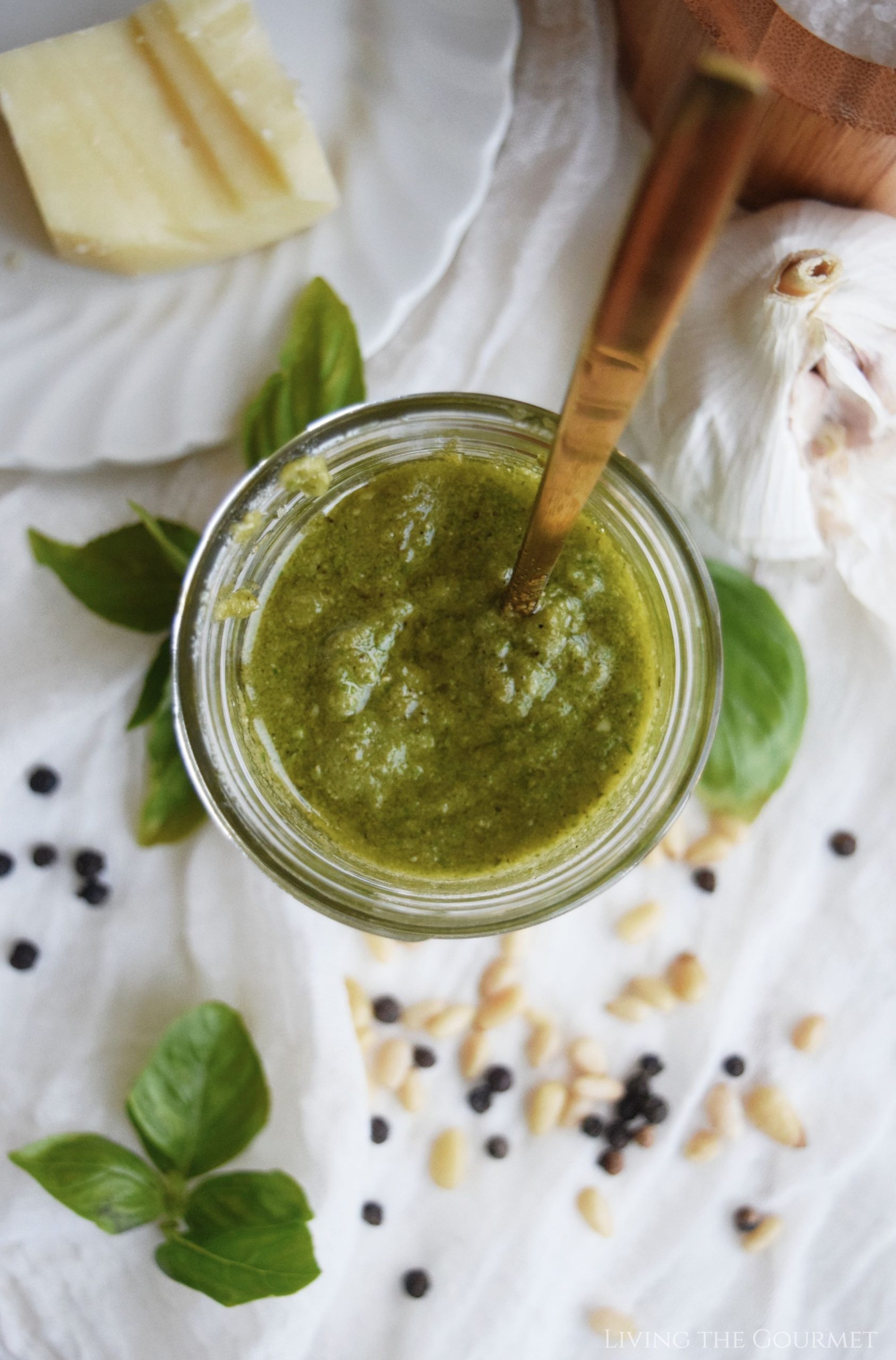 What to do with Pesto
1) Over Pasta. Yes, the simplest way to serve pest is over a plate of pasta – any pasta will work just fine, though I prefer either spaghetti or linguine. However, if your feeling adventurous, stuffing shells with pesto and ricotta, and then topping that with a nice marinara and plenty of cheese is a delicious way to serve pesto.
2) On Pizza. For my starting point on pizza, see my recipe here. Topping the pizza with pesto, artichoke hearts, mozzarella, and plenty of grating cheese, along with a copious drizzle of oil, and you've got a real treat.
3) On Crostini. Topped with pesto, fresh basil, and fresh mozzarella, crostini are a great way to get creative with pesto. That said, crostini are one of the easiest ways to impress your guests. Easy to make, and providing endless possibilities for experimentation, learning to make crostini will make you the hit of your next dinner party.
4) On Flatbreads as a Spread or Dip. Using a basic flatbread recipe, layer on some pesto, infused olive oil, and grating cheese, and you're good to go. Here's how I prepare my flatbreads.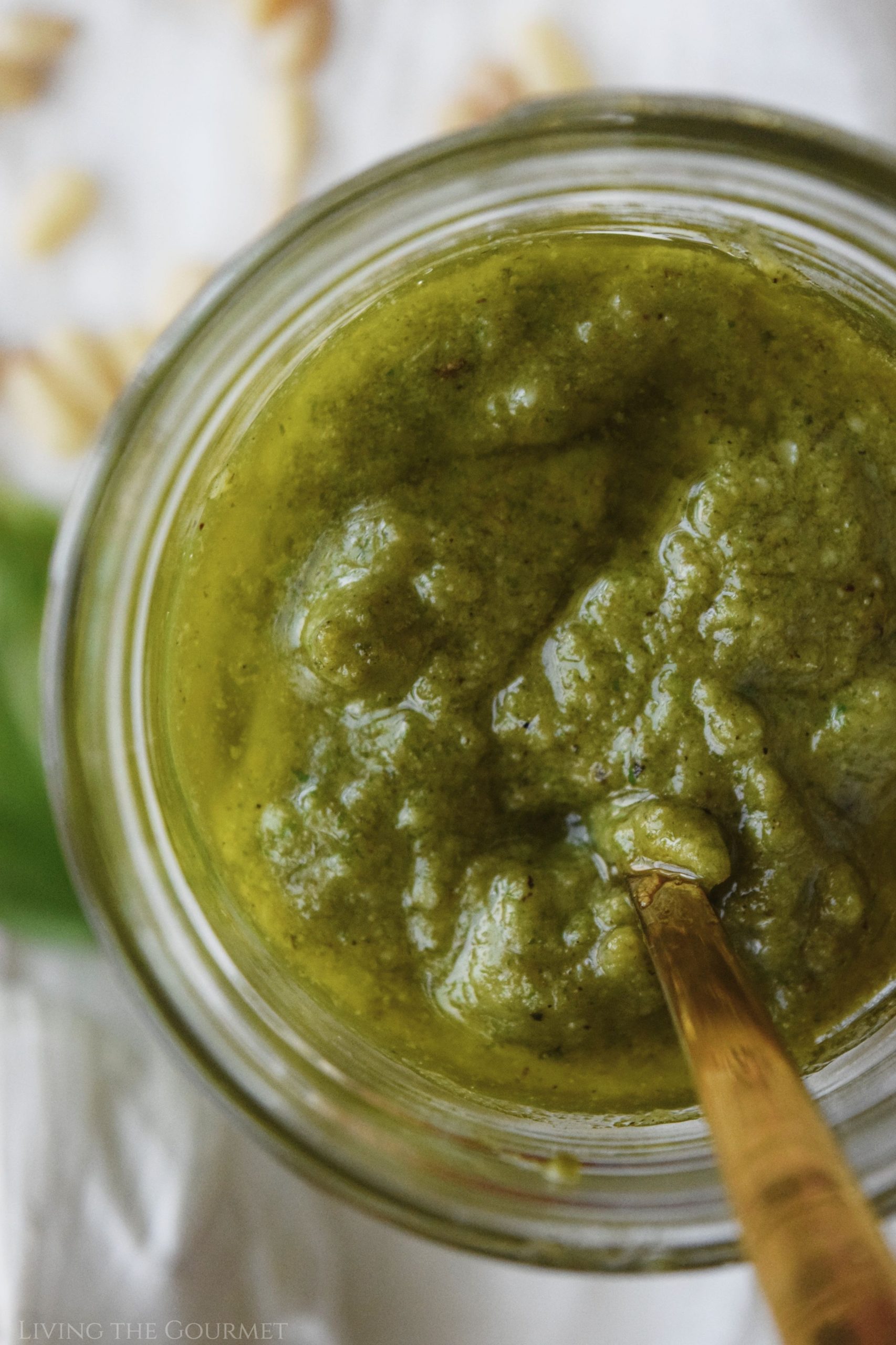 Print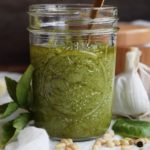 Basic Pesto
---
Author:

Total Time:

10 minutes

Yield:

1 cup

of fresh pesto

1

x
4 cups

of fresh basil leaves – loosely packed, washed and pat dried

3

cloves of garlic

¼ cup

of pine nuts – gently toasted in a small cast iron frying pan

¼ tsp

. fresh ground black pepper

¼ tsp

. sea salt

¼ cup

of freshly grated Romano or Parmesan cheese

¼ cup

of olive oil
---
Instructions
Place the basil in the food processor along with the garlic and seasonings and half the olive oil and give a few good chops.
Add in the pine nuts, the cheese and the rest of the olive oil and the rest of the olive oil and give one or two chops to reach your desired consistency.
Serve with your favorite pasta or as desired.
Recipe Card powered by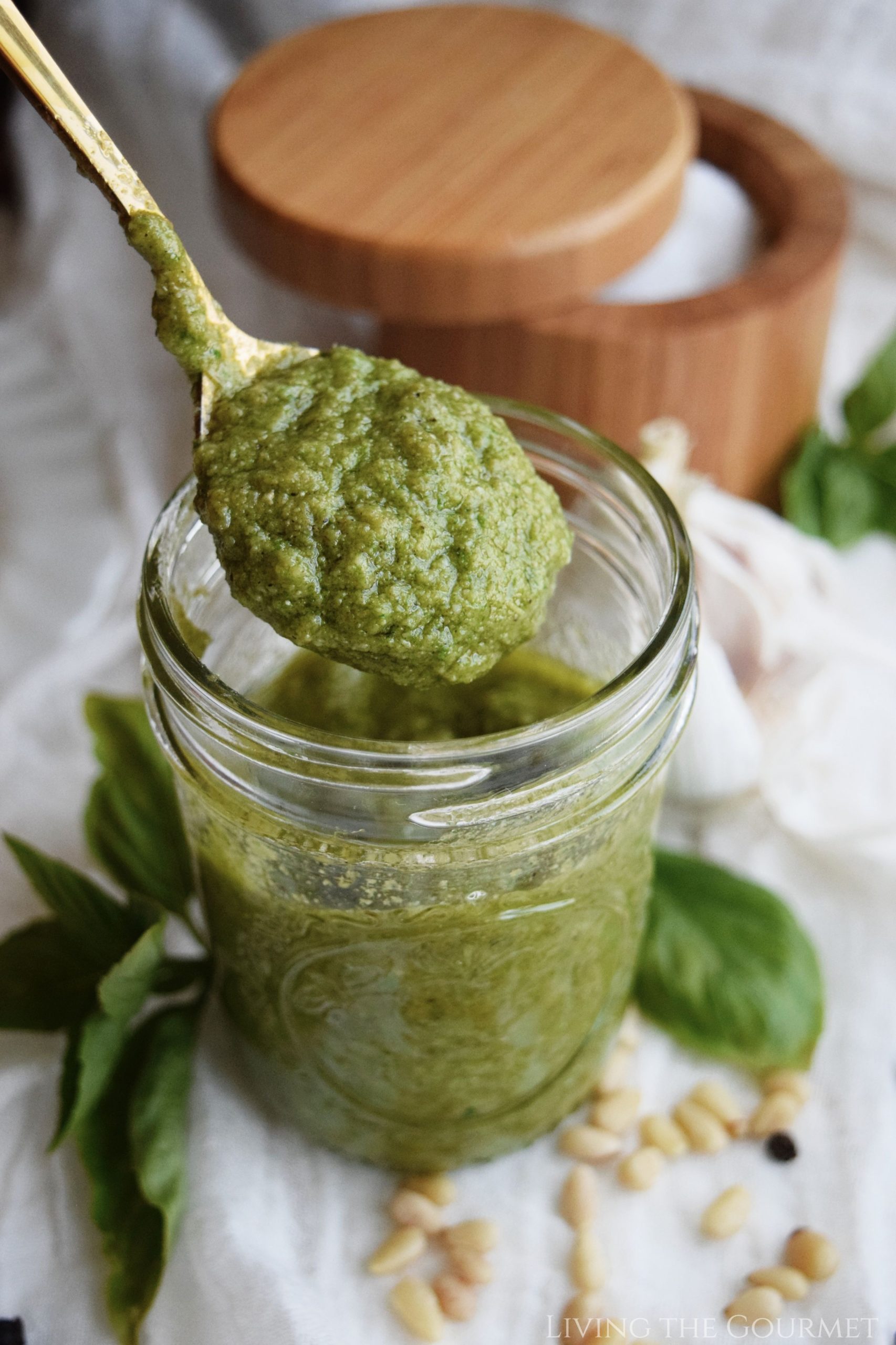 If You Enjoyed Today's Recipe…
Be sure to follow us on Instagram to stay up to date with all things Living the Gourmet, and for more great recipes, tips and tricks.
Did you make this recipe?
If so, let me know in the comments down below, or post a picture to Instagram, or to Pinterest, and I'll give you a shoutout on Instagram, or post your pin to one of my Pinterest boards!
1