This dish takes full advantage of the season's finest with a fresh vibrant pesto tossed together with pasta, garden tomatoes, and lots of sharp grated cheese. I took it a step further with fried zucchini blossoms for a touch of summer comfort- Italian style.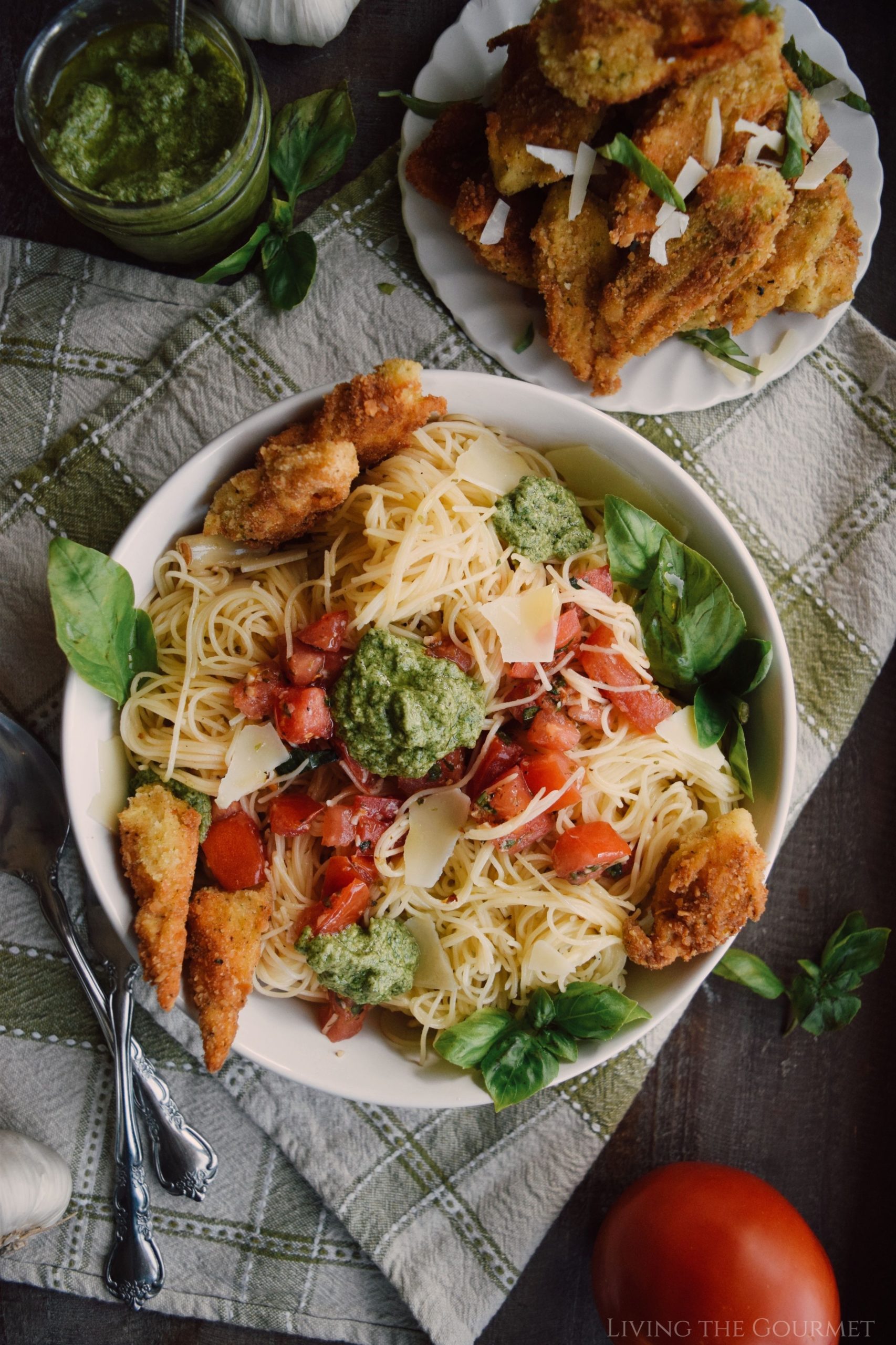 There is something about summer that leaves me feeling infinite, despite the chaos surrounding us in our day-to-day lives. It gives us something to look forward to even when most of us may not have a lot of plans right now- Evening walks, summer sunsets, daily surprises in the garden each morning to pick- the small joys and fleeting moments in life. There is comfort in the summer months.
A couple of years ago, I ran a series of Summer Comfort foods here on LTG showcasing an array of recipes that are light and refreshing, yet hearty and satisfying. I'm revisiting that series with today's dish.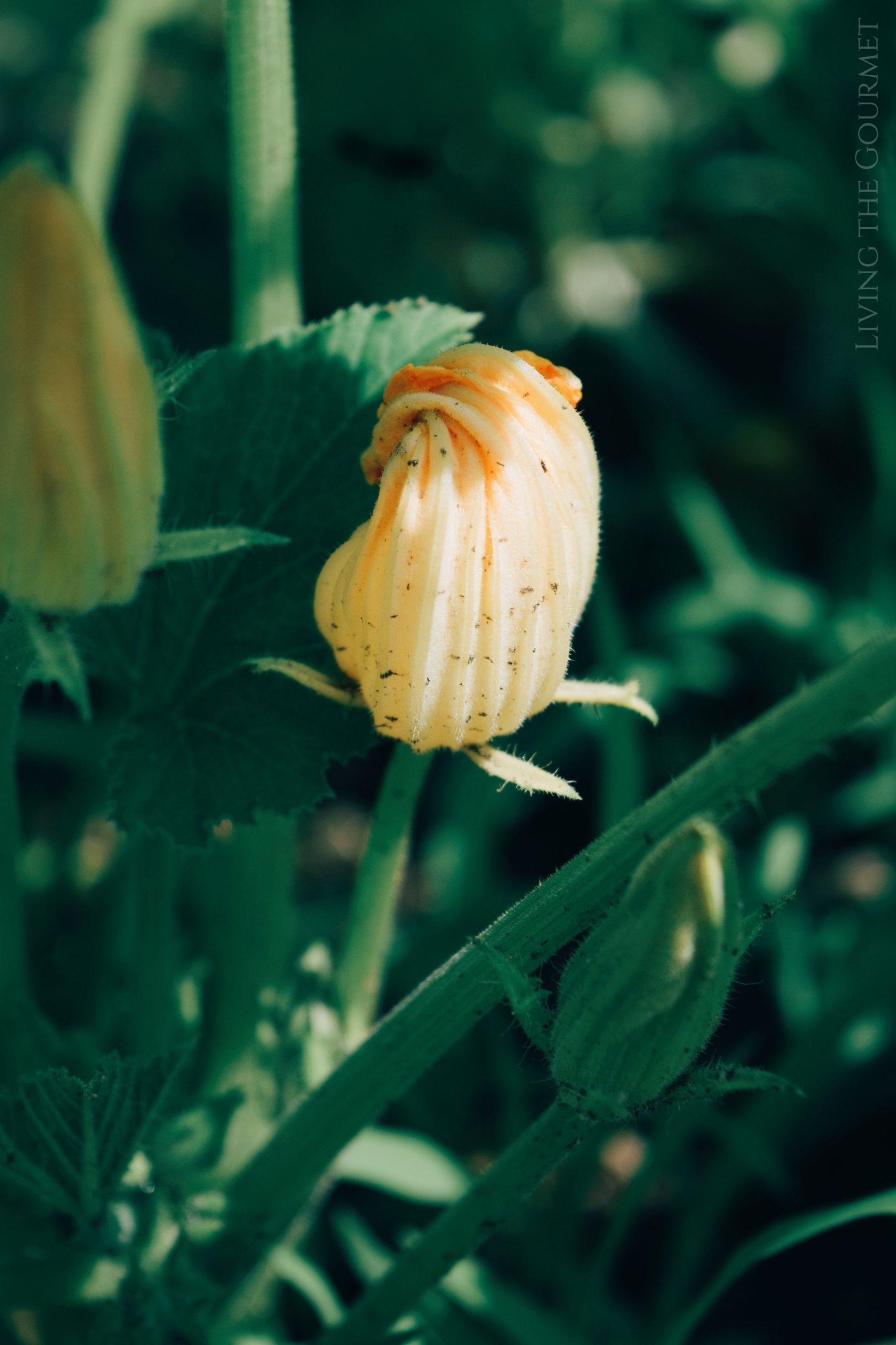 Remember that scene from Under the Tuscan Sun (which if you look closely enough also featured fried blossoms), where Diane Lane serves all these different beautiful meals to the crew and the expressions on their faces with each bite is just pure bliss? You can see with a forkful of pasta, their stress simply melt away. Eating this meal took me back to that scene. And yes, while I realize how incredibly braggadocious that may sound, why else would I be sharing this recipe with you? Obviously, so that you too, may feel transported to Italy when you make it.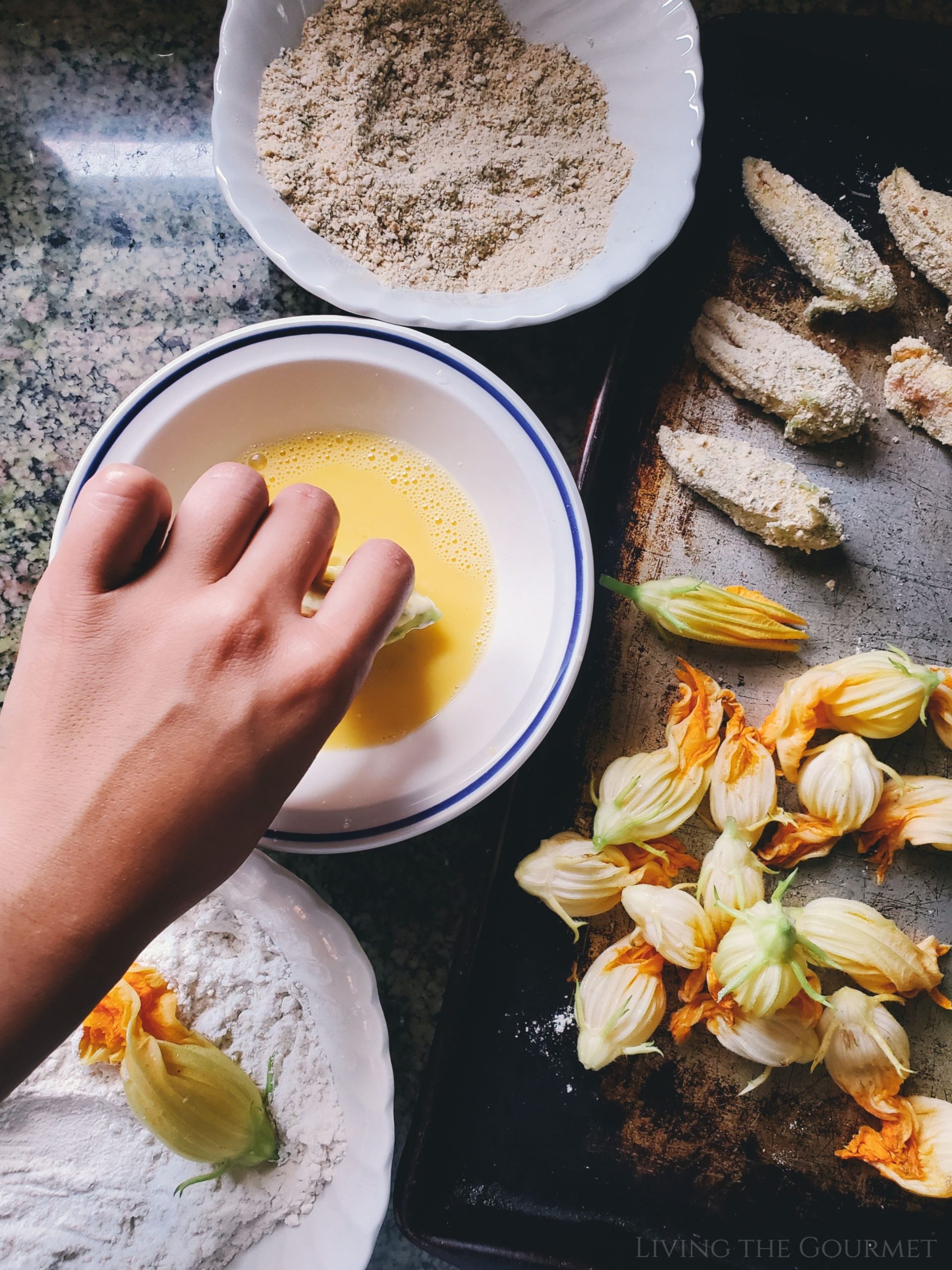 I digress. Today's dish is one of my favorite summer meals. I remember the first time my mother made fried zucchini blossoms for me and I had no idea what to expect from a fried flower, and yet it was one of the most delicious meals I had ever had. Many years back we shared a similar style dish with pumpkin flowers.
Ever since that summer, we have grown zucchini plants simply to pick and fry the flowers. Fun fact, we've never actually grown a zucchini in our garden, but honestly, I'd rather enjoy the flowers for the short time they are in season.
The second key ingredient to this dish is the pesto. We've been blessed with an abundance of basil and nothing can possibly top fresh pesto. It only takes a few minutes make in the bullet blender so you can have it on hand to toss with your favorite pasta, spread over crostini, top off pizzas, serve with eggs in the morning…
Finally, let's talk about the 'sauce.' This is not your typical sauce, as in, it doesn't need to be cooked down. The chunks of chopped juicy tomatoes bursting with each bite, keeps this dish refreshing for the summer.
So without further delay, let's jump into this medley of flavors and get cooking…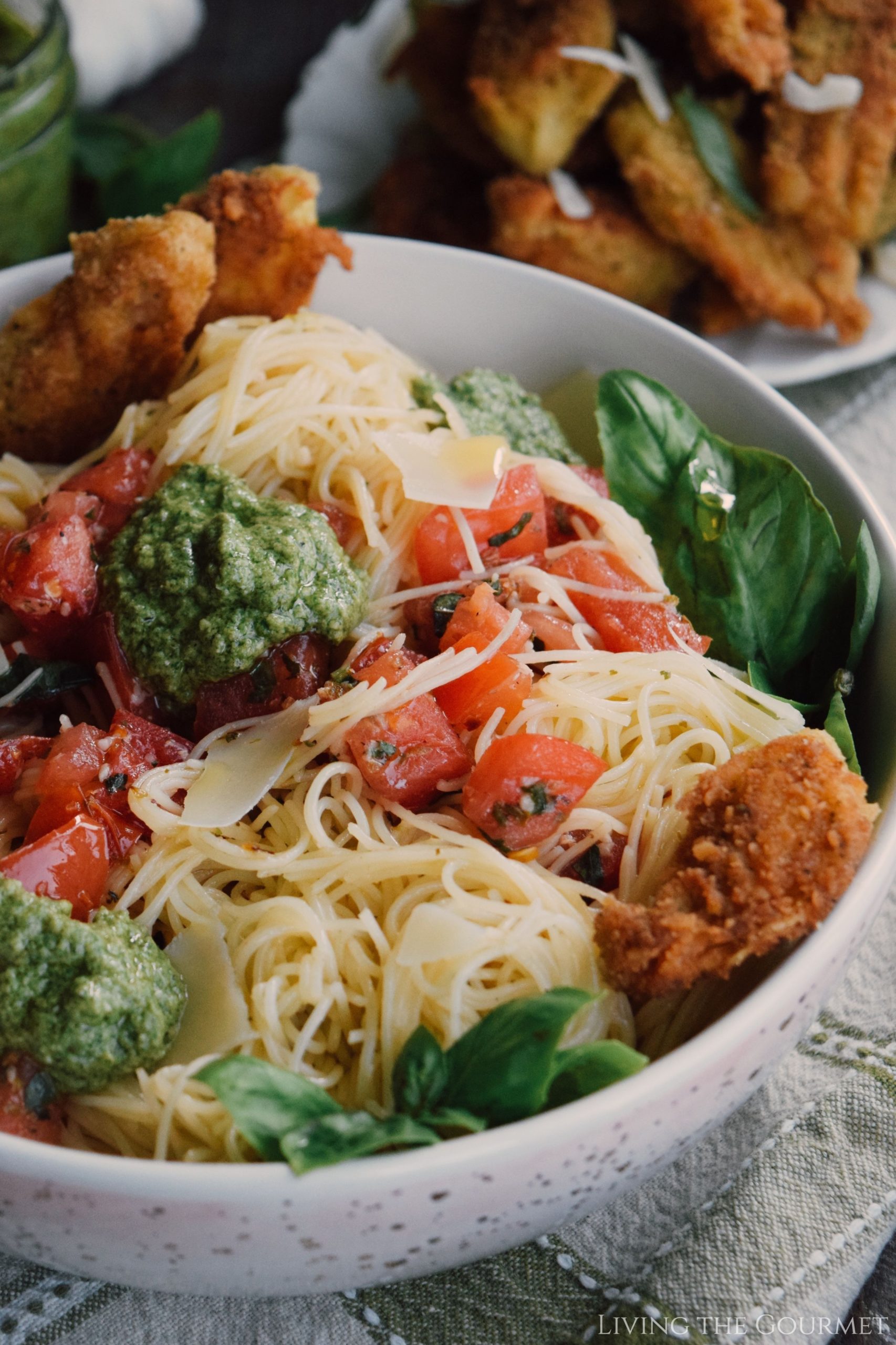 Print
Fried Zucchini Blossoms with Pasta and Fresh Pesto
Author:
Prep Time:

15 minutes

Cook Time:

15 minutes

Total Time:

30 minutes

Yield:

4

1

x
1

lb

. your favorite pasta, prepared as directed
For the Zucchini Blossoms:
10

–

12

zucchini blossoms

2

eggs +

1 tablespoon

cold water, beaten

1

–

1 1/2

cups

AP flour

1

–

1 1/2

cups

Italian-style bread crumbs
Oil for frying
For the Pesto:
2

cups

fresh basil

1/4

cup

grated Parmesan cheese

2

cloves garlic

1/8

cup

toasted pine nuts

3 tablespoons

olive oil

2 teaspoons

lemon juice

1/4 teaspoon

sea salt

1/4 teaspoon

black pepper

1/4 teaspoon

red pepper flakes
For the Fresh Tomato Sauce:
3

large beefsteak or vine-ripe tomatoes

1

small red onion, chopped
Handful fresh basil, chopped

2

large cloves garlic, grated

1 teaspoon

sea salt

1/2 teaspoon

black pepper

1/2 teaspoon

red pepper flakes

1 teaspoon

dried oregano

1/4

cup

grated Parmesan cheese
Olive oil
Instructions
For the Zucchini Blossoms:
Clean the blossoms well, then gently pat to dry. Dredge the flowers first in flour, egg wash, then bread crumbs.
In a large cast iron pan, heat ¼-inch oil until it bubbles if you dip the end of a wooden spoon in it. Fry the blossoms then transfer to a paper towel- lined pan to absorb any access oil. Set aside until ready to serve.
For the Pesto:
Combine all ingredients in a food process or bullet blender. Transfer to the refrigerator until ready to serve.
For the Fresh Tomato Sauce:
In a large bowl, toss together all ingredients for the fresh sauce. Prepare pasta as directed, and add to sauce, tossing until incorporated.
To serve, top each plate with a dollop of the fresh pesto, the fried blossoms, and extra grated cheese. Enjoy!
Recipe Card powered by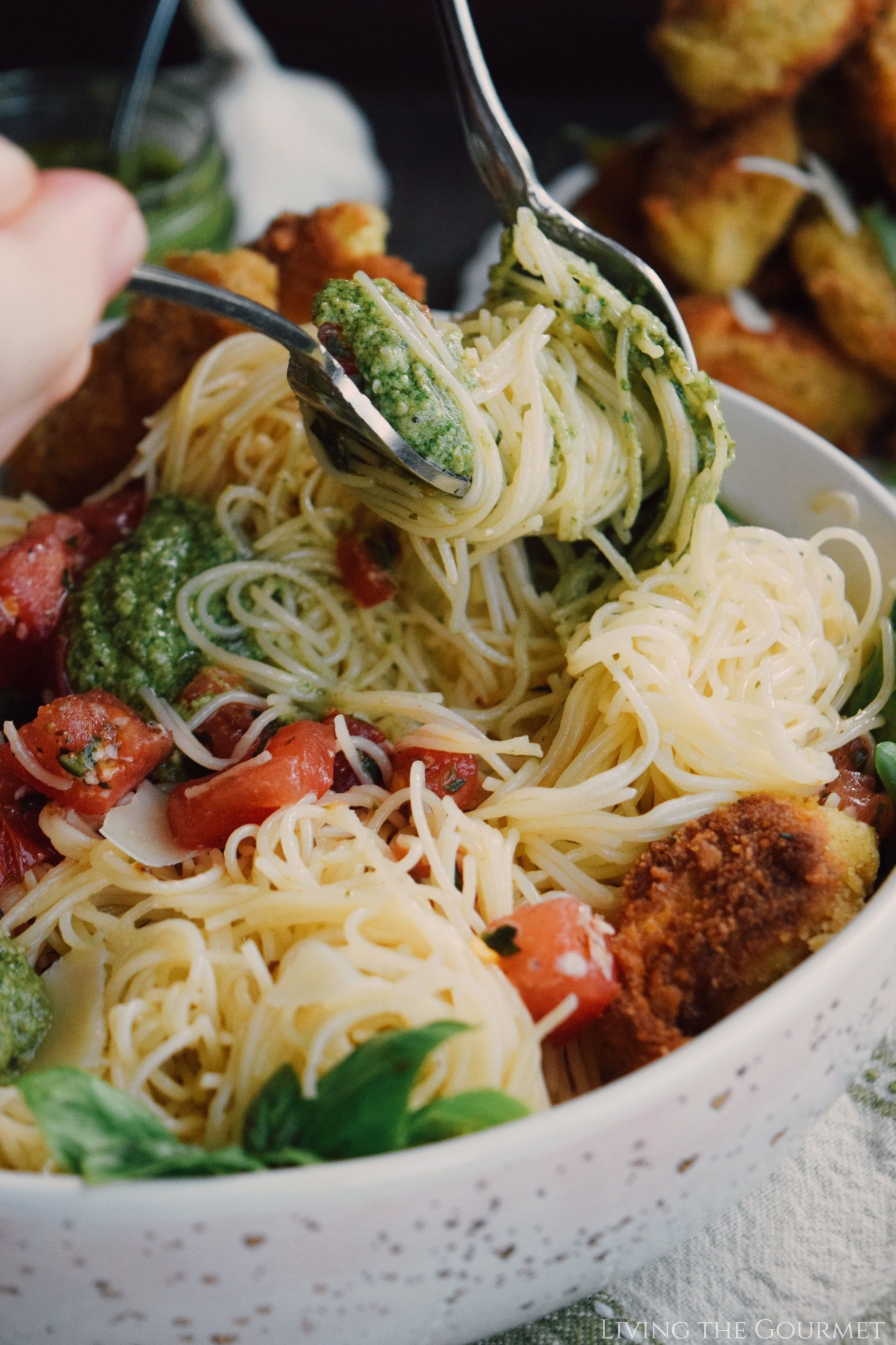 More Summer Comfort Recipes
Summer Fruit Pancakes – Summer's freshest peaches and blueberries are tossed in a Boysenberry sauce and served over a batch of fluffy homemade pancakes.
Summer Pesto Fettuccine – Savor the taste of summer with this seasonal classic bursting with fresh flavors and bright colors tossed with a hearty pasta.
Brown Butter Herb Roast Chicken – For our next installment of Summer Comfort Food, we're bringing you a roast chicken brushed with brown butter and seasonal herbs.
Roasted Tomato & Pepper Gazpacho – Cool down this season with this refreshingly delicious, hearty, cool soup. Loaded with fresh vegetables alongside Parmesan crisps, it's a perfect end note to everything the season embodies.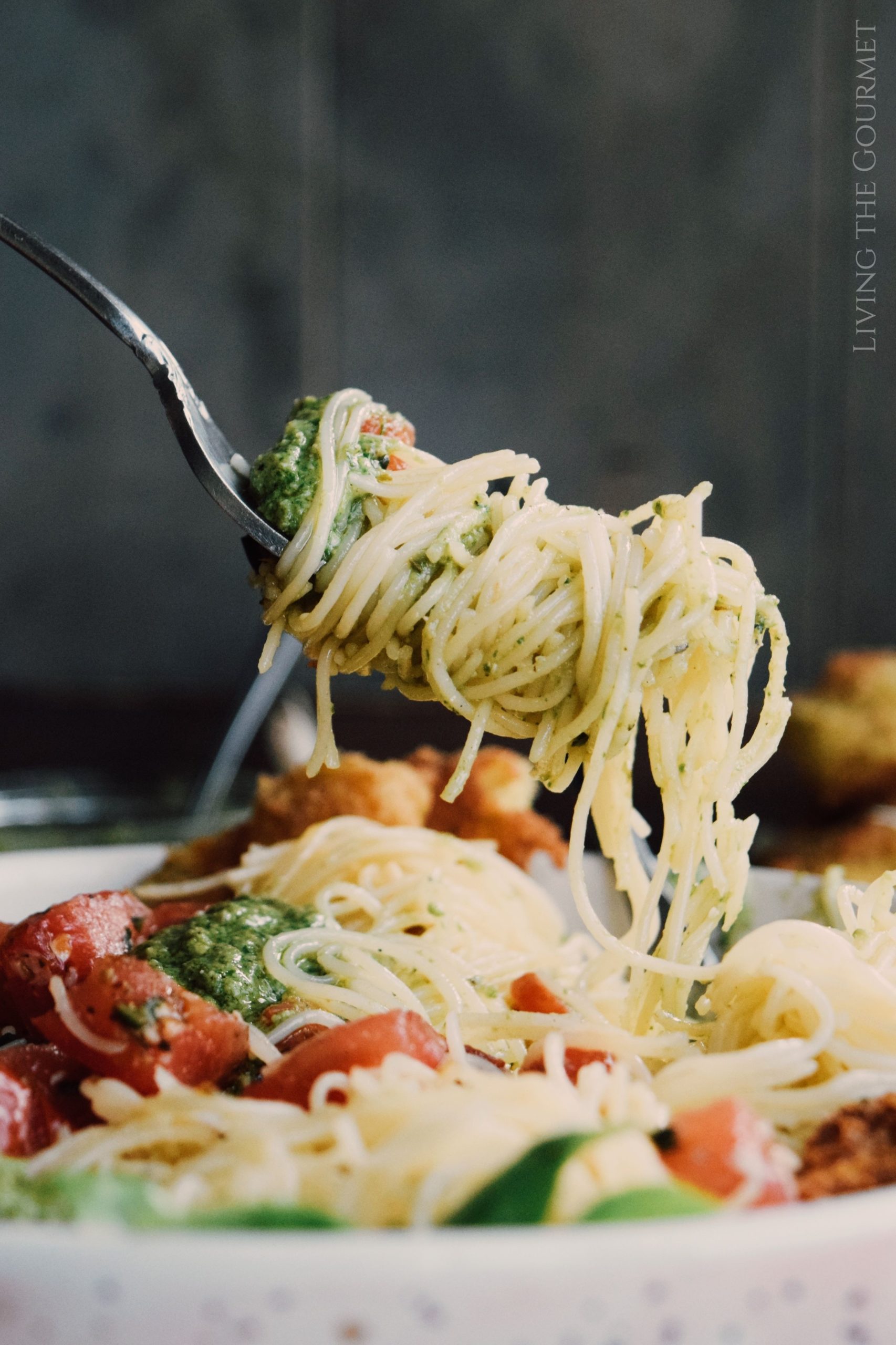 If You Enjoyed Today's Recipe…
Be sure to follow us on Instagram to stay up to date with all things Living the Gourmet, and for more great recipes, tips and tricks.
Did you make this recipe?
If so, let me know in the comments down below, or post a picture to Instagram, or to Pinterest, and I'll give you a shoutout on Instagram, or post your pin to one of my Pinterest boards!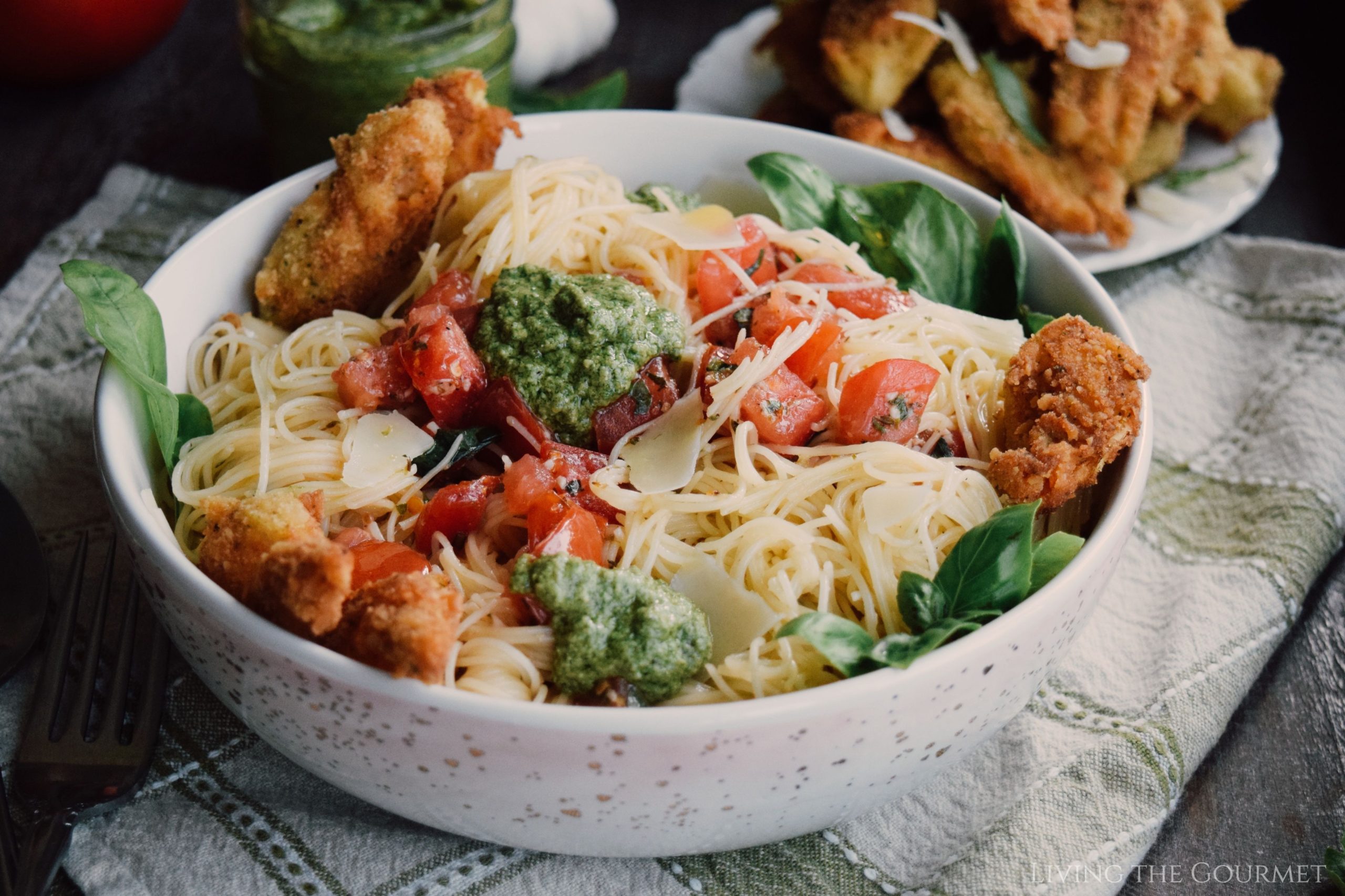 0