Today we're preparing one of my new favorite spring time dishes – Cayenne Chicken Strips with a Balsamic Glaze. Blissfully light, pleasantly but not overpoweringly spicy, and shockingly easy to prepare, today's recipe is great for busy spring weeknights and relaxed outdoor dinners alike.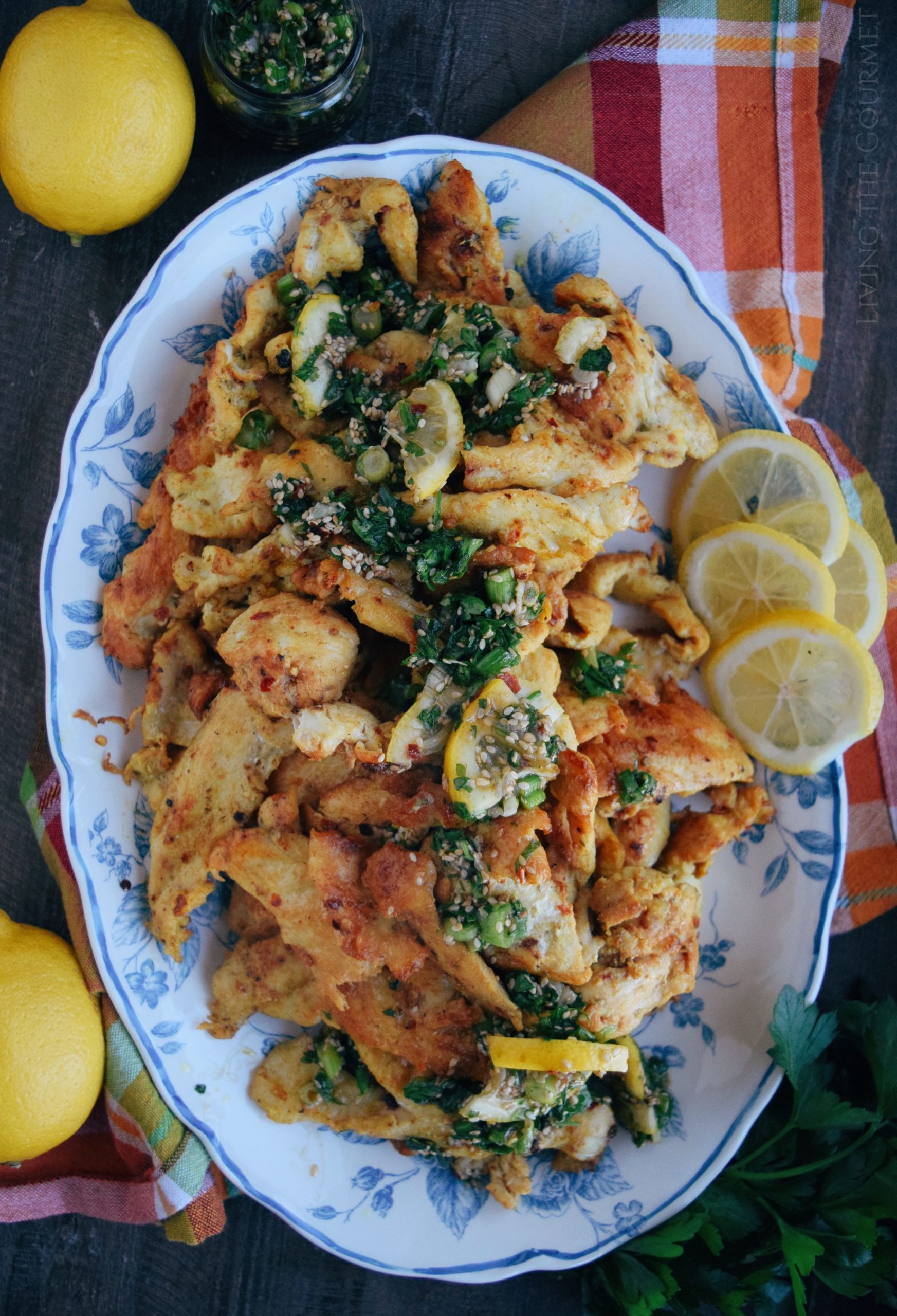 Why You'll Love Today's Recipe
1) Super Light. Delicious and guilt-free, today's recipe is a light meal that's great for the warmer weather, and that's quite waistline friendly as a bonus.
2) Super Simple. Cut the chicken into strips, coat them in the rub, then cook on the stovetop in a pan, and top them with the red pepper and parsley drizzle, and that's it. Today's recipe is easily accessible for home cooks of all skill levels.
3) The Drizzle is Super Versatile. While I'm using today's drizzle for chicken, it would also go great on steaks and pan-fried pork chops. You could also drizzle it over fried chicken or into souvlaki pockets. You might also simply spoon it onto homemade flatbreads or pitas.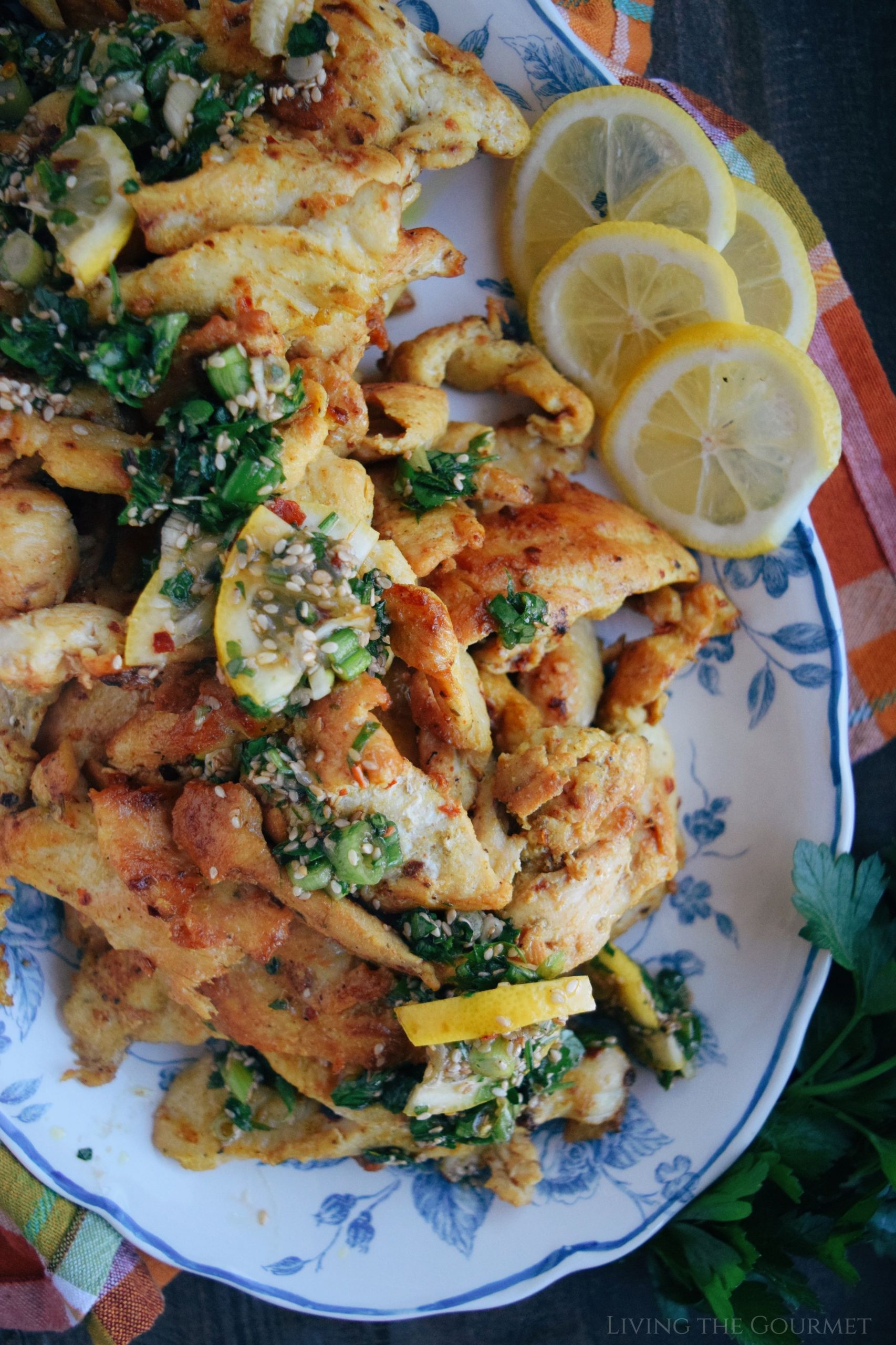 Ingredient Notes and Tips
1) Jamaican Curry. In general, unless I'm making dishes that are specific to Indian or Thai cuisine, Jamaican Curry is my go-to curry powder. The reason for this is that while Thai curry tends to feature ranges from searing hot to tangy ginger, or boasting copious amounts of turmeric. By contrast, the primary flavor in Jamaican curry is allspice, and a decent amount of thyme. Neither allspice nor thyme feature in Indian cuisine, and as such almost never appear in jarred Indian curry. For my purposes, and how I cook, Jamaican Curry is simply a more versatile 'all-purpose seasoning' that I add to things like guacamole, soups, pan fried rice dishes, chili, and eggs – among a variety of other dishes. Type Jamaican Curry into my search, and you'll see the myriad of uses I have for it.
2) Cayenne Pepper. For some reason, despite the current vogue nature of hot sauces, and the last decade's sriracha craze, or the explosion of spicy 'fusion' cuisines, people still get positively jittery around 'raw' cayenne pepper. "Isn't that just for like really spicy Cajun food?" "Won't that completely overpower your sauce?" or "Oh my God, you're putting that on your eggs? Aren't you going to hurt your stomach?" are just some of responses I've gotten when people have seen my go for the cayenne bottle. Everyone, calm down, cayenne pepper is likely 'much' less spicy than virtually any hot sauce you've grabbed off the store shelf at random. Cayenne pepper, while possessing a noticeable 'kick,' also packs a lot of 'earthy warmness,' and a bit of 'rustic spice' that you really just can't capture with many other spices, and it does so without the searing heat of chilies or hotter peppers.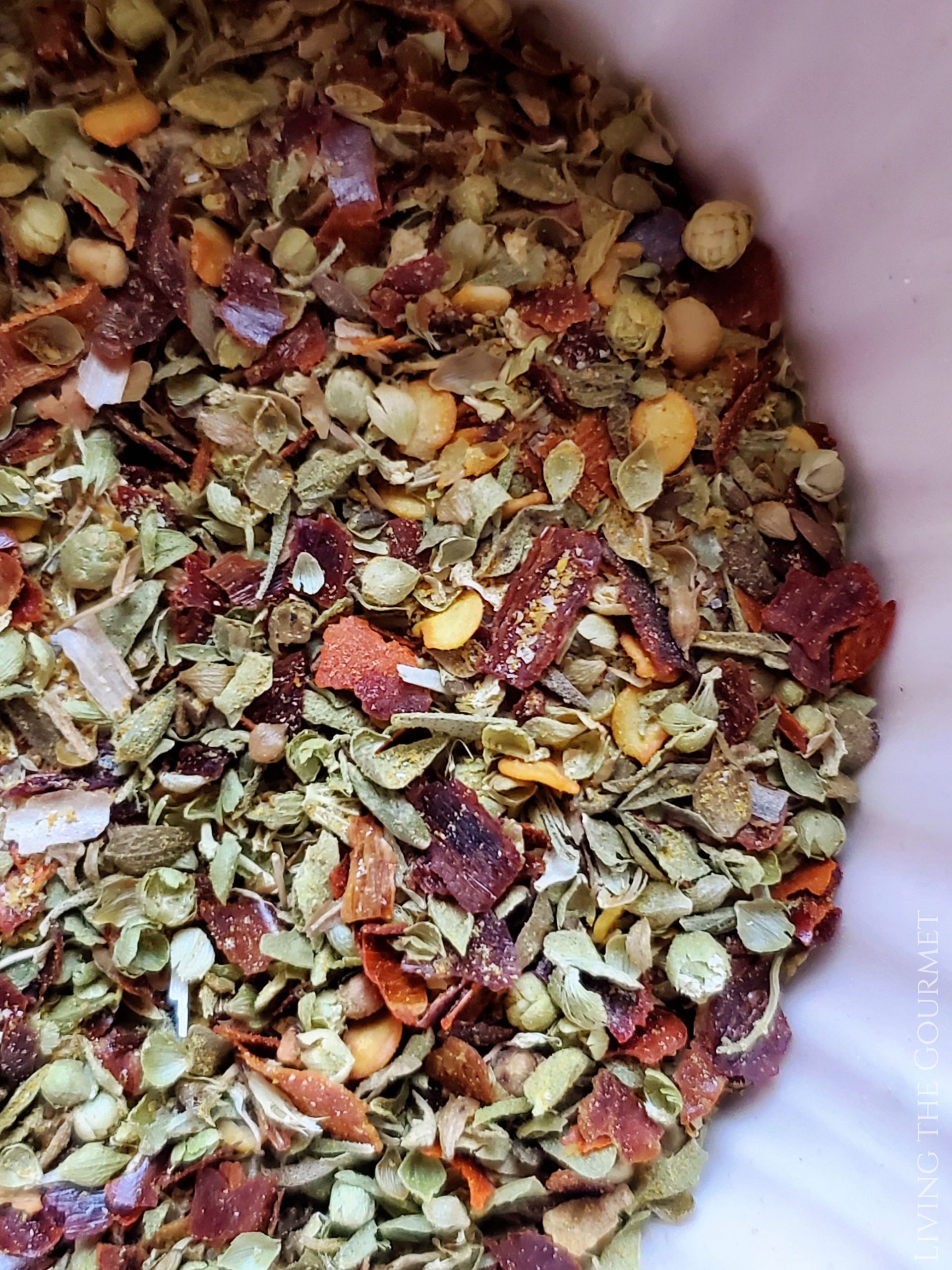 3) Garlic Powder vs Fresh. We're using powdered garlic as opposed to fresh in today's rub for one simple reason – lack of moisture. That said, bear in mind that powdered garlic lacks the 'tanginess' and 'punch' of fresh, and has much a more 'muted' profile overall, having an almost 'warming' or 'earthy' tone. I also find it to be much less 'sharp.' This is in stark contrast to most other dry herbs, where the dry herbs typically pack a much more 'concentrated' dose of the herb in question. Regardless, we're using powdered garlic simply for its lack of moisture. The moisture from fresh garlic would cause the dry rub to clump up, making it difficult to distribute evenly over the chicken. Simple.
4) The Honey. The last time I wrote about honey was in my Greek Tacos post. There I admitted that I keep store-brand clover honey in my pantry as a staple, the reason being that it's perfectly adequate for cooking, since cooking honey will simply 'cook away' any of the finer qualities that typify something like organic wild raw flower honey or delicate acacia honey. However, since we're using honey raw for a drizzle in today's recipe, if you have a preferred 'luxury' honey, feel free to use that in today's recipe, since it will definitely make a difference in the drizzle. I myself am using raw wildflower honey.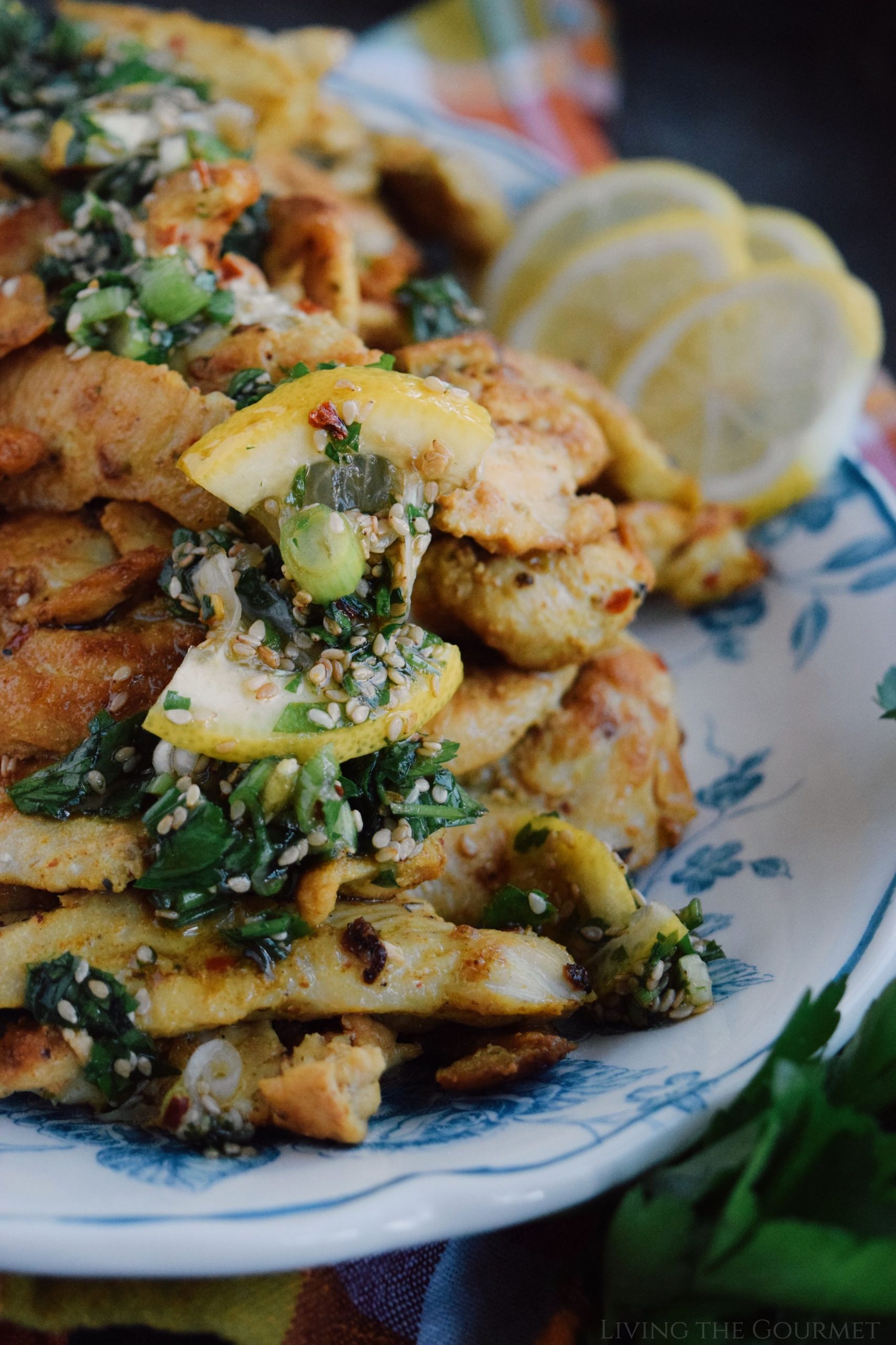 Five Pointers for Selecting Quality Chicken
Selecting good chicken is much less of an artform than selecting good beef, and there are far fewer boxes to check than when selecting good fish. There's honestly just less to work with. However, there are some key things to look for to make sure you're getting the best of what your market has to offer.
1) The Color. Pinker is better. That is, the 'pink hue' coming through the chicken's skin. As the chicken sits on the shelf, that pink hue will began to fade, which will result in a 'yellowing' texture, and then finally in a 'greying' coloration. Pink is good, yellow is turning, and grey is decay.
2) The Skin. Beyond coloration or hue, the skin contains other important clues as to the quality of the chicken. First and foremost, you want to make sure that the skin is free of blemishes, gashes, bruises, or discoloration. Spines and/or feather fragments, while certainly unpleasant as you'll have to pick them out of the chicken before cooking, actually have no bearing on the quality of the meat below – it simply indicates a less thorough 'cleaning.' Second, if selecting pieces, make sure that the skin doesn't appear 'loose' or 'torn,' as this indicates that the chicken has been poorly handled.
3) The Bone Test. If you're selecting a whole chicken, press on the breast-bone area. You want the breastbone to feel soft or pliable, which is indicative of fresher chicken.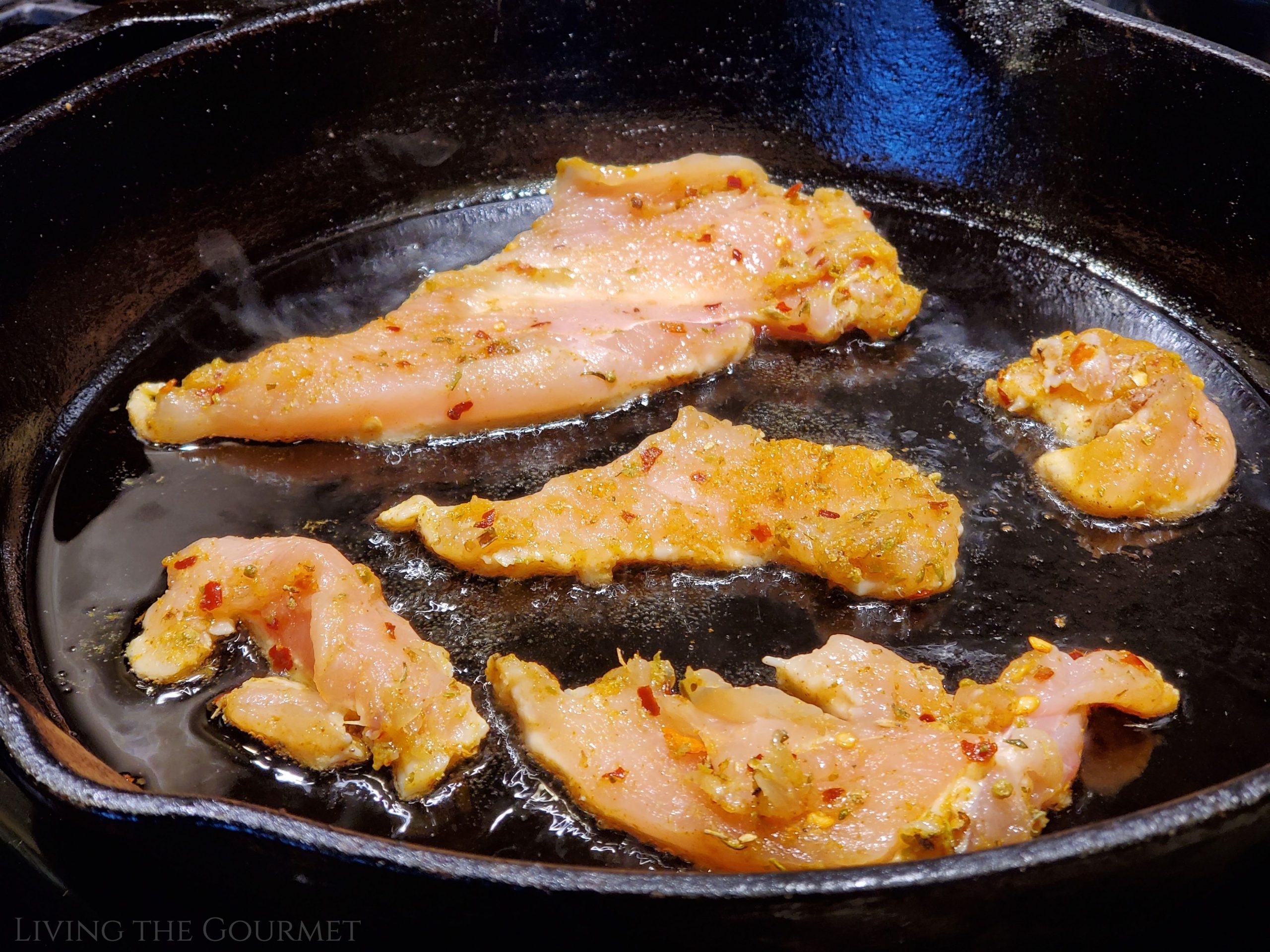 4) Unfrozen. Chicken that's fresh should feel 'malleable' in the hand, as opposed to stiff or ridged. Chicken that feels likes its 'coming apart' or 'gel-like' is sure sign of decay.
5) Frozen. Frozen chicken should be absolutely rock solid, and free of any indication of frost or freezer burn. With that in mind, be sure to defrost your chicken in fridge overnight for best results. You absolutely do not want to try and rush the defrosting process either by 'cooking' it frozen or using hot water. This damages the chicken, resulting in poorer texture and 'flatter' taste.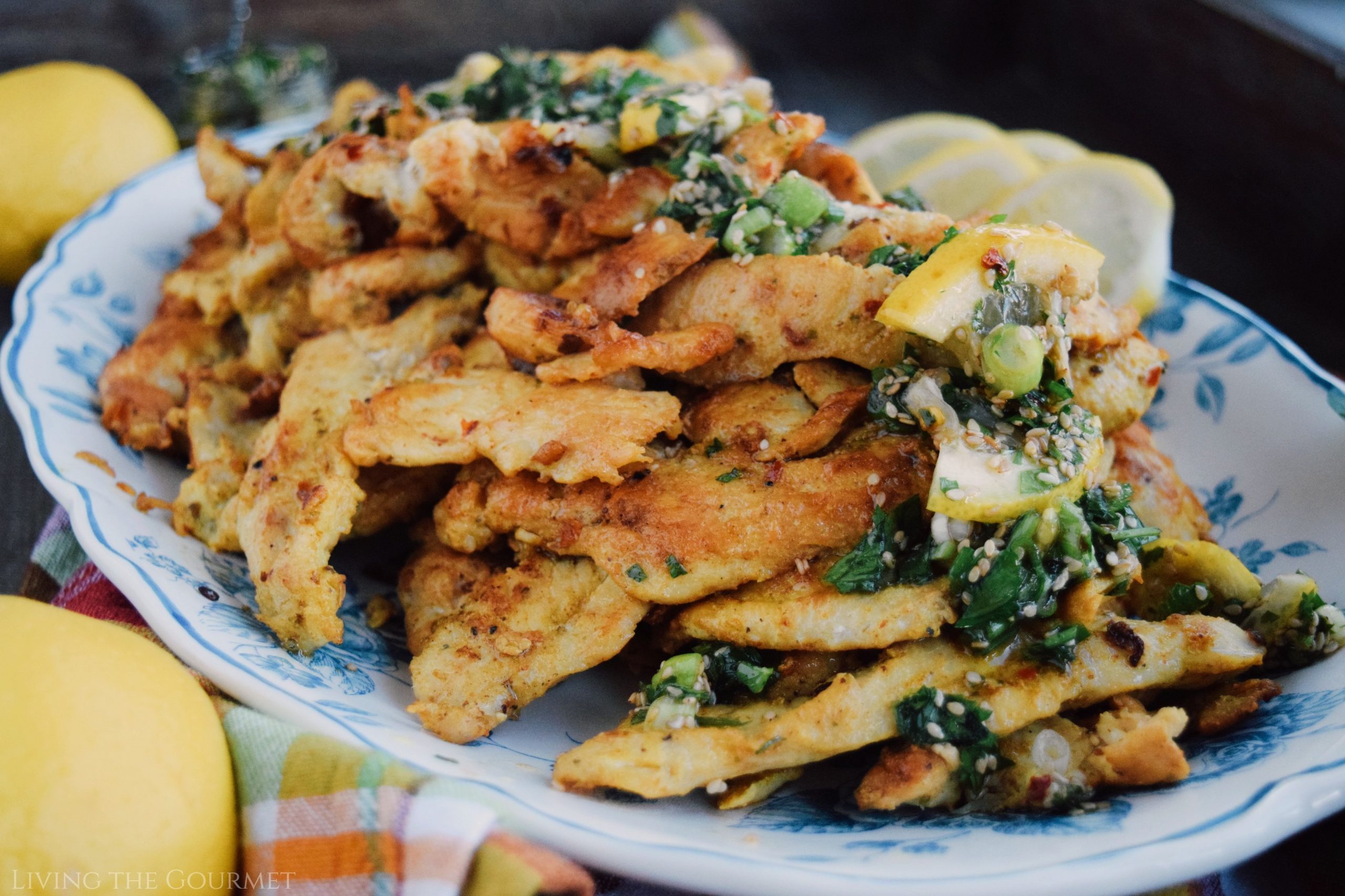 Other Great Spring Favorites
1) Fresh Tomato Sauce. For me, a fresh light tomato sauce under the sun is how I think of 'warm weather cuisine.' A simple mix of fresh garlic, cherry tomatoes, plenty of capers, and fresh Italian parsley, topped by a dollop of ricotta, this is one of my favorite such sauces.
2) Greek Tuna Salad Pockets. This is a must-have on your warm weather menu, combining a Greek-style tuna salad, feature crisp red peppers, cherry tomatoes, and kalamata olives, with lettuce greens, packed inside a pita with feta cheese and a balsamic vinaigrette, creates a crisp salad that satisfying and light, packed with all of your favorite Greek salad flavors.
3) Caramelized Apple Crepes. On lazy spring mornings, this is probably a great way to kick off the day, with caramelized apples swathed in homemade crepes, drizzled with powdered sugar and warmed honey.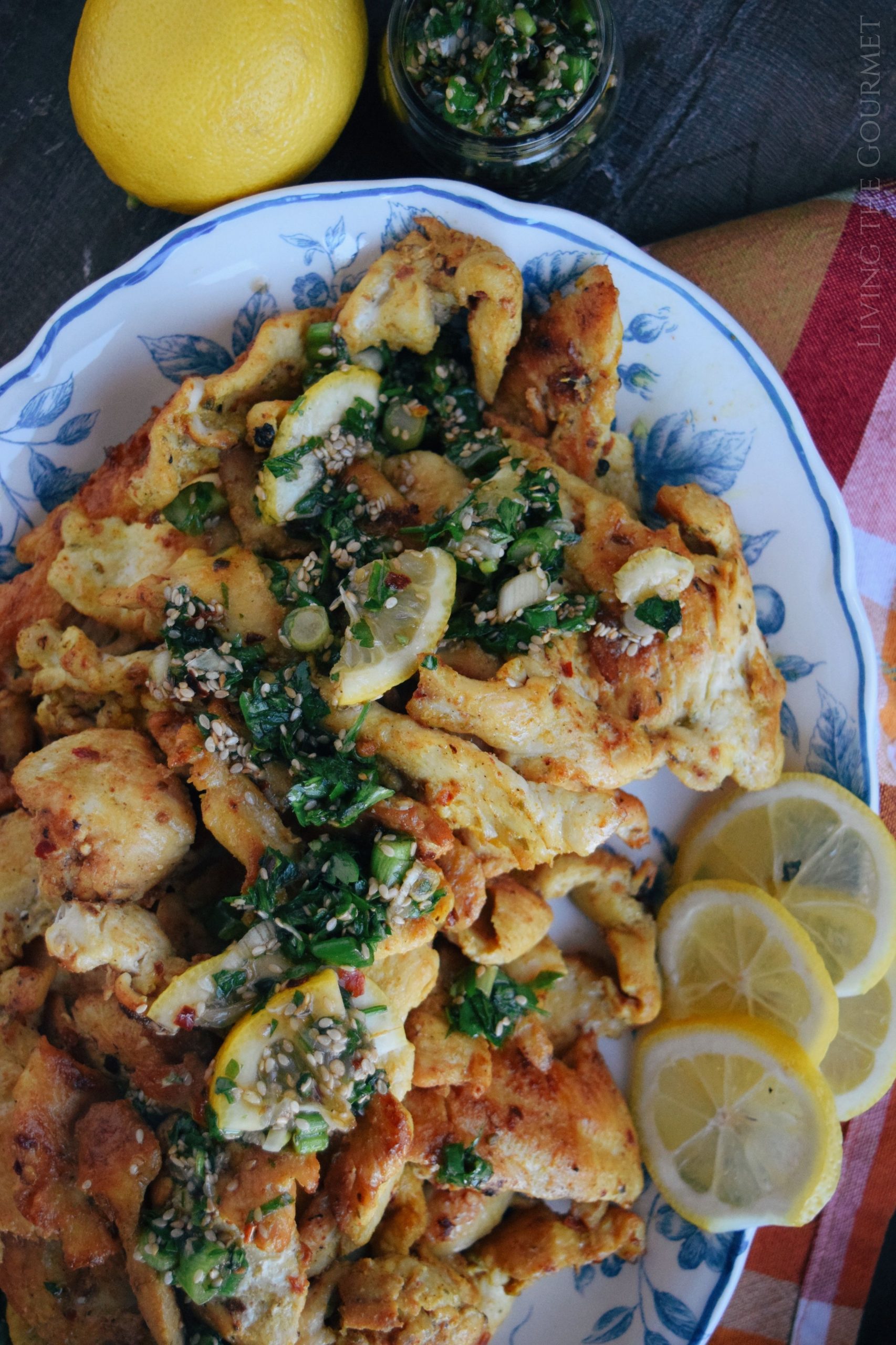 Living the Gourmet
Yields 4-6
Cayenne Chicken Strips with a Balsamic Glaze
10 minPrep Time
15 minCook Time
25 minTotal Time
5 based on 5 review(s)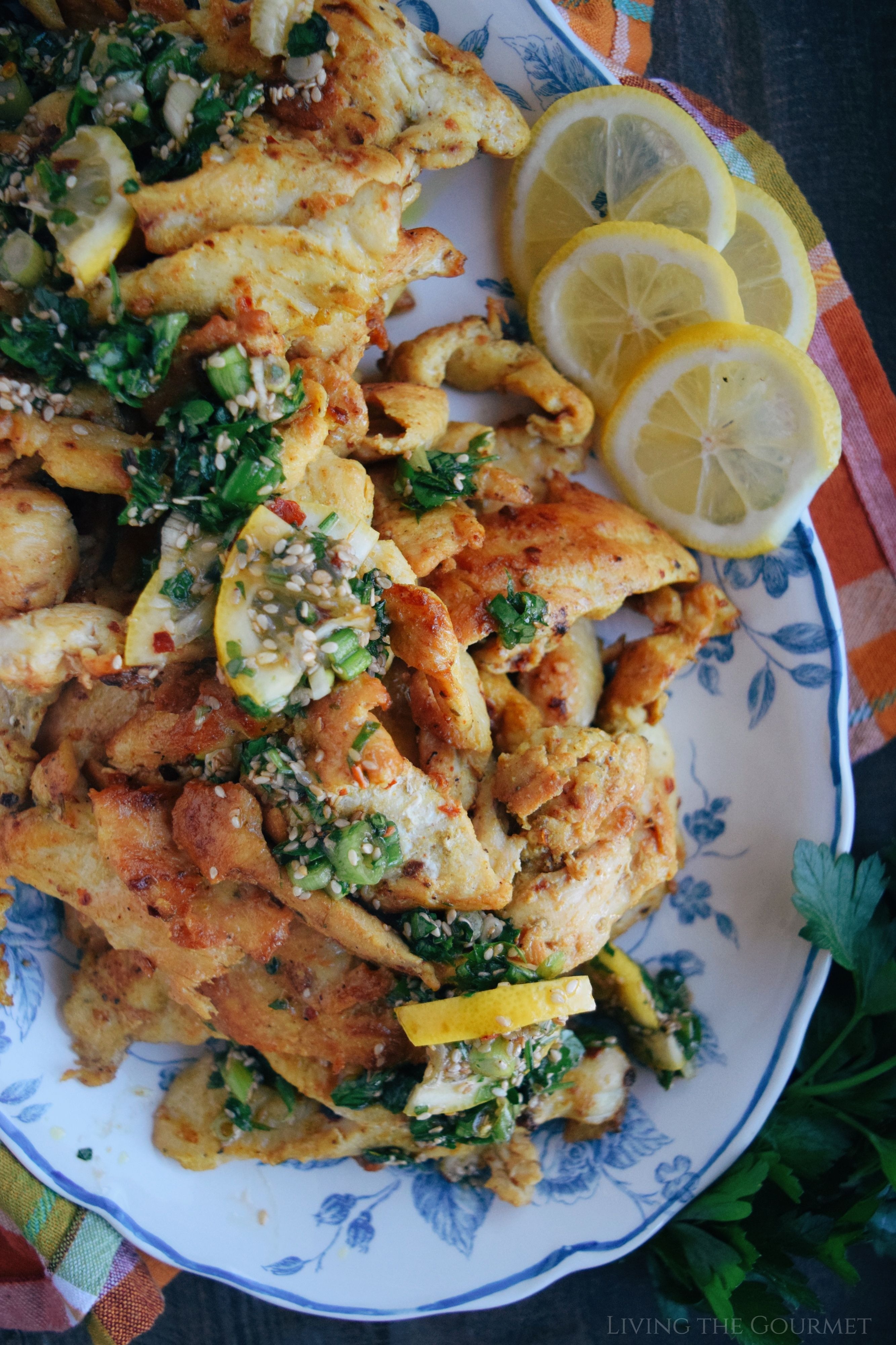 Ingredients
2 lbs. skinless-boneless chicken strips
Canola oil for sauteing

For the Rub:

1 ½ tsp. salt
¼ tsp. cayenne pepper
2 tsp. dried oregano
1 tsp. garlic powder
1 tsp. red pepper flakes
1 tsp. Jamaican curry powder
½ tsp. black pepper

Balsamic Glaze:

½ lemon sliced – with skin and quartered
4 bunch of scallions – chopped
¼ cup of Italian parsley – stems removed and chopped
3 tbs. olive oil
½ tsp. red pepper flakes
¼ tsp. salt
3 tbs. honey
2 tbs. balsamic vinegar
2 tbs. toasted sesame seeds
Instructions
Combine all of the ingredients for the rub in a small bowl and stir.
Place the thin sliced chicken breast in a bowl and toss with the rub.
Cover and place in the refrigerator for at least one hour or up to overnight.
Heat a large cast iron frying pan to a medium heat, with ¼ inch of canola oil. If the heat is too high the chicken will splatter.
Cook the chicken on one side and then turn over and finish cooking on the other side. If the chicken is nice and thinly sliced it is about one to two minutes per side or until the juices run clear and the chicken is white inside.

Balsamic Glaze:

Heat a small cast iron frying pan and place the sesame seeds in the pan for a minute or two, tossing to toast on all sides.
Combine the lemon slices, scallions, olive oil, red pepper flakes, honey and sesame seeds in a small bowl and drizzle over the cooked chicken.
Notes
Prep Time does NOT include Inactive Prep Time.
7.8.1.2
1412
https://livingthegourmet.com/2020/03/cayenne-chicken-strips-with-a-balsamic-glaze.html
If You Enjoyed Today's Recipe…
Be sure to follow us on Instagram to stay up to date with all things Living the Gourmet, and for more great recipes, tips and tricks.
Did you make this recipe?
If so, let me know in the comments down below, or post a picture to Instagram, or to Pinterest, and I'll give you a shoutout on Instagram, or post your pin to one of my Pinterest boards!
0