Sweet, caramelized apples are delicately wrapped in crepes and fixed with a drizzle of warm honey for an elegantly easy brunch.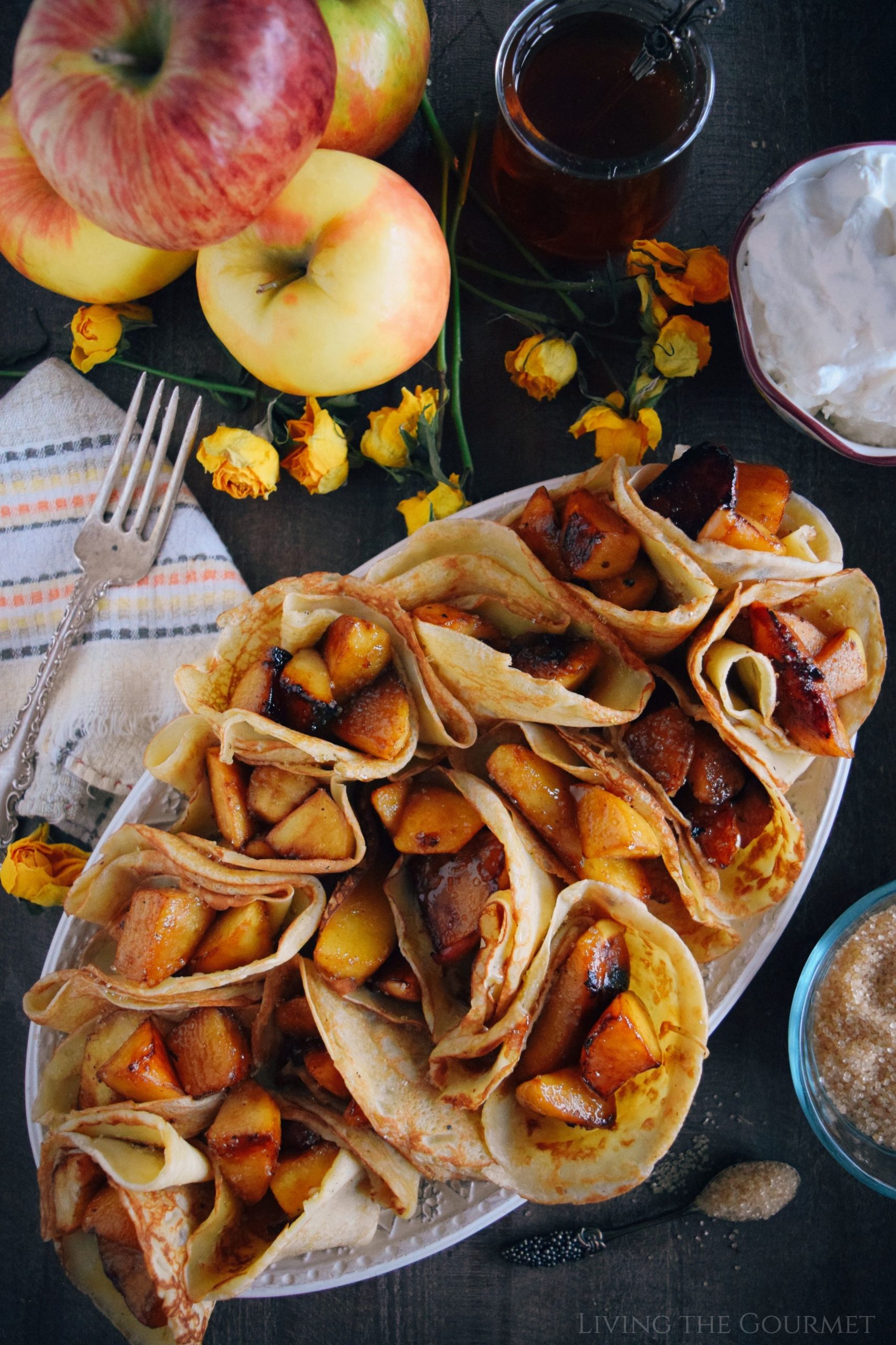 A Psalm of Life
"For the soul is dead that slumbers, and things are not what they seem."
I have felt like I'm off to a slow start this new year, if I'm being perfectly honest. The days have been dreary and January felt far too long, and while reflecting on the last couple of weeks, it's all a bit of a blur to me now.
I needed to step back and regain perspective and in doing so, I took the time to recollect my thoughts and review my intentions for the new year. Recently, someone gently reminded me that not everything that weighs me down, is mine to carry, and that was a beautiful wake up call back to life.
We have a tendency to get so wrapped up in our own emotions, we tend to lose sight of the important things in life- the things that are right in front of us.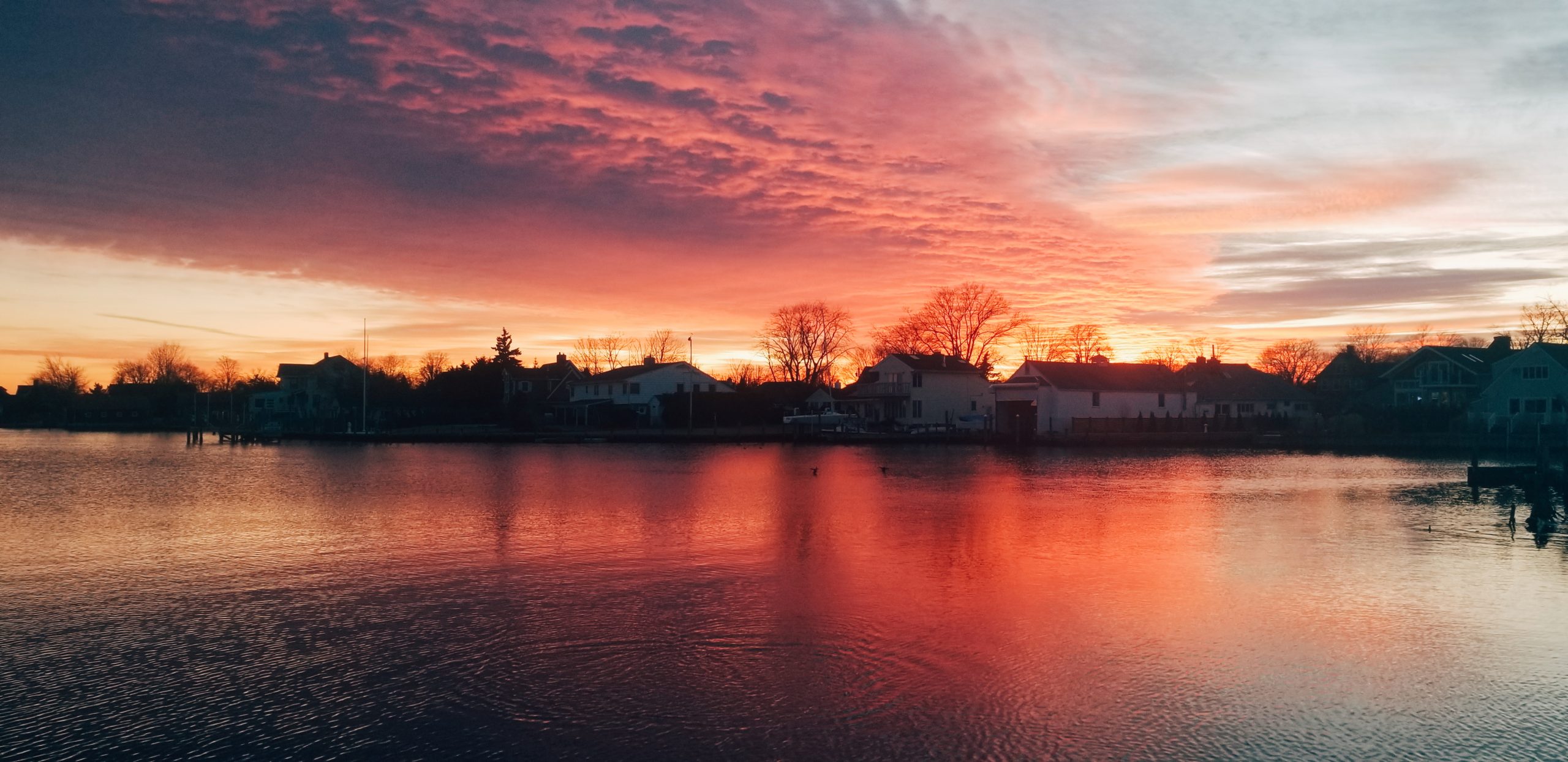 "But to act, that each tomorrow find us farther than today. Art is long, and Time is fleeting…"
Today's recipe was one of the first projects I started working on this year during my break, and I am pleased to finally be sharing it with you today.
Conjured up from a mixture of rainy mornings and craving something sweet but not overly complex, these apple cider crepes offer a new take on a beloved classic.
I've always opted for crepes over pancakes for a few reasons. Firstly, they aren't as heavy and I'm not a big fan of heavy meals first thing in the morning. Second, their versatility allows for them to be sweet or savory. I've shared many savory variations on this site, which I'll link below for those of you interested in perusing through the LTG archives.
Finally, I love how beautiful crepes look. Like most foodies, I eat with my eyes first and the delicate beauty of crepes have always enticed me. When I was growing up, there was a creperie in town known as La Crepe (how fitting) and this dish brought back so many memories of that short-lived restaurant.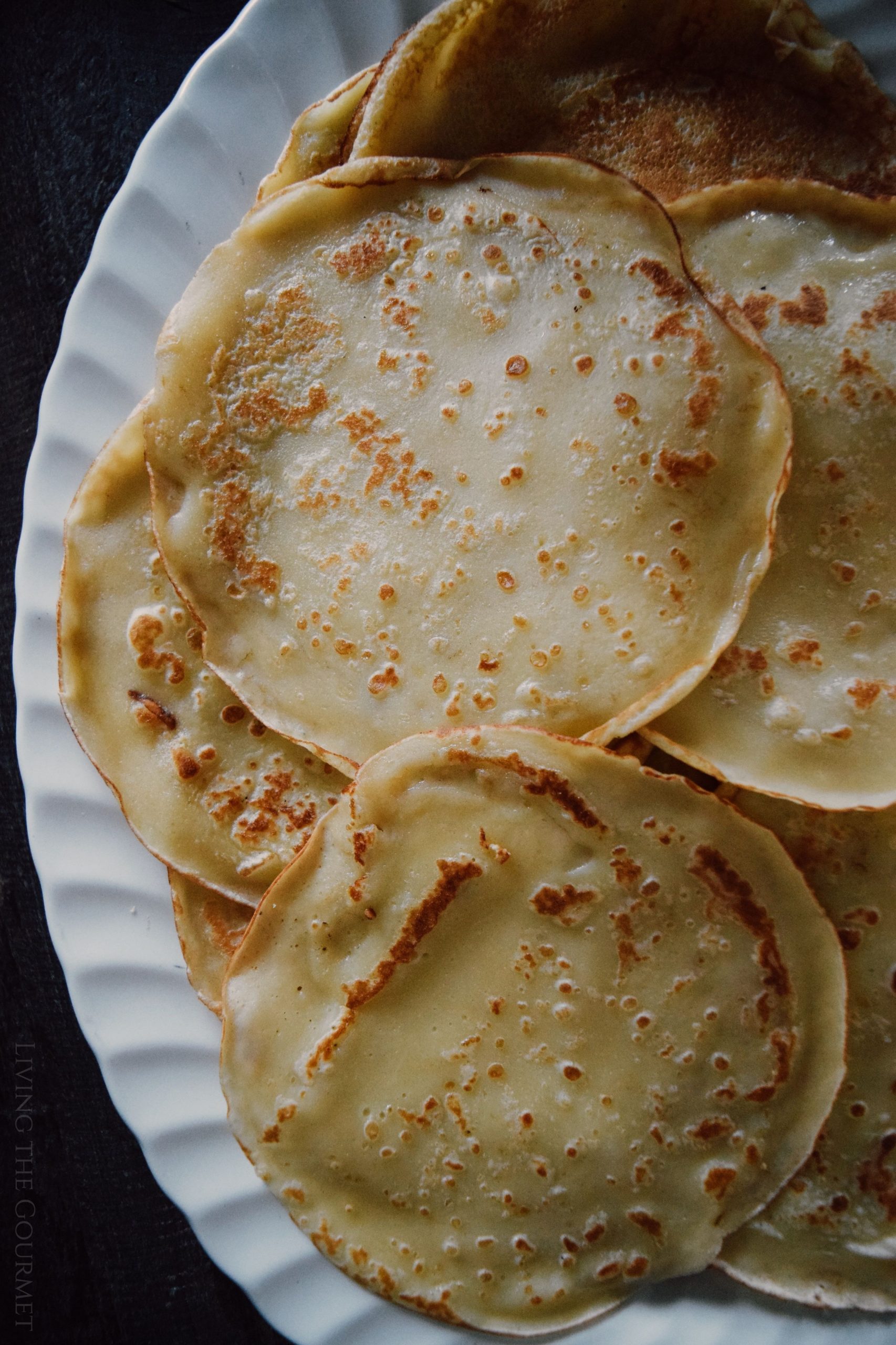 Joie de Vivre
In case you didn't know, France just celebrated La Chandeleur, otherwise known as The Day of the Crepe (Feb. 2), which is a sign that spring is on its way and that the cold winter is almost over. No wonder I was in the mood for crepes, it must have been a sign that my own personal winter was coming to a close.
With that said, I hope today's recipe brings you some comfort and warm sunshine to your day. If you make today's recipe, be sure to share and tag us on Instagram. I love seeing how my recipes inspire you in the kitchen.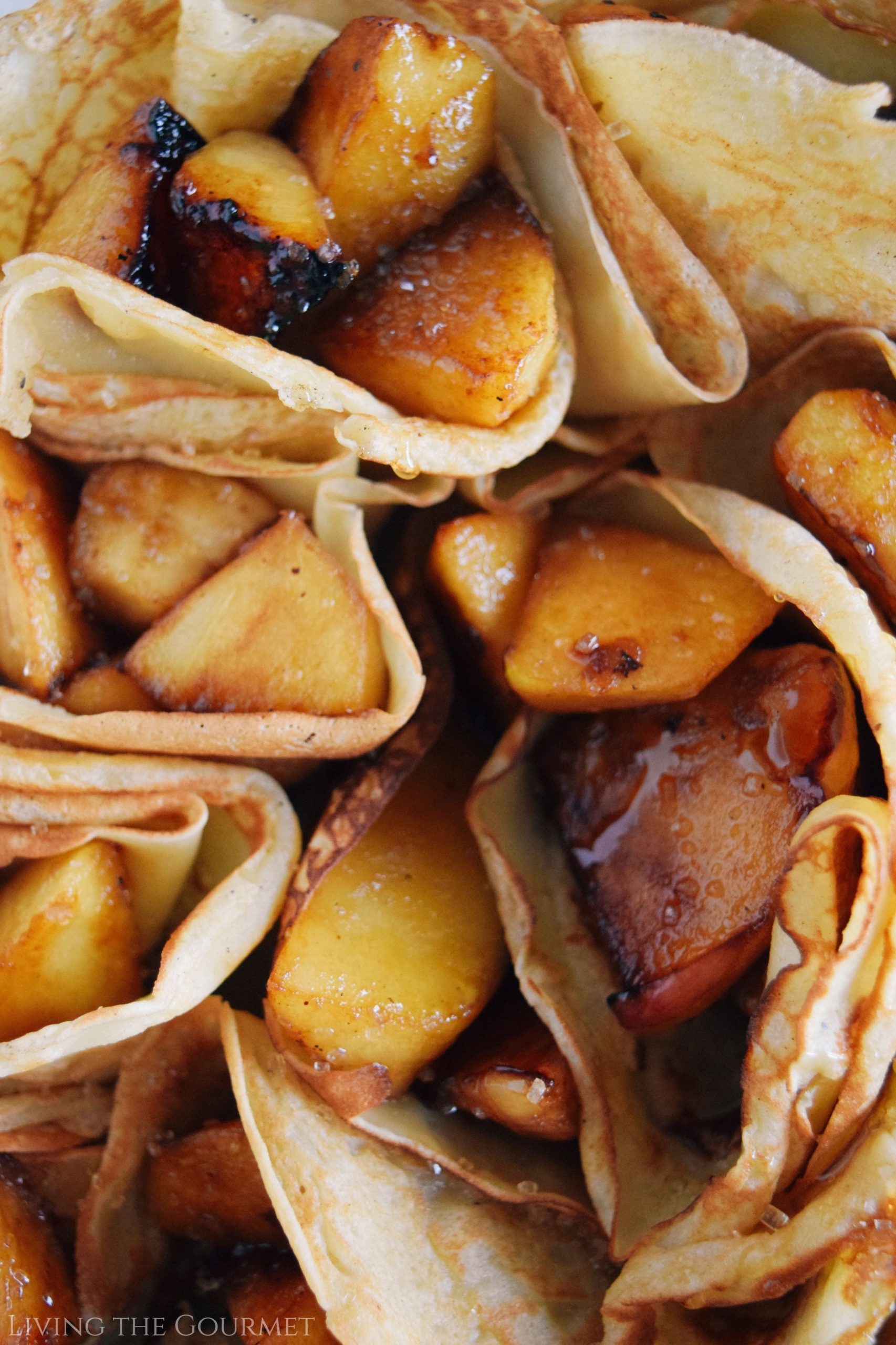 I've completed today's dish with caramelized apples, a year round fruit making this dish perfect for any occasion, though you could always substitute the filling with whatever you desire.
To plate, I opted for a less traditional 'roll' and instead went for a more dramatic 'fold'. The process is simple- just fold the crepe in half and then again to form a cone, and fill the pocket.
As for toppings and finishing touches, I sprinkled each crepe with warm honey and a side of whipped cream. Nothing is quite as indulgent as fruit and cream.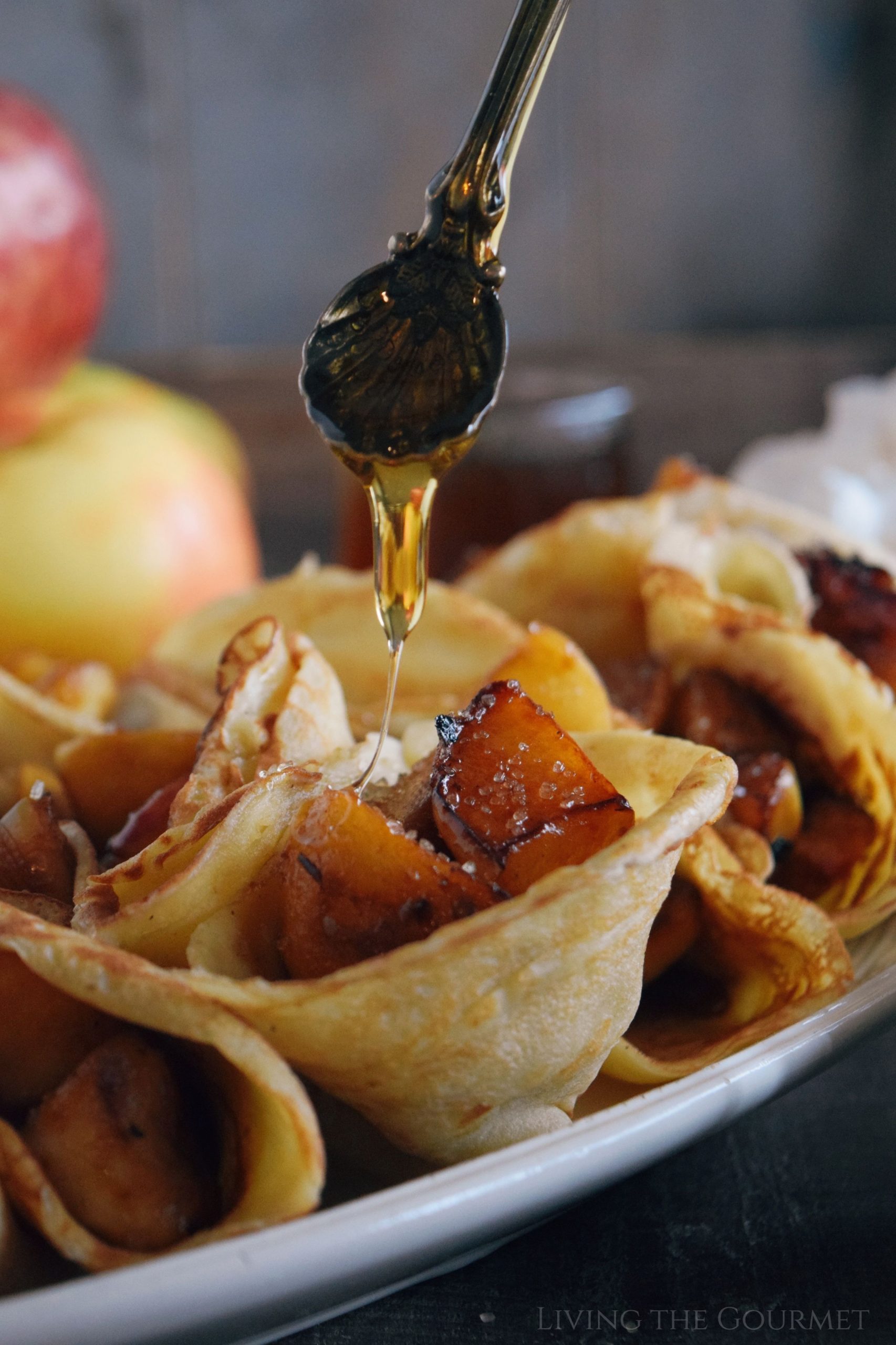 "Let us then be up and doing, with a heart for any fate; Still achieving, still pursuing, learn to labor and to wait."
I hope you enjoyed today's recipe as much as I have. Here is to looking forward to brighter days ahead, and if you're looking for more inspired crepe dishes, check out a few of my favorites below:
1. Cannoli Crepes – Sweet ricotta-based cannoli cream is filled into these crepes and topped with bits of chocolate and orange.
2. Crepes with Greek Yogurt & Berries – Creamy Greek yogurt and fresh berries offer a healthy take on this French classic.
3. Crepes Stuffed with Spinach, Feta, & Apples – Definitely an oldie, but still a goodie in my book and one recipe I'd like to revisit soon on the blog with some updated photos. However, the recipe remains the same- a delicious blend of sweet and savory.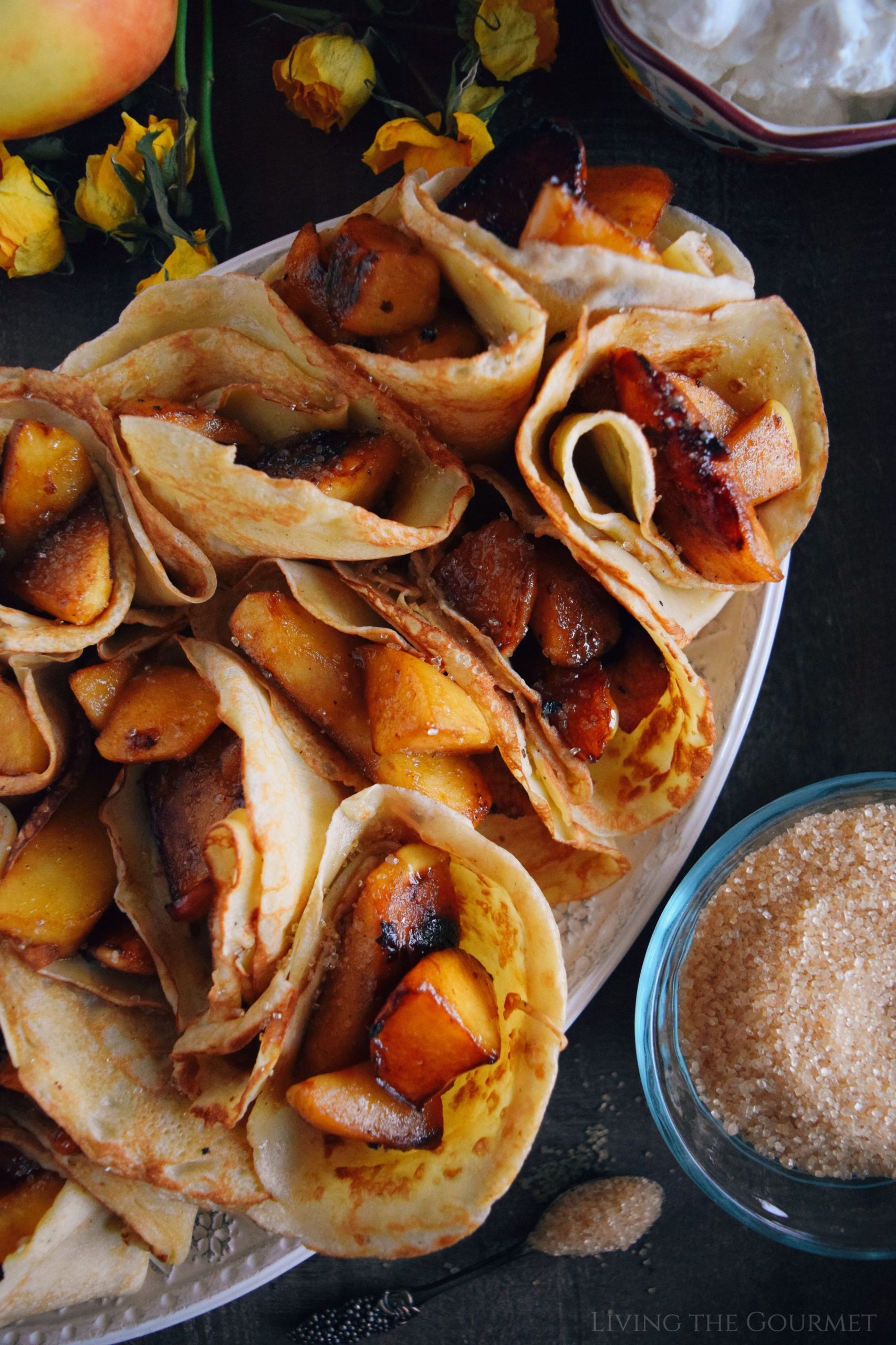 Print
Caramelized Apple Crepes
Author:
Prep Time:

10 minutes

Cook Time:

10 minutes

Total Time:

20 minutes

Yield:

10

crepes

1

x
1

cup

all-purpose flour – plus 1/4 tsp. salt

2

eggs

3/4

cup

whole milk – for the best results; use whole milk

1/2

cup

apple cider (or apple juice)

4

–

5

apples – sliced with or without skin
Butter for frying the crepes
Raw sugar – for dusting
Honey – for drizzling
Fresh whipped cream – for serving
Instructions
Sift the flour and salt together.
Add the eggs and milk and whisk until smooth; add the apple cider and whisk once or twice to incorporate.
Let the batter stand for 25 – 30 minutes.
Heat a small cast-iron frying (about a 6 inch pan) with a pat of butter.
Spoon a small amount of batter into the pan and move the pan around to spread the batter out. It should be a thin coating of batter.
Let the crepe become golden on the bottom the carefully flip and cook on the other side until slightly golden.
Set the crepes in a plate until using up the remaining batter.
Heat a large cast -iron frying pan with 2 – 3 tablespoons of butter.
Add the sliced apples. Sprinkle the apples with a tablespoon of raw sugar and cook until golden on both sides.
Turning the apples once or twice.
Ladle the apples into a bowl and sprinkle with more raw sugar.
Fold each crepe in half and then in half again; forming a cone.
Fill the pocket with the cooked apples and place in the serving platter. The apple cones will look like "roses".
Drizzle with the honey and serve with fresh whipped cream.
Recipe Card powered by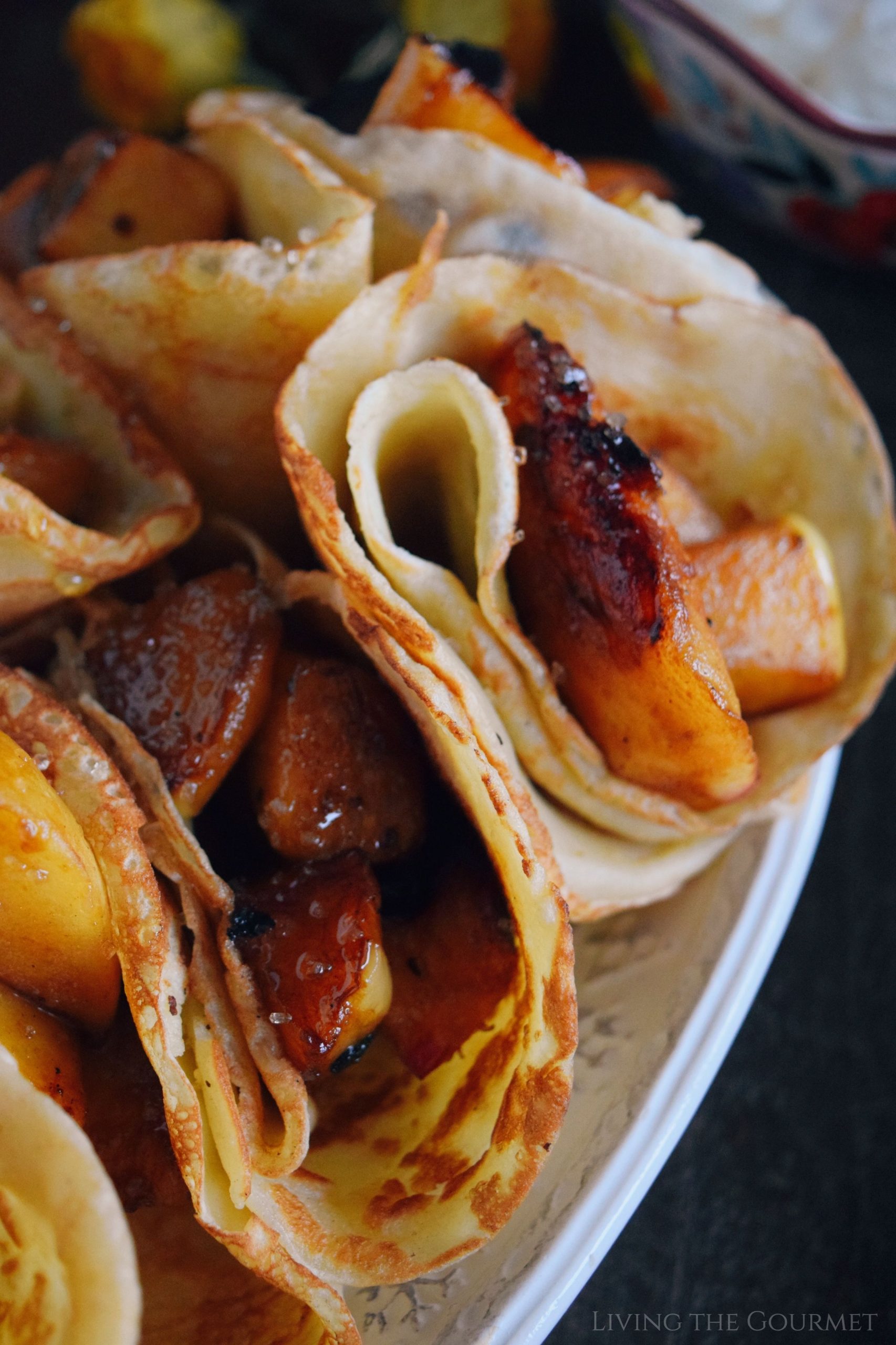 If You Enjoyed Today's Recipe…
Be sure to follow us on Instagram to stay up to date with all things Living the Gourmet, and for more great recipes, tips and tricks.
Did you make this recipe?
If so, let me know in the comments down below, or post a picture to Instagram, or to Pinterest, and I'll give you a shoutout on Instagram, or post your pin to one of my Pinterest boards!
1