Today we're preparing a recipe that's a bit of a throwback to my childhood – a basic Mediterranean Chickpea Salad. Straddling the line between Sicilian and Aegean in composition and flavor, today's salad is best served as an accompaniment to either a lush Antipasto spread, or with Mezzes, or swathed in homemade pitas.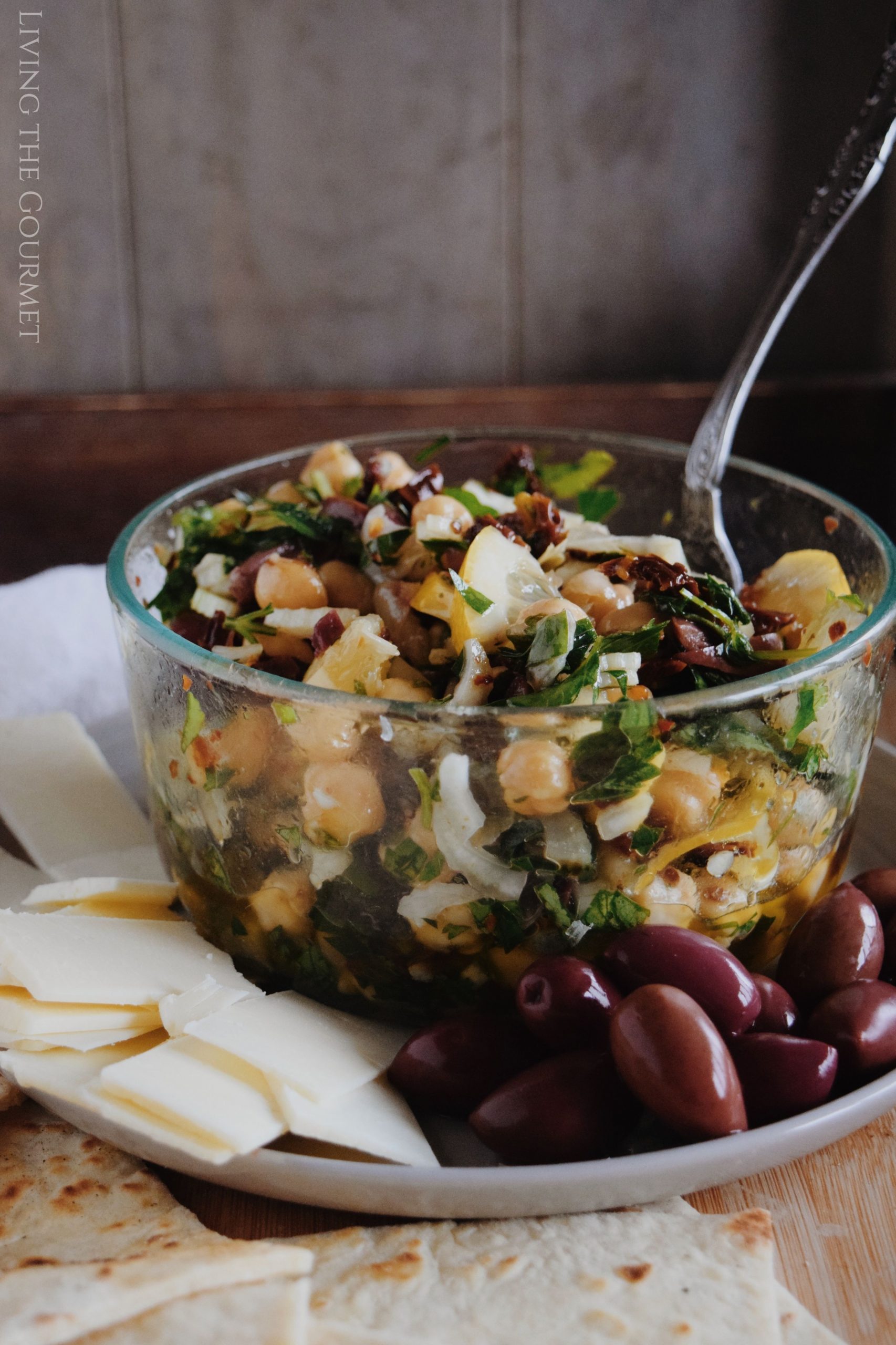 Ingredients – This Couldn't Be Simpler
While there's nothing terribly exotic going into today's salad, or anything that I feel 'really' needs explaining, there are few notes that you should be aware of.
1) Sun-dried Tomatoes – From Vogue to Pariah. Buy sun-dried tomatoes that are imported either from Italy or North Africa. There are a lot of articles calling out North and South American producers of sun-dried tomatoes for not actually, you know… drying them in the sun. Sadly, this happened due to sun-dried tomatoes more or less being the 'avocados on toast' of the 1990s – except sun-dried tomatoes weren't just put on toast, they were added to everything from bagels to pizzas, appeared as flavor for chips and crackers, were mixed into dips, fried into eggs, blended into smoothies (no, I'm not making that up), layered on deli sandwiches (something I still do), infused into oil (this is actually a traditional use), and baked into bread. They were absolutely everywhere. As the 90s drew to a close, tomato growers across the New World decided to begin cashing in on the vogue ingredient in a big way, but unlike their Italian counterparts, New World producers of sun-dried tomatoes rarely dried the tomatoes in the sun, instead opting for machine or oven drying methods (the majority of sun dried tomatoes were originally produced in the Mediterranean basin, particularly Southern Italy and Morocco, until the mid to late 90s). Of course, there were a handful of exceptions to New World sun-dried tomatoes being of lower quality. In particular, certain American producers proudly advertised the fact that their sun-dried tomatoes were, in fact, dried in the sun, and Argentine sun-dried tomatoes were, and remain, of decent quality – due both to local cuisine and a large Italian-immigrant population. Nevertheless, these exemplars of quality were a sad exception to an otherwise low-quality rule – and before long the market was flooded with low-quality sun-dried tomatoes. As such, no sooner had the new millennium dawned than it became vogue to buck the sun-dried tomato trend, and American palates moved on to avocados. That said, I still love this particular ingredient, but I 'do' remain cautious as to the brands I buy.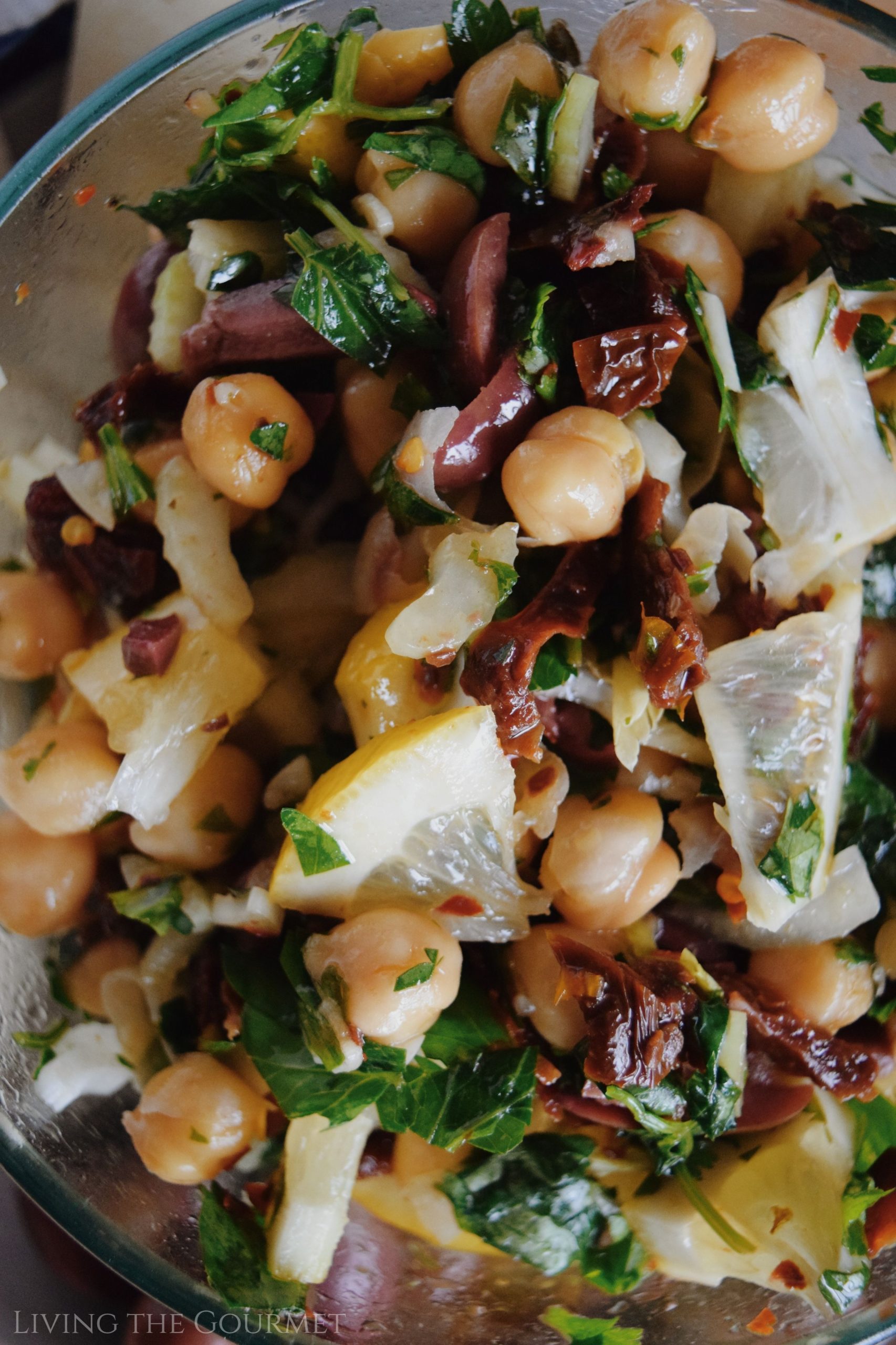 2) The Olives. I'm using Kalamata for today's salad, but really you could substitute in anything you have on hand – including basic canned black olives. You might also consider Gaeta olives, which are probably the closest relative to Kalamata in terms of taste and texture. Ligurian olives, also called Taggiasca olives, are also a great substitute. Sicilian olives might be a tad too 'substantial' in today's salad, but feel free to experiment – and if you do, let me know down in the comments below how it turned out.
3) Lemon Rind…wait what? Hear me out. I'm not suggesting that you chomp down on lemon rind – although that wasn't considered 'exotic' in my home growing up. However, there 'is' a reason that chopping up lemons into salads, complete with their skin, is actually quite common in various 'fresh' Sicilian and Greek salads, especially in chilled squid and octopus salads, but also in 'hardier' bean salads, such as today's. It helps to 'saturate' the salad with fresh lemon flavor in a much more 'concentrated' manor than fresh zest would – and there's a nice 'rustic' aesthetic that it adds. Pro-Tip. Slice the lemon rinds super-thin to better facilitate saturating the salad in lemon, and to make them more palatable.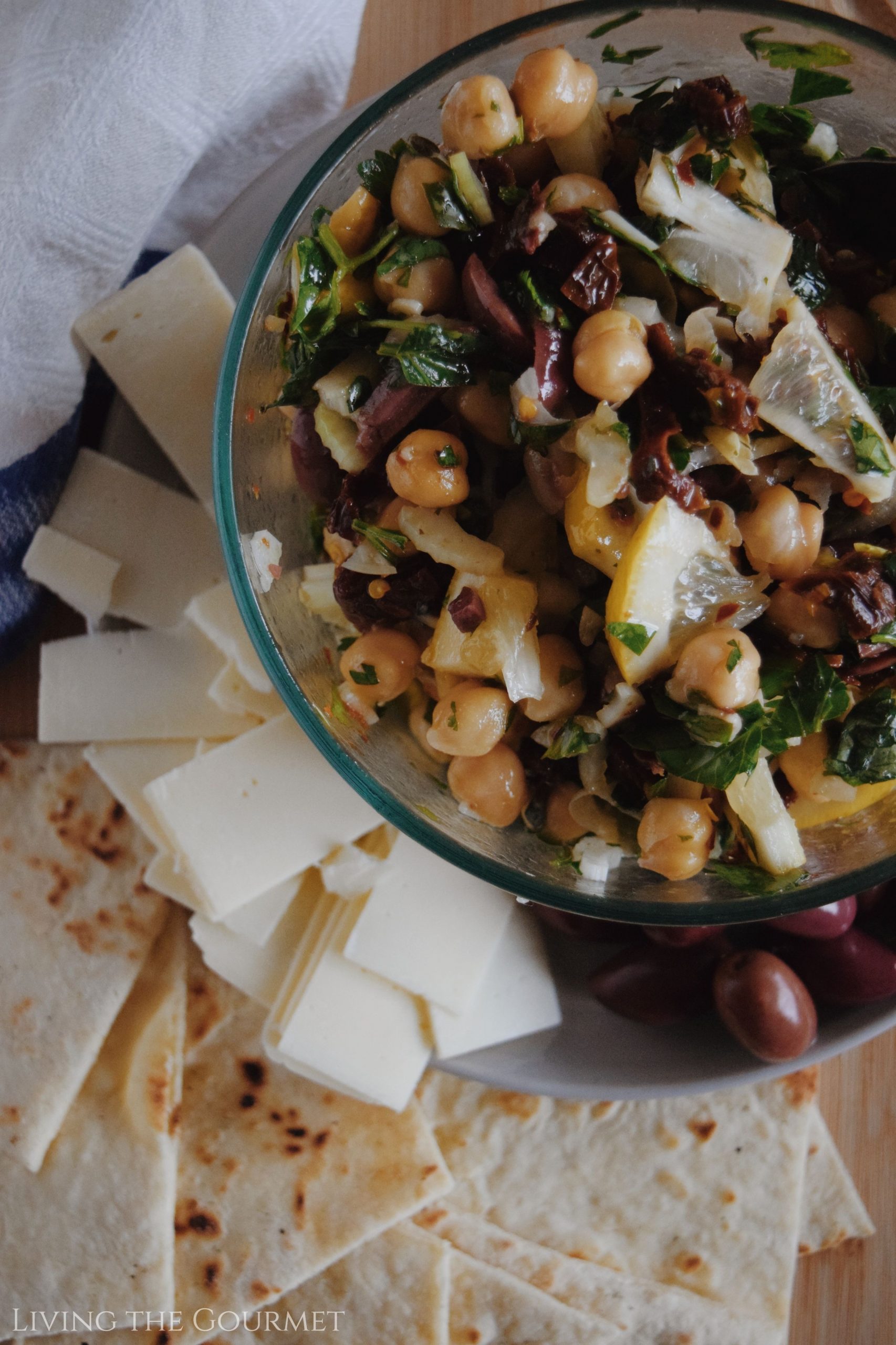 How To Serve – What Goes Great With Today's Salad
Think spring and summer. With winter drawing to close, today's salad embodies what I consider to be some of the primary 'spring' or 'warm weather' flavors, and that's what you want to focus on when serving today's salad. Here are some suggestions for doing exactly that;
1) Charcuterie Board. Nothing says spring or summer quite like a well-crafted charcuterie board. You might consider a board featuring dried fruits, crostini, panini sandwiches, and cured meat, such as the one I prepared here. Alternatively, you might also consider a board featuring grilled fruit, grapes, olives, artisanal toast, and roasted peppers, such as my board here.
2) Antipasto. Conversely, if you want a spread that's a bit less carnivorously focused, you might consider something like my marinated cheese board, which featured marinated Jarlsberg cheese, paired with marinated olives, toasted almonds, and shrimp prepared with capers, cilantro, red pepper, and scallions.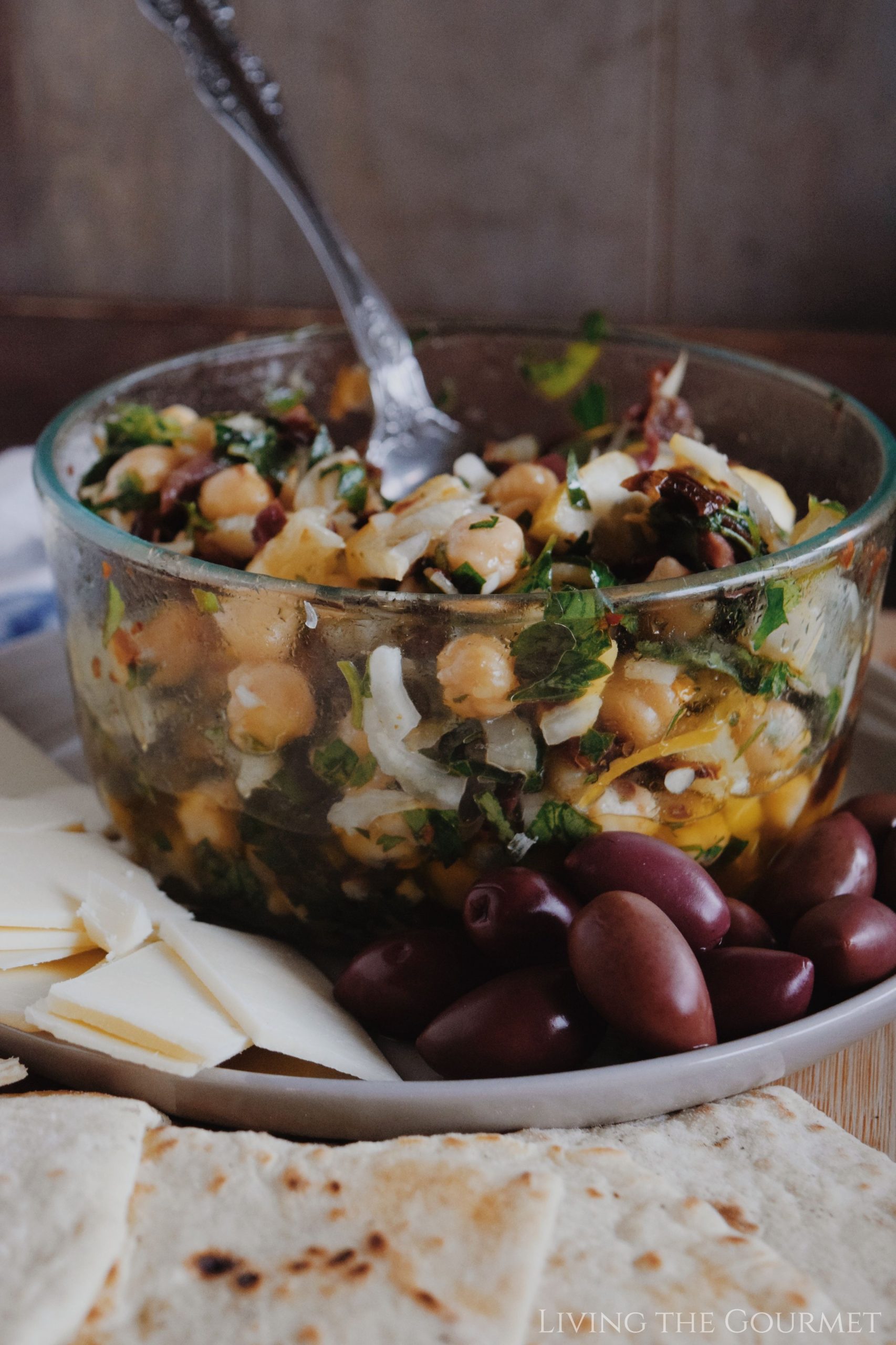 3) Pasta Dishes. Naturally, today's salad is well at home paired with pasta dishes – but I would definitely keep this away from heavier sauces, where its flavors simply don't meld as well. For example, something like a Simple Pasta & Spinach Toss, with plenty of red pepper would pair nicely. On the other hand, you might consider a Zucchini Fettuccine, prepared with vine ripe tomatoes, zucchinis, anchovies and fresh lemon – a flavor profile that would meld blissfully with today's salad.
4) Mediterranean Crab Cakes. Crab cakes, prepared with a medley of Mediterranean flavors, and paired with a homemade tzatziki and pitas would be an excellent follow up or side to today's salad.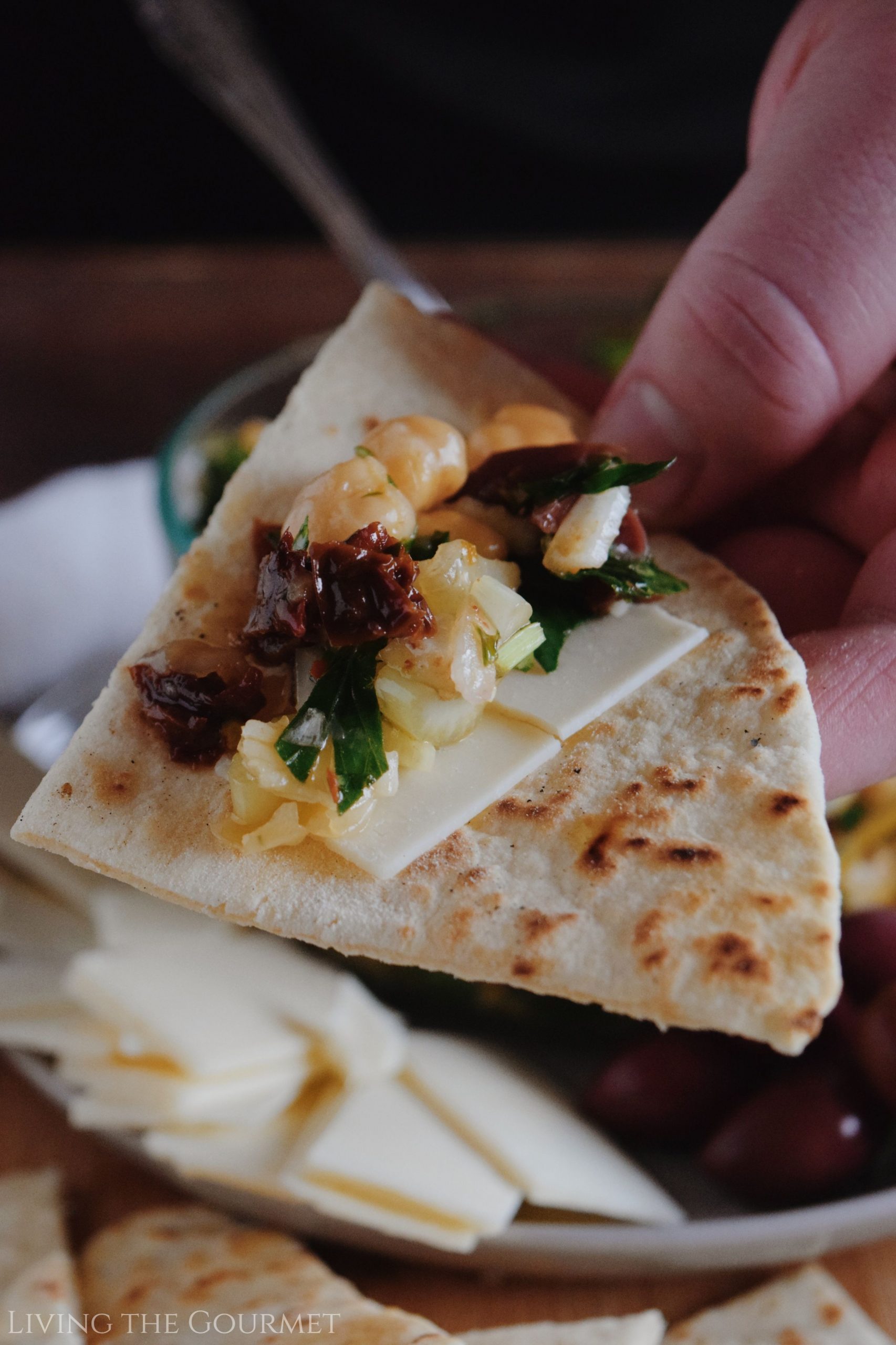 Print
Mediterranean Chickpea Salad
Author:
Prep Time:

12 minutes

Total Time:

12 minutes

Yield:

4

-6

1

x
15.5 oz

. can of chick peas – rinsed and drained (I like to use Goya)

5

–

6

sun-dried tomatoes – sliced thin

2

stalks celery – chopped fine

2

–

3

tsps. capers – plus a tsp. of caper juice

10

–

12

Kalamata olives – pitted and chopped

1/2

cup

of Italian parsley – stemmed and chopped

1/2

lemon (with skin) – sliced thin

1/2

cup

of olive oil

1 tsp

. of salt

1 tsp

. red pepper flakes

1/2 tsp

. fresh ground black pepper
Instructions
Place all of the ingredients for the salad in a medium sized bowl; add the salt, red pepper flakes, black pepper and olive oil and toss.
Refrigerate until ready to use.
Serve with fresh pita breads.
Recipe Card powered by
If You Enjoyed Today's Recipe…
Be sure to follow us on Instagram to stay up to date with all things Living the Gourmet, and for more great recipes, tips and tricks.
Did you make this recipe?
If so, let me know in the comments down below, or post a picture to Instagram, or to Pinterest, and I'll give you a shoutout on Instagram, or post your pin to one of my Pinterest boards!
2