Flame grilled Pork and Veggie Kabobs are a perfect way to enjoy the season's harvest!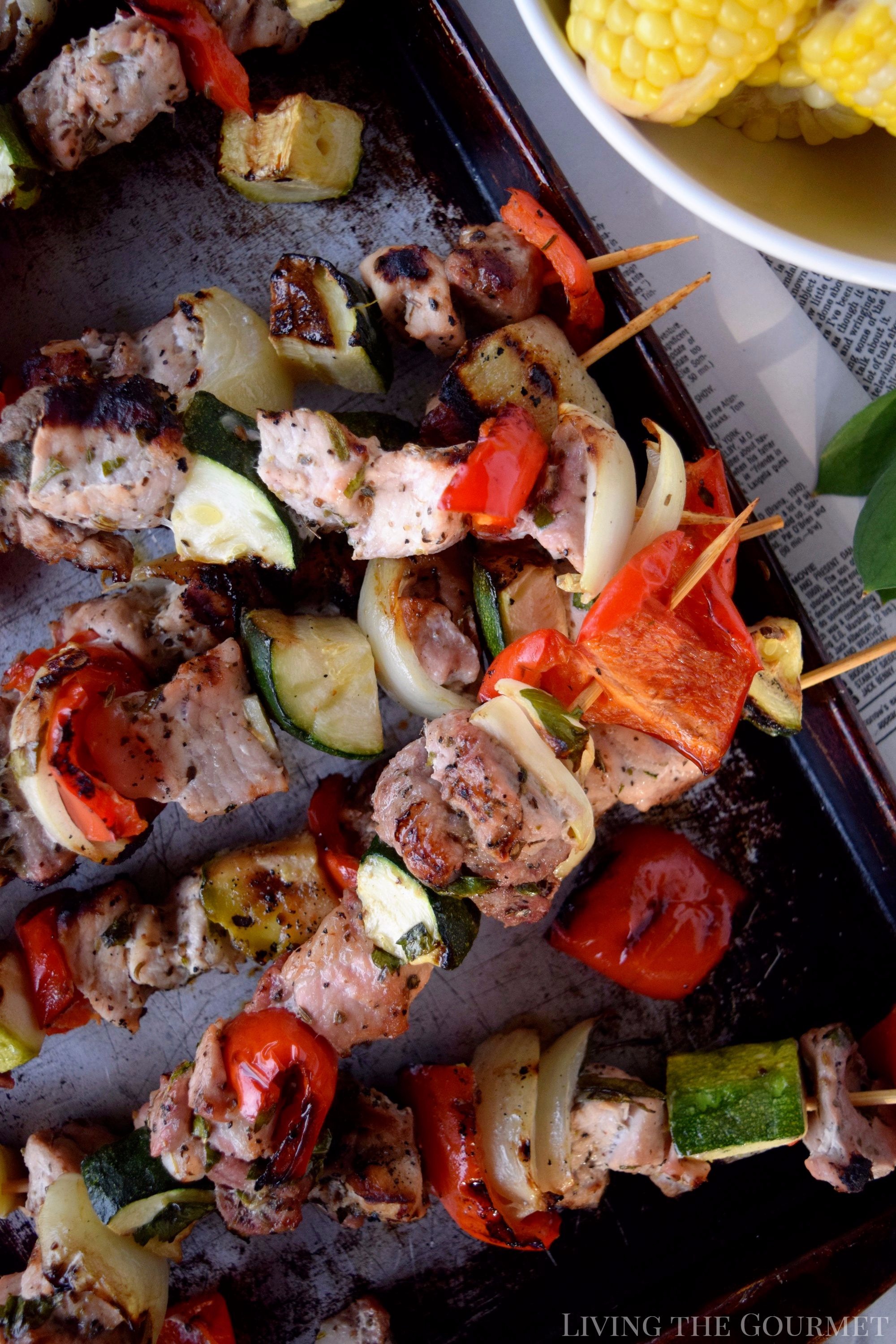 It was the strangest of experiences. It was late in the afternoon, and I had been working at my desk, writing up a post for my site and doing a bit of research on a new wine I had received. However, a surprise existential crisis decreed that all of that was to cease, a crisis so complete, sudden, and all-encompassing that I was left staring glazed-eyed into the inky depths of a lukewarm espresso, watching as the golden bubbles of its thin foam evaporated into the afternoon air.
The genesis of the crisis had been a thoroughly pleasant call from a lifelong friend. Towards the end of the conversation, I had invited her over for a late luncheon later in the week, to which she replied in the affirmative, eagerly suggesting an 'authentic' Mediterranean spread, mentioning kebabs specifically.
Perhaps it's the classicalist in me, melded with my current journey into trilingual-ism, but I do get hung up on words, far more than I probably should, I must admit.
You see, 'authentic' is a strange word and an even stranger concept. The word is borrowed (rather directly) from the Greek 'authentikos,' meaning 'principal' or 'genuine.' We, as a culture, speak of authenticity in an almost philosophical manner, in which anything dubbed 'inauthentic' is not only considered to be of low quality but in some cases even worthy of scorn. Think of how many times you've desired to dine on 'authentic cuisine,' or to experience 'authentic culture,' and now imagine your regard for the opposite of those things.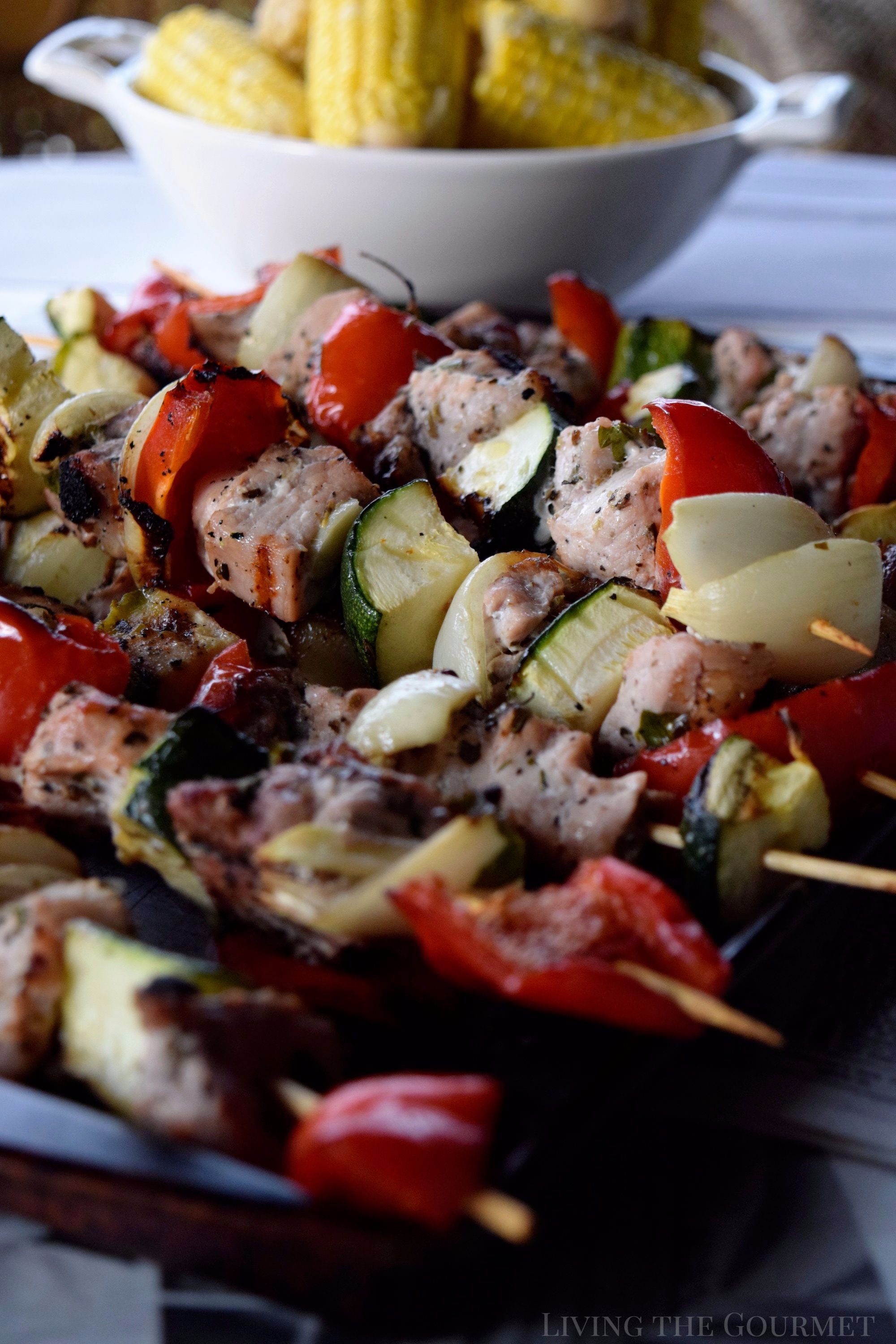 When it comes to food drawn from the heritage of the food I grew up with, or even from the quarter-Hellenic heritage of my son, I rarely 'need' to think in terms of authenticity. Instead, that sort of food was, and is, simply a fact of life, something I prepare, either for myself or for my site, without really 'thinking' about it. Rarely have I deconstructed such items in terms of what is genuine or 'original.' To me, they simply 'are.'
Doing so, and doing so under the pressure of impressing an old friend…well, that was a bit like trying to Divide By Zero.
To quell my thoughts, I posed myself a simple question…are kebabs eternal? That is, are they without either a beginning or an end? If not, who was that culinary genius who first skewered meat and edible plants upon thin sticks, and then roasted them to charred perfection over an open fire? Or did this initial skewering undergo a metamorphosis such that some later incarnation of the dish became the 'authentic kebab?'
Put that way, the entire idea of abiding some vague 'Rule of Genesis' made the whole process far less of an intimidating thought experiment, and far more of a simple 'everyday lunch' with a friend.
Puzzle as I might upon such faux-deep thinking, I fell back upon my singular philosophy regarding kebab-making, and food in general, which is, "they are meant to be as fun to eat as they are delicious."
In other words, the most authentic cuisine is that which pleases.
That said, I decided not to do anything terribly complicated, instead, as the old cliché runs, I would "keep it simple."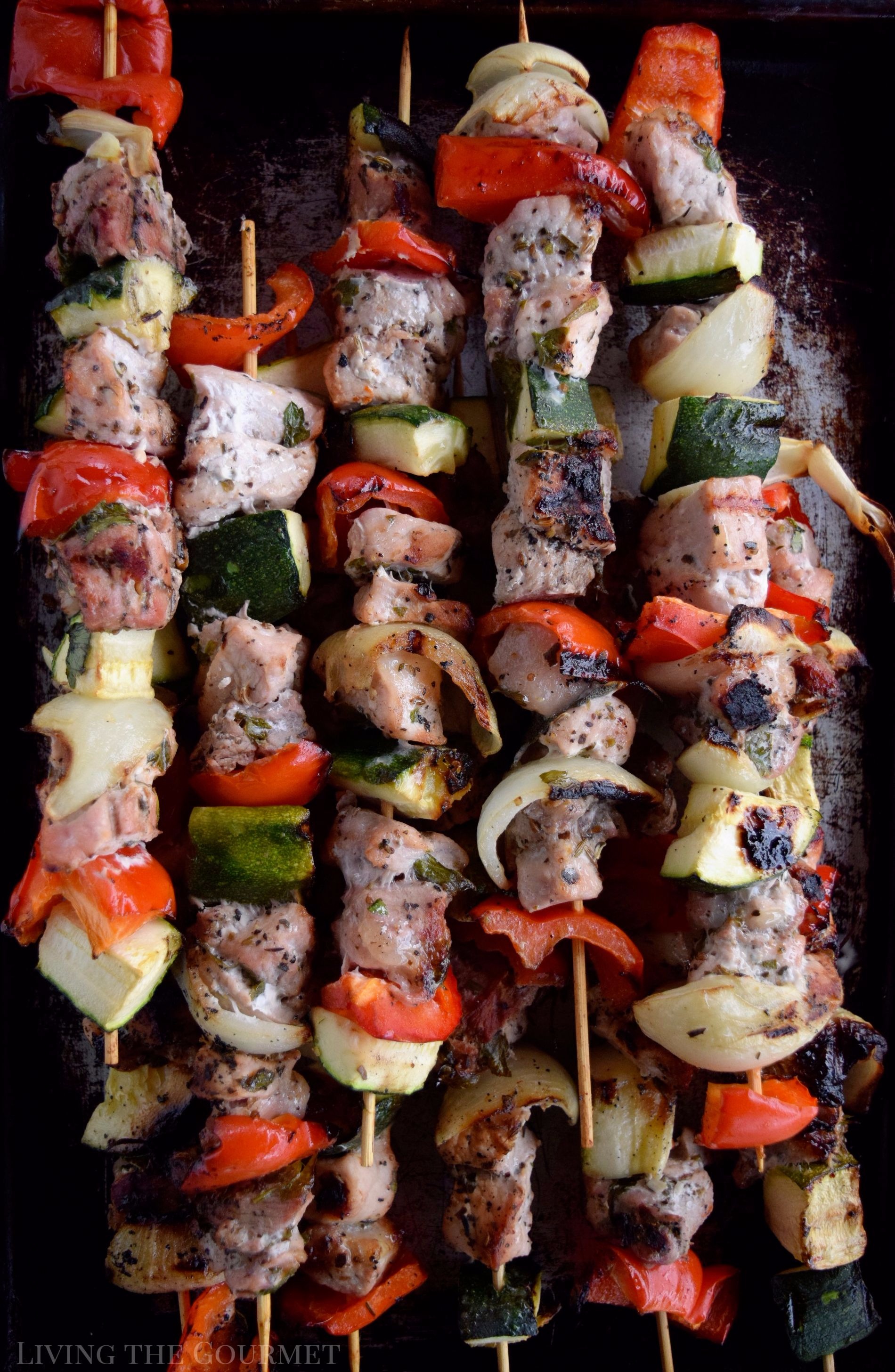 Obviously, the starting point for most 'authentic' kebabs begins with a healthy bit of oregano, a dash of lemon juice, and of course a few sprigs of sage. Now, to start things off with those ingredients in mind, I began by preparing a marinade with vegetable oil, salt, pepper, fresh lemon juice, and about four cloves of garlic, along with the obligatory sprigs of sage and rosemary.
We then set our pork chunks in the marinade for at least an hour in the refrigerator or overnight for best results. Once that's done, we begin the kebab assembling, alternating chunks of pork with peppers, zucchini, and onions as shown below.
After that's done, simply set them on the barbecue as directed below, and you've got kebabs worthy of a bistro-style backyard luncheon.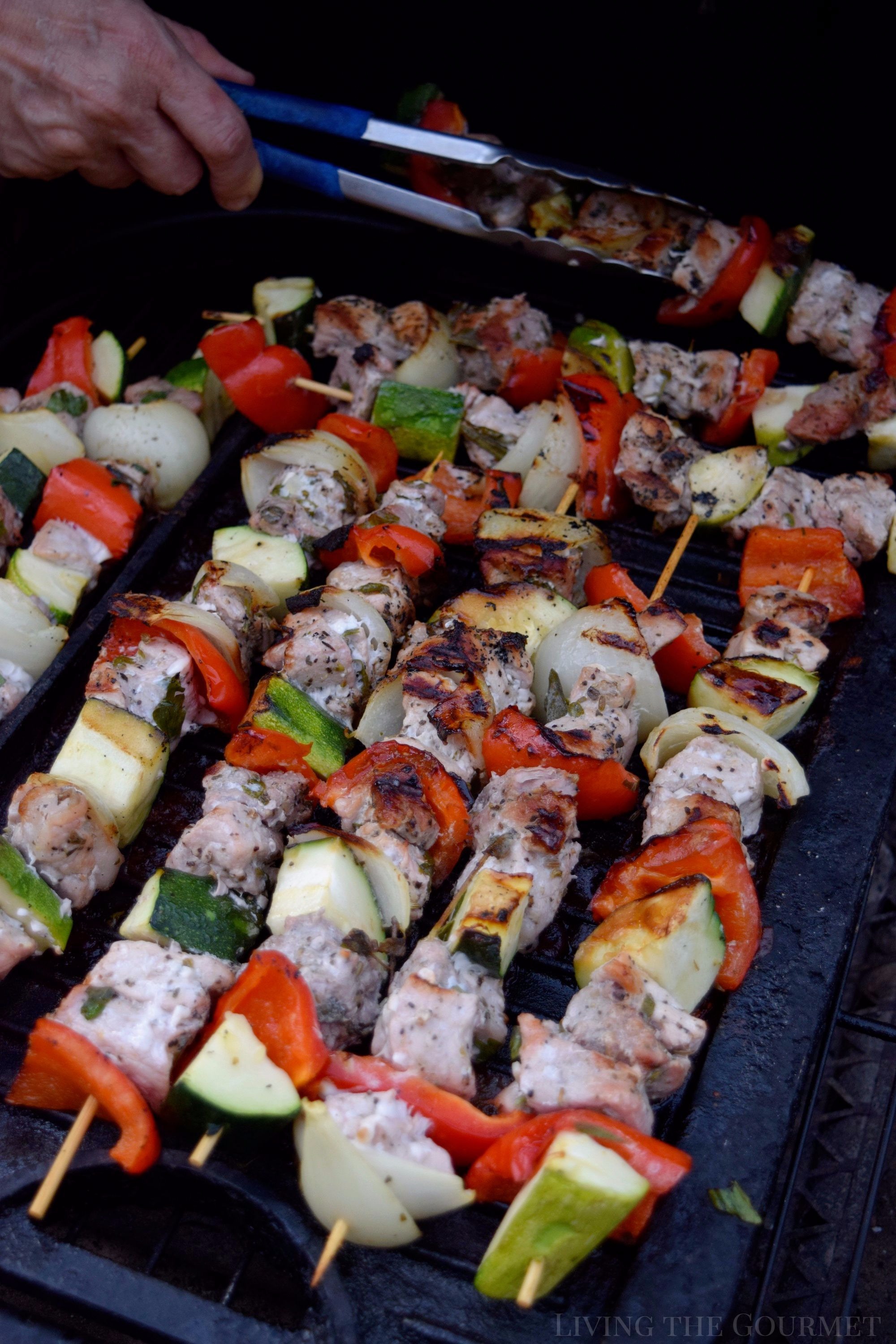 Print
Pork and Veggie Kabobs
Author:
Prep Time:

15 minutes

Cook Time:

15 minutes

Total Time:

30 minutes

Category:

Main Dish
3

lbs. cubed lean pork

2

bell peppers - sliced

1

zucchini - sliced in large pieces

1

large onion - sliced in large pieces
Kabob sticks - soaked in water
For the Marinade:
1/4

cup

of vegetable oil

1/2 tsp

. salt

1/2 tsp

. black pepper

1/2 tsp

. dried oregano
Juice of

2

fresh lemons - quarter the lemons after squeezing

3

-

4

cloves of fresh garlic - chopped
Sprigs of fresh sage
Sprigs of fresh rosemary
Instructions
Place all the ingredients for the marinade in a bowl and stir. Add the pork chunks; cover and refrigerate for at least one hour or longer.
Soak the kabob sticks in water before placing the pork and veggies on the stick.
Alternate the pork and veggies on the kabob sticks.
Either grill or barbecue it is up to you.
The pork is cooked when the juices run clear.
Recipe Card powered by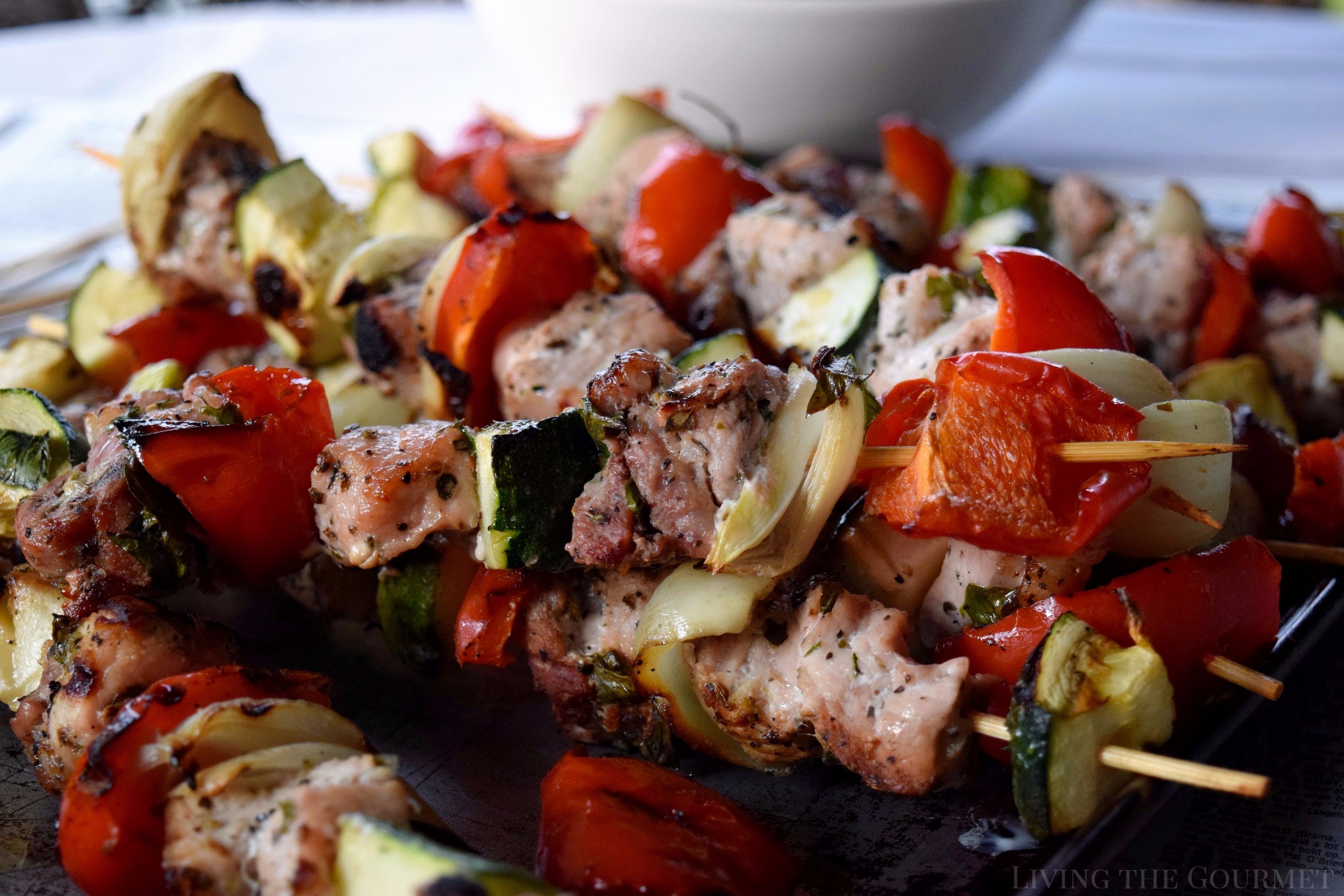 Enjoy with Love,
Catherine
1