This blog post has been compensated by Borden® Cheese. All opinions are mine alone. #BordenCheeseLove #CollectiveBias #Ad
Transform Taco night with Borden® Cheese melted over a fresh, zesty slaw and spicy shrimp!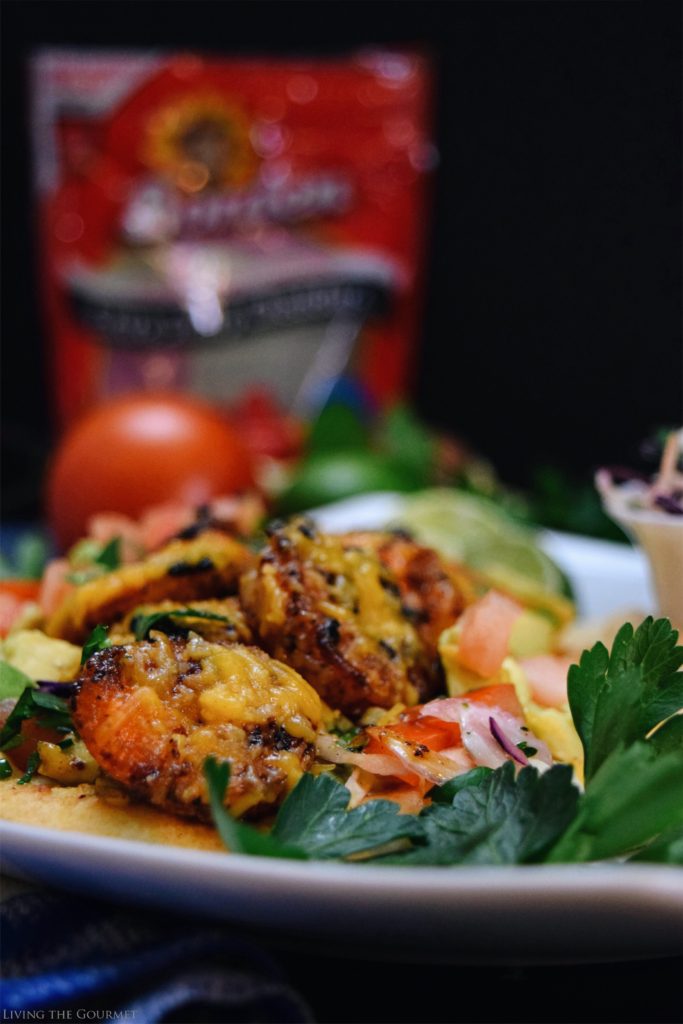 Memories are a recurring theme here on Living the Gourmet. In part, this is because food, and the enjoyment thereof, is very often a key accentuation to the creation of memories. Holidays, important life milestones, birthdays, and even big games all have their menus. For that reason, when I prepare a recipe, I keep in mind that I am not merely preparing a dish, I am helping to prepare a memory.
Memories, however, are fickle things, being the fading, imperfect, and biased record of our lives. Think of it as an author writing the pages of a book, and then only keeping random fragments. A mundane day may stay with us throughout our life, while what we thought was a milestone may be kept in only the foggiest of detail. In other words, it isn't always the 'big' events that turn into memories, and sometimes just the opposite.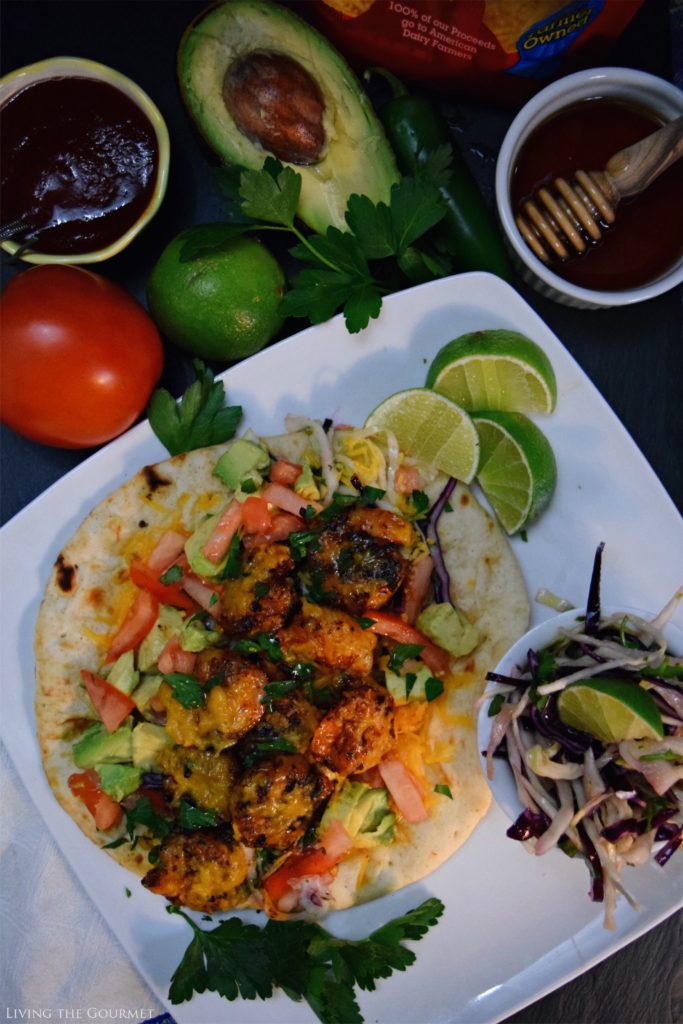 So, yes, I'll admit that I like to imagine that if a moment can be made special, it ought to be, simply because we don't know if we'll end up carrying that moment with us. For example, just last week, I was picking up a few my 'gourmet essentials' in one of my favorite Italian markets – Uncle Giuseppe's. It was a weekday, and I had the rare pleasure of having a clear schedule for the night.
Can you see where this is going yet?
Of course, I decided on the spot to make the night special for both myself and the crew of Living the Gourmet, a classic family moment where love is always an ingredient. Now, if you've ever seen the movie Burnt, you might recall a pair of scenes where the kitchen crew unwinds around a table of 'casual' food. In other words, their idea of relaxing wasn't necessarily the Michelin Star dishes they served to their patrons. Instead, they enjoyed fun comfort when relaxing amongst themselves. Life at Living the Gourmet isn't so different.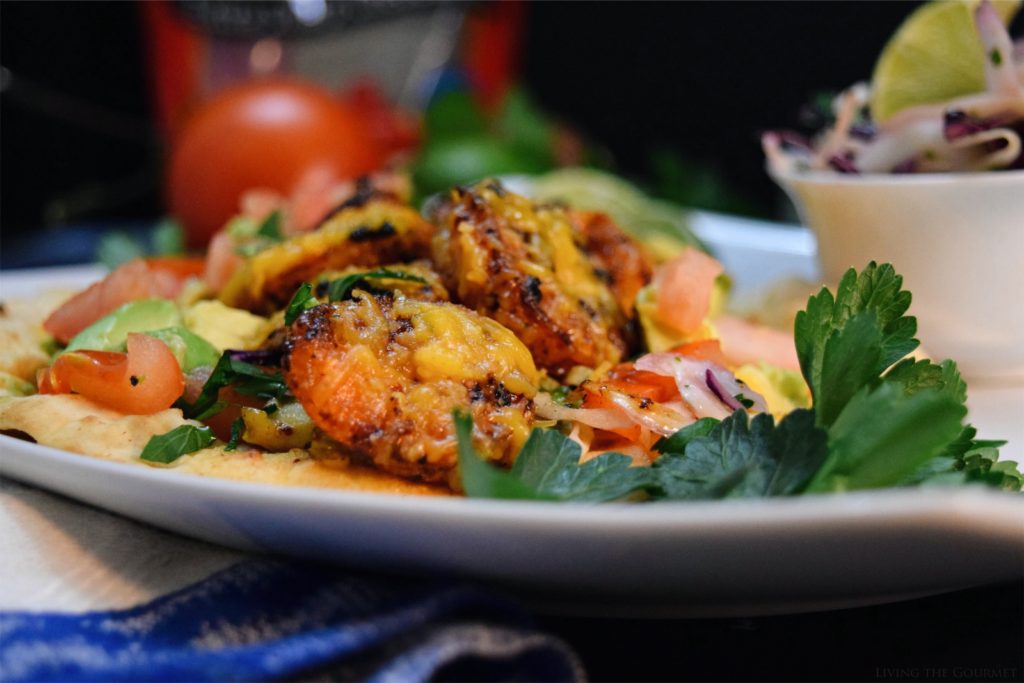 In other words, a casual fun night deserves a similarly 'fun' meal, and that's where today's recipe comes in – Shrimp Tacos. For precisely this, I picked up a few bags of Borden® Cheese, both Borden® Cheese Sharp Cheddar Shreds and Borden® Cheese Mozzarella Shreds (to use another night). Now, while I picked mine up at Uncle Giuseppe's, Borden® Cheese is available at a range of different retailers, so be sure to check out this store locator to find Borden® Cheese near you.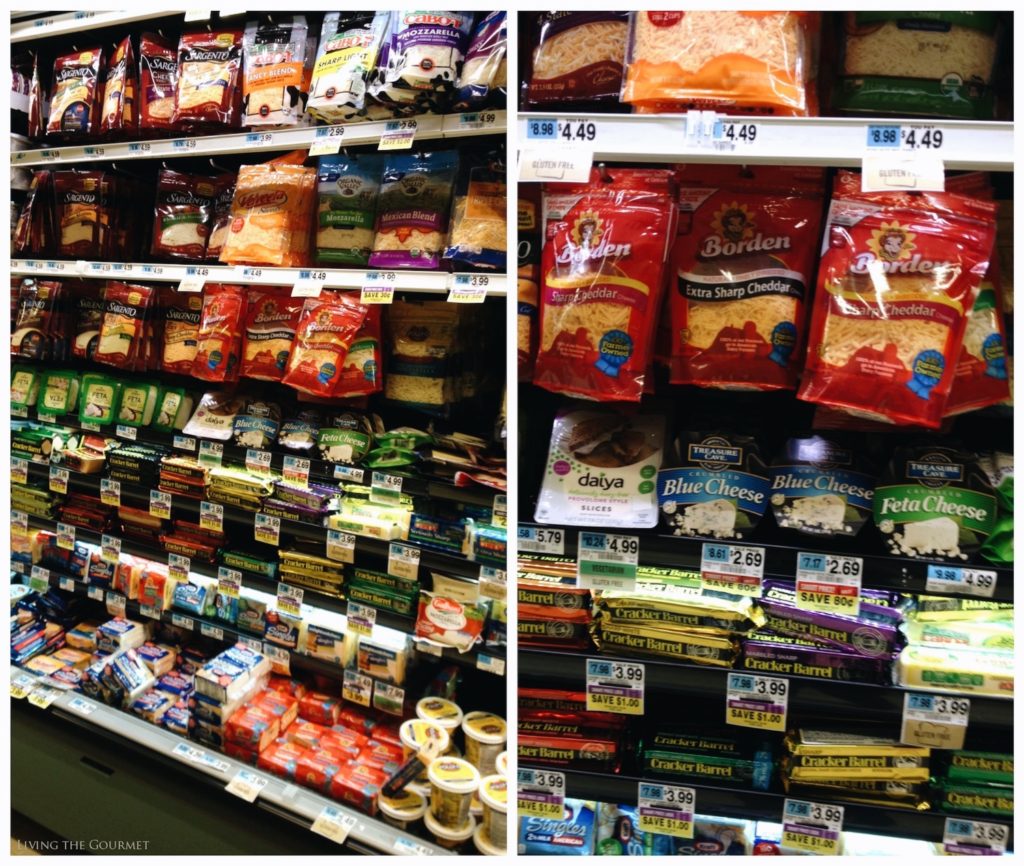 Now, before we begin, I am a firm believer that the 'taco shell' is perhaps the single most important ingredient in any type of taco. Not only is it the largest 'portion' of the taco, but it is also the first thing you bite into, making it the first flavor, texture, and aroma to greet you or your guests. Now, while there are certainly 'good' quality flat breads or shells available for purchase, making your own is always the best way to go, and I have my signature recipe for easy, reliably delicious flatbreads right here on Living the Gourmet.
After preparing the flatbreads, I put together a Mexican Barbeque Sauce, which is probably a lot easier to do than one might imagine. In a medium-sized sauce pan (preferably cast iron), combine the ingredients outlined below with a base comprised of one cup of vinegar, one cup of sugar, and four tablespoons of maple syrup. While that cooked down, I prepared a quick coleslaw with red and green cabbage. To season the coleslaw, I put together a fresh lime juice and honey dressing as shown below.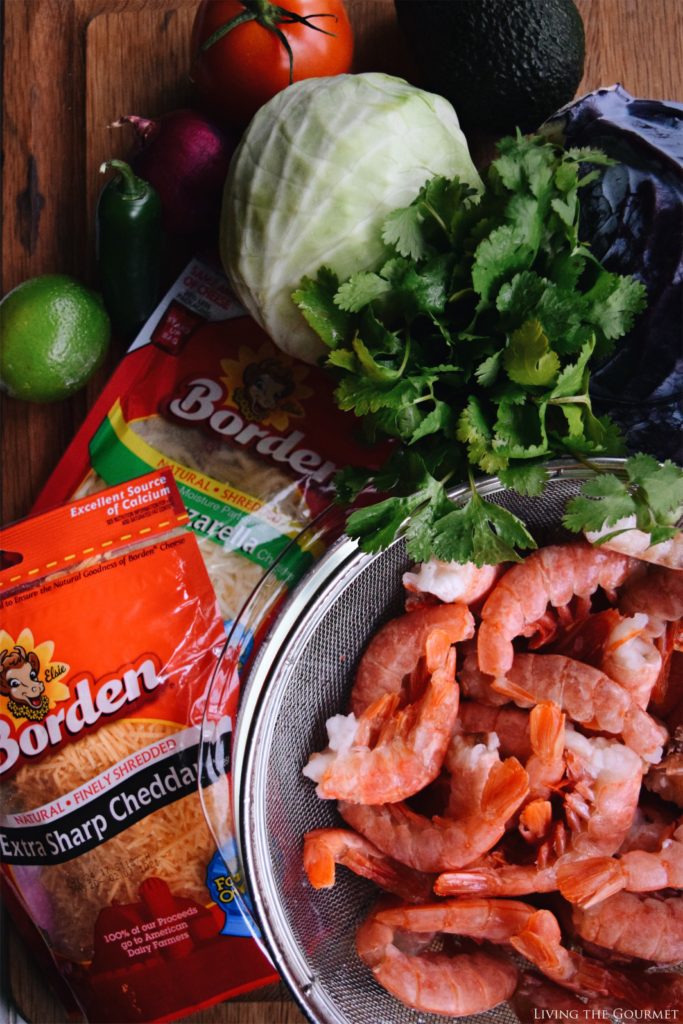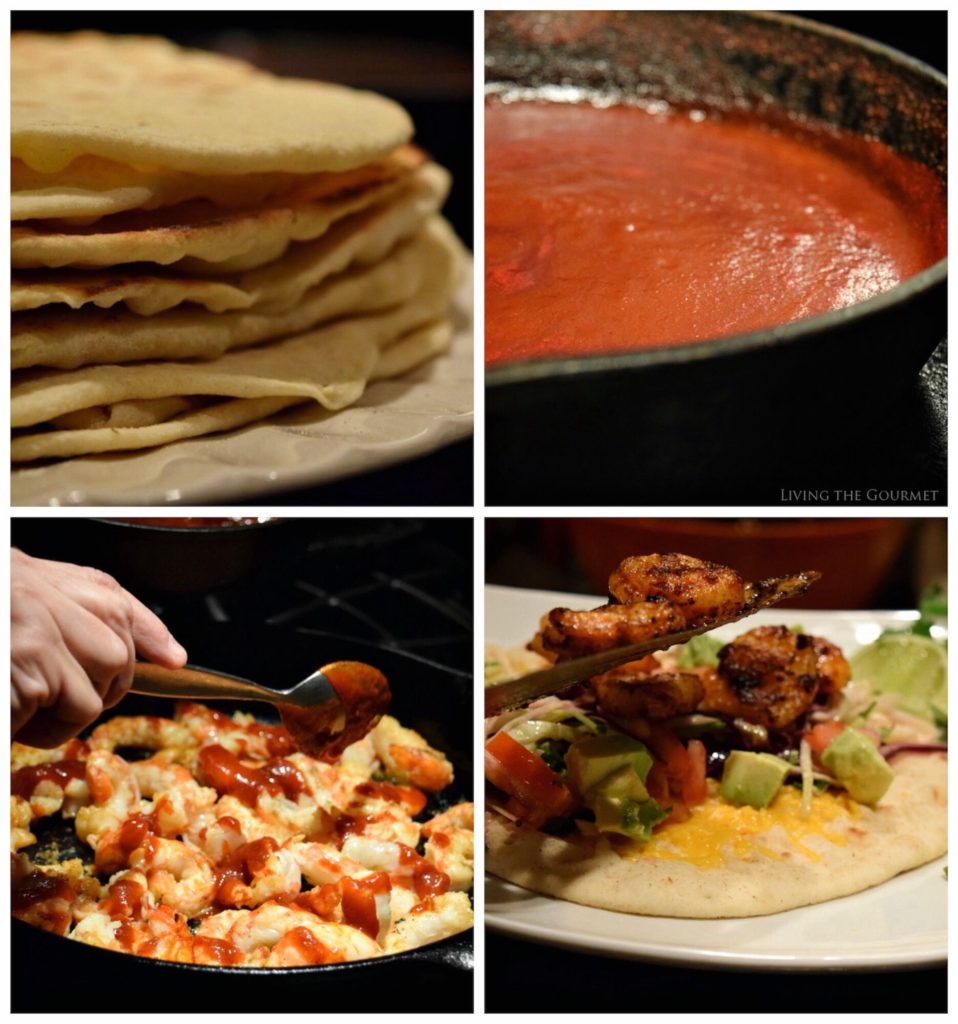 Print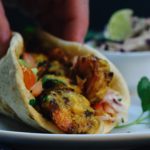 Spicy Shrimp Tacos
---
Author:

Total Time:

30 minutes

Yield:

4

1

x
2

lbs. of shrimp

2

avocados – sliced

1

tomato – diced

4

limes – quartered
Olive oil – for dressing and frying
Butter – for the bbq sauce
Honey – for drizzling
Borden® Cheese Sharp Cheddar Shreds
Flat Breads
For the Mexican BBQ Sauce:
1 cup

of sugar

1 cup

of white vinegar

2

tbs. salt

2

tbs. black pepper

1

tbs. cayenne

2

tbs. butter

1

tbs. lemon juice

1 tsp

. paprika

1 tsp

. ground cumin

4

tbs. maple syrup
For the Coleslaw:
¼

head of red cabbage, sliced thin

¼

head of green cabbage, sliced thin

1

small onion, sliced thin
For the Coleslaw Dressing:
Juice and zest of 3 limes

¼ cup

of olive oil

1 tsp

. salt

1 tsp

. black pepper

3

tbs. honey

1

small jalapeno – chopped with seeds

1

bunch of cilantro – chopped
---
Instructions
For the Mexican BBQ Sauce:
Combine all of the above ingredients in a medium sized sauce pan and simmer on a gentle heat for 15 – 20 minutes, until the sauce cooks down slightly and thickens.
Let cool before using.
For the Coleslaw and dressing:
Combine all of the ingredients for the dressing in a small bowl and stir.
Combine all of the ingredients for the slaw in a bowl and toss.
Pour the dressing over the slaw and toss.
For the Shrimp:
Heat a large heavy frying pan with about 2 tbs. of olive oil over a high heat.
Add the shrimp, tossing them in the pan to obtain as much beautiful color on them as possible.
When the shrimp are opaque add about 3 – 4 tbs. of the Mexican BBQ sauce and stir for 2 to 3 minutes.
Add 2 tbs. of butter to the shrimp and allow the butter to melt into the sauce.
Turn the heat off and get ready to build your taco.
Plate the flat-bread followed by the coleslaw, shrimp, diced tomato, avocado slices, shredded cheese and finally a squeeze of lime juice and a drizzle of honey.
Prep Time:

10 minutes

Cook Time:

20 minutes

Category:

Main Dish
Recipe Card powered by
Finally, after preparing the shrimp and coating them in the barbeque sauce, it was time for the fun part – assembling the tacos. To start, plate a flatbread, and then line the middle with the coleslaw. Then set the shrimp over the coleslaw, followed by diced tomatoes, sliced avocado, and then topped with a generous dusting of the Borden® Cheese Sharp Cheddar Shreds, and slight drizzle of honey.
Needless to say, the tacos provided a fun and festive way to spend a free evening with the family. What are some of your favorite meals for those kinds of moments? We would love to hear from you.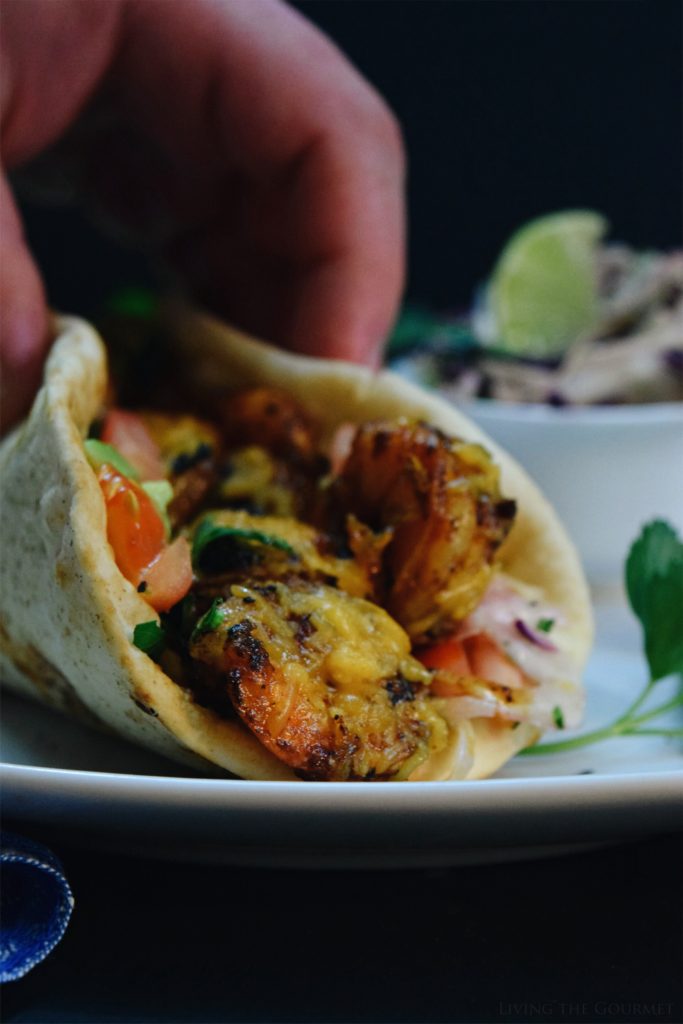 Follow Borden® Cheese on:
Facebook
Instagram
Pinterest
Enjoy with Love!
0