This post has been sponsored by Little Northern Bakehouse. All opinions expressed are my own.
Sweet pear slices, dried cranberries, melted mozzarella and grilled peppers come together for one delicious seasonal sandwich that is wholesome and gluten free!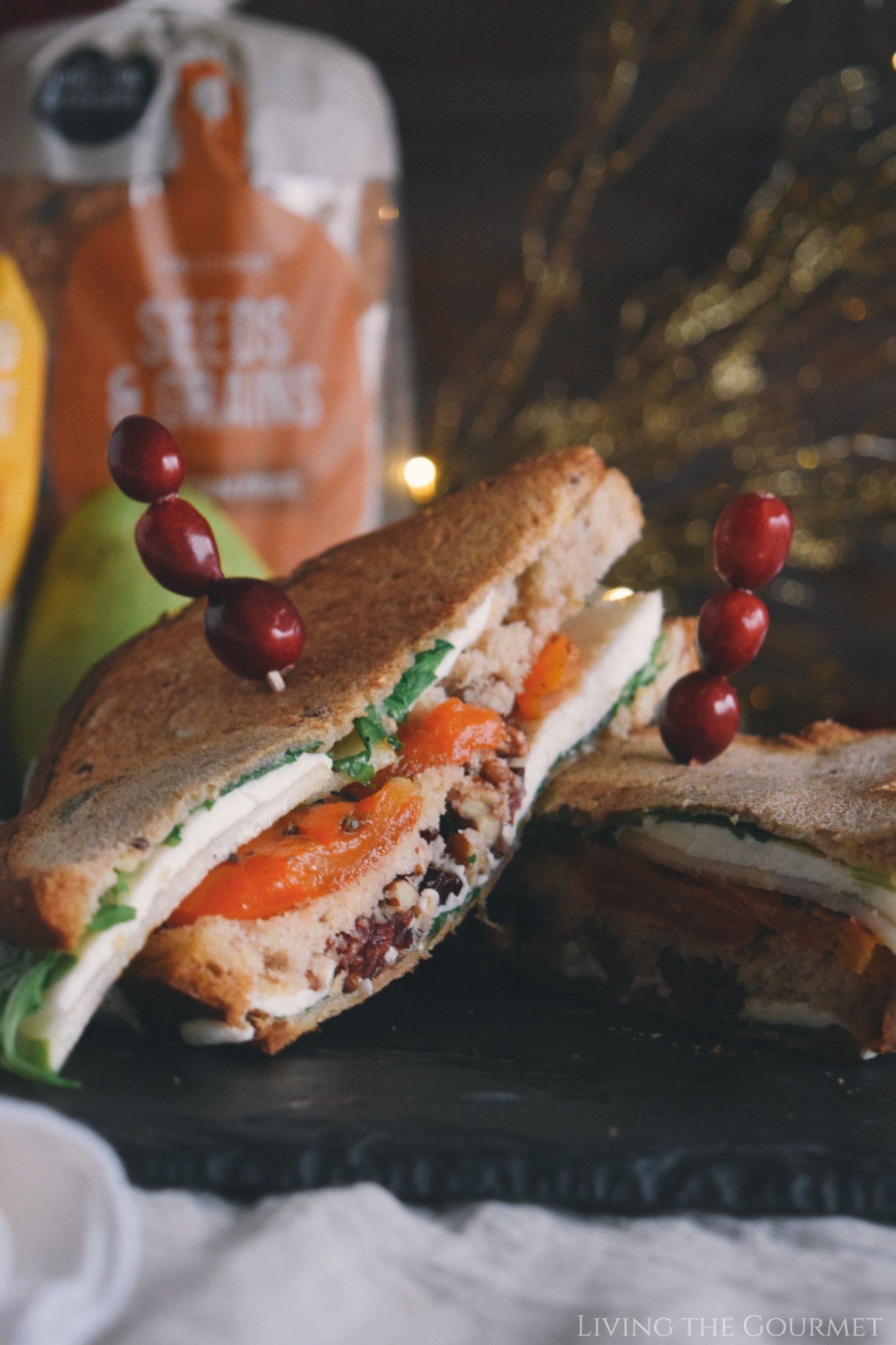 "Rules for happiness: something to do, someone to love, something to hope for." -Immanuel Kant
The realization that we have entered into the last month of the decade hit me hard during lunch with my mother the other day.
Time is an interesting dilution with a tendency to creep up and take us by surprise despite the fact that we space every activity of the day by the number on a clock. That's what happens I suppose when you get into a rhythm and a habit. Time is repetitive by nature limited to the numbers between 1-12, and it starts all over again every day.
So, there I was, having lunch with my mother on a typical work day planning out our calendar, when we both paused to realize that this would is to be the final Christmas of the decade. I don't know if you're as phased by this as I am, but to this aging Millennial, 2001 still feels like 'yesterday'.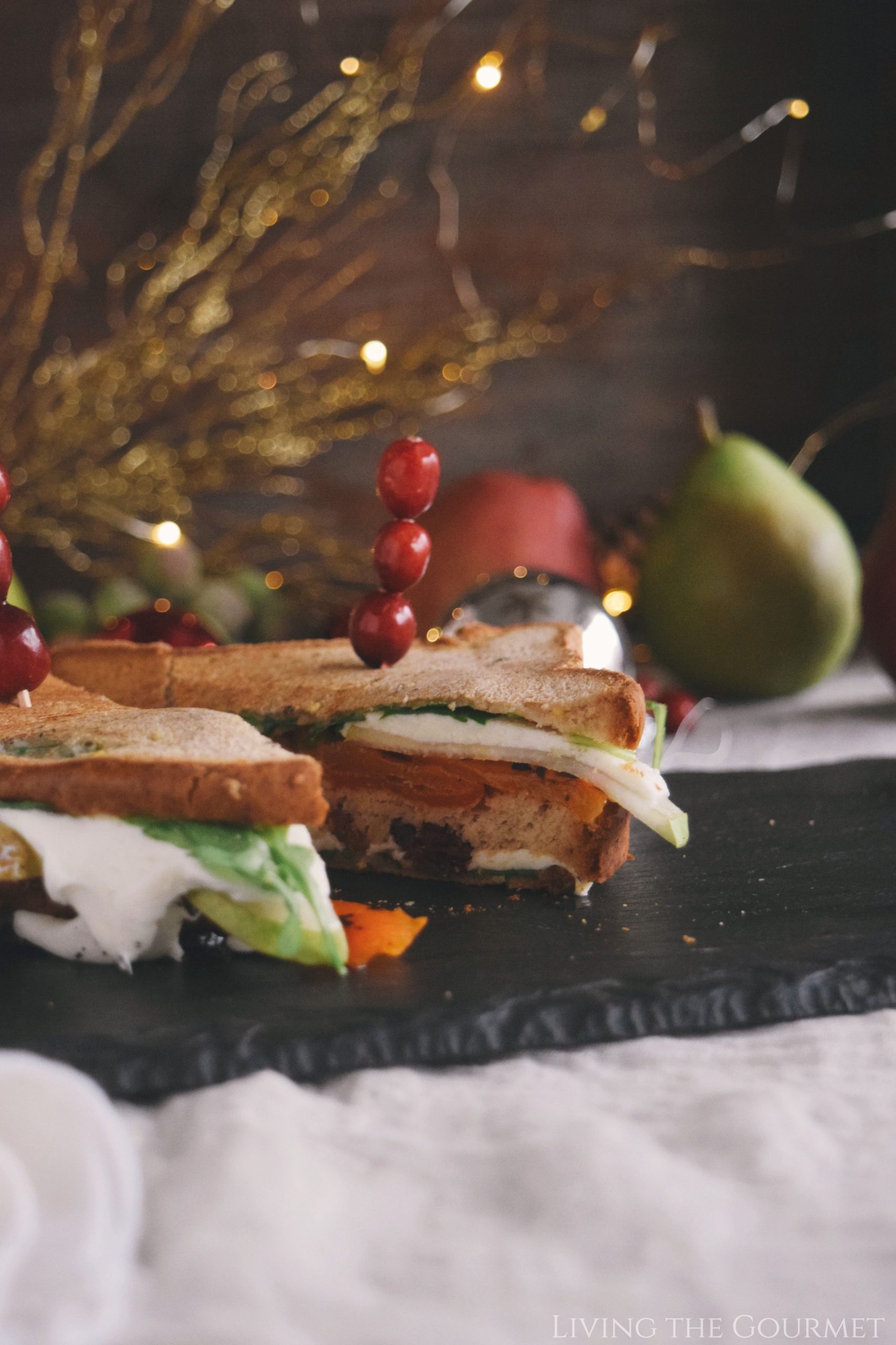 Well, after this reality sent a shock wave through my system, and I relived the last 10 years of my life in about 2 seconds in my mind, I began to feel a wait lifted off my shoulders. From the start of the decade to now, I realized how far I've come in life. How the road twisted and certainly turned, but how in the end, the path along the way was pretty nice. I am grateful for all that I have lived through and endured, even the painful moments, because it made me who I am today.
So, allow me to lift an imaginary glass and propose a toast- As we enter into the holiday season, may your days be filled with the joyous anticipation of celebration, the warming love of close relations, and the blessing of a grand new decade to come.
We'll be celebrating all month long here on Living the Gourmet with tons of refreshing, delicious, and delightful recipes and surprises. Today, we're celebrating the season with this layered Grilled Pear & Pepper Sandwich, perfect for holiday brunches. Let's get started.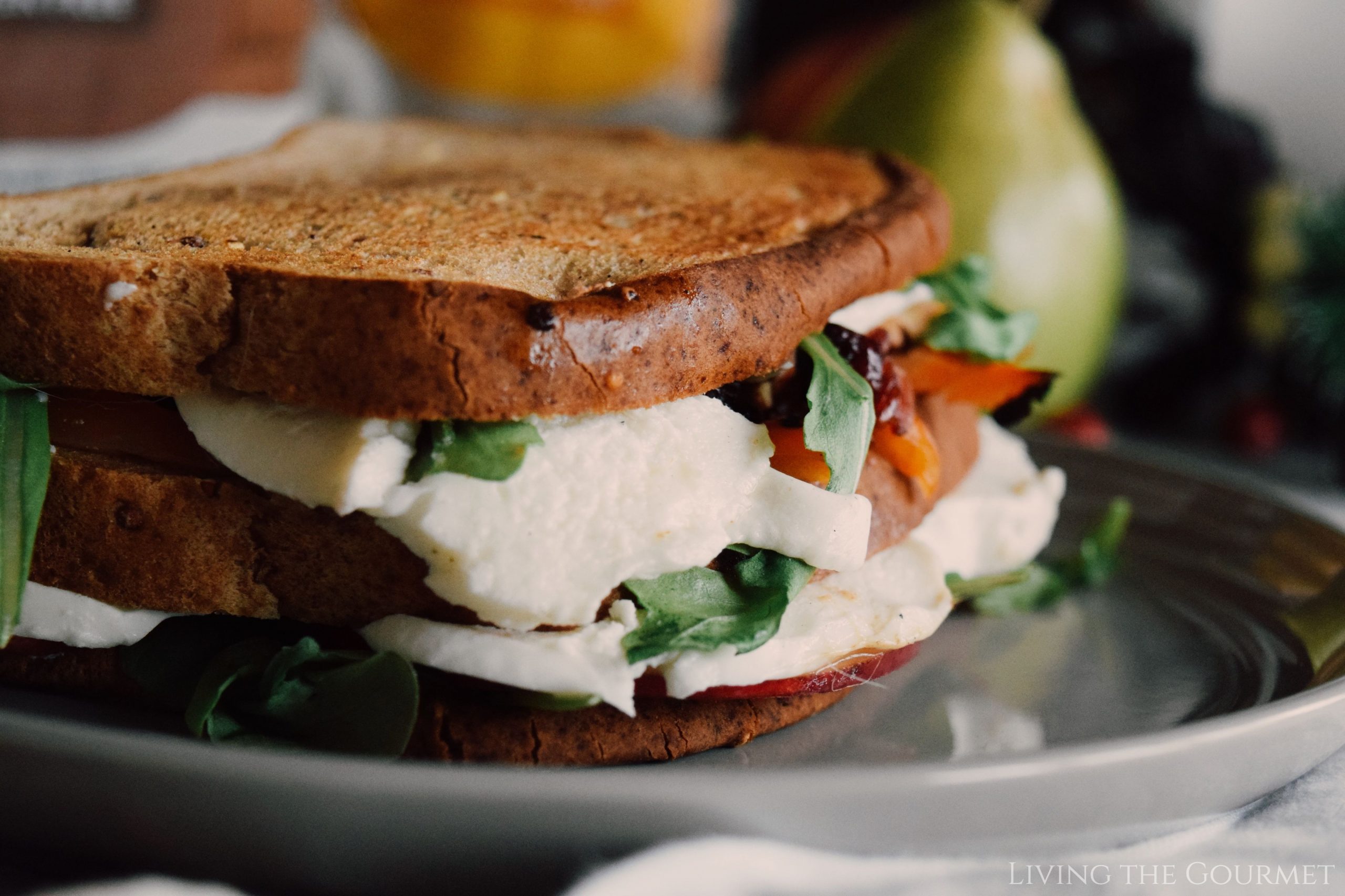 Between the Layers
I think I voice the opinion of the masses when I say there is something irresistibly divine in simplicity. Which is why sandwiches tend to always be a hit maker. The variations are infinite. For today's recipe I'm focusing solely on fresh, seasonal ingredients like pears, dried cranberries, pecans, and arugula. I'm adding some heft and heartiness with grilled red peppers and fresh mozzarella, though any hearty, firm cheese will do.
1) First and foremost, we begin with bread. For today's recipe, I am pleased to be partnering once again with my favorite gluten free brands, Little Northern Bakehouse. I've been a long-time fan of this brand because I love the taste and texture of their products. Their breads are hearty and hold up to any sandwich and they never skimp on flavor. In the past, I have highlighted some of my favorite LNB loaves like their Cinnamon & Raisin and Sprouted 7 Grain. They have recently added to their line with Sprouted Honey Oat as well as a variety of gluten free bagels. LNB offers an assortment of plant-based, non-GMO products that are certified Glyphosate Residue Free, all displaying the Bio-Checked Non Glyphosate Certified seal. Be sure to look for them at your nearest store.
For today's sandwich, I used both Whole Grain Whole Slice and Sprouted Honey Oat because those are the favored varieties in my household. Note: I used three slices per sandwich.
2) Seasonal fruit. I'm strong proponent of adding fruit to my sandwiches and feel like this aspect gets overlooked way too often. Usually, I'll for a crisp apple or stone fruit, but today I opted for pears because quite frankly I couldn't pass on the beautiful display at my local grocery. In addition to the pears I sprinkled dried cranberries for a little burst of added flavor with each bite. If you have cranberry sauce on hand that's a perfect swap, just spread a thin layer onto the bread. The thinly sliced pears and sweet and tart cranberries and go together fabulously with the fresh arugula. It's a sweet and peppery combo that just works especially with melted cheese.
3) Let's talk Cheese. Since we're on the subject of cheese, be sure to pick a firm but mild cheese that melts well. Fresh mozzarella is usually a good choice, but Jarlsberg will work marvelously as well, or even a Gouda. The subtle sharpness will balance out the sweetness from the fruit. Note: if you're looking to go for a full vegan sandwich, you can use any of your favorite vegan cheese (I like the sliced cheddar variety).
4. Peppers, because why not? So you have toasted bread, melty cheese, soft sweet fruit, but admittedly you need something else. Something…meaty but not quite heavy or hearty. Enter roasted peppers which offer this sandwich the extra layer of 'body' it needs with yet another element of flavor. Grilled peppers are so easy to make and let's be honest, the peek of color looks damn good too.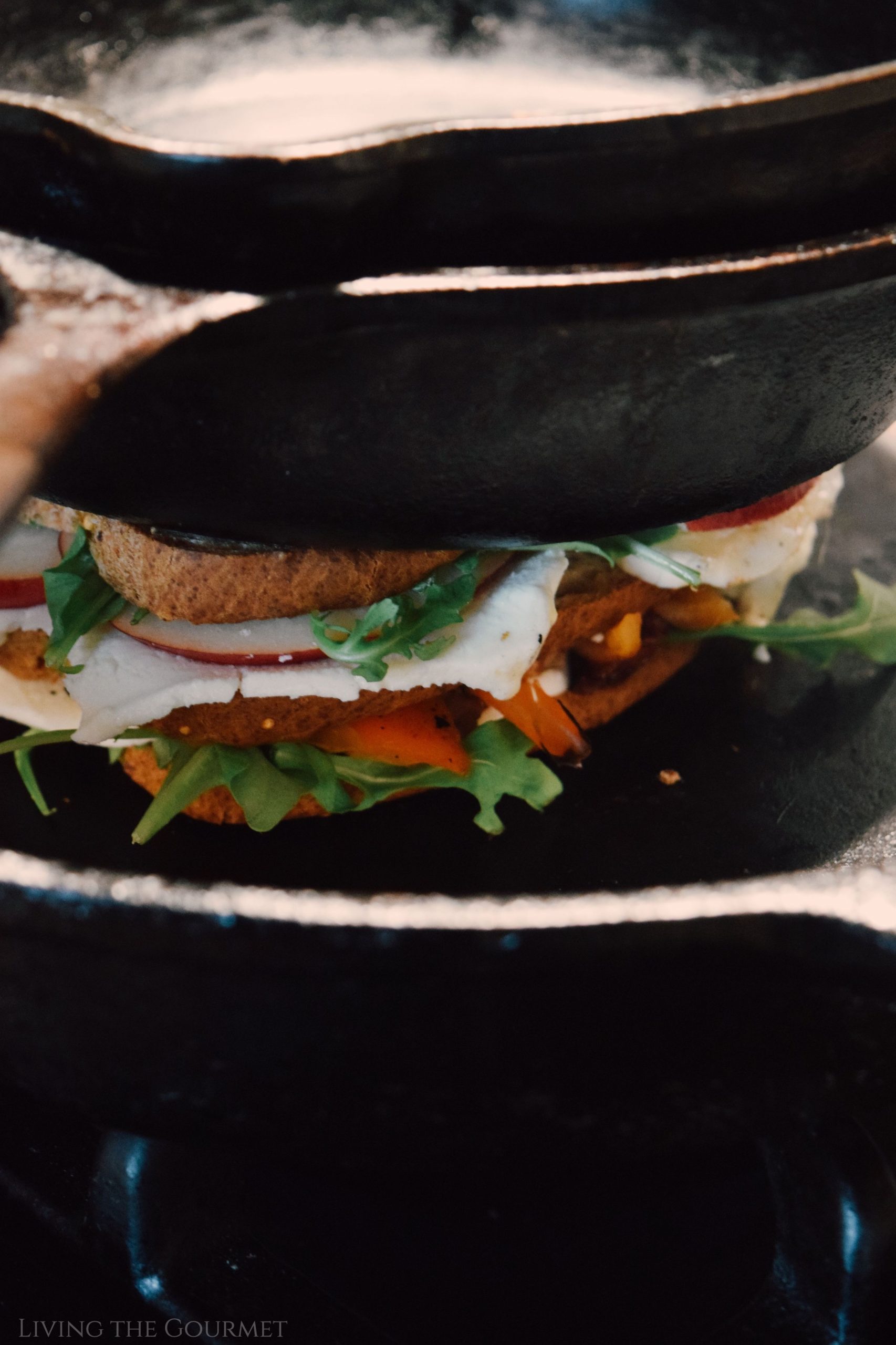 5. The finish touch. Tying up this deliciously multi-dimensional holiday sandwich are pecans. A little added crunch and natural maple-y flavor is what unexpectedly brings this sandwich to the next level. Now all we have to do is heat it up on the griddle or fry pan and make sure to weigh it down to get a nice melt.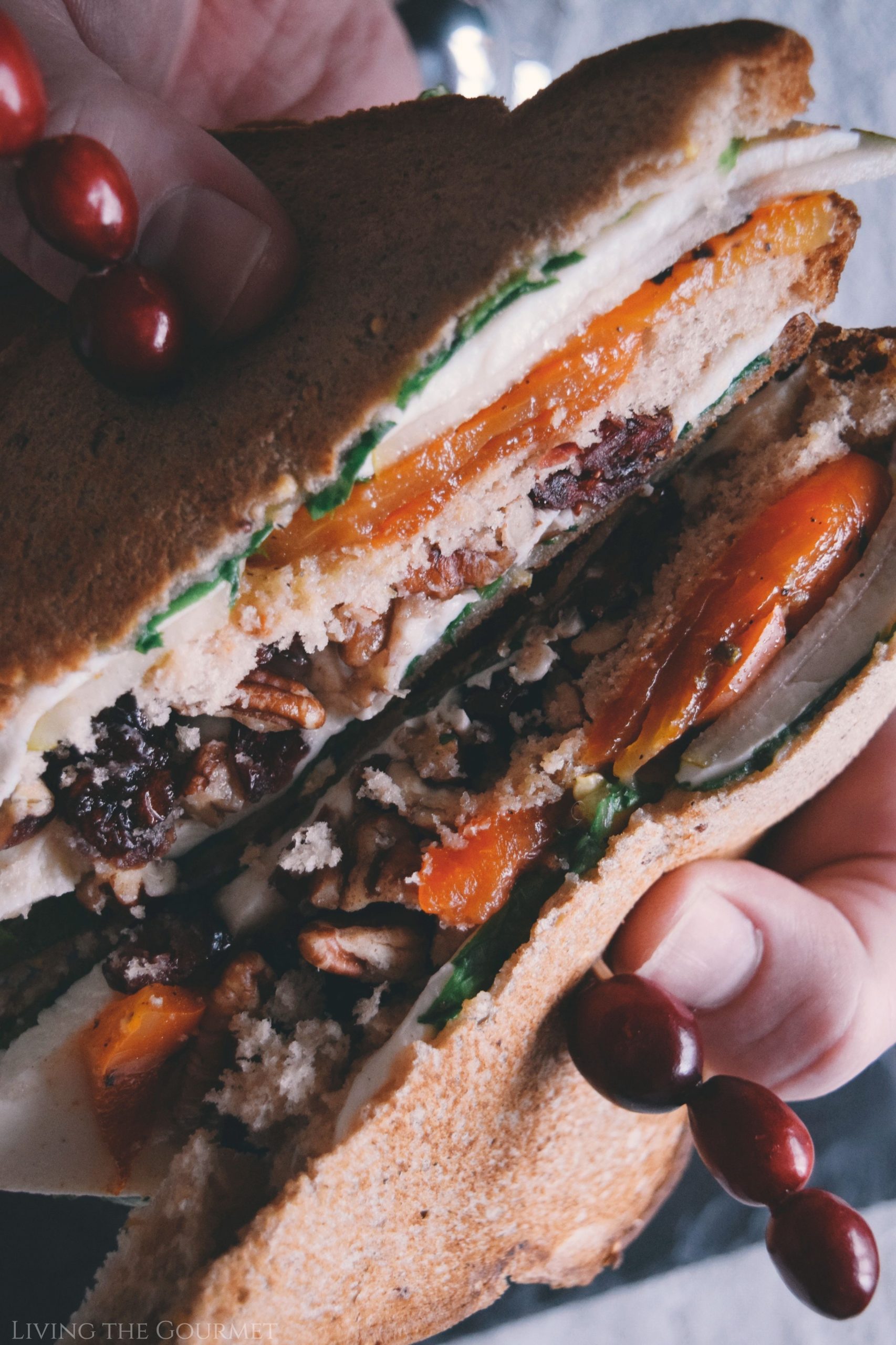 Print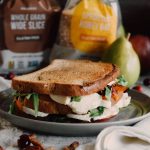 Grilled Pear & Pepper Sandwich
---
Author:

Total Time:

10 minutes

Yield:

1

sandwich

1

x
3

slices your favorite Little Northern Bakehouse bread
Fresh Arugula

1

pear – sliced thin
Fresh mozzarella slices
Chopped pecans
Dried cranberries
---
Instructions
To build the sandwich:
Choose three slices of Little Northern Bakehouse Bread for your sandwich.
Place arugula on the bread followed by slices of fresh mozzarella, followed by slices of pear, and roasted pepper slices.
Place another slice of bread over this and begin with arugula followed by dried cranberries, chopped pecans, fresh mozzarella, sliced pear, sliced roasted peppers and finish with arugula. Top with the third slice of bread.
Heat a large cast iron frying pan and place the sandwich in the pan and top with another heavy pan for a minute.
Carefully, turn the sandwich over and place a heavy pan over the sandwich and heat for another minute.
Enjoy with Love.
Prep Time:

5 minutes

Cook Time:

5 minutes
Recipe Card powered by
And that's all she wrote friends! Now if you're looking for more delicious seasonal and holiday-inspired recipes, check out the FREE Little Northern Bakehouse Holiday Recipe Book!
If You Enjoyed Today's Recipe…
Be sure to follow us on Instagram to stay up to date with all things Living the Gourmet, and for more great recipes, tips and tricks.
Did you make this recipe?
If so, let me know in the comments down below, or post a picture to Instagram, or to Pinterest, and I'll give you a shoutout on Instagram, or post your pin to one of my Pinterest boards!
0