"This post is part of a social shopper marketing insight campaign with Pollinate Media Group®, Barilla®, but all my opinions are my own. #pmedia #AnytimePasta http://mydisclosur.es/OBsstV"
Browned butter infused with sage gives this simple meal a gourmet taste without the hassle or expense. Tossed in one pan with the new Barilla® Pronto Pasta, your weeknights just got easier!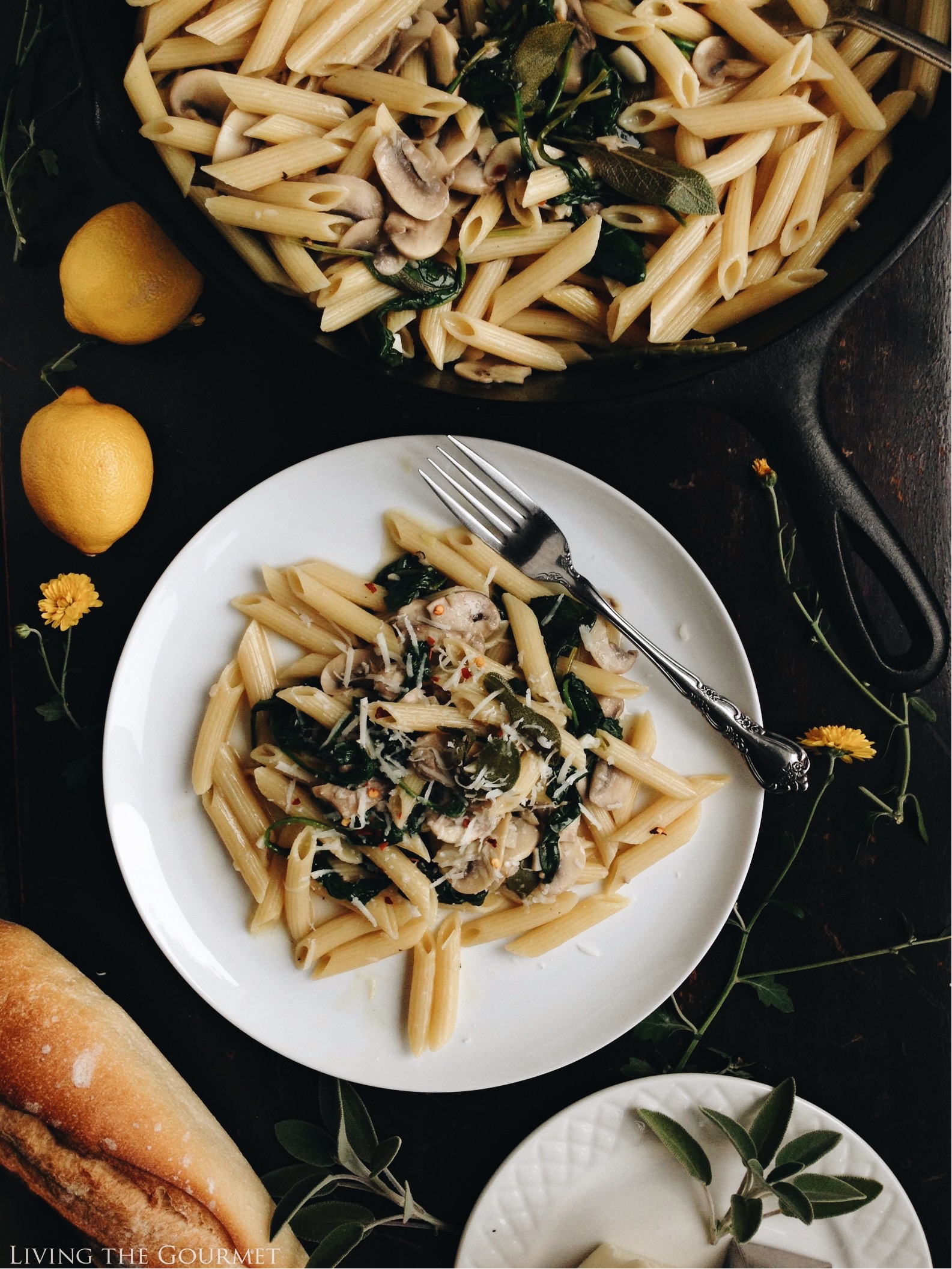 'Feast' is a word with an almost singular connotation – that of ravenously consuming huge quantities of typically fine food and even finer wine. Like the climax of a grand symphony, a feast is the crescendo of our humanity, where we cast worry, pain, and temperance aside and indulge momentarily in all the carnal pleasures of the palate. Whether to celebrate some momentous occasion, a special holiday, or simply for the sake of it, to truly 'feast' is to truly indulge our humanity.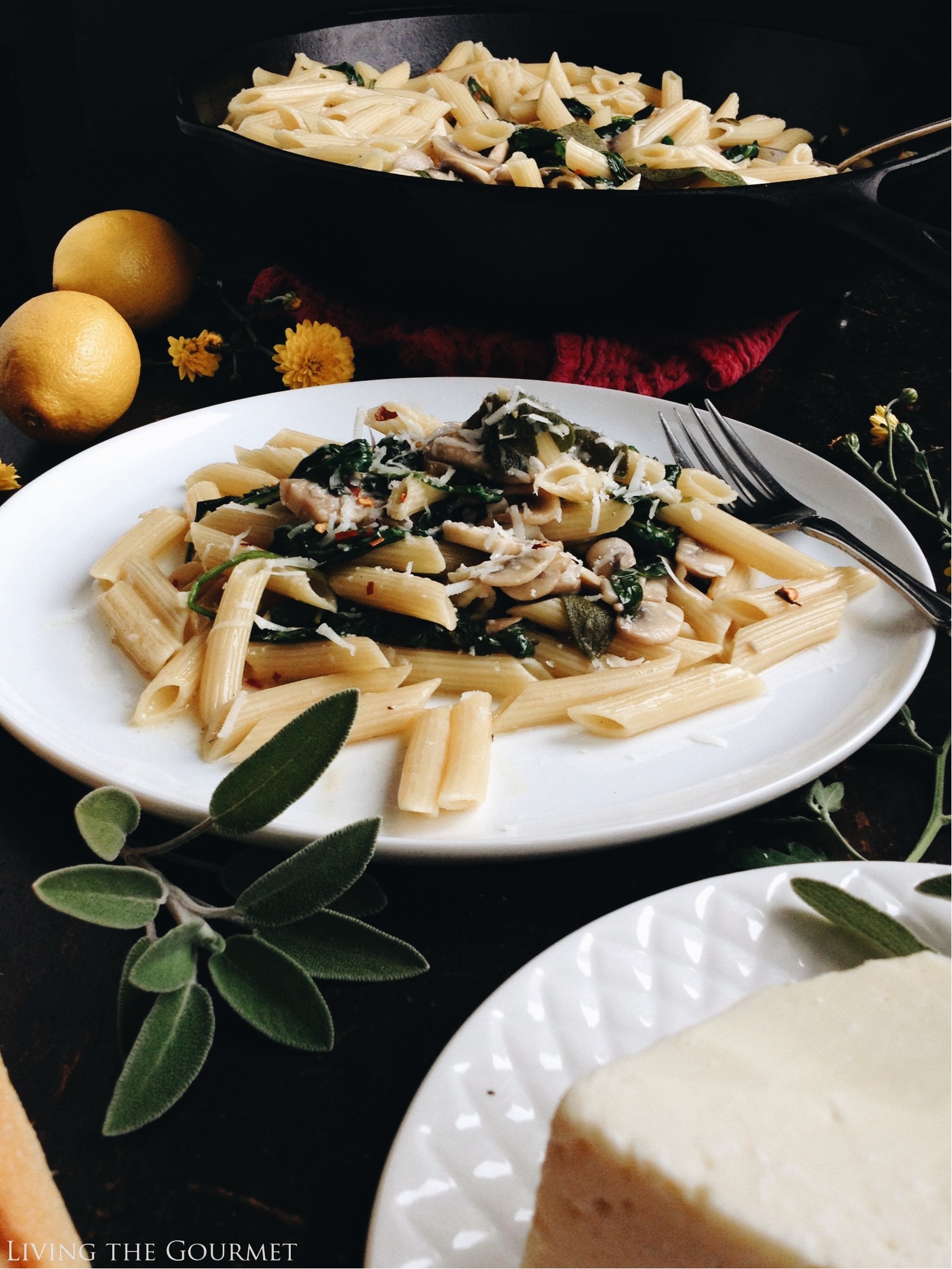 Preconceptions aside, however, for most the idea of 'feasting' can be as simple as merely indulging a delightful weekday meal, perhaps enhanced by a glass of good wine, some crusty Italian bread ,and hard cheese.
Personally, I've always been more of a before and after fellow. While mounds of good food are difficult to overcome, I typically find myself drawn far more to the idea of idea of lingering with company over an antipasto and aperitifs, or melting into a background of dim lights and Latin beats over black coffee as a drowsy midnight looms.
While I can't help you find time for the before and after bit of that equation, one need never skip or skimp on the meal.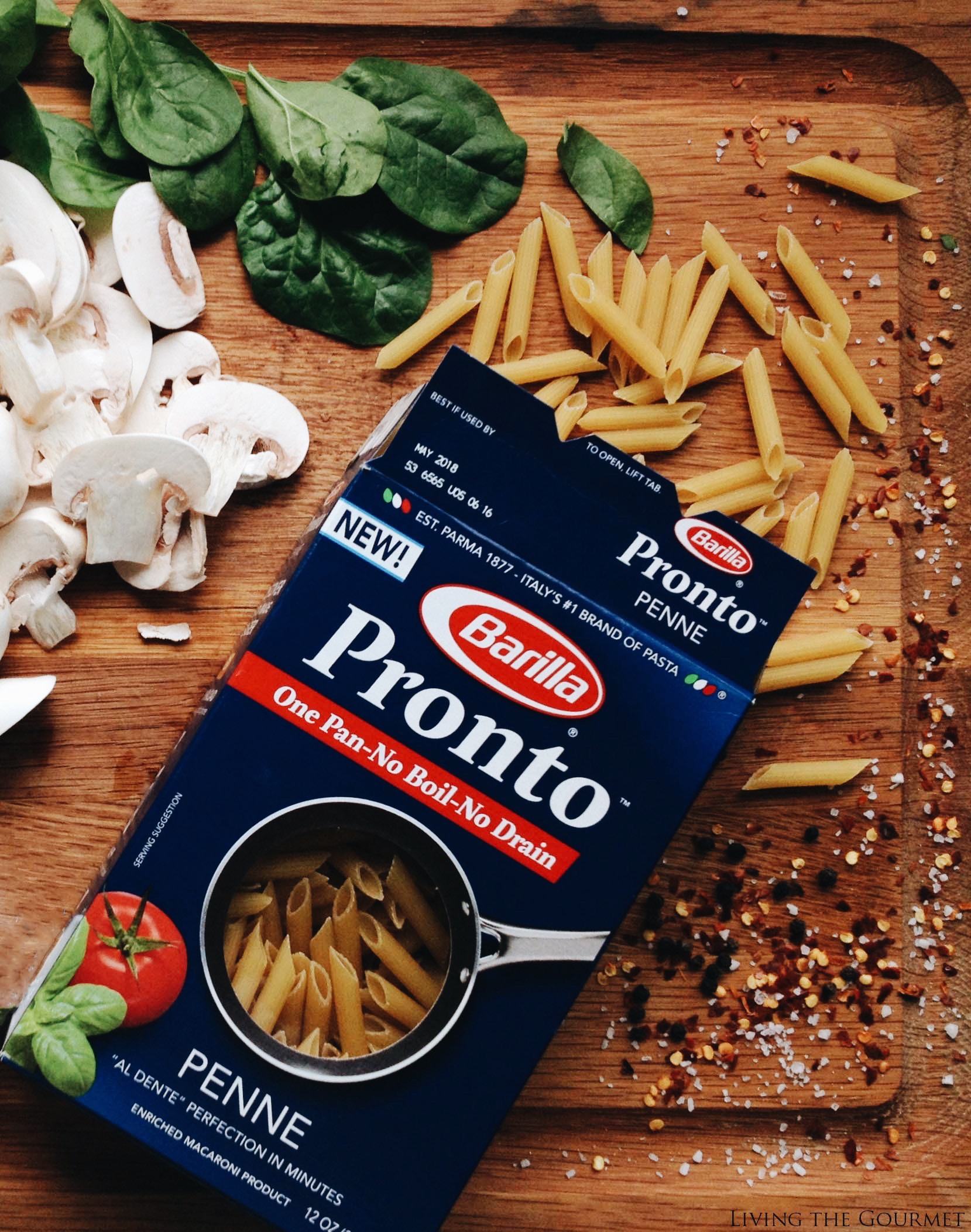 For example, I recently put together a classic Italian pasta dish of brown butter and sage over Barilla Pronto Penne – which I picked up at my local Stop & Shop. Using just a few simple key ingredients, this dish is as rustic and traditional as comes, except of course for the much reduced prep time courtesy of the Pronto Penne which cooks up straight away.
To begin, we add butter and oil into a large frying pan, preferably cast iron, and allow the butter to melt and then brown. We then add in garlic, sage and mushrooms, and toss in the spinach once the mushrooms have reduced. Then prepare the Barilla Pronto Pasta as directed, plate it with the sautéed garlic, mushrooms and spinach, and you're done.
Serve the dish with some Italian bread, perhaps some olives, a nice infused oil, and you have a weekday feast that's so simple to put together there's never an excuse to skimp or skip.
Simplicity itself.
What are some of the ways you keep dinners interesting during the week? We would love to hear from you, and make sure you grab some New Barilla® Pronto Pasta next time you shop at Stop & Shop, Giant Food Stores, or Martin's Food Markets. Barilla Pronto Pasta is also available through Peapod!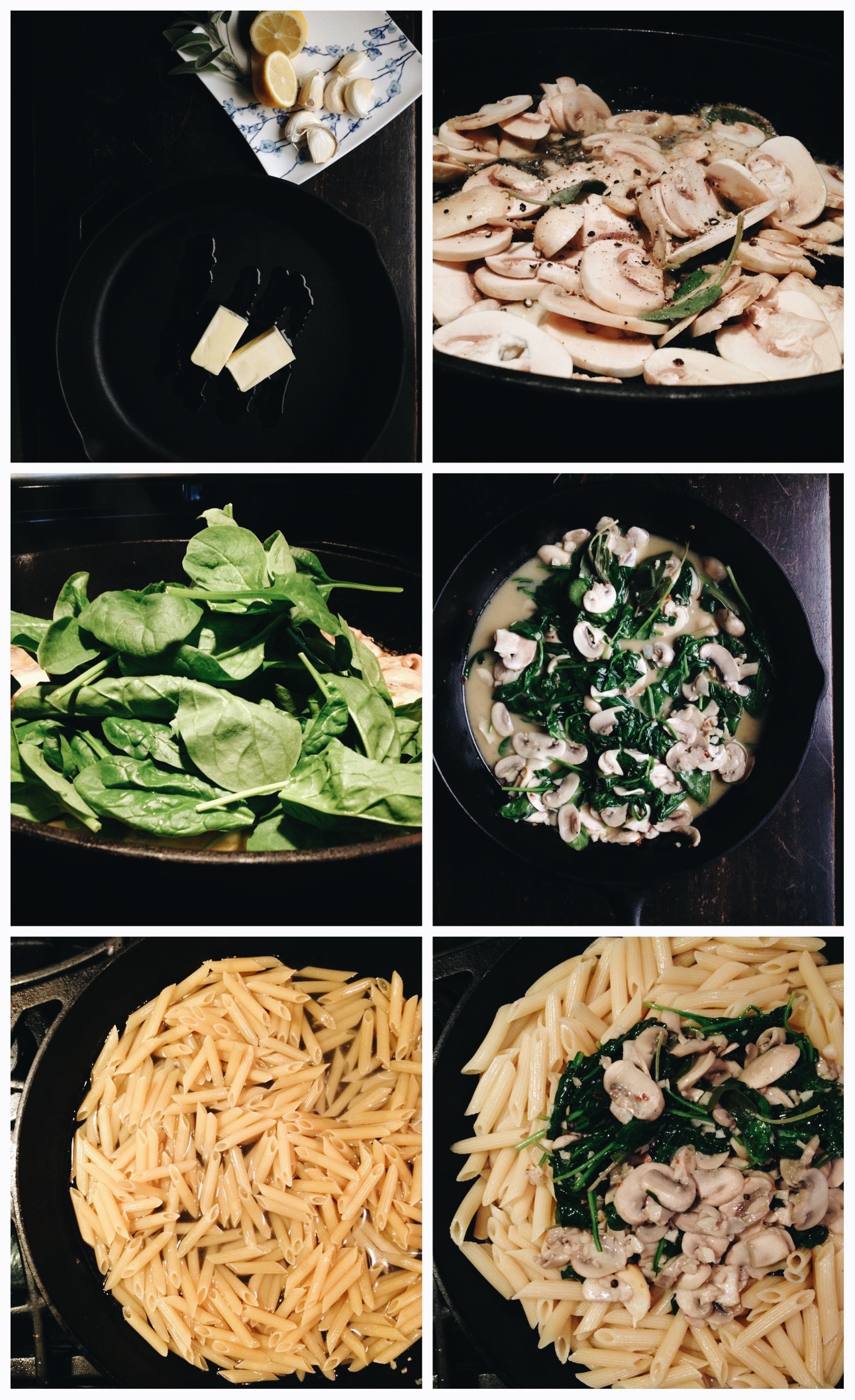 Living the Gourmet
Yields 4
One-Pan Brown Butter and Sage Pasta
10 minPrep Time
15 minCook Time
25 minTotal Time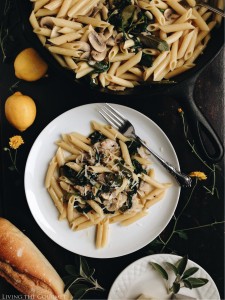 Ingredients
1 box Barilla® Pronto Pasta (I used Penne)
1/2 cup butter
2 tablespoons olive oil
2 sprigs fresh sage
Salt to taste
1/2 teaspoon red pepper flakes
Juice of 1 fresh lemon
8 ounces white button mushrooms
2 cups fresh spinach
2 cloves garlic, finely chopped
Fresh grated cheese
Instructions
In a large cast iron pan, melt butter and oil together. Once melted, lower the heat and allow to brown, but be careful not to burn the butter! This should take about 5-6 minutes.
Once browned, add garlic, sage and mushrooms. Let the mushrooms sweat down and shrink, before adding the spinach. Toss the spinach and sauté for 3-5 minutes, until it has completely cooked down. Season with salt, red pepper flakes and lemon juice.
Transfer the mushrooms and spinach to a serving plate. In the same pan, add 1 lb. of Barilla® Pronto Pasta. Follow directions and add 3 cups of water and a generous pinch of salt. Let simmer for 10 minutes, until the water has absorbed into the pasta and the pasta is al dente.
Add the mushrooms and spinach along with the brown butter sauce back into the pan and toss together with the penne.
Plate and grate fresh cheese along with some additional red pepper flakes if desired.
7.8.1.2
200
https://livingthegourmet.com/2015/11/one-pan-brown-butter-and-sage-pasta.html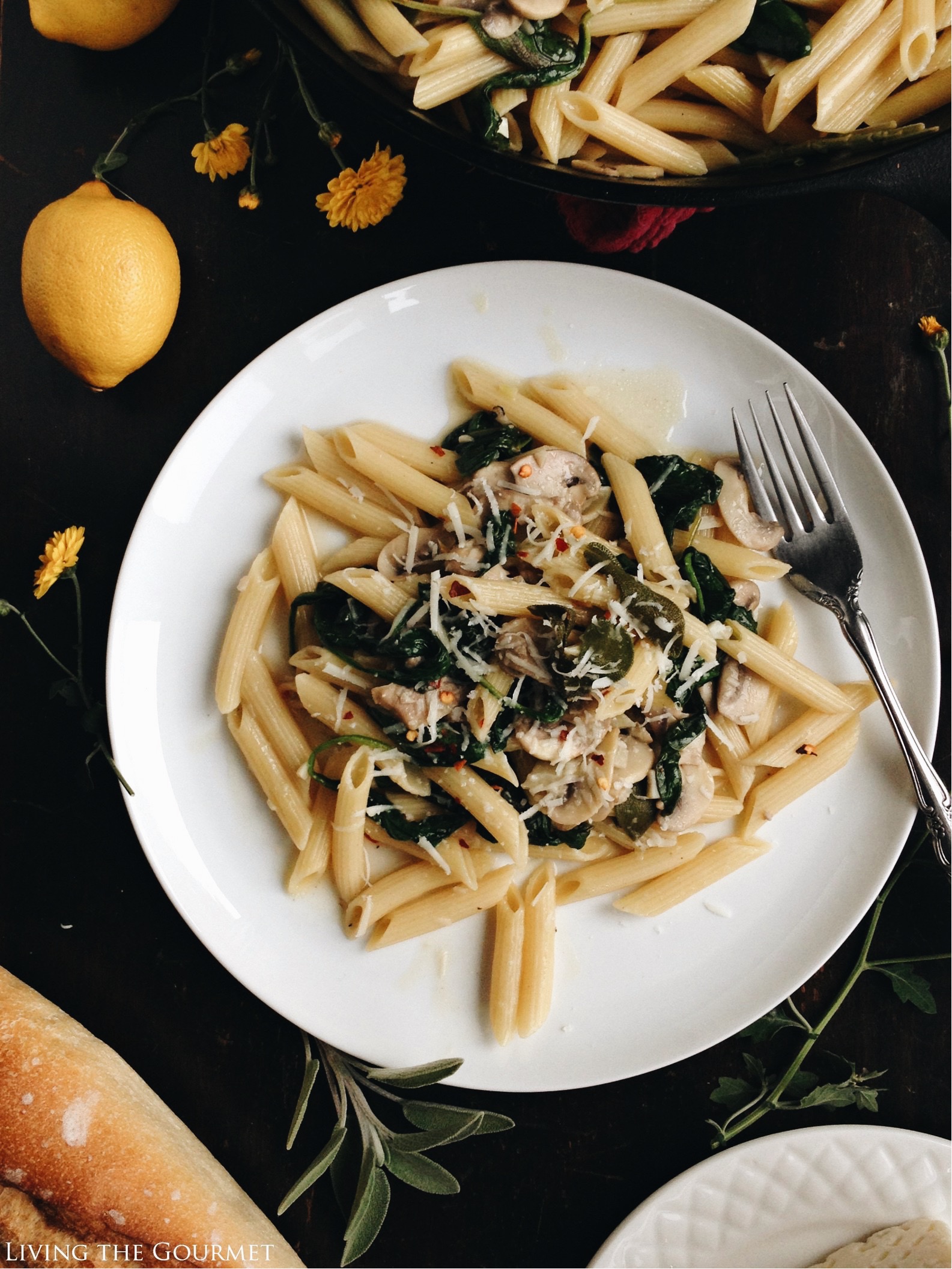 Enjoy with Love,
Catherine
xo
4