Thank you Decoy for sponsoring this post. Celebrate International Merlot Month this October by using the hashtag #MerlotMe on social!
Braised beef simmered in a rich burgundy stew with fresh herbs, small onions, and butter roasted mushrooms, create one of autumn's most quintessential flavor combinations. Today, we're pairing Julia Child's signature French classic, Beef Bourguignon, with a glass of 2016 Sonoma County Merlot.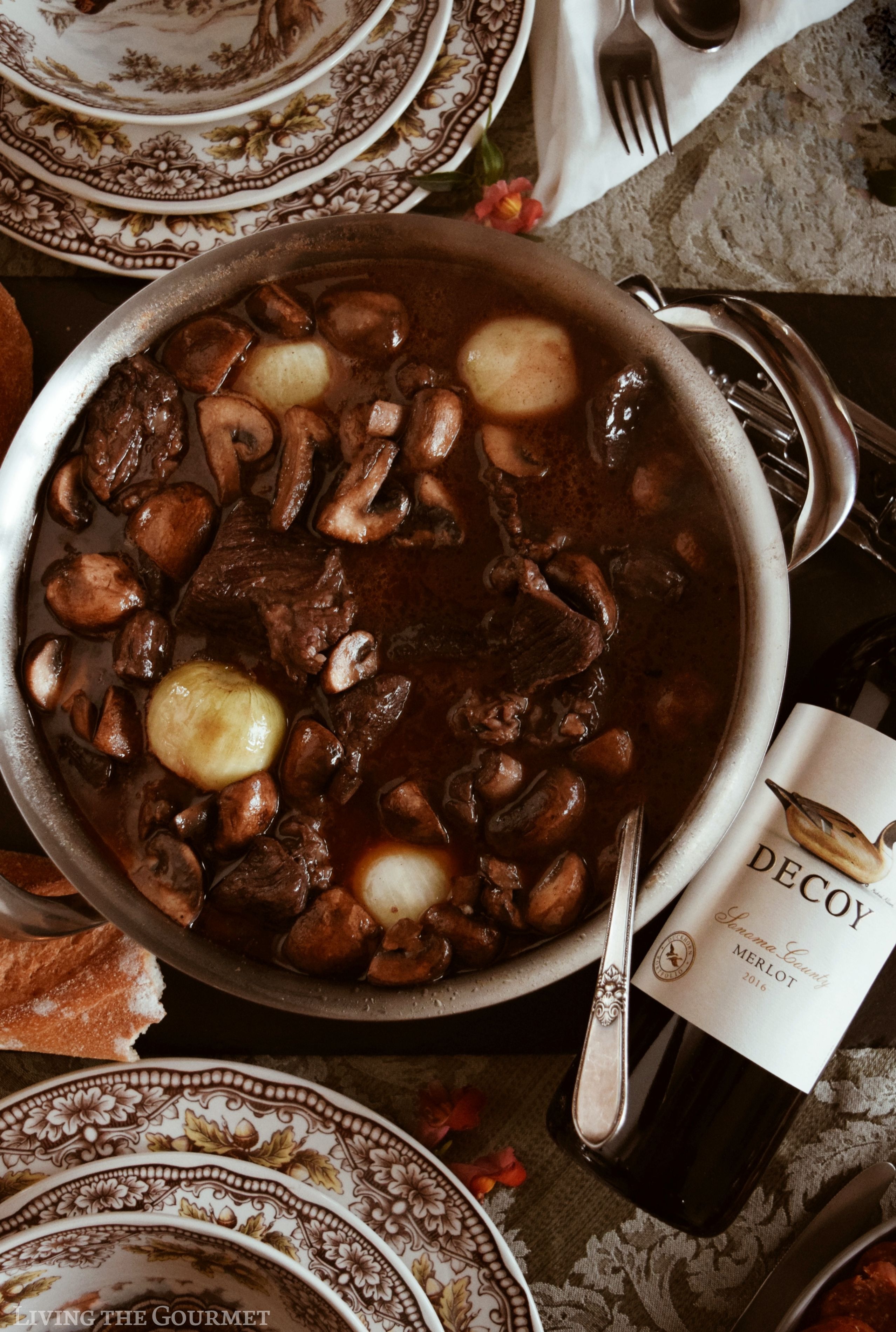 I remember back in my college days I decided to listen in on an introductory seminar on cosmology, and I recall the professor opening with a small metaphor that struck particularly close to home, and I paraphrase from memory, "The ocean is perhaps the best 'terrestrial' metaphor we have for our Final Frontier. Vast, largely unexplored, largely unknowable, unnavigable without specialized machinery, and instantly anathema to our own evolutionary mode of life – the ocean scoffs at human arrogance." Needless to say, that was the end of my collegiate experience with cosmology, but one that ended up being strangely memorable – though perhaps not for the reasons the professor had intended.
You see, as someone who has lived on the water for the entirety of their life – I must say that there is an element of truth in that metaphor. For starters, it seems the higher the homes are built, the higher seas rise, and that the more sea walls we build (one of which now sits 'beautifully' at the end of my block), the more frequently the water chooses to occupy the streets. In other words, no matter the precautions we take, the 'water' makes it very clear that we are 'not' in charge.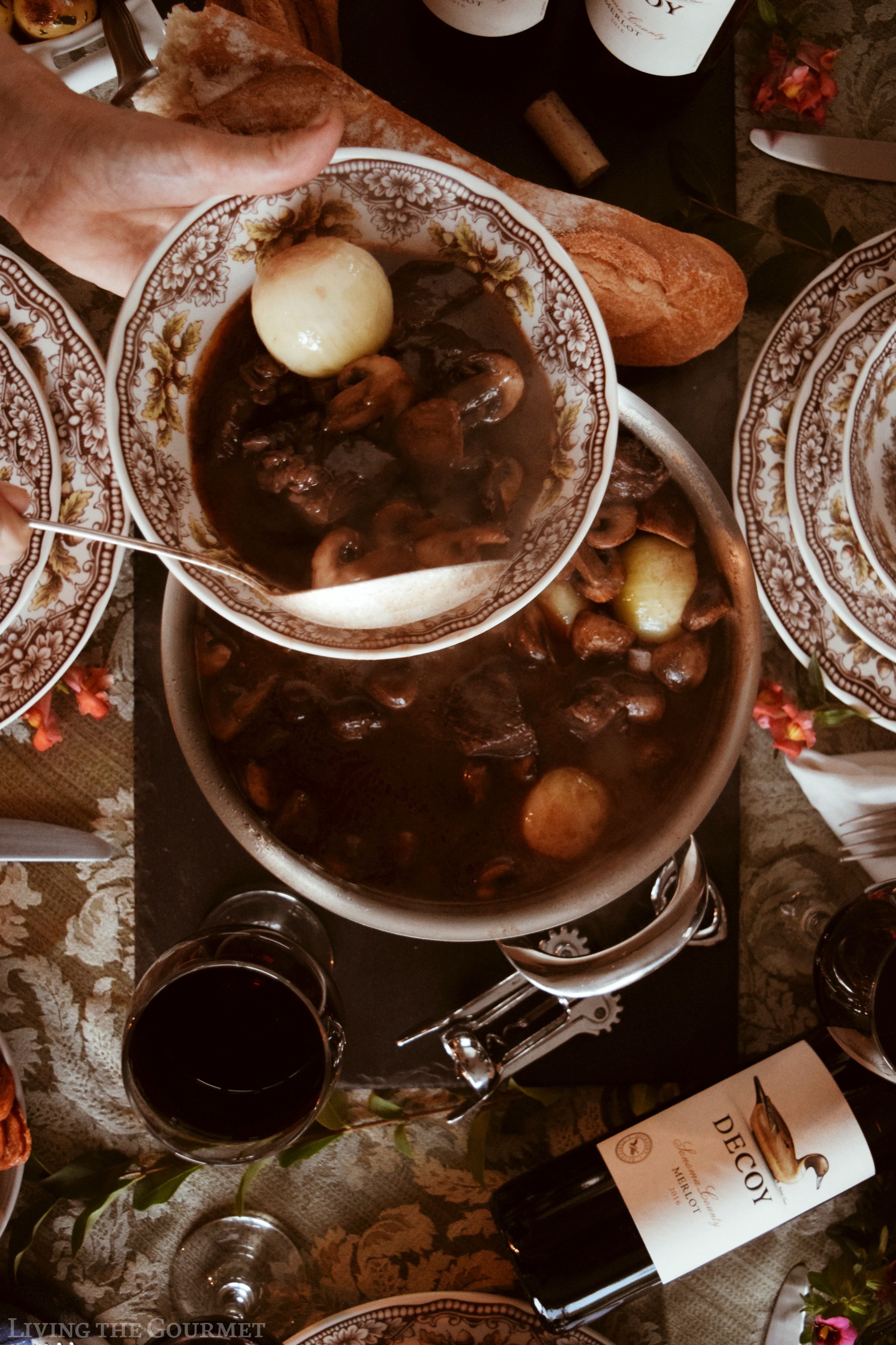 Yet, there are charms to be found here that simply make it all worth the while. The ever presence of nautical birds and their unique eccentricities. At any time of year, like a prophet conjuring a storm, you can walk to the edge of the dock, and provided you have a few scraps of bread in your hand, you can summon up an almost literal 'storm' of laughing gulls – each of whom are your 'best friend' while the bread lasts. Or, having a pool, you quickly learn that 'nature' might decide to occupy it with you, regardless of whatever preventative measures you take. Several summers in a row, right before we decided to take our pool down, a pair of ducks decided that they preferred our well-filtered pool water to the river or the adjoining canals. No matter how many times I tried shooing them away, they'd return like clockwork the next day – and so I simply gave up.
Naturally, when I was given the opportunity to feature the 2016 Decoy Sonoma County Merlot, from Duckhorn, the mere name and label struck a chord with me.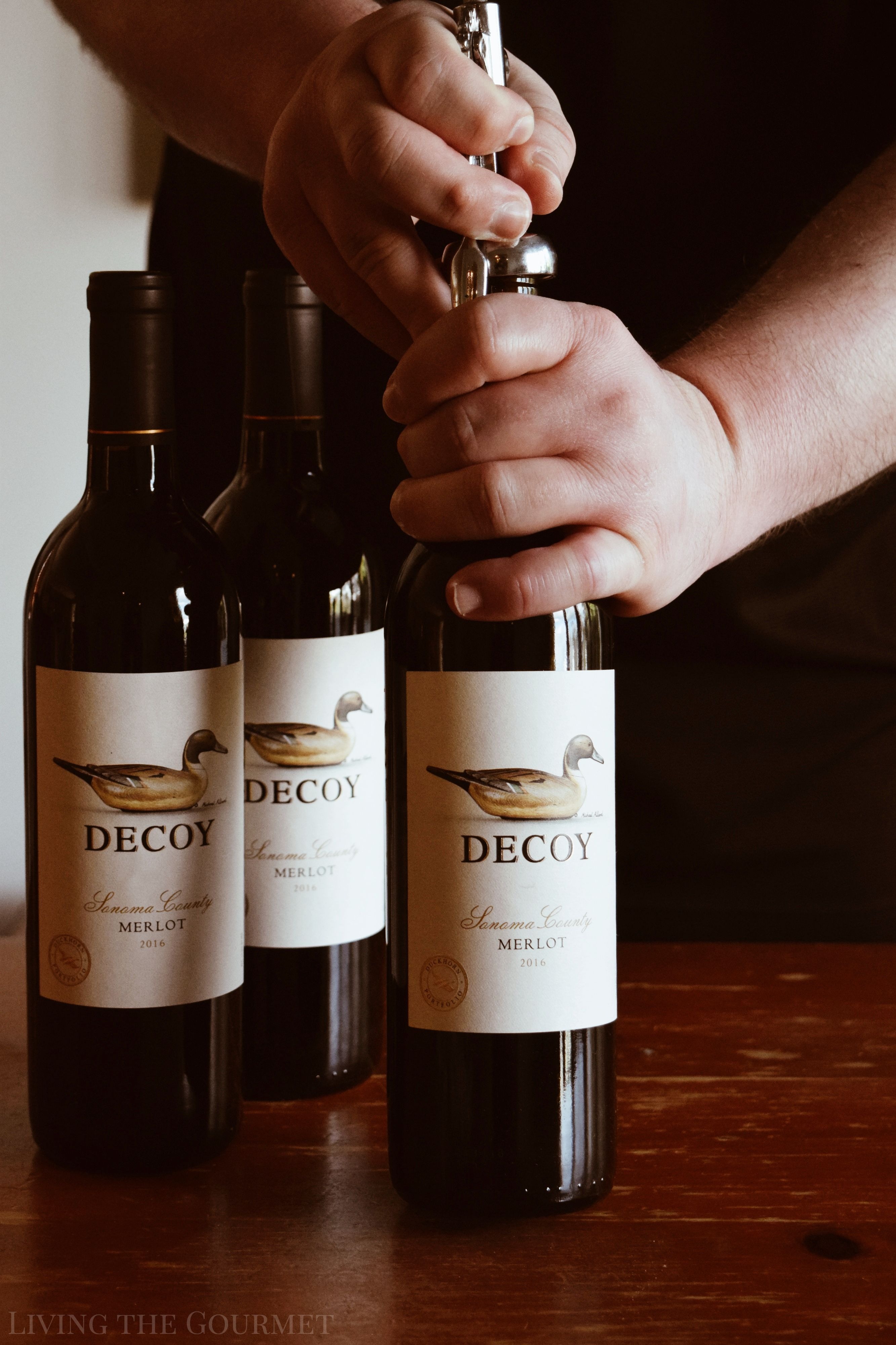 To start things off, how does the wine itself fare?
On pouring, the wine greets with the varietal's textbook purple-red hues, and earthen aromas off the top of the glass – imagine damp earth and dried leaves punctuated by hints of ripe red fruit such as plum and sliced blackberry essences. The fruit notes mature and predominate deeper into the glass. On sampling, the aromatics largely carry over in the form of mixed dark fruit set against a decided earthy backdrop.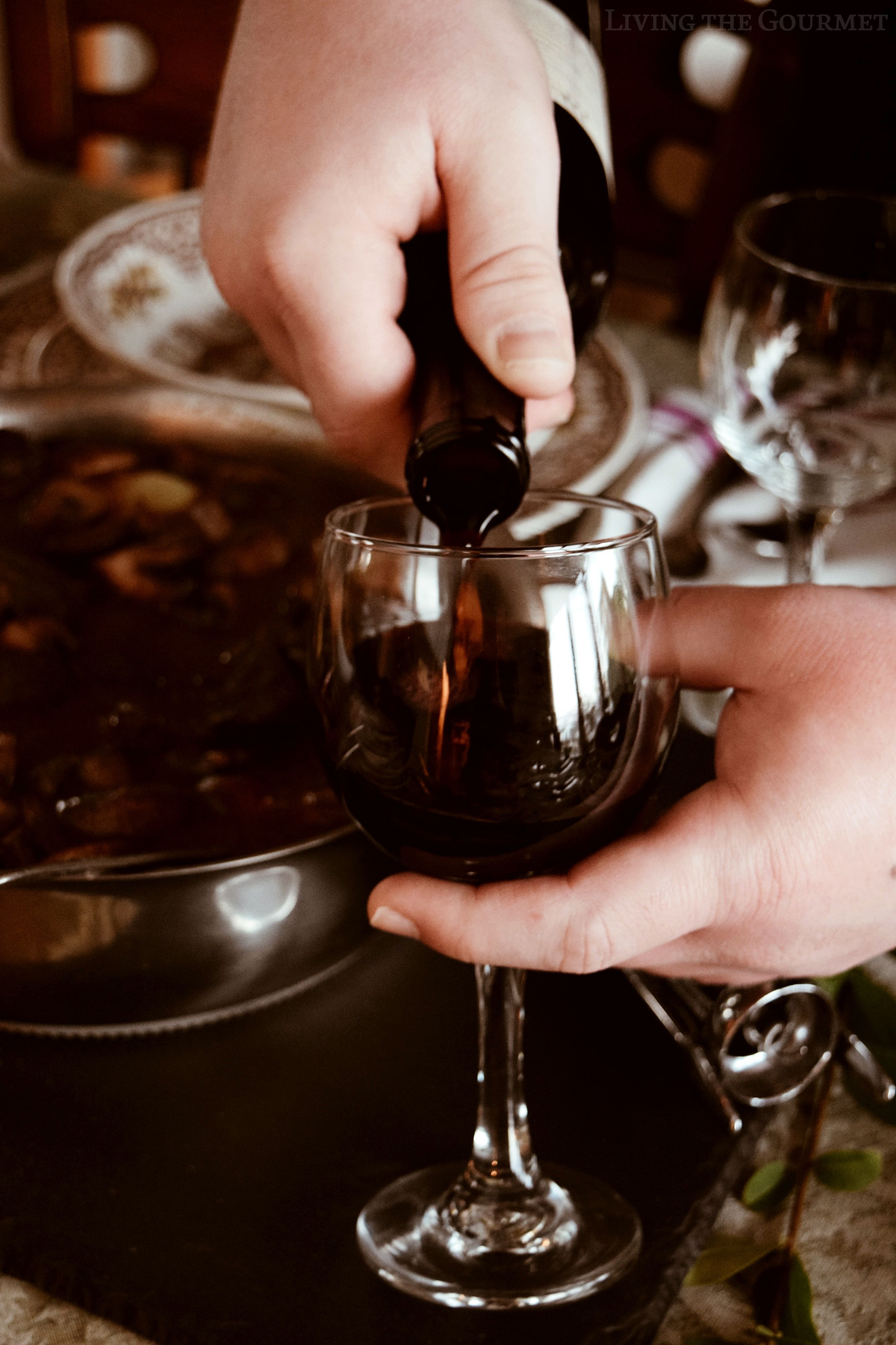 For pairing, think beef roasted with herbs, think grilled steaks topped with blue cheese, think lamb burgers, or pasta with red sauces. While this Merlot, or any well-produced Merlot for that matter, is far from being the sort of wine that risks overpowering or drowning out the food it's paired with, such as a darkly robust Sagrantino or the inky depths of a Xinomavro (whose name translates as 'Poison Black'), you still want to lean towards the hardier, slightly spicier side of the culinary spectrum.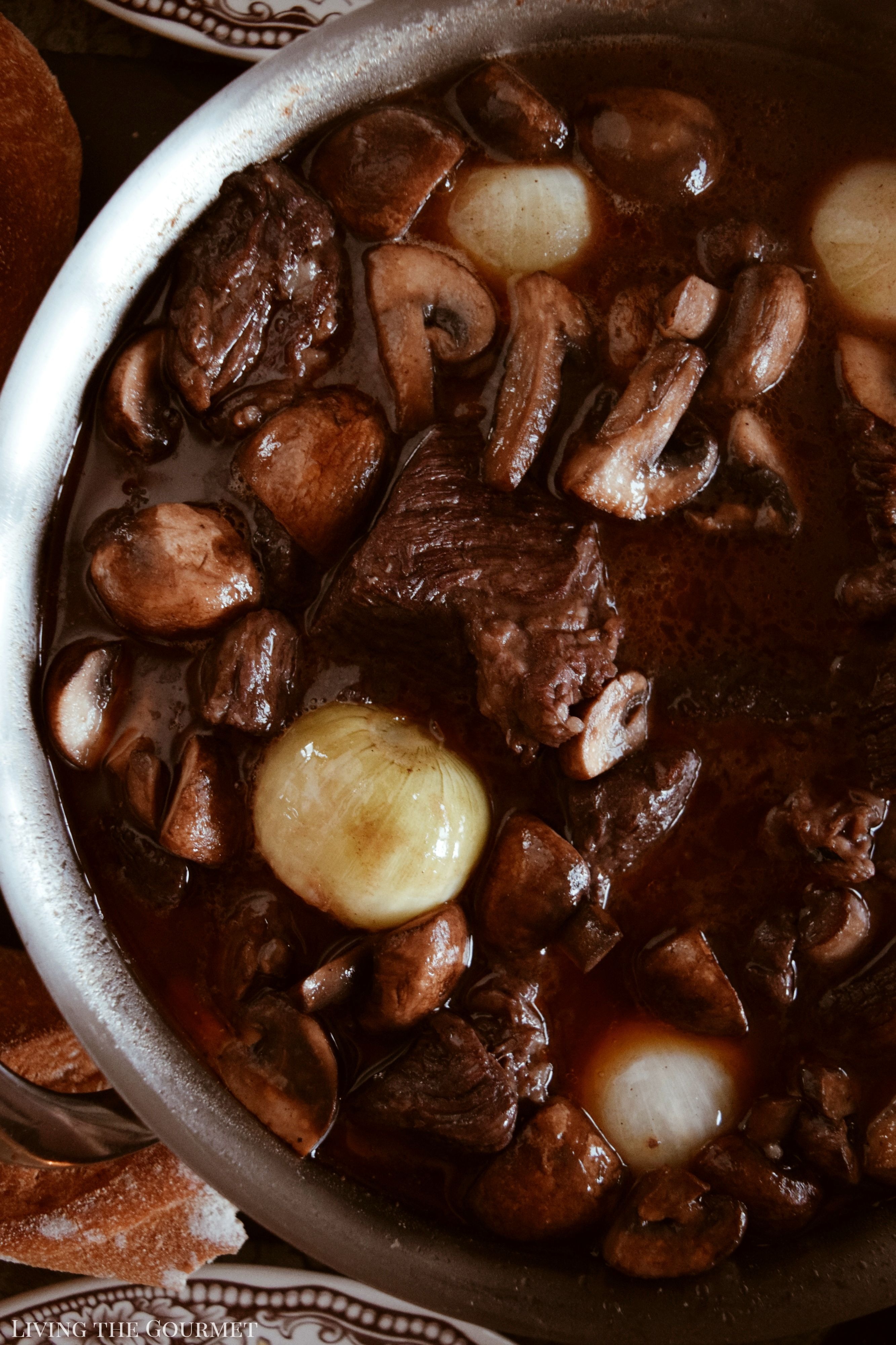 To that point, I decided on pairing the wine with one of my favorite autumn recipes – Beouf Bourguignon. Aside from combining the earthy, herbal flavors that I simply love to indulge in around this time of year, and apart from being one of those warming, hearty dishes that really soothes right to the core, it combines almost everything that you're looking for in pairing with a Marvelous Merlot, namely body, herbal essences, and overall balance.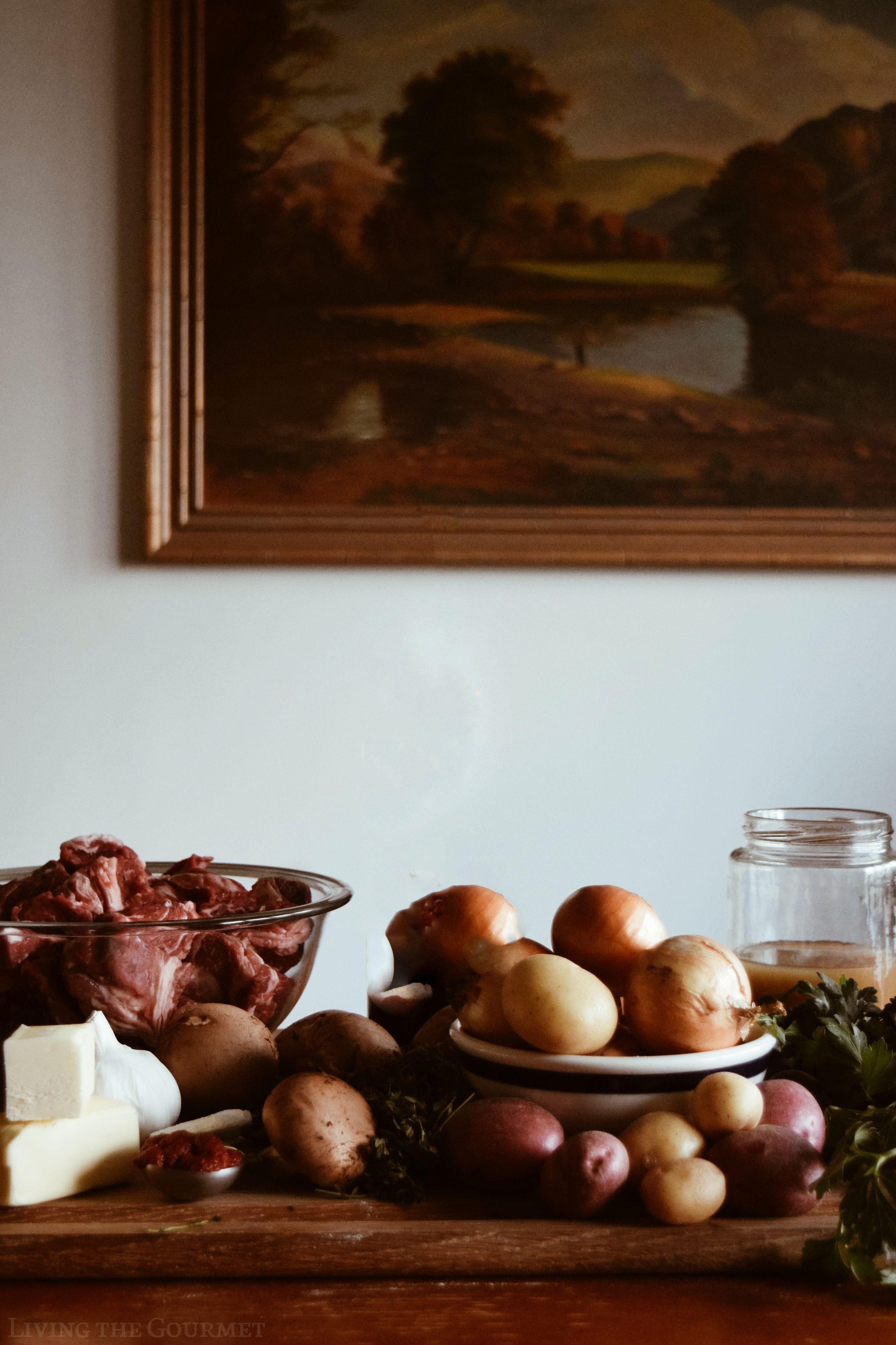 So, to start things off, we begin by cubing chuck roast as pictured below and then patting it dry with a paper towel. From there, we heat a large cast iron with olive oil, and set the cubed meat in the pan, and let them cook, turning during the process, so that they become nice and golden on each side as pictured below. Note that the cooking process should take no more than a total of three minutes – you don't want to overcook the meat, or risk drying it out.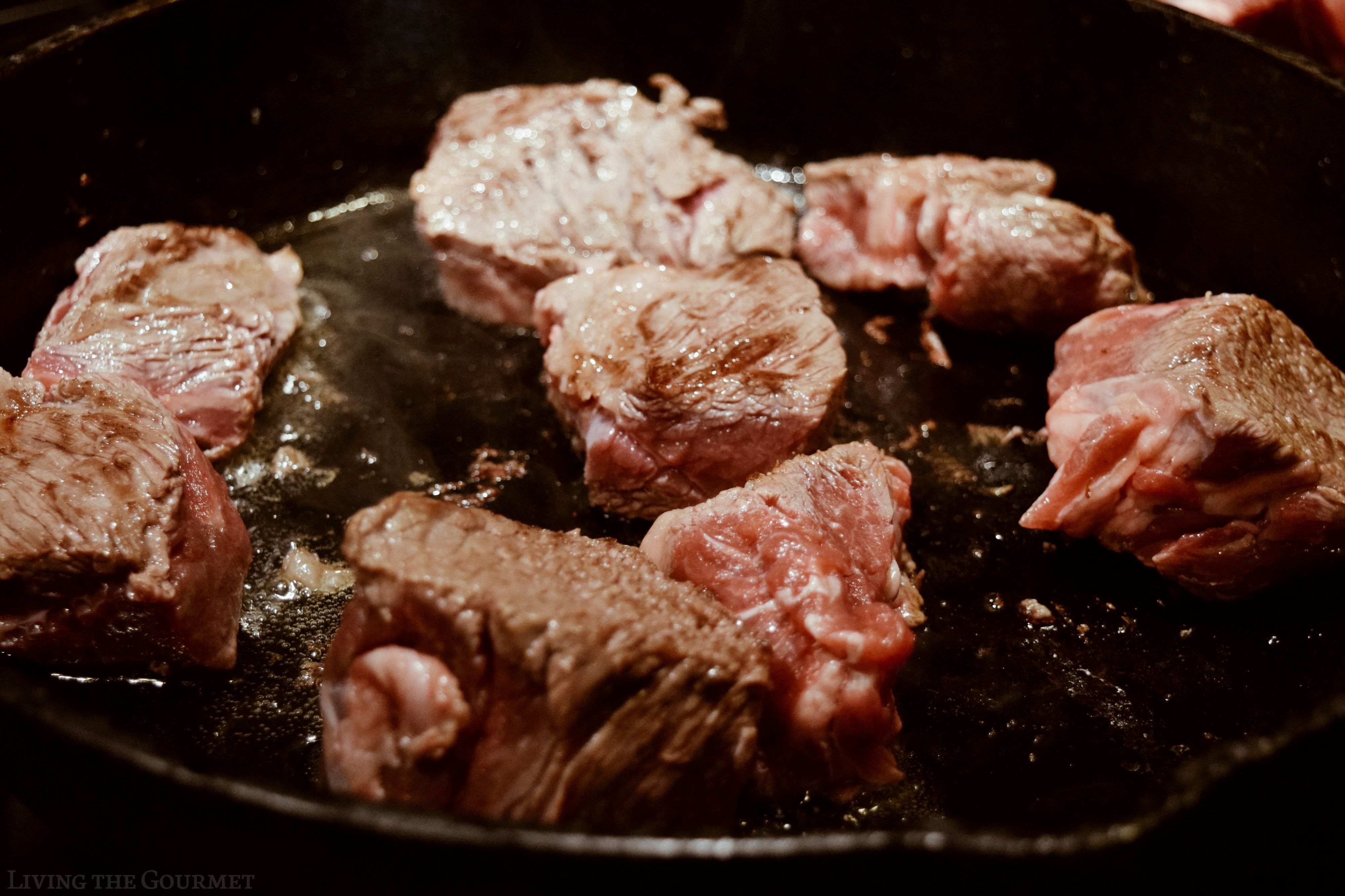 Set the cooked meat in a pot, and set aside.
After that, deglaze the pan with three cups of red cooking wine, and be sure to scrape up all the meat bits from the pan, and pour that deglazed goodness over the meat in the pot. Add in prepared beef broth, store bought or homemade is fine, along with salt, thyme, bay leaves, garlic, and black pepper, and then bake that in the oven for about two and a half to three hours.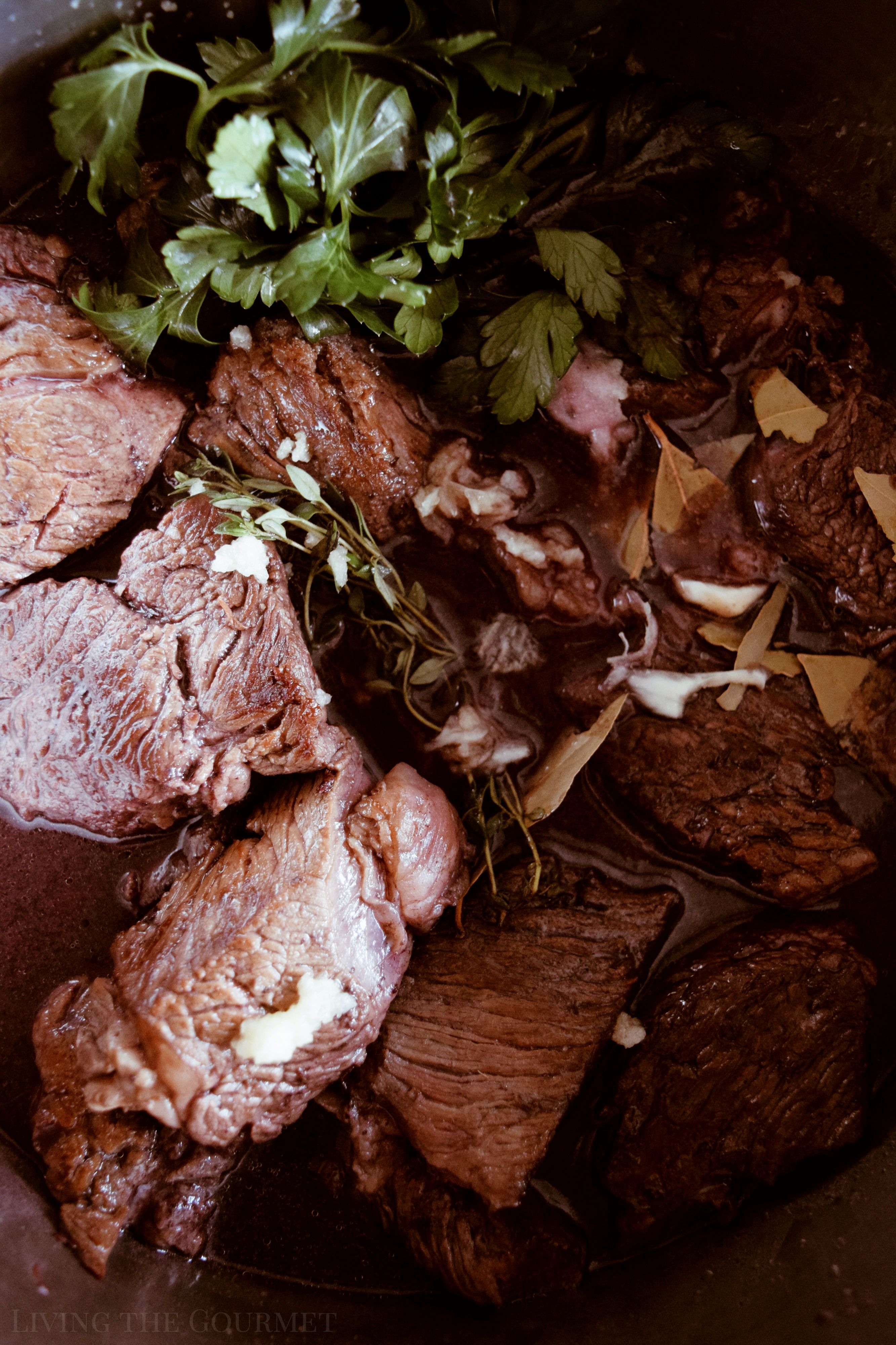 While that's cooking, carefully set small, unpeeled onions in simmering water for about twenty seconds. I used small yellow onions, but you can use pearl onions, white onions, or even shallots if you prefer. After letting the onions simmer, I peeled them, and set them in a pan with water and about two tablespoons of butter, covered the pan, and let that simmer for about twenty-five minutes. I then removed them from the water and set them aside.
Now, you'll want to clean and thoroughly dry some mushrooms and then halve them.
Next, set two tablespoons of butter and olive oil in a large cast iron frying pan, and let the butter come to a bubble. When it stops bubbling, place the mushrooms in the pan to get a slight golden color, remove them from the pan, and set aside.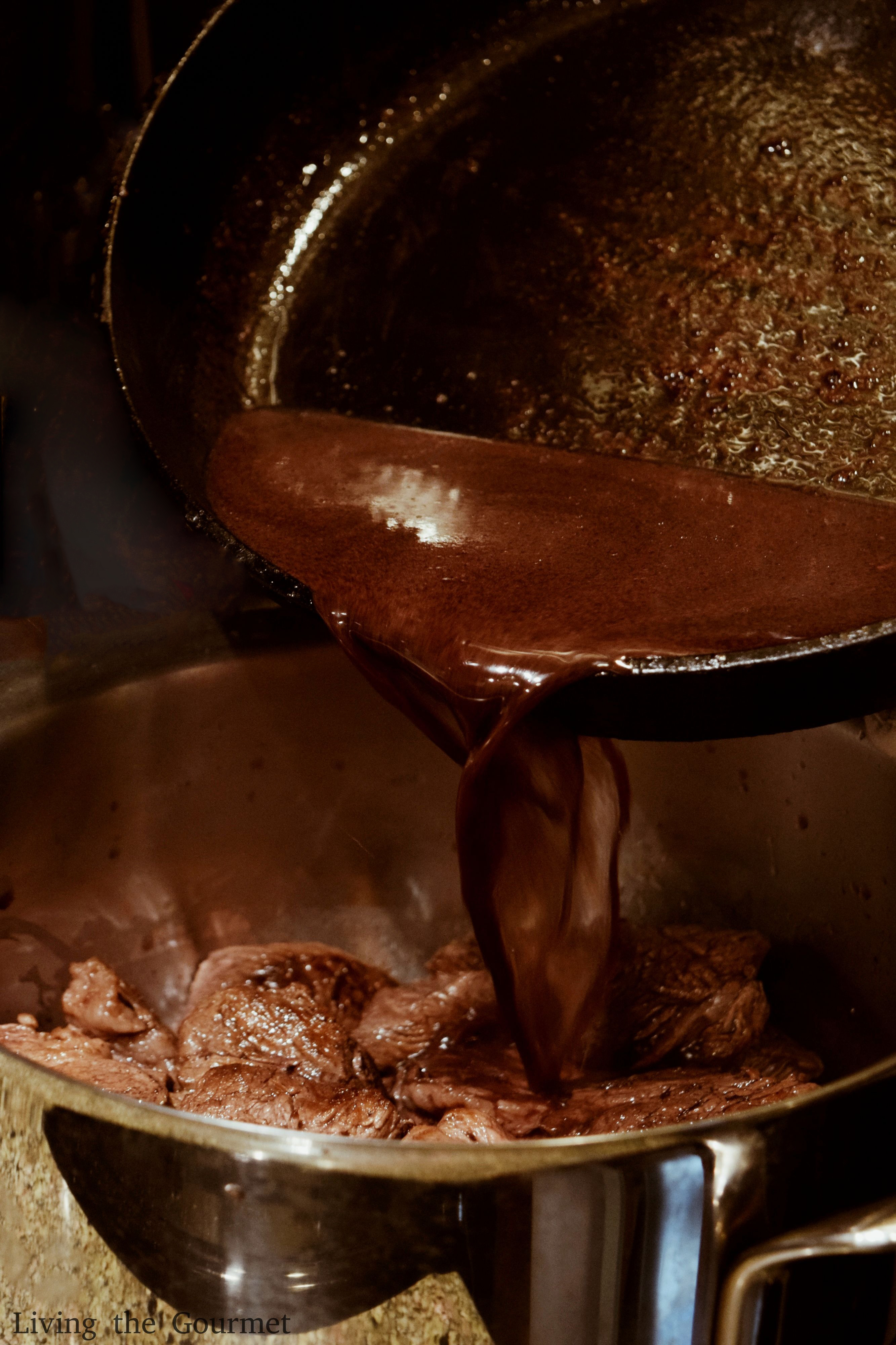 Once that's done, it should be time to remove your meat from the oven. Drain the 'sauce' from the pot into a separate pot using a colander. Then, make a paste with about three tablespoons of flour and two tablespoons of softened butter, and whisk that into the drained broth, and then place that over a gentle heat on the stove, and bring that to a proper boil – but be careful to only let it boil for a second or two. Then add the onions, mushrooms, and meat into your now thickened broth.
Simmer that for another two to three minutes, and serve with boiled potatoes and parsley, a nice green leafy salad, French bread, and Decoy Merlot wine, and just like that, you have quintessential, perfectly paired autumn meal.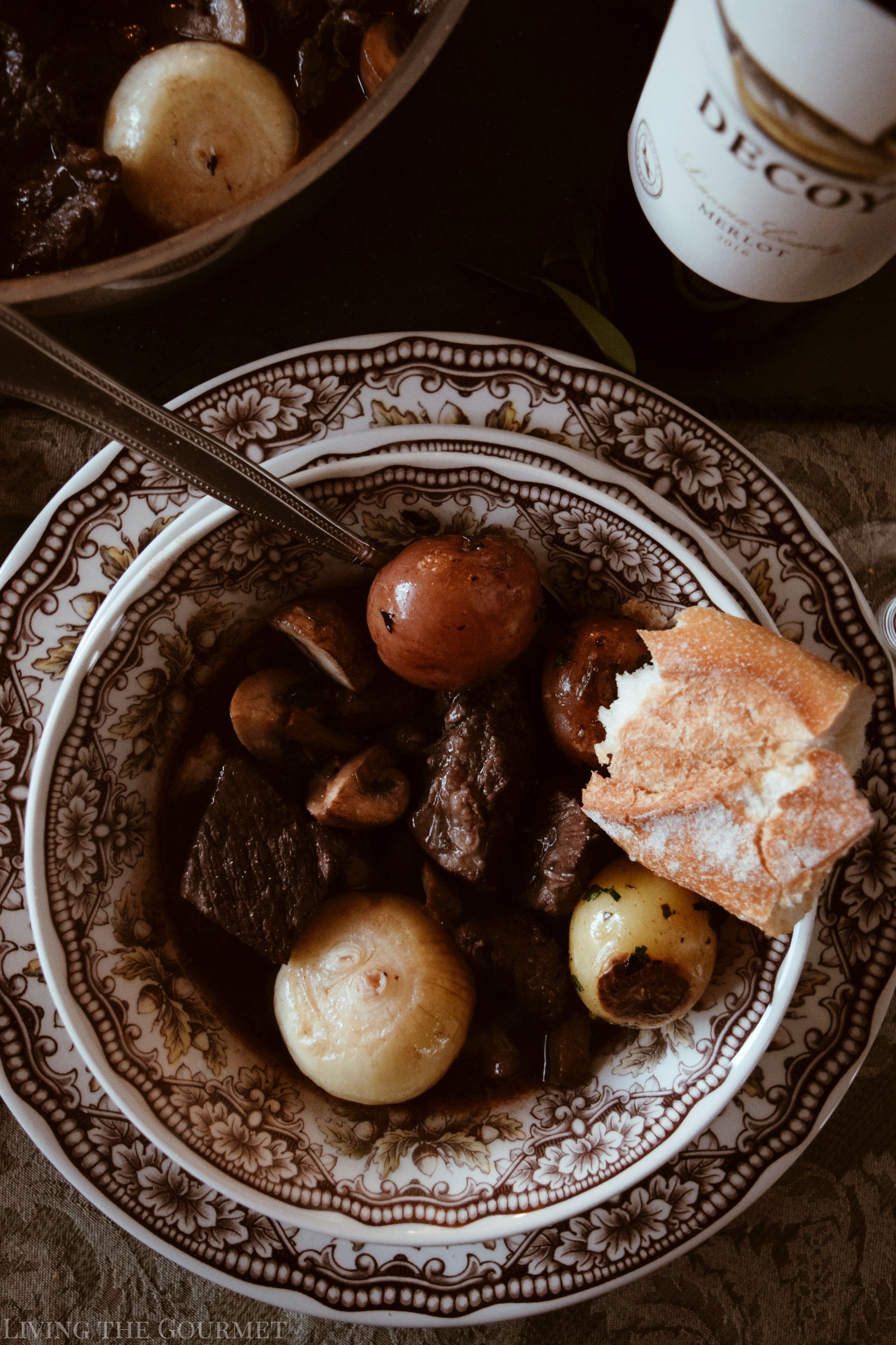 Print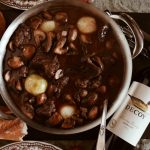 Beef Bourguignon
---
Author:

Total Time:

3 hours 20 minutes

Yield:

1

pot beef bourguignon

1

x
3

lbs. chuck roast - cubed and pat dry with paper towel

3

cups

red wine

2

cups

beef stock

1

tbs. - tomato paste

1/2 tsp

. salt

1

-

2

bay leaves

1/2 tsp

. dried thyme

2

cloves garlic - crushed

1

lb

. shallots

1

lb

. mushrooms
Olive oil for drizzling
Butter

3

tbs. flour
Loaf of French Bread
Green leaf salad

2

lbs. Potatoes
Fresh Italian Parsley
---
Instructions
Preheat Oven 325 Degrees F.
Cube chuck roast and pat dry with a paper towel.
Heat a large cast iron frying pan with 2 tbs. of olive oil. Place the cubed meat in the pan to get a nice golden color on each side. This should take about 2 – 3 minutes.
Deglaze pan with the wine, scraping up all of the bits from the pan.
Place the meat in a pot with the wine and deglazed bits along with the beef broth, salt, bay leaves, garlic and black pepper.
Bake for about 2 ½ to 3 hours.
Gently and carefully, place each onion on a spoon in simmering for about 20 seconds and remove.
Gently remove the skin from the onion and slice the tip off and place a small slit at the end.
Place the onions in a pan with about ½ cup of water and 2 tbs. of butter and cover. Simmer for about 25 minutes. Remove from the water and set aside.
Clean and thoroughly dry the mushrooms. Cut the mushrooms in half.
Place 2 tbs. of butter and 2 tbs. of olive oil in a large cast iron frying pan. When the butter stops bubbling, place the mushrooms in the pan to get a slight golden color and remove. Set aside.
Remove the pot from the oven and drain using a colander into another pot.
Make a paste with 3 tbs. of flour and 2 tbs. of softened butter.
Whisk the paste into the drained broth then put over a gentle heat and bring to a boil for a second or two.
Put the onions, mushrooms and meat into the thickened broth.
Simmer for another 2 – 3 minutes.
Serve with boiled potatoes and parsley, a green leaf salad and French bread
This is a traditional peasant meal.
Prep Time:

20 minutes

Cook Time:

3 hours
Recipe Card powered by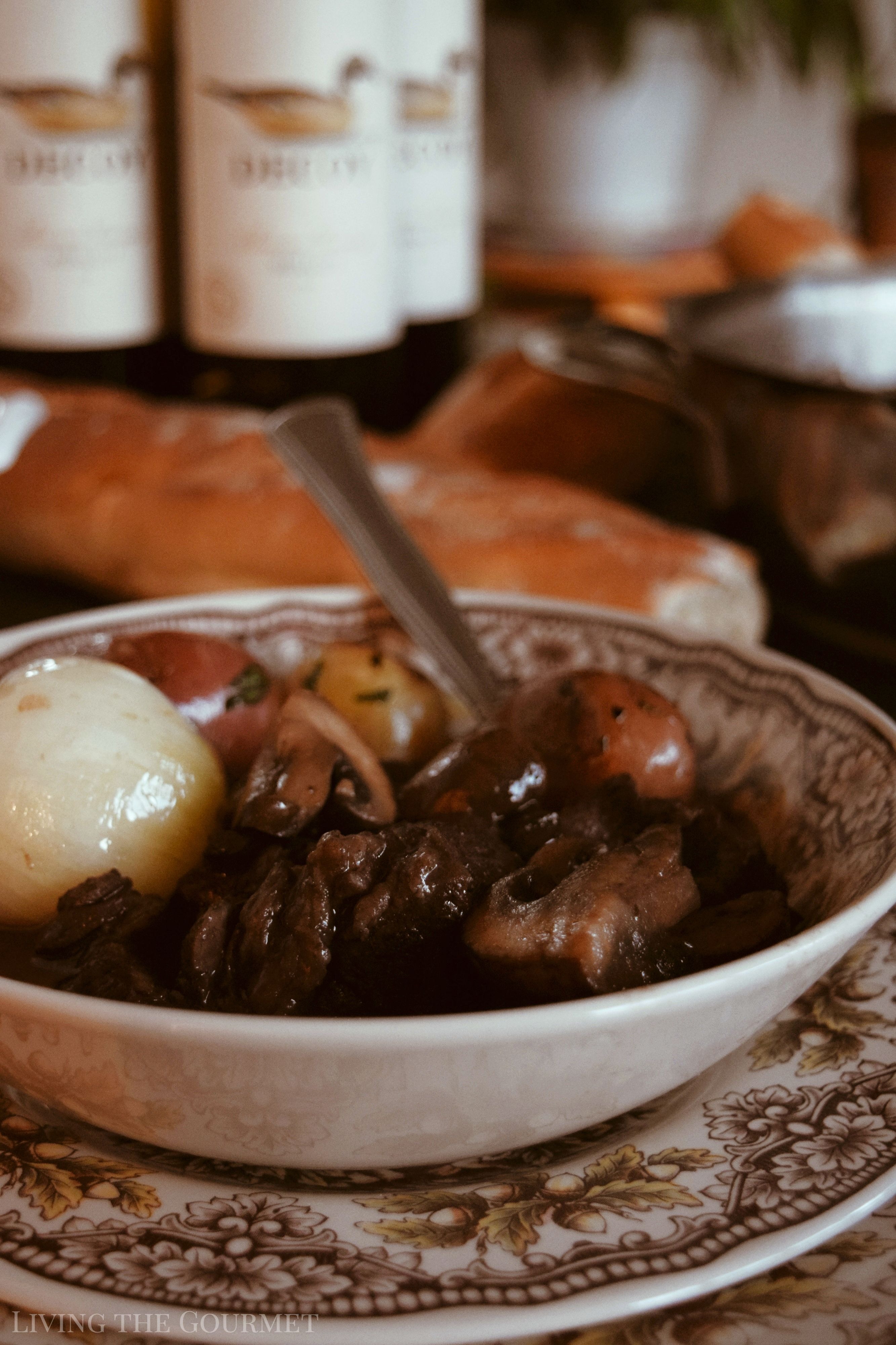 So, in closing, why not share some of your fondest Merlot experiences, or favorite pairings? We would love to hear from you.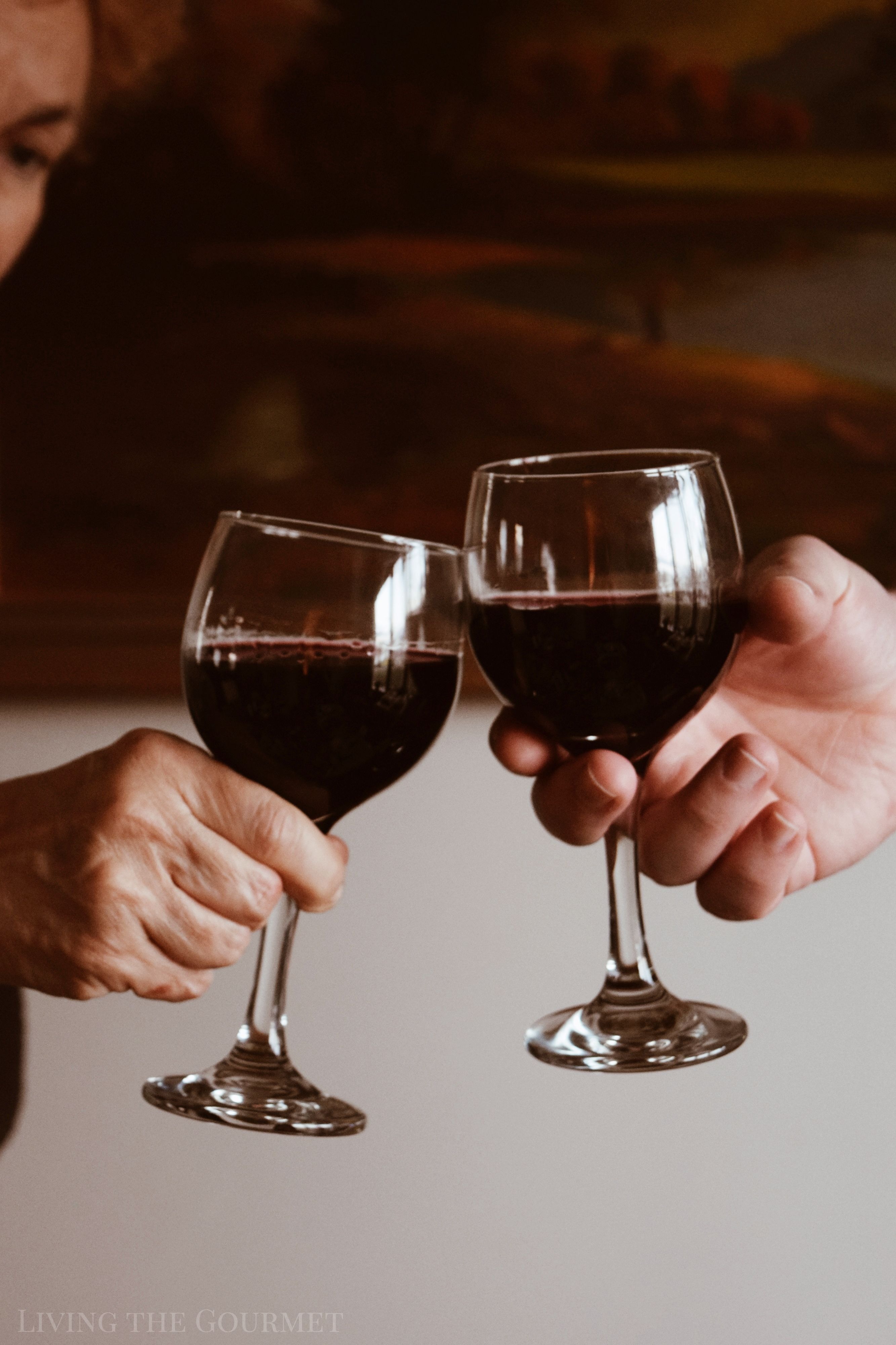 Cheers!
I was selected for this opportunity as a member of CLEVER and the content and opinions expressed here are all my own.
4