Featuring a medley of Mediterranean flavors carried on a creamy cannellini bean base, today's dip is perfect either as an accompaniment to a Greek or Sicilian appetizer spread, or as the starting note to your next dinner party.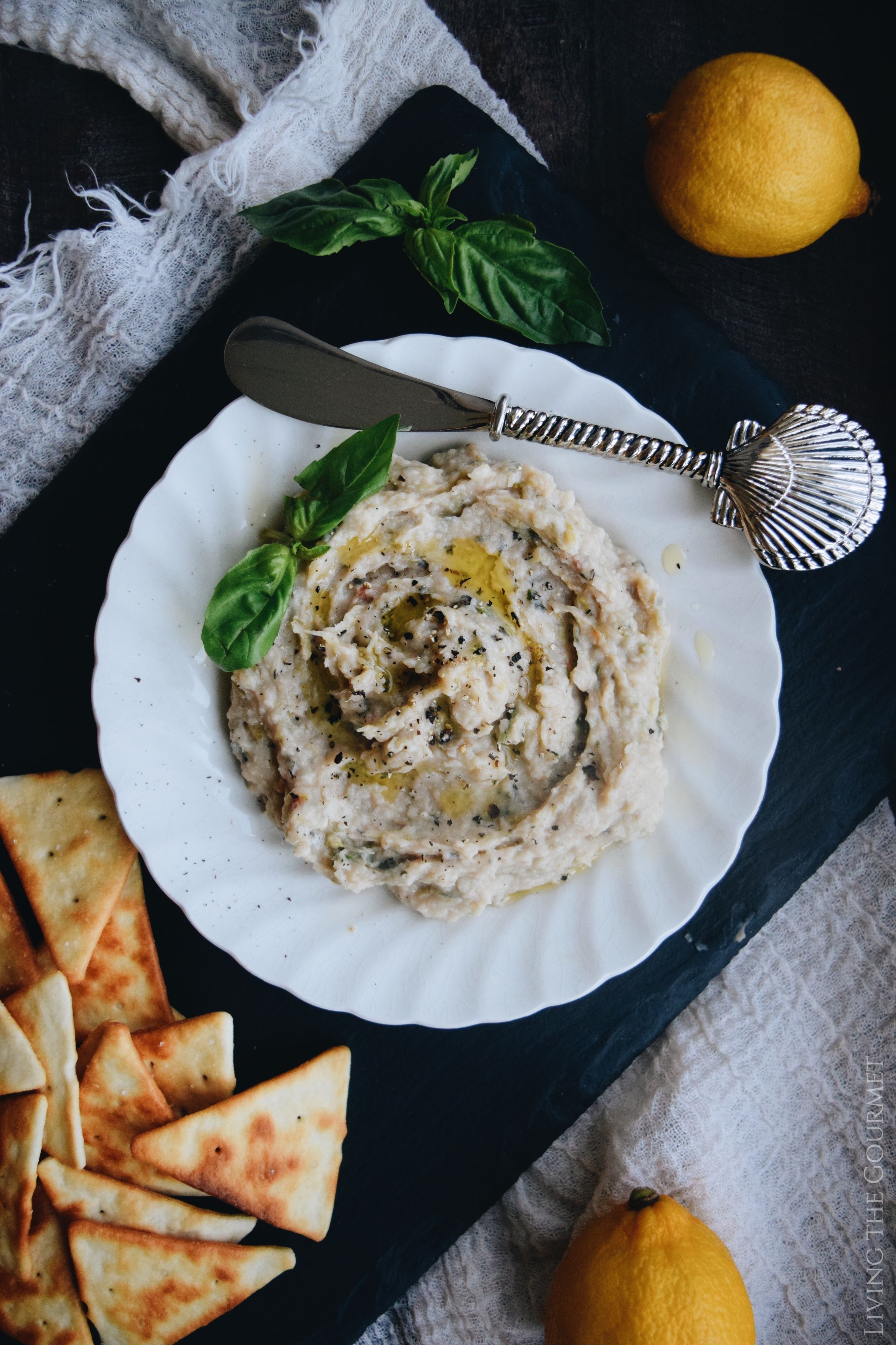 Prep Tips and Suggestions
1) Grilled Vs Raw. We start today's recipe by charring together scallions, onions, garlic, and basil. This gives them a nice 'earthy' quality, while drawing out the flavors from the garlic and basil, giving the veggies a nice herbal quality, while muting the acidity in the fresh lemon juice added later. This simply enhances the overall 'rustic' Mediterranean flavor that we're going for. By contrast, leaving the ingredients raw would result in a crisper, less herbal flavor and texture for today's dip, while the acidity from the fresh lemon juice would be more pronounced. As with all things, this is a matter of preference, so feel free to experiment.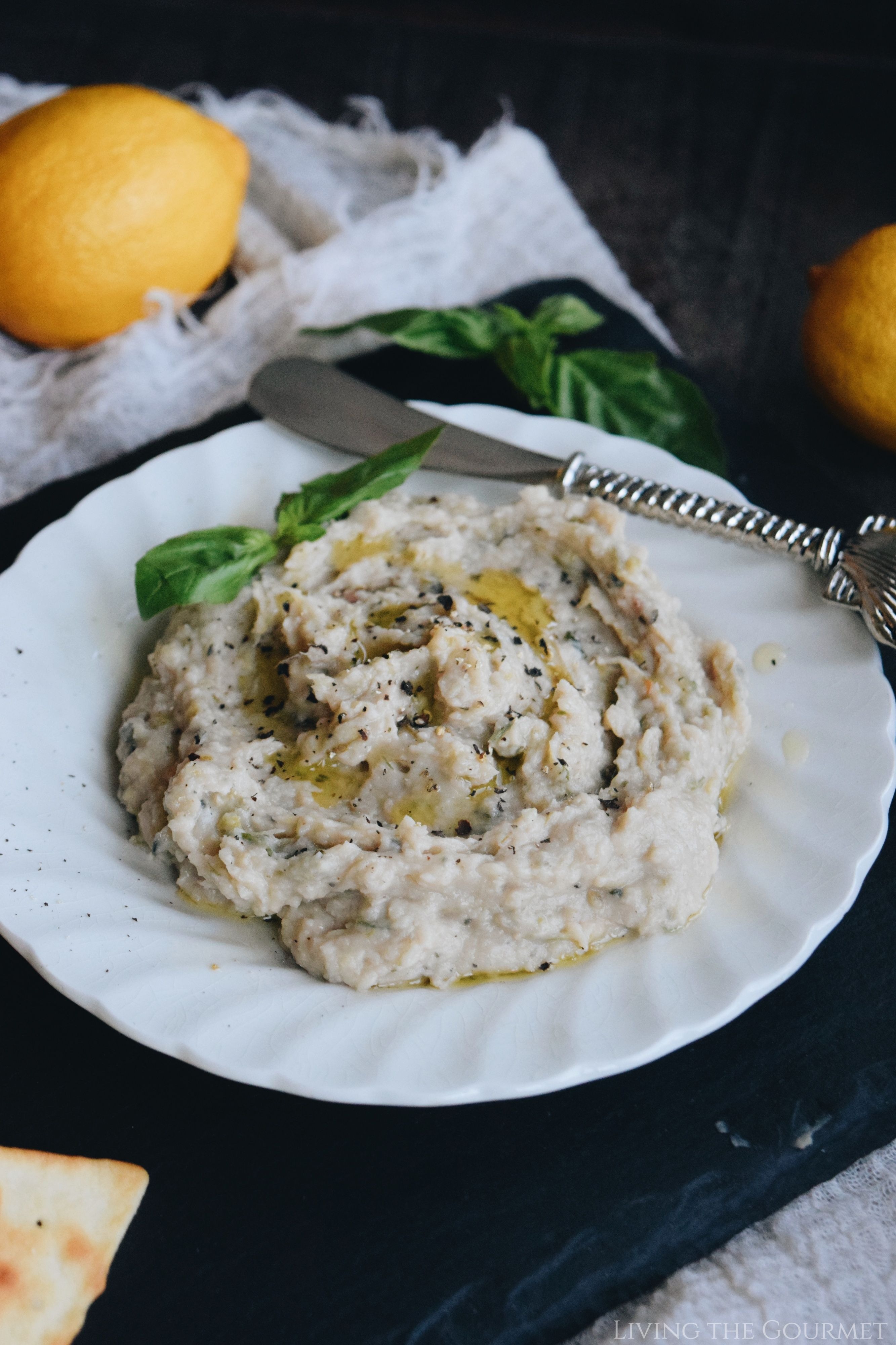 2) Choosing the Right Cheese. I'm using Asiago as matter of preference, but really any semi-soft to hard cheese will work in today's recipe, provided it has a bit of 'bite.' You want something a tad sharp and salty to complement the Mediterranean profile of the dip.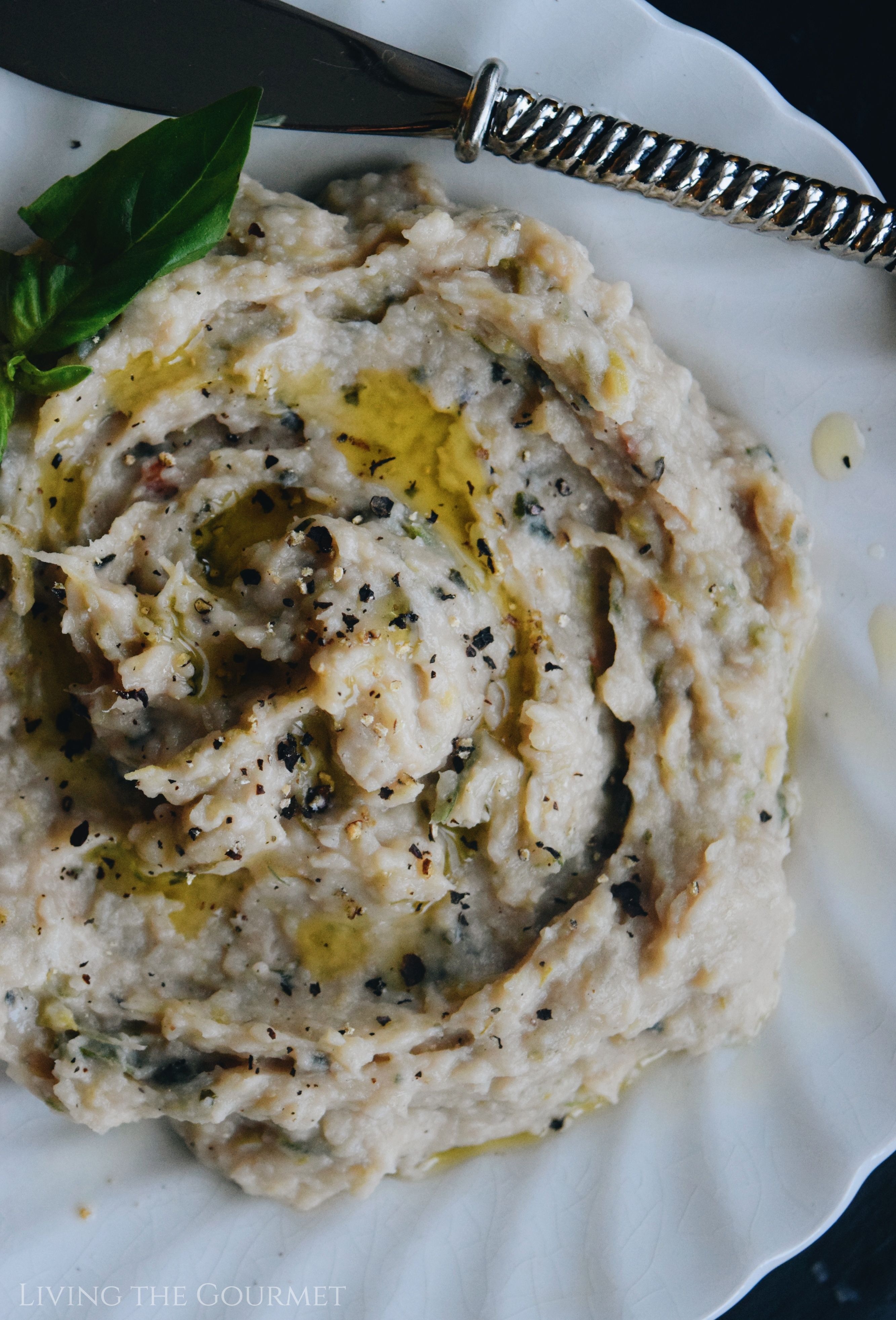 Kicking Up a Kicked Up Dip
While today's dip is great on top your standard club crackers or tortilla chips, here are a few tips to really get the most out of it.
1) Homemade Flatbreads. The absolute best pairing for today's dip is homemade flatbreads with a dough infused with dried herbs and pepper.
2) On Crostini. Homemade crostini are so easy to make, and yet so rewarding. You can do basically anything with them, including using them as a side for today's dip. For my base crostini recipe, as well as some tips on how to dress up crostini see my two favorite crostini recipes here: Blackberry & Honey Crostini with Blue Cheese and Truffle Goat Cheese & Pignoli Crostini. If serving today's dip on top of crostini, consider pairing it with a side of warmed herbed oil to drizzle on top.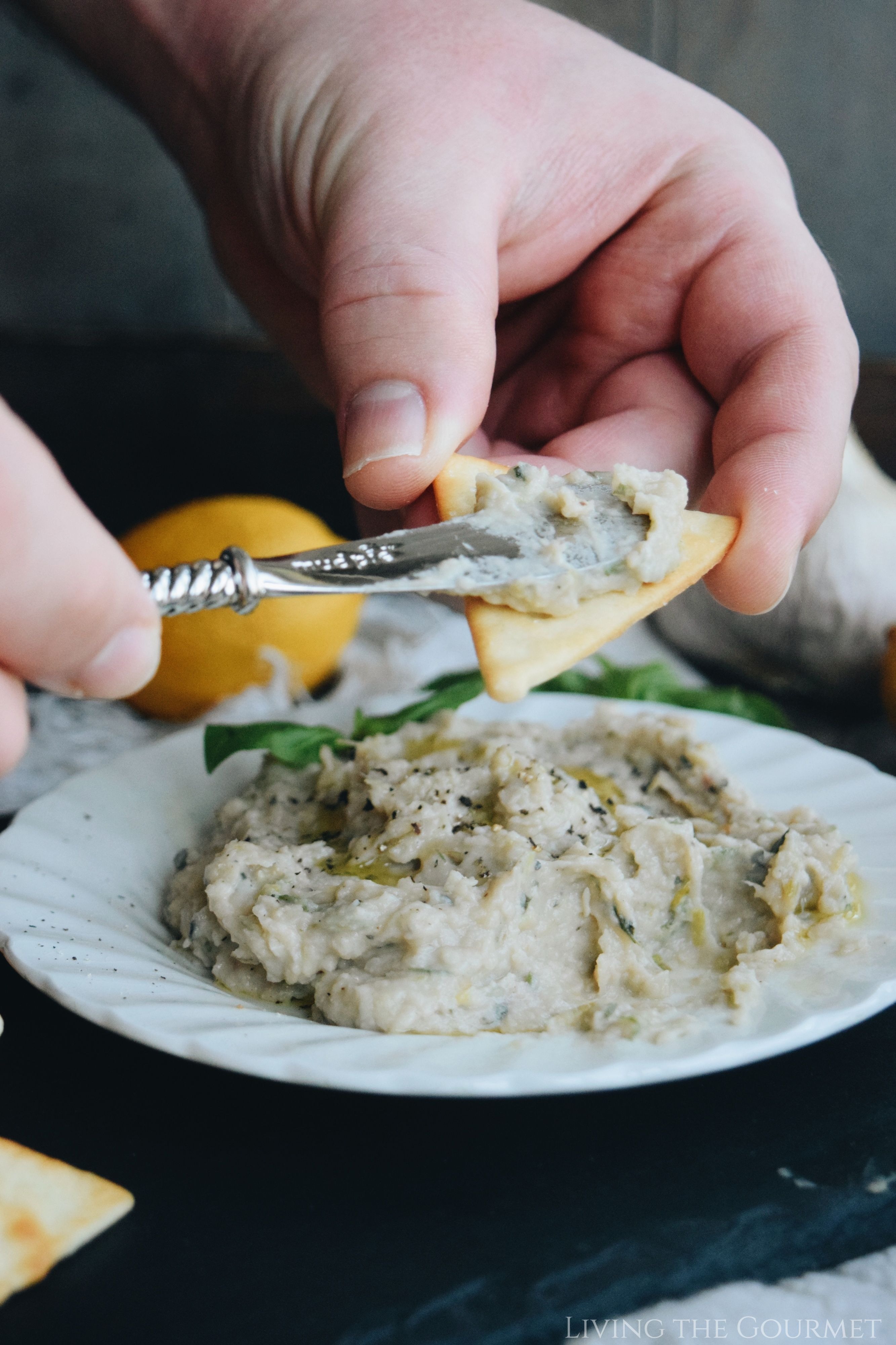 3) On Veggie Sandwiches. We're all familiar with the challenges of making vegan based sandwiches tasty and textured. Today's dip is a great way to add both to your favorite veggie sandwich. Considering layering it on vegan bread with sliced tomato, avocado slices coated in herbed olive oil, red onion, and sliced bell peppers. Oh my god, now I'm hungry.
4) On Falafel. At the risk of being called Miss Obvious, try to today's dip on falafel. Trust me.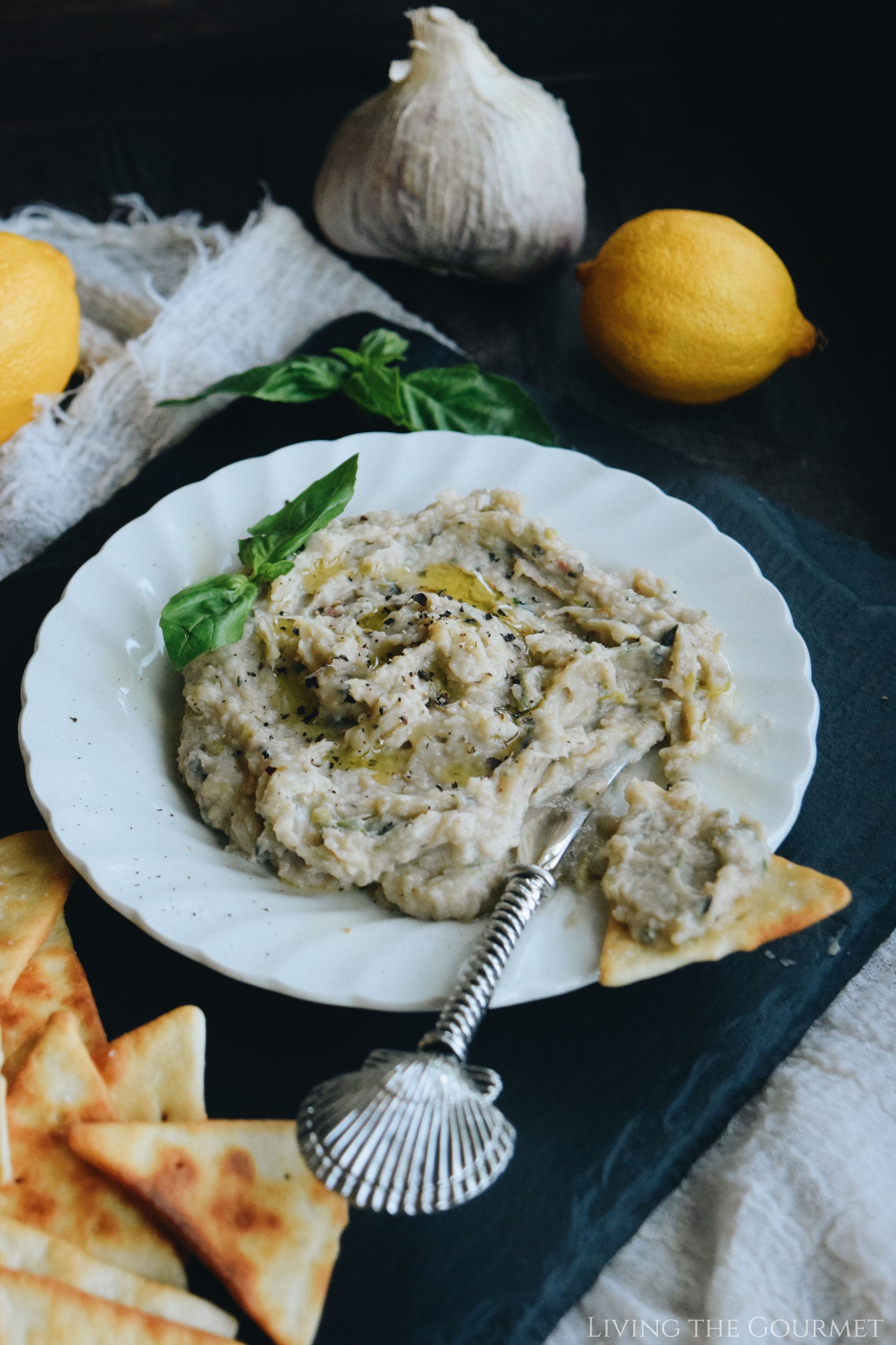 Living the Gourmet
Grilled Mediterranean Bean Dip
10 minPrep Time
10 minTotal Time
5 based on 4 review(s)
Ingredients
15.5 oz. can of Cannellini Beans – drained
1 small red onion – quartered
4 – 5 fresh basil leaves
1 small bunch of scallions –
2 - 3 cloves of garlic
1 tbs. fresh lemon juice
¼ tsp. salt
¼ tsp. red pepper flakes
¼ tsp. fresh ground black pepper
¼ cup of Asiago cheese or Romano cheese
4 tbs. olive oil
Instructions
Heat a large cast iron frying pan with the quartered onion, scallions, garlic cloves and basil leaves.
Drizzle with a tablespoon of olive oil and let the veggies get a slight char.
Cut the scallions and place in a food processor along with the onion, garlic cloves, beans, lemon juice, grated cheese, seasonings and 3 tbs. olive oil and process in a desired creamy consistency.
Taste for seasonings, if you need more seasoning, season and give another plus or two.
Serve with an extra drizzle of olive oil, red pepper flakes and fresh ground black pepper and your favorite crackers.
Notes
You may substitute the cannellini beans for garbanzo or red beans if you like.
7.8.1.2
1351
https://livingthegourmet.com/2019/09/grilled-mediterranean-bean-dip.html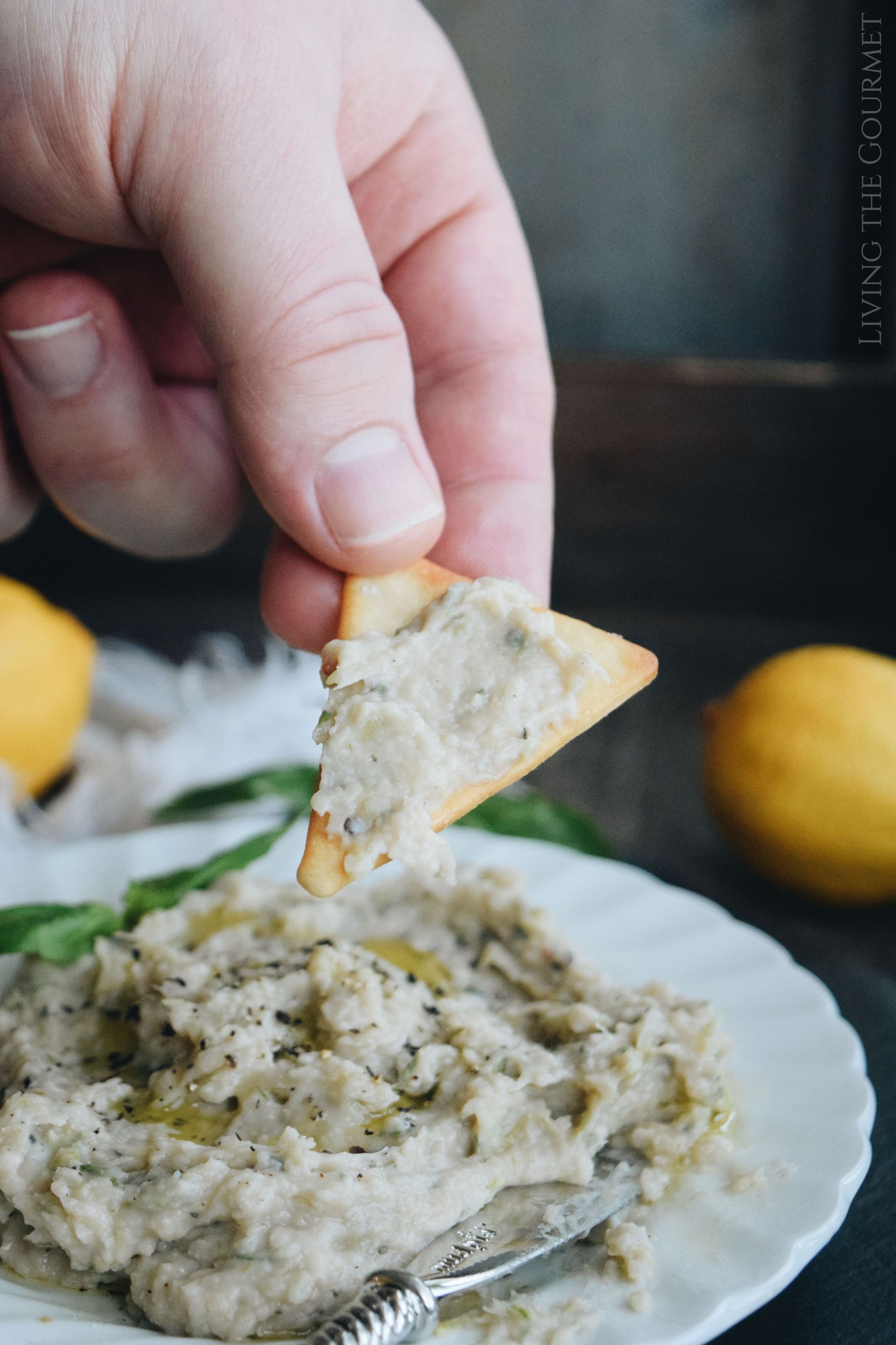 If You Enjoyed Today's Recipe…
Be sure to follow us on Instagram to stay up to date with all things Living the Gourmet, and for more great recipes, tips and tricks.
Did you make this recipe?
If so, let me know in the comments down below, or post a picture to Instagram, or to Pinterest, and I'll give you a shoutout on Instagram, or post your pin to one of my Pinterest boards!
Enjoy with Love!
0