There's nothing quite like gathering around the table with friends and family to enjoy a delicious antipasto. This classic Italian appetizer spread is the perfect way to kick off a holiday meal or to serve as an accompaniment to drinks and conversation. It's a great option for entertaining, and you can easily customize the ingredients to suit whatever you and your guests are in the mood for.
The best part about a homemade antipasto is that it can be a blissfully simple, or deliciously complex, as you desire. It can feature a host of exotic ingredients, or be pulled together from whatever you happen to have on hand. The key is to mix and match to find your perfect combination.
Today we're getting fancy with individual pizzas, but classic antipasto items are making an appearance as well, such as mixed olives and cured meats. Additionally, we'll be including things figs, fresh fruit, and cheese.
In this post, I'll show you how to quickly put together an Italian antipasto that is sure to impress. In just a few simple steps, you can have an appetizer spread that is perfect for your next holiday party, or for a relaxed weekend meal.
Now, without further delay, let's get to it.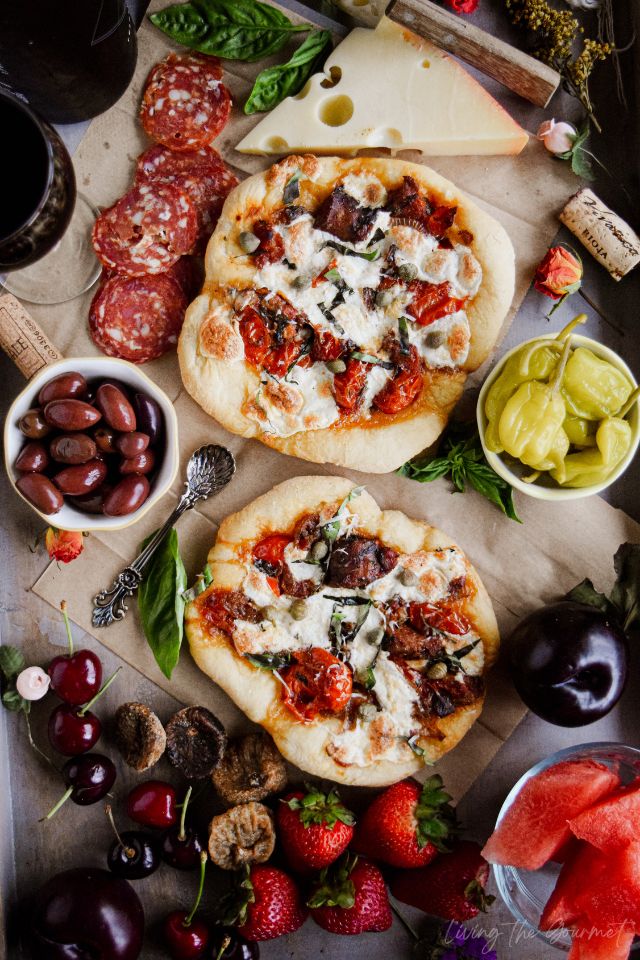 The Sum of Its Parts
Individual Pizzas. The centerpiece of this particular antipasto, and the item around which the rest of the spread is tailored. You can make these pizzas your own by experimenting with different toppings, such as peppers, onions, mushrooms, and olives. You can also try different types of sauces, such as pesto, spicy marinara, or even a garlic cream sauce.
Cured Meats. The best charcuterie for an antipasto board includes prosciutto, salami, capicola, and soppressata. Generally, these are considered the best complements to olives, roasted peppers, and crusty Italian bread, along with a variety of cheeses such as provolone, mozzarella, Reggiano, and ricotta salata. To really get the most of these meats, consider adding a homemade tapenade to the board, or perhaps breadsticks.
The Cheese. As touched on above, the 'best' cheese for antipasto is generally a mix of provolone, mozzarella, Reggiano, and ricotta salata. If using fresh mozzarella, considering layering it with fresh basil, black pepper, and a drizzle of olive oil.
The Olives. Inarguably, the best olives for an antipasto board are Kalamata olives, Castelvetrano olives, Leccino olives, and Picholine olives. Kalamata olives are full-bodied with a rich, intense aromatics, and a briny, salty flavor with 'meaty' notes. Castelvetrano olives are mild in flavor and have a buttery texture, making them great for adding a bit of subtle contrast to the antipasto board. Leccino olives are mildly flavored, and are generally best paired with meat-heavy antipasto boards and sharp cheeses. Finally, Picholine olives are slightly firm with a nutty, citrus-like flavor, making them delicious counterparts to the antipasto's fruit, especially the figs.
Mixed Fruit. Your choice of fruit, there really isn't a 'wrong' way to do this. Dried apricots and dried figs are a favorite. Personally, I'm using melon, dried figs, cherries, and sliced plums.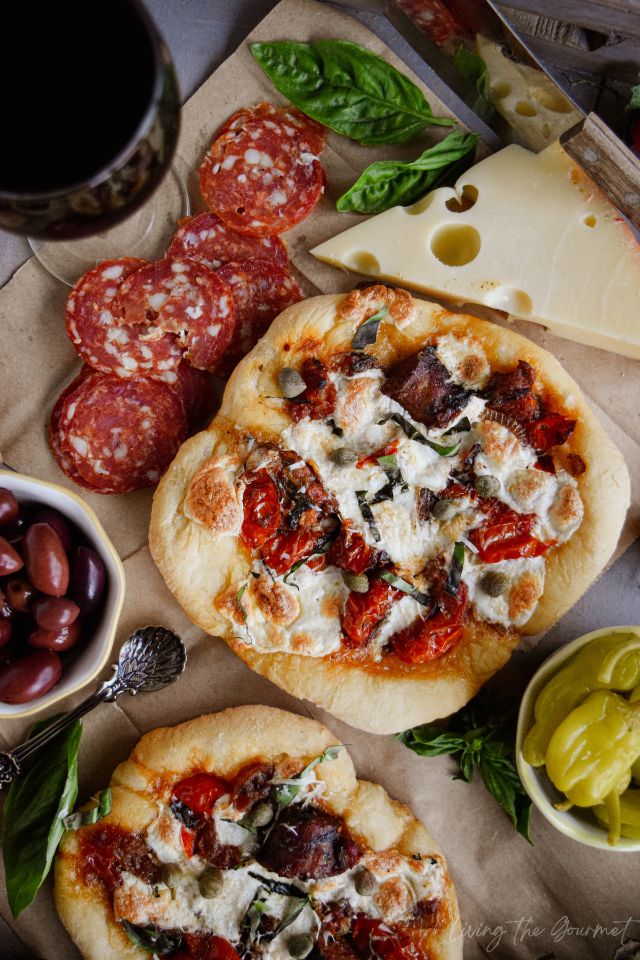 What To Drink
Wine Pairing. When pairing wines with an antipasto board, it is important to consider the different flavors of the ingredients. For example, a sparkling wine can provide a great contrast to the salty, tangy flavors of olives, salami and cheeses. A white wine such as Pinot Grigio, Sauvignon Blanc or Riesling can provide a light, refreshing contrast to the heavier flavors of the board. A dry Rosé is also a great choice for pairing with an antipasto board as it pairs well with saltier umami flavors. Lastly, a light-bodied red such as a Pinot Noir or Sangiovese can provide a nice balance of fruit and acidity to the board.
Black Coffee. A medium to dark roast coffee with a hint of smokiness and spice is usually a great choice. For a sweeter-styled antipasto boards – such as those that featured lots of fruit or honeyed cheeses – a consider a light roast with hints of caramel and nuttiness. On the other hand, for a savory board, a darker roast with hints of dark chocolate and earthy tones would be a great choice.
Specialty Espresso. Something like Turkish Coffee would pair deliciously with this board, as would moka pot coffee.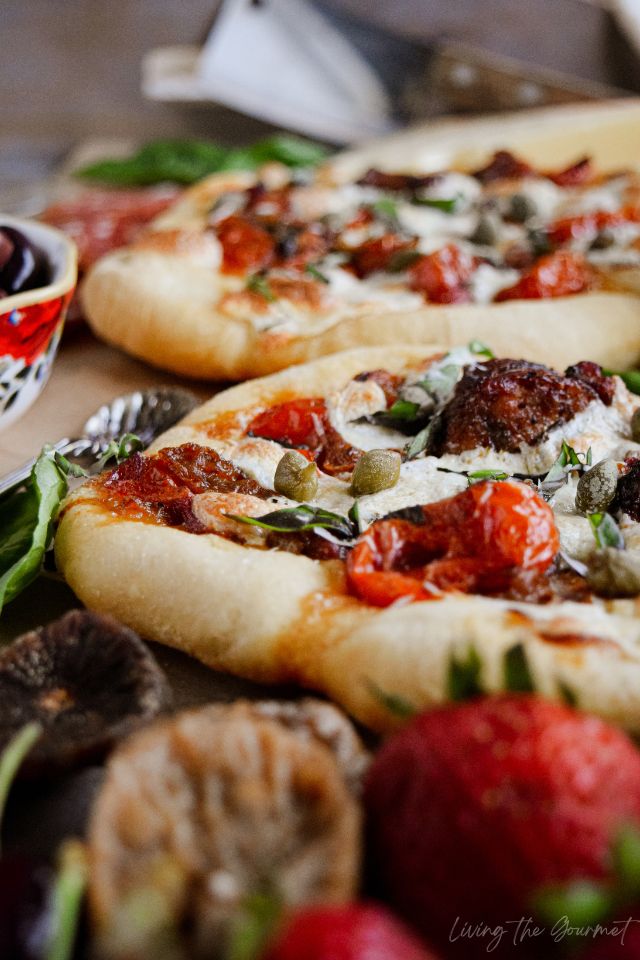 We hope this post has whet your appetite for antipasto! Thanks for joining us as we explored the different flavors and textures that make up an antipasto platter.
If you made this antipasto platter your own, we would love to hear from you! And please leave a comment below with your thoughts and ideas for other recipes you'd like to see from us in the feature.
Happy cooking and have a great New Year!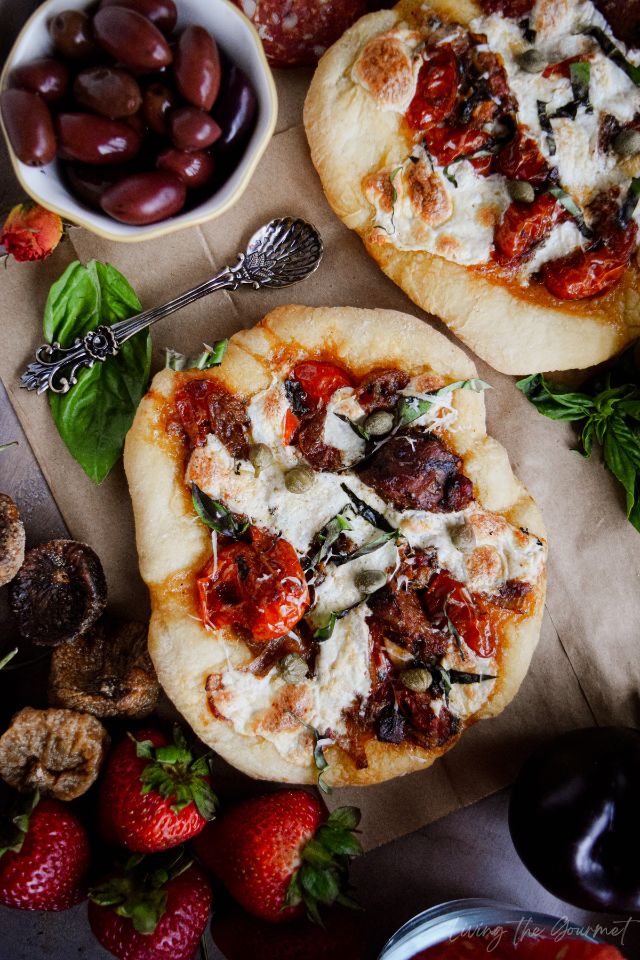 Print
Italian Antipasto Board
Author:
Prep Time:

10 minutes

Cook Time:

25 minutes

Total Time:

35 minutes

Yield:

6

individual pizzas

1

x
For the individual pizzas:
1

pizza dough, divided
Homemade Garden Sauce or your favorite jarred sauce

1

cup

Chorizo, chopped

1 tablespoons

capers
Fresh Mozzarella, shredded
Olive oil, for drizzling
Fresh grated Parmesan
Fresh basil, finely chopped
For the Antipasto Board:
Kalamata Olives
Leccino Olives
Cheese (I used Jarlsberg but swap with whichever you prefer. See notes in post)
Peperoncini
Italian Salami
Dried figs
Melon
Cherries
Plums
Strawberries
Infused Olive Oil for dipping (see our Garlic & Herb Infused Dipping Oil recipe)
Instructions
For the individual pizzas:
Follow the directions for the pizza dough but divide the dough to make individual pies. You should get about 6 individual pies from that recipe.
Preheat oven to 400 degrees F. and sprinkled your pizza pan with cornmeal. Shape each pie dough and top with the Homemade Garden Sauce, fresh shredded mozzarella, capers and chorizo. Drizzle with olive oil and cook the pizzas for about 25 minutes or until golden and bubbly.
When the pizzas are still hot, top with fresh basil and grated Parmesan
Assembly of the Antipasto Board:
Once the pizzas have cooled slightly, place them in the center of the board and arrange the rest of the antipasto around each pie as pictured. Serve alongside your favorite wine or spirit, if desired.
Recipe Card powered by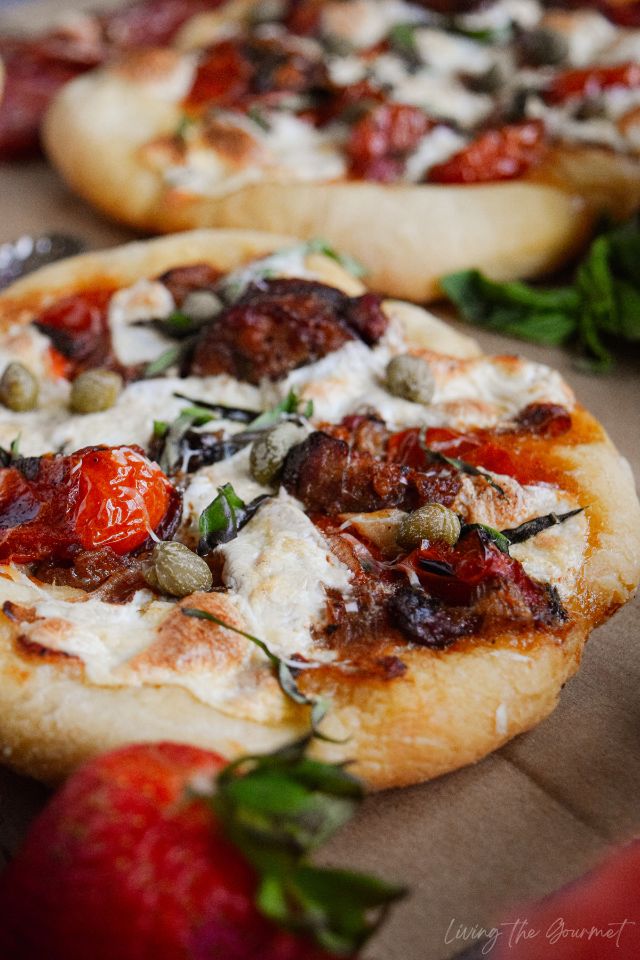 As an Amazon Associate I earn a small commission from any purchases made through the affiliate links within this post. For more information on this please see our disclosure policy. Thank you!
1