The key to a delicious pie begins with the dough and making your own pizza dough is easier than you make think and well worth the extra bit of time!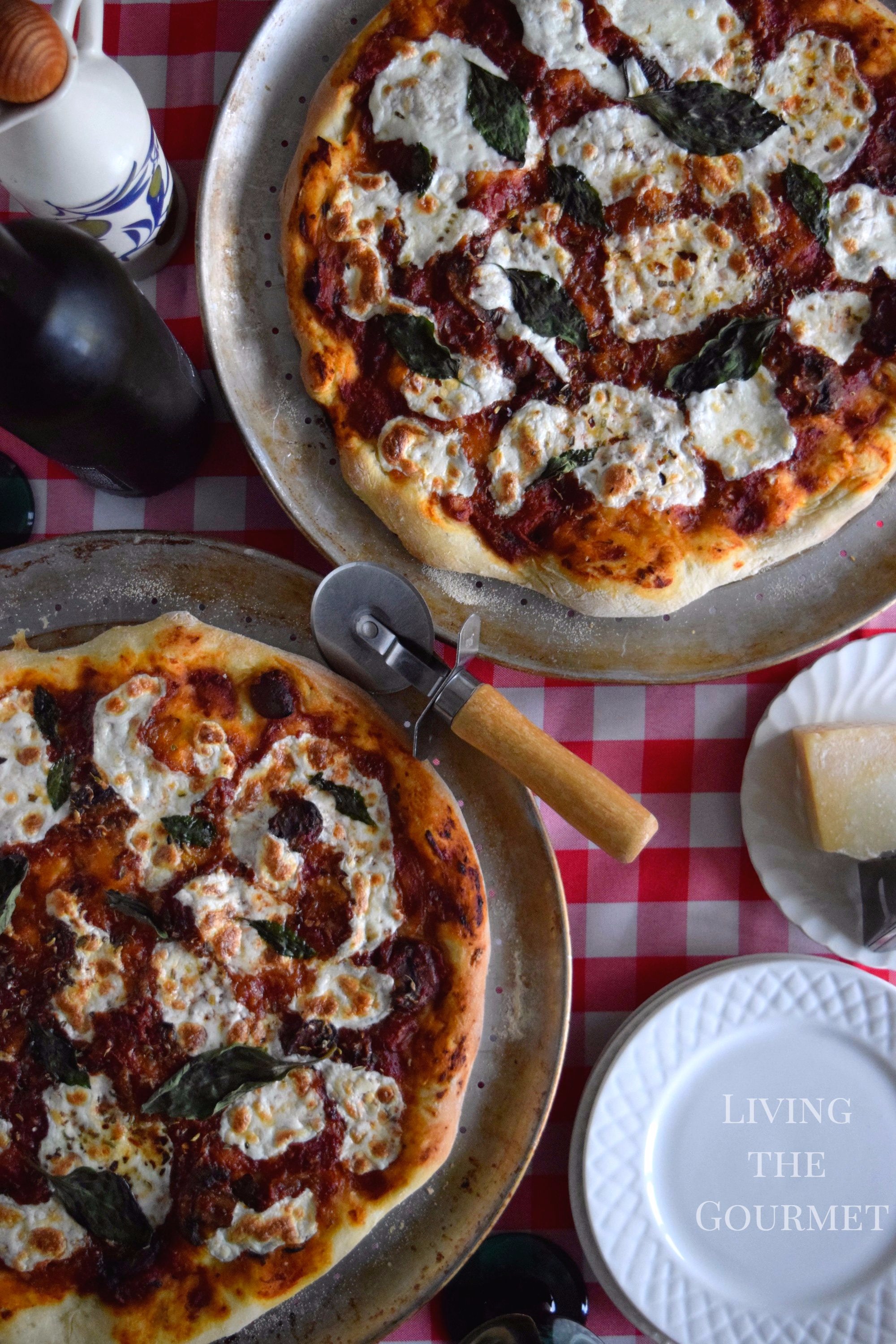 'Authentic Pizza' is, at least so far as I can tell, something akin to a culinary unicorn, as even going straight to the source produces a plethora of local varieties, all of which are uniquely authentic – as well as a number of inauténtico 'pollutants' courtesy of catering to las preferencias de los turistas.
Take New York pizza as a case in point – which is obviously the pizza that I am most at home speaking about. The city's cheesy monstrosity began as the work of first-generation Italian immigrants who sought to prepare for themselves un sapore di casa using then-barely adequate New World ingredients alongside a then-sparse array of imports. What resulted was a culinary 'dialect' that, while assuredly separate and apart from their Old World heritage, was nevertheless uniquely 'Nuevo Italiano,' the product of Italian immigrants adapting to their new home. Was this adaptation, and the Italian-American food it produced, somehow 'not' authentically Italian? Was Columbus not an Italian explorer because he sailed under a Spanish flag? Was Amerigo Vespucci not an Italian cartographer because he sailed at the invite of the King of Portugal?
There are certainly compelling arguments on both sides.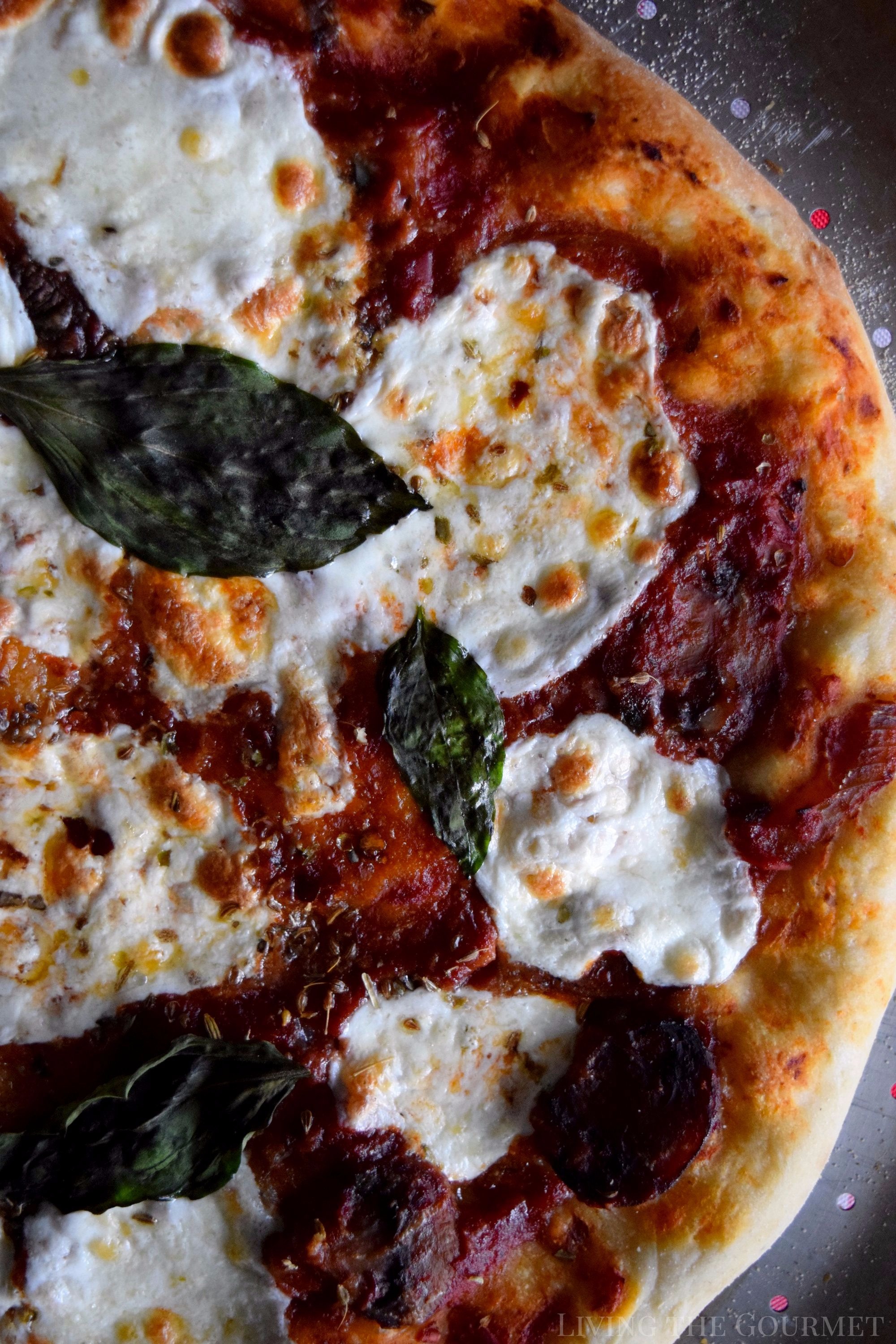 Granted, in its lowest form, New York pizza is a crude mess of cheese, grease, and machine-made sauce assembled on a flimsy excuse for bread, a far culinary cry from its 'authentic' counterparts, and I doubt anyone would expose themselves by calling these fast-food slices 'authentic' – yet they aren't meant to be. But, and this is a very big but – get your mind out of the gutter – at the higher end of the spectrum are veritable works of art served in some of New York's best restaurants, what we might call 'New World copies' of truly 'authentic pizza' that rival, and, in some cases, surpass anything one might find on the 'Old' side of the Atlantic.
As a result, a textbook definition of 'authenticity' isn't something I fret all that much about. Instead, I focus on three key components when it comes to the pizzas that I bake either for company or myself. Number one, is it pretty to look at? Since we eat first with our eyes (and since I take pictures of practically everything I cook), the pizza has to be appealing to look at, and for me that means it should bear a rustic 'hearth and villa' feel to it. Number two, the freshness of the ingredients. Anyone can dial up their local pizza dive and place an order, or pick a box out of a supermarket freezer. However, top the pizza with an array of fresh ingredients, and you'd be hard pressed 'not' to end up with something delightful. Finally, and this might sound counterintuitive given what I wrote above, but 'Does it look, feel, and taste authentic?' In other words, is this something that I could picture someone putting two centuries ago in my grandfather's hometown of Barcellona Pozzo di Gotto, Sicily? Or when they first arrived in New York?' If yes to either, it's good to go.
That being said, how to arrive to a pizza that fits those three criteria? Reduced to its most basic component, pizza is…well, it's topped bread. The best-stylized photos of 'authentic' pizza feature crisped or golden texturing along the exposed edges of the crust, which has the effect of making the pizza look as though it's been brushed by fire inside a wood-fired stone oven…or like it got 'the treatment' from a supremely talented food stylist. In truth, this coloring isn't 'that' difficult to achieve with proper timing, oven temperature, and the right dough prep as we'll show.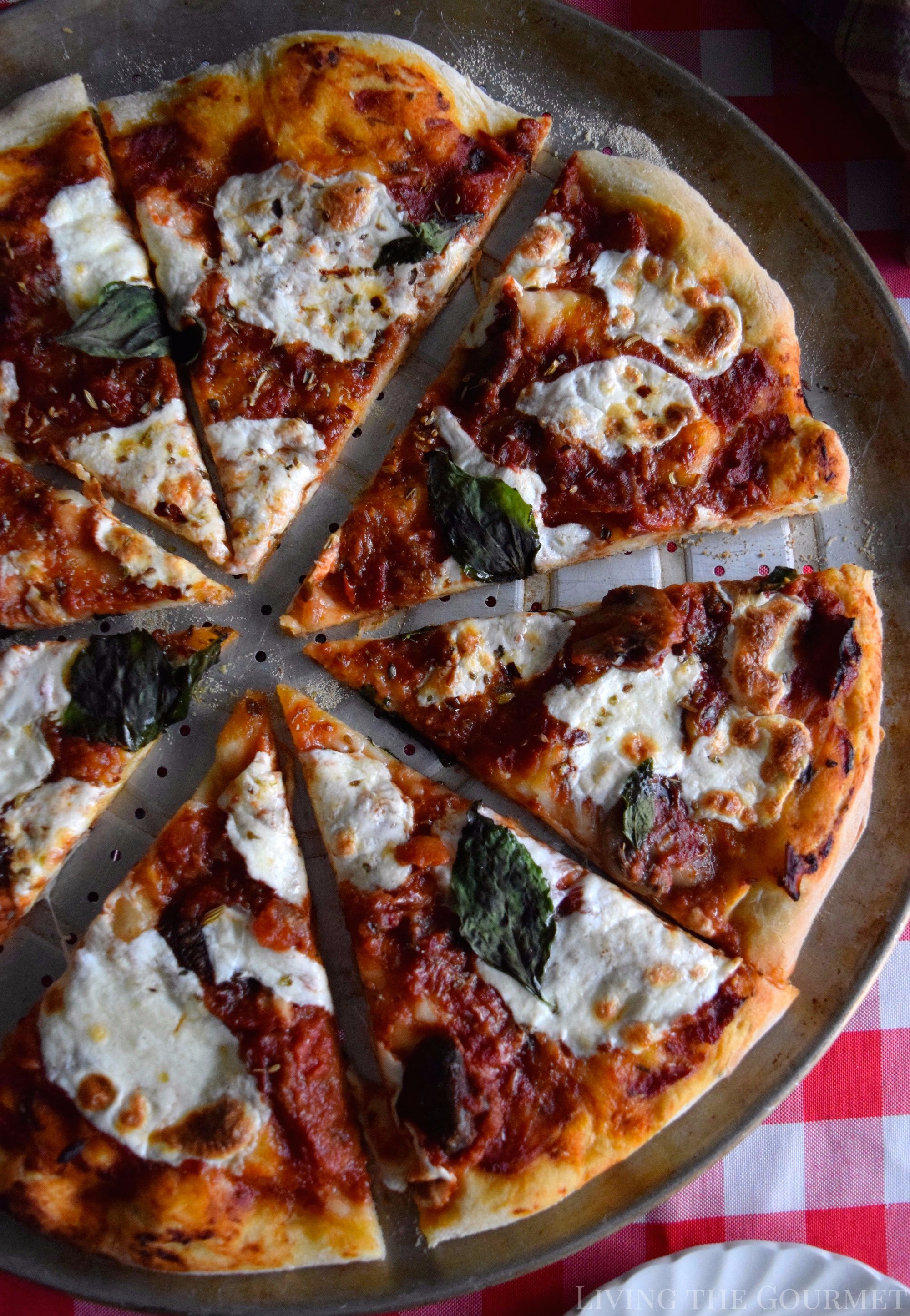 To start out with the dough, we begin by proofing the yeast by combing active dry yeast, sugar, and warm water, which you'll want to let sit for about ten minutes until it's started to foam. While you're waiting for the yeast, combine oregano, flour, and salt in the bowl of a stand mixer, and then add in the yeast. Then mix the dough on low speed until it starts to come together. We then let the dough sit to rise, covered in a warm dark place for about one to two hours – or as I like to think of it, just long enough to put together a nice antipasto and table setting.
Or, you can do like my son, and take this as an excuse to relax with a shot of espresso. Café cuando te relajes, y relajarse cuando tienes café, as he might say.
After the dough has finished rising roll the dough to roughly a quarter of an inch in thickness. Kneading technique here is rather important, use the knuckles and base of the palms, but be careful not to over-knead the dough, which will result in a flat or rather 'stale' experience. If you're doing this in the presence of company, be sure to spin the dough atop your fingertips for effect if you are thusly capable (seriously, learn to do this).
After the dough is rolled out, top the pizza with a generous layer of sauce. I have a few nice recipes here on Living the Gourmet for homemade sauce, but if you're pressed for time there are store bought alternatives. Then sprinkle with red pepper flakes, dried oregano, and mozzarella, and then place it in the oven for about fifteen minutes. Then remove the pie from the oven, top it with fresh basil, and then return it for the oven for a minute. Yes, one minute precisely – seconds are the difference here between delight and travesty! Well, maybe not quite but you get the idea.
Print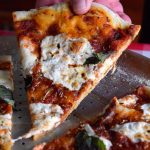 Perfect Pizza
---
Author:

Prep Time:

10 minutes

Cook Time:

15 minutes

Total Time:

25 minutes

Yield:

2

pizza doughs

1

x
Perfect Pizza Dough:
1 cup

warm water

1

packet of active dry yeast

1 teaspoon

sugar

3½ cups

AP flour

1 teaspoon

kosher salt

1/4 cup

olive oil
Toppings:
Your favorite jarred or homemade sauce
Fresh mozzarella, sliced
Red pepper flakes, to taste

2 teaspoons

dried oregano, divided

½ cup

grated cheese, divided
Fresh Basil leaves
Olive Oil for drizzling
---
Instructions
Proof your yeast by adding the active dry yeast and sugar to warm water. Let sit for 10 minutes until the yeast has foamed.
In the bowl of your stand mixer attached with the dough hook combine flour and salt. Add the proofed yeast and mix on low speed until the dough starts to come together.
Keeping the mixer on low speed, add the olive oil until a soft dough forms and pulls away from the sides of the bowl.
Cover and let rise for about 1-2 hours in a warm dark place.
Preheat oven to 400 degrees F. Prepare your pizza pans by sprinkling them with cornmeal and set aside.
Once the dough has risen, sprinkle with flour and punch down. Turn over onto a well-floured surface and divide the dough in half.
Roll out each dough and transfer to the prepared pizza pans.
Top each pizza with sauce, red pepper flakes, dried oregano (1 teaspoon per pie), mozzarella, and grated cheese. Drizzle each pie with olive oil and bake for about 12-15 depending on the temperature of your oven. Once the crust starts to golden around the edges the pie is ready. Top each pie with fresh basil and return to the oven for about 1 minute.
Take the pies out and let cool slightly before serving. Enjoy!
Notes
*Prep Time does not include Inactive Prep Time
Category:

Main Dish

Cuisine:

Italian
Recipe Card powered by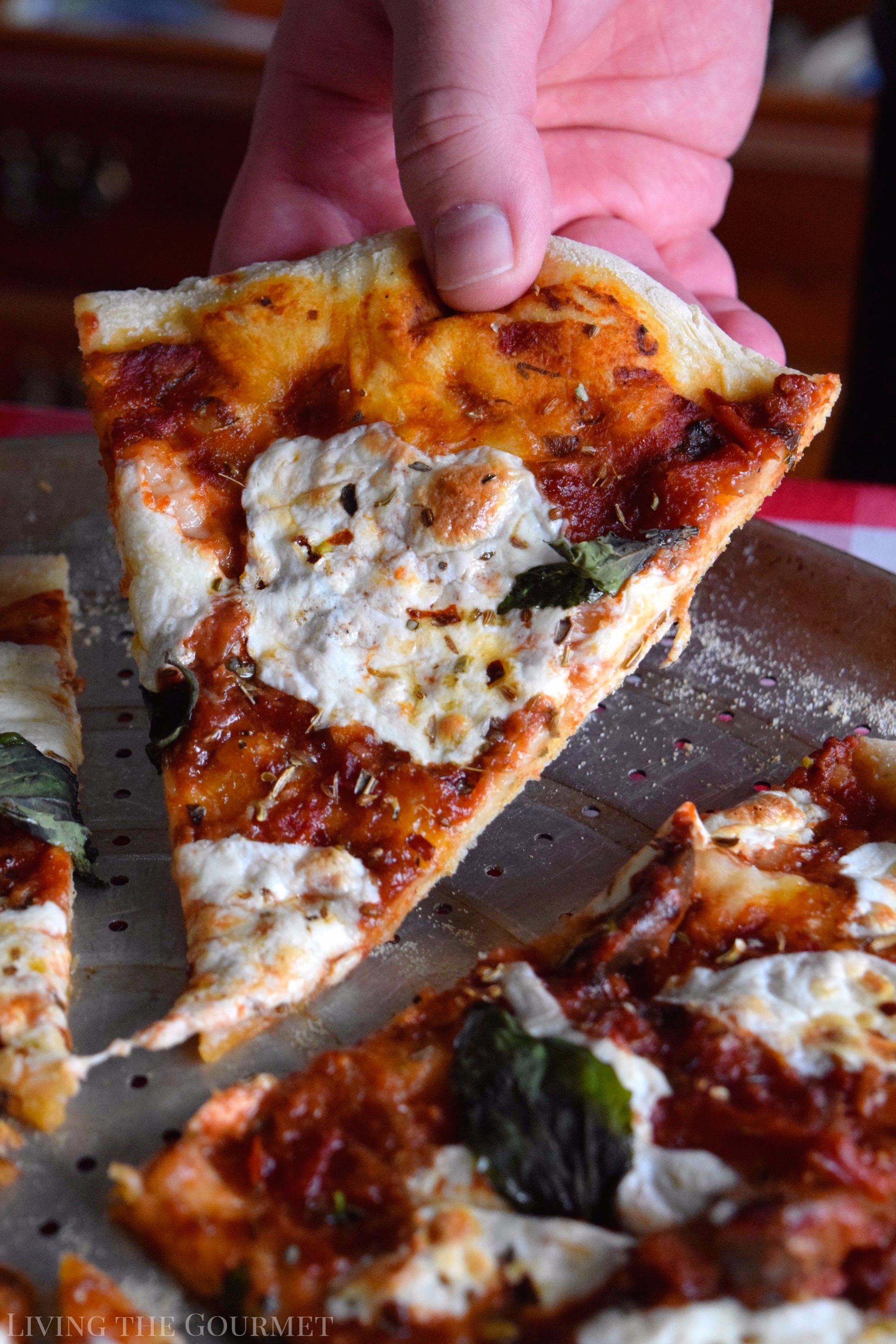 And that's really it. That's my take on an 'authentic' homemade pizza from my corner of New York.
Enjoy!
0