Summer is all about sizzling grills, outdoor gatherings, and mouthwatering flavors. And when it comes to capturing the essence of the season on your plate, nothing quite beats the irresistible combination of juicy pork and roasted vegetables on skewers. Get ready to elevate your summer cooking game with our delectable Pork and Veggie Kebabs!
Picture this: succulent cubes of pork, marinated to perfection, boasting a tantalizing blend of savory and aromatic flavors. As they sizzle on the grill, the meat develops a tantalizing crisp, while retaining its juicy tenderness. Each bite is a delightful balance of textures and tastes, that will leave your guests craving seconds.
The secret to these kebabs lies in the marinating process. We've carefully crafted a marinade that infuses the pork with a symphony of flavors. With hints of zesty lemon, fragrant herbs like sage and rosemary, and a touch of garlic, the marinade transforms the pork into culinary bliss. It tenderizes the meat, infusing it with a depth of flavor that perfectly complements the natural sweetness and succulence of the pork.
Now, let's talk about the vibrant medley of vegetables that accompany the pork on the skewers. Bell peppers, zucchini, and onions come together, lending their vibrant colors and crisp textures to create a delightful harmony of flavors. As they grill alongside the pork, the heat caramelizes their natural sugars, adding a subtle sweetness and smoky char that beautifully complements the savory meat.
But wait, the possibilities don't end there! These kebabs are incredibly versatile, allowing you to customize them to your liking. Consider adding a touch of heat with some red pepper flakes or experimenting with different combinations of vegetables. Mushrooms, cherry tomatoes, or even eggplant can make delightful additions to the skewers, adding their unique flavors and textures to the mix.
To complete your summer feast, let's explore the perfect pairings for these delectable kebabs. Serve them alongside a fluffy bed of fragrant rice, quinoa, or even on a warm pita bread for a Mediterranean-inspired delight. Enhance the flavors with a drizzle of tangy tzatziki sauce or a dollop of spicy harissa. For a refreshing side, a crisp salad dressed with lemon vinaigrette or a medley of grilled summer vegetables would be ideal. And don't forget to enjoy these kebabs in good company, with the laughter and warmth of loved ones surrounding you.
So, fire up the grill, embrace the flavors of the season, and let these Pork and Veggie Kebabs transport you to a culinary paradise. With their tantalizing taste, colorful presentation, and endless customization options, they are the perfect addition to your summer menu. Get ready to create unforgettable moments and savor the delights of the season, one juicy bite at a time!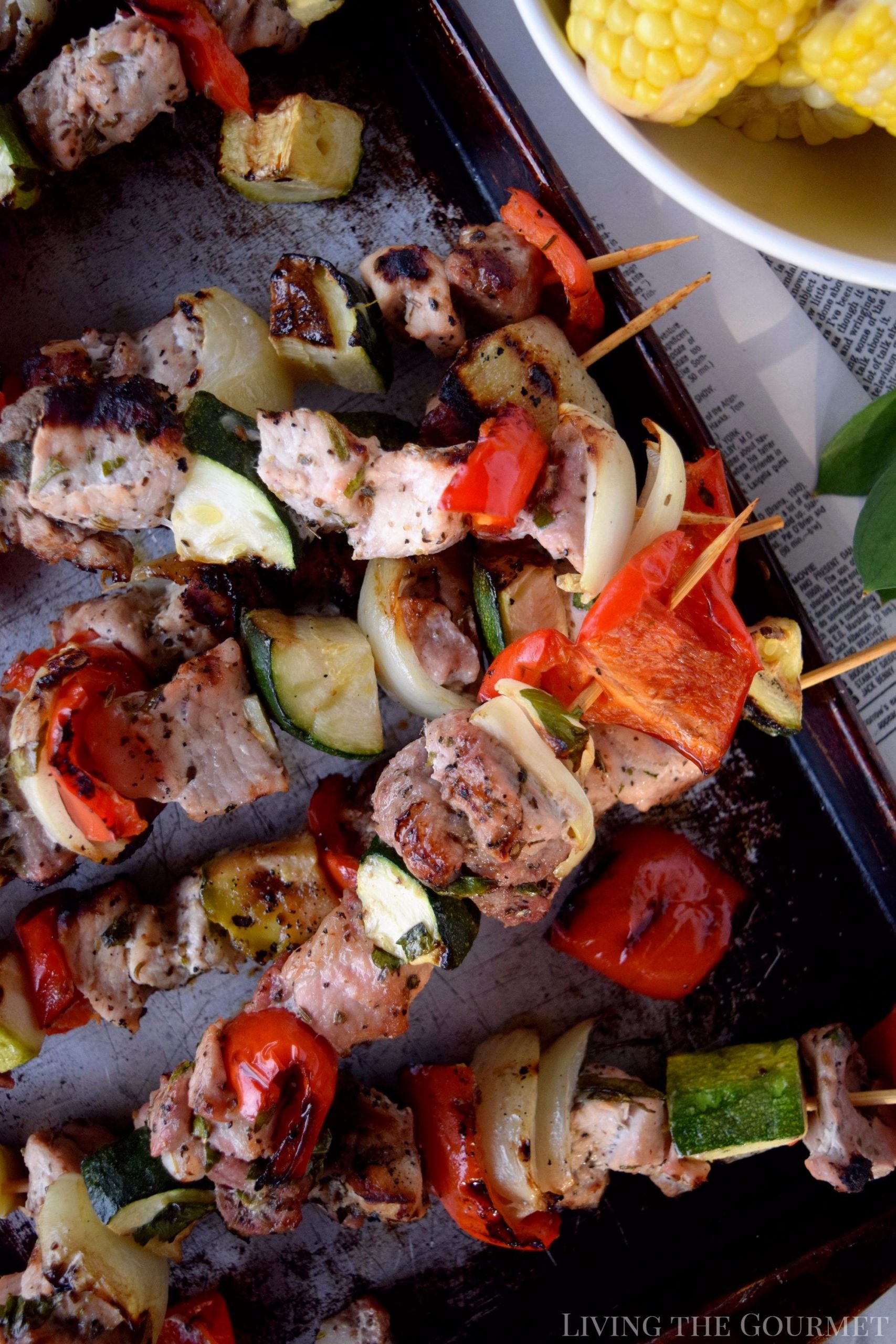 Ingredient Checklist – The Kebabs
3 lbs. Cubed Lean Pork

Note: Opt for boneless pork loin or pork tenderloin to ensure the meat stays juicy and tender.
Tip: Trim any excess fat before cubing to keep the pork lean and healthy.
Substitution: For a leaner option, you can use boneless, skinless chicken breasts.

2 Bell Peppers - Sliced

Note: Choose firm, glossy peppers that are heavy for their size.
Tip: Using a mix of colors not only adds to the flavors but also makes the kebabs visually appealing.
Substitution: Other vegetables like zucchinis, cherry tomatoes, or mushrooms can also be used.

1 Zucchini - Sliced in Large Pieces

Note: Look for zucchini that is small and firm and heavy for its size. The skin should be lightly shiny and free of cuts and bruises.
Tip: Try to cut them in even-sized pieces to ensure they grill at the same rate.
Substitution: You can substitute zucchini with summer squash or eggplant.

1 Large Onion - Sliced in Large Pieces

Note: Use a sweet or yellow onion for a nice balance of flavor.
Tip: When threading onto skewers, double up the layers to prevent them from falling apart during grilling.
Substitution: Large chunks of red onion can be used for a stronger flavor.

Kebab Sticks

Note: If using wooden skewers, make sure to soak them in water for at least 20 minutes to prevent them from catching fire on the grill.
Tip: Using flat or double-pronged skewers can help prevent the ingredients from spinning around when you're trying to turn them over.
Substitution: Metal skewers can also be used.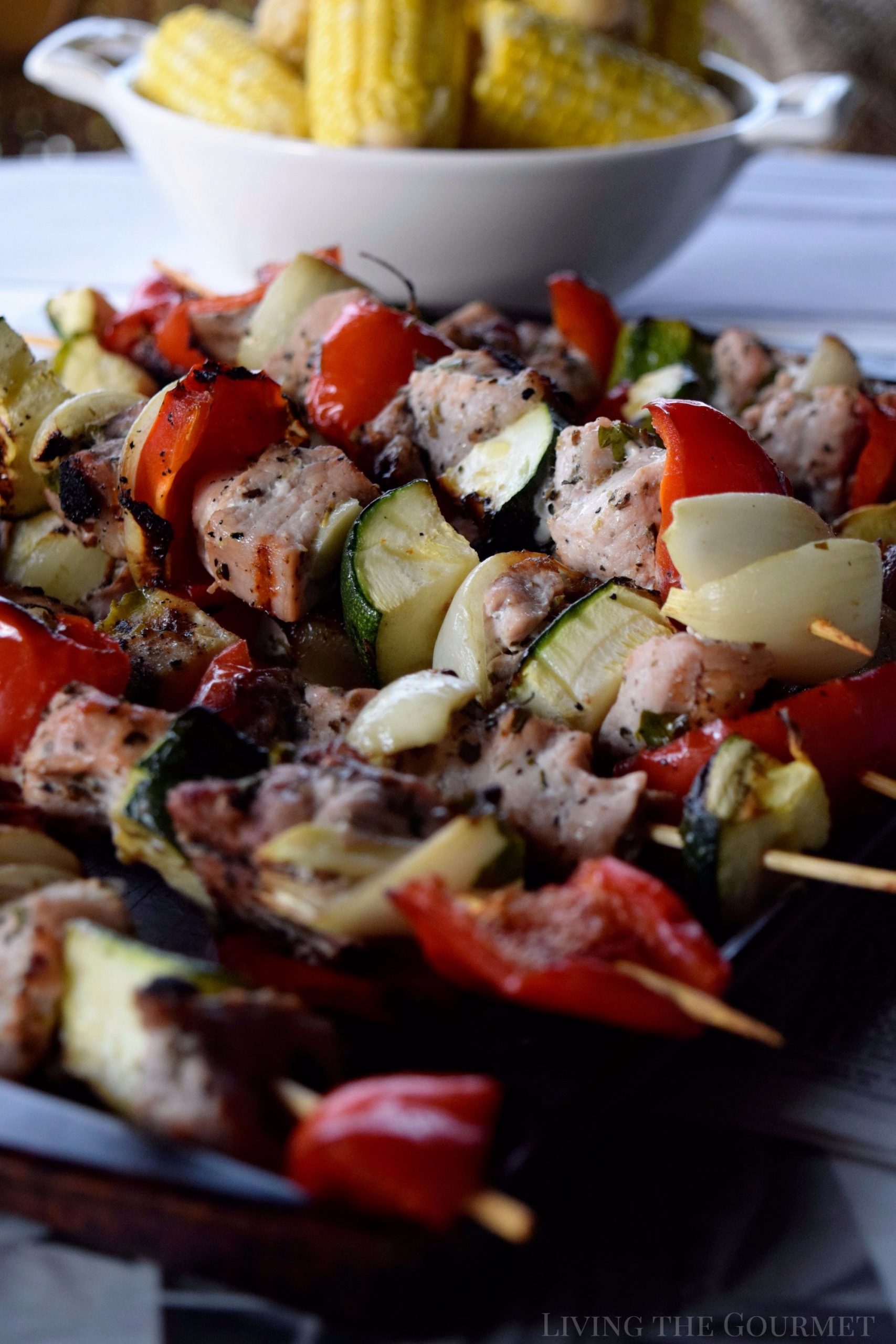 Ingredient Checklist – The Marinade
1/4 cup of Vegetable Oil

Note: This helps in keeping the pork moist and promotes even cooking.
Tip: A pump spray can help in evenly distributing the oil.
Substitution: You can use other neutral, high-smoke point oils like canola or peanut oil.

1/2 tsp. Salt

Note: This is essential for enhancing the flavors of the pork and veggies.
Tip: Sprinkle the salt from high up for an even distribution.
Substitution: Seasoned salt or kosher salt can be used for a different flavor profile.

1/2 tsp. Black Pepper

Note: Freshly ground black pepper can provide a more robust flavor.
Tip: Adjust the quantity as per your preference for spiciness.
Substitution: White pepper or crushed red pepper flakes can be used for a different flavor and heat level.

1/2 tsp. Dried Oregano

Note: Dried herbs generally have a more concentrated flavor.
Tip: Rub the dried oregano between your hands before adding to release more flavor.
Substitution: Dried thyme or basil can be used as a substitute.

Juice of 2 Fresh Lemons

Note: Fresh lemon juice has a much better flavor compared to bottled ones.
Tip: Roll the lemons on the counter before juicing to get more juice out of them.
Substitution: Lime juice or orange juice can be used for a different flavor profile.

3 - 4 Cloves of Fresh Garlic - Chopped

Note: Fresh garlic gives a bold and hearty flavor to the marinade.
Tip: Make sure to mince the garlic finely to distribute its flavor evenly.
Substitution: Garlic powder can be used if fresh garlic is not available.

Sprigs of Fresh Sage

Note: Fresh sage gives a robust, peppery flavor.
Tip: Add extra sage sprigs to the grill to create sage-scented smoke that flavors the skewers.
Substitution: Dried sage can be used, or you can replace it with fresh thyme or rosemary.

Sprigs of Fresh Rosemary

Note: Fresh rosemary will give a strong, distinct flavor to the marinade.
Tip: You can also put whole sprigs of rosemary directly on the coals of your grill to infuse your skewers with extra flavor.
Substitution: Dried rosemary can be used, or you can substitute with other robust herbs like thyme or marjoram.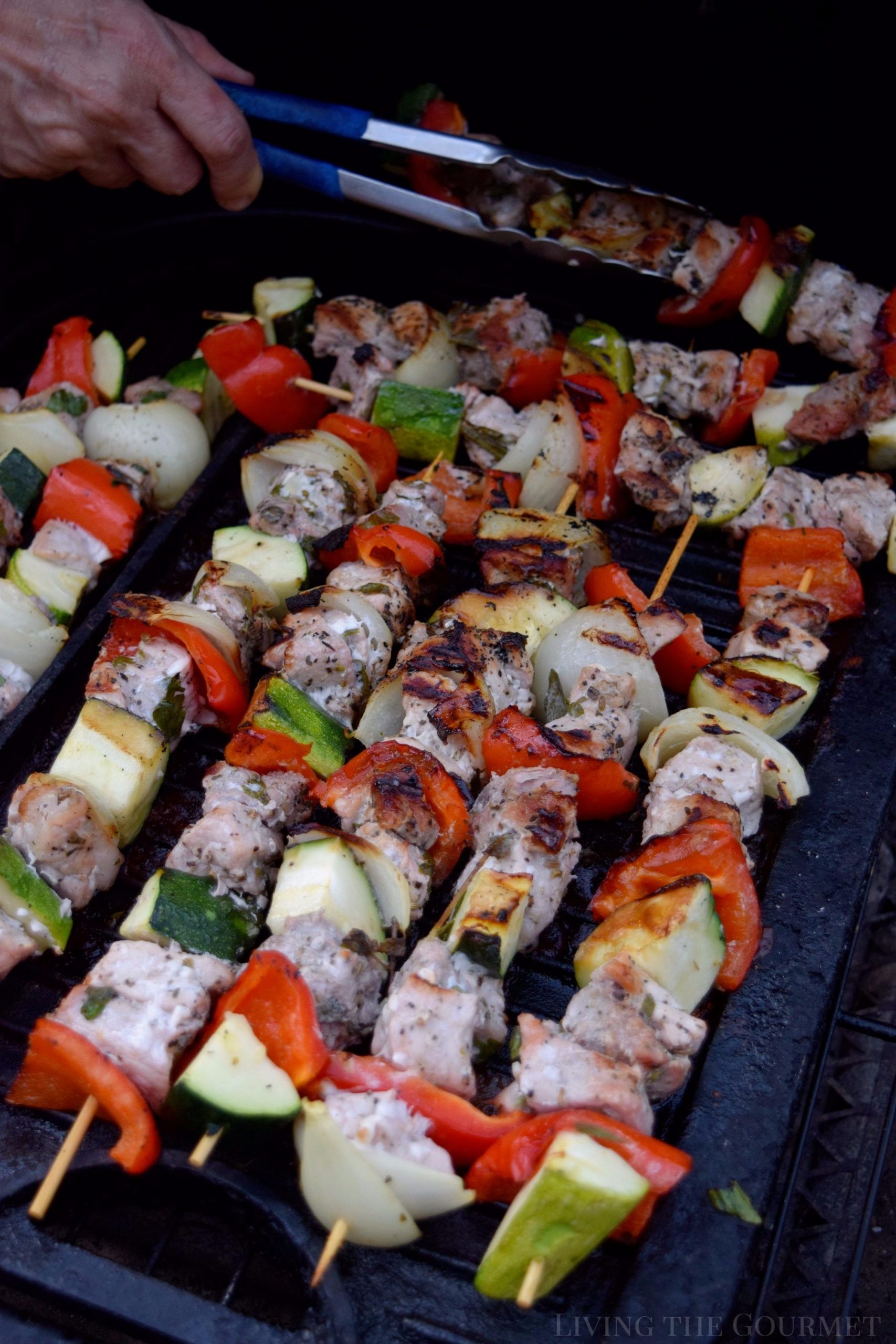 Variations – Make The Kebabs Your Own
Change up the Proteins: For those who prefer different meats or have dietary restrictions, chicken, beef, or even shrimp could be fabulous substitutes for pork. Vegetarians or vegans can use tofu or tempeh, ensuring they press it well to remove excess moisture before marinating.
More Veggies: If you're looking to increase your vegetable intake, consider adding more variety to the skewers. Mushrooms, cherry tomatoes, eggplant, or yellow squash make delicious additions.
Go Spicy: For those who like an extra kick in their meals, consider adding some heat to the marinade. Ingredients like red pepper flakes, jalapenos, or a splash of hot sauce could be an exciting variation.
Different Marinades: Experiment with different marinades to suit your palate or dietary needs. If you're seeking an Asian twist, consider a soy, honey, and ginger marinade. For a Middle Eastern touch, a marinade with yogurt, lemon, and spices like cumin and coriander would work great.
Fish Option: For pescatarians, cubed fish like salmon or swordfish can hold up well on the grill. Just reduce the marinating time to prevent the acidic ingredients from "cooking" the fish.
Alternative to Skewers: If you don't have skewers, don't worry. All the ingredients can be grilled separately or made into a grill packet by wrapping them in aluminum foil.
Vegan-Friendly Version: In addition to tofu or tempeh, veggies like cauliflower or whole Portobello mushrooms can serve as hearty plant-based alternatives to meat.
Gluten-Free Version: This recipe is naturally gluten-free. However, if you switch up the marinade, ensure all the ingredients used (like soy sauce) are certified gluten-free.
By personalizing the recipe to suit distinct preferences or needs, you can make this delicious meal even more enjoyable. And if you come up with a new variation, don't forget to share it in the comments section - your creativity might just inspire others to try their own twist!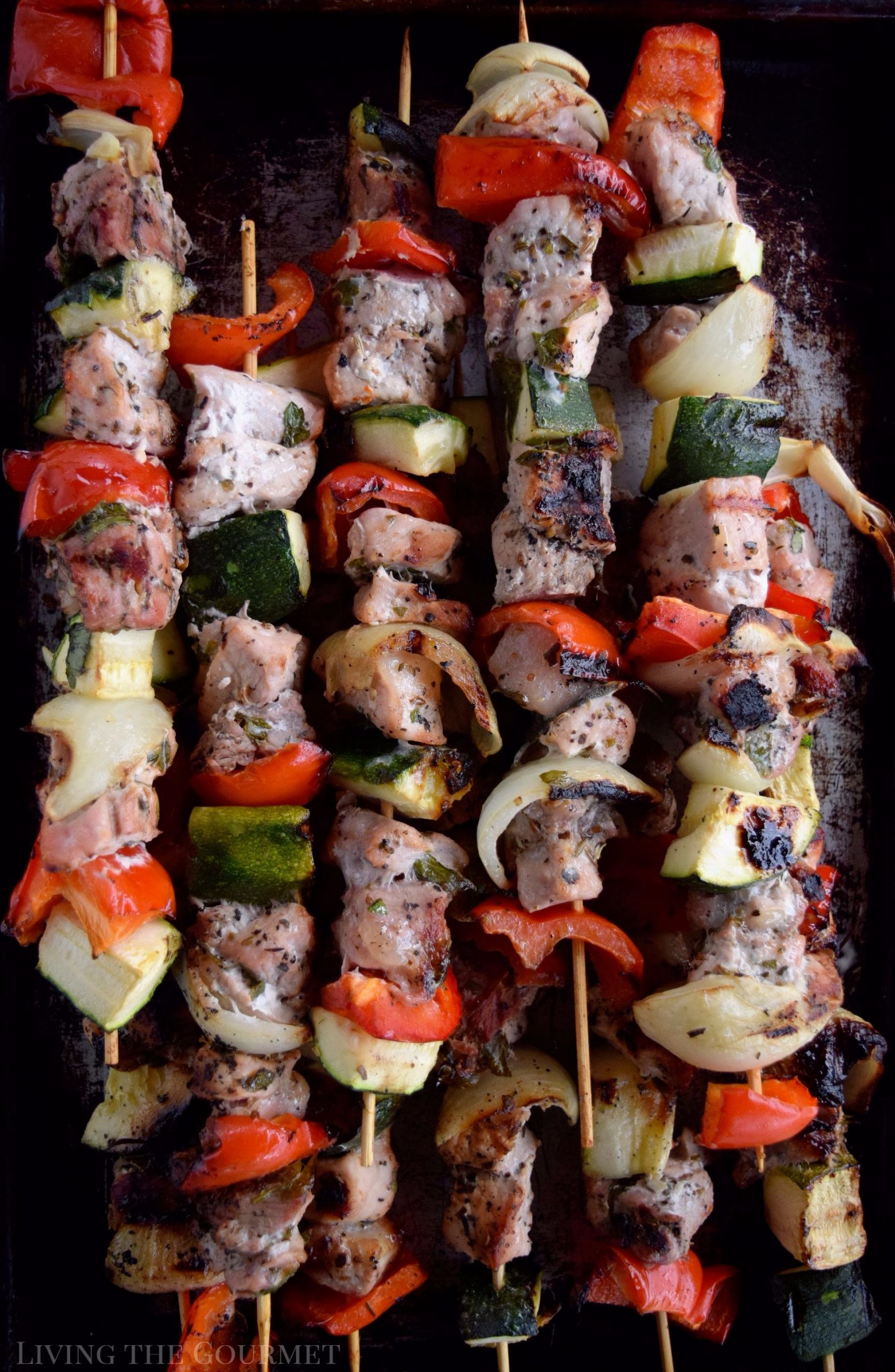 Making a Complete Meal – Meal Prep Ideas
Incorporating the Pork and Veggie Kebabs into a weekly meal plan is a great idea given that it's a balanced meal on its own, encompassing both proteins and vegetables. Here are some ways you could include this delightful dish in your routine:
Prep Ahead: Prepare the marinade and slice the pork and vegetables over the weekend. Store the pork in the marinade in the refrigerator, and keep the sliced veggies in a separate container. On the day you plan to have them, just skewer and grill.
Grill Extra: When grilling the kabobs, consider making a few extra skewers. Leftover kabobs can be enjoyed the next day or used in other recipes for quick and easy meals.
Meal Pairing: Pair these flavorful kebabs with complimentary dishes to create a well-rounded meal. Here are a few suggestions from our blog that would complement the Pork Veggie Kabobs:

Grilled Corn Salad: A refreshing and vibrant salad featuring grilled corn, cherry tomatoes, avocado, and a zesty lime dressing. It's the perfect side dish to accompany the kabobs.
Mediterranean Couscous: Fluffy couscous tossed with diced cucumber, cherry tomatoes, Kalamata olives, feta cheese, and fresh herbs. This light and flavorful dish will complement the grilled flavors of the kebabs.
Greek Tzatziki Sauce: Whip up a cool and creamy tzatziki sauce with cucumber, yogurt, garlic, and herbs. It serves as a delicious dipping sauce for the kabobs or as a refreshing dressing for a Greek-inspired salad.
Roasted Vegetables: Roast a medley of seasonal vegetables such as bell peppers, zucchini, and eggplant with a drizzle of olive oil and sprinkle of herbs. The caramelized flavors will complement the grilled kebabs perfectly.

Leftover Inspiration: If you have leftover kabobs, consider repurposing them into different dishes. Remove the meat and vegetables from the skewers and use them to create wraps, salads, or even stir-fries for quick and flavorful meals throughout the week.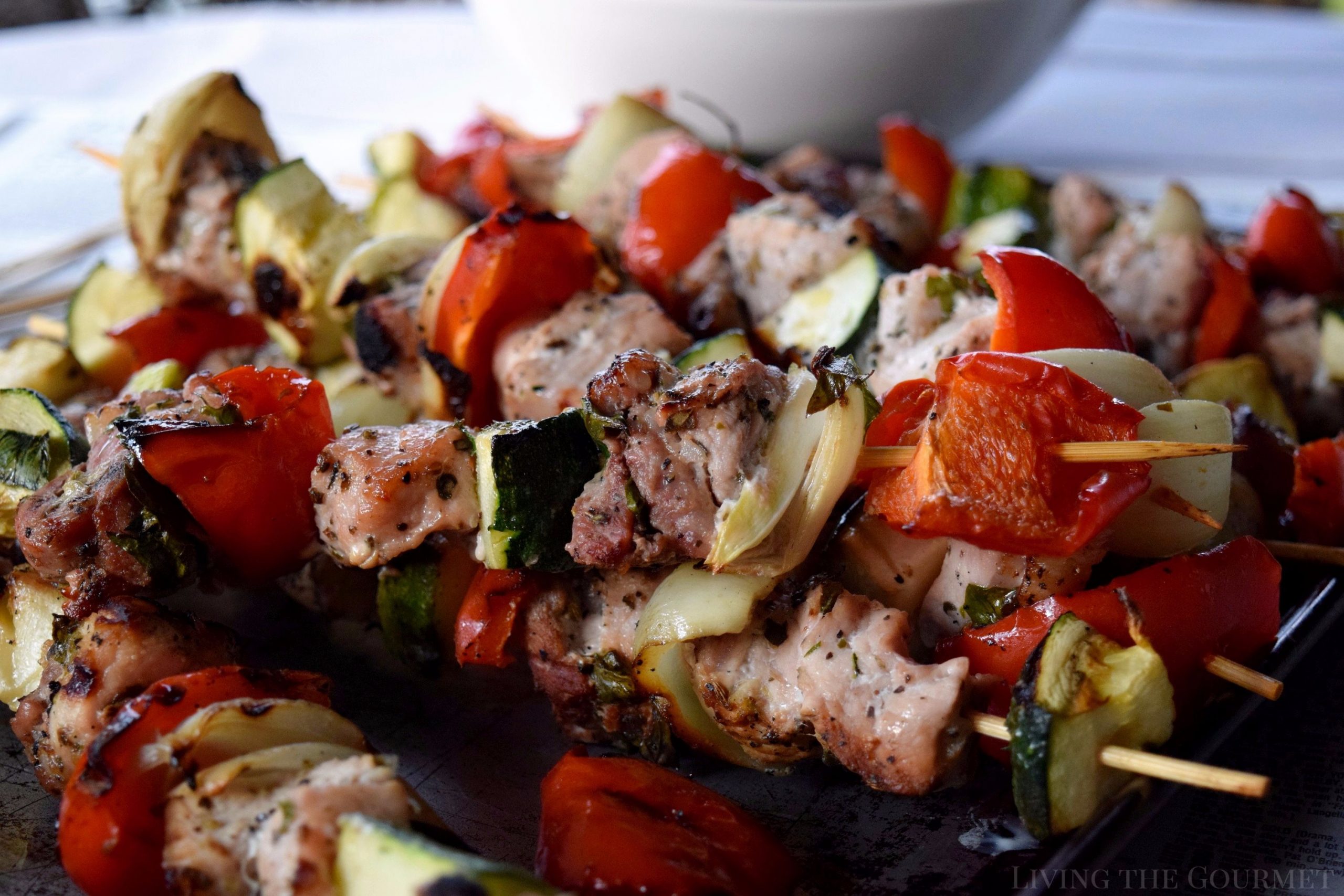 Expert Grilling Tips for Perfect Kebabs
Grilling is an art, and perfectly grilled Pork and Veggie Kebabs are a testament to that skill. Whether you're a seasoned griller or a rookie just beginning your grilling journey, these expert tips can help you master the grill for this recipe:
Optimal Grill Temperature: For kebabs, a medium to high heat setting (around 350-450°F) works best. This ensures a nice sear on the outside, while letting the insides cook thoroughly. If you're using a charcoal grill, the coals should be lightly covered with ash. For a gas grill, preheat it on high, then adjust the heat as needed.
Preheat the Grill: Always preheat your grill before adding the skewers. This helps to sear the meat quickly, sealing in the juices, and gives the veggies a crisp-tender texture.
To Prevent Sticking: To prevent the kabobs from sticking to the grill, lightly oil the grates right before adding the skewers. You can do this by dipping a wad of paper towels in a little oil and, using tongs, wiping it on the grates. Alternatively, you could also brush a little oil directly onto the kebabs before placing them on the grill.
Turning the Kebabs: Turn the kebabs every few minutes to cook evenly and prevent burning. Takes about 10-15 minutes to cook pork fully, but keep a close eye as grilling times could vary depending on your grill and the size of the pork pieces.
Checking Doneness: Avoid the urge to cut into the meat to check for doneness as this could release precious juices. Instead, use a meat thermometer. The safe internal pork cooking temperature for fresh cuts is 145°F.
Don't Overcook: Pork can easily dry out when overcooked, so be mindful of the cooking time. Aim for an internal temperature of 145°F (63°C) for medium doneness. Use a meat thermometer to check the doneness of the pork, ensuring it's cooked through but still juicy and tender.
Basting with Marinade: As you grill the kabobs, baste them with the reserved marinade. This adds an extra layer of flavor and helps keep the pork moist and tender. Just be sure to discard any marinade that has come into contact with raw meat.
Rest Before Serving: Once off the grill, let the kebabs rest for a few minutes before eating; This lets the juices redistribute throughout the pork, ensuring a moist and flavorful bite.
Experiment with Charcoal: If using a charcoal grill, experiment with different charcoal arrangements to control the heat. For high heat, arrange the coals in a single layer. For indirect grilling, create a two-zone fire by stacking the coals on one side of the grill. This allows for more flexibility in cooking and prevents flare-ups.
products used in this recipe
Print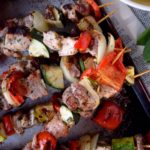 Pork and Veggie Kebabs
---
Author:

Total Time:

30 minutes
3

lbs

. cubed lean pork

2

bell peppers - sliced

1

zucchini - sliced in large pieces

1

large onion - sliced in large pieces
Kebab sticks - soaked in water
For the Marinade:
1/4

cup

of vegetable oil

1/2 tsp

. salt

1/2 tsp

. black pepper

1/2 tsp

. dried oregano
Juice of

2

fresh lemons - quarter the lemons after squeezing

3

-

4

cloves of fresh garlic - chopped
Sprigs of fresh sage
Sprigs of fresh rosemary
---
Instructions
Place all the ingredients for the marinade in a bowl and stir. Add the pork chunks; cover and refrigerate for at least one hour or longer.
Soak the kebab sticks in water before placing the pork and veggies on the stick.
Alternate the pork and veggies on the kebab sticks.
Either grill or barbecue it is up to you.
The pork is cooked when the juices run clear.
Prep Time:

15 minutes

Cook Time:

15 minutes

Category:

Main Dish
Recipe Card powered by
Remember — practice makes perfect with grilling. So don't despair if your first few attempts aren't exactly as you want them to be. You'll be a kebab grilling master in no time with a bit of patience.
And those are our Pork and Veggie Kebabs. If you enjoyed today's recipe, be sure to like, share, and subscribe. As always, if you have any questions or suggestions, be sure to let us know in the comments below, we always love hearing from you! Happy grilling!
As an Amazon Associate I earn a small commission from any purchases made through the affiliate links within this post. For more information on this please see our disclosure policy. Thank you!
1