Sweet long Italian peppers are stuffed with a salty, savory breadcrumb stuffing. They're versatile enough to be a starter, side or even a light meal within itself when served alongside a nice glass of wine.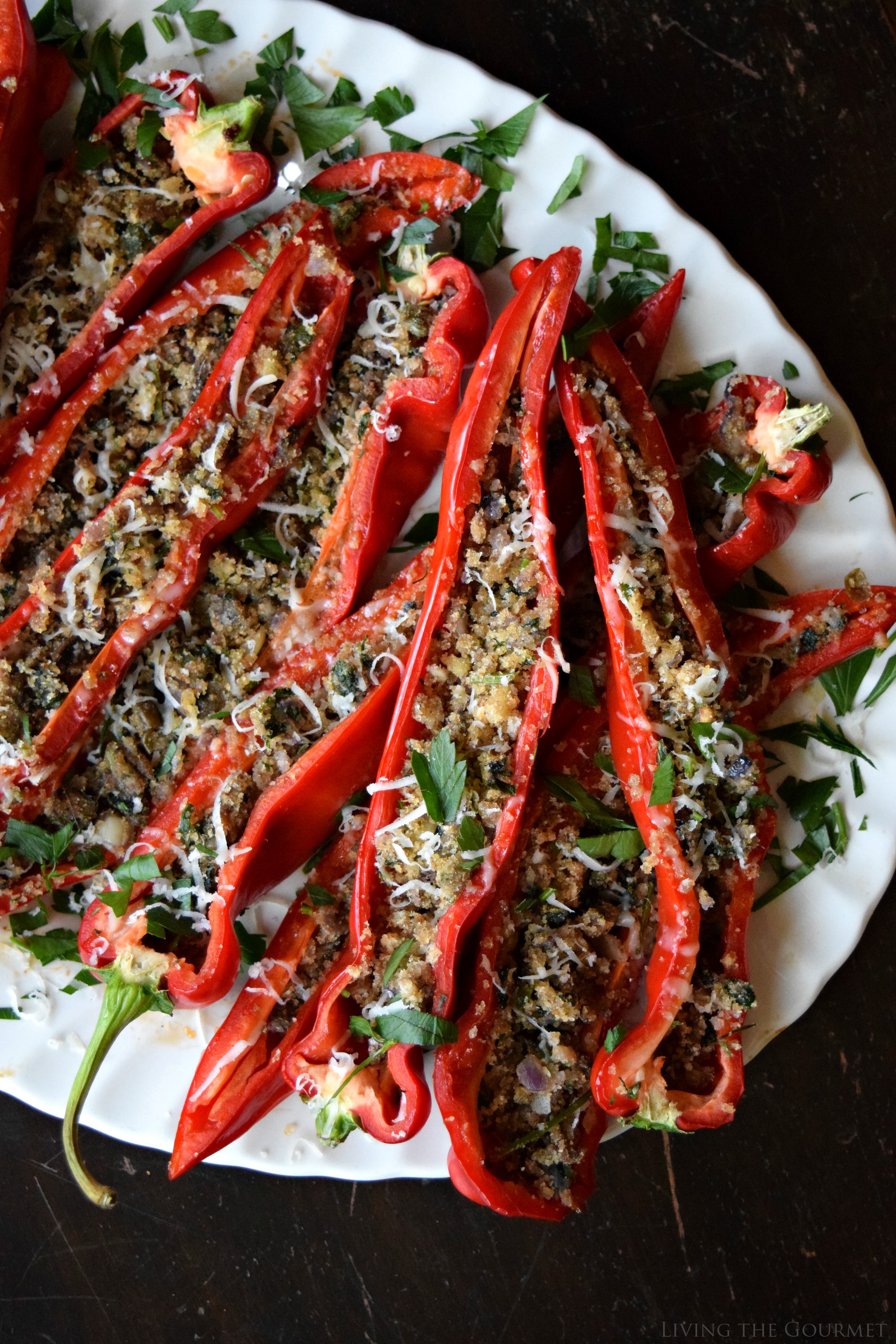 Behind every meal is a story and behind every story is a person.
Now prior to this dish, I had a vague understanding of peppers. I knew my basic spicy peppers from my sweet. Ask me to pick any in a line-up and I would probably only be able to identify a handful.
There is a large variety of peppers out there, but nowadays, in the end they are either labeled hot or sweet.
To me, these long Italian peppers were nothing more than a sweet pepper ideal for serving along side a classic pasta dish or favorite pork recipe; that is until I started digging around and discovered the story of the man behind them – Jimmy Nardello.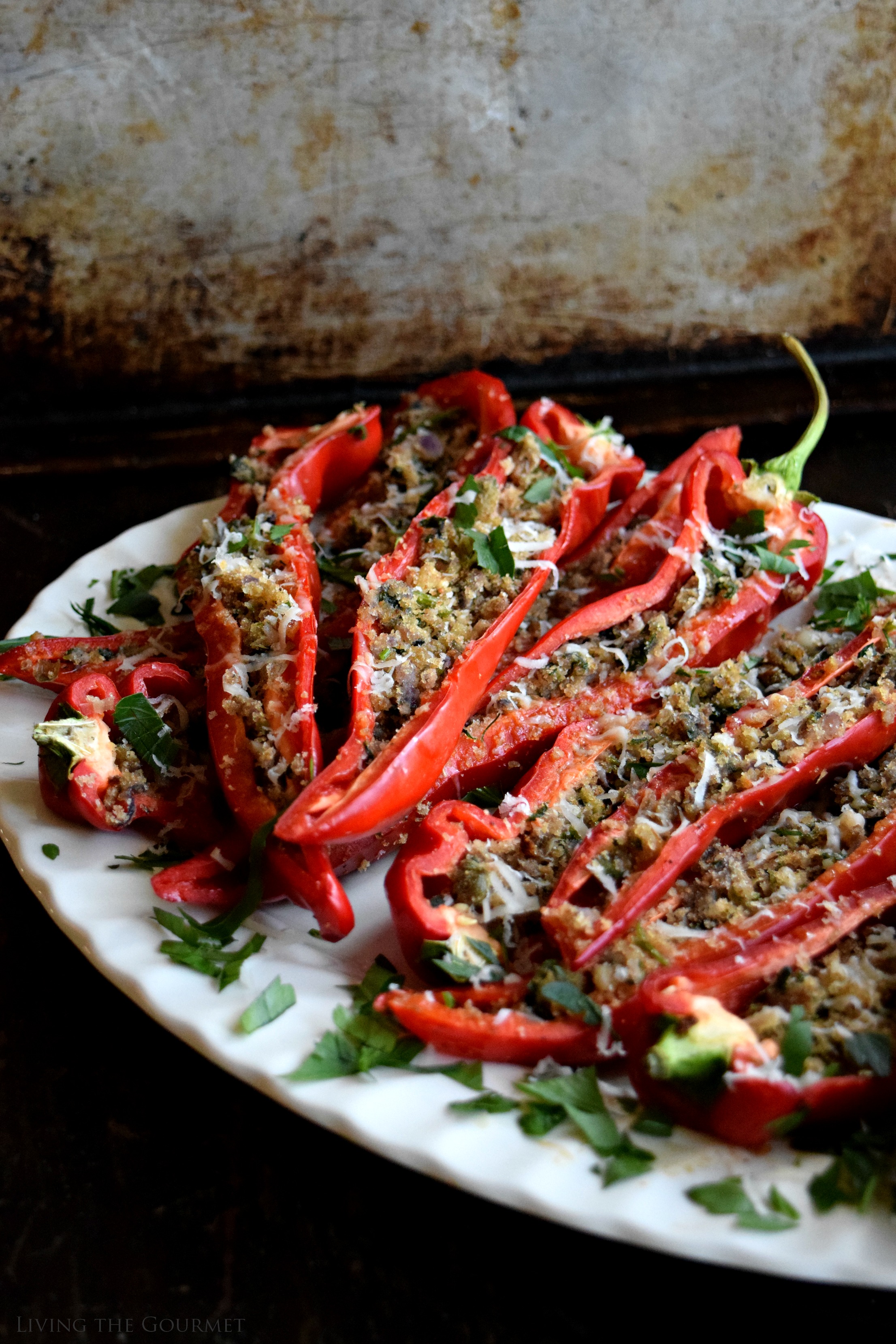 The Nardiello family (later to be known as Nardello) emigrated from Naples in the late 1800s and settled in Connecticut. On their long journey, they brought with them a handful of pepper seeds.
Throughout the years, the fourth oldest son, Jimmy took over the family garden and inherited his father's love for raising these peppers.
Before his passing in 1983, Jimmy donated several of the peppers to the SSE, who specialize in protecting heirloom seeds. Over time, they grew roughly ten percent of the stock over a ten-year rotating basis, refreshing and expanding the supply. One of these seeds is the one that has become known as Jimmy Nardello's Sweet Italian Frying Pepper.
So you see, from a little Italian kitchen nearly a century ago, these peppers made it to our Sunday night dinner table and many more dinner tables throughout.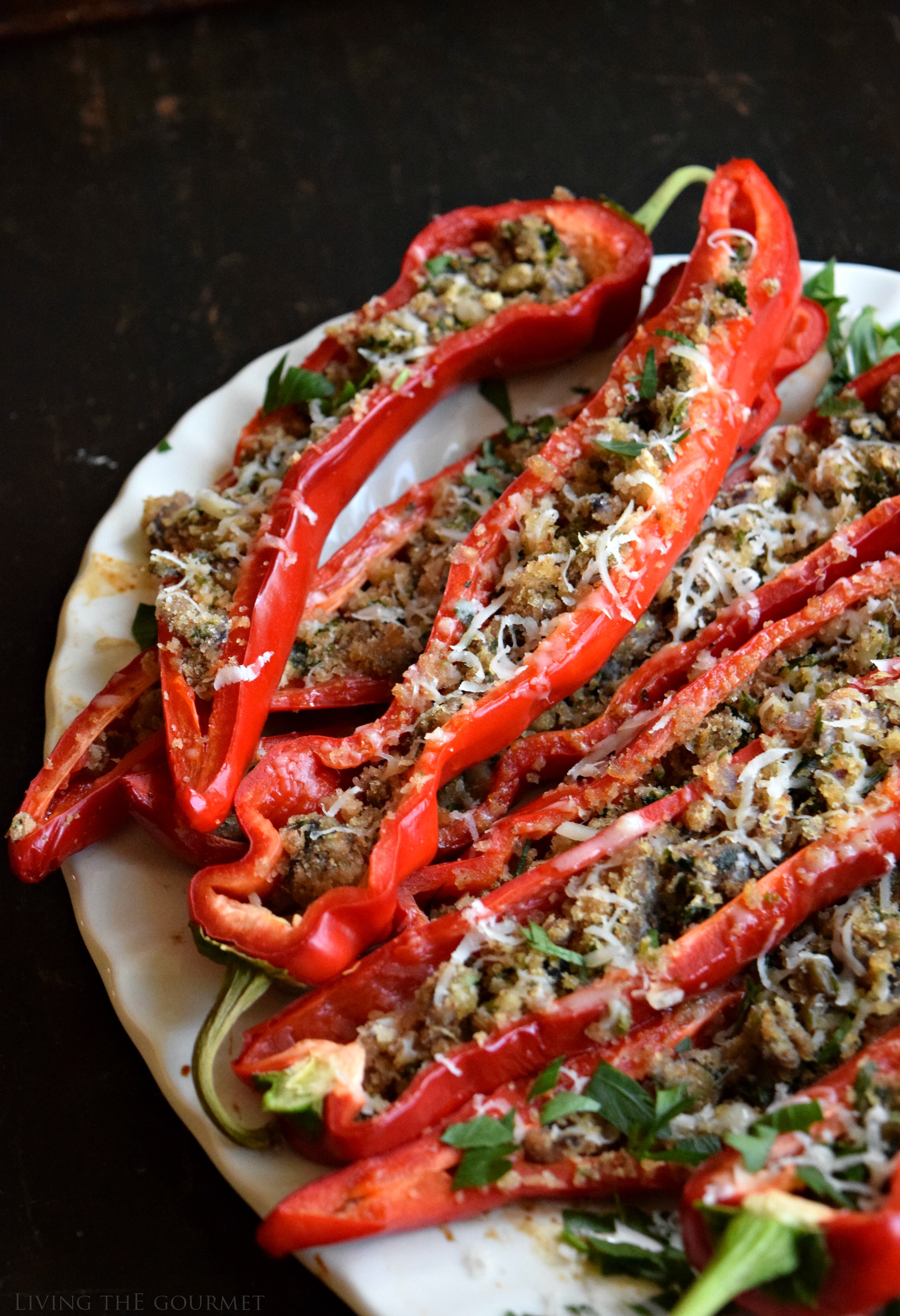 I prepared a stuffing with Italian style breadcrumbs, anchovies, provalone and even a splash of wine along with several other kitchen staples, like parsley and garlic.
Though anchovies seem to have an acquired taste, these stuffed peppers are anything but fishy. They are savory, a little salty, even a bit sweet from the grilled peppers themselves. Give them a try and enjoy the flavors of Italy right at home.
Living the Gourmet
Yields 12
Italian Style Stuffed Peppers
5 minPrep Time
10 minCook Time
15 minTotal Time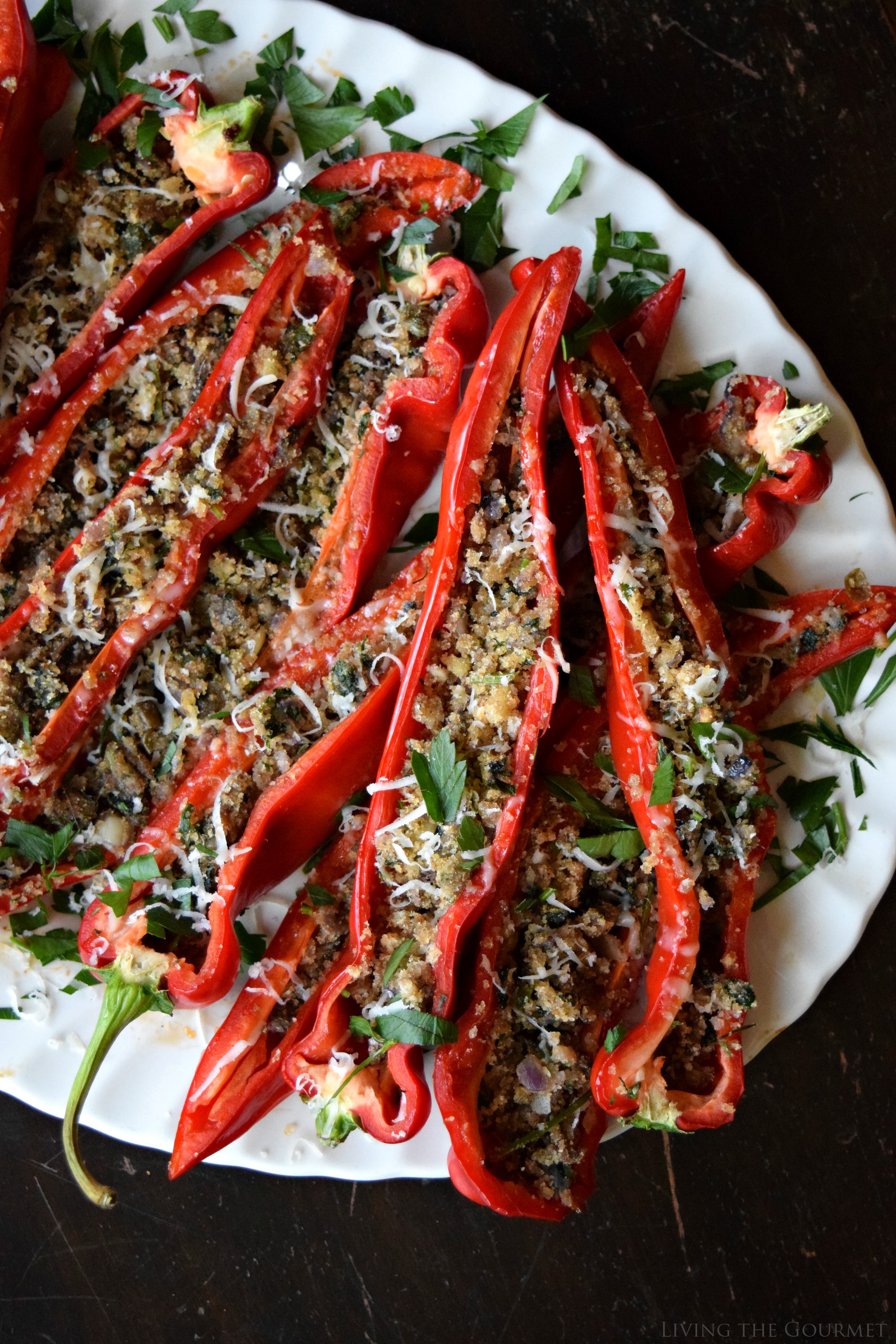 Ingredients
6 long Italian red peppers – sliced in half
4 – 5 cloves of garlic – chopped
½ cup Italian parsley – chopped
½ red onion – chopped
2 oz. can of anchovies in olive oil with capers
3 tbs. wine
1 cup bread crumbs
½ tsp. salt
½ tsp. black pepper
¼ tsp. red pepper flakes
Grated provolone cheese
Olive oil
Instructions
Heat a large cast iron frying pan with 2 tbs. of olive oil.
Add the chopped garlic, parsley, onions, wine and the anchovies with the olive oil and capers.
Smash the anchovies with a fork and sauté the mixture for 3 - 4 minutes.
Add the bread crumbs and stir for another minute or two.
Turn the heat off and heat a large griddle or frying pan with 2 tbs. of olive oil.
Place the halved peppers on the heated griddle.
Spoon the breadcrumb mixture into each pepper and top with grated provolone cheese.
Let the peppers cook on a medium heat for about 5 – 7 minutes until the pepper is slightly softened and the cheese melts slightly.
7.8.1.2
427
https://livingthegourmet.com/2016/08/italian-style-stuffed-peppers.html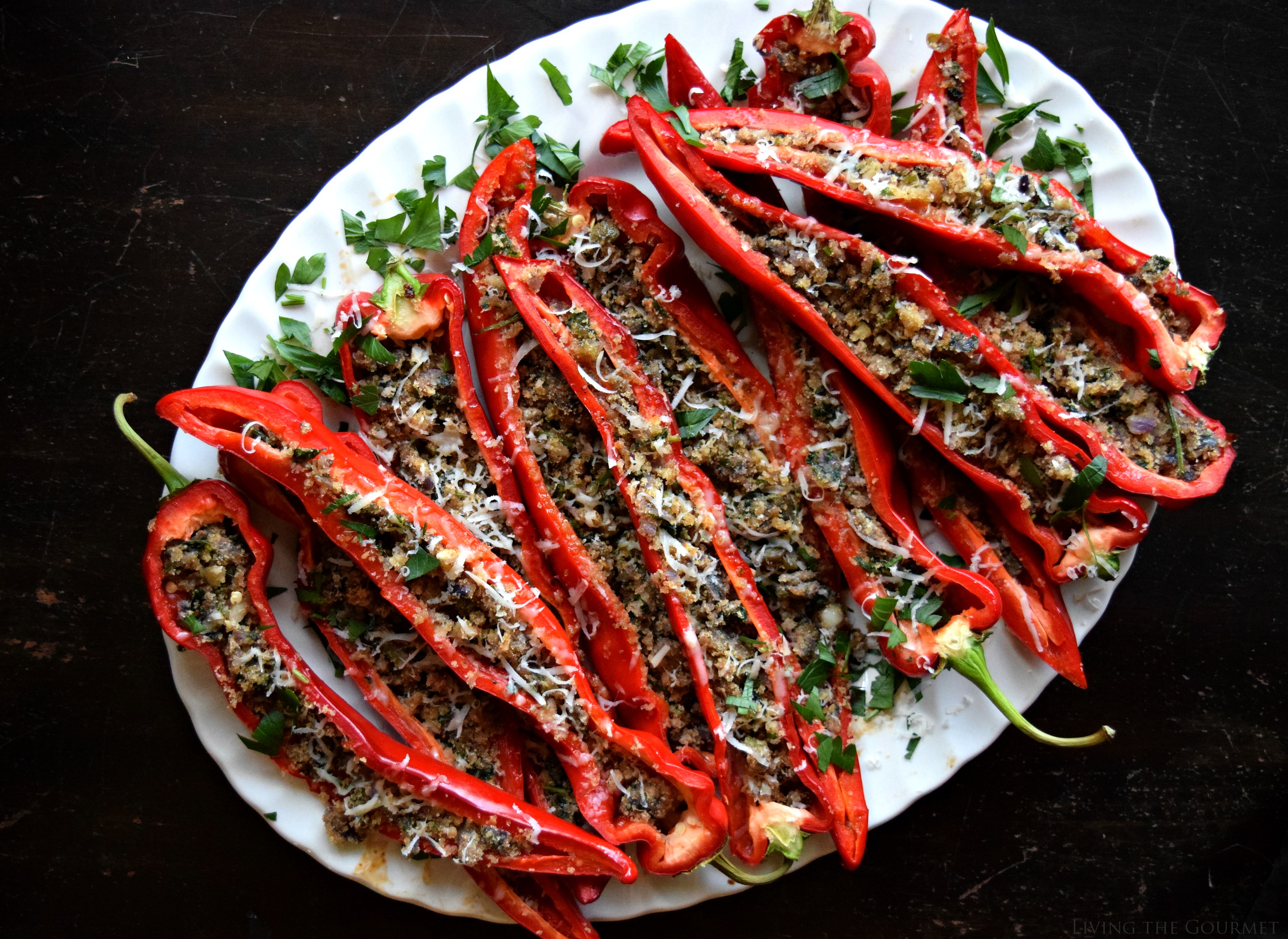 Enjoy with love!
6