These juicy burgers are made up of fresh ground chicken breast with feta cheese, roasted garlic, sun dried tomatoes and a stove top roasted bell pepper. Served with a cool, refreshing coleslaw on a soft bun and sweet potato fries on the side – it's a four day weekend and we're partying it up fresh and zesty!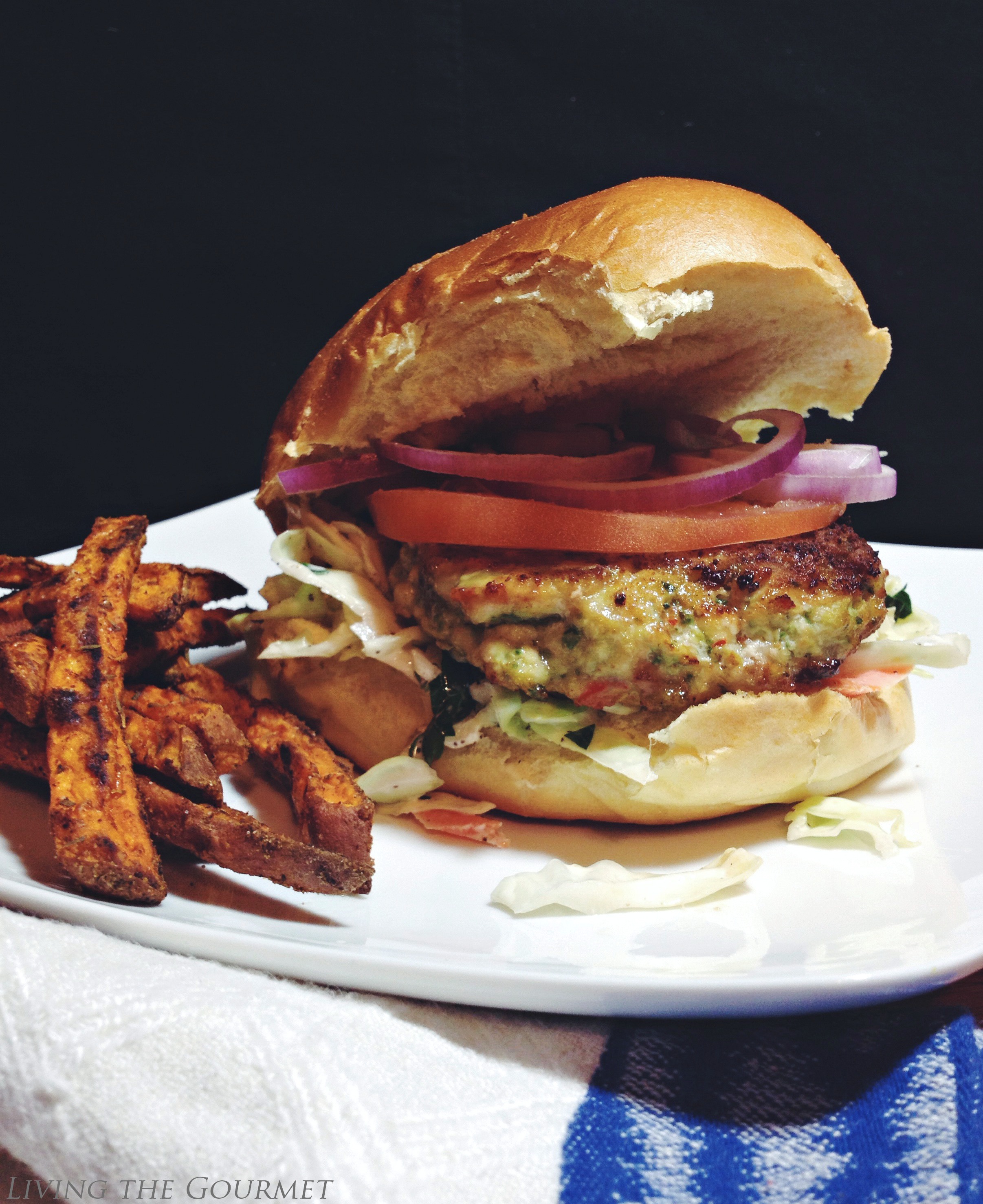 Yesterday was Valentine's Day, Tomorrow is President's Day and Tuesday is Mardi Gras. It's going to be a week long party.
One thing I love is a good sandwich. One that is juicy and runny and messy. Yes, messy is an integral part of a good sandwich because by getting messy you become part of the experience. With all of the components of this sandwich, I promise you will not miss out on the "sandwich experience".
We had the burgers, the buns, the slaw, the cake – there was only one thing missing – the fries. Ready to join the party?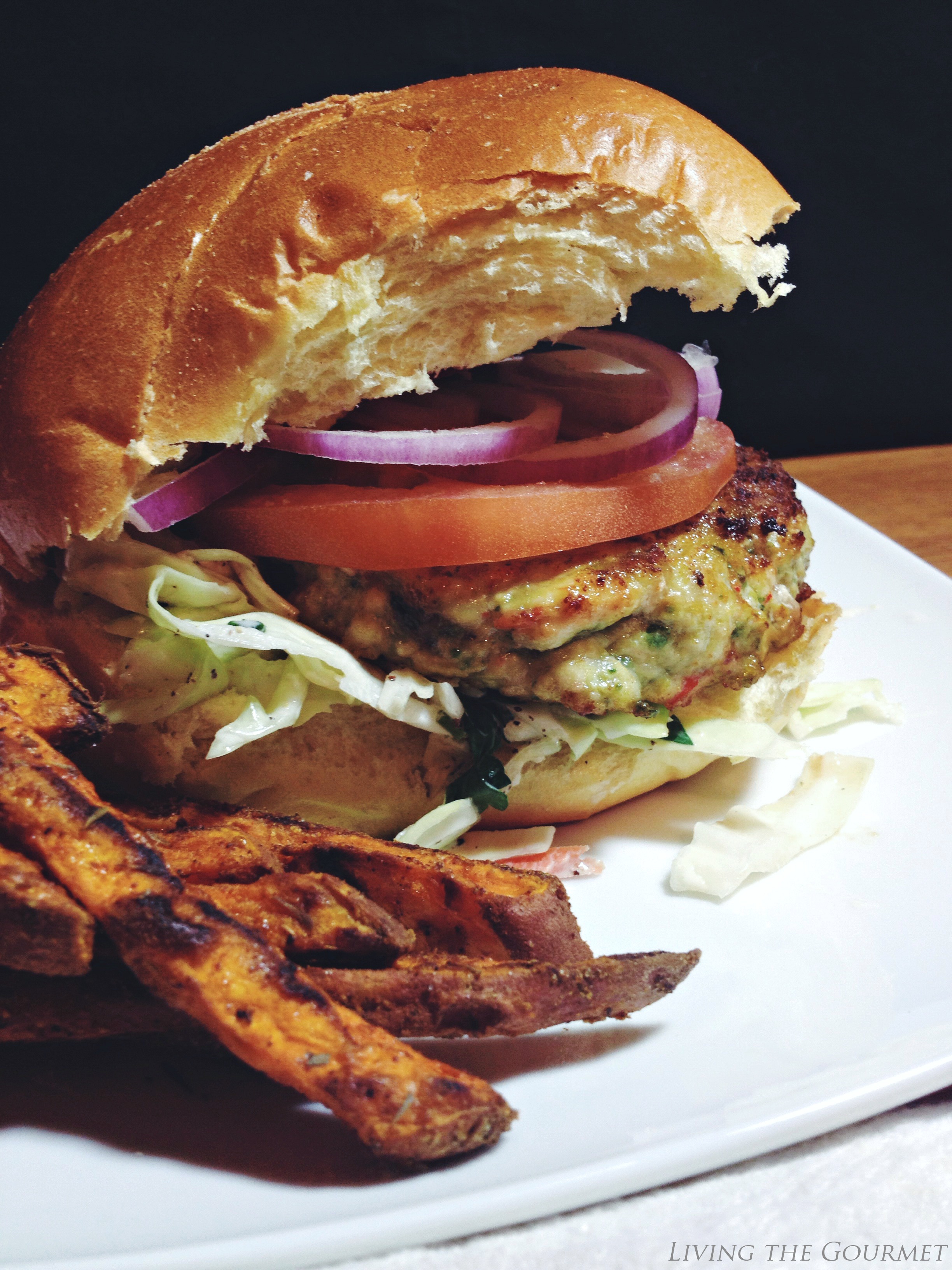 Print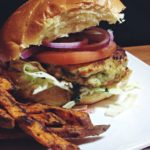 Greek Style Chicken Burgers with Fresh Slaw and Sweet Potato Fries
---
Greek Style Chicken Burgers:
4

lbs. boneless chicken breast – cubed

5

–

6

oz. feta cheese

2

cloves garlic – charred

1

red bell pepper – charred

5 oz

. fresh baby spinach

3

–

4

sun dried tomato
Red onion – sliced thin

1/2 tsp

. salt

3 tsp

. olive oil

1 cup

of flour for dredging
Canola oil for frying
Your choice of bread or buns
For the Cole Slaw:
1

head of cabbage – sliced thin

2

carrots – shredded

1/2 cup

fresh Italian parsley – chopped

1 tsp

. salt

1 tsp

. black pepper

3

–

4

tbs. mayonnaise

1/4 cup

of apple cider vinegar
Herbed Sweet Potato Fries:
4

sweet potatoes, rinsed and sliced

1 tablespoon

cornstarch

1 tablespoon

corn meal

1 tablespoons

mixed dried herbs including oregano, basil and parsley
Salt & Pepper to taste

2 tablespoons

canola oil
---
Instructions
Greek Style Chicken Burgers:
Place the bell pepper in a heavy cast iron pan along with the garlic cloves and char the skin. Let the pepper and garlic cool. Slice the pepper and remove the seeds and set aside.
Place the cubed chicken breast; a little at a time, in a food processor and process to a ground consistency.
Place the spinach, sliced bell pepper, garlic, olive oil, feta cheese and salt in the food processor and give a few good chops. Add this mixture to the ground chicken and mix well.
Heat a large cast iron frying pan with about 1/4 inch of Canola oil.
Form the chicken into a little bigger than golf-ball size balls and dredge in the flour. Place the balls into the oil and flatten to about 1/4 – 1/2 of an inch. Do Not overcrowd the pan.
When the patties are golden on one side and beginning to turn white around the edges; carefully turn them over and continue to cook on the other side. Cook about 5 – 6 minutes per side or until firm and the juices run clear.
Serve on your favorite rolls, sliced tomato, sliced red onion and fresh coleslaw.
For the Cole Slaw:
Place the shredded carrots, parsley and cabbage in a large bowl.
Combine the salt, pepper, mayonnaise and vinegar in a small bowl and mix well. Add this dressing to the cabbage and mix. Adjust the dressing to your liking.
Herbed Sweet Potato Fries:
Preheat oven 425 degrees F.
In a large bowl toss together sliced potatoes with cornstarch, corn meal, herbs, spices, and oil. Make sure each fry is coated. Align the fries on two large baking sheets making sure the they do not overlap and touch each other.
Bake on 12 minutes, remove and flip the fries over on the other side. Place back into the oven and bake for an addition 10-12 minutes until golden.
Recipe Card powered by
0