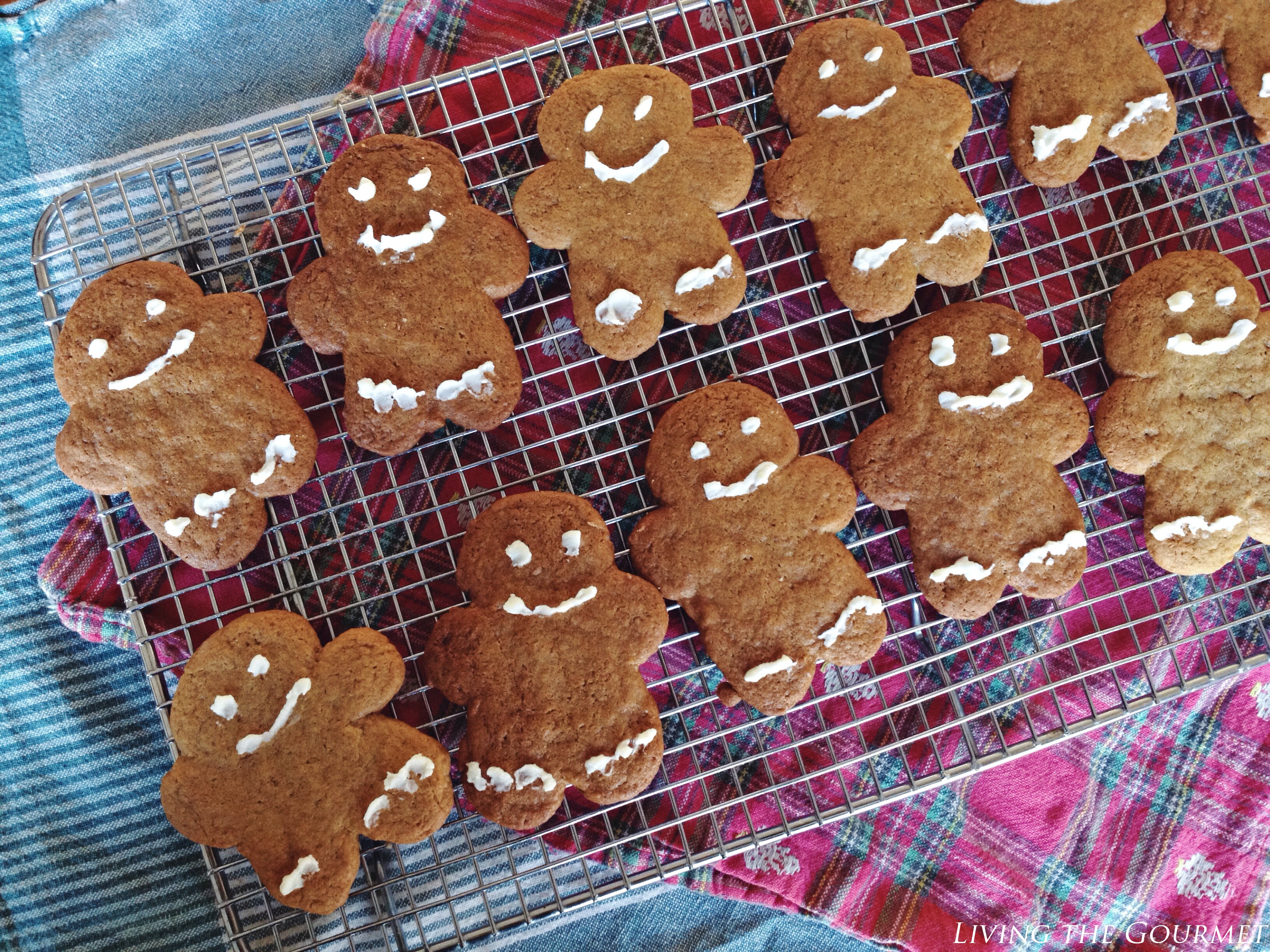 I cannot explain the energy Christmas gives me. Last night, it was one in the morning when I decided to bake. Life of a food blogger. 😉
I was up late working on the site, but who am I kidding, I love it. Working on #LTG is a labor of love and a family affair.
Well, there I was playing Christmas music, sipping tea, rolling out dough all while commenting in between. Mind you, everyone else in the house was far away in dreamland.
After the cookies were done, the house was warm with the sweet smell of ginger and fresh cookies. I closed up the kitchen, ready to call it a night- my hands smelled like cookie dough and my pajamas were covered with flour. The best way to end a day 😉 Then I heard Mom wake up, and in her sleepy state she declared, "it smells like someone was baking." Too tired for curiosity, she turned around and went right back to bed. Ha! That cracked me up.
The family was pleasantly surprised to see a little army of gingerbread men laid out on the table this morning. My brother looked perplexed, but didn't question it. Hey, who wouldn't want to wake up to a table of cookies?!
I made these gingerbread cookies with fresh, grated ginger. You can really taste the difference between the fresh ginger and the powdered. The cookies turned out soft and slightly chewy. They are delicious. I can't wait to make more for Christmas Eve.
As for the frosting, no one is fond of royal icing here simply because of the raw egg whites, and I did not have meringue powder on hand. So I melted some white chocolate instead, and piped that on.
Enjoy!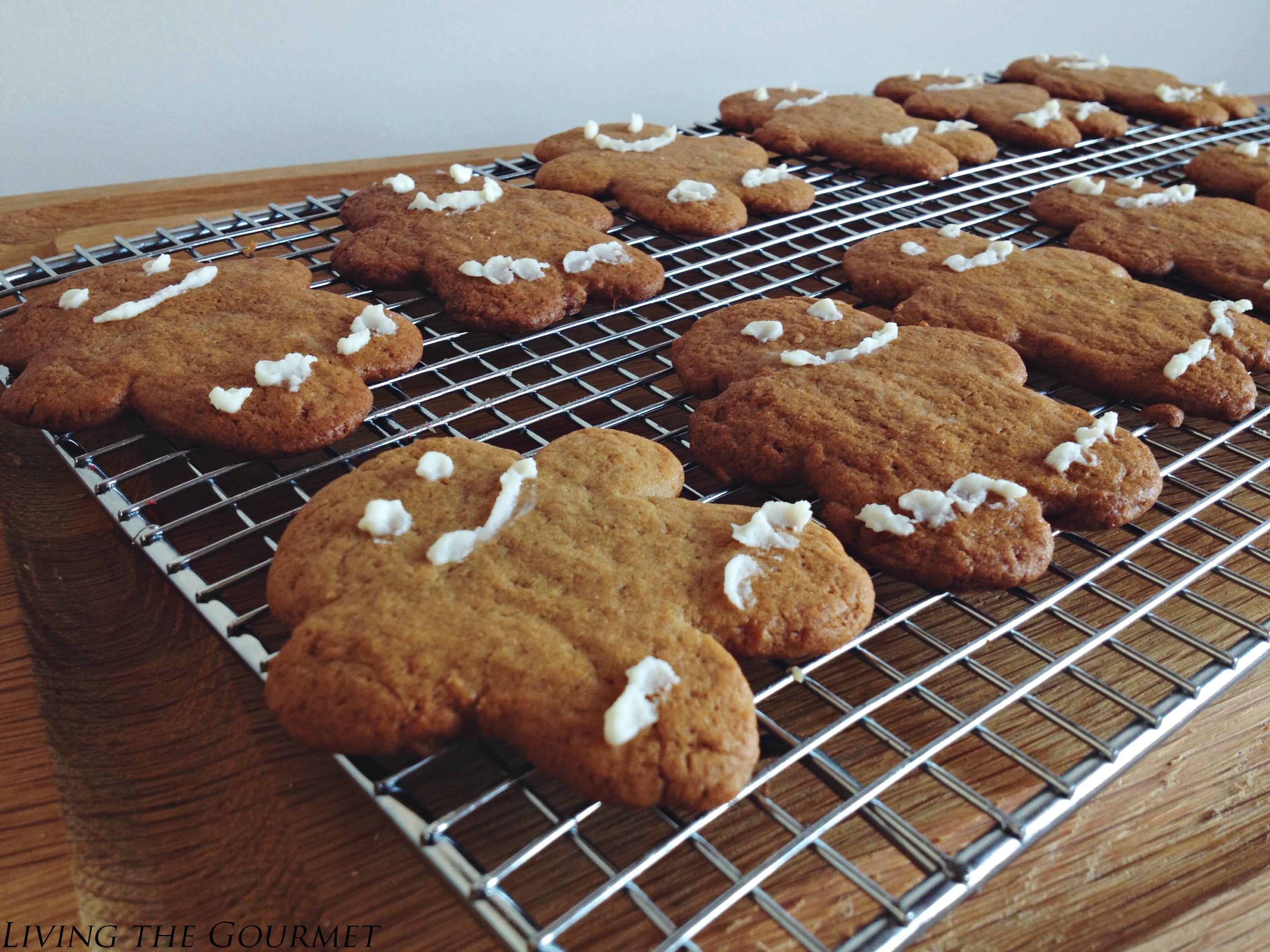 Living the Gourmet
Yields 2
Fresh Ginger Cookies
10 minPrep Time
10 minCook Time
20 minTotal Time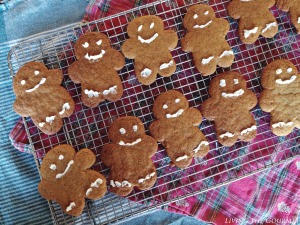 Ingredients
For Fresh Ginger Cookies:

3 cups all-purpose flour
11/2 teaspoon baking soda
1/2 cup white sugar
1/2 cup dark brown sugar
1 egg
1 teaspoon ground cinnamon
1/2 teaspoon ground cloves
3 teaspoons freshly grated ginger root
2 tablespoons unsulfured molasses (I used Grandma's Original)
1/4 cup canola oil
4 tablespoons butter
Pinch of salt

For White Chocolate Icing:

1/4 cup white chocolate chips
Pat of unsalted butter
Instructions
In a large bowl, mix together sugars, egg, cinnamon ,cloves, fresh ginger, oil, butter, molasses and salt. Stir together until everything is smooth and combined.
Swift the flour and baking soda into the bowl and mix until a wet, sticky dough forms.
Transfer the dough to cling film. Wrap and refrigerate for several hours until firm.
On a baking sheet lined with floured parchment paper, transfer the dough. Flour your rolling pin and roll the dough out into a rectangle about 1/4 inch thick. Place in the dough in the freezer for the next 30 minutes.
Preheat oven to 350 degrees. Take the dough out and cut out the desired shapes. Bake for 8-10 minutes or until the cookies are golden. Transfer immediately to a cooling rack. Let cool completely.
In a double broiler, melt down the white chocolate and butter. Turn the heat off once the butter begins to melt about 2-3 minutes. Remove the pan from the hot water and stir. Once the chocolate melts completely into a smooth consistency spoon immediately into the piping bag. It shouldn't be too hot. (If you don't remove the chocolate immediately, it will seize).
Decorate the cookies as desired.
7.8.1.2
55
https://livingthegourmet.com/2014/12/fresh-ginger-cookies.html
Toodles,
Tammy<3
**Linking up to these parties & here
41