This post may contain affiliate links, please see our privacy policy for details.
Easy to make and easy to love, few dishes harmonize simplicity and taste as thoroughly as pan-seared Pork Chops. We'll be marinating today's chops in a super-simple, but thoroughly delicious, blend of fresh garlic, olive oil, and just a hint of spice. After marinating, the chops are seared to a golden perfection in a cast iron pan, and we're done. It really is just that simple.
We've all been there. It's the end of a long day, and you want to unwind. Absolutely the last thing you feel like doing is spending your handful of leisure hours slaving over a stove just to end up with a meal you are already likely too tired to eat. You don't feel like imitating a celebrity chef, nor do you feel like eating anything particularly pretentious. You want something easy. You want something unpretentious.
But that doesn't mean you don't want something delicious.
And if you guessed that is where today's recipe comes in, congratulations.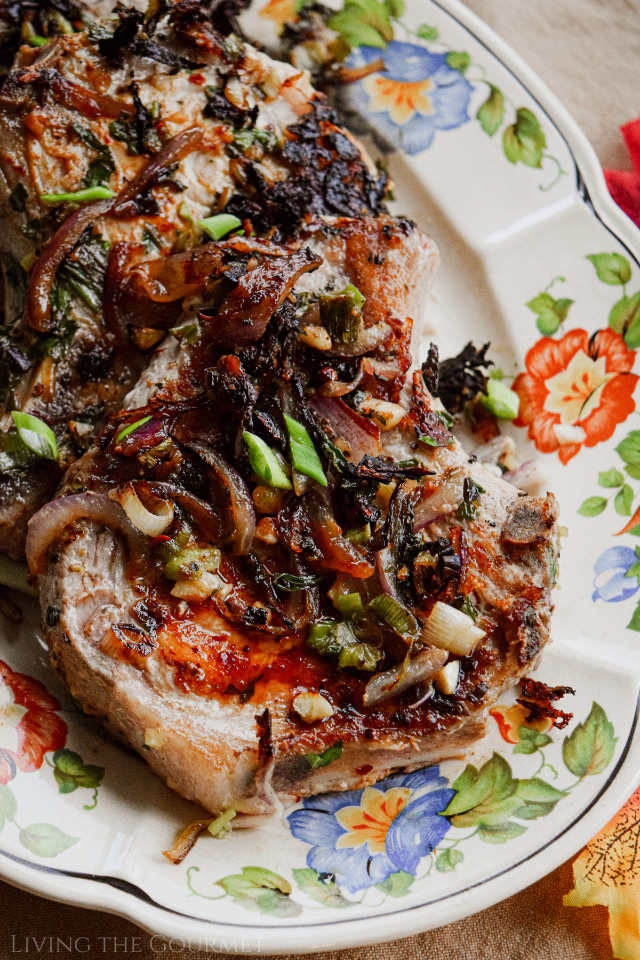 Utilizing only pantry staples, and the simplest prep methods possible, this recipe is perfect for culinary beginners and those busy weeknights where you want something simple yet delicious to end the day off on. However, the simplicity veils big flavors. The combination of crushed fresh garlic, mixed fresh herbs, scallions, and plentiful Romano cheese infuses the pork chops with a rich depth of flavor, transforming into true delight. The straightforward preparation allows the marinade to work its magic, offering a hassle-free but incredibly satisfying experience.
Below I've got you covered from a complete ingredient list to ensure you've got everything you will need. I'll also be providing you with tips on how to store and reheat these chops, as well as suggestions for using up leftovers.
Now, let's grill some pork chops.
videos you may also like
Ingredient Checklist – Everything You'll Need
This recipe uses only simple ingredients to ensure it's as simple as possible to pull together. Here's everything you'll need along with notes, tips, and substitutions.
Bone-In Pork Chops (6 pieces, about 3/4 inch thick):

Notes & Tips: We're using bone-in pork chops, but you can use boneless chops for ease of cooking and uniformity in size. Thick pork chops will maintain juiciness better than thinner chops, which in turn allows for more room for error in cooking time - an undercooked chop can always be returned to the heat, whereas an overcooked chop is forever overcooked. Also, be sure to start the pan-searing process with the chops room temperature to ensure even cooking. Also, be sure to start with hot pan. You want the chops to sizzle the instant the touch the hot skillet to achieve a good sear.
Substitutions: Pork loin chops or pork sirloin chops are good alternatives. Yes, bone-in chops work just fine with this recipe.

Garlic (5-6 cloves, crushed and chopped):

Notes & Tips: Fresh garlic for a strong, aromatic flavor. Crush the garlic to extract all of the juices.
Substitutions: Garlic powder can be used as an alternative, but I do strongly recommend fresh.

Olive Oil (1/4 - 1/2 cup):

Notes & Tips: Apart from imparting flavor and moisture, olive oil also aids in tenderizing the pork chops.
Substitutions: While I recommend olive oil for this recipe, any neutral cooking oil like vegetable or canola oil can be used.

Red Onion (1/2, thinly sliced):

Notes & Tips: Red onion provides a mild sweetness and onion bite to the marinade. Use sweet or yellow onion if preferred.
Substitutions: Yellow onion, shallots, or sweet onion can be used as alternatives. Any onion will work. I wouldn't recommend substituting in onion powder in place of fresh onions. Fresh onions really are the way to go here.

Scallions (3-4, chopped):

Notes & Tips: Scallions bring a mild onion flavor and crisp freshness to the marinade, as well as a dash of color. Ensure the green part is fresh for added color and taste.
Substitutions: Chives.

Fresh Italian Parsley (3-4 tablespoons, chopped):

Notes & Tips: Italian parsley adds a fresh herb taste. Other herbs like basil or cilantro can be used for variation.
Substitutions: Cilantro, basil, or fresh thyme can be used as alternatives.

Freshly Grated Parmesan or Romano Cheese (1/2 cup):

Notes & Tips: Freshly grated cheese provides a savory and slightly tangy flavor to the marinade, enhancing the pork's taste.
Substitutions: Use either Parmesan or Romano cheese, based on personal preference.

Dried Oregano (1/2 teaspoon, crushed):

Notes & Tips: Dried oregano brings an earthy, warm herbal flavor. Crushing it between your fingers releases the oils for better flavor infusion.
Substitutions: I do 'not' recommend fresh oregano in this recipe, as it will overpower the other flavors. Instead, any brand Italian seasoning or marjoram can replace oregano.

Sugar (1 teaspoon):

Notes & Tips: Sugar helps balance the marinades overall flavor, and cuts the acid, while also working to tenderize the chops.
Substitutions: Honey or maple syrup can substitute for granulated sugar. However, this will drastically alter the flavor of the marinade.

Salt (1/2 teaspoon):

Notes & Tips: I recommend a coarse salt.
Substitutions: Use kosher salt or sea salt based on personal preference.

Black Pepper.

Notes & Tips: Coarse ground black pepper provides a warm and pungent taste. Freshly ground pepper is recommended for better flavor.
Substitutions: White pepper can be used if you prefer a milder pepper flavor.

Red Pepper

Notes & Tips: Red pepper flakes provide a mild heat and subtle spice to the marinade. Adjust according to your preference
Substitutions: For a hotter marinade, consider using cayenne pepper. If you prefer chili flavor without the heat, opt for chili powder. Conversely, you can dice up fresh chilies into the marinade.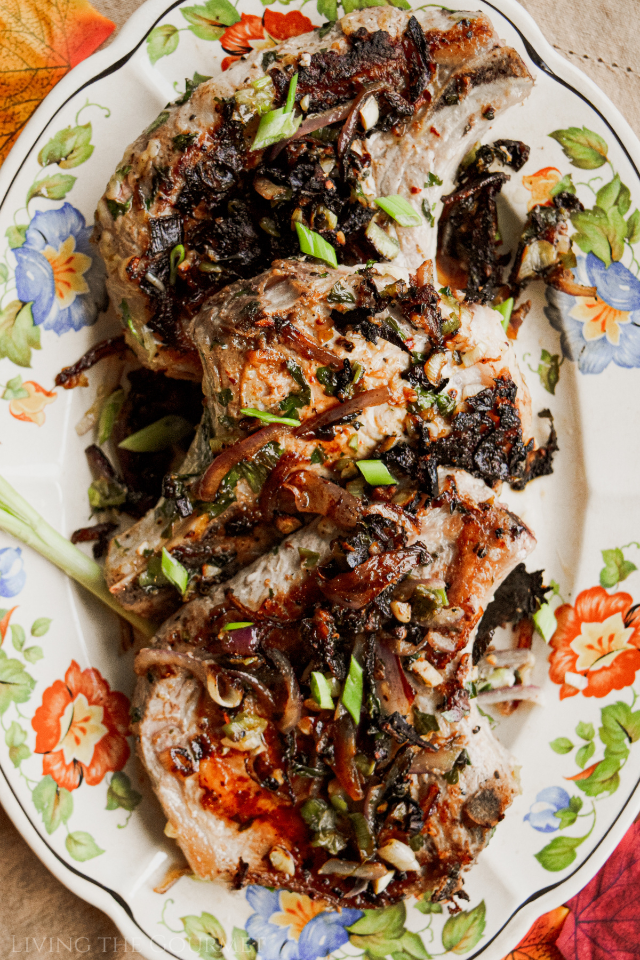 How to Store and Reheat These Pork Chops
Storage:
Refrigeration: Allow the pork chops to cool completely. Place them in an airtight container or wrap them tightly in plastic wrap. Store in the refrigerator for three to four days.
Freezing: If you intend to keep them longer, wrap the pork chops individually in plastic or wax paper before placing them in a freezer bag. They should stay fresh in the freezer for up to two to three months.
Reheating:
Gentle Reheating: Use gentle methods to reheat the pork chops. Overheating 'will' cause them to dry out. Over medium-low heat, in a large skillet, heat the chops for a few minutes on each side.
Oven or Toaster Oven: The best way to reheat pork chops is in the oven. Preheat the oven to around 325°F (160°C). Place the pork chops on a baking sheet and cover them with foil to keep moisture in. Heat them for 10-15 minutes or until warmed through.
Tips:
Check Internal Temperature: Use a meat thermometer (instant-read thermometer) to ensure the internal temperature to avoid overheating. You want a temperature of around 145°F (63°C)
Add Moisture: Sprinkle a little broth or water around the pork chops before reheating to introduce some extra moisture.
Rest Before Serving: Once reheated, let the pork chops rest for a few minutes before serving. This allows the juices to redistribute, keeping the meat succulent and flavorful.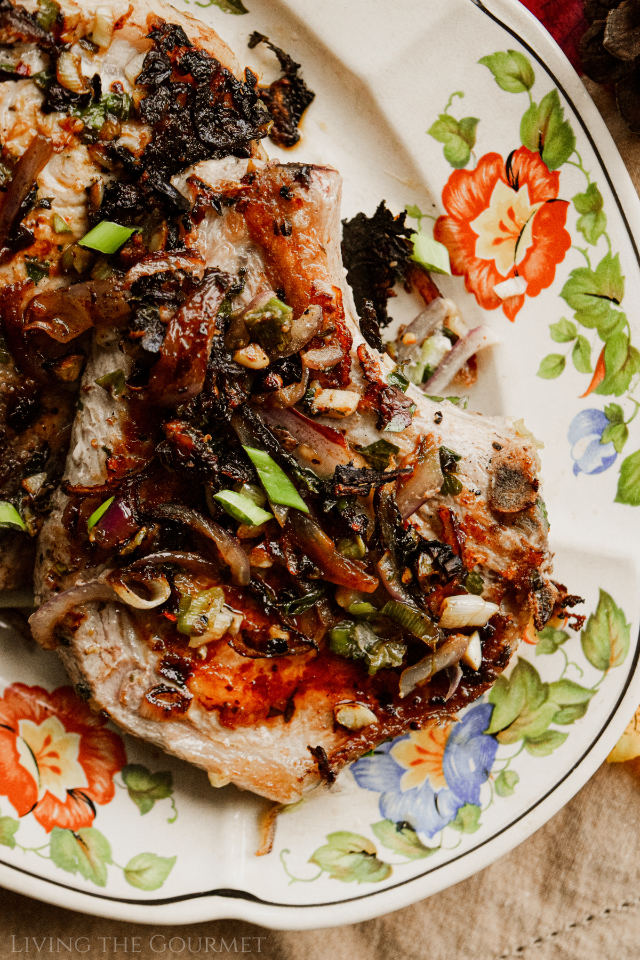 Using Up Leftover Pork Chops
Pork Chop Sandwich: Slice the pork chops thinly and layer them between your favorite bread or bun with some greens, tomato, and your choice of condiments for a delicious sandwich.
Pork Fried Rice: Dice the pork chops and add them to a sizzling pan with vegetables, rice, and some soy sauce for a quick and flavorful fried rice dish. I'd recommend using our Chili Crisp Sauce, as this makes a delicious fried rice.
Pork Tacos: Slice the pork into strips and use it as a filling for soft tacos or fajitas. Pair it with your preferred toppings for a quick Tex-Mex meal.
Pork Chop Quesadillas: Layer chopped pork between tortillas with cheese and vegetables, then heat for a delicious, quick quesadilla.
Pork Chop Stir-Fry: Slice the pork chops and stir-fry with assorted veggies and a tangy sauce for an easy and flavorful stir-fry meal.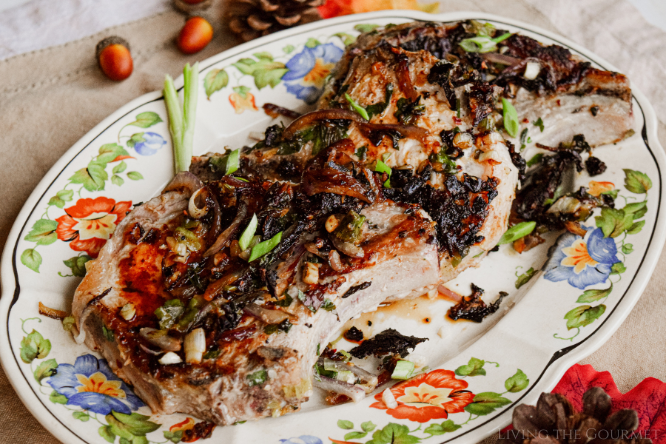 Print
Easy Pan Fried Pork Chops with Garlicy Marinade
---
Author:

Total Time:

1 hour 25 minutes

Yield:

4

servings

1

x
6

Pork loin center cut rib chops - bone-in - about

3/4

inch thickness
For the Marinade:
5

-

6

cloves of garlic - crushed and chopped

1/4

-

1/2

cup

of olive oil

1/2

red onion - sliced thin

3

scallions - chopped

3

-

4

tbs. of fresh Italian parsley - chopped

1/2

cup

fresh grated Parmesan or Romano cheese

1/2 tsp

. dried oregano - crushed

1 tsp

. sugar

1/2 tsp

. salt

1/2 tsp

. coarse black pepper

1/2 tsp

. red pepper flakes
---
Instructions
Combine all of the ingredients for the marinade in a large shallow bowl.
Place the pork in the bowl and refrigerate for at least one hour or up to overnight.
Heat a large cast iron pan and place the pork chops in the pan and cook for about 5-6 minutes per side; turning once.  The juices should run clear and the internal temperature should read 145 degrees F. when an instant-read thermometer is inserted.  The more firm when gently pressed the more well done the pork is.
Scrape the bits from the pan and top over the pork.
Let the pork rest for a minute or two before cutting into.
Prep Time:

10 minutes

Inactive Prep Time:

1 hour

Cook Time:

15 minutes
Keywords: pork chops, pork, main dish, dinner
Recipe Card powered by
shop our amazon storefront
0