Today we're preparing a pleasantly spicy Korean pork and tofu rice platter. We'll be serving the tofu and pork in a red pepper sauce, prepared with gochugaru, garlic, and sesame oil and platting the grilled tofu and pork with the rice.
This pork and tofu rice platter is satisfying yet light, and delightfully simple to put together. It also keeps nicely and heats up beautifully, meaning you can make this a few days ahead of time.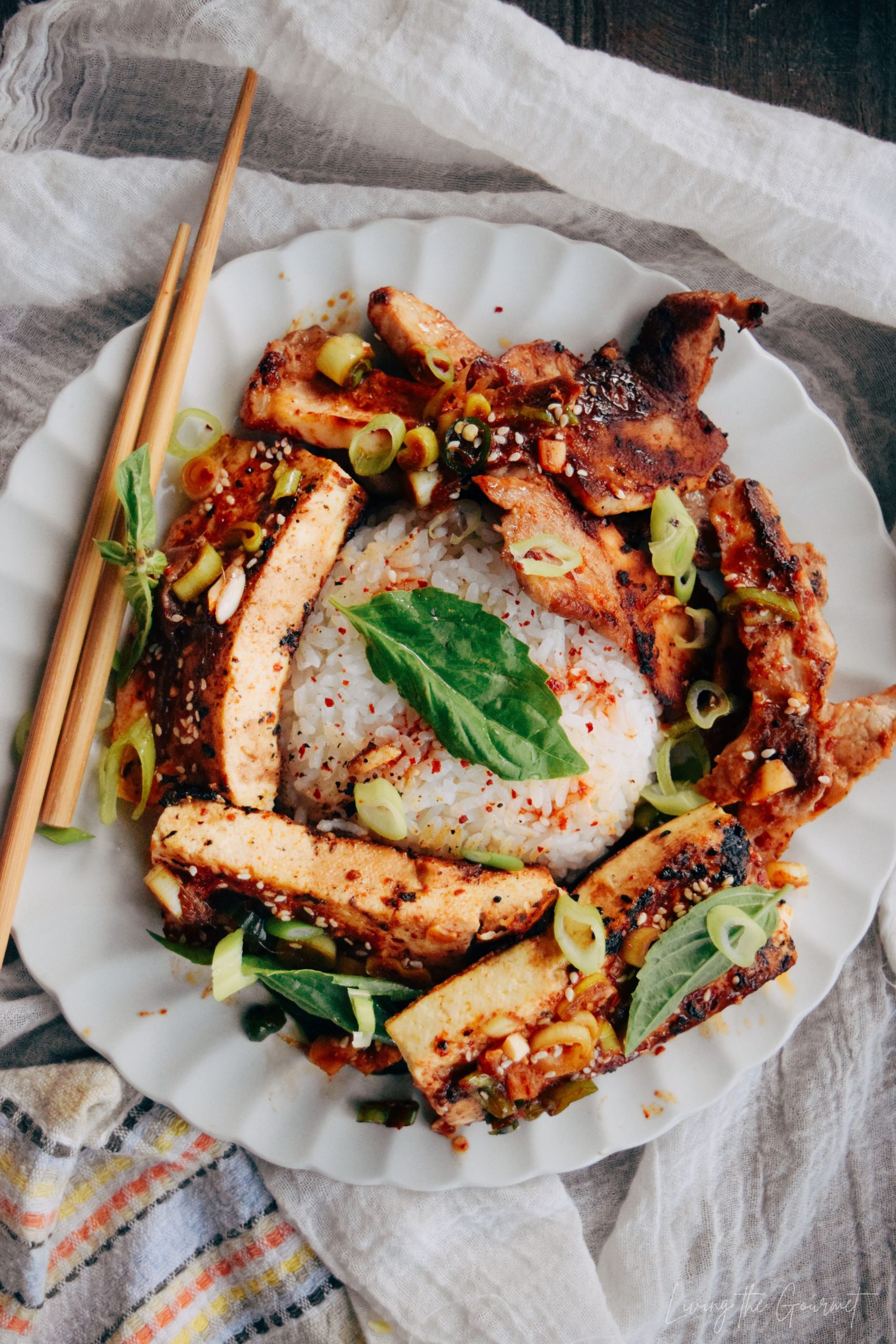 Why You'll Love Today's Rice Platter
1) Super Simple. Really, the hardest part of today's recipe is slicing up the pork, and that isn't saying much. Honestly, for what today's recipe is, it really couldn't be simpler to put together. If you can slice up and then pan grill some pork, you can make today's recipe.
2) Versatile. The sauce can be tweaked to your heart's content. Want it spicier? Use your choice of hot chilies in place of the jalapenos. Want to tamp down the spice? Add in some honey or apricot preserves to give the sauce a bit of "sweet and spicy" flare. Want to cut down on the umami savory-ness? Leave out the anchovies. Or use some mirin to balance out the soy sauce. You get the idea. Mix, match, and experiment.
3) One Pan Meal. Similar to the paella I made last year, today's tofu and pork rice platter is a quintessential one pan meal.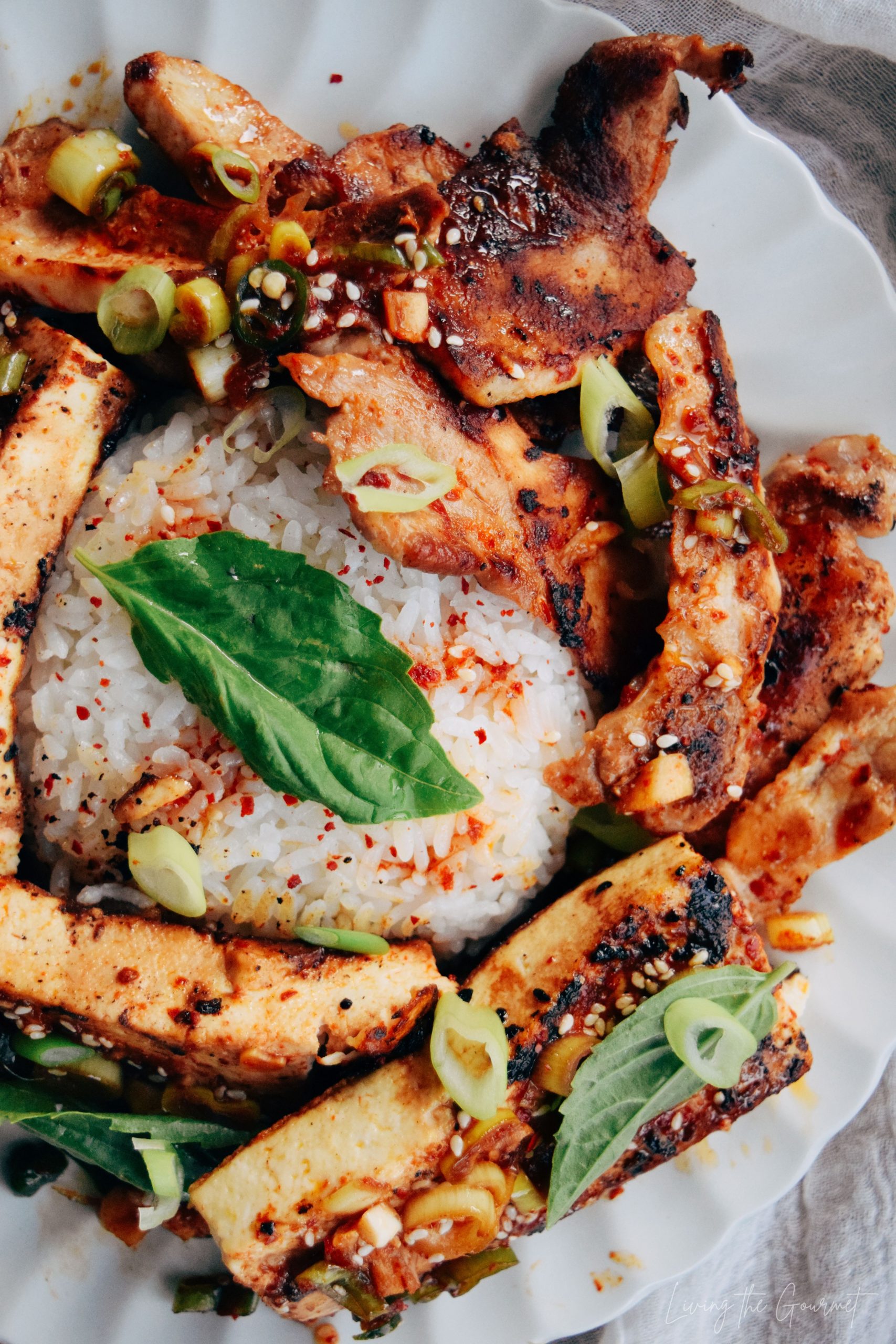 Ingredient Notes and Tips
1) Anchovies. This is a 'love it or hate it' ingredient, and I'm firmly in the 'love it' camp. For today's recipe, they add a big dose of 'umami saltiness.' And this is precisely why anchovies are so often added to recipes that otherwise have nothing to do with fish. For example, anchovies find their way into 'meatless' garlic and oil sauces, otherwise 'fish-less' red sauces, steak sauces (that's a big one), salads, salad dressings, eggs, and a shocking number of roasted lamb recipes – especially those heavy on herbs and potatoes. Again; the answer is 'salty umami' or 'brine-flavor.' Much like capers – for whom anchovies are a substitute, but curiously 'not' vice versa – anchovies are beloved largely for the sharp salty 'pep' or 'kick' that they bring to a recipe, and the vague background 'meaty' flavor that permeates the recipe. Since anchovies dissolve entirely on cooking – both flesh and bones – their flavor melds uniformly throughout the recipe to which they're added, and when this happens much of their 'fishiness' evaporates, meaning that they instead add a delicious background of meaty umami that isn't immediately or noticeably fishy.
Substitution: Usually fish sauce is a decent substitute, but I really would 'not' use fish sauce in place of anchovies in today's recipe. If you absolutely cannot stand anchovies, this is one recipe where I would simply leave them out. In which case, I would add additional soy sauce to taste to make up for them.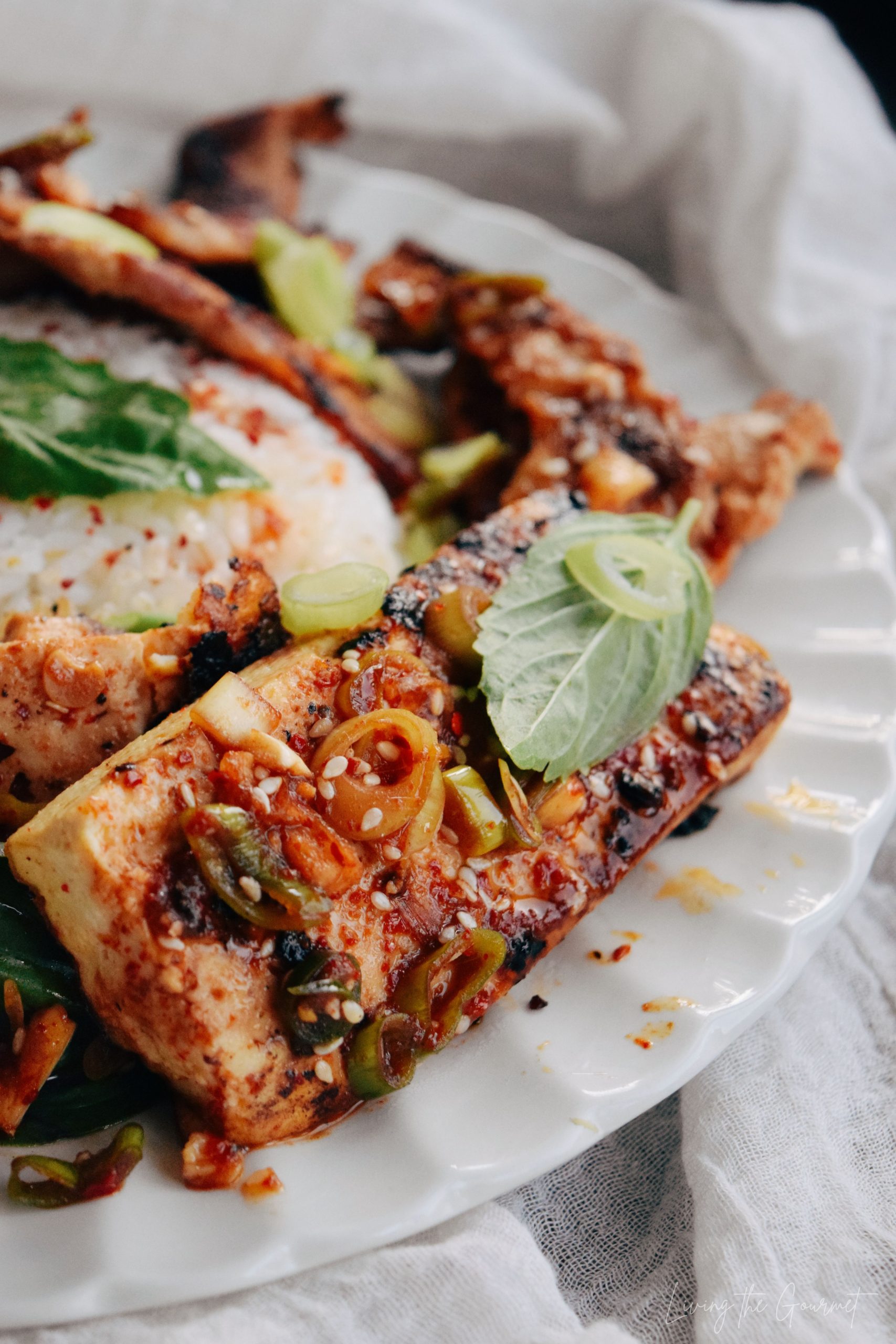 2) Korean Red Pepper – A Key Ingredient. Today's sauce really doesn't work – or rather becomes 'completely different' – without this particular seasoning. How so? Think of gochugaru as red pepper flakes, but with a much more complex flavor profile, being spicy, slightly sweet, and slightly smoky (or savory) all at once, with a nice touch of "chili flavor." That precise combination is almost impossible to replicate. With that in mind, the heat level of gochugaru can vary wildly, ranging from mildly spicy to very hot, so I strongly suggest finding a brand you like, and then sticking with that brand. Prepared from dried and ground Gochu chili peppers, also known as Korean Long Greens or Korean Reds, gochugaru has a vibrant red color, and is available both as a fine powder and as a flaks – we're using the flakes for today's recipe.
3) Sesame Oil – What is it? A staple ingredient in cuisines from East Asia to India, to the Mediterranean and North Africa, sesame oil is used for a range of applications – although it is most recognizable in stir fry recipes. Sesame Oil, however, is probably best described simply as an 'edible vegetable oil derived from sesame seeds,' since it serves the same cooking applications as corn oil or olive oil, as opposed to something like chili oil – which is more of a flavoring oil than a cooking oil. That said, unlike corn oil or vegetable oil, sesame oil is 'not' flavor neutral. Being quite fatty, sesame oil is much more richly textured than most other cooking oils, and also has – unsurprisingly – a very distinct 'nutty' flavor to it, which carries over to the recipes in which it is used.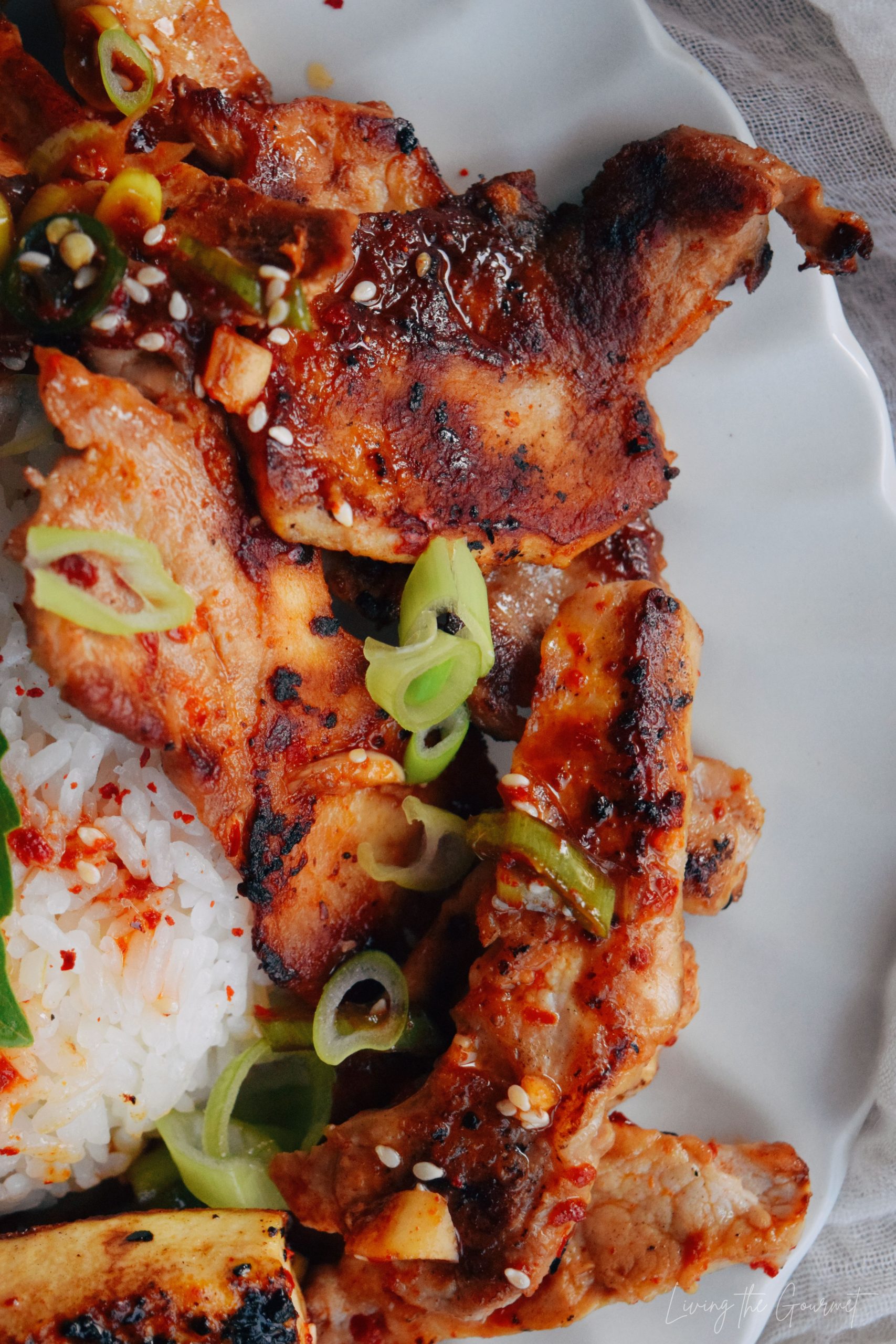 Tofu – The Most Basic of Basics
1) What is Tofu, really? Tofu is simply condensed soybean curd. Since soybeans are virtually tasteless, tofu is considered one of the most 'flavor neutral' foods available. For this reason, tofu is a great 'carrier' of flavors, since when cooking with tofu you needn't account for the taste of the tofu itself in the recipe, and can instead rely on the tofu to simply 'carry' or 'take on' the flavors that it is being prepared with – such as today's dipping sauce.
2) Can I freeze it? Yes, tofu can keep for up to three months in the freezer. If you purchase tofu packed in water, 'do' drain the water first, then wrap the tofu in plastic, or place it in an airtight container or freezer bag before freezing. Do remember, however, that frozen tofu becomes 'firmer' after freezing. It will also be somewhat 'dryer,' and may lose its signature 'spongy' texture.
3) Preparing Water Packed Tofu. As I explain below, you need to 'press' the tofu between two sheets of paper towels if using water-packed tofu. I do this by wrapping my tofu in a paper towel, and then placing it on a tray beneath a small cast iron pan. This drains the tofu of water, and as a result if you skip this part, the tofu will instead drain all of its excess water during cooking, and possibly break apart in the process. Not fun.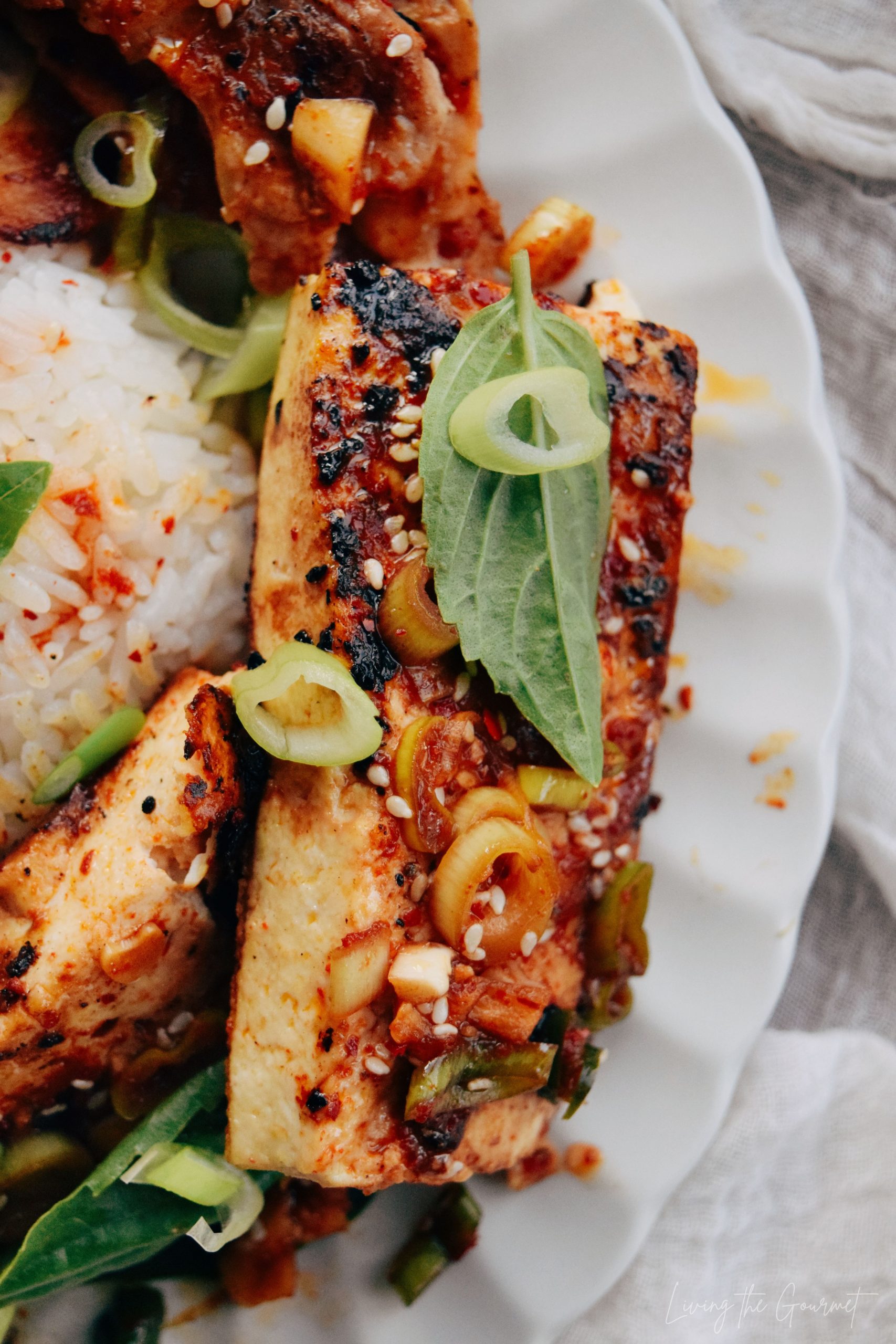 4) Types of Tofu. Tofu comes in several varieties, with the most popular and widely available being extra firm, firm, and silken, in addition to super firm and regular. Some outlets and producers have their own labeled varieties, but most fall roughly into those categories, or are variations thereof. Super firm is the densest form of tofu, and as such is also the least absorbent, meaning it's primarily used either to prepare dried tofu, or in roasted and deep-fried dishes. Generally speaking, super firm tofu is only rarely commercially available, except via specialty outlets. On the opposite end of the popularity spectrum is 'extra firm' tofu, one notch down in firmness from 'super firm.' When you encounter cooked, pan-fried, or marinated tofu of any kind, you're almost always encountering 'extra firm' tofu. Firm tofu is the next most popular variety, being great for marinating and then eating 'raw' in sandwiches, wraps, or as the 'meat' in lightly cooked stir-fry or light soups. Silken tofu, as the name implies, has a silky and moist texture, usually such that it defies being handled without falling to pieces. For this reason, it's used for preparing things like smoothies, dips, or as a replacement for cheese in various recipes, in particular cream cheese and ricotta.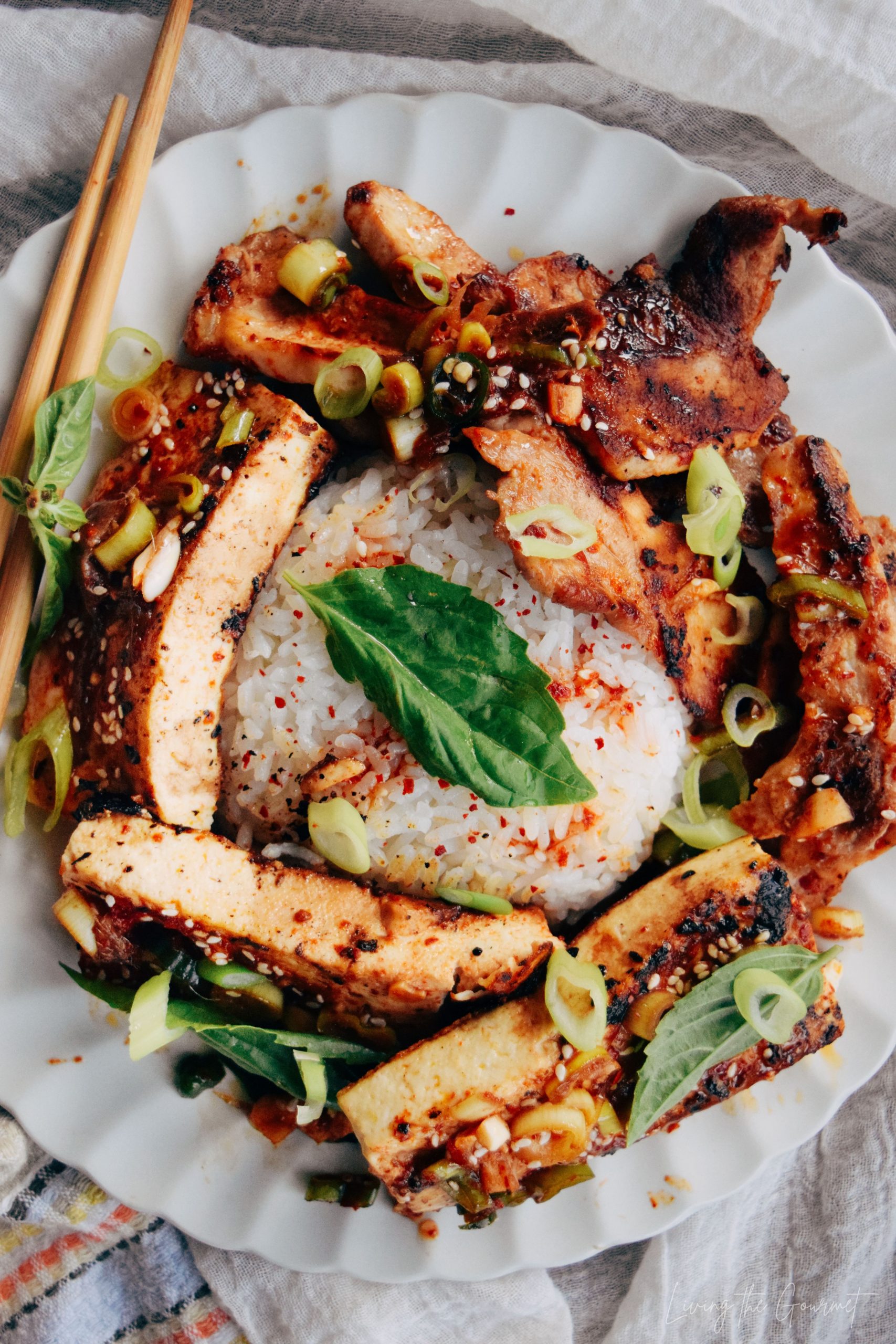 More Korean Inspired Favorites
1) Korean Beef Burgers. Beef burgers mixed and then fried with a cayenne and gochujang-based glaze. This glaze is added at each stage of the burger's preparation, the mixing, frying, and then again when the burger is finally being assembled on homemade buns. The end result is a decadently juicy burger, that spicy with just a hint of sweetness, alongside layers of 'chili flavor' and umami notes.
2) Korean Pork Tacos. I love Korean pork, and I love tacos. And yes, I now love Korean Pork Tacos. The pork is soaked in a pear and gochujang marinade, with lots of fresh ginger and garlic. We grill the pork, and then pile it onto our homemade wheat tortillas with sliced jalapeno, tomatoes, red onion, and lettuce.
3) Bulgogi Eggrolls. These sweet and spicy Korean Beef (Bulgogi) Eggrolls feature beef marinated in fresh ginger, lots of garlic, fresh chili paste, brown sugar, and soy sauce. This creates a delicious combination of sweet and spicy set against a savory umami background. Wrapped in crisped fried eggroll wrappers, these are perfect for your next game day spread.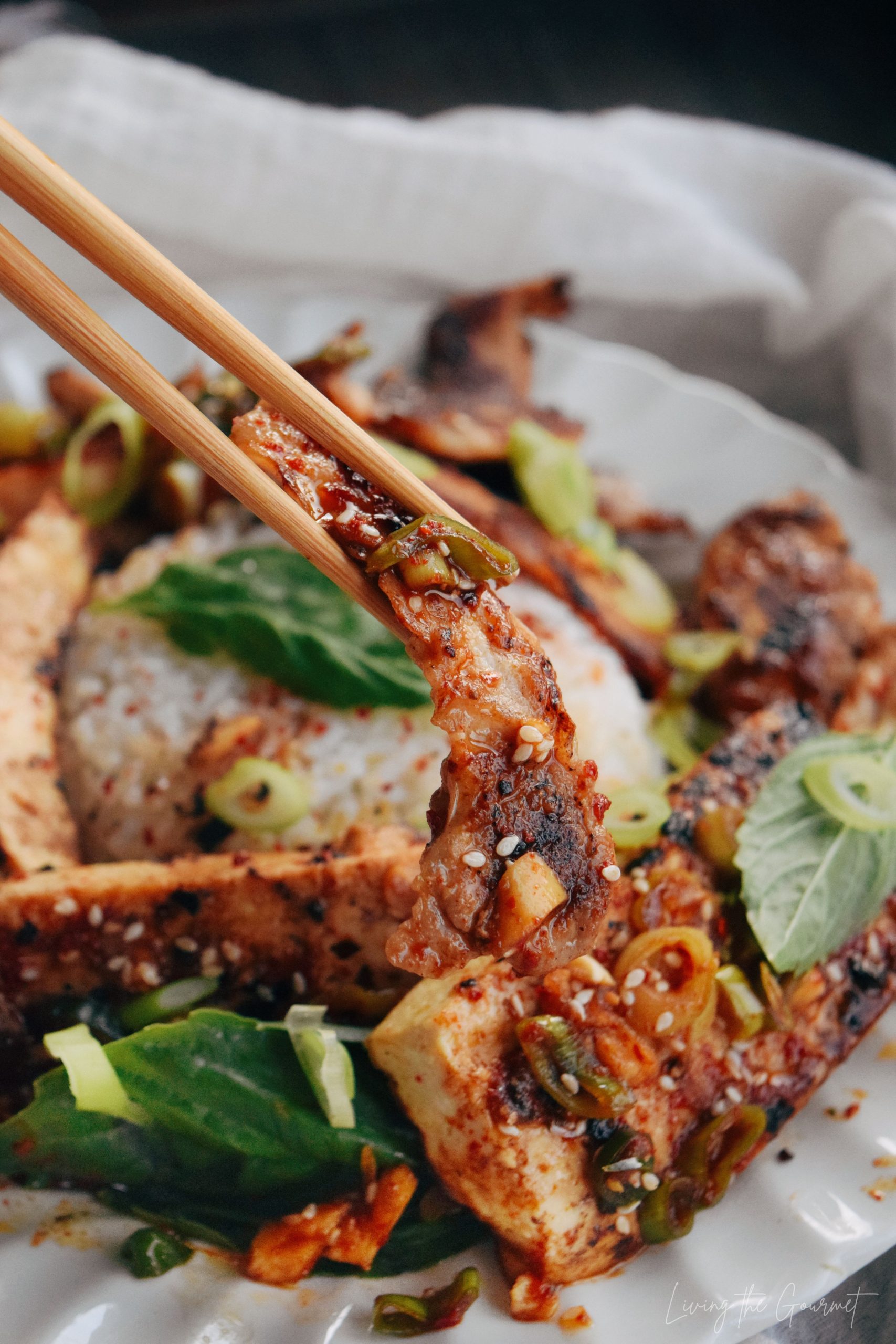 Print
Tofu & Pork Platter
---
Author:

Total Time:

35 minutes

Yield:

4

servings

1

x
2 1/2 cups

sticky rice

Fresh basil - for garnish

Fresh scallions - for garnish

16 oz. block of firm tofu - sliced into one inch thickness and patted dry

1 1/2 lbs. bones pork ribs - sliced very thin

2 tsps. gochugaru - divided

2 tsp. cooking oil - divided
For the Sauce:
4

-

5

garlic cloves - chopped fine

2

tbs. sesame oil

1 tsp

. salt

1

jalapeno - sliced thin with or without seeds

2

tsps. gochugaru - Korean red chili pepper

4

tbs. soy sauce

2 tsp

. sugar

2 oz

. can of anchovies - drained and mashed with the back of fork

2

tsps. sesame seeds

1

tbs. water

2

scallions - sliced thin
---
Instructions
Combine all of the ingredients for the sauce in a medium sized bowl and stir.  Set aside until ready to use.

Place the thin sliced pork in a bowl and sprinkle one tsp. of sugar, one tsp. of gochugaru, one tsp. salt and one tsp. of cooking oil and toss.




Heat a large cast iron frying pan and place a few slices of the prepared pork in the hot pan.




Allow one side to get a nice char; then turn over and finish cooking to a nice char on the other side.




The cooking time of the pork will depend on how thin you sliced the pork.  The pork should be cooked through.




Set the pork aside while cooking the tofu.




In the same pan that the pork was cooked in; place a tsp. of cooking oil in the pan and place the sliced tofu in the pan. 




Sprinkle the tofu with a the gochugaru mixture.




When a golden color is achieved on one side; this should take about two minutes per side, carefully turn the tofu over and allow a golden color to achieve on the other side; this should take another two minutes or so.




Spoon the sauce over each slice of tofu and a fresh basil leaf on top; reserving some of the sauce for the pork.




Allow the tofu to cook a bit longer with the sauce on top.
Assembly:
Place the rice in the middle of the plate; followed by the tofu and pork around the rice.




Spoon the sauce over the pork and a bit over the rice.




Dust with the gochugaru flakes and fresh cut scallions.
Prep Time:

15 minutes

Cook Time:

20 minutes

Category:

Main Dish

Cuisine:

Asian
Nutrition
Serving Size:
Calories:

724

Sugar:

5.8 g

Sodium:

1621.4 mg

Fat:

28.9 g

Carbohydrates:

45.1 g

Protein:

67.9 g

Cholesterol:

166.8 mg
Keywords: tofu, spicy, korean, pork, rice, gochugaru
Recipe Card powered by
0