This post has been sponsored by Chilli No. 5. All opinions expressed are my own.
With the temperatures rising and the sun shining, it's time to indulge in the vibrant and mouth-watering flavors of summer. And what better way to celebrate the season than with a plateful of irresistible Pork Tacos? This Mexican-inspired recipe is here to tantalize your taste buds with its combination of spicy, juicy pork and an array of fresh toppings that scream summer fiesta.
Imagine sinking your teeth into tender sliced pork that has been lovingly marinated in a blend of aromatic spices. The result? A flavorful pork that is infused with a delicious combination of garlic, cumin, oregano, and a touch of fiery heat from the star of our show: Chilli No. 5 Hot Sauce. This exquisite sauce brings an extra dimension of flavor to the pork, elevating it to new heights of culinary delight.
Now, let's talk toppings. These Pork Tacos are a canvas for your creativity, inviting you to explore a world of fresh and exciting flavors. Picture a vibrant and chunky fresh salsa, bursting with the sweetness of ripe tomatoes, the tanginess of onions, and the freshness of fresh Italian parsley or cilantro. Each bite offers a refreshing contrast to the boldness of the spiced pork, creating a harmonious balance of flavors that dance on your palate.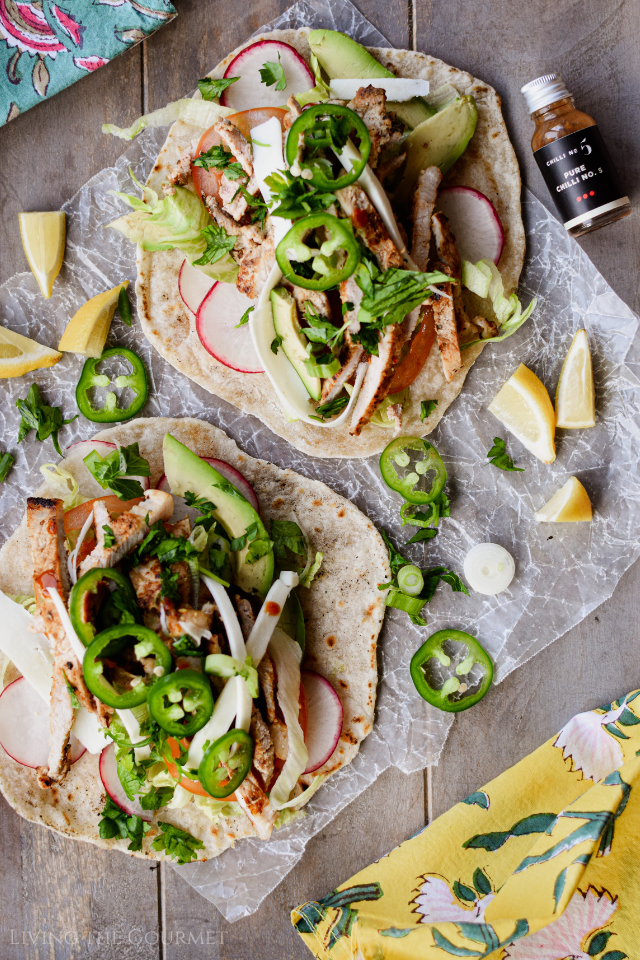 But why stop there? A dollop of fresh guacamole adds a luxurious creaminess, perfectly complementing the heat and spice of the pork. And for that satisfying crunch, a side of homemade tortilla chips is a must. To round out the feast, consider serving your pork tacos alongside a vibrant black bean salad. Imagine a colorful medley of corn, red onions, bell peppers, and cilantro, all tossed together with a zesty dressing. This refreshing salad, tailor made for balmy summer days, will richly be the refreshing element to the meal.
And of course, don't forget to grab a bottle of Chilli No. 5 Hot Sauce to add that extra kick of heat and complexity to the dish. Let the flavors of summer shine through with every bite, as you savor the succulent pork, fresh toppings, and the joy of gathering around a table filled with mouthwatering delights.
Stay tuned for the full recipe, where we'll guide you through each step, ensuring that you create a masterpiece that will have your taste buds singing. So get ready to spice up your summer with these unforgettable Pork Tacos and a splash of Chilli No. 5 Hot Sauce. Whether you're a seasoned heat seeker or a spice novice, Chilli No. 5 Hot Sauce has something to offer. Drizzle it over tacos, stir it into soups, dash it on eggs, or use it as a dipping sauce for appetizers. It's an effortless way to enhance any dish. Your taste buds will thank you!
Ingredient Checklist – The Pork and the Tortillas
2-2½ lbs (900-1135 g) pork loin, thinly sliced

Note: Choose a boneless pork loin for easier slicing and even cooking. Trim any excess fat before slicing.
Tip: For a juicier result, brine the pork loin in a mixture of water, salt, and sugar for a few hours before slicing.

1 tablespoon (15 ml) vegetable oil

Note: Use a neutral-flavored oil like vegetable oil for frying the pork slices, as it has a high smoke point.
Tip: Heat the oil in the pan before adding the pork slices to ensure a crispy exterior.

Tortillas

Note: I'm using homemade tortillas. Homemade tortillas are a staple in my home. They're so easy to make, and I truly do prefer homemade to store-bought. Give them a try, I promise you won't be disappointed.
Tip: Whether using store-bought or homemade, be sure to warm the tortillas before serving for a softer and more pliable texture. You can heat them in a dry skillet or wrap them in foil and warm them in the oven.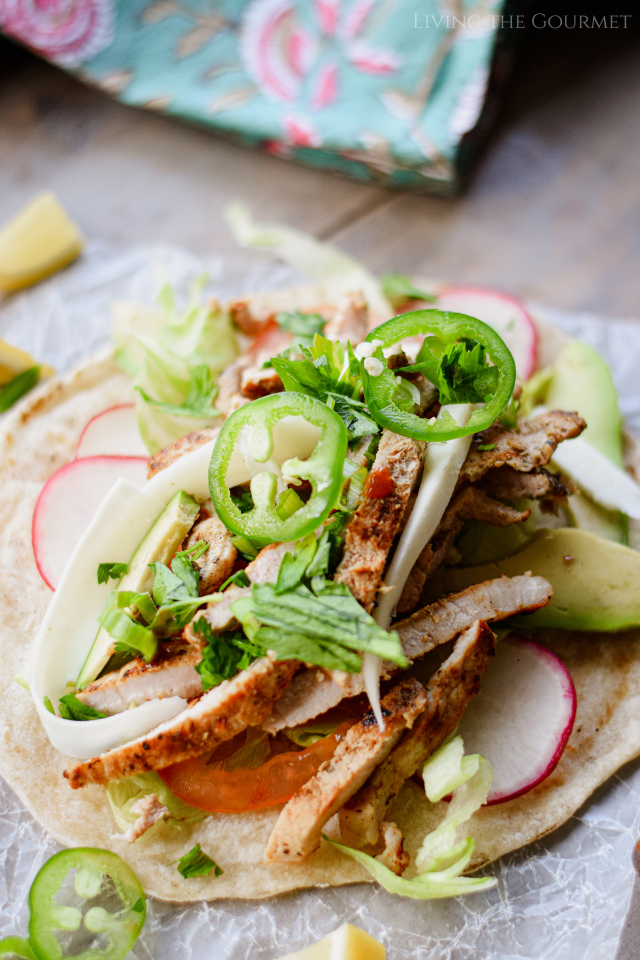 Ingredient Checklist – For the Pork Rub
½ teaspoon garlic powder:

Note: Garlic powder adds a savory and aromatic flavor to the pork.
Tip: If you prefer a stronger garlic taste, you can increase the amount slightly.
Substitution: If you don't have garlic powder, you can use minced fresh garlic. Use 1-2 cloves, finely minced, as a substitute.

½ teaspoon cumin:

Note: Cumin provides a warm and earthy flavor to the rub.
Tip: Toasting whole cumin seeds and grinding them just before using will enhance the flavor even more.
Substitution: Ground coriander or chili powder can be used as alternatives if you don't have cumin on hand.

½ teaspoon dried oregano:

Note: Dried oregano adds a subtle herbal note to the rub.
Tip: Rub the dried oregano between your palms before adding it to release its aromatic oils.
Substitution: If you don't have dried oregano, you can use dried thyme or basil as a replacement.

½ teaspoon salt:

Note: Salt enhances and binds the flavors of the pork and the rub.
Tip: Use kosher salt or sea salt for best results. Adjust the amount based on your personal preference.
Substitution: You can use other types of salt like Himalayan pink salt or seasoned salt if desired.

½ teaspoon black pepper:

Note: Black pepper adds a mild heat and pungent flavor to the rub.
Tip: Use freshly ground black pepper for the most vibrant flavor.
Substitution: White pepper can be used as a substitute if you prefer a milder pepper flavor.

½ teaspoon sugar:

Note: Sugar helps balance the flavors and enhances caramelization during cooking.
Tip: Use granulated sugar or light brown sugar for a touch of sweetness.
Substitution: Honey or maple syrup can be used as natural sweeteners instead of sugar.

½ teaspoon red pepper flakes:

Note: Red pepper flakes add a gentle heat and a touch of smokiness to the rub.
Tip: Adjust the amount of red pepper flakes according to your spice preference.
Substitution: If you prefer a milder heat, you can use chili powder or paprika as a substitute.

1 tablespoon Chilli No. 5 hot sauce:

Note: Chilli No. 5 Hot Sauce boasts a harmonious blend of carefully selected chili peppers, expertly balanced with a medley of spices and seasonings. Its robust and fiery profiles adds a delightful kick to any dish, elevating it to new heights. However, what sets Chilli No. 5 apart is its unique flavor. It's not just about the heat; it's about the rich complexity that unfolds on your palate with each tantalizing drop. The hot sauce delivers layers of smokiness, tanginess, and just a hint of sweetness.
Tip: Adjust the amount of hot sauce based on your desired level of spiciness.
Combine these ingredients to create a flavorful rub for your pork. Adjust the quantities and substitutions according to your taste preferences and the ingredients available to you. Enjoy the delightful flavors this rub brings to your pork tacos!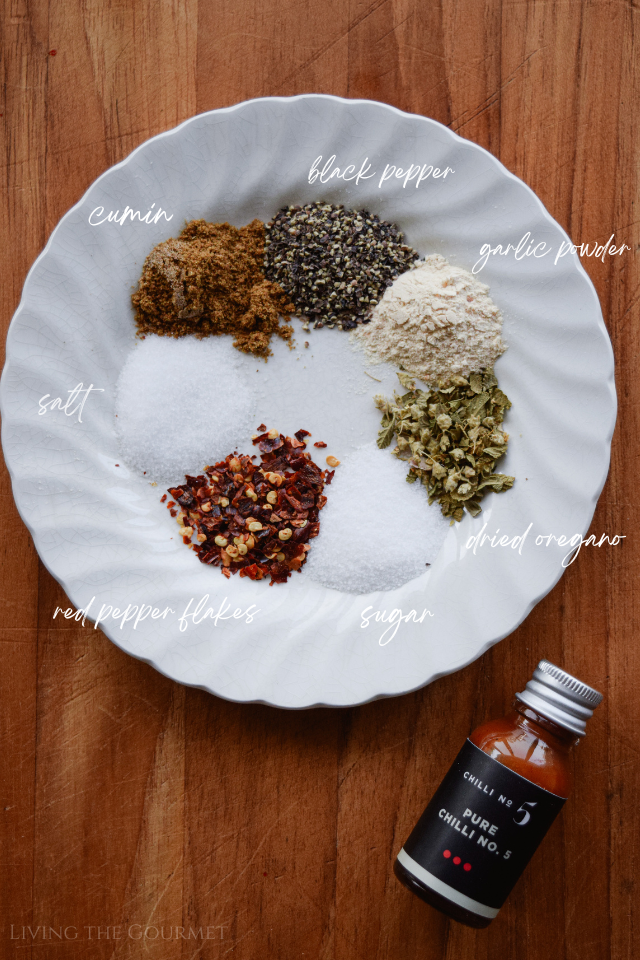 Crafting the Perfect Taco – It's all in the toppings
A taco is all in the toppings, so here are some suggestions that I think will pair deliciously with the meat of today's recipe.
Fresh Salsa: Prepare a vibrant salsa using diced tomatoes, onions, jalapenos, cilantro, lime juice, and a pinch of salt. The bright flavors and acidity of the salsa will complement the savory pork perfectly.
Guacamole: Mash ripe avocados with lime juice, diced onions, tomatoes, garlic, and a sprinkle of salt. The creamy and rich guacamole adds a luxurious texture and a burst of freshness to the tacos.
Pickled Red Onions: Thinly slice red onions and marinate them in a mixture of vinegar, sugar, and salt. The tangy and slightly sweet pickled onions provide a delightful contrast to the flavors of the pork.
Cilantro-Lime Slaw: Toss shredded cabbage, carrots, and fresh cilantro in a dressing made with lime juice, olive oil, honey, and a touch of salt. The crunchy and zesty slaw adds a refreshing element to the tacos.
Cotija Cheese: Sprinkle crumbled cotija cheese on top of the tacos for a salty and tangy kick. The creamy and crumbly texture of the cheese pairs well with the pork.
Radish Slices: Thinly slice radishes and place them on the tacos for a peppery and crunchy element. Radishes add a refreshing and vibrant note to the overall flavor profile.
Sour Cream or Mexican Crema: Drizzle a dollop of sour cream or Mexican crema on the tacos to add a creamy and cooling component. It helps balance the spiciness and adds richness to each bite.
Fresh Lime Wedges: Serve the tacos with wedges of fresh lime to squeeze over the meat. The citrusy tang of the lime juice enhances the flavors of the pork and brightens the entire dish.
Chopped Jalapenos: For those who enjoy an extra kick of heat, sprinkle some chopped jalapenos on the tacos. The spicy jalapenos add a fiery element that complements the flavors of the pork.
Cilantro Leaves: Garnish the tacos with fresh cilantro leaves for a burst of herbal freshness. The aromatic and citrusy notes of cilantro enhance the overall flavor profile of the dish.
Remember, it's all about mixing and matching toppings to get your perfect combination of flavors and textures, and this list is really just the beginning to help get your own creative juices flowing. The key is to have a balance of freshness, tanginess, creaminess, and crunch to elevate your pork tacos to the next level of deliciousness.
But of course, while the fillings and toppings are important, that still leaves the first thing you bite into – the tortillas. Let's discuss a few reasons why you might want to consider making your own tortillas.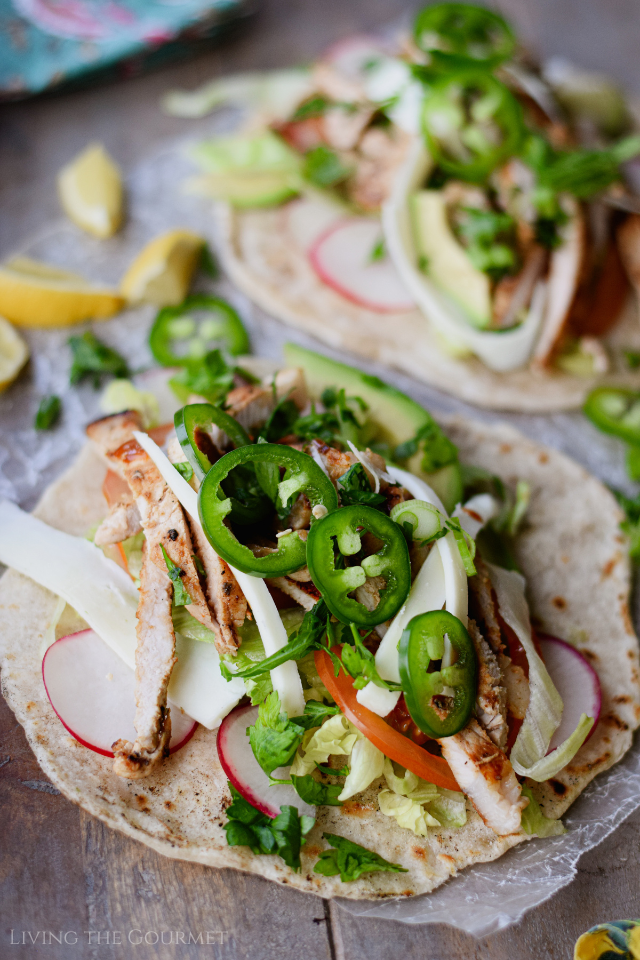 Tortillas – Is Making Your Own Worth it?
Making your own tortillas can be a rewarding and delicious experience. Here are some compelling reasons to give it a try:
Freshness: Homemade tortillas offer unparalleled freshness compared to store-bought alternatives. You have full control over the quality of ingredients and can enjoy the delightful taste and texture of warm tortillas right off the stove.
Flavor: The flavor of homemade tortillas is superior to pre-packaged ones. They have a distinct, authentic taste that enhances the overall enjoyment of your meal.
Customization: Making your own tortillas allows you to customize them to your liking. You can experiment with different flours, such as corn or wheat, and adjust the seasonings and spices to suit your preferences. As an example, sometimes I mix some pepper and oregano into my tortillas, other times I add in chopped fresh parsley.
Healthier Option: By making your own tortillas, you can control the ingredients, avoiding any additives, preservatives, or artificial flavors that may be present in store-bought versions. You can also opt for healthier flour alternatives, such as whole wheat or gluten-free options.
Cost-effective: Homemade tortillas are generally more cost-effective than buying them premade. The basic ingredients required—flour, water, salt—are affordable and readily available, making it an economical choice.
Versatility: Homemade tortillas are incredibly versatile. You can use them in a variety of dishes beyond just tacos, such as enchiladas, quesadillas, wraps, and more. They can even be enjoyed as a snack with your favorite dips or spreads.
Fun and Creativity: Making your own tortillas can be a fun and creative activity in the kitchen. It allows you to involve friends and family, making it an enjoyable and shared experience.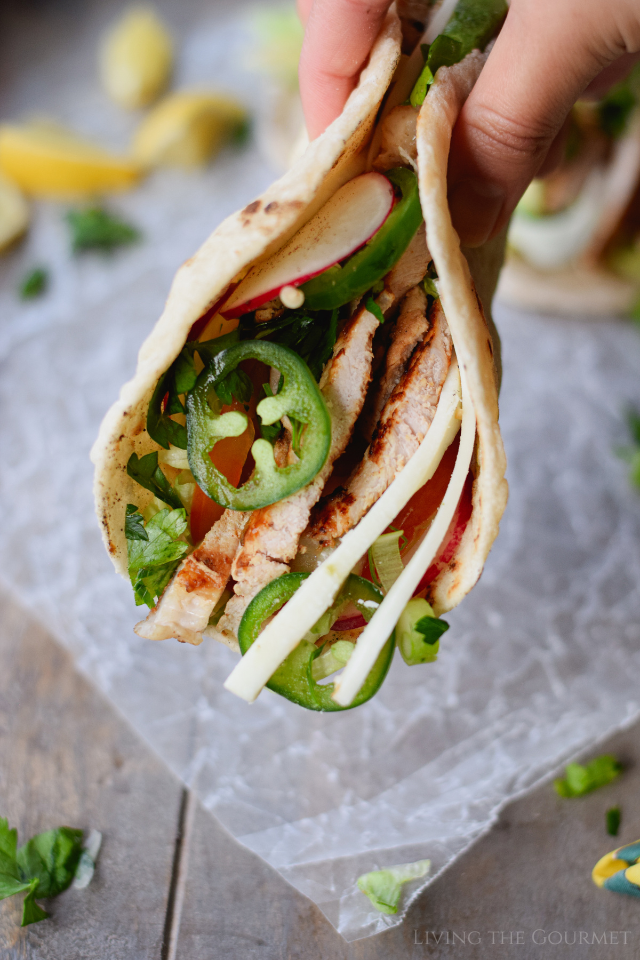 Print
Spicy Pork Tacos
---
Author:

Total Time:

25 minutes

Yield:

4

servings

1

x
2

-

2 1/2

lbs

. of pork loin, thinly sliced

1

tbs. vegetable oil
Fresh tortillas
For the Rub:
1/2 tsp

. garlic powder

1/2 tsp

. cumin

1/2 tsp

. dried oregano

1/2 tsp

. salt

1/2 tsp

. black pepper

1/2 tsp

. sugar

1/2 tsp

. red pepper flakes

1

tbs. Chilli No. 5 Hot Sauce
Toppings & Garnish:
Avocado, sliced
Jalapeno, sliced
Lettuce, shredded
Scallion, sliced
Fresh lemon or lime wedges
Oaxaca cheese or Mozzarella, sliced
Fresh Italian parsley, chopped
Radishes, thinly sliced
Fresh tomatoes, thinly sliced
---
Instructions
Mix together the seasonings for the rub and toss into a large bowl with the sliced pork and hot sauce.
Cover and refrigerate for at least one hour or up to overnight.
Heat a large cast iron frying pan with a tablespoon of vegetable oil.
Once the oil is hot, add the sliced pork to the pan.
Depending on how thick or thin the pork is sliced.  Cook the pork for about 3 minutes per side or until the pork is nice and golden and the juices run clear.
Assembly:
Take a warm tortilla and layer with your favorite toppings as pictured. Finish it off with an extra dab of hot sauce if desired.  Serve and enjoy!
Prep Time:

15 minutes

Cook Time:

10 minutes
Keywords: tacos, tortillas, pork, spicy
Recipe Card powered by
And those are our Homemade Pork Tacos. If you enjoyed today's recipe, or have any questions or suggestions, be sure to let us know in the comments below, we always love hearing from you.
As always be sure to like, share, and subscribe so that you never miss a post, and don't forget to check out Chilli No. Five hot sauce! Happy Cooking!
0