Today we're preparing a favorite of backyard BBQ'ers and pro pit masters alike the world over – Baby Back Ribs. Today's recipe combines a wet 'and' dry rub, with a low-and-slow cooking method, resulting in ribs that are supremely moist and packed with flavor.
Reasons to Love Today's Ribs
1) Only Basic Ingredients. We're using pantry staples like salt, honey, garlic, apple cider vinegar, and ginger, among other similarly 'basic' ingredients. Now, does any of this sound exotic? Of course not. Today, we're using only basic ingredients to create a delicious rack of ribs.
2) Surprisingly Simple. Preparing a delicious rack of ribs need not be a complex task. All we're really doing is prepping two rubs, applying those rubs to the ribs, and then baking the ribs in the oven. This is a simple recipe that home chefs of any skill level can prepare.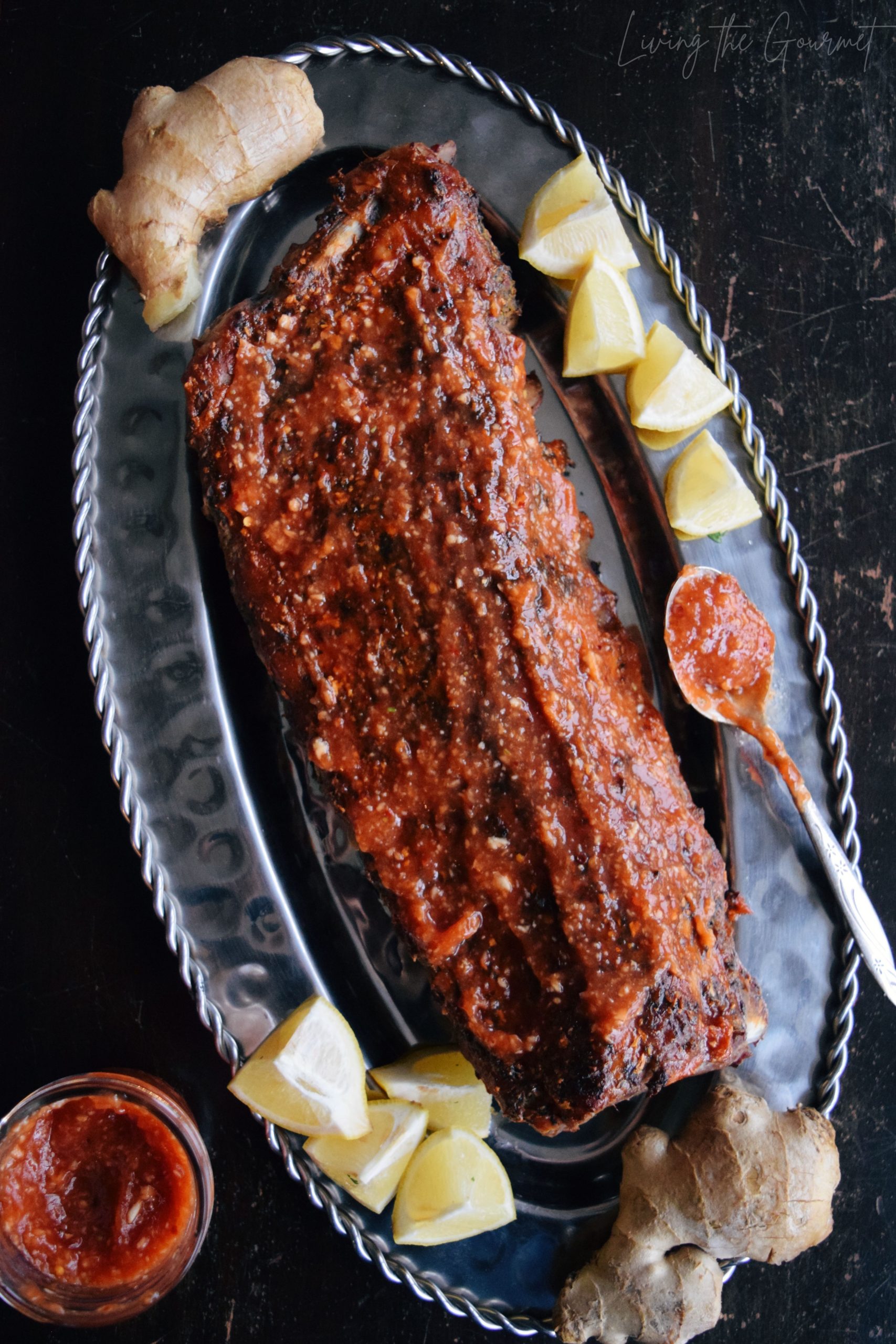 Prep Tips – The Road to Moist and Flavorful Ribs
1) Low and Slower, then Lower and Slower. We start the ribs out at 325 degrees Fahrenheit, and cook them for ninety minutes covered in aluminum foil. We then lower the temperature down to 300 Fahrenheit midway through the cooking process, uncover the ribs, and cook them uncovered for another ninety minutes. Low and slower, and then lower and slower. This process results in ribs that all but literally fall off the bone.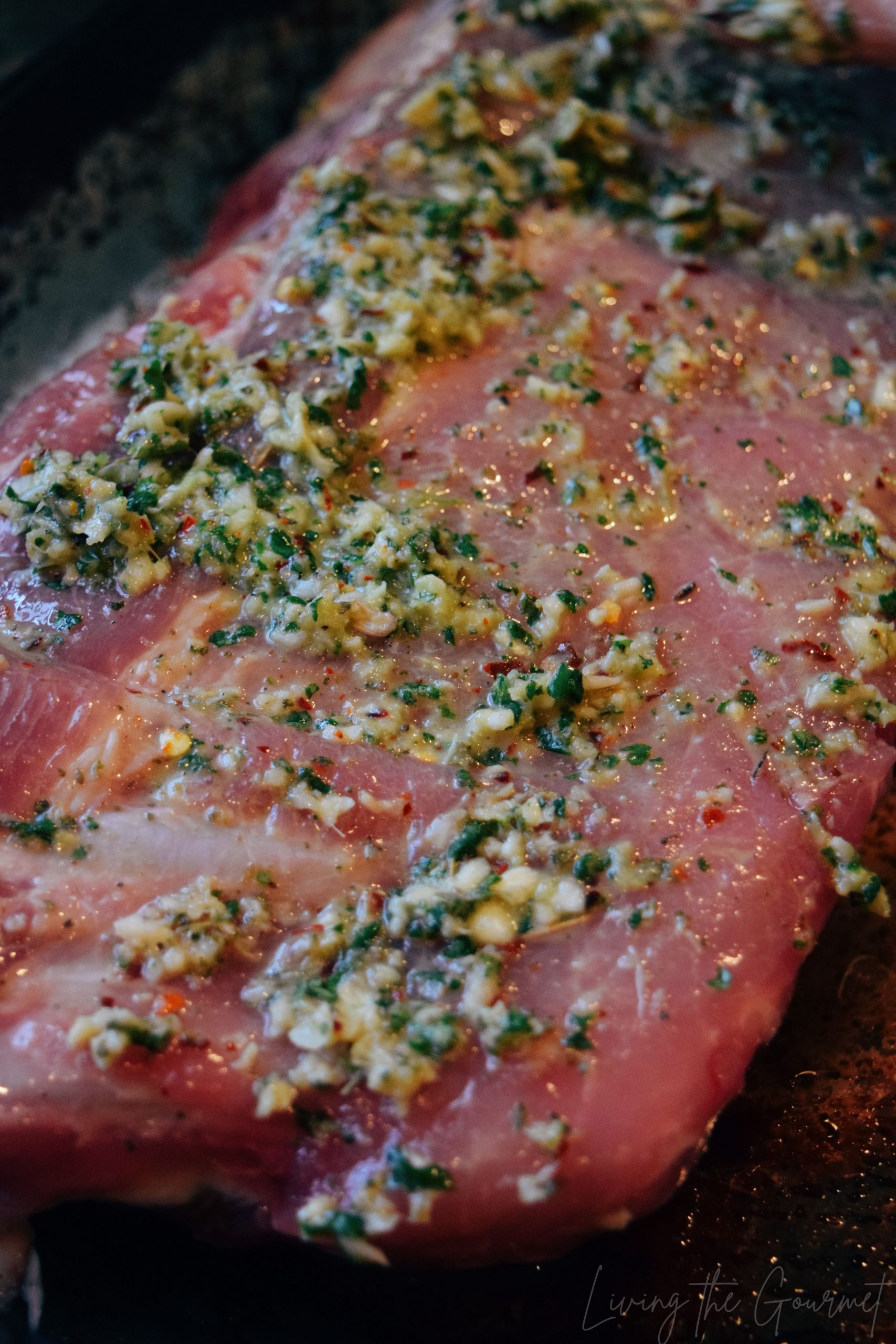 2) Dry Rub or Wet Rub? Dry 'and' Wet. Ribs should 'start dry and end wet,' meaning you should start out by rubbing down the ribs with a dry rub, and then cook them for a period of time. About midway through the cooking process – whether in the oven or on the grill – you then want to apply a wet rub or sauce, turn the heat down, and continue cooking them. This has the effect of not only layering the flavor, but of also adding in moisture.
3) Why are we covering them? This simply keeps the ribs from drying out during the cooking process. Some chefs will start their ribs out bare and then cover them midway through the cooking process, while others do the opposite. Both methods achieve delicious ribs. Personally, however, in my opinion, since ribs are at their 'moistest' when raw, you will likely lose more moisture during the early part of cooking, and thus this is when ribs should be covered, since this is when they will lose the most moisture. However, both methods are used by top chefs worthy of respect and emulation.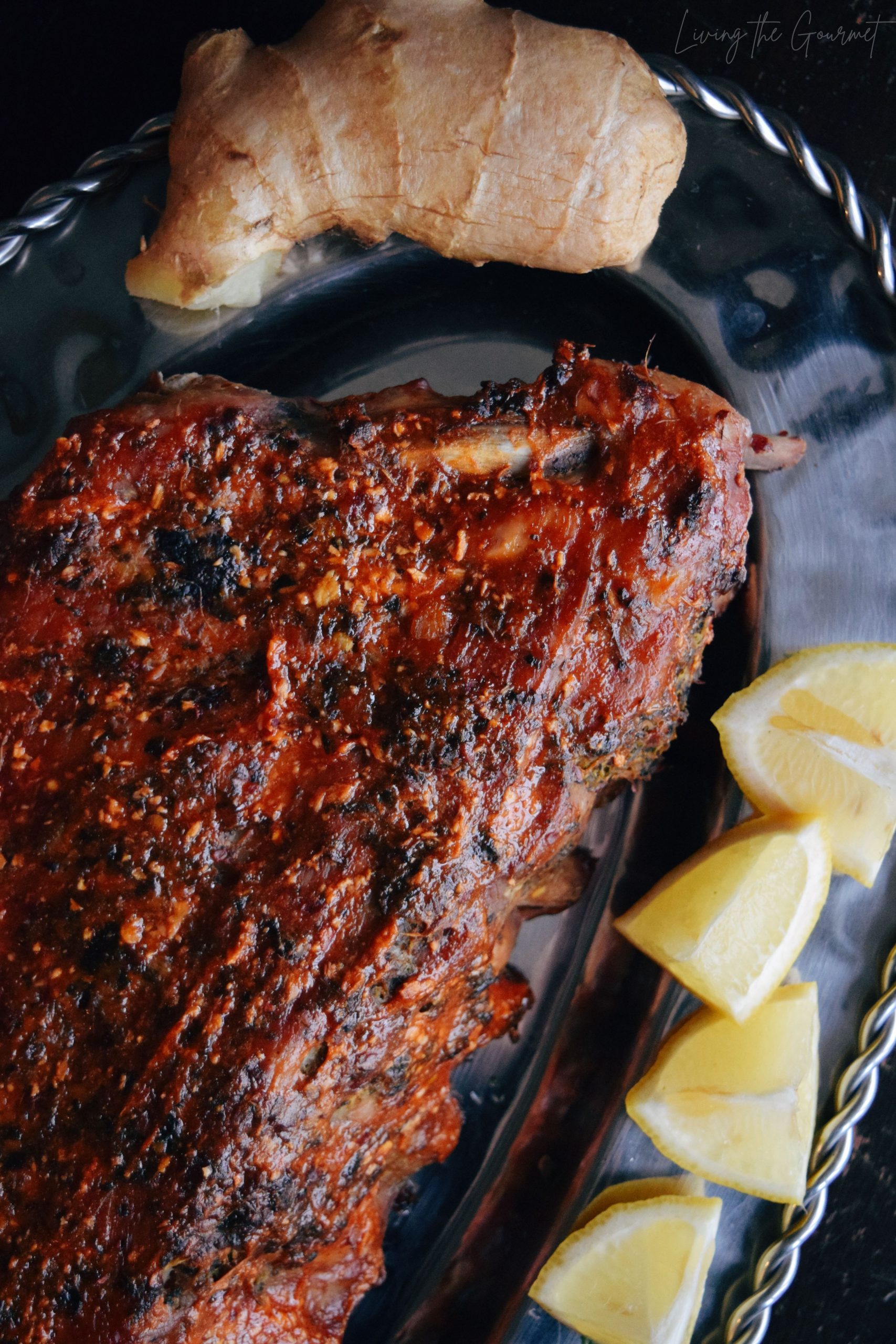 Baby Back Ribs aka Pork Back Ribs – A Few Notes and Pointers
1) What are they? As the name implies, Pork Back Ribs are cut from the 'back' of the hog, specifically the area where the ribs meet the spine. This area is also where rib loin chops are cut from, but pork back ribs have been separated from the loin. This has the effect of making both boneless pork loin and Pork Back Ribs. Thus, in short, Pork Back Ribs are the delicious byproduct of creating equally delicious boneless pork loin.
2) They have connective tissue…lots of connective tissue. Given that they are connected both to the loin and to the spine, these ribs naturally come packed with chewy, stringy, connective tissue and almost as much cartilage as bone. If not cooked properly, this connective tissue will positively ruin your ribs, making them all but impossible to chew, and horribly unpleasant to swallow – not fun. No amount of rub or sauce will make up for this either. The answer to this is to simply 'melt' the connective tissue via cooking, and this does 'not' mean blasting the ribs on high heat, but rather cooking them for as long as possible on low heat. Translation: Low and slow or not at all.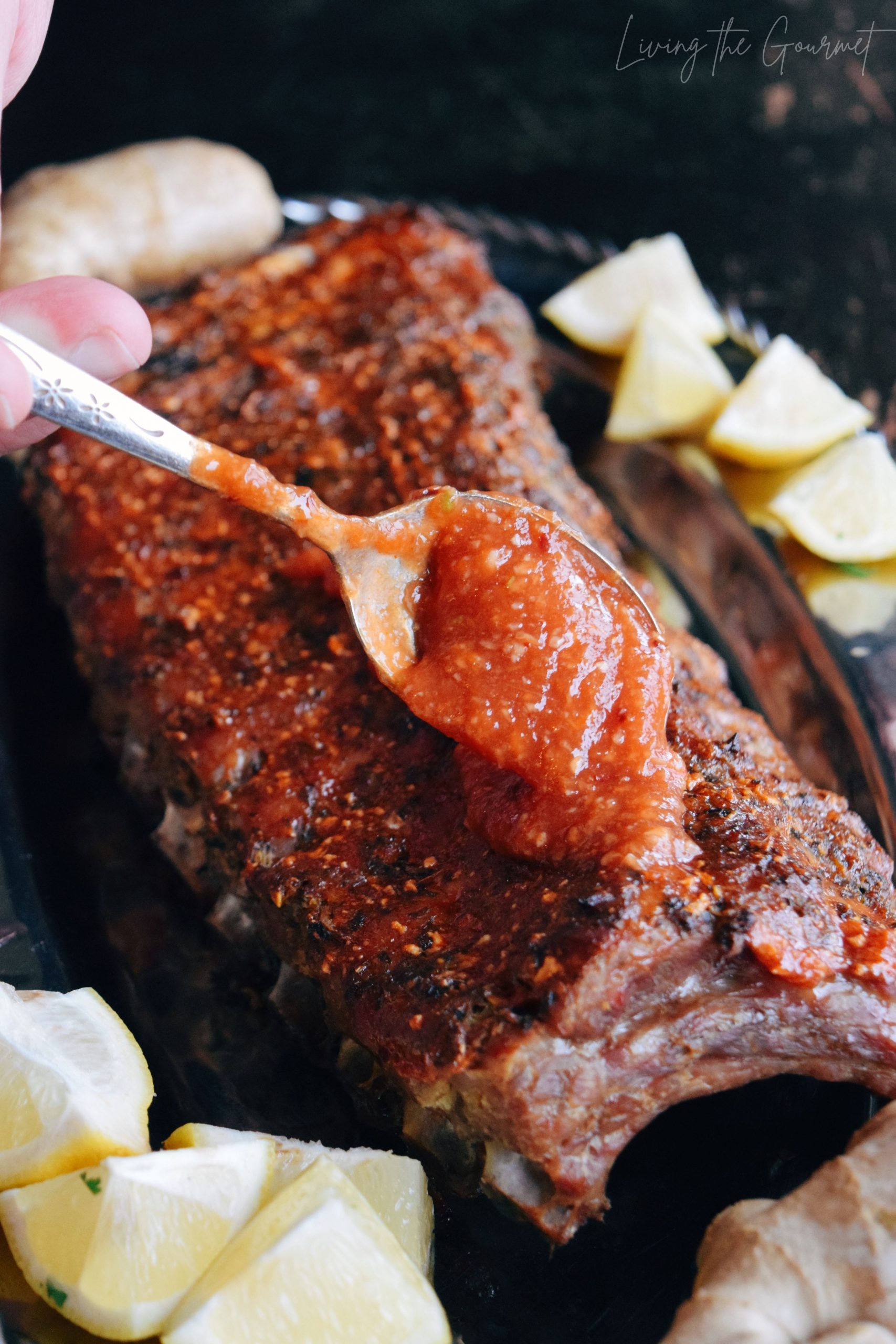 3) But why are they called 'baby' back ribs? Size. While these ribs are often labeled 'pork back ribs,' consumers have taken to calling them 'baby back' ribs, and the reason for this is refreshingly simple – because they are smaller than spare ribs. The longest baby back ribs you can find max out at around six inches, but can come as short as two inches.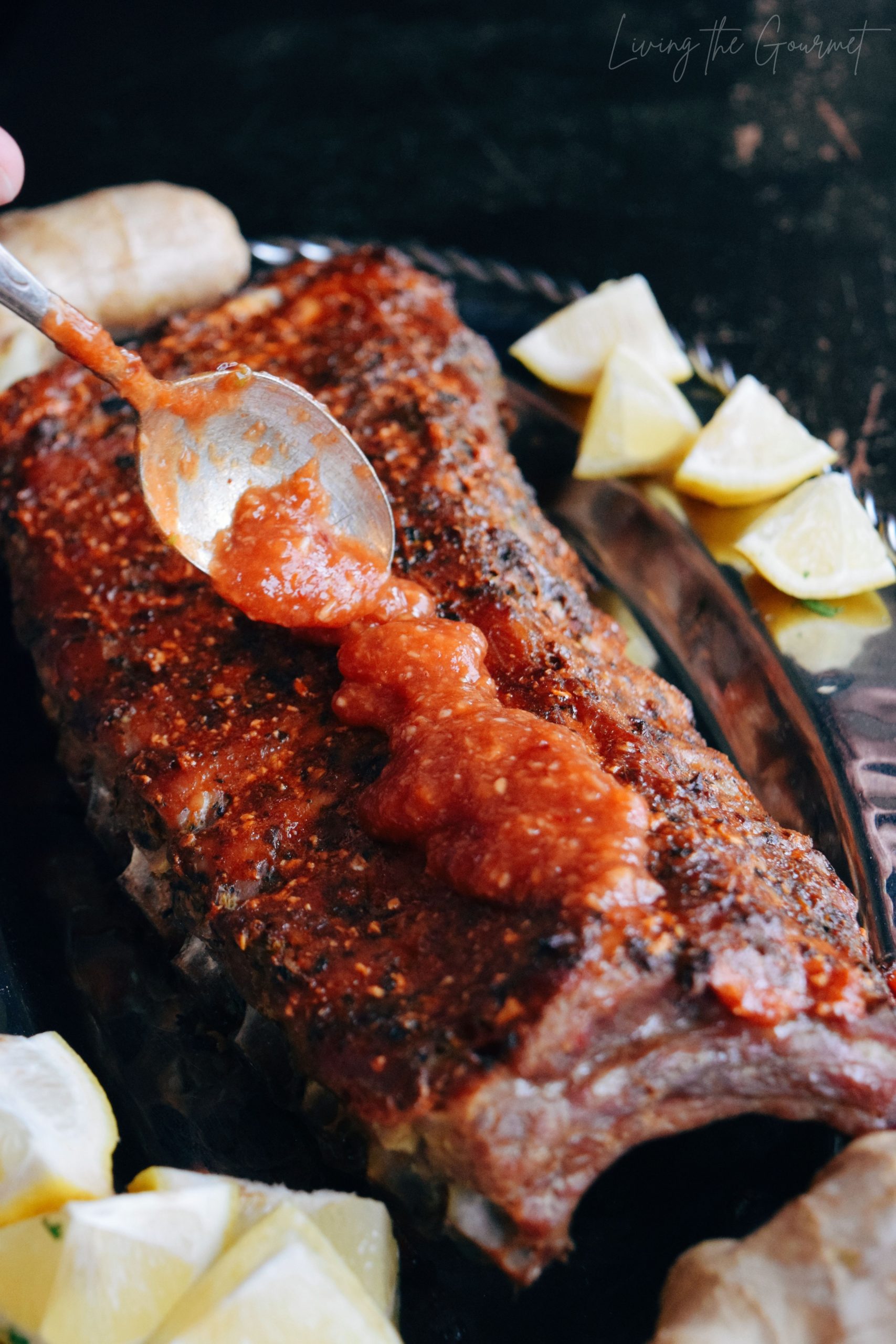 Today's Ribs Pair Great With
1) Onion Rings. I love the combo of moist ribs and fried onion rings. I prepare my onion rings with just a hint of spice, and a thick, dense batter that crisps up beautifully during frying. You can grab my recipe here.
2) Coleslaw. My preferred recipe for coleslaw combines the obligatory mayo-coating with a citrusy dressing. For a nice kick, I slice in jalapenos with the cabbage to create a sweet-and-spicy salad, with just a hint of crisp citrus.
3) A Cold Drink. While ribs and tall beer are a match made in heaven, if you want to flavor things up a bit and play 'bartender' to yourself or your guests, our friends over at DrinkWorks have got you covered. Think of it as the "Keurig of Home Bars," simply pop a pod into the machine, and out comes a delicious, chilled 'adult beverage' (no ice required) that tastes like it was mixed by a master mixologist. With dozens upon dozens of drink pod flavors to choose from, including Margarita, Cosmopolitan, Mojito, Moscow Mule, Whiskey Sour, White Russian, and Old Fashioned, among many others, there's something for everyone.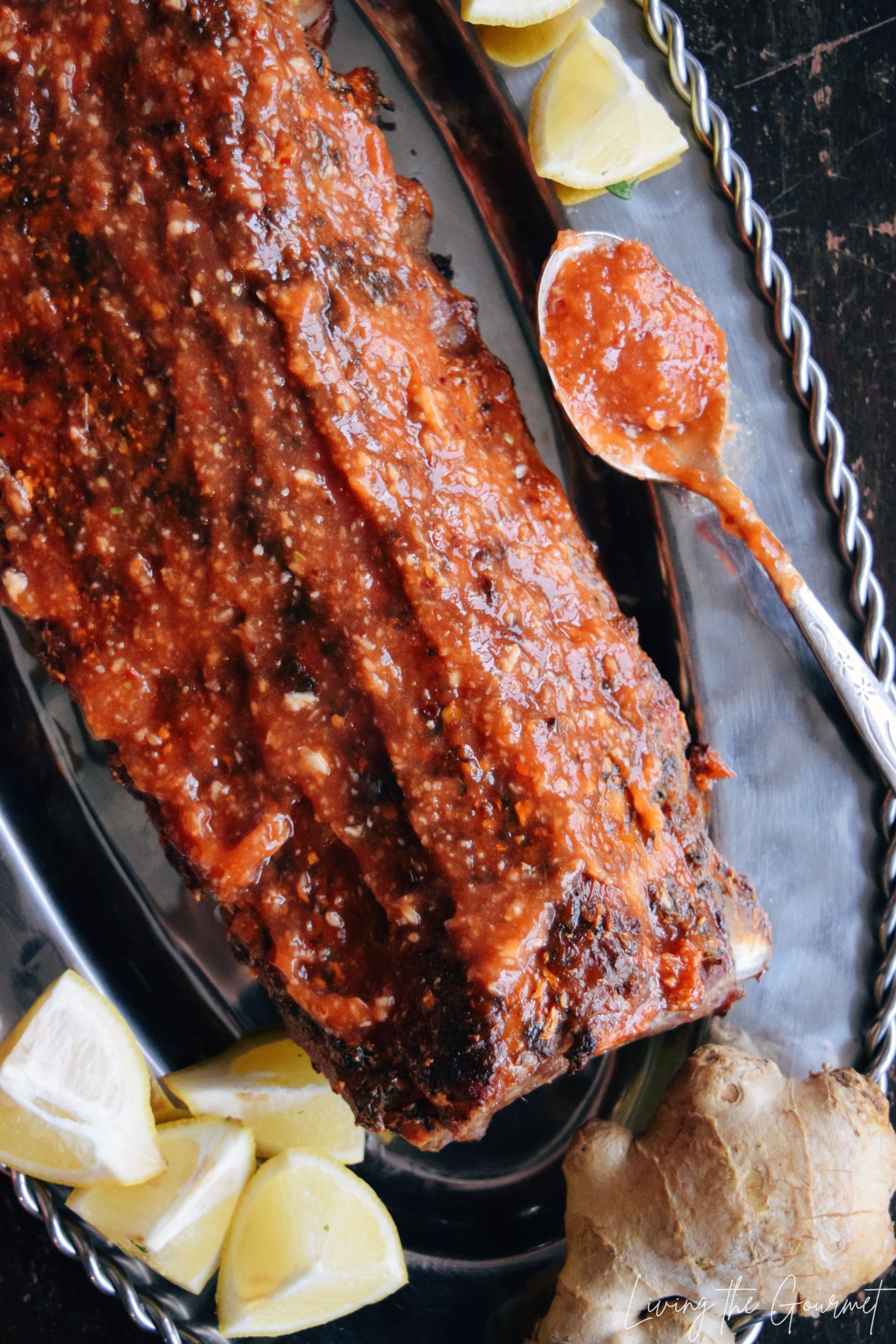 Print
Honey Ginger Baby Back Ribs
---
Author:

Total Time:

1 hour 45 minutes

Yield:

4

1

x
4 lbs. baby back ribs
For the Rub:
1 tsp

. red pepper flakes

3

-inch piece of fresh ginger - cut into pieces

1/2

tsp. salt

1

head of garlic - about

6

-

7

cloves

1/4 cup

of cilantro

4 tsp

. vegetable oil
Juice of

1

lemon
For the BBQ Sauce:
1 cup

of ketchup

4

-

5

cloves of garlic

1/4 cup

of honey

1/2 tsp

. salt

1 tsp

. red pepper flakes

2 tsp

. apple cider vinegar
---
Instructions
For the Rub:
Combine all of the ingredients for the rub in a food process and give a few good chops.

Place the ribs in a baking dish and massage the rub into the ribs.

Cover the dish with tin foil.

Preheat Oven 325 degrees F. and b

ake the ribs for about 1 ½ hours.
For the BBQ Sauce:
Combine all of the ingredients for the BBQ sauce in a food processor and give a few good chops.

Remove the ribs from the oven and place a bit of the BBQ sauce in a small dish.

Brush the ribs with the BBQ sauce.

Lower the temperature of the oven to 300 degrees F.

Place the ribs back in the oven for about 1 ½  hours.

Serve the ribs with the rest of the BBQ sauce and enjoy.
Prep Time:

15 minutes

Cook Time:

1 hour 30 minutes
Keywords: baby back ribs, pork, ribs, bbq sauce, sweet and spicy
Recipe Card powered by
0