Summer is the perfect time to indulge in delicious, light, and flavorful dishes that make the most of the season's vibrant produce. And what could be more fitting than a succulent Baked Salmon with Strawberry BBQ Sauce? This recipe combines the richness of salmon with the sweet and tangy flavors of a homemade strawberry-infused barbecue sauce, resulting in a delightful culinary experience that will leave your taste buds begging for more.
Whether you prefer to fire up the grill for an outdoor gathering or keep things cozy indoors with your trusty oven, this versatile dish can be prepared to perfection using either method. The juicy salmon fillet, about half an inch in thickness, is placed on a parchment-lined pan, allowing for easy cleanup and preventing the delicate fish from sticking. With a few shallow slits on top, the salmon becomes a canvas for the luscious Strawberry BBQ sauce, which adds a delightful twist to this classic seafood favorite.
The star of the show is undoubtedly the Strawberry BBQ sauce, which brings together the freshness of ripe strawberries with a hint of jalapeno heat and a touch of sesame oil. It's a tantalizing blend of sweet, savory, and tangy flavors that elevate the natural richness of the salmon. As the dish bakes, the sauce melds beautifully with the fish, creating a mouthwatering glaze that caramelizes to perfection. The finishing touch of sesame seeds adds a delightful crunch and visual appeal.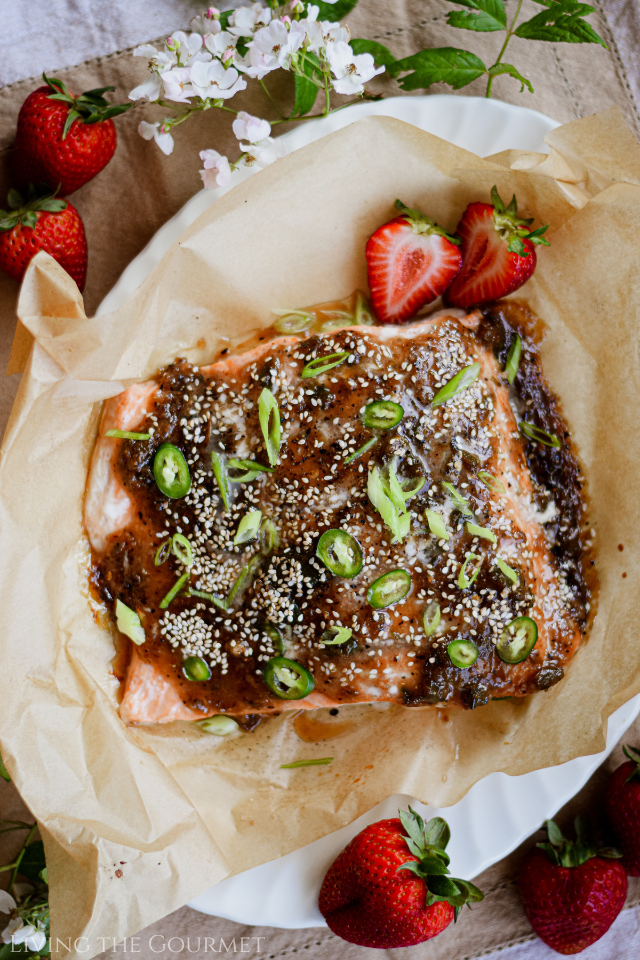 To complement the flavors of the Baked Salmon with Strawberry BBQ Sauce, consider serving it alongside a variety of vibrant sides and accompaniments. A refreshing summer salad bursting with crisp greens, juicy tomatoes, and tangy vinaigrette would provide a refreshing contrast. A side of fluffy quinoa or steamed jasmine rice would soak up the delicious sauce, ensuring that no drop goes to waste. And for those who appreciate a bit of heat, a sprinkle of thinly sliced jalapenos over the salmon adds an extra kick.
As a food lover, I have had the pleasure of experiencing this delightful dish on numerous occasions, and it never fails to impress. The combination of the succulent salmon, the homemade Strawberry BBQ sauce, and the subtle heat from the jalapenos creates a harmony of flavors that dances on the palate. It's a dish that effortlessly captures the essence of summer, with its vibrant colors, tantalizing aromas, and incredible taste.
So, whether you're planning a weekend barbecue, a cozy dinner for two, or are simply on the hunt for a quick and delicious meal to satisfy your cravings, this Baked Salmon with Strawberry BBQ Sauce is an absolute winner. It's a healthy seafood recipe that doesn't compromise on flavor, while offering a delightful balance of indulgence and nourishment. Give it a try and let the flavors transport you to a summer culinary paradise.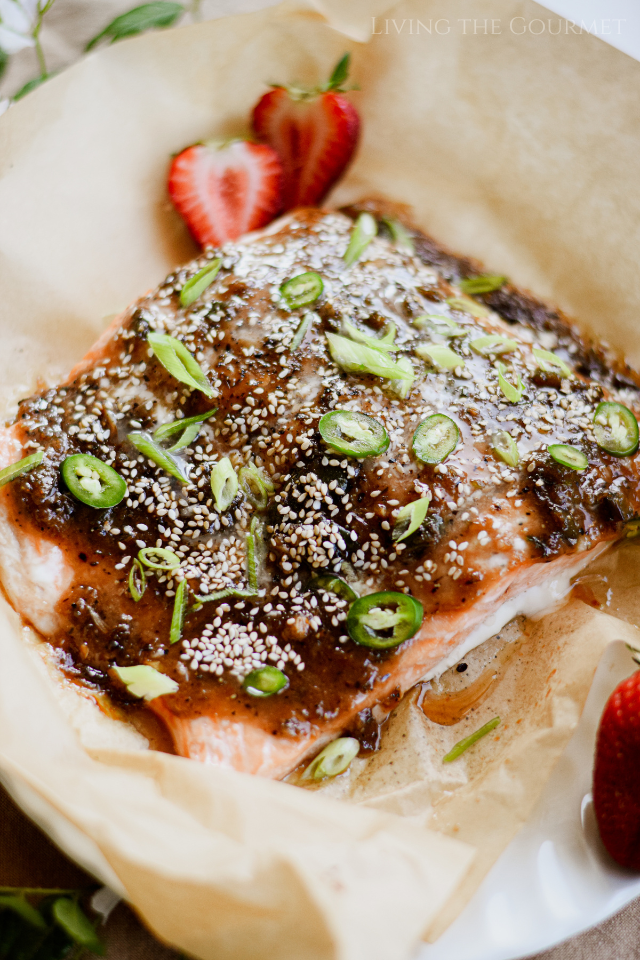 Ingredient Checklist – The Salmon
1 ½ - 2 lbs. salmon filet (about ½ inch in thickness)=

Note: Opt for fresh salmon for the best flavor and texture.
Tip: Remove any pin bones from the salmon fillet before cooking.

Parchment paper for lining the pan

Note: Parchment paper helps prevent the salmon from sticking to the pan and makes for easy cleanup.

Sesame seeds

Note: Sesame seeds add a delightful nutty flavor and crunchy texture to the salmon.
Tip: Toast the sesame seeds lightly in a dry pan before sprinkling them on the salmon for enhanced flavor.

2 – 3 scallions

Note: Scallions add a fresh and mild onion flavor to the dish.
Tip: Use both the green and white parts of the scallions for added flavor and visual appeal.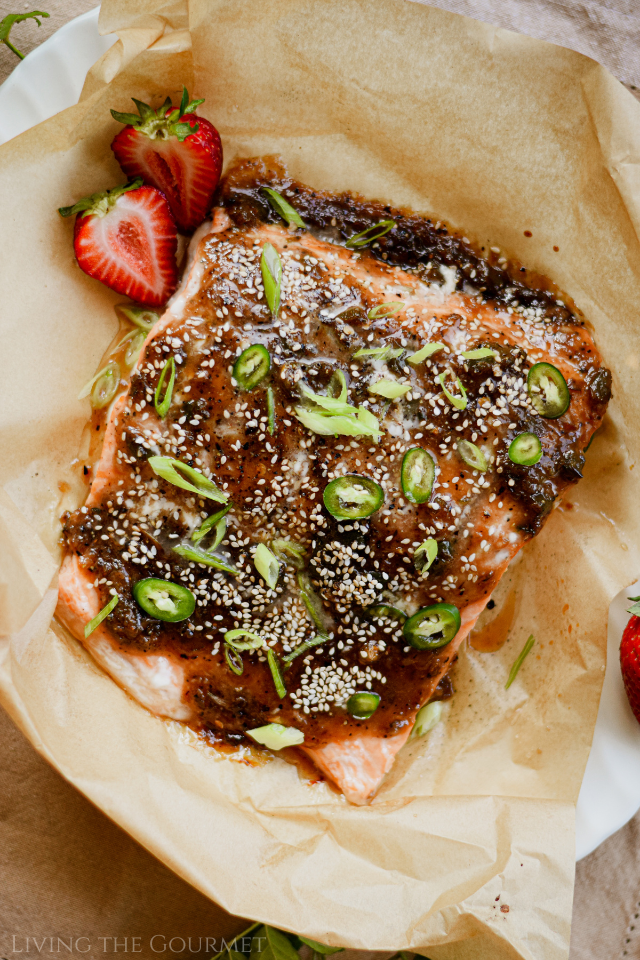 Ingredient Checklist – The Strawberry BBQ Sauce
1 jalapeno (with or without seeds)

Note: Adjust the spiciness level by removing or keeping the jalapeno seeds.
Tip: If you prefer a milder heat, you can substitute a milder chili pepper or omit the jalapeno altogether.

¼ cup of strawberry preserves

Note: Strawberry preserves provide a fruity sweetness to the BBQ sauce.
Tip: You can substitute other fruit preserves like raspberry or apricot for a different flavor twist.

1 tsp. sesame oil

Note: Sesame oil adds a rich and distinct nutty flavor to the sauce.
Tip: If you don't have sesame oil, you can substitute with olive oil or another neutral oil.

¼ tsp. salt

Note: Salt enhances the overall flavor of the sauce.
Tip: Adjust the amount of salt to taste preference.

¼ tsp. ground black pepper

Note: Black pepper adds a hint of warmth and complements the other flavors.
Tip: Freshly ground black pepper will provide the best flavor.

1 tsp. balsamic vinegar

Note: Balsamic vinegar adds a tangy and slightly sweet note to the sauce.
Tip: You can substitute with red wine vinegar or apple cider vinegar if needed.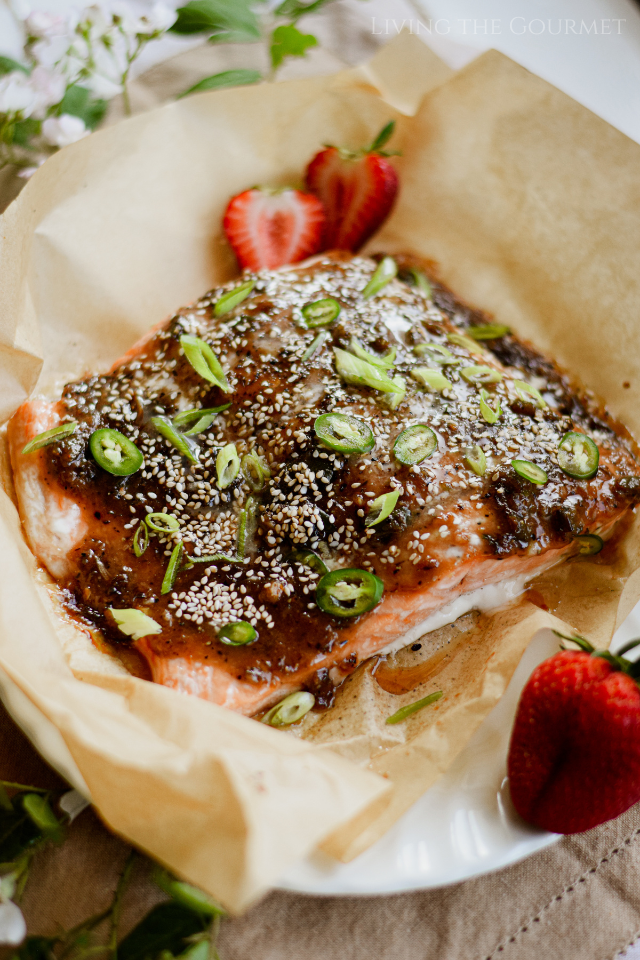 Pairings and Side Dish Suggestions
To really get this most out of today's recipe, you'll want the perfect pairings and sides. Here are just a few suggestions.
Grilled Vegetables: Fire up the grill and prepare some colorful and charred vegetables like asparagus, zucchini, bell peppers, or eggplant. The smoky flavors and tender texture of the grilled veggies make them a perfect accompaniment to the salmon.
Citrus Salad: Create a refreshing citrus salad by combining segments of oranges, grapefruits, and tangy lemon vinaigrette. The bright and zesty flavors of the citrus fruits provide a nice contrast to the rich and savory salmon.
Quinoa Salad: Prepare a light and protein-packed quinoa salad with fresh herbs, diced cucumbers, cherry tomatoes, and a lemony dressing. The nutty quinoa and fresh vegetables offer a delightful textural balance to the salmon.
Roasted Asparagus: Roast a bunch of asparagus spears with a drizzle of olive oil, salt, and pepper until tender and slightly crispy. The earthy flavor of asparagus pairs beautifully with the salmon, creating a delicious and healthy combination.
Herbed Couscous: Cook fluffy couscous and toss it with a medley of herbs like parsley, mint, and dill. The aromatic herbs add a burst of freshness to the dish, complementing the flavors of the salmon and Strawberry BBQ sauce.
Creamy Mashed Potatoes: Indulge in creamy mashed potatoes as a comforting side dish. The velvety texture and buttery taste of mashed potatoes create a satisfying contrast to the succulent salmon.
Steamed Green Beans: Steam a batch of crisp green beans until tender-crisp and dress them with a squeeze of lemon juice and a sprinkle of sea salt. The vibrant green beans provide a vibrant and nutritious addition to the meal.
Mixed Green Salad: Toss together a simple mixed green salad with a variety of lettuce leaves, cherry tomatoes, cucumber slices, and a light vinaigrette. The freshness of the salad acts as a refreshing counterpart to the flavorful salmon.
These pairings and side dishes will not only help enhance the salmon itself, but create a complete a meal, offering a variety of textures, flavors, and colors that perfectly complement the baked salmon. But of course, these are just suggestions to help fuel your own creativity. Feel free to mix and match based on your preferences and create a well-rounded meal that satisfies both the palate and the appetite.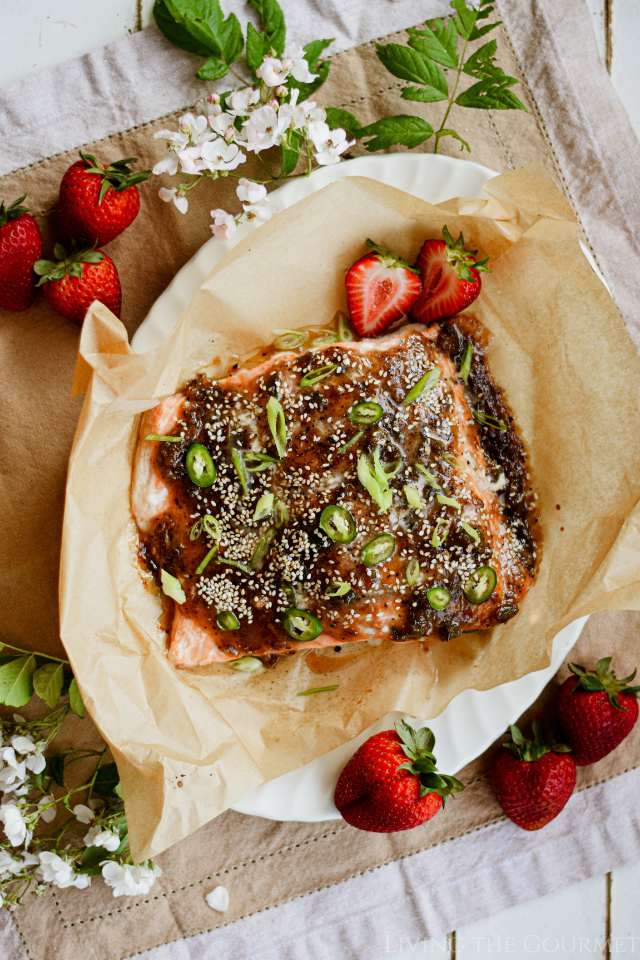 Leftovers – Don't Let Them Go to Waste
Don't let those delicious leftovers go to waste! Here's a plan to make the most of your Baked Salmon with Strawberry BBQ Sauce:
Salmon Salad: Flake the leftover salmon and use it as a protein-packed topping for a vibrant salad. Combine it with mixed greens, cherry tomatoes, cucumber, avocado, and a light vinaigrette. It's a refreshing and nutritious option for a light lunch or dinner.
Salmon Sandwich: Transform your leftovers into a mouthwatering sandwich. Toast some whole-grain bread, spread a layer of tangy mayo or creamy avocado spread, and add slices of leftover salmon. Top it off with crisp lettuce, juicy tomato, and thinly sliced red onions. This sandwich is perfect for a quick and satisfying meal on the go.
Salmon Pasta: Give your pasta a seafood twist by incorporating leftover salmon. Cook your favorite pasta al dente, then toss it with a creamy lemon-dill sauce and flaked salmon. Add some sautéed spinach, cherry tomatoes, and grated Parmesan cheese for an extra burst of flavor.
Salmon Fried Rice: Put an Asian spin on your leftovers by making salmon fried rice. Sauté leftover salmon with diced vegetables like carrots, peas, and bell peppers. Stir in cooked rice, soy sauce, and a dash of sesame oil. Add a beaten egg and stir-fry until everything is well combined. It's a delicious and filling one-pan meal.
Salmon Wrap or Quesadilla: Roll up your leftovers in a tortilla for a satisfying wrap or transform it into a cheesy quesadilla. Spread some cream cheese or guacamole on a tortilla, add leftover salmon, sliced avocado, and your favorite veggies. Fold it up and grill until the tortilla is crispy and the cheese is melted. Enjoy a tasty handheld meal!
Remember, these ideas are just a starting point. Feel free to get creative and adapt the leftovers to suit your preferences. With a little creativity, you can enjoy the flavors of this delicious Baked Salmon with Strawberry BBQ Sauce in new and exciting ways!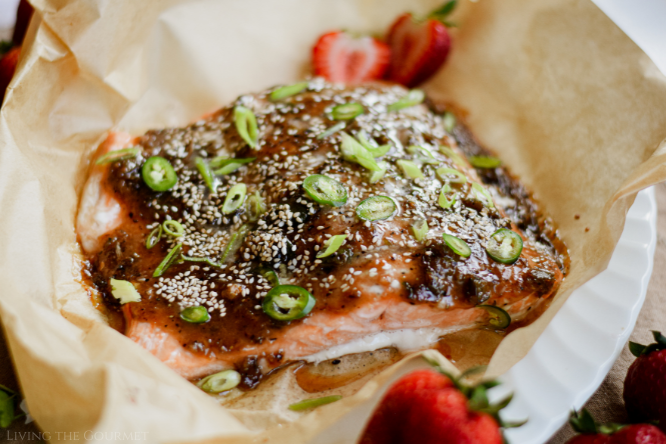 Grilling the Salmon
Preparing the Baked Salmon with Strawberry BBQ Sauce recipe on the grill offers a delicious twist to the dish. Follow these steps to cook the salmon on the grill:
Preheat the grill: Start by preheating your grill to medium-high heat. Make sure the grill grates are clean and well-oiled to prevent sticking.
Prepare the salmon: Line a large sheet of aluminum foil with parchment paper. This will help protect the salmon from direct heat and facilitate easy cleanup. Place the salmon fillet on the parchment paper, skin side down.
Apply the Strawberry BBQ sauce: Spoon the Strawberry BBQ sauce generously over the salmon fillet, ensuring it covers the entire surface. The sauce will add flavor and help keep the salmon moist during grilling.
Grill the salmon: Carefully transfer the salmon, in its foil and parchment wrapping, onto the preheated grill. Close the grill lid and let the salmon cook for about 12-15 minutes, or until it flakes easily with a fork. The exact cooking time may vary depending on the thickness of the salmon fillet.
Check for doneness: To ensure the salmon is cooked to perfection, use a meat thermometer to check the internal temperature. It should reach 145°F (63°C) at the thickest part of the fillet.
Serve and enjoy: Once cooked, carefully remove the salmon from the grill using a spatula. Transfer it to a serving platter and garnish with thinly sliced scallions and jalapenos. Serve the grilled salmon with your choice of side dishes, such as roasted vegetables or a fresh summer salad.
Grilling the salmon adds a delightful smoky flavor and a touch of char to the dish, elevating its overall taste. Enjoy the flavors of summer by cooking this mouthwatering salmon recipe on your grill and impressing your guests with its unique combination of sweet and savory flavors.
Print
Baked Salmon with Strawberry BBQ Sauce
---
Author:

Total Time:

30 minutes

Yield:

4

servings

1

x
1 1/2

-

2

lbs

. salmon filet, about 1/2 inch in thickness
Sesame seeds

2

-

3

scallions
Jalapeno, sliced thin
Parchment paper, for lining the pan
For the Strawberry BBQ Sauce:
1

jalapeno with or without seeds

1/4

cup

of strawberry preserves

1 tsp

. sesame oil

1/4 tsp

. salt

1/4 tsp

. ground black pepper

1 tsp

. balsamic vinegar
---
Instructions
Combine all the ingredients for the Strawberry BBQ sauce in a food processor and process until well combined. Set aside.
Preheat oven to 375 degrees F.
Line a large cast iron frying pan with parchment paper. Then place the salmon, skin side down, on the parchment-lined pan.
Gently, place 3 – 4 shallow slits on top of the salmon.
Spoon the Strawberry BBQ sauce on top of the salmon and sprinkle with sesame seeds.
Bake for 15–20 minutes or until the salmon flakes easily. The cooking time may vary, depending on the thickness of the salmon.
Garnish the salmon with thinly sliced scallions and sliced jalapeno.  Serve and enjoy!
Prep Time:

10 minutes

Cook Time:

20 minutes

Category:

Main Dish

Method:

Bake
Keywords: salmon, strawberry sauce, bbq sauce
Recipe Card powered by
And that's our Baked Salmon with Strawberry BBQ Sauce. If you enjoyed today's recipe, be sure to like, share and subscribe, so that you never miss a post.
As always, if you have any questions or suggestions, let us know in the comments below, we always love hearing from you. Happy Cooking!
1