Nothing compares to the scent of freshly-baked bread, and when it comes to creating the perfect loaf of garlic bread, there's nothing quite like homemade. Now imagine homemade bread stuffed with a mix of roasted garlic, herbs, and capers.
If you're looking to impress your guests, stuffed garlic bread should be your new go-to. The combination of roasted garlic and herbs, extra virgin olive oil, and cheese rolled in a warm, fresh-baked loaf is a surefire way to tantalize the taste buds. While making the bread is a time-intensive process, that doesn't mean it has to be difficult. With the right ingredients and technique, you can create an amazing loaf of garlic bread that's sure to be a hit.
The trick is to start with the highest-quality ingredients, like earthy extra-virgin olive oil, fresh herbs, and quality grating cheese. If you can, use freshly grated cheese, and be sure to roast your garlic. The flavor will be much more intense than pre-minced garlic.
Once you've gathered your ingredients, it's time to make the bread. Mix the dough according to the recipe below, and 'avoid' kneading it. We are going for a soft, airy loaf, almost like a pizza dough. Kneading helps develop the gluten in the dough, which gives bread a 'chewy' texture – which is great for crusty loaves, but undesirable for soft, airy loaves. Speaking of air, kneading also reduces the air in the loaf, which is the opposite of what we want. Yes, excess air can result in an overly dense loaf, but any excess air is being removed when we roll the dough out with our rolling pin. Also, we'll be letting the dough rise several times, something to keep in mind before undertaking this recipe.
While it's rising, prepare the garlic mixture for the stuffing. After that, it's time to assemble the bread. Roll out the dough and spread the garlic mixture on top. Roll the dough into a log, form into a crescent as pictured, and then place it in a greased baking pan or a pan lined with parchment. Pop it in the oven, bake until golden, and you're done.
Then serve it on its own with a salad, or pair it with your favorite soup or pasta dish. Either way, your friends and family are sure to be impressed.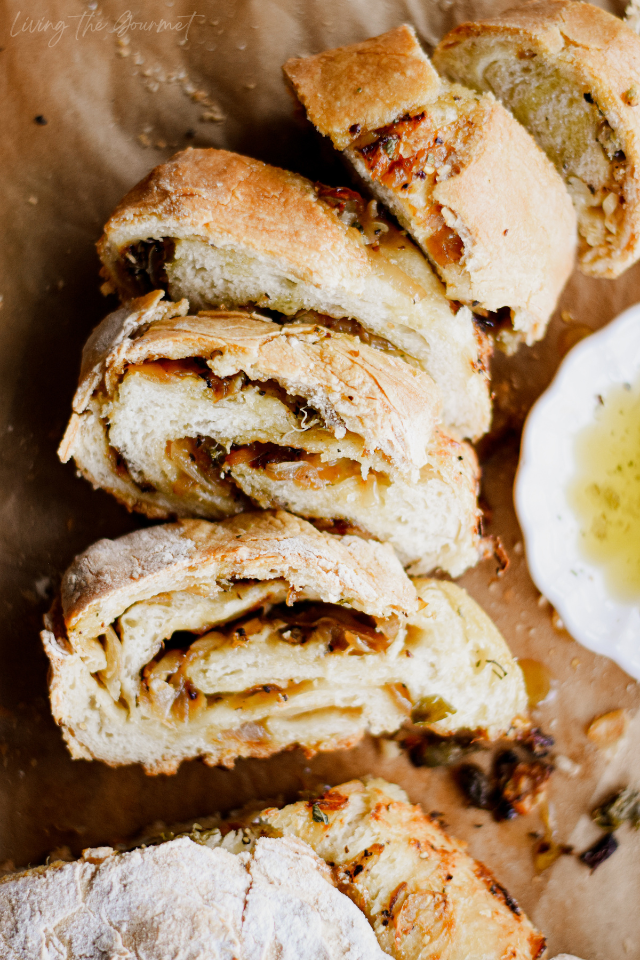 Ingredient Checklist – The Bread
Flour. I recommend standard all-purpose flour for today's bread.
Yeast. See below for tips for proofing the yeast.
Sugar. Plain, granulated sugar is all you need.
Salt. Simple table salt is all we're looking for here.
Water. To proof the yeast and provide moisture for the dough.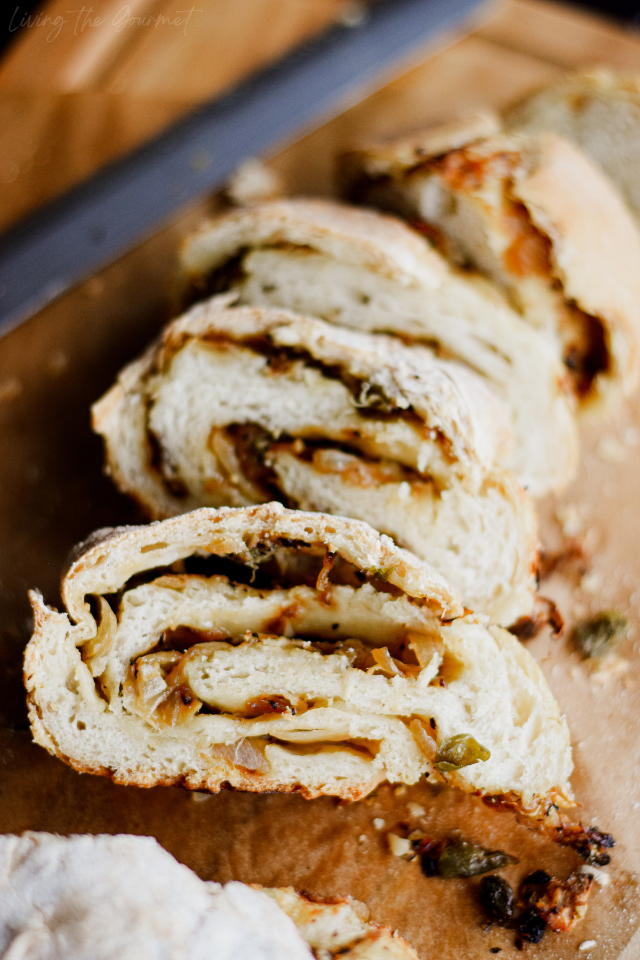 Ingredient Checklist – The Stuffing
Garlic. We're roasting the garlic to bring out that delicious 'sweet garlic' flavor and pungent aromatics. This also softens the garlic, allowing it to more evenly spread through the mixture.
Sweet Onion. I'd suggest onions such as Vidalia, Walla Walla, Maui, Oso Sweet, and Sweet Imperial. You want to avoid 'oniony bite' as that will greatly imbalance the intended flavor profile for the stuffing.
Grating Cheese. I strongly suggest grating your own. Freshly grated cheese generally has a stronger flavor, and is often 'much' less dry than pre-grated cheese. When cheese is pre-grated, it is usually exposed to air and this causes a decrease in flavor and moisture. Basically, air's the culprit.
Capers. The heart and soul of the stuffing. These provide a delicious 'briny' flavor for the stuffing that's reminiscent of a Mediterranean sunset.
Black Pepper. For best results, grind peppercorns in a mortar and pestle. This will greatly enhance the aromatics of the black pepper. Trust me, you won't be disappointed.
Sugar. A pinch of sugar to help balance and bind the flavors of the stuffing.
Olive Oil. I cannot stress how important it is to use a decent quality olive oil in this recipe. How do we define 'decent quality olive oil?' Taste it. If you enjoy the olive oil on its own, that's quality. It really is just that simple.
Delicious Pairings
White Wine. A medium-bodied, dry white wine would pair well with this recipe. Try a Sauvignon Blanc, Chardonnay, or a Pinot Grigio. The crisp acidity and subtle fruit flavors of these wines will help balance out the savory, garlicky flavors of the stuffed garlic bread.
Soup. I would suggest something along the lines of a Roasted Tomato and Pepper Gazpacho, especially for the warmer months. Loaded with fresh vegetables alongside Parmesan crisps, it's a perfect end note to everything the season embodies.
Hardy Salads. Consider something like a Fried Paneer Salad where the chunks of fried cheese would be delicious wrapped in the garlic bread. This is also just a really great Spring and Summer salad. When it's just too hot to turn the oven on, a Fried Paneer Salad can be a great way to avoid turning the oven on, but still have a delicious, light meal. This salad is made with cubes of fried paneer cheese, set over a bed of romaine with assorted berries and sliced vegetables, warm croutons, shavings of Parmesan, and a light vinaigrette.
Pasta Dishes. Naturally, Stuffed Garlic Bread pairs deliciously with almost anything 'pasta and sauce.' On heavier end of the spectrum, consider something like a Spinach and Mushroom Lasagna, combining layers of cheesy goodness, savory marinara sauce, fresh spinach, and hearty noodles, this lasagna is a delightful take on a traditional Italian comfort food. On the lighter side, you could opt for something along the lines of Penne tossed with Roasted Peppers and Tomatoes.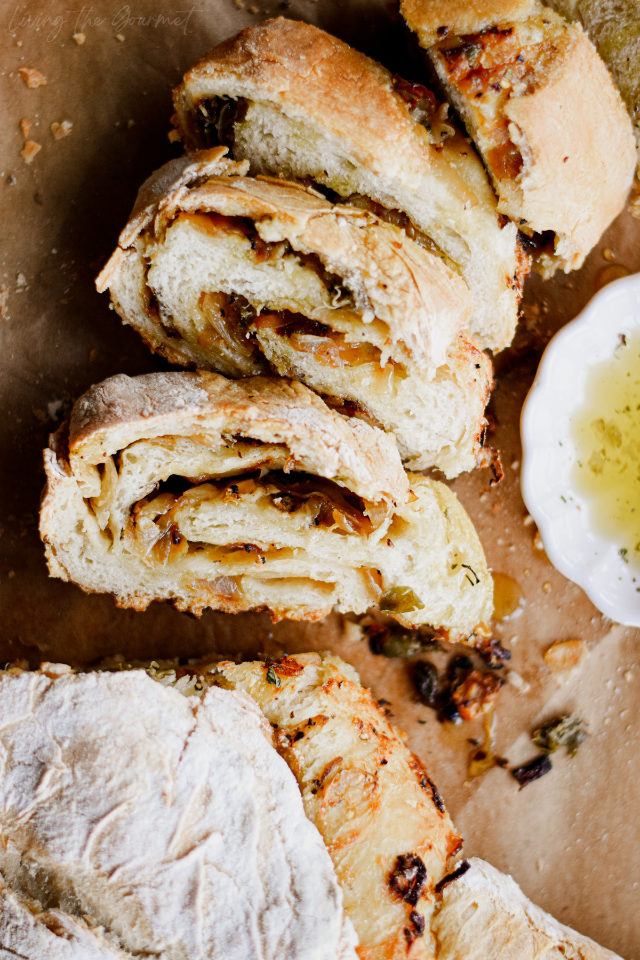 Print
Garlic Stuffed Bread
---
Author:

Total Time:

4 hours

Yield:

6

-

8

servings

1

x
For the Dough:
3 1/4

cups

flour

2 1/4 tsp

. yeast

2 tsp

. sugar

2 tsp

. salt
About

2 1/4

cups

water
For the Stuffing:
1

bulb of garlic, roasted

1

small sweet onion, grilled

1

cup

of grated Parmesan cheese

1

tbs. capers

2 tsp

. course black pepper

1/2 tsp

. sugar, for dusting the onion

3

tbs. olive oil
---
Instructions
Preheat oven to 170 degrees F. When the oven temperature reaches 170 degrees F. turn the oven off. This is for the dough mixture to have a warm place to rise.
In a large bowl, combine all ingredients for the dough and mix until a sticky, wet dough forms.
Cover in clingfilm and then a thick dishtowel. Place in the pre-heated oven and let rise for about 1 hour.
After the first rise, add flour along the edges of the dough and incorporate into the dough gently with your hand.
Cover and place in the warm oven again for an hour, until it doubles in size.
For a third and final rise, add a bit of flour along the edges once more.  Gently fold, then cover again and let double in size.
For the Stuffing:
Place the roasted garlic, capers, cheese, black pepper and olive oil in a food processor and give a few good chops.
Remove from the food processor and add with the chopped onion.  Set aside.
Assembly & Baking:
Preheat oven to 425 degrees F.
On a well floured surface, roll out your dough into a 12-14 inch circle. Be VERY gentle with the dough. The dough should be soft and filled with air bubbles, do not, pound the dough or knead the dough.
Spread garlic stuffing over the rolled out dough.
Gently, roll the dough, like a strudel, then into a crescent shape.
Place on a baking sheet lined with parchment paper, and place in the oven.
Bake for 30 - 35 minutes or until the bread is a beautiful golden color.
Let it cool a bit before transfering from the baking sheet to cool enough before serving.
Prep Time:

15 minutes

Cook Time:

45 minutes

Category:

Side Dish

Method:

Bake
Keywords: bread, garlic bread, stuffed bread
Recipe Card powered by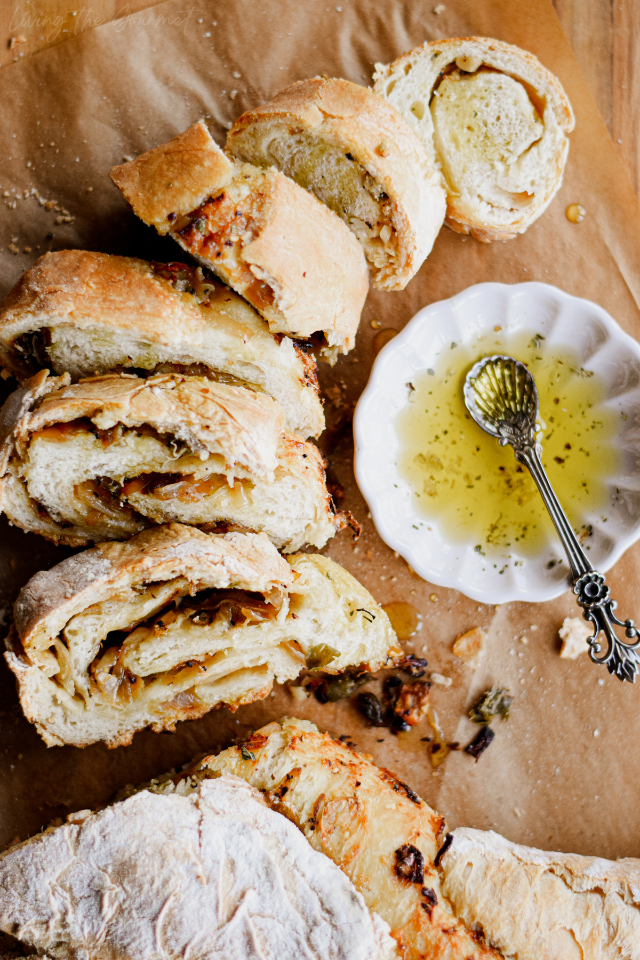 And that's my Stuffed Garlic Bread. If you enjoyed today's recipe, be sure to like, share and subscribe so you never miss a post.
As always, if you have questions or suggestions, be sure to let us know in the comments below. We love hearing from you. Happy Cooking!
1