If you're looking for a delicious and simple dish to add to your recipe repertoire, this Penne with Roasted Peppers and Tomatoes is sure to be a hit. Perfect for any occasion, this dish is a great way to bring the flavors of the Mediterranean to your table, or to add a bit of flair to a weeknight dinner. The key ingredients are flame roasted peppers, blistered tomatoes, fresh basil, oregano and parmesan cheese - all of which come together in perfect harmony.
The dish is a perfect balance of sweet, savory, and aromatic. The flame roasted peppers add a mild smokiness, while the blistered tomatoes bring a juicy, acidic contrast to the pasta, while a simple basil and oregano combination add a bright, herbal finish. Plus, it looks great on the plate, making it ideal for entertaining.
The beauty of this dish lies in its simplicity. All the ingredients are accessible and can be found in any grocery store. It's also quick and easy to make, and you can easily customize it to your taste. More on that below.
So, if you're looking for your next favorite pasta recipe, particularly one that's perfect for any occasion, look no further than today's Penne with Roasted Peppers and Tomatoes! Read on for an ingredient checklist, tips for getting creative with today's pasta, and some serving suggestions.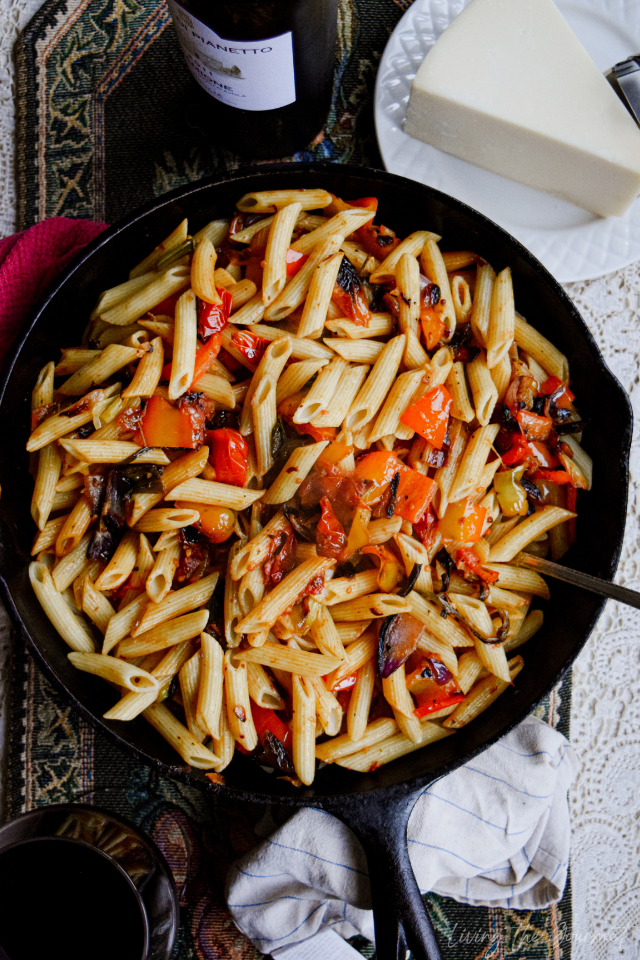 Ingredient Checklist
Penne: I'm using penne as a matter of preference, as I find it holds the juices of this particular recipe really well. However, feel free to use your preferred type of pasta.
Cubanelle Peppers: Cubanelle peppers are a mild, Italian-style pepper that adds a subtle sweetness to the dish. When grilled, they become slightly smoky and tender, making them a great addition to this dish.
Red Onion: Sweet, but also have a bit of a bite, which adds depth of flavor to the dish. When grilled, the onions become caramelized and even sweeter.
Scallions: For today's dish, think of the scallions as mild onions, but with a fresher, brighter flavor. When grilled, they become slightly charred and smoky, adding a great flavor to the dish.
Cherry Tomatoes: Sweet and juicy, and when grilled they become slightly charred and smoky. This adds a great flavor and texture to the dish.
Garlic: For depth of flavor and pungent aromatics that will fill the kitchen as you cook. Nothing quite conjures images of a Mediterranean kitchen like roasted garlic.
Dried Oregano: Oregano is a classic Italian herb that adds earthy notes and pungency. As always, use dried oregano unless a recipe specifically calls for fresh, as fresh oregano is best described as 'intrusive,' and will easily overpower dishes that aren't tailored to handle its strength.
Fennel Seeds: For a mild, licorice-like flavor, with just a hint of sweetness.
Red Pepper Flakes: For heat and a touch of color.
Black Pepper: For this recipe, I strongly recommend fresh ground.
Salt: Sea Salt if you have it, otherwise table salt is fine.
Olive Oil: I recommend using a decent quality olive oil, as this is one recipe where the flavor of the oil will come through in each bite.
Fresh Grated Romano Cheese: As usual, fresher is better, since you really want the nutty, salty flavor that freshly grated Romano cheese brings to the table.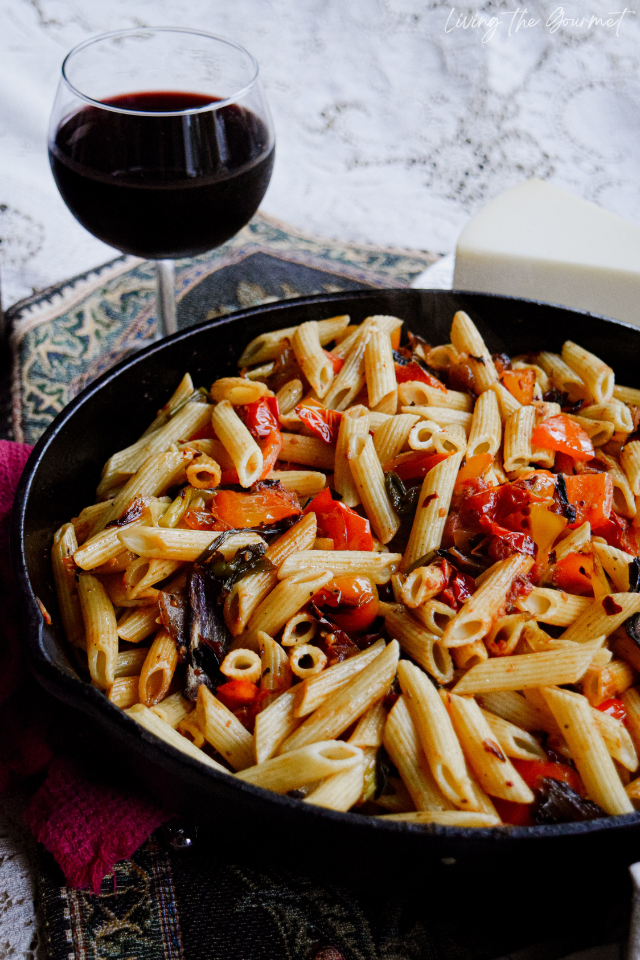 Getting Creative - Making Today's Recipe Your Own
Turn up the heat: Try adding some chili flakes and smoked paprika to the recipe to give it a subtle-yet-earthy kick. Or try dicing in some spicy peppers
Bring the Meat: Try adding cooked chicken, Italian sausage, or even some shrimp to add some protein to the dish.
Make it cheesy: If you want to make this dish even more indulgent, try tossing in some fresh mozzarella, Oaxaca, or even Jarlsberg.
Try different types of peppers: Don't be afraid to experiment with different types of peppers, like bell peppers, jalapeños, serranoes, or even poblanos.
Add some vegetables: Try adding some mushrooms, zucchini, or eggplant to the dish for some extra flavor and texture.
Make it creamy: Try adding some cream, such as ricotta cheese, full-fat Greek yogurt, or even crème fraîche to make it extra creamy.
Try different herbs & spices: Try adding in different herbs such thyme or herbes de Provence.
Add some crunch: Try adding some toasted breadcrumbs or croutons to the top of the dish for some extra crunch.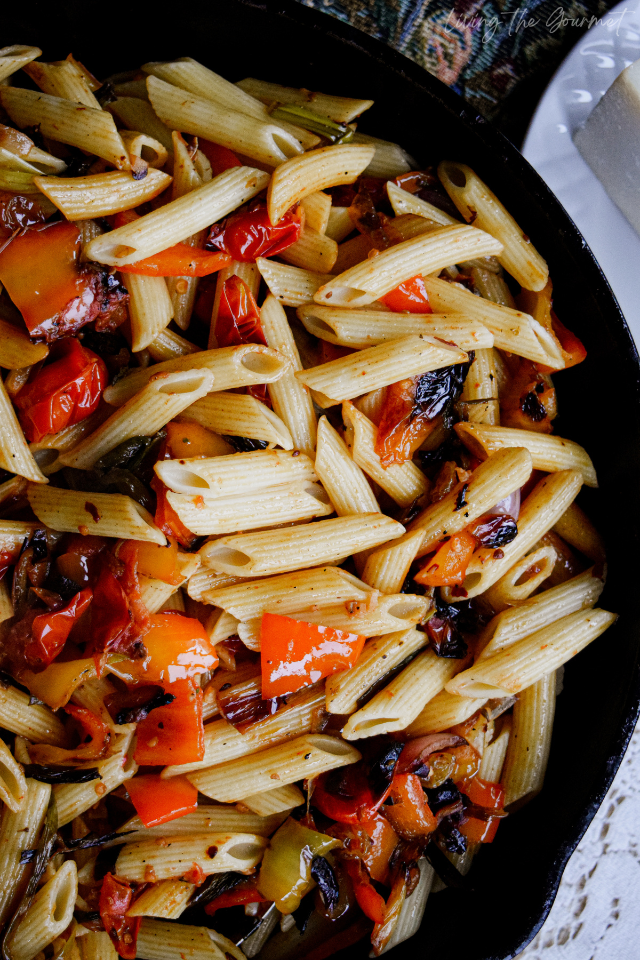 Serving Suggestions
Wine Pairing. A light-bodied dry rosé or a light-bodied white wine such as Pinot Grigio or Sauvignon Blanc would pair nicely with this dish. The light body and acidity of these wines will complement the sweetness of the roasted peppers and the acidity of the tomatoes.
Breadsticks. At the risk of sounding old fashioned, breadsticks are probably one of the best pairings for today's pasta.
Homemade Bread. Some crusty bread to pair with the roasted peppers and tomatoes would be simply delicious. Bonus points if it's homemade!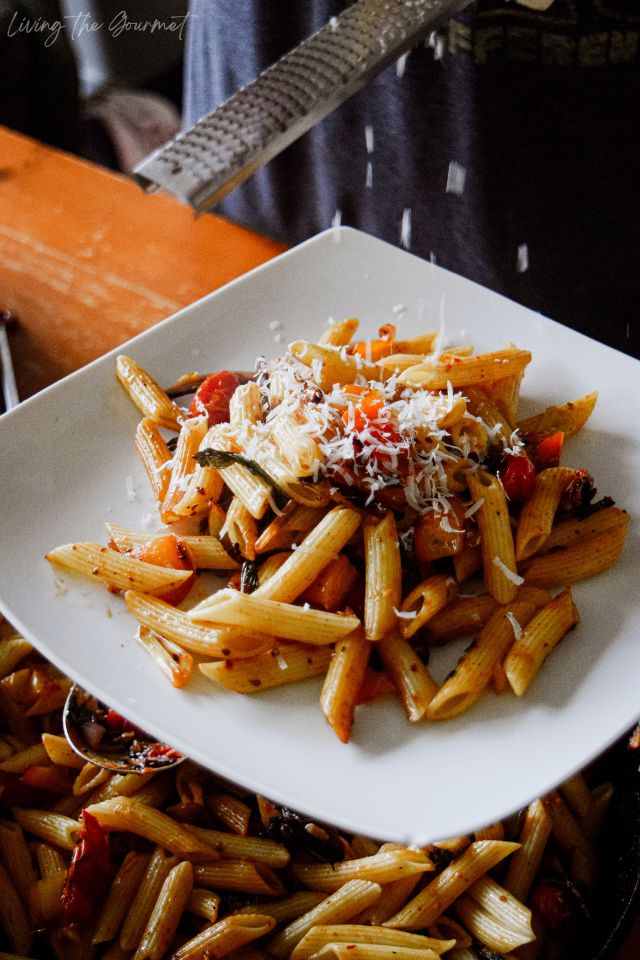 Print
Penne with Roasted Peppers and Tomatoes
Author:
Prep Time:

5 minutes

Cook Time:

20 minutes

Total Time:

25 minutes

Yield:

4

1

x
Category:

Main Dish

Cuisine:

Italian
1

lb

. penne - prepared as directed

2

cubanelle peppers - halved, seeds removed and grilled

1

red onion - coarsely chopped and grilled

2

bunches of scallions - coarsely chopped and grilled

1

pint

of cherry tomatoes - grilled

4

-

5

garlic cloves - chopped

1 tsp

. of dried oregano

1/4 tsp

. fennel seeds

1/4 tsp

. red pepper flakes

1/4 tsp

. black pepper

1/2 tsp

. salt

2

-

3

tbs. olive oil
Fresh grated Romano cheese
Instructions
Heat a large cast iron griddle or frying pan and place the veggies on the hot pan turning occasionally until all the veggies are nicely charred.
Heat a large cast iron frying pan with 2 – 3 tbs. of olive oil. Add the chopped garlic, seasonings and the grilled veggies. Gently smash the charred tomatoes.
Prepare the macaroni as directed. When cooked lift into the veggies.
Season with a drizzle of olive oil and an extra dash of red pepper flakes and grated cheese.
Recipe Card powered by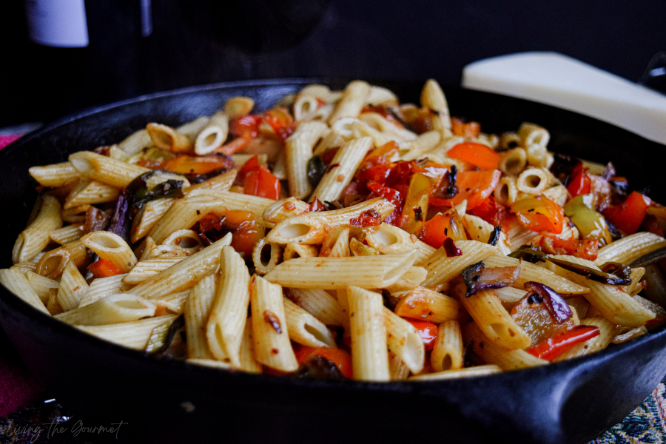 And that's our Penne with Roasted Peppers and Tomatoes. We hope you enjoyed it as much as we enjoyed bringing it to you. If you try it at home, please let us know how it turned out. We love heard from you!
If you have any questions or suggestions, please feel free to reach out to us.
Thanks again, and happy cooking!
As an Amazon Associate I earn a small commission from any purchases made through the affiliate links within this post. For more information on this please see our disclosure policy. Thank you!
0