This post has been sponsored by Andria's Food Group. All opinions expressed are my own.
If you're looking for a delicious weeknight meal that the entire family will love, look no further than these BBQ Glazed Stuffed Pork Chops. Not only are these chops delightfully easy to make, but they're an evergreen recipe that can be enjoyed any time of year.
These pork chops are stuffed with a mouthwatering mix of roasted garlic, fresh Italian parsley, scallions – for a dash of color, Panko breadcrumbs – for some nice crunch, and grated Parmesan cheese, all brought together with extra virgin olive oil. The chops are then pan fried to golden perfection.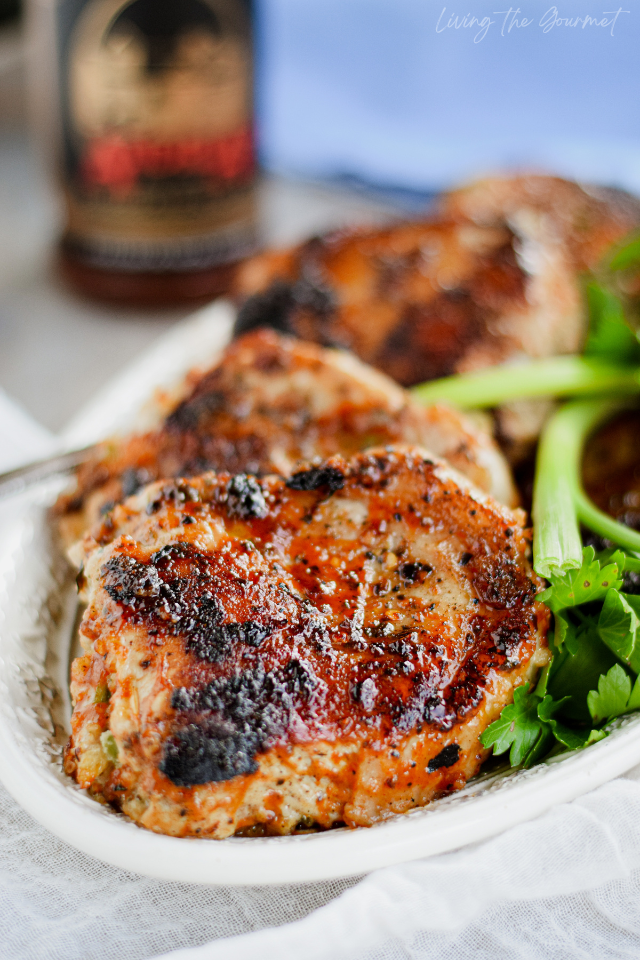 However, before frying we'll be brushing them with today's not-so-secret ingredient – Andria's Barbecue Sauce. The barbecue sauce gives the chops a savory smoky flavor, with just a hint of background sweetness. This blends together beautifully with the flavors of the stuffing, while also giving the outside of the chops a decadent glaze. But more on Andria's and their delicious barbecue sauce in just second.
These pork chops serve deliciously with a variety of sides, such as roasted potatoes, steamed green beans, or a fresh tossed salad. For an extra special treat, serve these stuffed pork chops with a side of grilled peaches or apples. The sweetness of the fruit will contrast beautifully with the savory flavors of the stuffing, making for an unforgettable meal.
So, if you're looking for a delicious and easy weeknight meal that's sure to please family and friends alike, look no further than these stuffed pork chops. With minimal prep work and just a few simple ingredients, you can whip these up in no time. Read on for an ingredient checklist, tips for stuffing the chops, and some serving suggestions.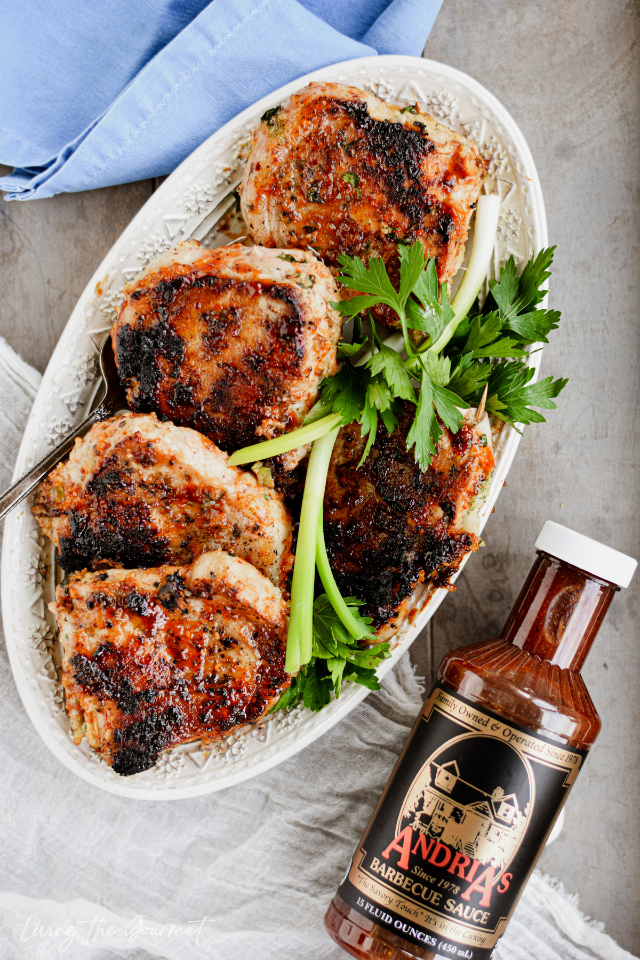 Ingredient Checklist – The Basics
Pork Chops. You're going to want to use thick cut porkchops, as thicker chops are easier stuff and will hold together better during cooking.
Cooking Oil. Use a flavor neutral oil for the frying process. I'm using basic vegetable oil.
Andria's Barbecue Sauce. We're going to be brushing each side of the porkchops during the frying process. Not only will it give the porkchops a nice glaze and a gorgeous golden color, but it will also give them a delicious flavor that melds beautifully with the stuffing. Whether you're grilling on the barbecue, or pan frying indoors, Andria's Barbecue Sauce is an excellent choice, and has become one of my go-to sauces. This delicious sauce is perfectly balanced between savory and smoky, with a luscious background sweetness, and a pleasantly thick texture. As such, it's a great accompaniment for all of your grilling favorites, from roasts and steaks, to burgers, sausages, and chops. It's even great on hardier seafood choices, especially shark or salmon. Whether served alongside grilled meats, or enjoyed as a dip, Andria's Barbecue Sauce is sure to please. Its bold flavors and smooth texture make it a great choice for any occasion. Try a bottle, I promise it will become one of your favorites. And don't forget to give their Brush on Steak Sauce or their delicious Salad Dressing a try as well.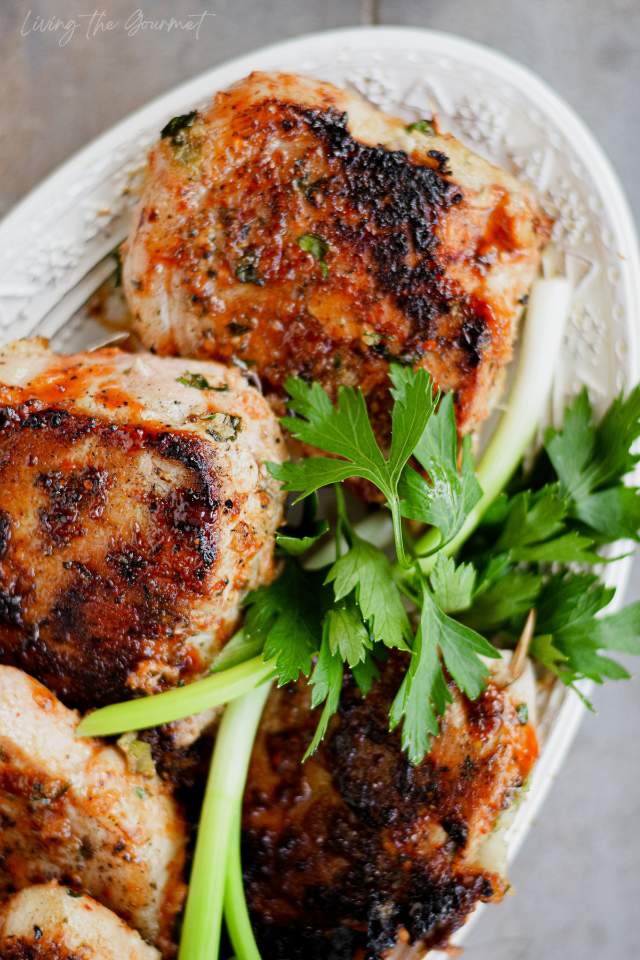 Ingredient Checklist – The Rub
Grated Nutmeg. The nutmeg adds a subtle warmth and depth of flavor to the stuffed pork chops. A little goes a long way, so you don't need to be too heavy-handed with it.
Black Pepper. I recommend freshly ground for added aromatics and flavor. Use a mortar and pestle for best results.
Salt. Plain table salt will work just fine, but feel free to fancy things up with the preferred 'gourmet salt' of your choice.
Sugar. Plain granulated sugar is all you're looking for here.
Red Pepper Flakes. For a touch of heat. Feel free to substitute in your favorite chili flakes if you prefer either a bit more heat or a bit more 'chili flavor.'
Garlic Powder. For a bit of garlicy flavor without the bite.
Dried Oregano. Unless a recipe specifically calls for fresh oregano, always use dried, as it has a much subtler, less intrusive flavor than its fresh counterpart. That said, dried oregano is a great way to add bold herbal flavor to any dish. When used in this recipe, the dried oregano helps to balance out the sweetness of the roasted garlic and the savory flavor of the Parmesan cheese.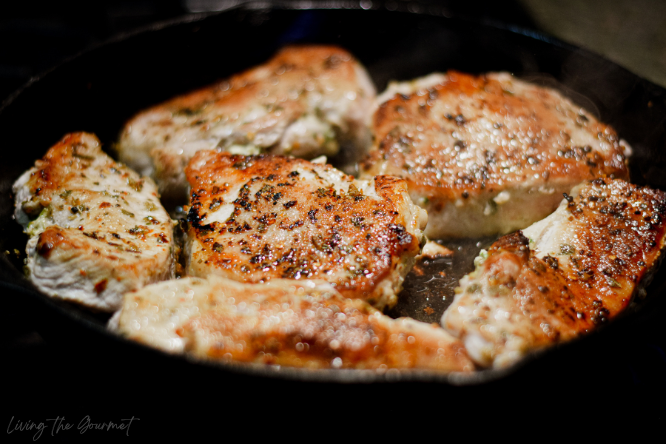 Ingredient Checklist – The Stuffing
Garlic. Roasting garlic is a great way to bring out its sweetness and nutty flavor. When roasted, the garlic cloves become creamy and spreadable. This allows them to blend seamlessly with the other flavors of the stuffing. Roasting also helps to mellow out the garlic, making it less overpowering. The roasted garlic also adds a subtle sweetness that pairs nicely with the savory flavors of the pork chops.
Italian Parsley. Be sure to chop this up finely and to destem them as thoroughly as you can.
Scallions. For 'oniony flavor' without 'oniony bite.' Sweet onions, I feel, would bring too much sweetness. Thus, I recommend scallions.
Panko Breadcrumbs. These are Japanese-style breadcrumb made from white bread that is processed into airy, crunchy flakes. In this recipe, the panko breadcrumbs provide a light and crunchy texture to the otherwise creamy stuffing.
Parmesan Cheese. I recommend freshly grated, as always. Freshly grated Parmesan cheese provides a richer flavor than its pre-grated counterpart. It also tends to melt better. The key words here are 'air' and 'moisture.' Pre-grated cheese is exposed to much more air, while the process of grating causes the cheese to bleed away moisture. This results in a dryer, less flavorful cheese.
Olive Oil. You don't need to go overboard here using an ultra-high quality olive oil if you don't want to, as we're going to be frying these at a fairly high temperature.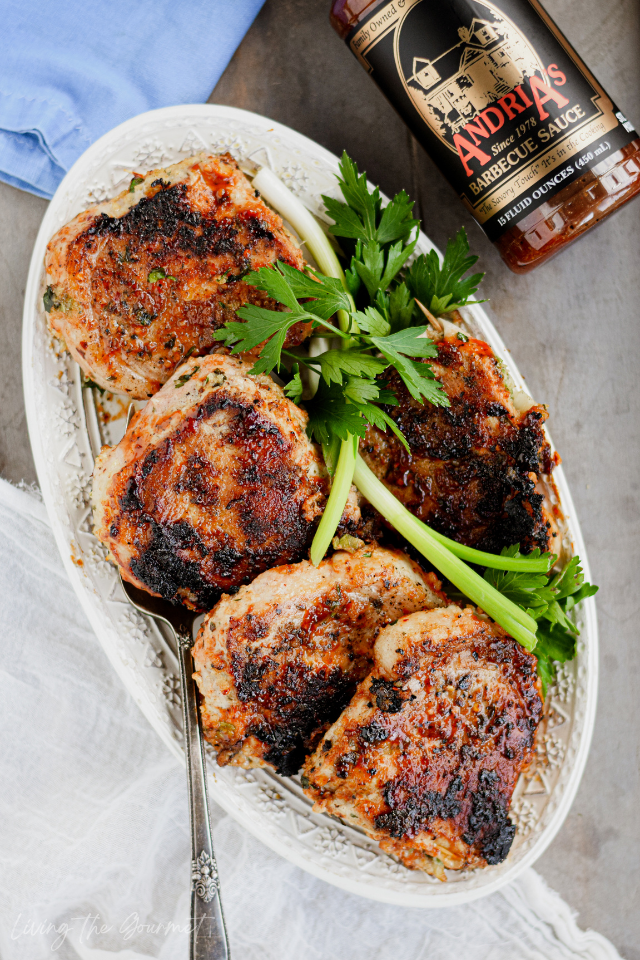 Tips on Stuffing Pork Chops
Prep the Stuffing First. Start by preparing the stuffing. We don't want to leave the pork chops sliced open while we mix the stuffing. This will result in the chops bleeding away their juices.
Mallet. If necessary, use a mallet to tenderize the chops. This will help when making the cut. I personally skip this step, as I don't want to lose any juices.
Make the Cut. Using your sharpest knife, make a clean incision down the middle of the chop. Make sure 'not' to cut all the way through.
Stuff Them. Stuff the chops fully and tightly.
But Do not Overstuff. Be sure not to overstuff the chops, as this will make a mess during cooking.
Secure them Closed. I suggest using a toothpick or two to secure the chops shut. Butchers twine also works nicely. And you're done.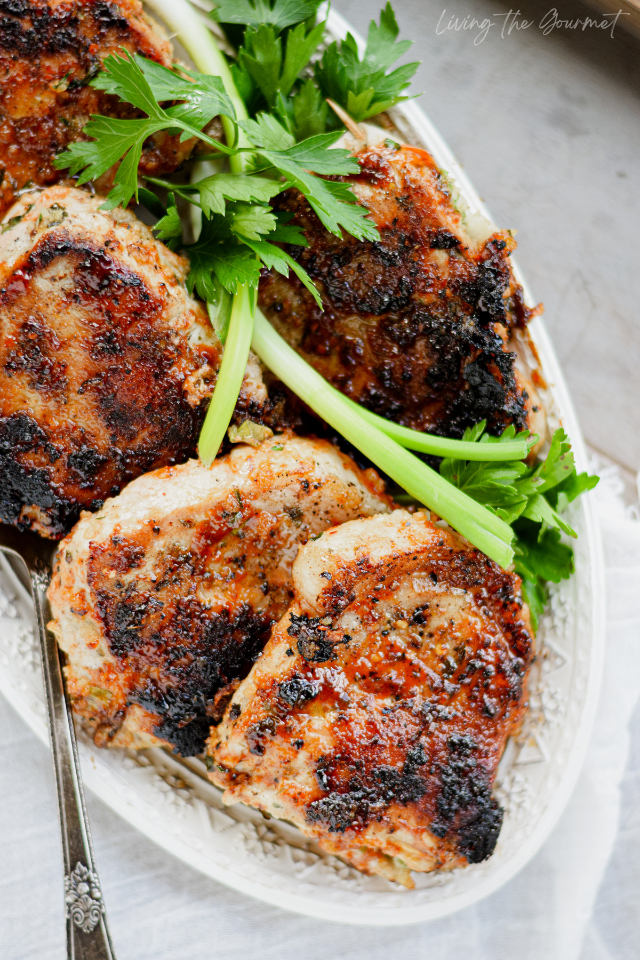 Pairings and Sides
Red or White Wine. To complement the savory flavors of the pork chops, try serving them with a full-bodied red wine such as Cabernet Sauvignon or Pinot Noir. If you're looking for a lighter option, a white wine such as Sauvignon Blanc or Chardonnay will also pair nicely.
Roasted Potatoes. Crispy on the outside, but tender on the inside, and dusted in a mix of parmesan and herbs, these are one of my favorite side dishes ever. While they pair deliciously with these stuffed pork chops, they make a deliciousness accompaniment for everything from steak to eggs, or even burgers or paninis. Try them, you'll be hooked. I promise.
Roasted Vegetables. A safe and versatile pairing for these pork chops, and probably the one I'd recommend the most, is a side of roasted vegetables. Think pan seared broccoli, grilled Brussels sprouts, mixed sauteed greens such arugula and baby spinach, or blistered tomatoes tossed with herbs, or roasted carrots.
Herbed Butter. Whether you're layering it on biscuits, or brushing it over steak, garlic butter is one recipe that you absolutely must have in your repertoire, if only because very few recipes pack this much deliciousness in such a simple, easy to achieve package. Yes, simply spread it over the fully cooked pork chop, and that's paradise on a plate.
Print
BBQ Glazed Stuffed Pork Chops
---
Author:

Total Time:

35 minutes

Yield:

5

servings

1

x
6

boneless loin pork chops (about

1

inch in thickness with a slit made for a pocket)
Toothpicks, to seal the chops
Cooking oil, for frying
For the Rub:
1/4 tsp

. fresh grated nutmeg

1/2 tsp

. black pepper

1/2 tsp

. salt

1/2 tsp

. sugar

1/2 tsp

. red pepper flakes

1/2 tsp

. garlic powder

1/2 tsp

. dried oregano
For the Stuffing:
4

-

5

roasted garlic cloves

1/2

cup

fresh Italian parsley - chopped

2

-

3

scallions - chopped

1/2

cup

Panko breadcrumbs

1/2

cup

grated Parmesan cheese

3

tbs. olive oil
---
Instructions
For the Rub:
Combine all the seasonings in a small bowl and mix.
For the Stuffing & Chops:
Using a sharp knife, carefully make a slit in the pork chops to form a pocket.  Do Not cut all the way through, just enough to form a pocket.
Mix together the chopped parsley, scallions, roasted garlic, Parmesan cheese and olive oil.
Using a small spoon, fill the pocket made in the pork chop.
Secure the pocket with a toothpick.
Gently, massage the rub mixture on to each side of the stuffed pork chops.
Heat a large cast iron frying pan with a tablespoon of cooking oil.
Place the pork chops in the heated pan and cook for about 3-4 minutes per side.
After one side is cooked, brush with the Andria's Barbecue Sauce and cook 3 - 4 minutes on the other side, then brush with the Andria's Barbecue Sauce. Give each side with the brushed Andria's Barbecue Sauce about another minute to get a nice char.
The pork chop should register 145 degrees F. for doneness and the juices should run clear.
Prep Time:

15 minutes

Cook Time:

20 minutes

Category:

Main Dish
Keywords: pork chops, bbq, barbecue sauce, pork, main dish
Recipe Card powered by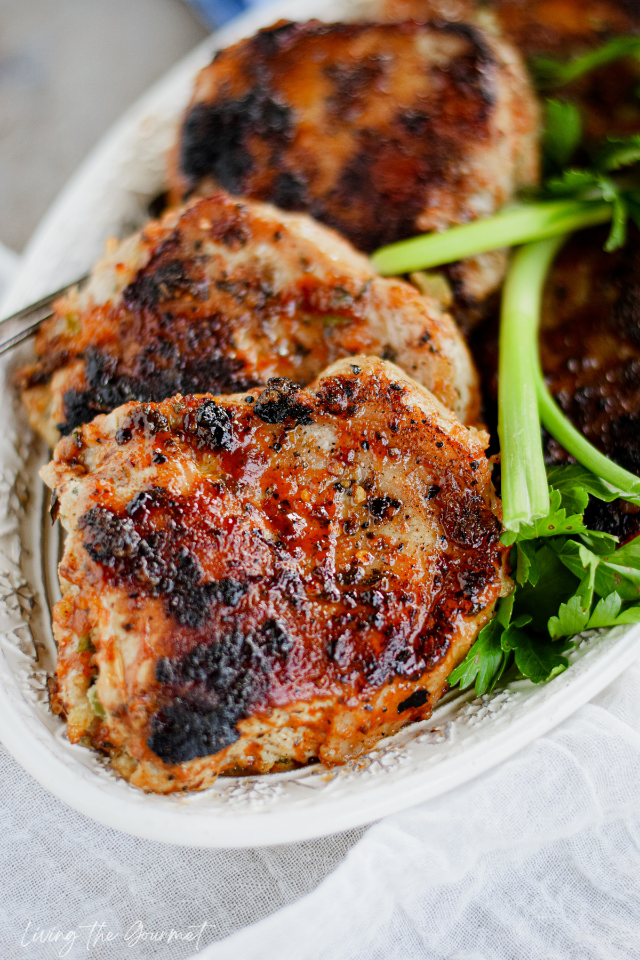 And those are our Stuffed Pork Chops. If you enjoyed this recipe, or have any suggestions for this or future content let us know in the comments below, we love hearing from you.
Also, be sure to check out Andria's Steakhouse, and try their delicious Barbecue Sauce, Steak Sauce, and Salad Dressing. You'll love all of them, I promise. Happy Cooking!
1