This post has been sponsored by Andria's Food Group. All opinions expressed are my own.
If you're looking for something special to make for your next Spring get-together, look no further than a tray of juicy spare ribs. Marinated in a delicious garlic, parsley, black pepper, and olive oil mix, these ribs will make a perfect centerpiece for your next gathering.
As a nice bonus, they're incredibly easy to make. All you have to do is marinate the ribs, then bake them low and slow in the oven. Halfway through baking, brush them with Andria's BBQ Sauce for added decadence. Andria's BBQ Sauce is the perfect accompaniment for these ribs, being thick and full-bodied, with a mild sweetness and a smoky kick.
Being fall off the bone tender, lusciously juicy, and packed with flavor, I promise these will become an instant hit. Serve these up with some onion rings, coleslaw, or a fresh green salad, and you'll have a meal that will satisfy every palate this spring.
Read on for an ingredient checklist to make sure you've got everything you need, tips for selecting the best spare ribs possible, a short-list of pairing suggestions, and prep tips. Now, without further delay, let's get to it.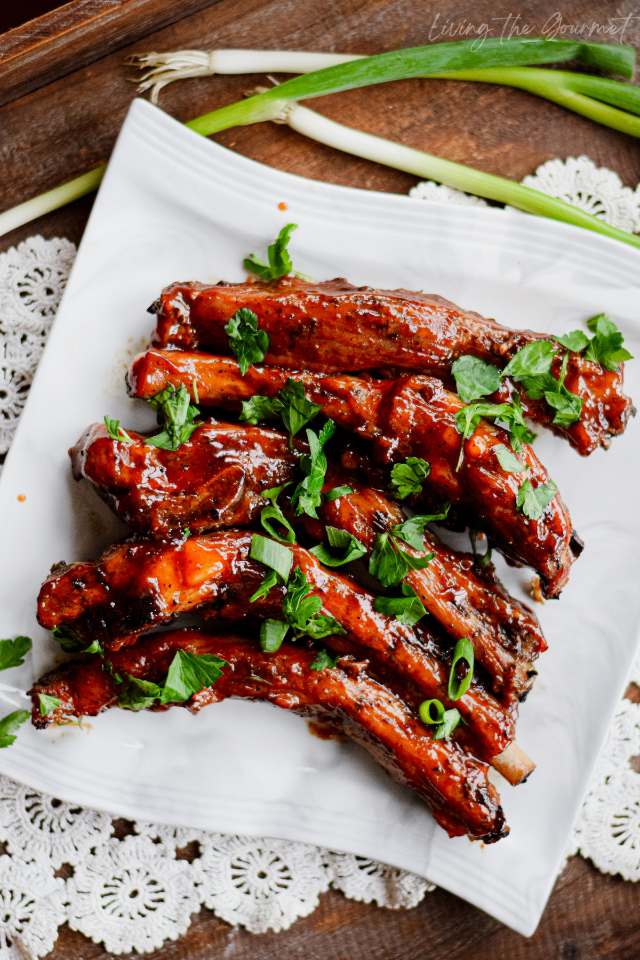 Ingredient Checklist
Spare Ribs. While I'm using spare ribs, today's recipe would likely work with any of your grilling favorites, such as steaks, country ribs, or even poultry.
Garlic. And a lot of it. While I'm crushing mine in a mortar and pestle, feel free to crush yours on a chopping board with the flat of your knife, and then chop it up. Be sure its chopped finely, as we want it to spread evenly over the ribs. Also, be sure that you crush, because we want the garlic juice to seep into the meat.
Black Pepper. For today's recipe, I really do recommend using freshly ground. For best results, grind it in a mortar and pestle.
Parsley. We're using Italian flat-leaf parsley. If you prefer, feel free to substitute in fresh basil or cilantro – or a mix of the two.
Olive Oil. Your olive oil of choice is all we're looking for here.
Andria's BBQ Sauce. The star of the show. Andria's BBQ Sauce is an excellent choice for any grilling occasion. This delicious sauce is perfectly balanced between sweet and smoky, making it a delicious accompaniment to all of your grilling favorites, from steaks to roasts, to burgers, sausages, and poultry – even hardy fish such as shark or salmon. Whether it's served alongside grilled meats, used as a condiment, or even enjoyed as a dip, Andria's BBQ Sauce will be sure to please. Its bold flavors and smooth texture make it a great choice for any occasion!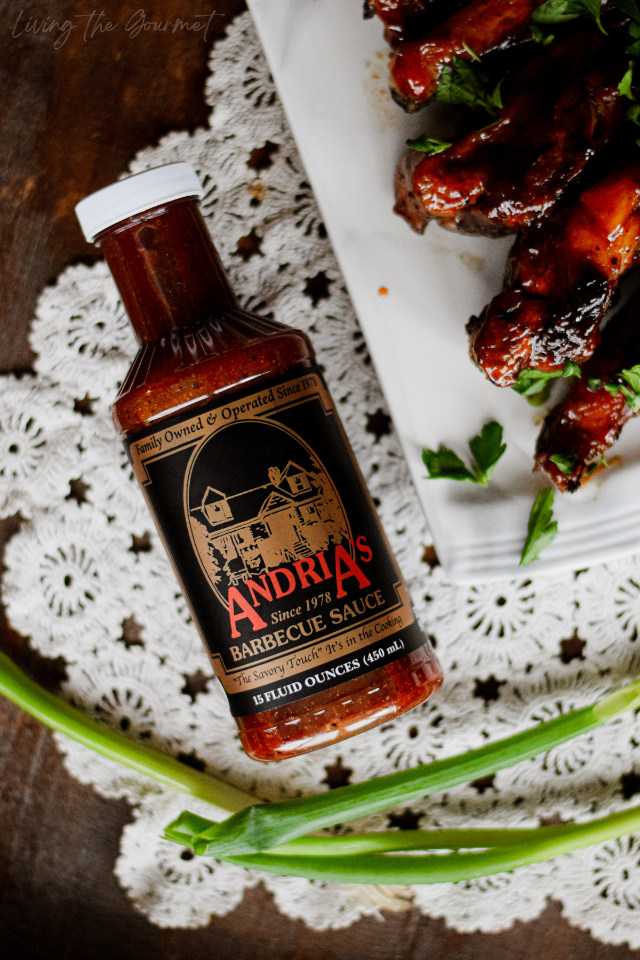 Three Tips for Selecting the Best Spare Ribs
Meat to Fat Ratio. Look for ribs with a good ratio of meat to fat, which as about two-to-one meat-to-fat. You want the ribs to be juicy and tender, so you want to make sure there is enough fat to keep the meat moist during cooking.
Even Marbling. Look for ribs with even marbling of fat throughout the meat. Even marbling refers to the distribution of fat throughout the meat. Even marbling means that the fat is evenly spread throughout the meat, giving the spare ribs a balanced texture and making them tender and juicy.
Color. Look for ribs with a bright pink color. This is a sign of freshness and will ensure that the ribs are tender and juicy.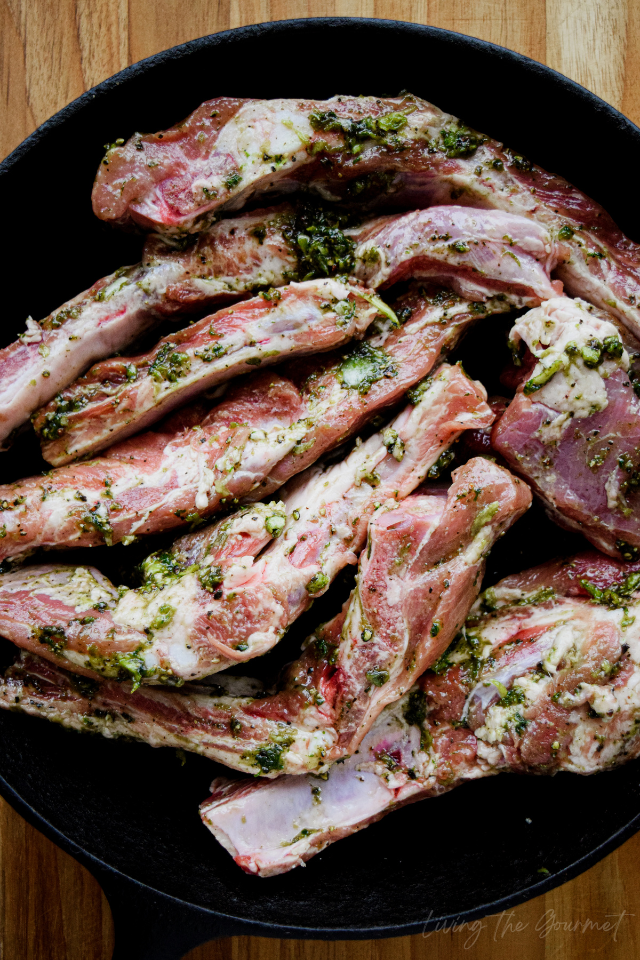 Tips for Making the Best Spare Ribs Possible
Marinate Them. Marinate the spare ribs in a mixture of herbs and spices. The reason we do this is marinating the ribs helps to tenderize the meat, while adding in flavor. Marinating also helps the spare ribs retain moisture, preventing them from drying out during cooking.
Low & Slow. Cook them low and slow. Cooking spare ribs low and slow helps to ensure that they are cooked evenly and that they retain their moisture and flavor. Low and slow cooking also helps to break down the connective tissue in the meat, making the spare ribs more tender and flavorful.
Brush Them. When the question "Wet Rub or Dry rub" is raised, my answer is always "both." Today, the marinade is taking the place of the dry rub, but I do firmly believe that seasoning ribs 'prior' to cooking/grilling, is crucial. What is also crucial is brushing them with a wet rub either midway through cooking, or during the final few minutes of cooking.
Let them rest. Rest the spare ribs for at least 10 minutes before serving. This will allow the juices to seal into the meat. If you cut or bite into them too soon, the juices will drain out of the meat.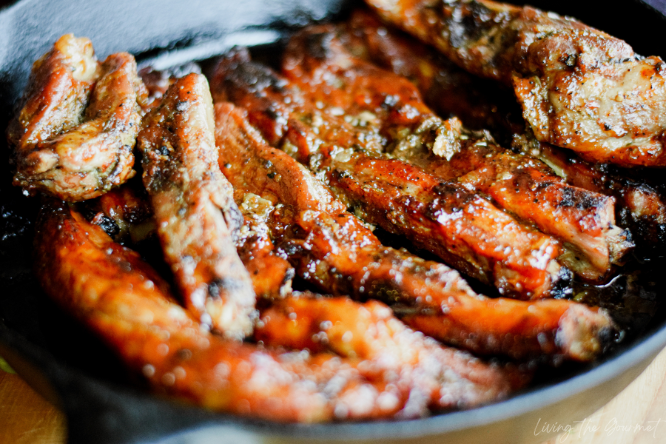 Tips for Marinating the Ribs
The Longer the Better. Marinate the ribs for at least two hours, but preferably overnight. This will help to infuse the flavor into the meat and make them extra tender.
Even Coverage. When marinating, you want to ensure that the ribs are evenly covered. To achieve this, use a shallow dish or baking pan to marinate the ribs.
Cover Them. Cover the ribs with plastic wrap or aluminum foil while marinating. This will help to keep the ribs from drying out by preventing the introduction of air into the ribs.
Turn Them. When marinating, flip the ribs occasionally to ensure even marinade coverage.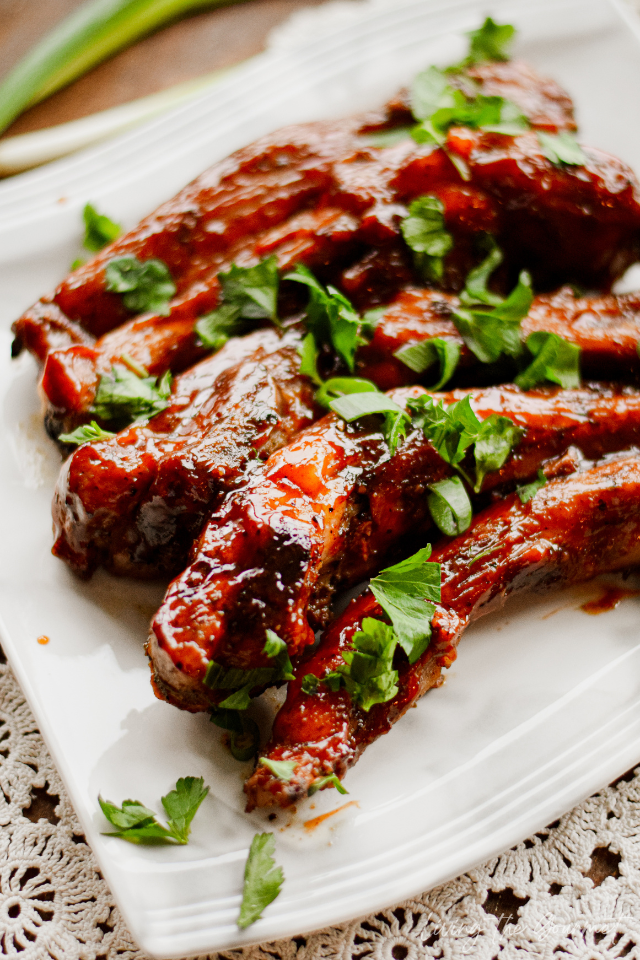 Creative Ways to Use Leftover Spare Ribs
Make a Spare Rib Sandwich: Toast a bun and pile on some shredded meat from the ribs, along with coleslaw and a dash of Andria's BBQ sauce. Add on your favorite cheese, and your good to go.
Add them to a Salad: Chop up the ribs and add them to a salad for a delicious and filling meal.
Make Rib Tacos: Use the ribs as the main filling for tacos, and top with your favorite toppings.
Spare Rib Soup: This is actually how I used up my ribs. I prepared a sweet potato and onion soup, with a vegetable-based broth, add in some greens, and put that over rice. It makes for a hearty soup, that you can easily customize to suite your taste.
Spare Rib Fried Rice: Mix the ribs together with some cooked rice and vegetables for a quick and easy way to use up the ribs. Add in some gochujang, soy sauce, Korean Red Pepper, and an egg, and you've got a delicious fried rice.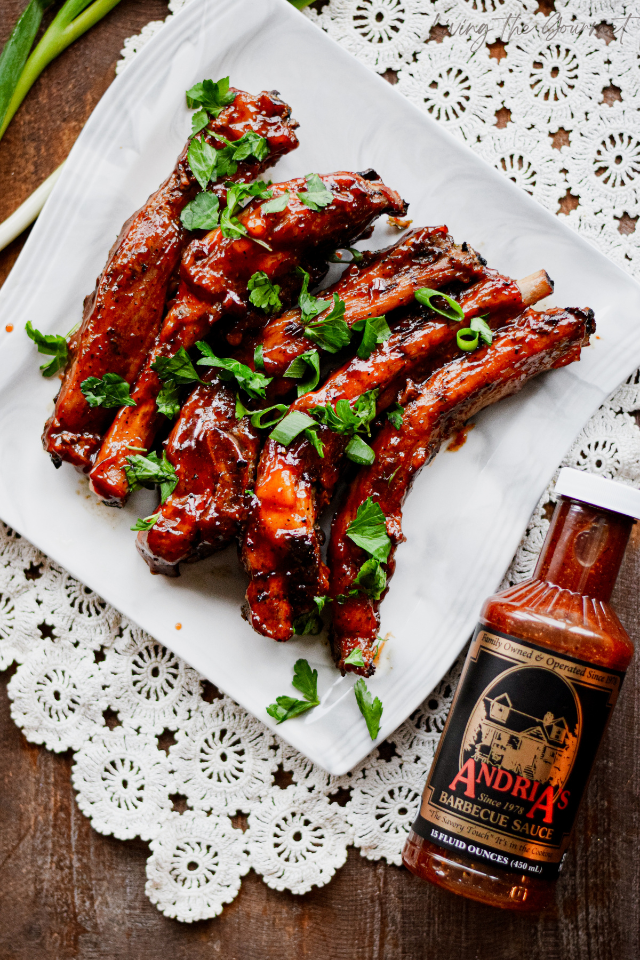 What to Pair with these Ribs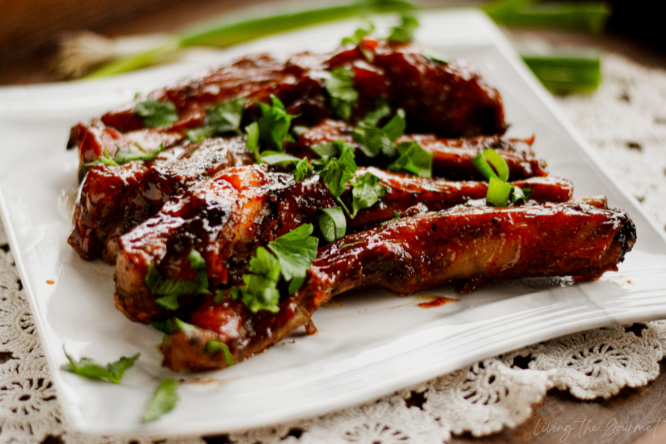 Print
Herby Oven Baked Ribs
---
Author:

Total Time:

2 hours 35 minutes

Yield:

4

servings

1

x
5

lbs

. pork spare ribs - bone in

3 tsp

. whole peppercorns

1

head of garlic

3 tsp

. sugar

1 1/2 tsp

. salt

3

-

4

tbs. of fresh parsley

2

tbs. olive oil

1

cup

Andria's Barbecue Sauce
---
Instructions
Place the parsley in a mortar and pestle and mash until fine. Remove and place in a small bowl. Set aside.
Crush the garlic cloves in the mortar and pestle then add to parsley.
Next, crush the peppercorns with the mortar and pestle. Add to the parsley garlic mixture and add olive oil, sugar, and salt.  Mix until everything is combined.
Rub the paste on the ribs and refrigerate for at least one hour or up to overnight.
Preheat oven 300 degrees F.
Place the ribs in a cast iron pan and cover with tin foil.
Bake for 90 minutes.
Drain excess liquid from pan and brush with Andria's BBQ Sauce.
Raise the oven temperature to 350 degrees F:
Cover again with tin foil and place back in the oven for 35-40 minutes.
Remove from oven and brush once more with Andria's BBQ Sauce, then place back in oven for 10-12 minutes; uncovered.
Remove the ribs and let rest for 10-15 minutes.
If you like, brush with BBQ sauce and garnish with spring onions and parsley before serving. Enjoy!
Prep Time:

15 minutes

Cook Time:

2 hours 20 minutes

Category:

Main Dish

Method:

Bake
Keywords: spare ribs, bbq sauce, herb ribs, pork
Recipe Card powered by
And those are my spare ribs, brought to you by Andria's Steak House. Be sure to grab a bottle of their new BBQ Sauce, I promise you won't disappointed!
If you enjoyed today's spare ribs, be sure to like, follow, and share. It helps more than you can know. If you have any questions or suggestions, be sure to let us know in the comments below, we love hearing from you. Happy Cooking!
0