If you're looking for a delicious and easy-to-make dressing or dipping sauce, look no further than this Cilantro Lime Dressing. This flavorful, zesty sauce is perfect for adding a little extra flavor to salads, tacos, and burritos. It's also a great dipping sauce for chips, veggies, or your next charcuterie board. Best of all, it can be prepared in just minutes with a handful of basic ingredients that you likely already have in your pantry.
The star of this sauce is the combination of fresh cilantro and zesty lime juice. These two ingredients provide a deliciously tangy flavor that will liven up any dish. To give the sauce a little extra kick, you can also add in a pinch of red pepper flakes or stir in a teaspoon of your favorite hot sauce. But more on customizing the sauce below.
Whether you're looking for a dressing for your salads, a dipping sauce for chips, or a flavorful addition to tacos and burritos, this sauce is sure to hit the spot. Below, I'll be providing you with an ingredient checklist, tips on customizing the sauce to please any palate, and some creative uses for today's recipe.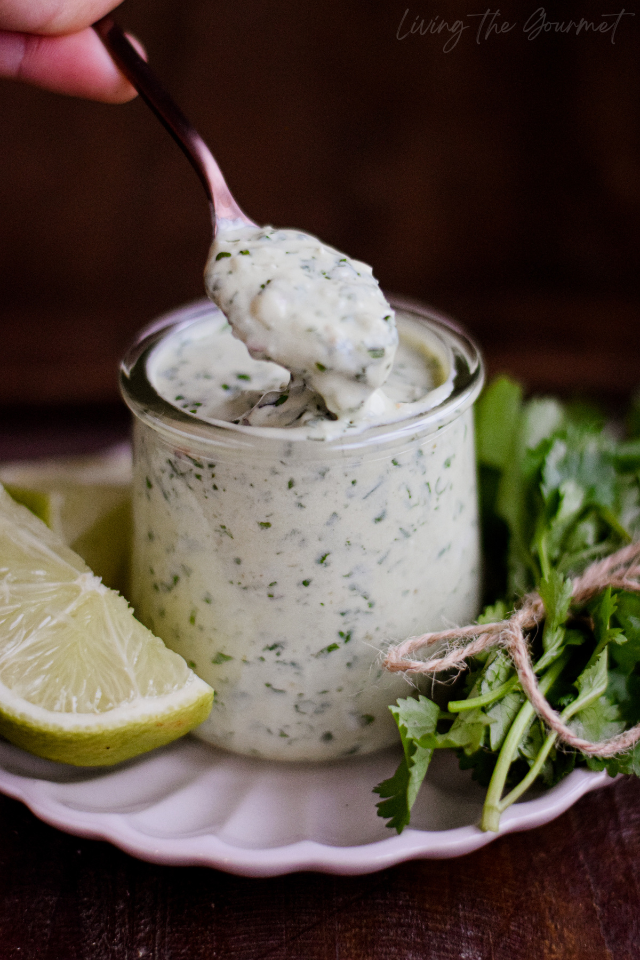 Ingredient Checklist
Cilantro. Be sure to de-stem the cilantro thoroughly, and then chop it up as finely as you can manage.
Garlic. Crush and then chop the garlic up as fine as you can manage.
Greek Yogurt. Plain, whole fat Greek yogurt is what you're looking for. We want whole fat for the added creaminess, and plain to ensure that the yogurt doesn't overpower the other ingredients.
Black Pepper. I suggest using freshly ground. For best results, use a mortar and pestle to really enhance the aromatics of the pepper. Yes, you will notice the difference.
Olive Oil. For this recipe, use a decent quality extra virgin olive oil, preferably one whose taste you enjoy on its own.
Salt. Here's where you'll want to use your favorite fancy sea salt. That said, plain table salt will get the job done just fine.
Honey. If you've got a favorite gourmet honey, now's the time to use it.
Lime Juice. Freshly squeezed. It's got to be fresh, since we're eating the lime juice 'raw.' Fresh lime juice is simply 'brighter' and 'crisper' tasting, and that really shines through in sauce.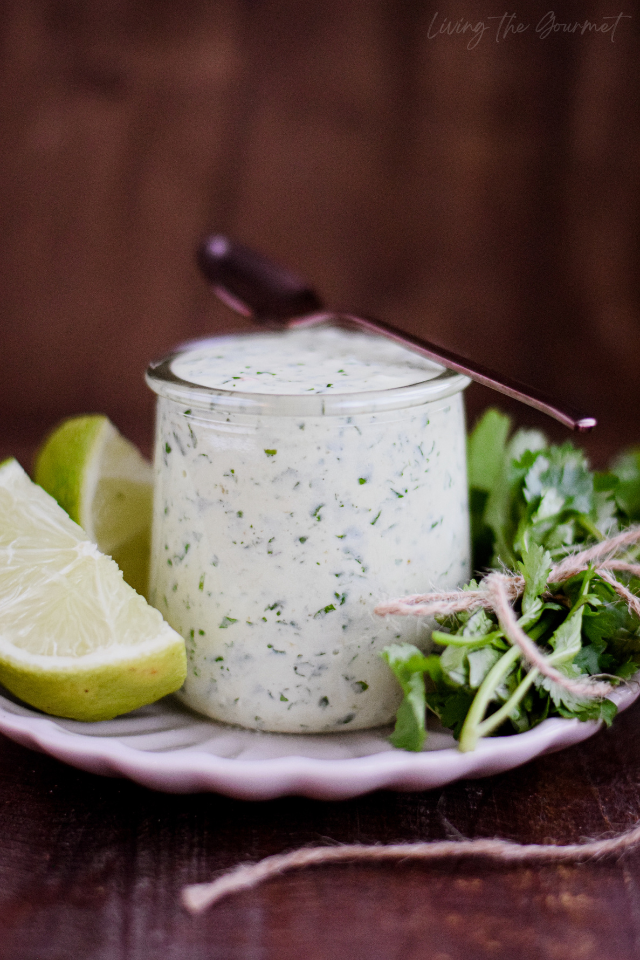 Uses for Cilantro Lime Dipping Sauce
As a Marinade. For meat, fish, or even veggies that you plan on roasting, today's sauce works great as a marinade. To use today's dip as a marinade, simply combine it with your meat of choice either in a sealable contained or a zip lock back, ensure the meat is thoroughly coated, and then pop it in the fridge for a couple of hours, or even overnight.
As a dip. Today's recipe is most at home as a dip, used either for vegetables, pita chips, or things like olives and charcuterie.
On Tacos and Burritos. This sauce would pair especially well with vegetarian tacos or burritos, or with fish tacos. Roasted chicken tacos, with plenty of lettuce and melted cheese, would also be a delicious pairing.
As a Salad Dressing. Whether on something like a crisp cucumber salad, or a Greek salad with peppers, feta, and olives, today's dressing would be a delicious and refreshing addition.
On Gyros. This would be great used in place of tzatziki on things like gyros or pita-pocket sandwiches.
Veggie Wraps. Looking to liven up your next veggie wrap? Today's sauce is the way to go. Think sliced cucumbers, lettuce, tomatoes, tofu, and red onion, drizzled with this, and then wrapped in a warmed tortilla.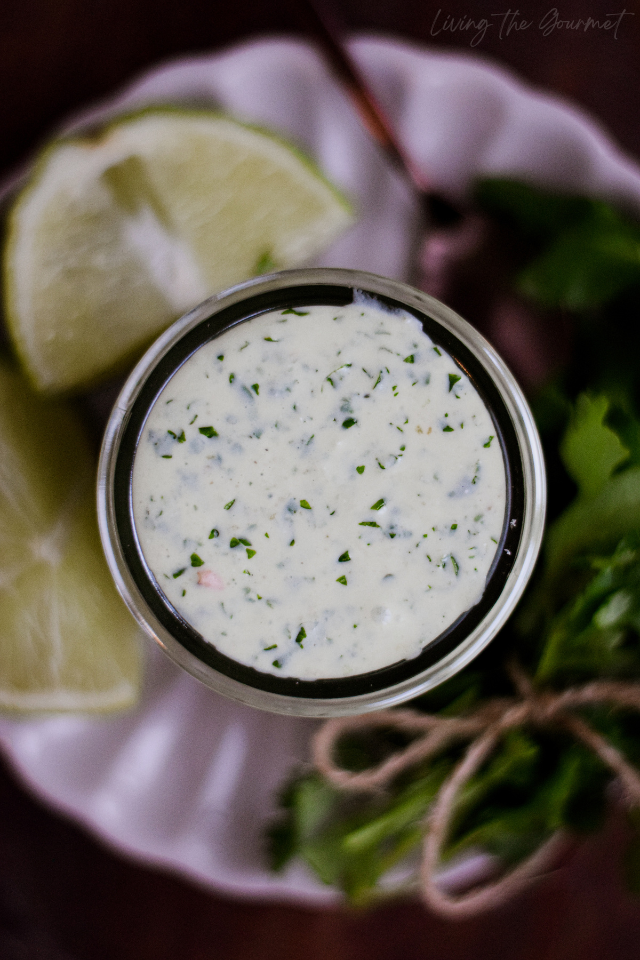 Ideas for Customizing the Sauce
For a Spicier Sauce. This one couldn't be easier. Your choice of a dash of cayenne, red pepper flakes, or your favorite chili flakes would bring a pleasant, though not overpowering, kick. Best of all, this keeps the sauce's 'fresh' flavor profile alive and well.
For a Smokier Sauce. A dash of paprika and/or chili powder would work wonders if you prefer a slightly 'smokier' or 'earthier' flavored sauce. This would also contrast nicely with the sauce's naturally 'fresh' and 'crisp' flavor profile.
If you don't like Cilantro. I admit that cilantro is a love it or hate it herb, but fear not, as today's dressing works fine with basil used in place of the cilantro. Be aware, however, that this will – of course – change the flavor profile from an 'herbal' slant, to one that's more 'licorice' or 'anise' slanted.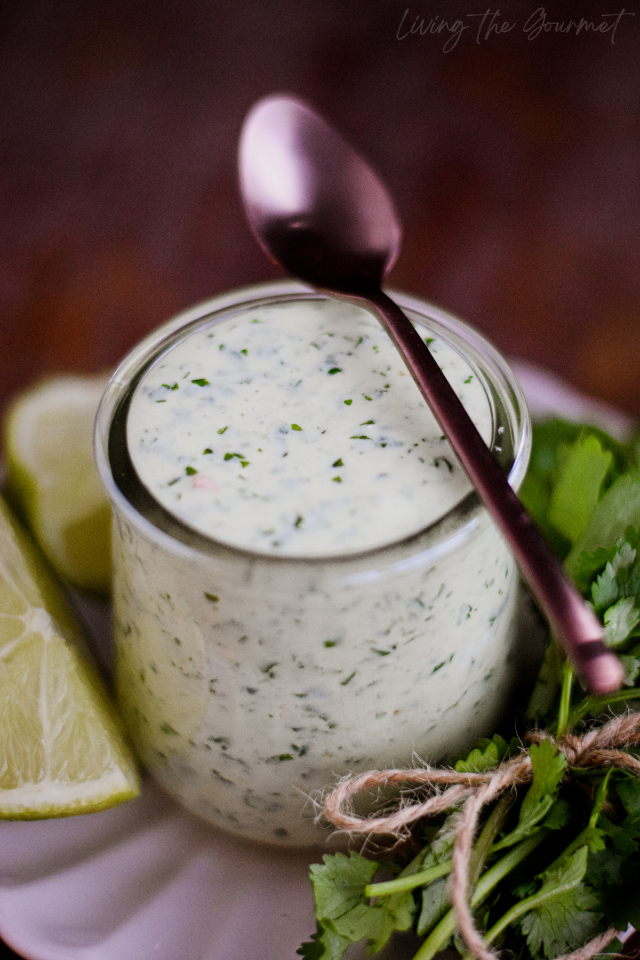 More Great Sauces and Dressings to Try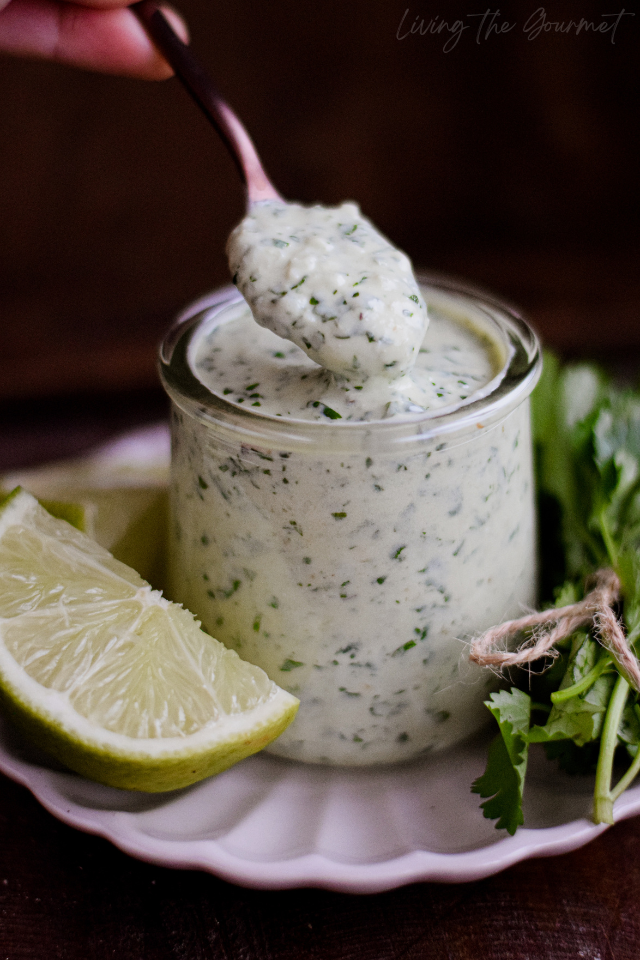 Print
Cilantro Lime Dressing
Author:
Prep Time:

10 minutes

Total Time:

10 minutes

Category:

Dressing
1

bunch of fresh cilantro, rinsed, pat dry and hard stems removed

6

–

8

garlic cloves, grilled

1

small jalapeno, grilled

1

cup

plain Greek style yogurt

1/2 tsp

. coarse black pepper

1/4

cup

of olive oil

3/4 tsp

. salt

2

–

3

tbs. honey
Juice of

1/2

large fresh lime
Instructions
Grill the jalapeno and garlic in a small cast iron frying pan until it turns slightly charred.
In a food processor combine the cilantro, grilled garlic, grilled jalapeno, salt, black pepper, yogurt, olive oil, honey and lime juice.
Give a few good chops until everything is well combined.
Remove from the food processor and refrigerate until ready to use.
Keywords: dressing, dip, sauce
Recipe Card powered by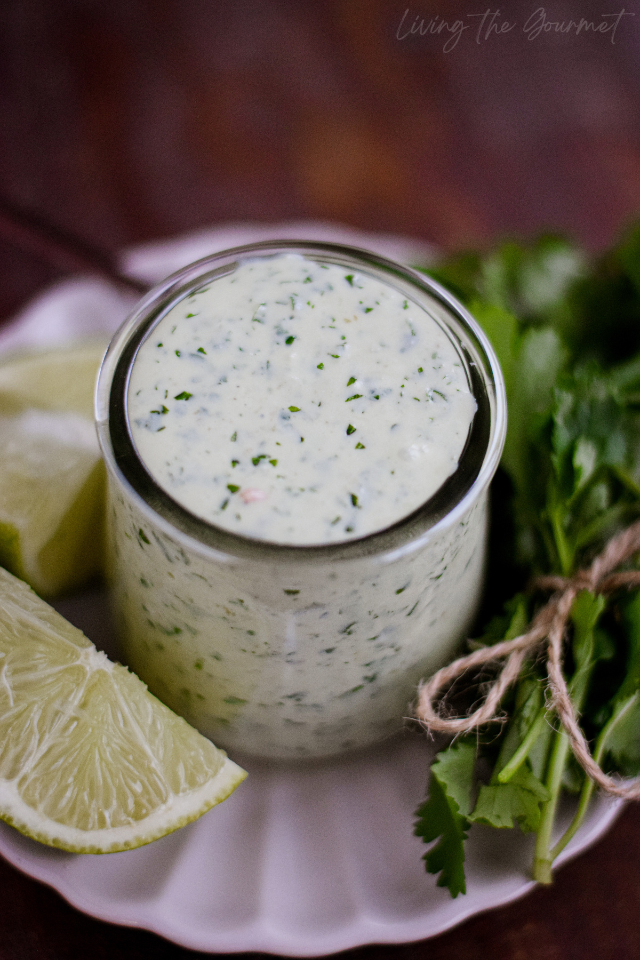 And that's my Cilantro Lemon Dressing. If you enjoyed today's recipe, please be sure to like, subscribe, and share, it helps more than you can imagine.
If you tried today's recipe, or if you have any suggestions for this or future content, or have any questions, let us know in the comments below. We love hearing from you! Happy cooking!
0