If you're looking for a simple yet delicious wintertime dessert, our Golden Nut Bundt, topped with caramelized pecans, is sure to be a hit. The combination of the buttery Bundt cake and the crunchy, sweet topping of caramelized pecans will have your taste buds swooning. This is the perfect dessert for a holiday party, a cozy night in, or even a special weeknight treat.
Pairing this Bundt Cake with a cup of coffee or homemade hot chocolate is an excellent choice. The caramelized pecans and the hint of sweetness in the cake will complement the flavors of your favorite warm beverage. If you're feeling adventurous, try serving it with a scoop of homemade ice cream or a dollop of whipped cream. The contrast of the cold and creamy topping with the warm and gooey cake will make for a decadent treat.
If you're ready to start baking, read on for the full recipe. With just a few simple ingredients and a short baking time, you'll be enjoying this delicious wintertime treat in no time.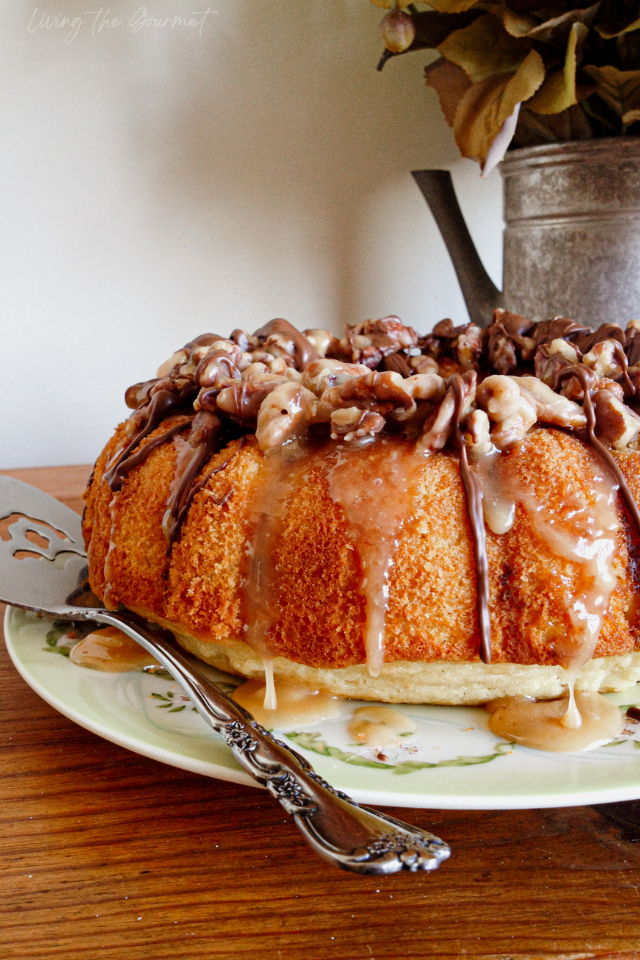 Ingredient Checklist – The Bundt
All Purpose Flour: I recommend all-purpose flour, as strikes the proper balance between firm and airy. Baking flour will result in cake that's simply much too light, and that likely won't hold its shape.
Baking Powder: Baking powder helps the cake to rise, creating a light and fluffy texture. The recipe simply doesn't work without it.
Salt: Plain table salt is all you need.
Sugar: Plain granulated sugar is what you're looking for.
Butter: I recommend unsalted butter for the purposes of today's bundt.
Vanilla: I'm using vanilla extract, but paste and pods also work fine. They substitute at a one-to-one ratio by volume.
Eggs: Whites and yolks. Eggs help the cake to rise and give it structure.
Whole Milk: You want full-fat, whole milk to add a creamy texture to the cake and helps it to stay moist.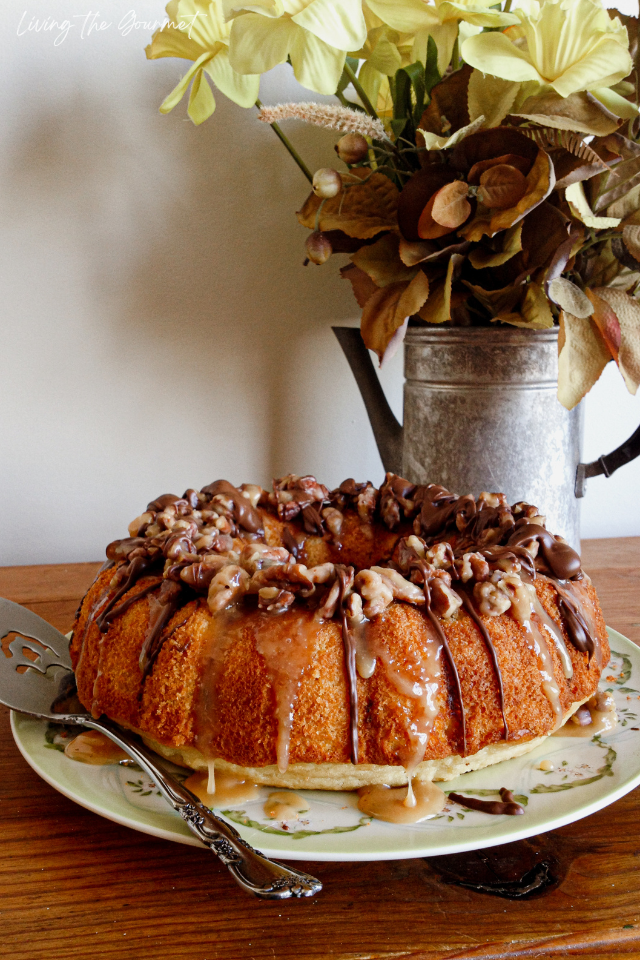 Ingredient Checklist – The Pecan Topping
Pecans: These have a buttery flavor and crunchy texture, and when toasted, an even more intense nutty flavor. Pecans are a versatile nut and can be used in a variety of baked goods, including cookies, cakes, bars, pies, and more – so they're definitely worth learning how to use. As a substitute for pecans, other tree nuts like walnuts, almonds, and hazelnuts can be used. However, keep in mind that the flavor and texture will be slightly different.
Sugar: Once again, plain granulated sugar is all you're looking for.
Butter: Unsalted butter is a must.
Heavy Cream: To bring the sauce together, and give it proper 'richness,' heavy cream is a must.
Sea Salt: I recommend sea salt for a slight bit of 'brine' that contrasts beautifully with this decadently sweet sauce. It also plays beautifully with the nuttiness of the pecans.
Chocolate: I'm using melting candies. Your preferred melting chocolate is really all you need here. Everything from chocolate chips to milk chocolate bars works.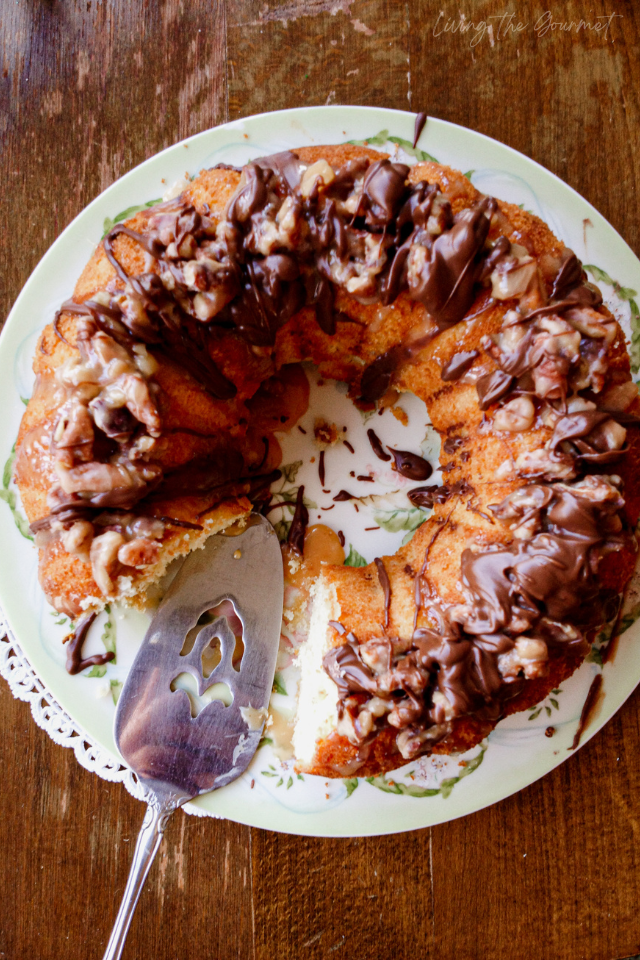 8 Beginner-Friendly Tips to Up Your Baking Game
Familiarize yourself with the Recipe. Even pro chefs and bakers do this. Read the recipe through several times before beginning to bake. This will help you familiarize yourself with the recipe and know what ingredients and tools you will need.
Preheating. Do 'not' place your cake in the oven until it has been preheated. As such, you want to preheat the oven and prepare your baking pans. Grease and flour the pans and line the bottom with parchment paper if desired.
Measure Accurately. Precise measurements are a must in baking. Measure all of your ingredients as accurately as possible. Remember to use bone-dry measuring cups for dry ingredients, and a liquid measuring cup for wet ingredients.
Creaming the Sugar and Butter. In recipes that call for sugar and butter, cream the butter and sugar together until light and fluffy. This will help create a light and airy texture in the cake.
Resist Opening the Oven. Just stop opening the oven to check on your baked goods. Opening the oven introduces cool air into the oven, and the resulting 'temperature shock' can cause a rising cake to cease rising – or worse, to sink. Not fun. Just don't do it. And if you 'must' open the oven, wait until your cake has fully risen.
Don't Overmix. Mix as little as possible. Instead, mix the batter just until combined and no longer. Overmixing can lead to a tough cake.
Temps and Time. Bake the cake at the proper temperature and for the prescribed time. Check the cake for doneness with a toothpick or cake tester.
Let it Cool. Allow the cake to cool completely before frosting or slicing. This will help the cake hold its shape and make it easier to frost.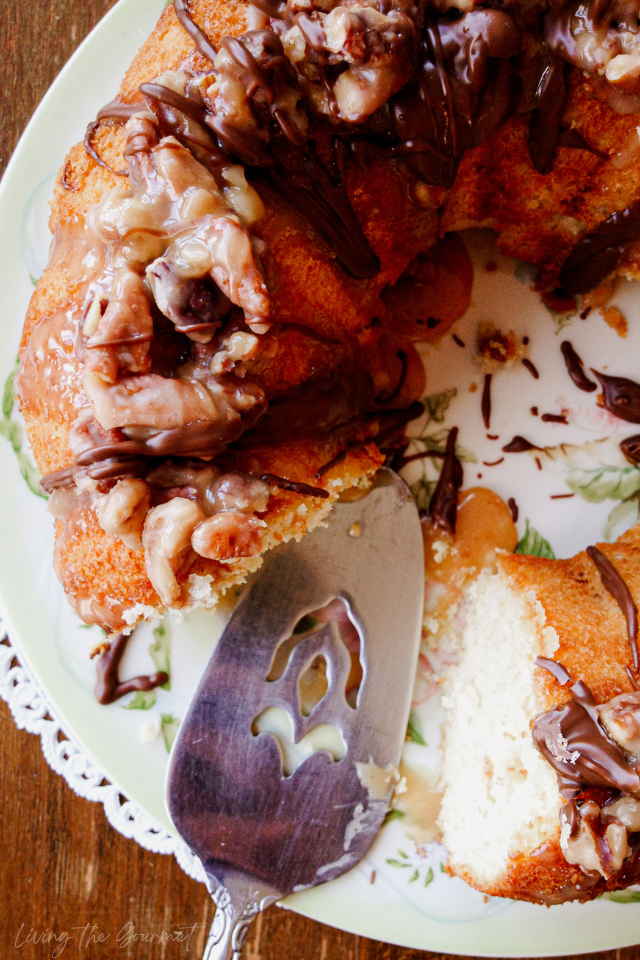 Print
Golden Nut Bundt (Juliettes Bundt)
Author:
Prep Time:

5 minutes

Cook Time:

35 minutes

Total Time:

40 minutes

Category:

Dessert
For Golden Vanilla Bundt:
2 1/2

cups

plain flour

3 teaspoons

baking powder

1/4 teaspoon

salt

1

cup

sugar

1/2

cup

butter

1 teaspoon

vanilla

3

eggs

1

cup

whole milk
Salted Caramel Pecan Topping:
1/2

cup

chopped pecans

3/4

cup

sugar

3 tablespoons

butter

1/4

cup

cream plus

2

tablespoons

Pinch of course sea salt

1/2

cup

milk chocolate melting candies
Instructions
Preheat oven to 350 degrees F. and grease your bundt pan.
In a large bowl, sift together flour, baking powder and salt. Set aside.
In the bowl of your stand mixer, beat sugar and butter together. Add vanilla, eggs and milk.
Slowly add in the dry ingredients and beat until a thick batter forms. Pour into prepared bundt pan.
Bake for approximately 30-35 minutes or until cake tester comes out clean. Move bundt to a cooling rack, letting it rest in its pan until ready to turn out onto a cake plate.
In a small saucepan, heat sugar until it starts to break down. Add butter and cream whisking until a thick caramel sauce forms. Toss in pecans, sprinkle with a pinch of course sea salt and spoon over bundt.
Melt the chocolate melting candies and drizzle over the cake. Serve and enjoy!
Recipe Card powered by
And that's our Golden Nut Bundt. We hope that you feel inspired to try this recipe at home, and share it with your friends and family.
We'd love to hear about your experiences and see your creations, tag on social media, or leave your feedback in the comments below. We love hearing from you!
Happy Baking!
As an Amazon Associate I earn a small commission from any purchases made through the affiliate links within this post. For more information on this please see our disclosure policy. Thank you!
0