Are you looking for a delicious-yet-traditional Christmas treat? Or perhaps a sweet centerpiece for your holiday dessert table? If so, look no further – because today we're showing you how to make a true Neapolitan classic right at home; Struffoli.
Struffoli are bite-sized deep-fried doughballs, glazed with a decadent honey syrup, topped with sprinkles and cherries. Their unique texture, a combination of crunchy and doughy, and unmistakable flavor, make these a true holiday crowd pleaser. With each bite, you'll be rewarded with a burst of sweetness to tantalize your taste buds, and a pleasant crunch that gives way to tender goodness. These delectable little morsels are simply irresistible.
When serving struffoli, consider pairing them with a specialty dessert coffee, such as Turkish Coffee, or with a scoop of Eggnog Ice Cream to truly complete the scene.
In today's post, we're going to show you how to make this delicious Christmas delight at home. We'll walk you through each step, from making the dough to frying, to glazing and topping the finished struffoli. I'll also be providing you with some tips and tricks for making sure these delights come out 'just right.' So, let's get started!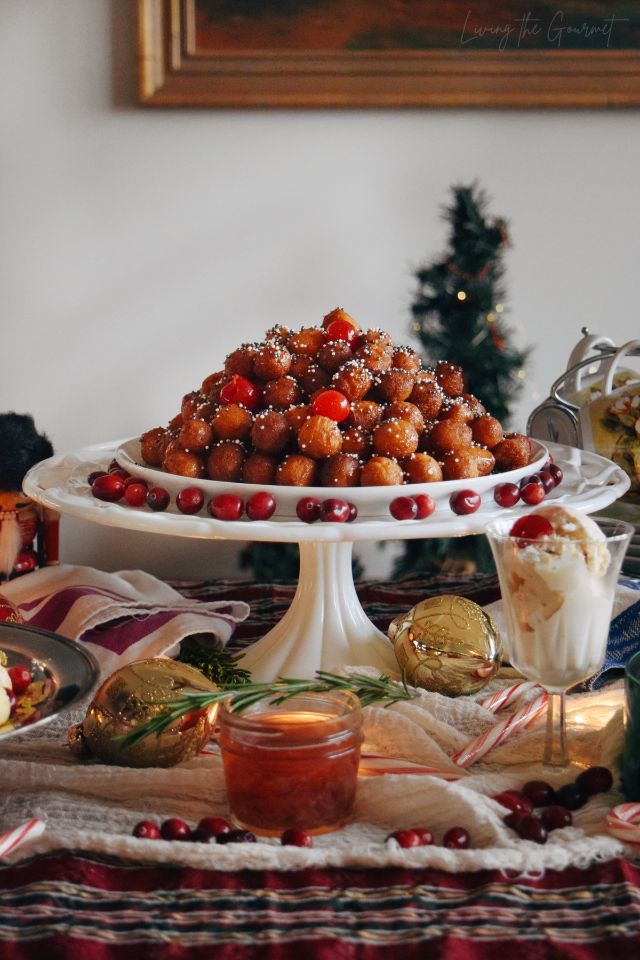 Ingredient Checklist
AP Flour. We're using all-purpose flour as it holds up better during frying.
Baking Powder. This is a two-phase leavening agent, and the recipe simply doesn't work without it.
Sugar. Plain granulated sugar is all you need.
Eggs. These are a binding agent, as they help to hold ingredients together. Additionally, eggs help to add structure, texture, and flavor to baked goods. Curiously, eggs play a secondary role as a leavening agent by providing 'lift' as the struffoli fry. The more you know.
Honey. Use a decent quality honey, preferably raw. The honey is pretty much the entire glaze, and so you want as much 'honey goodness' as possible.
Vanilla. While I'm using vanilla extract, feel free to use paste or beans. These substitute at a one-to-one ratio by volume.
Shortening. Butter is the best shortening for baking, as it adds flavor, moisture, and flakiness. However, if you prefer something like vegetable shortening, feel free to use that in place.
Vegetable Oil. We're using plain vegetable oil for the frying.
Sprinkles. Simply for garnish. Red and green for the season.
Cherries. Here again, simply for garnish. I'm using jarred maraschino cherries, but feel free to slice up fresh if you prefer.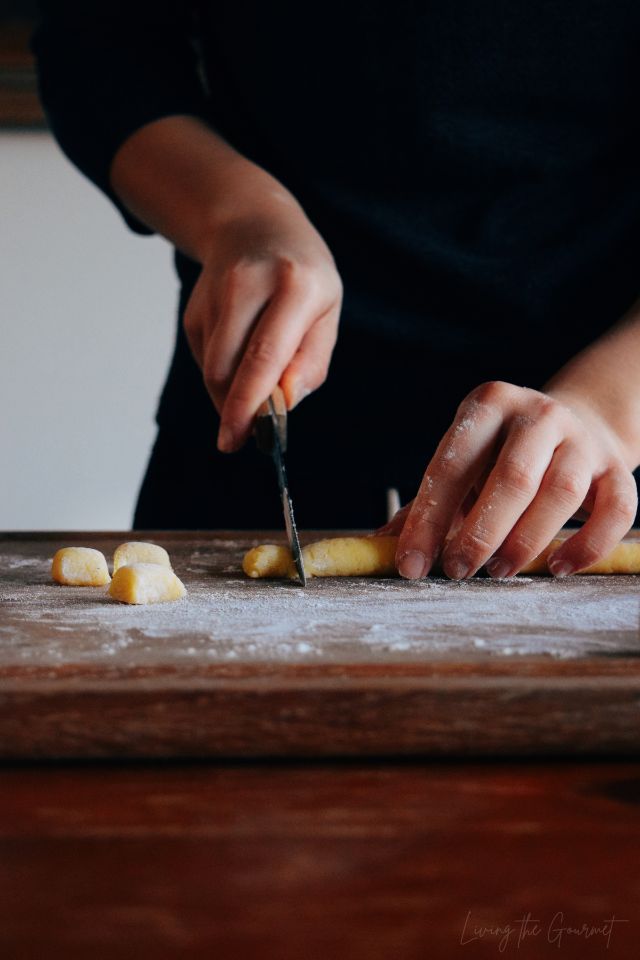 Nine Tips and Tricks for Making Struffoli
Don't Overmix. Use a light hand when mixing the dough. Overworking the dough will make the struffoli tough.
Flour as you Go. Use a light dusting of flour when rolling out the dough to keep it from sticking. However, if you use 'too much' flour for this purpose, you risk over-flouring the dough, resulting in dry, tough struffoli.
Temperature Matters. Be sure to bring your oil up to 350-degrees Fahrenheit. If the oil is cooler than that, the struffoli will take too long to fry, and become oil logged. they'll be too oil-logged. If the oil is hotter than that, the sturffoli will cook too quickly, burning.
Submersion. Make sure you use enough oil, and a deep enough pot, such that the struffoli are fully immersed during frying.
Equipment. Use tongs or a slotted spoon to remove the struffoli from the hot oil. This might sound obvious, but using a solid spoon results in lifting out some of the boiling oil with the struffoli. No need for that mess.
Prep For the Finished Product. Have a paper towel-lined baking sheet ready to transfer the struffoli onto from the oil.
Let Them Cool. Be sure to let the struffoli cool before coating them in honey.
Decorate. Add a variety of decorations such as nonpareils, chopped nuts and/or sprinkles to the struffoli to make them look festive.
Storage. Struffoli keep nicely for about three days in an airtight container in the fridge.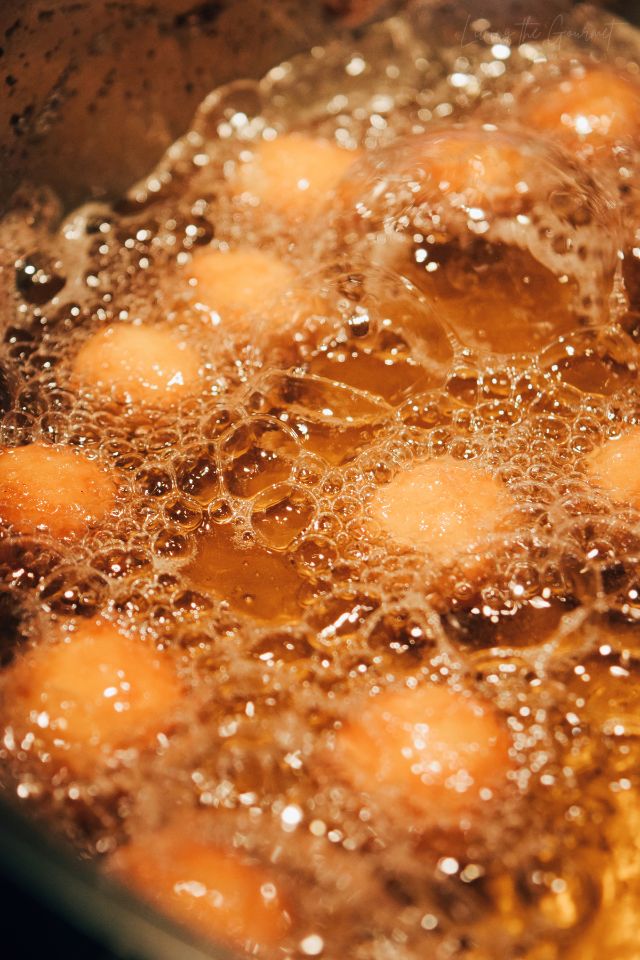 Print
Struffoli (Italian Honey Balls)
Author:
Prep Time:

15 minutes

Cook Time:

15 minutes

Total Time:

30 minutes

Yield:

2

dozen honey balls

1

x
2

cups

AP flour

1/2

cup

sugar

1 teaspoon

baking powder

1/4

cup

shortening

1 teaspoon

vanilla

3

eggs
Vegetable oil, for frying
Honey, for coating
Sprinkles, for garnish
Maraschino cherries, for garnish
Instructions
In the bowl of your mix master with paddle attachment, blend together flour, sugar, baking powder, shortening, and vanilla. Add in eggs one at a time until a soft dough comes together.
Wrap the dough in cling film and let it rest for about 30 minutes or up to an hour.
On a well-floured surface, divide dough into quarters then the divide the quarters in half.
Roll out each dough ball into 1/2-inch rolls then cut into 1/2-inch pieces.
In a medium frypan, heat enough oil for frying. Carefully drop the dough balls into the hot oil, about 1 dozen at a time. Fry until each is golden and crispy. Transfer the fried balls to a paper towel lined tray.
While the stuffoli is still warm, transfer to a large bowl. In a small saucepan, heat about 1 cup of honey and drizzle it over the stuffoli, gently tossing until each is coated.
To plate, carefully pile the stuffoli into a mound and garnish with sprinkles and maraschino cherries. Serve immediately or let the honey balls set before serving. Enjoy!
Notes
*Prep Time does not include Inactive Prep Time
Recipe Card powered by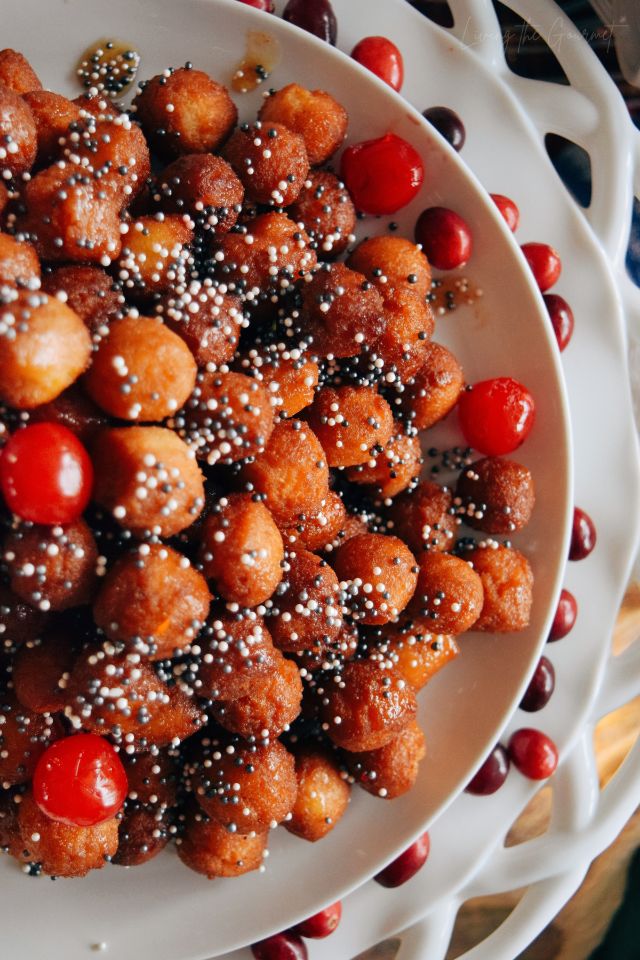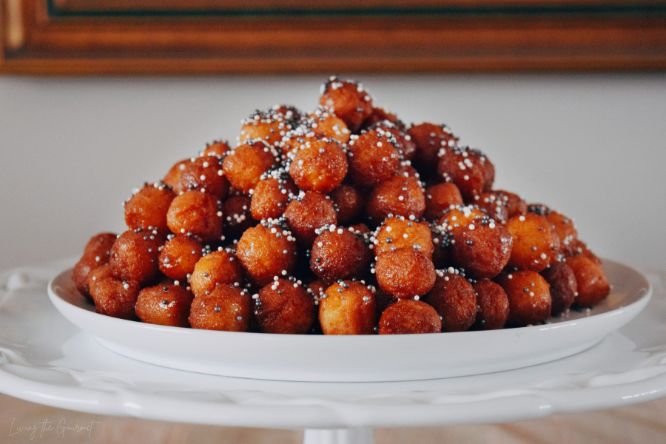 As an Amazon Associate I earn a small commission from any purchases made through the affiliate links within this post. For more information on this please see our disclosure policy. Thank you!
5