No matter the season, strawberries are one of my go-to dessert fruits. Today's recipe features light and airy strawberry-vanilla bundt cakes, filled with whipped cream layered with fresh sliced strawberries.
The end result is a deliciously light, yet wholly decadent, dessert that's perfect all year round. Today's bundts pair particularly well alongside my Traditional Turkish Coffee, or, if you prefer, a simple French Press Brew. For added decadence, consider pairing this alongside something like a homemade vanilla bean ice cream, or drizzled with a luscious rum sauce.
Below, I'll be providing you with an ingredient checklist to make sure you've got everything you need. Don't worry, today's bundts require only simple ingredients. After that, I'll be giving you a few pro-tips to help up your baking game.
Now, without further delay, let's get to it.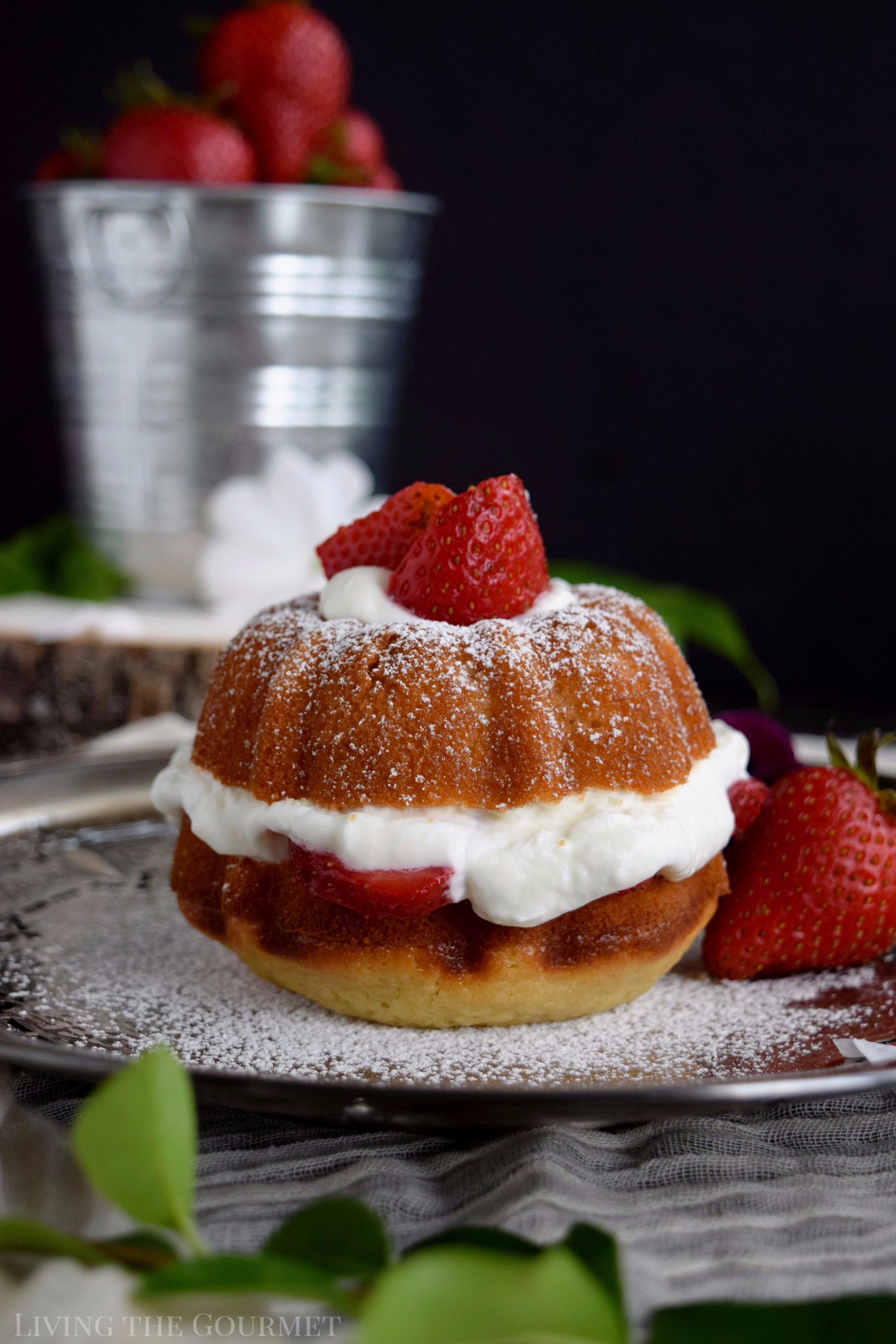 Ingredient Checklist
Sugar. Plain granulated sugar is what you're looking for here.
Pastry Flour. You want to use baking/pastry flour. This is in order to achieve the lightest, airiest cake possible. All-purpose would result in an unpleasantly dense and 'firm' cake – with bread flour being doubly so.
Salt. Plain table salt is all you need here.
Unsalted Butter. We want the butter softened – but not melted. This is so that it is pliable enough to mix into the batter, but still solid enough to bind through the other ingredients. I do recommend unsalted, as the added salt is 'not' desirable in the recipe.
Vanilla. I'm using extract for this particular recipe, but beans or paste will work just fine. All substitute at a one-to-one ratio by volume.
Strawberry Jam. I'm suggesting jam, as we want the 'chunks' of whole fruit. Also, jelly – which is primarily water – will evaporate too much during cooking.
Whole Milk. I do recommend whole milk, since we're looking for added fat, in addition to the moisture.
Eggs. Moisture, fat (which is flavor), and general richness for binding the cake.
Fresh Strawberries. These are the star of the show.
Whipping Cream. For the filling. I suggest fresh, but canned will work just fine if you prefer to save some time.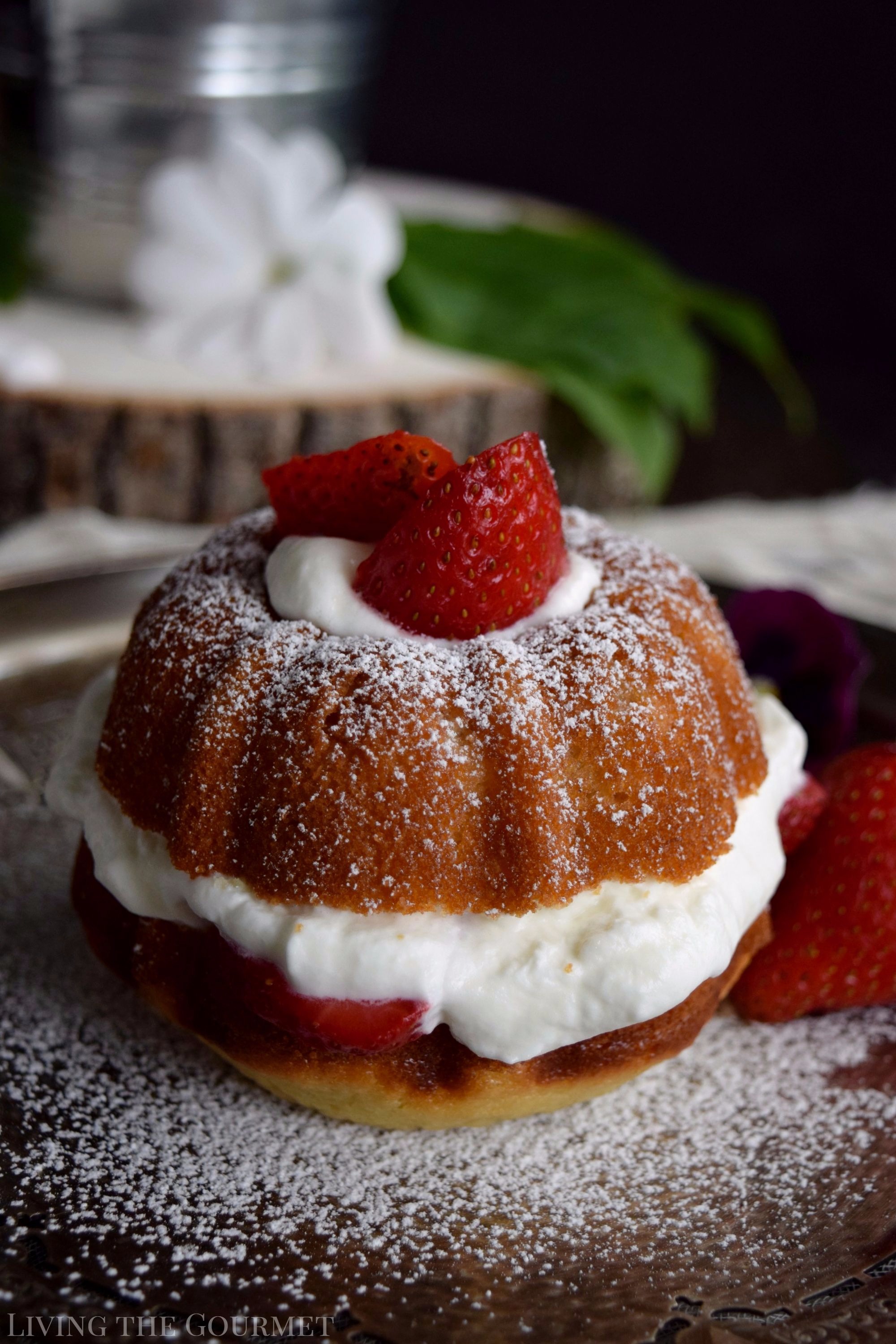 Prep Tips – Five Pro Tips for Great Baking
Prevent Sticking. To prevent sticking, either grease 'and' flour the pan thoroughly, ensuring all of the nooks and crannies are covered 'or' use parchment paper. You can also spray the parchment paper with nonstick oil.
Measure Precisely. Precise measurements are a must in baking. If your cake is gummy, dense, or rubbery – you likely added too much flour. If your cake burns despite being set at the right temperature and being timed properly, you likely put too much butter (or another fat source). If your cake falls apart, or is overly dry, you likely too little fat. And believe me when I say any of the above can happen due to comically small inaccuracies in measurements, depending on the type of recipe.
Sifting and Measuring. If a recipe calls for a cup of "sifted flour," you want to sift and 'then' measure. In other words, measure out one cup of "already sifted flour."
Folding. I've covered the importance of not overmixing many times here on Living the Gourmet. Overmixing brings too much air into a recipe, resulting in a tough cake. The best way to avoid overmixing is to instead 'fold.' To fold, use the flat of a spatula, and drag it through the batter, with the idea being to 'lift' or 'suspend' the dry ingredients, then gently turning them over into the wet ingredients. Do this around the perimeter of the of the batter, working your way towards the center. Once an even mixture has occurred, stop folding.
Resist Opening the Oven. Just stop opening the oven to check on your baked goods. Opening the oven introduces cool air into the oven, and the resulting 'temperature shock' can cause a rising cake to cease rising – or worse, to sink. Not fun. Just don't do it. And if you 'must' open the oven, wait until your cake has fully risen.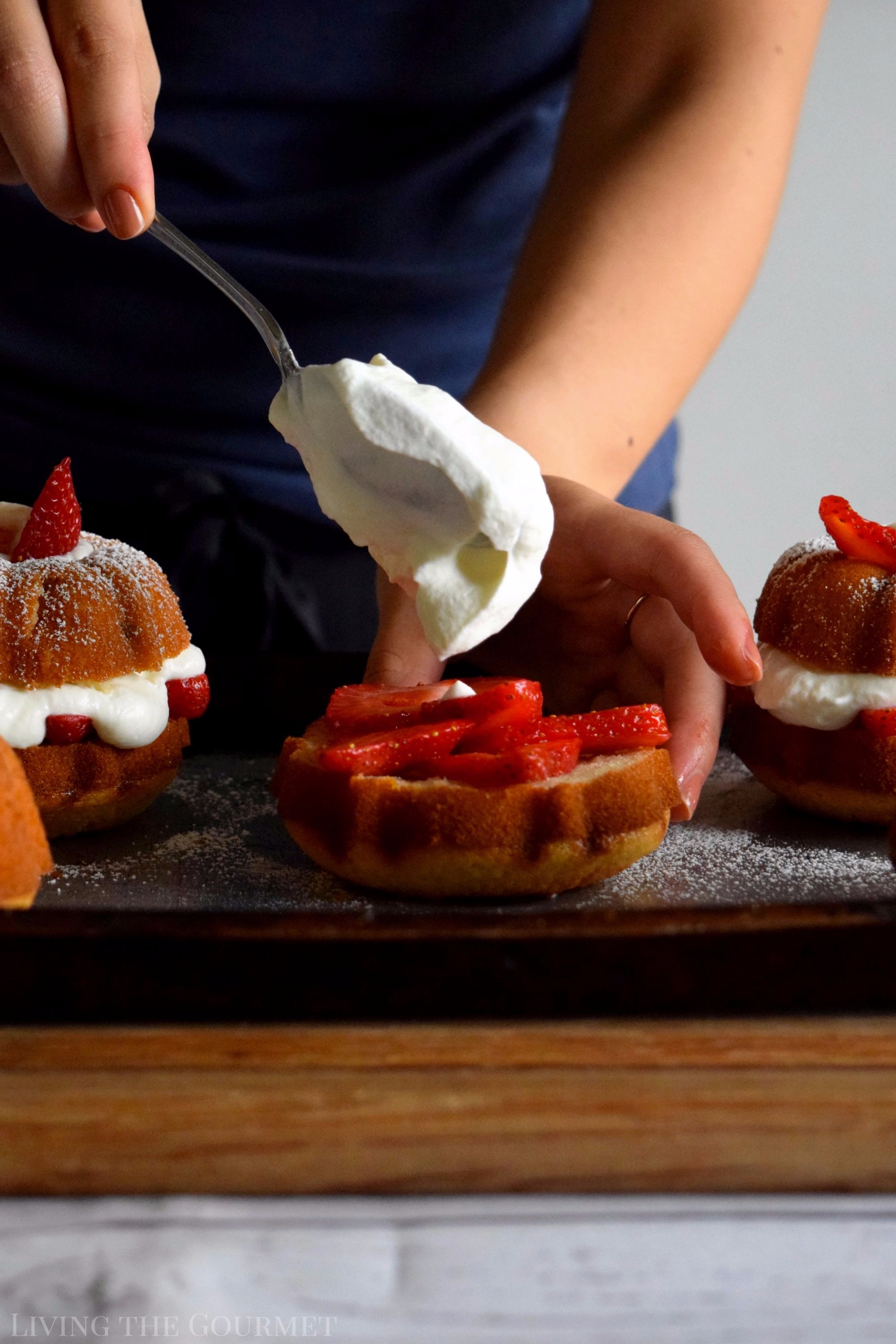 Print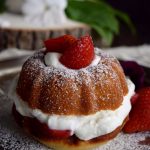 Strawberries and Cream Naked Bundt Cakes
---
Author:

Total Time:

30 minutes

Yield:

6

1

x
Fresh strawberries, hulled and sliced

2

cups

whipping cream

1 tablespoons

sugar
For the cakes:
1 1/2

cup

fine pastry flour

1 1/2 teaspoon

baking powder

1/4 teaspoon

salt

1/2

cup

unsalted butter, softened

1

cup

sugar

2

eggs

1/2

vanilla

2 tablespoons

strawberry jam

1

cup

whole milk
---
Instructions
In a chilled metal bowl, beat the whipping cream with sugar until form peaks form. Cover and refrigerate until its time to assemble the cakes.
Preheat oven to 350 degrees F. and grease a mini bundt pan or one regular bundt pan.
In a medium bowl, sift together pastry flour, baking powder, and salt. Set aside.
In the bowl of your stand mixer, beat together butter and sugar. Add vanilla, eggs and strawberry jam until a smooth batter forms.
Add the dry ingredients to the wet ingredients, alternating with 1 cup of milk. Be sure the mix the batter well between each addition.
Divide the batter between the mini bundt molds.
Bake for about 20 minutes or until the cake tester comes out clean.
Let the cakes cool before transferring over to a sheet pan.
Assembly:
Slice each bundt in half, horizontally. Layer the strawberry slices, then a generous dollop of whipped cream. Top each off with the tops of the bundts. Garnish with extra whipped cream, strawberry slices and a dusting of confectioner's sugar if desired.
Prep Time:

10 minutes

Cook Time:

20 minutes

Category:

Dessert
Recipe Card powered by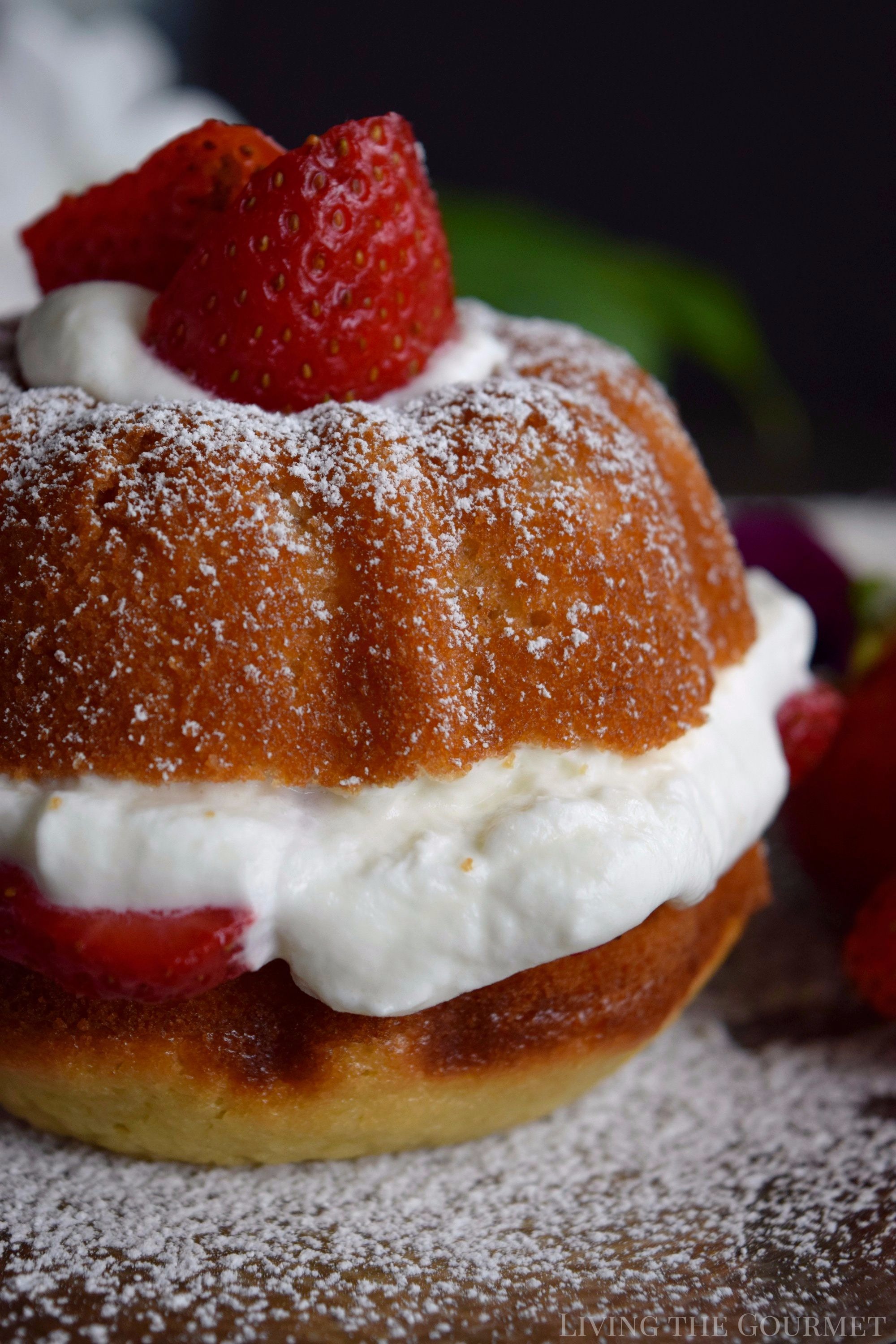 As an Amazon Associate I earn a small commission from any purchases made through the affiliate links within this post. For more information on this please see our disclosure policy. Thank you!
16